Room Air Purifier Filters
Enjoy clean, fresh air by replacing the portable air filter in your room air purifier. A portable HEPA filter in your office, bedroom, or family room removes allergens from the air and keeps your space clean. When it's time to replace the filter – you can count on us to have the right HEPA filter for your air purifier. In many cases – we will provide a "kit", which includes a main HEPA filter and several pre-filters. We offer the most common replacement portable air filter and pre-filter replacements for top brands.
Search for your model or system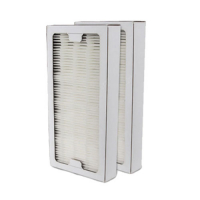 Select your brand
Choose from our most popular products
What Our Customers Have to Say
Peter Yeanacopolis
5 days ago
Thomas M Spencer
10 days ago
Both HEPA & two in-line filters fit exactly like the originals that came with the vacuum.
calvin anderson
22 days ago
Great product and great service.Will use again in the future. Thanks.
works better than others I had bought previously.
Frequently Asked Questions
What are the benefits of a portable air filter?
Portable room filters are relatively inexpensive and can be moved from room-to-room. Portable air purifiers provide a perfect clean air solution for offices, bedrooms, nurseries, and family rooms. Your whole house heating and cooling system may offer substandard air filtration or none at all – so adding a portable air filter to any room is a perfect way to ensure robust indoor air quality in commonly occupied spaces.
Does my portable air filter have a HEPA filter?
Probably. Most portable air filters have a HEPA component. In other words - a filter that removes 99.97% of airborne particles. Check the specifications sheet for your air filter system - but the vast majority of these systems do carry HEPA filtration claims.
How often should I replace the filter I my room air cleaner?
If you operate your portable air filter continuously - the main HEPA filter should be changed every 90 days. Under normal use - portable HEPA filters can last up to 6 months. If the system includes a separate pre-filter, it should be changed every month.
What is a multi-stage portable air filter?
Many manufacturers will include multiple stages of filtration in their product. For example, there may be a stage 1 prefilter with an activated carbon component. This pre filter will reduce odors and VOCs – and extend the life of the main HEPA filter by capturing very large particles. If the prefilter does not include activated carbon – another stage 3 filter with carbon may be present. Some manufacturers will include all 3 stages in 1 filter.