Ace Air Filters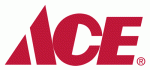 Ace Air Filters furnace filters come in many standard sizes, and are interchangeable with other brands that are the same size. While we may not carry the Ace Air Filters brand specifically, we do have size-matched replacements for the filter you need.
For most sizes, you'll have plenty of options to choose from so if you're looking for a really high quality filter to improve your indoor air quality or looking for a cost efficient model we've got them. Using the drop-down boxes to the left, enter the dimensions from your existing filter.
Changing out your air filter is simple and easy and can provide certain health benefits to you and your family. Regularly replacing your air filter can help improve the quality of the air you breathe. Reducing dust particles as well as absorbing odors are just the beginning.

Save Your Furnace Tip #12:
Install a thermostat with a filter change feature. Some thermostats can be configured to keep track of either calendar days or system run time and display a message when it's time to change your filter, humidifier water pad, or UV bulb.