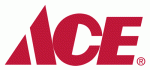 Ace Air Filters furnace filters come in many standard sizes, and are interchangeable with other brands that are the same size. While we may not carry the Ace Air Filters brand specifically, we do have size-matched replacements for the filter you need.
For most sizes, you'll have plenty of options to choose from so if you're looking for a really high quality filter to improve your indoor air quality or looking for a cost efficient model we've got them. Using the drop-down boxes to the left, enter the dimensions from your existing filter.
Changing out your air filter is simple and easy and can provide certain health benefits to you and your family. Regularly replacing your air filter can help improve the quality of the air you breathe. Reducing dust particles as well as absorbing odors are just the beginning.
Ace is known across the country as being the place to go for home improvement needs, but what most consumers may not realize is that Ace also specializes in their own line of furnace filters. One of the great benefits to choosing Ace for your furnace filter needs is that Ace has designed furnace filters to go with just about any size of heating and cooling unit.
Not only has Ace developed a wide array of filters to coincide with many of the major retailers' HVAC systems, but they have also designed them with Minimum Efficiency Reporting Value (MERV) ratings from a MERV 4 rating to a MERV 13 rating. Ace has also developed a washable air filter for those looking to reduce their carbon footprint. These filters are built to block upwards of 85-95% of all airborne particles, keeping a home's air quality at the absolute highest levels.
Pollen, dust, dust mite debris, pet dander, smoke, mold spores and auto emissions are just some of the particles Ace filters will block from your home's breathable air. Many of the designs available on this website aid your air system in preventing particles 0.3 microns or larger from entering your airstream. The reduction of these particles in the air also works to ensure that your risk of airborne illness throughout the year is greatly reduced.
We offer these great Ace filters individually and in bulk, and even give you free shipping. Keeping the nation's current economic state in mind, we continue to keep our prices low and to ensure our customers can protect the quality of their home's air without breaking the bank.
Finally, customers using Ace air filters in their HVAC systems can also expect to save money from the Ace filters increasing the overall efficiency of the HVAC systems they support. Increasing the system's efficiency not only prolongs the life of the system, but requires it to expend much less energy to regularly operate, which translates to savings on your monthly utility bills.