Dynamic Air Cleaner Refills

Choose A Size To See
Pricing & Details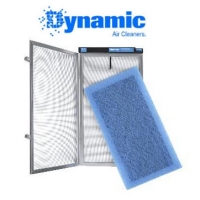 Replacements for Dynamic 1" Polarized-Media Electronic Air Cleaners.
Dynamic Air Cleaners make your home cleaner, healthier, and safer by:
Turning your home's central heating and cooling system into a high efficiency air cleaning system
Removing sub-micron particles and other contaminants that other filters miss, including bacteria, odors and smoke
Removing allergens such as pollen, mold spores and dust mite pellets
Capturing over 97% of particles .3 microns in size. keeping your entire home cleaner
Dynamic Air Cleaners install into existing filter tracks in the air handler or return air grilles which eliminates the need for costly ductwork modifications. The 24V air cleaner connects to R and C terminals on most furnace control boards or plugs directly into a standard household wall outlet using an optional plug-in transformer.
To replace the Dynamic Media Pad:
Switch the thermostat to the "off" position and turn off the power to furnace/air handler
Open the filter access door or panel
Unplug the adapter cord from the air cleaner
Remove the air cleaner. If dust has accumulated on the outer screens of the air cleaner, brush or vacuum to clean
Carefully open the air cleaner and remove the old media pad and discard into a garbage bag
Position the new media pad - the pad should lay flat and be centered within the frame. Use only genuine Dynamic replacement media pads. Other filter material will not work with your Dynamic Air Cleaner and will void the warranty
Close the air cleaner and plug the adaptor cord into the air cleaner powerhead
Re-install the air cleaner into the air handler and restore the power to the air cleaner

Refrigerator Water Filter Tip #2:
The "change filter" indicator on your refrigerator may be a simple timer or flow device. Consult your refrigerator owner's manual for instruction on resetting the indicator when replacing your filter. It will not happen automatically!