Sanuvox BIOPUR | Our#: 199715
Sanuvox BIOPUR 6-Stage Portable Air Treament System
Sanuvox BIOPUR | Our#: 199715
Fast Shipping & Free Returns
100% Compatibility Guarantee
Designed to help reduce airborne viruses, bacteria, mold and germs
This portable air purifier can clean up to 800 sq.ft.
Uses state-of-the-art patented UV technology
Remote control included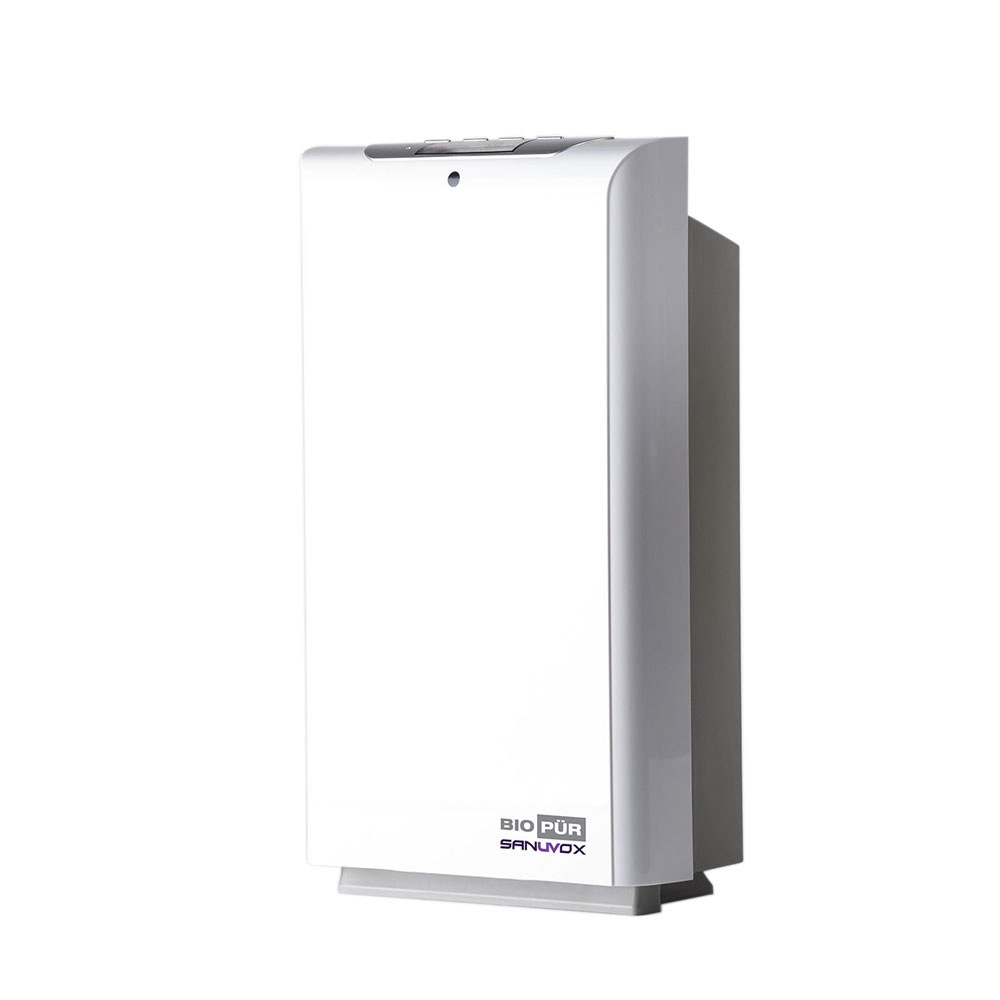 6 people in your area recently purchased this product!
Fast Shipping & Free Returns
100% Compatibility Guarantee
Frequently Purchased Together
Product Details
Breathe better, live better! The Sanuvox BIOPUR is a technologically advanced air purifier specifically designed to destroy biological and chemical contaminants. Using a UV process - it reproduces the sun's purifying power in your home. The BIOPUR offers 6 stages of purification - a pre-filter / a HEPA filter / an activated carbon filter / a TiO2 catayst / a UV light / and ionization. The variable speed blower of the BIOPUR moves the air through a series of filters, then into the reflection chamber so that the air travels parallel to the UV lamp. The BIOPUR helps protect you from airborne germs while alleviating allergy, flu and asthma symptoms; it's a great clean air solution for offices, bedrooms, and living/family rooms!
FEATURES:
Includes remote control
Cleanable H12 class high-efficiency HEPA filter removes 99.5% of all particles from the air
Activated carbon filter for chemical and odor absorption
Washable pre-filter
Sanuvox patented UV process and high-efficiency UVV/UVC "J" Lamp destroys airborne viruses, bacteria, mold and germs, chemicals and odors
TiO2 Catalyst works with the UV light to futher destroy chemical and odors
More than 2 million/cc negative ion output
LCD display provides important user information including Air Pollution Index (API) that provides 'real-time' graphical representation of airborne particulate count in the room
Timer function with 1/2/4/6/8 hour operation
HEPA Clean / Replace indicator on the LCD Panel
Four fan settings: Auto (controlled by particulare API Sensor), High, Medium, Low
SPECIFICATIONS:
Capacity - 800 Square Feet
150 CADR (Clean Air Delivery Rate)
Dimensions - 13.23" x 9.25" x 23.43"
Weight: 13.2 Lb.
6' power cord
4 fan settings (Auto/Low 49 dB, Medium 51 dB, High 58 dB), 100 CFM max
Low power consumption (50W)
Warranty - 1 Year for Unit / 1 Year for Lamp
---