AAF Air Filters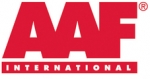 AAF Air Filters furnace filters come in many standard sizes, and are interchangeable with other brands that are the same size. While we may not carry the AAF Air Filters brand specifically, we do have size-matched replacements for the filter you need.
For most sizes you will have several options to choose from so you can get a higher quality filter or save a little money with a cost efficient model. Using the drop-down boxes to the left, enter the dimensions from your existing filter.

Save Your Furnace Tip #6:
Foam gasket tape can be used to insure a tight filter fit and eliminate air filter bypass.