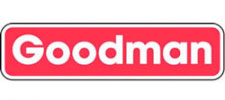 Goodman Air Filters furnace filters come in many standard sizes, and are interchangeable with other brands that are the same size. While we may not carry the Goodman Air Filters brand specifically, we do have size-matched replacements for the filter you need.
For most sizes you will have several options to choose from so you can get a higher quality filter or save a little money with a cost efficient model. Using the drop-down boxes to the left, enter the dimensions from your existing filter.
With Minimum Efficiency Reporting Value (MERV) ratings of 11 or better, Goodman furnace filters are built to keep the air quality of your home at optimum levels.
Goodman filters will trap air particles like pet dander, dust, dust mite debris, smoke, auto emissions, pollen and mold spores. All of these allergens can be harmful to your immune system, so using Goodman filters for your home and office HVAC systems can ensure the air you're breathing is of a much higher quality - placing you at a much lower risk of contracting an airborne allergen related illness.
We offer free shipping of Goodman furnace filters to anywhere in the United States. In addition, we can send out helpful reminders when it's time to replace an existing filter. Although Goodman filters are built to last in some systems for up to six months, all filters eventually will need to be replaced.
Goodman offers a number of Activated Carbon Filters that help to eliminate dust, lint, dust mite debris and pollen - making them great filters for those who suffer from allergies. These filters last up to three months, and also work to block certain odors. They fit a number of air cleaner brand systems including Amana, Carrier, Kenmore, Bryant, Westinghouse and York, among others.
Especially if you suffer from allergies or asthma related symptoms, having clean air throughout your property is one of the biggest things you can do to cut back on the impacts of those symptoms. Whether you need air filters for air purifiers, air conditioners, or furnaces, Goodman has you covered. Free shipping, low costs and improved health are well within your reach.