Return Grille Filters
Find the right filter for your air returns.
In many parts of the country – HVAC equipment is installed in the crawlspace or attic and the HVAC filters are found in the living space in return grilles (on the wall or ceiling). Return grilles typically accept a standard 1" filter.


By nature, a 1" inch filter has a lower surface area and requires replacement more often. Higher-efficiency 1" filters load quickly with dirt and therefore can restrict air flow.
We offer a special group of products which are made specifically to replace those 1" filters without any retrofitting. These "deep pleat" filters take advantage of the "dead space" behind the grille and extend into the return ductwork. They include a 1" lip/header around upstream side of the filter which holds them in place in the grille.
Some of the advantages of using a "deep pleat" return grille filter include:
Increased filtration surface area
Much better airflow across the filter
Increased filter service life – up to 6 times longer life than a 1" filter
Low-pressure drop reduces energy consumption and maintenance and extends useful lifetime of your HVAC system
Choose by filter dimensions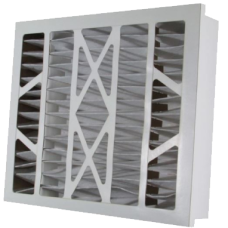 Top Return Grille Filters