Pool & Spa Filters
You can count on our filters to produce crystal clear water in your pool, hot tub, or spa. Use our finder below to find the filter that you need. Performance and fit are guaranteed, backed by our 100% Money-Back Guarantee.
Our pool and spa filters are made with the highest quality materials and state-of-the-art construction methods.
Even pleat spacing ensures consistent particle capture over time – preventing collapse under pump pressure
Engineered full flow cores provide great performance and hold up to the toughest applications
Specialized media is the most commonly used by the leading manufacturers in the pool and spa world
Search by Pool Manufacturer
Search by Spa Manufacturer
By Size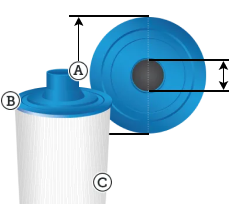 Choose from our most popular products
What Our Customers Have to Say
Valery Tsimmerman
1 day ago
Quickly delivered. Well packaged, all in order. Installed without problems. Nothing wrong so far.
Stacey Matlock
3 days ago
The filter worked fine and saved me some money to boot
Perfect in every way and so much affordable than going through a hot tub dealer. Thanks so much. I will be ordering again when necessary you are the best john
Frequently Asked Questions
How do I know when it's time to clean my pool cartridge filter?
For pools, most cartridge filter systems include a pressure gauge on the top of the filter tank. When the cartridge has become loaded with debris, the pressure in the tank rises. When the pressure gauge reads about ten pounds-per-square-inch (PSI) over normal, it's time to clean the cartridge or cartridges.
How do I know when it's time to clean the filter in my hot tub or spa?
It's recommended to clean and inspect your hot tub / spa filters every 2 weeks. At 2 weeks, give the filter a quick rinse. At 3 months perform a more thorough cleaning - agitating the filter in a bucket of water with your favorite cleaning solution and allow it to soak overnight. Each year purchase new filters and repeat the processes above.
Can pool and spa filters be washed?
Yes, the media in most pool filters is constructed from fabric and is washable. Once removed, pool and spa filters can be rinsed with a garden hose. We sell a cleaning tool which makes this process much easier. There is a point where the filters should be replaced. When you see signs of frayed fabric or damage - it's best to purchase new filters.
What's the difference between a sand and cartridge filter?
Sand filters can remove particles down to 20-40 microns in size. We do not sell sand filters. Rather, we sell replacement cartridge filters, which are more efficient than sand filters - removing particles down to 10-20 microns in size. Cartridge filter systems are generally easier to service than sand filter systems.
How do I know what pool or spa filter to buy?
Identifying the correct pool or spa filter can be tricky - as there are often no identifying marks on the filter itself. To find your filter, you can type the model number of your filter system into the search box on our site. You can also enter the filer dimensions (diameter and length) in our filter finder utility.