Car Cabin Air Filters
Our premium filters protect you and your passengers by removing dust, pollen, and harmful pollutants to keep them from reaching inside of your car, truck, or SUV. Find your replacement today!
While we currently don't have any Cabin Air Filters that fit your vehicle, we may in the future.
Benefits of a Clean Cabin Air Filter
You spend lots of time in your car, and you want to make sure that the air in your vehicle's cabin is clean and healthy. The cabin air filter processes the air that enters the passenger compartment via the vehicle's air conditioning and heating system(s). This filter is easy to change yourself with included instructions. The process of installing the filter only takes a few minutes in most cars.
Protects the driver and passengers
Traps dust, dirt, and other particles
Easy to change, takes just a few minutes
Long lasting - up to 30,000 miles (see your vehicle's owner's manual)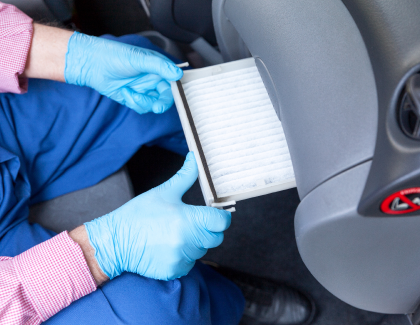 Choose from our most popular models
What Our Customers Have to Say
Just inserted the air filter so far so good!
Charles Wyatt
68 days ago
Frequently Asked Questions
Where is my cabin air filter located?
The most common location for the cabin air filter is behind the glove box. You will likely have to remove all of the contents of the glove box to gain access to the filter. Sometimes, the cabin air filter is behind the dash and sometimes (but not often) under-the-hood.
How often should I replace my cabin air filter?
The more you drive, the more often you should change your cabin air filter. Generally - manufacturers recommend changing the filter every 15,000 miles.
What does a cabin air Filter do?
If you've got your windows rolled up, you are probably using your heating or cooling system in the car. All of the air being heated, cooled, or circulated inside the car by the fan will travel through the cabin air filter (if your car has one). The filter keeps dust, dirt, pollen, and exhaust gases from entering the cabin. It also prevents bugs, leaves and other debris from clogging up the heating and cooling system.
How do I find the cabin air filter that fits my car?
It's easy! Just enter the year, make, model, and engine type of your car and our filter finder will show you if we have the right cabin air filter for your car.
My car has a cabin air filter and an engine air filter - what's the difference?
Your car may have 2 filters that need to be replaced. The cabin air filter cleans the heated/cooled air inside the car, while the engine air filter keeps dirt, dust, sand, and other contaminants from getting inside the engine. While the cabin air filter is normally changed from inside the car - the engine air filter almost always require "popping the hood."