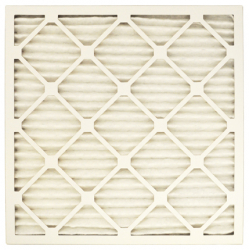 ---
Better filtration is the first step in improving Indoor Air Quality. Pleated Panel Filters outperform ordinary furnace filters with higher efficiency and lower pressure drop allowing air-handling systems to stay cleaner and operate more efficiently. We achieve this with 100% synthetic electrostatically charged gradient density media, optimum pleat spacing and high initial and sustained efficiency, high dust holding capacity and very low pressure drop. The media is resistant to a wide range of chemicals, does not absorb moisture and will not support microbial growth.
Benefits
Electrostatically charged filter media captures airborne allergens smaller than 1 micron!
Great for helping reduce airborne allergens such as bacteria, particles that carry viruses, pollen, mold spores, fine dust, and pet dander.
Filter material will not support the development of mold, mildew, bacteria or other microorganisms in normal use.
No chemicals added. Filters are chemical free!
Over 30-times more efficient at capturing micro particles than ordinary fiberglass filters.
Lasts UP TO 3 months!
Features
MERV 13 Rating
100% synthetic gradient media, electrostatically charged
30 gauge galvanized expanded metal grid
Moisture resistant double wall beverage board
Media pack totally bonded to frame
This product is listed and rated by Underwriters Laboratories as U.L. Class 2
Minimum Efficiency Reporting Value (MERV) is a standard of measure employed by the heating, ventilation, and air conditioning industry to gauge a filter's performance. MERV 13 discount filters are highly effective for commercial and industrial settings, or in a home where airborne allergens and pathogens are a concern to occupants.
Designed for two functions, the MERV 13 discount filters prevent unwanted particles from entering the internal devices of a heating or ventilation system and scour passing air to remove possibly hazardous materials that affect the indoor air quality of a home. Houses that are occupied by people with respiratory conditions such as asthma, or who suffer from reactions to airborne allergens, benefit from having the cleanest air possible. A MERV 13 discount filter provides that protection.
The filter media in a MERV 13 discount filter is 100 percent chemical-free, synthetic hypoallergenic material. The media is seamlessly joined to a 30-gauge galvanized frame that refuses to allow gaps, which will let unfiltered air pass. Metal latticework protects the media from trauma and reinforces the frame to prevent warping or damage.
The MERV 13 discount filter itself is electrostatically charged not only to filter particulate debris that passes through it, but also to attract those particles to its body, trapping them so that they cannot circulate in the free, breathable air. Pleating of the filter media provides increased surface area, increasing efficiency and providing more opportunities in which to capture particles that can cause hazards on either side of the barrier.
Because it is the filter's job to hold and keep debris, conditions such as construction work or heavy smoking in a home can shorten the lifespan of filters. Filters should be inspected on a regular maintenance schedule to see that they are not compromised. Inspections ensure that filters are replaced in a timely manner, and before their capacities are exhausted.
Free shipping on discount filters is routine. They should be returned in the same condition as received and with the original packaging, within one year of the date of purchase if needed.