Frigidaire PureSource3 Refrigerator Water Filter (WF3CB), 3-Pack
Frigidaire WF3CB | Our#: 176352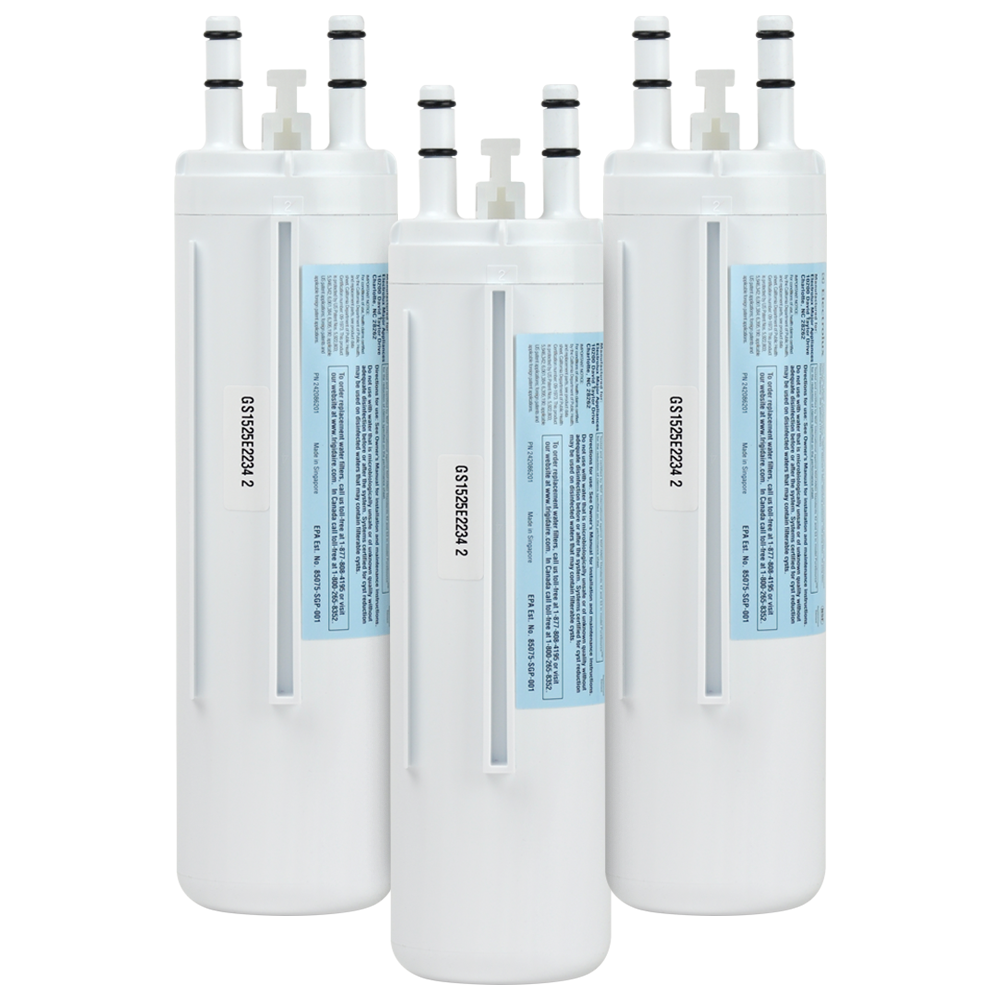 Description
---
The factory original Frigidaire PureSource3 Filter (WF3CB) is used in refrigerators by Frigidaire and others. The WF3CB filter creates better tasting water for drinking and making beverages as well as clean, clearer, healthy ice.

Features:
Original OEM product
Easy installation and operation
Helps reduce chlorine taste and odor
Helps reduce contaminants found in tap water and improves its quality
Tested by NSF International against Standard 42 for the reduction of chlorine taste and odor and particulate
Tested by NSF International against Standard 53 for the reduction of lead, cysts, turbidity and other chemicals and impurities
Filter length - approximately 9-1/4"
| | |
| --- | --- |
| ClearChoice | Frigidaire |
| $19.99 per filter | $42.95 per filter |
| 6 Month Filter | 6 Month Filter |
| 20-120 psi | 30-100 psi |
| 33 - 100 °F | 33 - 100 °F |
| 300 Gallon Capacity | 200 Gallon Capacity |
| 0.5 GPM Flow Rate | 0.5 GPM Flow Rate |
---
The Frigidaire WF3CB is compatible with the following obsolete or alternate filter part numbers:
242069601
242086201
706465
AP4567491
PS3412266
PURESOURCE3
WF3CB
---
How To Install The Frigidaire WF3CB Filter:
Turn Off the ice maker by raising the wire signal arm.
Remove the filter by pushing on the end/face of the filter.
Slide the old water filter cartridge straight out of the housing and discard it.
Using the alignment guide, slide it gently into the filter housing until it stops against the snap-in connector at the back of the housing.
Push firmly until the cartridge snaps into place (you should hear a click as the cartridge engages the snap-in connector).
Press a drinking glass against the water dispenser while checking for any leaks at the filter housing. Any spurts and sputters that occur as the system purges air out of the dispenser system are normal
After filling one glass of water, continue flushing the system for about four (4) minutes
Turn On the ice maker by lowering the wire signal arm
Press and hold the Water Filter button on the Ice & Water Dispenser control panel for three seconds. When the display changes from Red to Green, the status has been reset
Reviews
---
Frigidaire PureSource3 Refrigerator Water Filter (WF3CB), 3-Pack
Diana S. G. 26 days ago
Good filters, just wish they were not so expensive.
Donna M. 5 months ago
Discount filters was priced right and fast! I'll definitely order again and recommend to others. Thank you Discount Filters!
Marie R. 6 months ago
Great product, it fixed all of my ice maker problems when I changed the water filter . Very easy to order from you on line & better value than store for a similar one that "should work"! Even better value when one buys 3-pack.
Heckmanski, J. 6 months ago
Products and service are great. The only issue I have is with the delivery, took longer than expected. FedEx smart post is no bargain.
Reviewer 9 months ago
could not be more pleased thank you
Reviewer 9 months ago
order filled promptly
Reviewer 11 months ago
they work great, so glad I ordered them.
Reviewer 11 months ago
Discount Filters sent us a great product (Frigidaire PureSource3 Refrigerator Water Filters 3-pack) at a great price. The pack was also sent in a very timely manner! Can't ask for more than that!
Reviewer 11 months ago
This company supplied what I needed.
Reviewer 26 days ago
Their price was the cheapest when I researched online. FAST shipping and AMAZING customer service!
Reviewer 1 month ago
Great customer service and fast shipping!
Reviewer 2 months ago
WORKS GREAT
Reviewer 4 months ago
I ordered the wrong size filters for my refrigerator. I called and spoke to a customer service rep who was very kind and courteous and said no problem we will send=via email a return label at no charge to you. And then helped me to order the correct ones. I am a very satisfied customer!
Reviewer 5 months ago
Couldn't ask for quicker service. Thank you.
Reviewer 5 months ago
Great prices and quick response time, would use again.
Reviewer 6 months ago
good price, on time delivery
Reviewer 9 months ago
thank you for the speedy and great price on the filters. keep up the good service.
Reviewer 10 months ago
What can I say? They are water filters.....shipped/arrived quick, cheaper than anyone else and quality seems to be the same....
Reviewer 11 months ago
my order was processed very quickly & arrived even quicker. it was not damaged in any way.
Reviewer 24 days ago
The filter provides exceptional water purity and taste. The price was better that anywhere else especially with the extra 20% discount that I recieved.
Reviewer 25 days ago
I WISH THEY WOULD LAST LONGER.......
Reviewer 1 month ago
Saved $12 each refrigerator filter compared to what I could find locally. No tax and free shipping. Identical brand that is in stores. More than happy with the purchase.
Reviewer 2 months ago
I have shop around for a good price on these filters and have not found it. Shopping here gives me that great price without any problems.
Reviewer 2 months ago
Perfect
Reviewer 2 months ago
Very satisfied with product and price
Reviewer 4 months ago
order came as correctly and promptly
Reviewer 5 months ago
Great price and service
Reviewer 6 months ago
Filters arrived as scheduled and fit as described
Reviewer 9 months ago
the product works ..I have water on tap again....on-line service was a cake walk , even I can do it (I'm not a cave man)...delivery..hmmm, that's a whole new ball game..it never arrived , I had to track it down ,they supposedly delivered thru u.p.s. , but some how ended up at the post office...it irritated me because I figured it was going to be delivered at my door step ..oh , my city has 2 post offices , luckily I went to the correct one the first time....bottom lie , keep your eye on the tracker the customer service line is of no use ; not 24/7 availability :/
Reviewer 11 months ago
The product is easy to install, the water taste great, and there are no "cons" at all.
Reviewer 11 months ago
they are a little prices. but have to use them for good water
Reviewer 1 month ago
You sent the wrong filters for the wrong fridge, and when I tried to contact your company, I was put on hold for 15 minutes and then told nobody was answering the phone at that time, during your normal work hours. That happened twice. Your web site was absolutely useless. Finally got through to John who solved the problem in a pleasant and apologetic manner.
Reviewer 2 months ago
The water tastes great!
Reviewer 3 months ago
Filter replacement. Great product
Reviewer 4 months ago
Fast service.
Reviewer 6 months ago
Easy to use, quick to change, great tasting ice & water, but only last about 6 wks. We're on a well with a softening system and water is clear, clean, and odorless!
Reviewer 8 months ago
my original filter lasted 9 months!
Reviewer 11 months ago
Easy acccess and competetive pricing. I will shop for replacement filters here again!
Reviewer 28 days ago
good product but the filter does not last very long, to bad it is not a replacement cartridge inside, it would a hell of lot cheaper
Reviewer 2 months ago
The WF3CB filter is expensive and only last about 2 months.It is easy to replace. Only works for ice maker after initial replacement as water flow is so slow even after following directions when replaced. If you buy a refrigator that uses this filter then you have no other option. We have a large stand alone ice maker on the same water source and the inline filter for it lasts 6-8 months.
Reviewer 2 months ago
Same product, but much cheaper then other websites!
Reviewer 8 months ago
After purchasing our Fridigdaire refrigerator I looked on line to fine the water filters. When I found DiscountFilters.com I was impressed with their price and quantity. Now I'm impressed with their quick delivery and follow up on the product they sell.
Reviewer 8 months ago
Easy to use
Reviewer 8 months ago
Great replacement product.
Reviewer 2 months ago
I ordered filters based on my new fridge manual's part umber. It was wrong! The customer service tech ordered the correct filters and sent me a return label to return the wrong filters at no cost. I'll be back!!!!! The best customer service I've ever experienced.
Literature
2 people in your area have bought this product in the last day!
FREE to join and you can easily cancel online at anytime
With auto delivery, you will always have a new filter on time (no need to remember to log on to place an order).
You control order frequency, delivery schedule, and quantity - all online!
Get email reminders before each delivery
---

Save Your Furnace Tip #10:
Turn off your furnace / air conditioner fan during filter changes.