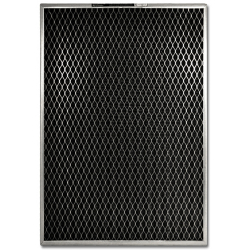 ---
Never buy another filter!
Our permanent washable filter is designed to provide great value and last a lifetime. This durable filter is constructed with a combination of woven polypropylene media supported by heavy-duty steel mesh in a galvanized steel frame. The filter carries a lifetime warranty and is ideal for heat pumps, sensitive 90+ efficient furnaces and systems with limited air flow. This is the
best
and
last
filter you will ever buy.
FEATURES:

Designed to minimize initial resistance to airflow
Reduces the number of pollutants and allergens in recirculated air and keeps your HVAC system clean
Uses natural static electricity to attract and capture airborne particles
Washable - cleans up in minutes
Includes anti-microbial polymeric protection
Durable steel frame
Dirt won't get caught in the filter during washing - due to specially-designed drainage ports in the filter frame
Lifetime warranty
MADE IN THE USA


CLEANING INSTRUCTIONS:
Clean Monthly by rinsing your filter with running water. For tough dirt and/or grease, use a mild detergent (i.e., 409 or Simple Green) and rinse thoroughly with warm water.
SPECIFICATIONS:
Average arrestance efficiency - 74%
Initial resistance - 0.07" w.g.
Dust holding capacity - 110 grams

These permanent, washable discount filters are designed and constructed to last a lifetime. Because there is no need for replacement, they are sold individually, and are an ideal choice for rooms that do not require high filtration efficiency as much as durability. Permanent, washable discount filters can be purchased at up to a $20.00 savings over the suggested list price.
Created for long-lasting air flow, discount filters use polypropylene webbing and mesh framed in durable polystyrene. This egg crate design increases surface area to capture airborne particles while the densely irregular, textured layers hold them in place. The polypropylene webbing also resists wear and tear, while other permanent, washable filters use foam as filter media, which break down, clog, or otherwise hamper air flow. All components are non-corrosive and non-conductive.
Regularly replacing these filters is not necessary, but regular maintenance is still required. To ensure peak performance, an inspection is recommended at least every three months. Cold water washing from back to front will remove trapped debris. Allow the discount filter to thoroughly dry before being reinstalled since residual moisture can hold more grit and dust than the dry filter is designed to manage. No additional treatment is necessary.
These quality discount filters carry a MERV 5 rating, the Minimum Efficiency Reporting Value used in the industry to measure a filter's effectiveness in removing airborne particles. A MERV 5 filter will remove between 20.1 and 34.9 percent of particulate contaminants that measure between 3 and 10 microns in width. Out-powering residential filters that are rated MERV 4 or below, these inexpensive filters work at a top performance level while being consistently reused, providing years of reliable service.
As with every other discount filter, there is no minimum order size requirement. Free shipping is routine and free returns are guaranteed within one year of the date of purchase if this product does not meet expectations. All discount filters should be returned in the same condition as received and with the original packaging.