Filtrete Model 3US-AF01 Water Filter Cartridge for Standard Filtration System
3M 3US-AF01 | Our#: 172622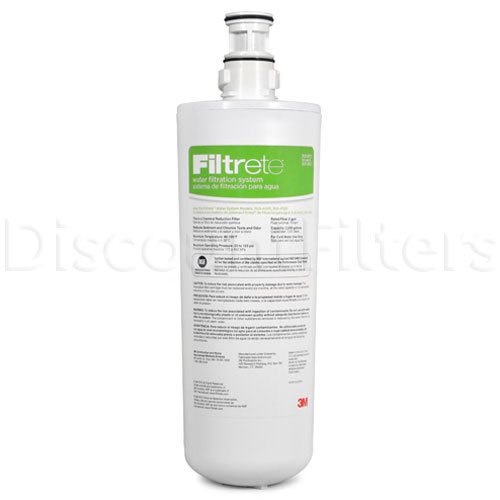 Description
---
Click to View More Info and Video!

FiltreteT Model 3US-AF01 Water Filter Cartridge for Standard Filtration System

Replacement cartridge for 3M FiltreteT 3US-AS01 Standard Faucet Water Filtration System. Also fits Whirlpool Water Systems models WHCF-SUF, WHCF-SUFC.
Features:

6 month filter life
Operating temperature - 40-100F
Operating pressure - 25-125 psi
Rated flow - 2 gpm
Capacity: 2,000 gallons
5 micron nominal removal - better sediment removal with lower micron rating
For cold water use only
Filter height - 10"
Filter Replacement Instructions:

1. Place pan under filter to collect any residual water during cartridge change-out.
2. Grasp cartridge and turn to the left (counterclockwise) until cartridge comes to a complete stop (water automatically turns off). Gently pull cartridge downward to remove.
3. Ensure that o-rings are present on the cartridge and are seated into grooves; moisten o-rings with water. DO NOT use any petroleum products to lubricate the o-rings.
4. Align tabs of new filter cartridge with existing filter head and insert new filter cartridge into head. Turn cartridge to the right (clockwise) until cartridge stops.
5. Flush new cartridge for 5 minutes.
Fits In These Systems:
Whirlpool:
WHCF-SR
WHCF-SRC
WHCF-SUF
Reviews
---
Filtrete Model 3US-AF01 Water Filter Cartridge for Standard Filtration System
Dr J. L. 2 months ago
The staff was friendly but, we paid for the upgraded shipping. Which was supposed to arrive in 4 days, it took 8. A small leak turned into a big crack and hundreds of gallons of water were waisted. Calling did nothing
WILLIAM J. R. 4 months ago
this filter did not fit for the under counter moen faucet drinking water. I was dissapointed .
Terry V. 7 months ago
It's nice to have that clean Pier water flowing again in my home thank you
Paul 9 months ago
great service filter fits perfectly
Literature

Save Your Furnace Tip #1:
Make sure the airflow arrow is pointed in the direction that air flows through your system.