Choose by filter dimensions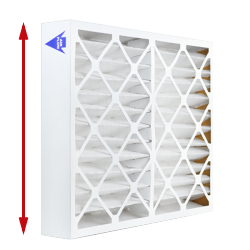 Choose by filter brand
Why finding the right thickness of filter is important.
Ensuring that your filter fits properly in your HVAC system means making sure that you have not only the right length and width, but also thickness of your filter. Most standard air filters are 1 - 2 inches in thickness. Whereas media filters are typically 3 to 5 inches in thickness. The best way to measure your air filter size is to get out the measuring tape and measure it directly.
What do MERV ratings mean?
Allergies, pets, odors and smoking all can greatly affect the quality of your indoor air. Discount Filters offers many different types of discount air filters to help you breathe better air inside your home based on your specific needs.
MERV 11: People with pets and/or light allergies, would greatly benefit from a more advanced filtration level called a MERV 11. A MERV 11 filter reduces pet dander, dust, pollen and other particles that are present in your home.

MERV 13: A MERV 13 air filter however will capture even smaller dust particles, dirt, pollen, mold spores, pet dander and more from your home's air. A MERV 13 air filter is great for people with regular allergies and who own multiple pets. The MERV 13 filter is typically more expensive and will also put more strain on your HVAC system, however the high quality filtration you will get will be well worth it.

We carry discount air filters in 1-2 inch standard sizes, and 3-5 inch media sizes. Our air filters are great and work well in HVAC systems, furnace and air conditioner systems. If you are looking for a custom size air filter you can request that we make a special size for you. As always, we offer free shipping and returns on all of our discount furnace filters.