Samsung DA29-00020B Aqua Pure Plus Refrigerator Water Filter - 3 Pack
Samsung DA29-00020B | Our#: 176563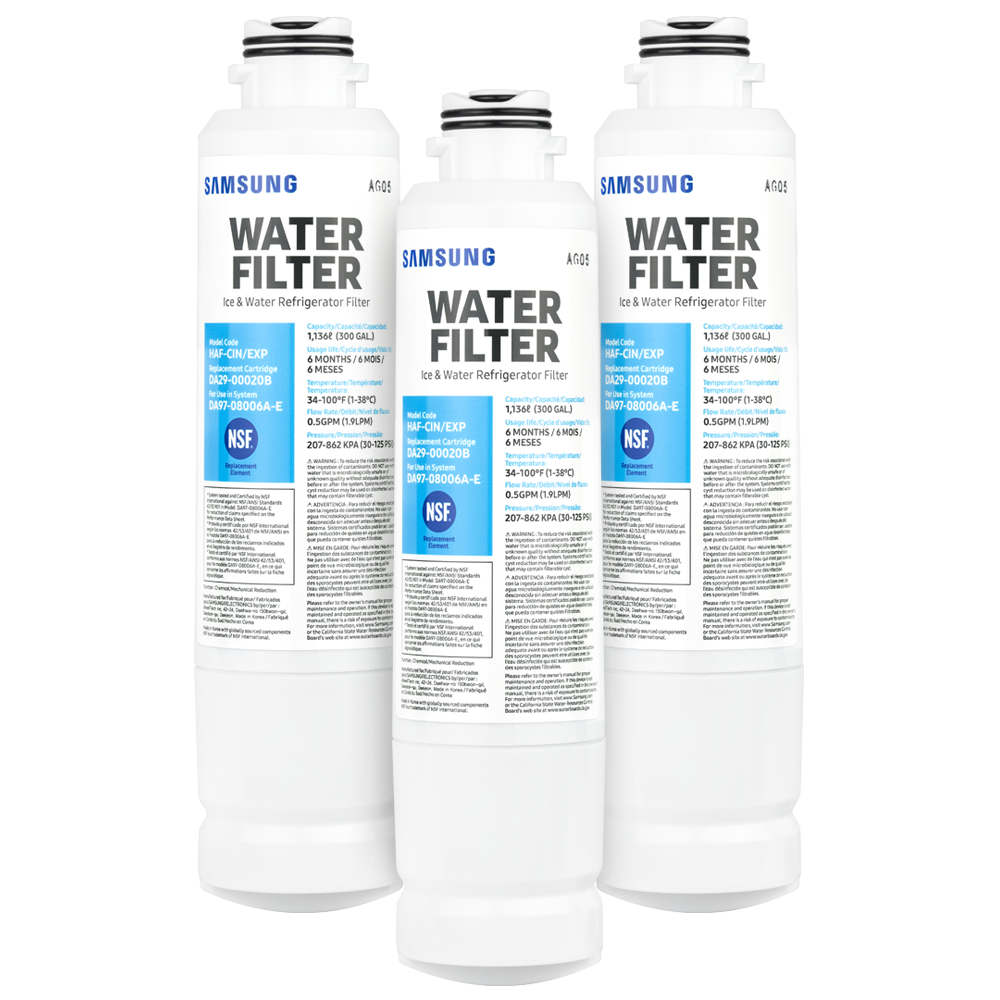 Description
---
Samsung Aqua Pure Plus DA29-00020B Filter - 3 Pack
The best way to prevent foreign contaminants from entering your home water supply is to combat it head-on. The Samsung Aqua Pure Plus DA29-00020B refrigerator water filter acts as a protector in your home water filtration system that works to remove harsh impurities in your tap water. This filter, made with manufacturer materials, creates better tasting water for your home as well as clean, clear, healthy water free of foreign particulate.
The filtration process of the Samsung Aqua Pure Plus DA29-00020B refrigerator water filter begins when water enters the filter from your refrigerator's water line. As water enters the filter, it flows through a carbon-filled chamber inside the filter. This carbon-filled chamber captures impurities such as mold, rust, chlorine, cysts, and other minerals found in your home's tap water. The resulting effect is crystal clear water made readily available to your residence, and the peace of mind of reduced health risks.
After continual use over an extended period of time, the Samsung Aqua Pure Plus DA29-00020B refrigerator water filter can begin to degrade in quality. As water continually flows through the filter, the carbon filtering agent will start to drop in water-purifying efficacy. This can lead to a drop in water quality and an increased susceptibility to health risks. In order to combat this, make routine filter changes every six months to ensure that your home and health remains sound and secure with clean, pathogen-free water. Replace the filter sooner if you use more water than the filtering capacity. This water filter can be purchased in a 3-pack. You receive a better deal the more filters you buy. Discount Filters offers a purchase guarantee with the Samsung DA29-00020B. Every order comes with free shipping and returns, and provides your home with great tasting water at a great deal.
| | |
| --- | --- |
| ClearChoice | Samsung |
| $16.95 per filter | $48.95 per filter |
| 6 Month Filter | 6 Month Filter |
| 30-100 psi | 30-125 psi |
| 33 - 100 °F | 33 - 100 °F |
| 300 Gallon Capacity | 300 Gallon Capacity |
| 0.5 GPM Flow Rate | 0.5 GPM Flow Rate |
---
The Samsung DA29-00020B is compatible with the following obsolete or alternate filter part numbers:
RFC0700A
108013
176563
2008145
46-9101
4609101000
469101
4942453
9101
AP5271937
CF7
CWMF021
DA-97-08006A
DA-97-08006A-B
DA-97-08006B
DA29-00019A
DA29-00020A
DA29-00020B
DA2900019A
DA2900020A
DA2900020B
DA97-08006A-B
DWF-7
EAP4138224
EBL7800
EFF-6027A
EFW-DA2920
FMS-2
HAF-CIN
HAF-CIN-EXP
HAF-CINEXP
HAFCIN
HDX-FMS-2
KJ20B
PD00002121
PH21310
RWF0700A
RWF1011
SAMSUNG20B
SGF-DA20B
WD-DA29-00020B
WF-1110A
WF-11362C
WF294
WFC1401
WLF-20B
WSS-2
---
How To Install The Samsung DA29-00020B Filter:
Shut off the main water supply valve to the refrigerator
Remove old cartridge by grasping firmly and twisting counterclockwise 1/4 turn
Push new filter into the filter receiver and turn 1/4 turn clockwise until it locks
Turn on the main water supply valve to the refrigerator
Flush the refrigerator water system after replacing the water filter cartridge. Sputtering may occur until air is purged from water line and filter
Reset water filter status display - replace filter every 6 months
Reviews
---
Marvin Grigg 2 days ago
Excellent service, Samsung filter, performs well.
Gib Rokich 2 days ago
We have water with a fairy strong sulfer smell. This filter eliminates the smell and water tastes great. The lower cost economy filter did not. Discount filter provided great customer services and refunded the price of the economy filters.
Robert M Shea 2 days ago
They are certified Samsung Water Filters made specifically for my refrigerator. They work beautifully. I don't need another order for a year and a half since they last 6 months each. Thank you-please don't email me with a sense of urgency fo at least a year. Don't make me unsubscribe-I understand you want to make sales and I will order again from you unless you send me emails every week.
Andre Richards 2 days ago
Great Filter for my Samsung Refrigerator. The Water and Ice come out perfectly.
Vladimir Shayevich 2 days ago
Good products. Outstanding service.
Patricia Hale 2 days ago
This is the best filter for my refrigerator. This removes more than the normal Water filter. Wonderful. More the better these days. :)
Celia Lockwood 2 days ago
Great prices, customer service, and delivery is quick ; and you get a 10% discount coupon with your delivered items. Just ordered my air conditioner filters.
Angelica Vallejo 2 days ago
The filters that I have ordered are working for my Samsung refrigerator. So far I have used one and it is working great. Thank you for the filters and plan to order more in the future.
Robert Eckhardt 2 days ago
Very satisfied with the service I received from Discount Filters. Very good value and product friendly ordering system. Also the follow up on my order and satisfaction.
Robert G. Dvoran 2 days ago
The only way to buy filters.
Literature
4 people in your area have bought this product in the last day!
FREE to join and you can easily cancel online at anytime
With auto delivery, you will always have a new filter on time (no need to remember to log on to place an order).
You control order frequency, delivery schedule, and quantity - all online!
Get email reminders before each delivery
---

Save Your Furnace Tip #8:
If you have a 6-month filter, schedule your filter changes when daylight savings changes. When you "spring forward" or "fall back" setting clocks around the house, change your filter at the same time.