Samsung DA29-00020B | Our#: 176562
Samsung Refrigerator Water Filter (DA29-00020B)

180 review(s)
Samsung DA29-00020B | Our#: 176562
Fast Shipping & Free Returns
100% Compatibility Guarantee
Compatibility guaranteed! Free return shipping and 100% money back if there are any issues.
4 people in your area recently purchased this product!
Fast Shipping & Free Returns
100% Compatibility Guarantee
Frequently Purchased Together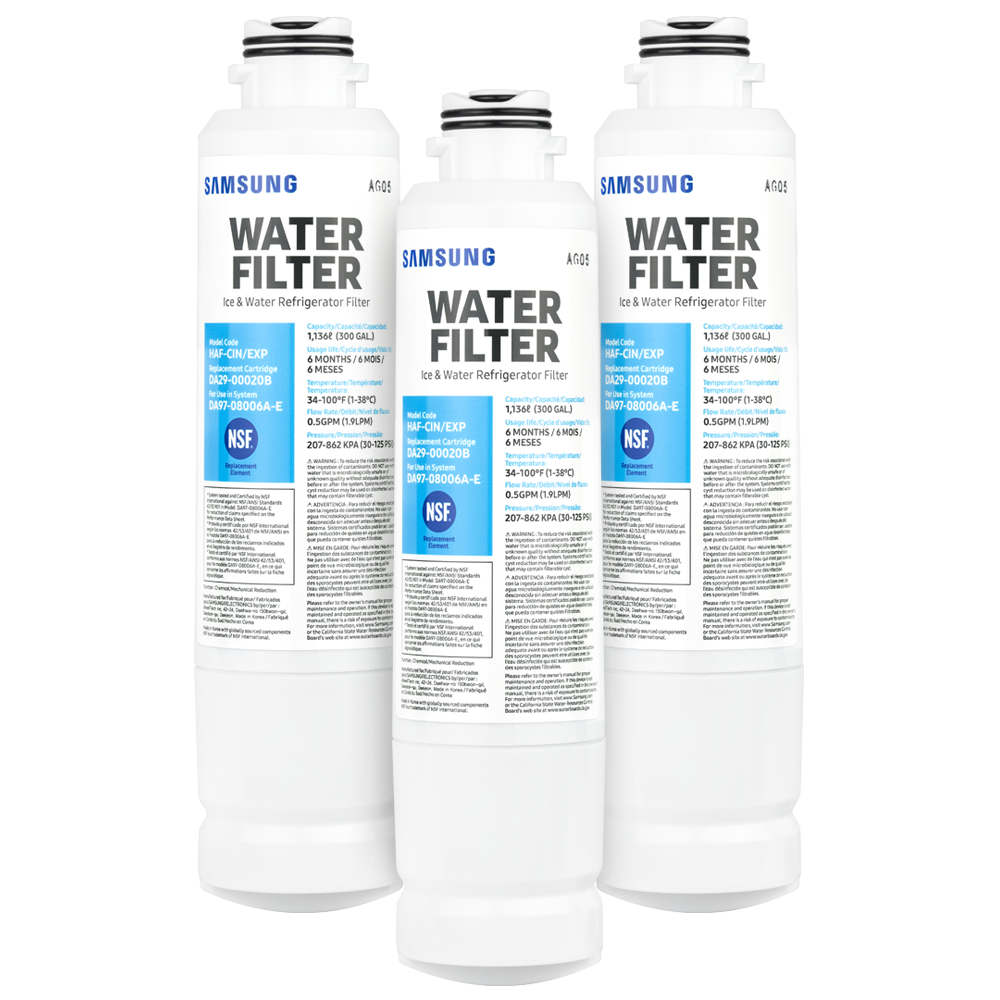 Product Details
Side-by-Side and French Door refrigerators use water filters to cleanse the water and ice they dispense. The Samsung Aqua-Pure Plus filter model DA29-00020B reduces chlorine and other chemicals. It also reduces cysts, lead, turbidity, particulates and other contaminants in well or municipal water. It is tested against NSF/ANSI International Standards 42 and 53. Each factory original filter dispenses water at a flow rate of 0.5 gallons per minute. After it processes 300 gallons, or at least once every six months, replace the dirty filter with a clean filter. The refrigerator can then dispense clean and healthy water and ice.
OEM
reduces chlorine, cysts, lead, sediment, particulates, chemicals and other contaminants
meets NSF/ANSI International Standards 42 and 53
requires 30 - 125 PSI and 33 - 100 °F
300 gallon filtration limit
0.5 gallons per minute flow rate
change every 6 months
---
Value Comparison
---
Compatible Part
Numbers
#'s
Part number compatibility for the Samsung DA29-00020B
Do you know your OEM part number? Use our search to cross-check it!
---
How To Install The Samsung DA29-00020B Filter:
How To Install Filter?
How To Install The DA29-00020B Filter:

Shut off the main water supply valve to the refrigerator
Remove old cartridge by grasping firmly and twisting counterclockwise 1/4 turn
Push new filter into the filter receiver and turn 1/4 turn clockwise until it locks
Turn on the main water supply valve to the refrigerator
Flush the refrigerator water system after replacing the water filter cartridge.  Sputtering may occur until air is purged from water line and filter
Reset water filter status display - replace filter every 6 months
---
Additional Info
rmation
---