Samsung DA29-00020B | Our#: 176562
Samsung Refrigerator Water Filter (DA29-00020B)

191 review(s)
Samsung DA29-00020B | Our#: 176562
Fast Shipping & Free Returns
100% Compatibility Guarantee
Compatibility guaranteed! Free return shipping and 100% money back if there are any issues.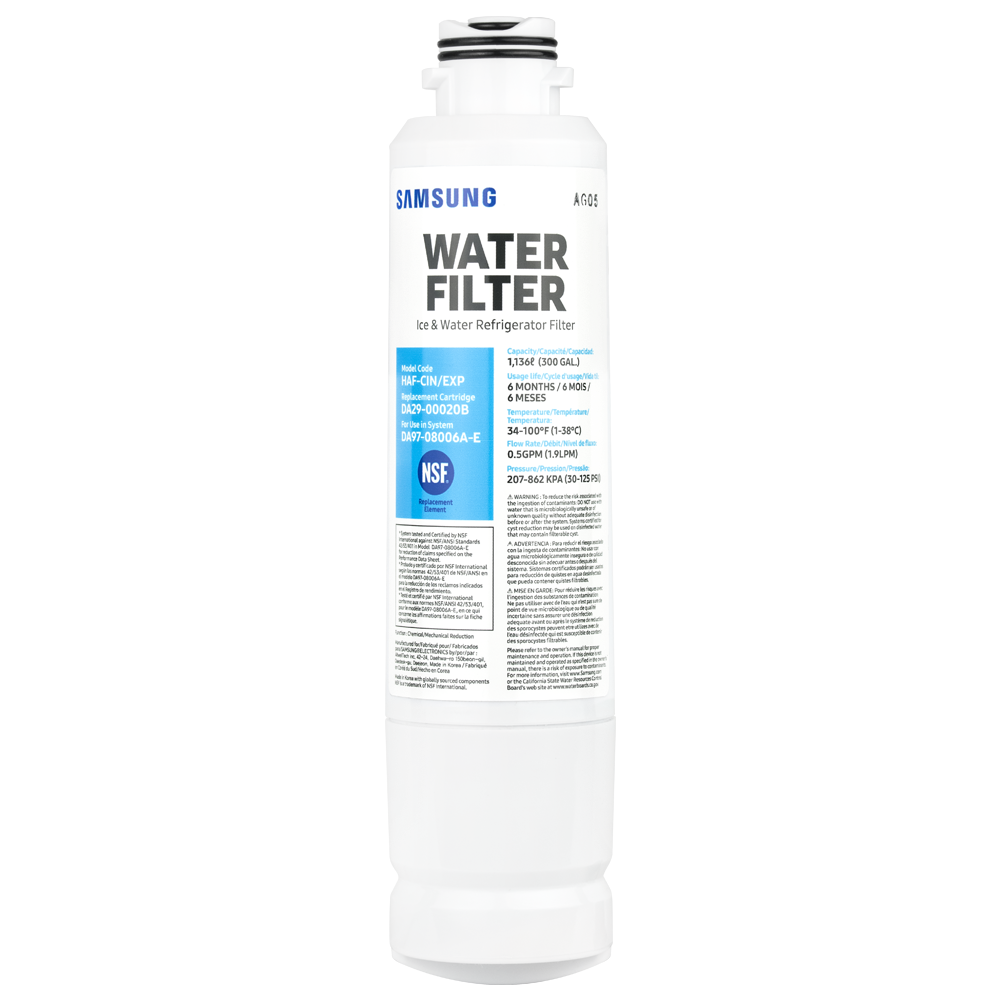 2 people in your area recently purchased this product!
In Stock
Ships in 24 hours
Fast Shipping & Free Returns
100% Compatibility Guarantee
Frequently Purchased Together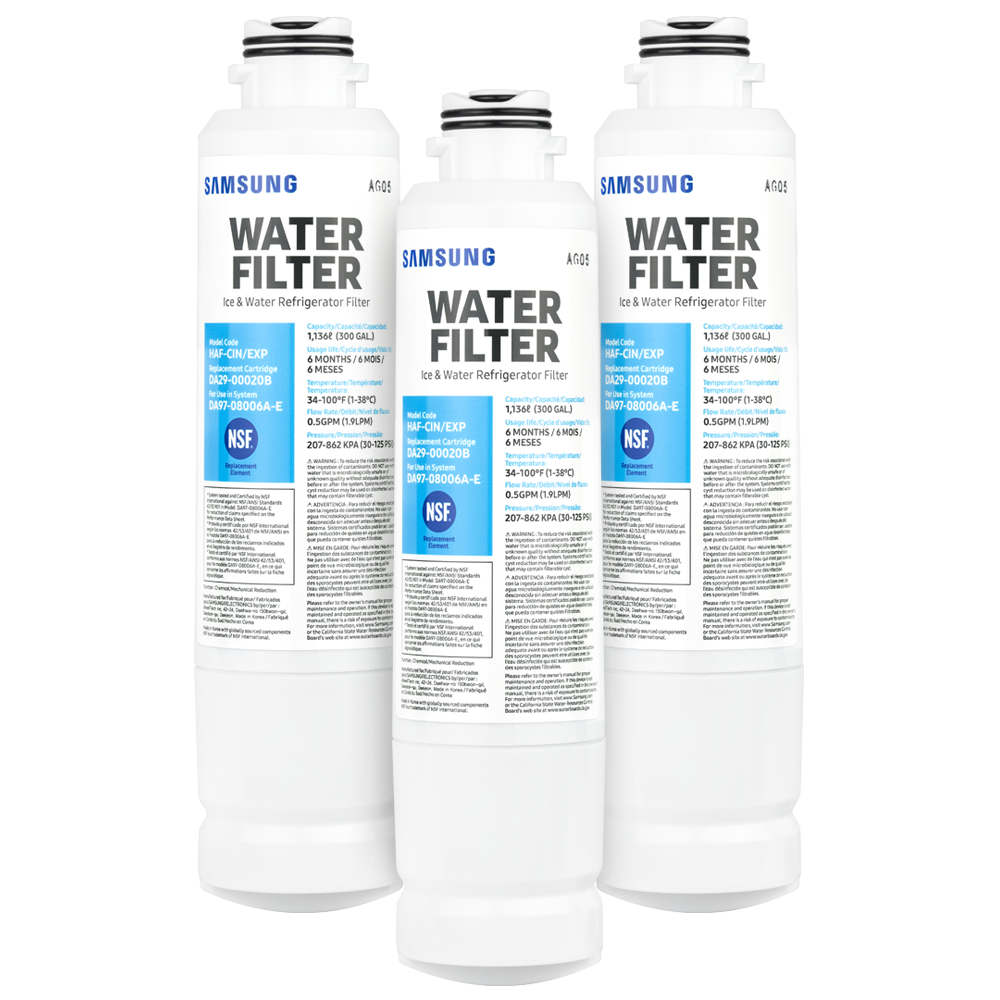 Product Details
Side-by-Side and French Door refrigerators use water filters to cleanse the water and ice they dispense. The Samsung Aqua-Pure Plus filter model DA29-00020B reduces chlorine and other chemicals. It also reduces cysts, lead, turbidity, particulates and other contaminants in well or municipal water. It is tested against NSF/ANSI International Standards 42 and 53. Each factory original filter dispenses water at a flow rate of 0.5 gallons per minute. After it processes 300 gallons, or at least once every six months, replace the dirty filter with a clean filter. The refrigerator can then dispense clean and healthy water and ice.
OEM
reduces chlorine, cysts, lead, sediment, particulates, chemicals and other contaminants
meets NSF/ANSI International Standards 42 and 53
requires 30 - 125 PSI and 33 - 100 °F
300 gallon filtration limit
0.5 gallons per minute flow rate
change every 6 months
---
Popular Part Numbers
---
Installation Instructions
How To Install The DA29-00020B Filter:

Shut off the main water supply valve to the refrigerator
Remove old cartridge by grasping firmly and twisting counterclockwise 1/4 turn
Before installing, apply a small amount of vegetable oil to the new filter o-rings with your finger
Push new filter into the filter receiver and turn 1/4 turn clockwise until it locks
Turn on the main water supply valve to the refrigerator
Flush the refrigerator water system after replacing the water filter cartridge. Sputtering may occur until air is purged from water line and filter
Reset water filter status display - replace filter every 6 months
---
Compatible Part Numbers
Search by your filter part number or appliance model number to verify compatibility
| Model or Part Number | Type |
| --- | --- |
| Samsung REFSVC | Refrigerator |
| Samsung RF18HFENBSR | Refrigerator |
| Samsung RF18HFENBWW | Refrigerator |
| samsung RF197ACBP | Refrigerator |
| samsung RF197ACPN | Refrigerator |
| samsung RF197ACRS | Refrigerator |
| samsung RF197ACWP | Refrigerator |
| samsung RF217ACRS | Refrigerator |
| samsung RF220NCTABC | Refrigerator |
| samsung RF220NCTASP | Refrigerator |
| Samsung RF22K9381SG | Refrigerator |
| Samsung RF22K9381SG/AA | Refrigerator |
| Samsung RF22K9381SR | Refrigerator |
| Samsung RF22K9381SR/AA | Refrigerator |
| Samsung RF22K9581SG | Refrigerator |
| Samsung RF22K9581SG/AA | Refrigerator |
| Samsung RF22K9581SR/AA | Refrigerator |
| Samsung RF22KREDBSG | Refrigerator |
| Samsung RF22KREDBSG/AA | Refrigerator |
| Samsung RF22KREDBSR | Refrigerator |
| Samsung RF22KREDBSR/AA | Refrigerator |
| Samsung RF22M9581SG | Refrigerator |
| Samsung RF22M9581SG/AA | Refrigerator |
| Samsung RF22M9581SR | Refrigerator |
| Samsung RF22M9581SR/AA | Refrigerator |
| Samsung RF22N9781SG/AA | Refrigerator |
| Samsung RF22N9781SR | Refrigerator |
| Samsung RF22N9781SR/AA | Refrigerator |
| Samsung RF22NPEDBSG/AA | Refrigerator |
| Samsung RF22NPEDBSR | Refrigerator |
| Samsung RF22NPEDBSR/AA | Refrigerator |
| Samsung RF23HCEDBBC | Refrigerator |
| Samsung RF23HCEDBBC/AA | Refrigerator |
| Samsung RF23HCEDBSG | Refrigerator |
| Samsung RF23HCEDBSG/AA | Refrigerator |
| Samsung RF23HCEDBSR | Refrigerator |
| Samsung RF23HCEDBSR/AA | Refrigerator |
| Samsung RF23HCEDBWW | Refrigerator |
| Samsung RF23HCEDBWW/AA | Refrigerator |
| Samsung RF23HCEDTSR | Refrigerator |
| Samsung RF23HCEDTSR/AA | Refrigerator |
| Samsung RF23HSESBSR | Refrigerator |
| Samsung RF23HSESBSR/AA | Refrigerator |
| Samsung RF23HTEDBSR | Refrigerator |
| Samsung RF23HTEDBSR/AA | Refrigerator |
| Samsung RF23J9011SG | Refrigerator |
| Samsung RF23J9011SG/AA | Refrigerator |
| Samsung RF23J9011SR | Refrigerator |
| Samsung RF23J9011SR/AA | Refrigerator |
| Samsung RF23M8570SG | Refrigerator |
| Samsung RF24FSEDBSR | Refrigerator |
| Samsung RF24FSEDBSR/AA | Refrigerator |
| Samsung RF24J9960S4 | Refrigerator |
| Samsung RF24J9960S4/AA | Refrigerator |
| Samsung RF25HMEDBBC | Refrigerator |
| Samsung RF25HMEDBBC/AA | Refrigerator |
| Samsung RF25HMEDBSG | Refrigerator |
| Samsung RF25HMEDBSG/AA | Refrigerator |
| Samsung RF25HMEDBSR | Refrigerator |
| Samsung RF25HMEDBSR/AA | Refrigerator |
| Samsung RF25HMEDBWW | Refrigerator |
| Samsung RF25HMEDBWW/AA | Refrigerator |
| Samsung RF25HMIDBSG | Refrigerator |
| Samsung RF25HMIDBSG/AA | Refrigerator |
| Samsung RF25HMIDBSR | Refrigerator |
| Samsung RF25HMIDBSR/AA | Refrigerator |
| Samsung RF260BEAEBC | Refrigerator |
| Samsung RF260BEAEBC/AA | Refrigerator |
| Samsung RF260BEAESG | Refrigerator |
| Samsung RF260BEAESG/AA | Refrigerator |
| Samsung RF260BEAESP | Refrigerator |
| Samsung RF260BEAESP/AA | Refrigerator |
| Samsung RF260BEAESR | Refrigerator |
| Samsung RF260BEAESR/AA | Refrigerator |
| Samsung RF260BEAEWW | Refrigerator |
| Samsung RF260BEAEWW/AA | Refrigerator |
| Samsung RF261BEAEBC | Refrigerator |
| Samsung RF261BEAEBC/AA | Refrigerator |
| Samsung RF261BEAESG | Refrigerator |
| Samsung RF261BEAESG/AA | Refrigerator |
| Samsung RF261BEAESP | Refrigerator |
| Samsung RF261BEAESP/AA | Refrigerator |
| Samsung RF261BEAESR | Refrigerator |
| Samsung RF261BEAESR/AA | Refrigerator |
| Samsung RF261BEAEWW | Refrigerator |
| Samsung RF261BEAEWW/AA | Refrigerator |
| samsung RF261BIAESR | Refrigerator |
| Samsung RF263BEAEBC | Refrigerator |
| Samsung RF263BEAEBC/AA | Refrigerator |
| Samsung RF263BEAESG | Refrigerator |
| Samsung RF263BEAESG/AA | Refrigerator |
| Samsung RF263BEAESP | Refrigerator |
| Samsung RF263BEAESP/AA | Refrigerator |
| Samsung RF263BEAESR | Refrigerator |
| Samsung RF263BEAESR/AA | Refrigerator |
| Samsung RF263BEAEWW | Refrigerator |
| Samsung RF263BEAEWW/AA | Refrigerator |
| Samsung RF263TE | Refrigerator |
| Samsung RF263TEAEBC | Refrigerator |
| Samsung RF263TEAEBC/AA | Refrigerator |
| Samsung RF263TEAESG | Refrigerator |
| Samsung RF263TEAESG/AA | Refrigerator |
| Samsung RF263TEAESP | Refrigerator |
| Samsung RF263TEAESP/AA | Refrigerator |
| Samsung RF263TEAESR | Refrigerator |
| Samsung RF263TEAESR/AA | Refrigerator |
| Samsung RF263TEAEWW | Refrigerator |
| Samsung RF263TEAEWW/AA | Refrigerator |
| Samsung RF265BEAESG | Refrigerator |
| Samsung RF265BEAESG/AA | Refrigerator |
| Samsung RF265BEAESR | Refrigerator |
| Samsung RF265BEAESR/AA | Refrigerator |
| Samsung RF26HFENDBC | Refrigerator |
| Samsung RF26HFENDBC/AA | Refrigerator |
| Samsung RF26HFENDSR | Refrigerator |
| Samsung RF26HFENDSR/AA | Refrigerator |
| Samsung RF26HFENDWW | Refrigerator |
| Samsung RF26HFENDWW/AA | Refrigerator |
| Samsung RF26HFPNBSR | Refrigerator |
| Samsung RF26HFPNBSR/AA | Refrigerator |
| Samsung RF26J7500BC | Refrigerator |
| Samsung RF26J7500BC/AA | Refrigerator |
| Samsung RF26J7500SR | Refrigerator |
| Samsung RF26J7500SR/AA | Refrigerator |
| Samsung RF26J7500WW | Refrigerator |
| Samsung RF26J7500WW/AA | Refrigerator |
| Samsung RF26J7510SR | Refrigerator |
| Samsung RF26J7510SR/AA | Refrigerator |
| Samsung RF28HDED8SR | Refrigerator |
| Samsung RF28HDEDBSG/AA | Refrigerator |
| Samsung RF28HDEDBSR | Refrigerator |
| Samsung RF28HDEDBSR/AA | Refrigerator |
| Samsung RF28HDEDPBC | Refrigerator |
| Samsung RF28HDEDPBC/AA | Refrigerator |
| Samsung RF28HDEDPWW | Refrigerator |
| Samsung RF28HDEDPWW/AA | Refrigerator |
| Samsung RF28HDEDTSR | Refrigerator |
| Samsung RF28HDEDTSR/AA | Refrigerator |
| Samsung RF28HFED | Refrigerator |
| Samsung RF28HFEDBBC | Refrigerator |
| Samsung RF28HFEDBBC/AA | Refrigerator |
| Samsung RF28HFEDBSG | Refrigerator |
| Samsung RF28HFEDBSG/AA | Refrigerator |
| Samsung RF28HFEDBSR | Refrigerator |
| Samsung RF28HFEDBSR/AA | Refrigerator |
| Samsung RF28HFEDBWW | Refrigerator |
| Samsung RF28HFEDBWW/AA | Refrigerator |
| Samsung RF28HFEDTBC | Refrigerator |
| Samsung RF28HFEDTBC/AA | Refrigerator |
| Samsung RF28HFEDTSG | Refrigerator |
| Samsung RF28HFEDTSG/AA | Refrigerator |
| Samsung RF28HFEDTSR | Refrigerator |
| Samsung RF28HFEDTSR/AA | Refrigerator |
| Samsung RF28HFEDTWW | Refrigerator |
| Samsung RF28HFEDTWW/AA | Refrigerator |
| Samsung RF28HFPDBSR | Refrigerator |
| Samsung RF28HFPDBSR/AA | Refrigerator |
| Samsung RF28HMEDBBC | Refrigerator |
| Samsung RF28HMEDBBC/AA | Refrigerator |
| Samsung RF28HMEDBSG/AA | Refrigerator |
| Samsung RF28HMEDBSR | Refrigerator |
| Samsung RF28HMEDBSR/AA | Refrigerator |
| Samsung RF28HMEDBWW | Refrigerator |
| Samsung RF28HMEDBWW/AA | Refrigerator |
| Samsung RF28HMELBSR | Refrigerator |
| Samsung RF28HMELBSR/AA | Refrigerator |
| Samsung RF28JBEDBSG | Refrigerator |
| Samsung RF28JBEDBSG/AA | Refrigerator |
| Samsung RF28JBEDBSR | Refrigerator |
| Samsung RF28JBEDBSR/AA | Refrigerator |
| Samsung RF28K9070SG | Refrigerator |
| Samsung RF28K9070SG/AA | Refrigerator |
| Samsung RF28K9070SR | Refrigerator |
| Samsung RF28K9070SR/AA | Refrigerator |
| Samsung RF28K9380SG | Refrigerator |
| Samsung RF28K9380SG/AA | Refrigerator |
| Samsung RF28K9380SR | Refrigerator |
| Samsung RF28K9380SR/AA | Refrigerator |
| Samsung RF28K9580SG | Refrigerator |
| Samsung RF28K9580SG/AA | Refrigerator |
| Samsung RF28K9580SR | Refrigerator |
| Samsung RF28K9580SR/AA | Refrigerator |
| Samsung RF28M9580SG | Refrigerator |
| Samsung RF28M9580SG/AA | Refrigerator |
| Samsung RF28M9580SR | Refrigerator |
| Samsung RF28M9580SR/AA | Refrigerator |
| Samsung RF28MFEDES8/AA | Refrigerator |
| Samsung RF28N9780SG/AA | Refrigerator |
| Samsung RF28N9780SR | Refrigerator |
| Samsung RF28N9780SR/AA | Refrigerator |
| Samsung RF28NDEDBSG/AA | Refrigerator |
| Samsung RF28NHEDBSG | Refrigerator |
| Samsung RF28NHEDBSG/AA | Refrigerator |
| Samsung RF28NHEDBSR/AA | Refrigerator |
| Samsung RF30HBEDBSR | Refrigerator |
| Samsung RF30HBEDBSR/AA | Refrigerator |
| Samsung RF30HDEDTSR | Refrigerator |
| Samsung RF30HDEDTSR/AA | Refrigerator |
| Samsung RF30KMEDBSG | Refrigerator |
| Samsung RF30KMEDBSG/AA | Refrigerator |
| Samsung RF30KMEDBSR | Refrigerator |
| Samsung RF30KMEDBSR/AA | Refrigerator |
| Samsung RF31FMEDBBC | Refrigerator |
| Samsung RF31FMEDBBC/AA | Refrigerator |
| Samsung RF31FMEDBSR | Refrigerator |
| Samsung RF31FMEDBSR/AA | Refrigerator |
| Samsung RF31FMEDBWW | Refrigerator |
| Samsung RF31FMEDBWW/AA | Refrigerator |
| Samsung RF31FMESBSR | Refrigerator |
| Samsung RF31FMESBSR/AA | Refrigerator |
| Samsung RF323TE | Refrigerator |
| Samsung RF323TEDBBC | Refrigerator |
| Samsung RF323TEDBBC/AA | Refrigerator |
| Samsung RF323TEDBSR | Refrigerator |
| Samsung RF323TEDBSR/AA | Refrigerator |
| Samsung RF323TEDBWW | Refrigerator |
| Samsung RF323TEDBWW/AA | Refrigerator |
| Samsung RF32FMQDBSR | Refrigerator |
| Samsung RF32FMQDBSR/AA | Refrigerator |
| Samsung RF32FMQDBXW | Refrigerator |
| Samsung RF32FMQDBXW/AA | Refrigerator |
| Samsung RF34H9950S4 | Refrigerator |
| Samsung RF34H9950S4/AA | Refrigerator |
| Samsung RF34H9960S4 | Refrigerator |
| Samsung RF34H9960S4/AA | Refrigerator |
| Samsung RF4267 | Refrigerator |
| Samsung RF4267HA | Refrigerator |
| Samsung RF4267HABP | Refrigerator |
| Samsung RF4267HABP/XAA | Refrigerator |
| Samsung RF4267HARS | Refrigerator |
| Samsung RF4267HARS/XAA | Refrigerator |
| Samsung RF4267HAWP | Refrigerator |
| Samsung RF4267HAWP/XAA | Refrigerator |
| Samsung RF4287 | Refrigerator |
| Samsung RF4287HA | Refrigerator |
| Samsung RF4287HABP | Refrigerator |
| Samsung RF4287HABP/XAA | Refrigerator |
| Samsung RF4287HAPN | Refrigerator |
| Samsung RF4287HAPN/XAA | Refrigerator |
| Samsung RF4287HARS | Refrigerator |
| Samsung RF4287HARS/XAA | Refrigerator |
| Samsung RF4287HARS/XAC | Refrigerator |
| Samsung RF4287HAWP | Refrigerator |
| Samsung RF4287HAWP/XAA | Refrigerator |
| Samsung RF4289 | Refrigerator |
| Samsung RF4289HARS | Refrigerator |
| Samsung RF4289HARS/XAA | Refrigerator |
| Samsung RFG293 | Refrigerator |
| Samsung RFG293HABP | Refrigerator |
| Samsung RFG293HABP/XAA | Refrigerator |
| Samsung RFG293HABP/XAC | Refrigerator |
| Samsung RFG293HAPN/XAA | Refrigerator |
| Samsung RFG293HARS | Refrigerator |
| Samsung RFG293HARS/XAA | Refrigerator |
| Samsung RFG293HAWP | Refrigerator |
| Samsung RFG293HAWP/AA | Refrigerator |
| Samsung RFG293HAWP/XAA | Refrigerator |
| Samsung RFG293HAWP/XAC | Refrigerator |
| Samsung RFG296 | Refrigerator |
| Samsung RFG296HD | Refrigerator |
| Samsung RFG296HDBP | Refrigerator |
| Samsung RFG296HDBP/XAA | Refrigerator |
| Samsung RFG296HDPN | Refrigerator |
| Samsung RFG296HDPN/XAA | Refrigerator |
| Samsung RFG296HDRS | Refrigerator |
| Samsung RFG296HDRS/XAA | Refrigerator |
| Samsung RFG296HDWP | Refrigerator |
| Samsung RFG296HDWP/XAA | Refrigerator |
| Samsung RFG297HD | Refrigerator |
| Samsung RFG297HDBP | Refrigerator |
| Samsung RFG297HDBP/XAA | Refrigerator |
| Samsung RFG297HDPN | Refrigerator |
| Samsung RFG297HDPN/XAA | Refrigerator |
| Samsung RFG297HDRS | Refrigerator |
| Samsung RFG297HDRS/XAA | Refrigerator |
| Samsung RFG297HDWP | Refrigerator |
| Samsung RFG297HDWP/XAA | Refrigerator |
| Samsung RFG298HD | Refrigerator |
| Samsung RFG298HDBP | Refrigerator |
| Samsung RFG298HDPN/XAA | Refrigerator |
| Samsung RFG298HDRS | Refrigerator |
| Samsung RFG298HDRS/XAA | Refrigerator |
| Samsung RFG298HDWP | Refrigerator |
| Samsung RFG298HDWP/XAA | Refrigerator |
| Samsung RFG29P | Refrigerator |
| Samsung RFG29PHDBP | Refrigerator |
| Samsung RFG29PHDBP/XAA | Refrigerator |
| Samsung RFG29PHDPN | Refrigerator |
| Samsung RFG29PHDPN/XAA | Refrigerator |
| Samsung RFG29PHDRS | Refrigerator |
| Samsung RFG29PHDRS/XAA | Refrigerator |
| Samsung RFG29PHDWP | Refrigerator |
| Samsung RFG29PHDWP/XAA | Refrigerator |
| samsung RFG29THDRS | Refrigerator |
| Samsung RFG29THDRS/XAA | Refrigerator |
| Samsung RFS265 | Refrigerator |
| Samsung RH22H8010SR | Refrigerator |
| Samsung RH22H8010SR/AA | Refrigerator |
| Samsung RH22H9010SG | Refrigerator |
| Samsung RH22H9010SG/AA | Refrigerator |
| Samsung RH22H9010SR | Refrigerator |
| Samsung RH22H9010SR/AA | Refrigerator |
| Samsung RH22H9010SR/AA-00 | Refrigerator |
| Samsung RH22H9010SR/AA-01 | Refrigerator |
| Samsung RH22H9010SR/AA-02 | Refrigerator |
| Samsung RH22H9010SR/AA-03 | Refrigerator |
| Samsung RH22H9010SR/AA-04 | Refrigerator |
| Samsung RH22H9010SR/AA-05 | Refrigerator |
| Samsung RH22H9010SR/AA-06 | Refrigerator |
| Samsung RH22H9010SR/AA-07 | Refrigerator |
| Samsung RH22H9010SR/AA-08 | Refrigerator |
| Samsung RH22H9010SR/AA-09 | Refrigerator |
| Samsung RH25H5611BC | Refrigerator |
| Samsung RH25H5611BC/AA | Refrigerator |
| Samsung RH25H5611SG | Refrigerator |
| Samsung RH25H5611SG/AA | Refrigerator |
| Samsung RH25H5611SR | Refrigerator |
| Samsung RH25H5611SR/AA | Refrigerator |
| Samsung RH25H5611WW | Refrigerator |
| Samsung RH25H5611WW/AA | Refrigerator |
| Samsung RH29H8000SR | Refrigerator |
| Samsung RH29H8000SR/AA | Refrigerator |
| Samsung RH29H9000SR | Refrigerator |
| Samsung RH29H9000SR/AA | Refrigerator |
| Samsung RH30H9500SR | Refrigerator |
| Samsung RH30H9500SR/AA | Refrigerator |
| Samsung RS25H5000BC | Refrigerator |
| Samsung RS25H5000BC/AA | Refrigerator |
| Samsung RS25H5000SR | Refrigerator |
| Samsung RS25H5000SR/AA | Refrigerator |
| Samsung RS25H5000WW | Refrigerator |
| Samsung RS25H5000WW/AA | Refrigerator |
| Samsung RS25H5111 | Refrigerator |
| Samsung RS25H5111BC | Refrigerator |
| Samsung RS25H5111BC/AA | Refrigerator |
| Samsung RS25H5111SG | Refrigerator |
| Samsung RS25H5111SG/AA | Refrigerator |
| Samsung RS25H5111SR | Refrigerator |
| Samsung RS25H5111SR/AA | Refrigerator |
| Samsung RS25H5111WW | Refrigerator |
| Samsung RS25H5111WW/AA | Refrigerator |
| Samsung RS25H5121BC | Refrigerator |
| Samsung RS25H5121BC/AA | Refrigerator |
| Samsung RS25H5121SR | Refrigerator |
| Samsung RS25H5121SR/AA | Refrigerator |
| Samsung RS25H5121WW | Refrigerator |
| Samsung RS25H5121WW/AA | Refrigerator |
| Samsung RS25J500DBC | Refrigerator |
| Samsung RS25J500DBC/AA | Refrigerator |
| Samsung RS25J500DSG | Refrigerator |
| Samsung RS25J500DSG/AA | Refrigerator |
| Samsung RS25J500DSR | Refrigerator |
| Samsung RS25J500DSR/AA | Refrigerator |
| Samsung RS25J500DWW | Refrigerator |
| Samsung RS25J500DWW/AA | Refrigerator |
| Samsung RS26 | Refrigerator |
| Samsung RS261 | Refrigerator |
| Samsung RS261M | Refrigerator |
| Samsung RS261MDBP | Refrigerator |
| Samsung RS261MDBP/XAA | Refrigerator |
| Samsung RS261MDPN | Refrigerator |
| Samsung RS261MDPN/XAA | Refrigerator |
| Samsung RS261MDRS | Refrigerator |
| Samsung RS261MDRS/XAA | Refrigerator |
| Samsung RS261MDWP | Refrigerator |
| Samsung RS261MDWP/XAA | Refrigerator |
| Samsung RS263TD | Refrigerator |
| Samsung RS263TDBP | Refrigerator |
| Samsung RS263TDBP/XAA | Refrigerator |
| Samsung RS263TDBP/XAC | Refrigerator |
| Samsung RS263TDPN | Refrigerator |
| Samsung RS263TDPN/XAA | Refrigerator |
| Samsung RS263TDRS | Refrigerator |
| Samsung RS263TDRS/XAA | Refrigerator |
| Samsung RS263TDRS/XAC | Refrigerator |
| Samsung RS263TDWP | Refrigerator |
| Samsung RS263TDWP/XAA | Refrigerator |
| Samsung RS263TDWP/XAC | Refrigerator |
| Samsung RS265 | Refrigerator |
| Samsung RS265TDBP | Refrigerator |
| Samsung RS265TDBP/XAA | Refrigerator |
| Samsung RS265TDBP/XAC | Refrigerator |
| Samsung RS265TDPN | Refrigerator |
| Samsung RS265TDPN/XAA | Refrigerator |
| Samsung RS265TDRS | Refrigerator |
| Samsung RS265TDRS/XAA | Refrigerator |
| Samsung RS265TDRS/XAC | Refrigerator |
| Samsung RS265TDWP | Refrigerator |
| Samsung RS265TDWP/XAA | Refrigerator |
| Samsung RS265TDWP/XAC | Refrigerator |
| Samsung RS267TD | Refrigerator |
| Samsung RS267TDBP | Refrigerator |
| Samsung RS267TDBP/XAA | Refrigerator |
| Samsung RS267TDBP/XAC | Refrigerator |
| Samsung RS267TDPN | Refrigerator |
| Samsung RS267TDPN/XAA | Refrigerator |
| Samsung RS267TDRS | Refrigerator |
| Samsung RS267TDRS/XAA | Refrigerator |
| Samsung RS267TDRS/XAC | Refrigerator |
| Samsung RS267TDWP | Refrigerator |
| Samsung RS267TDWP/XAA | Refrigerator |
| Samsung RS267TDWP/XAC | Refrigerator |
| Samsung RS4287 | Refrigerator |
| Samsung RSG307AABP | Refrigerator |
| Samsung RSG307AABP/XAA | Refrigerator |
| Samsung RSG307AARS | Refrigerator |
| Samsung RSG307AARS/XAA | Refrigerator |
| samsung RSG307AAWP | Refrigerator |
| Samsung RSG307AAWP/XAA | Refrigerator |
| samsung RSG309AARS | Refrigerator |
| Samsung RWF25HMEDBSR/AA | Refrigerator |
| RFC0700A | Filter |
| 108013 | Filter |
| 176563 | Filter |
| 2008145 | Filter |
| 46-9101 | Filter |
| 4609101000 | Filter |
| 469101 | Filter |
| 4942453 | Filter |
| 9101 | Filter |
| AP5271937 | Filter |
| CF7 | Filter |
| CLCH105 | Filter |
| CW-S2 | Filter |
| CWMF021 | Filter |
| DA-97-08006A | Filter |
| DA-97-08006A-B | Filter |
| DA-97-08006B | Filter |
| DA29-00019A | Filter |
| DA29-00020A | Filter |
| DA29-00020B | Filter |
| DA2900019A | Filter |
| DA2900020A | Filter |
| DA2900020B | Filter |
| DA97-08006A-B | Filter |
| DWF-7 | Filter |
| EAP4138224 | Filter |
| EBL7800 | Filter |
| EFF-6027A | Filter |
| EFW-DA2920 | Filter |
| FMS-2 | Filter |
| HAF-CIN | Filter |
| HAF-CIN-EXP | Filter |
| HAF-CINEXP | Filter |
| HAFCIN | Filter |
| HDX-FMS-2 | Filter |
| KJ20B | Filter |
| PD00002121 | Filter |
| PH21310 | Filter |
| RWF0700A | Filter |
| RWF1011 | Filter |
| S-2-2 | Filter |
| SAMSUNG20B | Filter |
| SGF-DA20B | Filter |
| SW-S2 | Filter |
| WD-DA29-00020B | Filter |
| WF-1110A | Filter |
| WF-11362C | Filter |
| WF294 | Filter |
| WFBRFSA2 | Filter |
| WFC1401 | Filter |
| WLF-20B | Filter |
| WSS-2 | Filter |
Additional Information
---