Frigidaire WF3CB | Our#: 177269
Frigidaire PureSource3 Refrigerator Water Filter (WF3CB), 2-Pack

105 review(s)
Frigidaire WF3CB | Our#: 177269
Fast Shipping & Free Returns
100% Compatibility Guarantee
Compatibility guaranteed! Free return shipping and 100% money back if there are any issues.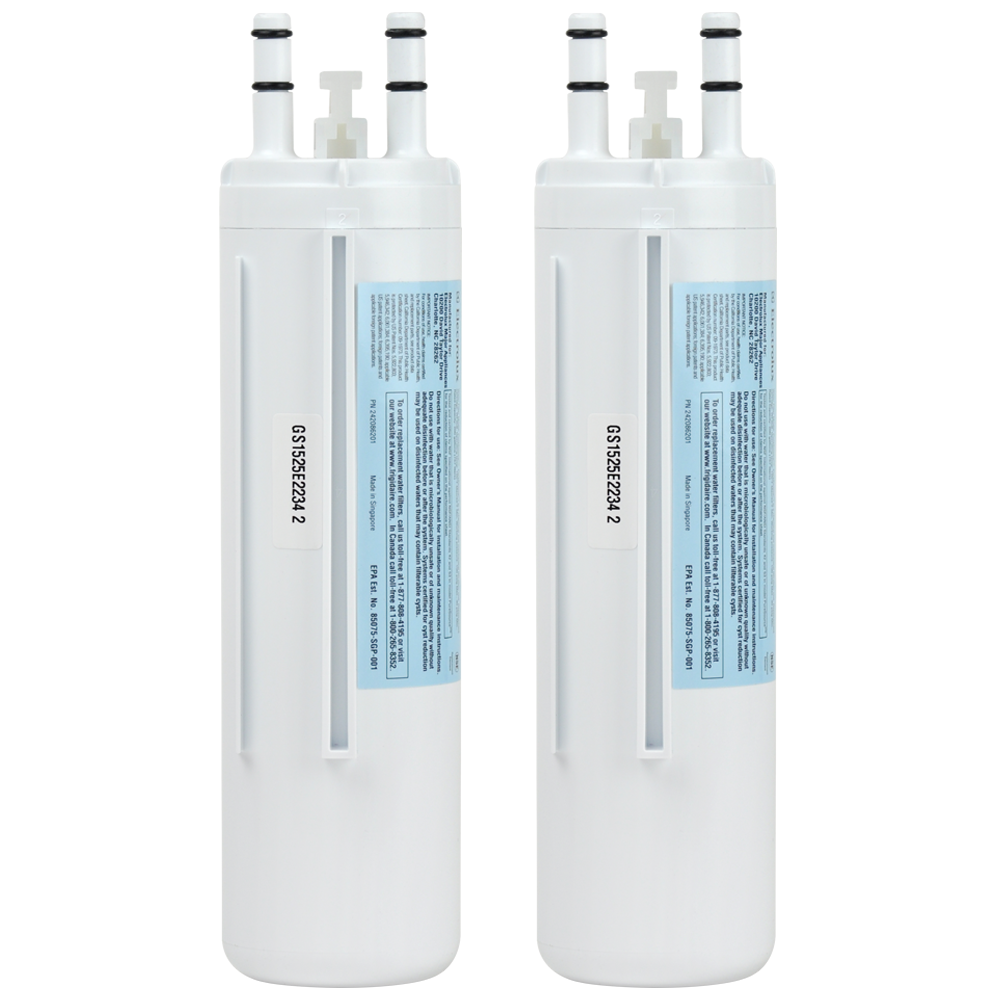 3 people in your area recently purchased this product!
$

52.77
(

2

Filters for $

105.53

)
In Stock
Ships in 24 hours
Fast Shipping & Free Returns
100% Compatibility Guarantee
Frequently Purchased Together
Product Details
The factory original Frigidaire PureSource3 Filter (WF3CB) is used in refrigerators by Frigidaire and others. The WF3CB filter creates better tasting water for drinking and making beverages as well as clean, clearer, healthy ice. Using activated carbon, the WF3CB filters absorb harmful contaminants that can get into your drinking water on the way to your home. Your water can become polluted with man-made chemicals like gasoline, oil, herbicides and pesticides and more. Changing out your water filter can help reduce these pollutants leaving you with fresh, clean, better tasting drinking water and ice from your fridge.

Features:
Original OEM product
Easy installation and operation
Helps reduce chlorine taste and odor
Helps reduce contaminants found in tap water and improves its quality
Tested by NSF/ANSI International against Standard 42 for the reduction of chlorine taste and odor and particulate
Tested by NSF/ANSI International against Standard 53 for the reduction of lead, cysts, turbidity and other chemicals and impurities
Free shipping
Free returns
100% money back guarantee
---
Popular Part Numbers
---
Installation Instructions
Installation Instructions:

Turn Off the ice maker by raising the wire signal arm.
Remove the filter by pushing on the end/face of the filter.
Slide the old water filter cartridge straight out of the housing and discard it.
Using the alignment guide, slide the new filter gently into the filter housing. Push the filter in slowly until you hear the first "click." Once you hear the "click" stop pushing and the filter should lock in place.
Press a drinking glass against the water dispenser while checking for any leaks at the filter housing. Any spurts and sputters that occur as the system purges air out of the dispenser system are normal.
Turn On the ice maker by lowering the wire signal arm.
Press and hold the Water Filter button on the Ice & Water Dispenser control panel for three seconds. When the display changes from Red to Green, the status has been reset.
After replacing the water filter and in order for the ice maker to work properly, it is necessary to clear air from water filter tubing. Once ice maker begins making ice, allow the bucket to fill completely, then discard the first TWO FULL buckets of ice. It will take at least two days to completely fill the bucket on regular ice making mode or 1 1/2 days on fast ice mode.
---
Compatible Part Numbers
Search by your filter part number or appliance model number to verify compatibility
| Model or Part Number | Type |
| --- | --- |
| Crosley CRSH232PB0 | Refrigerator |
| Crosley CRSH232PB1 | Refrigerator |
| Crosley CRSH232PB2 | Refrigerator |
| Crosley CRSH232PB3 | Refrigerator |
| Crosley CRSH232PB5 | Refrigerator |
| Crosley CRSH232PB6 | Refrigerator |
| Crosley CRSH232PB7A | Refrigerator |
| Crosley CRSH232PB8A | Refrigerator |
| Crosley CRSH232PB9A | Refrigerator |
| Crosley CRSH232PBBA | Refrigerator |
| Crosley CRSH232PS0 | Refrigerator |
| Crosley CRSH232PS1 | Refrigerator |
| Crosley CRSH232PS3 | Refrigerator |
| Crosley CRSH232PS4 | Refrigerator |
| Crosley CRSH232PS5A | Refrigerator |
| Crosley CRSH232PS6A | Refrigerator |
| Crosley CRSH232PS7A | Refrigerator |
| Crosley CRSH232PS9A | Refrigerator |
| Crosley CRSH232PW0 | Refrigerator |
| Crosley CRSH232PW1 | Refrigerator |
| Crosley CRSH232PW2 | Refrigerator |
| Crosley CRSH232PW3 | Refrigerator |
| Crosley CRSH232PW5 | Refrigerator |
| Crosley CRSH232PW6 | Refrigerator |
| Crosley CRSH232PW7A | Refrigerator |
| Crosley CRSH232PW8A | Refrigerator |
| Crosley CRSH232PW9A | Refrigerator |
| Crosley CRSH232PWAA | Refrigerator |
| Crosley CRSH232PWBA | Refrigerator |
| Crosley CRSH232PWCA | Refrigerator |
| Crosley CRSH232PWDA | Refrigerator |
| Crosley CRSH232PWEA | Refrigerator |
| Crosley CRSH237LB0 | Refrigerator |
| Crosley CRSH237LB1 | Refrigerator |
| Crosley CRSH237LB2 | Refrigerator |
| Crosley CRSH237LB3 | Refrigerator |
| Crosley CRSH237LB4 | Refrigerator |
| Crosley CRSH237LS0 | Refrigerator |
| Crosley CRSH237LS1 | Refrigerator |
| Crosley CRSH237LS2 | Refrigerator |
| Crosley CRSH237LS3 | Refrigerator |
| Crosley CRSH237LS4 | Refrigerator |
| Crosley CRSH237LW0 | Refrigerator |
| Crosley CRSH237LW1 | Refrigerator |
| Crosley CRSH237LW2 | Refrigerator |
| Crosley CRSH237LW3 | Refrigerator |
| Crosley CRSH237LW4 | Refrigerator |
| Crosley CRSH238MB1 | Refrigerator |
| Crosley CRSH238MB2 | Refrigerator |
| Crosley CRSH238MB3 | Refrigerator |
| Crosley CRSH238MB4 | Refrigerator |
| Crosley CRSH238MB5 | Refrigerator |
| Crosley CRSH238MB6 | Refrigerator |
| Crosley CRSH238MS1 | Refrigerator |
| Crosley CRSH238MS2 | Refrigerator |
| Crosley CRSH238MS3 | Refrigerator |
| Crosley CRSH238MS4 | Refrigerator |
| Crosley CRSH238MW1 | Refrigerator |
| Crosley CRSH238MW2 | Refrigerator |
| Crosley CRSH238MW3 | Refrigerator |
| Crosley CRSH238MW4 | Refrigerator |
| Crosley CRSH238MW5 | Refrigerator |
| Crosley CRSH238MW6 | Refrigerator |
| Crosley CRSH265LB0 | Refrigerator |
| Crosley CRSH265LB1 | Refrigerator |
| Crosley CRSH265LB2 | Refrigerator |
| Crosley CRSH265LB3 | Refrigerator |
| Crosley CRSH265LW0 | Refrigerator |
| Crosley CRSH265LW1 | Refrigerator |
| Crosley CRSH265LW2 | Refrigerator |
| Crosley CRSH265LW3 | Refrigerator |
| Crosley CRSH266MB2 | Refrigerator |
| Crosley CRSH266MW2 | Refrigerator |
| Crosley CRSH266MW3 | Refrigerator |
| Crosley CRSH267LB0 | Refrigerator |
| Crosley CRSH267LB2 | Refrigerator |
| Crosley CRSH267LB3 | Refrigerator |
| Crosley CRSH267LB5 | Refrigerator |
| Crosley CRSH267LS0 | Refrigerator |
| Crosley CRSH267LS2 | Refrigerator |
| Crosley CRSH267LS3 | Refrigerator |
| Crosley CRSH267LS4 | Refrigerator |
| Crosley CRSH267LS5 | Refrigerator |
| Crosley CRSH267LW0 | Refrigerator |
| Crosley CRSH267LW2 | Refrigerator |
| Crosley CRSH267LW3 | Refrigerator |
| Crosley CRSH267LW5 | Refrigerator |
| Crosley CRSH268MB2 | Refrigerator |
| Crosley CRSH268MB3 | Refrigerator |
| Crosley CRSH268MB4 | Refrigerator |
| Crosley CRSH268MB5 | Refrigerator |
| Crosley CRSH268MB6 | Refrigerator |
| Crosley CRSH268MB7 | Refrigerator |
| Crosley CRSH268MB8 | Refrigerator |
| Crosley CRSH268MBC | Refrigerator |
| Crosley CRSH268MBDA | Refrigerator |
| Crosley CRSH268MS2 | Refrigerator |
| Crosley CRSH268MS3 | Refrigerator |
| Crosley CRSH268MS4 | Refrigerator |
| Crosley CRSH268MS5 | Refrigerator |
| Crosley CRSH268MS6 | Refrigerator |
| Crosley CRSH268MS7 | Refrigerator |
| Crosley CRSH268MS9 | Refrigerator |
| Crosley CRSH268MSC | Refrigerator |
| Crosley CRSH268MSDA | Refrigerator |
| Crosley CRSH268MW2 | Refrigerator |
| Crosley CRSH268MW3 | Refrigerator |
| Crosley CRSH268MW4 | Refrigerator |
| Crosley CRSH268MW6 | Refrigerator |
| Crosley CRSH268MW7 | Refrigerator |
| Crosley CRSH268MW8 | Refrigerator |
| Crosley CRSH268MW9 | Refrigerator |
| Crosley CRSH268MWB | Refrigerator |
| Crosley CRSH268MWCA | Refrigerator |
| Crosley CRSS262QB0 | Refrigerator |
| Crosley CRSS262QB1 | Refrigerator |
| Crosley CRSS262QB2 | Refrigerator |
| Crosley CRSS262QB3 | Refrigerator |
| Crosley CRSS262QB4 | Refrigerator |
| Crosley CRSS262QB5 | Refrigerator |
| Crosley CRSS262QS0 | Refrigerator |
| Crosley CRSS262QS1 | Refrigerator |
| Crosley CRSS262QS2 | Refrigerator |
| Crosley CRSS262QS3 | Refrigerator |
| Crosley CRSS262QS4 | Refrigerator |
| Crosley CRSS262QS5 | Refrigerator |
| Crosley CRSS262QW0 | Refrigerator |
| Crosley CRSS262QW1 | Refrigerator |
| Crosley CRSS262QW2 | Refrigerator |
| Crosley CRSS262QW3 | Refrigerator |
| Crosley CRSS262QW4 | Refrigerator |
| Crosley CRSS262QW5 | Refrigerator |
| Frigidaire BFHS2611LM | Refrigerator |
| FRIGIDAIRE BFHS2611LM0 | Refrigerator |
| FRIGIDAIRE BFHS2611LM1 | Refrigerator |
| FRIGIDAIRE BFHS2611LM2 | Refrigerator |
| FRIGIDAIRE CRSE233TB0 | Refrigerator |
| FRIGIDAIRE CRSE233TS0 | Refrigerator |
| FRIGIDAIRE CRSE233TW0 | Refrigerator |
| FRIGIDAIRE CRSE263TB0 | Refrigerator |
| FRIGIDAIRE CRSE263TD0 | Refrigerator |
| FRIGIDAIRE CRSE263TS0 | Refrigerator |
| FRIGIDAIRE CRSE263TW0 | Refrigerator |
| FRIGIDAIRE CRSH232PB0 | Refrigerator |
| FRIGIDAIRE CRSH232PB1 | Refrigerator |
| FRIGIDAIRE CRSH232PB2 | Refrigerator |
| FRIGIDAIRE CRSH232PB3 | Refrigerator |
| FRIGIDAIRE CRSH232PB5 | Refrigerator |
| FRIGIDAIRE CRSH232PB6 | Refrigerator |
| FRIGIDAIRE CRSH232PB7A | Refrigerator |
| FRIGIDAIRE CRSH232PB8A | Refrigerator |
| FRIGIDAIRE CRSH232PB9A | Refrigerator |
| FRIGIDAIRE CRSH232PBBA | Refrigerator |
| FRIGIDAIRE CRSH232PBEA | Refrigerator |
| FRIGIDAIRE CRSH232PBFA | Refrigerator |
| FRIGIDAIRE CRSH232PBHA | Refrigerator |
| FRIGIDAIRE CRSH232PS0 | Refrigerator |
| FRIGIDAIRE CRSH232PS1 | Refrigerator |
| FRIGIDAIRE CRSH232PS3 | Refrigerator |
| FRIGIDAIRE CRSH232PS4 | Refrigerator |
| FRIGIDAIRE CRSH232PS5A | Refrigerator |
| FRIGIDAIRE CRSH232PS6A | Refrigerator |
| FRIGIDAIRE CRSH232PS7A | Refrigerator |
| FRIGIDAIRE CRSH232PS9A | Refrigerator |
| FRIGIDAIRE CRSH232PSCA | Refrigerator |
| FRIGIDAIRE CRSH232PW0 | Refrigerator |
| FRIGIDAIRE CRSH232PW1 | Refrigerator |
| FRIGIDAIRE CRSH232PW2 | Refrigerator |
| FRIGIDAIRE CRSH232PW3 | Refrigerator |
| FRIGIDAIRE CRSH232PW5 | Refrigerator |
| FRIGIDAIRE CRSH232PW6 | Refrigerator |
| FRIGIDAIRE CRSH232PW7A | Refrigerator |
| FRIGIDAIRE CRSH232PW8A | Refrigerator |
| FRIGIDAIRE CRSH232PW9A | Refrigerator |
| FRIGIDAIRE CRSH232PWAA | Refrigerator |
| FRIGIDAIRE CRSH232PWBA | Refrigerator |
| FRIGIDAIRE CRSH232PWCA | Refrigerator |
| FRIGIDAIRE CRSH232PWDA | Refrigerator |
| FRIGIDAIRE CRSH232PWEA | Refrigerator |
| FRIGIDAIRE CRSH237LB0 | Refrigerator |
| FRIGIDAIRE CRSH237LB1 | Refrigerator |
| FRIGIDAIRE CRSH237LB2 | Refrigerator |
| FRIGIDAIRE CRSH237LB3 | Refrigerator |
| FRIGIDAIRE CRSH237LB4 | Refrigerator |
| FRIGIDAIRE CRSH237LS0 | Refrigerator |
| FRIGIDAIRE CRSH237LS1 | Refrigerator |
| FRIGIDAIRE CRSH237LS2 | Refrigerator |
| FRIGIDAIRE CRSH237LS3 | Refrigerator |
| FRIGIDAIRE CRSH237LS4 | Refrigerator |
| FRIGIDAIRE CRSH237LW0 | Refrigerator |
| FRIGIDAIRE CRSH237LW1 | Refrigerator |
| FRIGIDAIRE CRSH237LW2 | Refrigerator |
| FRIGIDAIRE CRSH237LW3 | Refrigerator |
| FRIGIDAIRE CRSH237LW4 | Refrigerator |
| FRIGIDAIRE CRSH238MB1 | Refrigerator |
| FRIGIDAIRE CRSH238MB2 | Refrigerator |
| FRIGIDAIRE CRSH238MB3 | Refrigerator |
| FRIGIDAIRE CRSH238MB4 | Refrigerator |
| FRIGIDAIRE CRSH238MB5 | Refrigerator |
| FRIGIDAIRE CRSH238MB6 | Refrigerator |
| FRIGIDAIRE CRSH238MS1 | Refrigerator |
| FRIGIDAIRE CRSH238MS2 | Refrigerator |
| FRIGIDAIRE CRSH238MS3 | Refrigerator |
| FRIGIDAIRE CRSH238MS4 | Refrigerator |
| FRIGIDAIRE CRSH238MW1 | Refrigerator |
| FRIGIDAIRE CRSH238MW2 | Refrigerator |
| FRIGIDAIRE CRSH238MW3 | Refrigerator |
| FRIGIDAIRE CRSH238MW4 | Refrigerator |
| FRIGIDAIRE CRSH238MW5 | Refrigerator |
| FRIGIDAIRE CRSH238MW6 | Refrigerator |
| FRIGIDAIRE CRSH265LB0 | Refrigerator |
| FRIGIDAIRE CRSH265LB1 | Refrigerator |
| FRIGIDAIRE CRSH265LB2 | Refrigerator |
| FRIGIDAIRE CRSH265LB3 | Refrigerator |
| FRIGIDAIRE CRSH265LW0 | Refrigerator |
| FRIGIDAIRE CRSH265LW1 | Refrigerator |
| FRIGIDAIRE CRSH265LW2 | Refrigerator |
| FRIGIDAIRE CRSH265LW3 | Refrigerator |
| FRIGIDAIRE CRSH266MB2 | Refrigerator |
| FRIGIDAIRE CRSH266MW2 | Refrigerator |
| FRIGIDAIRE CRSH266MW3 | Refrigerator |
| FRIGIDAIRE CRSH267LB0 | Refrigerator |
| FRIGIDAIRE CRSH267LB2 | Refrigerator |
| FRIGIDAIRE CRSH267LB3 | Refrigerator |
| FRIGIDAIRE CRSH267LB5 | Refrigerator |
| FRIGIDAIRE CRSH267LS0 | Refrigerator |
| FRIGIDAIRE CRSH267LS2 | Refrigerator |
| FRIGIDAIRE CRSH267LS3 | Refrigerator |
| FRIGIDAIRE CRSH267LS4 | Refrigerator |
| FRIGIDAIRE CRSH267LS5 | Refrigerator |
| FRIGIDAIRE CRSH267LW0 | Refrigerator |
| FRIGIDAIRE CRSH267LW2 | Refrigerator |
| FRIGIDAIRE CRSH267LW3 | Refrigerator |
| FRIGIDAIRE CRSH267LW5 | Refrigerator |
| FRIGIDAIRE CRSH268MB2 | Refrigerator |
| FRIGIDAIRE CRSH268MB3 | Refrigerator |
| FRIGIDAIRE CRSH268MB4 | Refrigerator |
| FRIGIDAIRE CRSH268MB5 | Refrigerator |
| FRIGIDAIRE CRSH268MB6 | Refrigerator |
| FRIGIDAIRE CRSH268MB7 | Refrigerator |
| FRIGIDAIRE CRSH268MB8 | Refrigerator |
| FRIGIDAIRE CRSH268MBC | Refrigerator |
| FRIGIDAIRE CRSH268MBDA | Refrigerator |
| FRIGIDAIRE CRSH268MS2 | Refrigerator |
| FRIGIDAIRE CRSH268MS3 | Refrigerator |
| FRIGIDAIRE CRSH268MS4 | Refrigerator |
| FRIGIDAIRE CRSH268MS5 | Refrigerator |
| FRIGIDAIRE CRSH268MS6 | Refrigerator |
| FRIGIDAIRE CRSH268MS7 | Refrigerator |
| FRIGIDAIRE CRSH268MS9 | Refrigerator |
| FRIGIDAIRE CRSH268MSC | Refrigerator |
| FRIGIDAIRE CRSH268MSDA | Refrigerator |
| FRIGIDAIRE CRSH268MW2 | Refrigerator |
| FRIGIDAIRE CRSH268MW3 | Refrigerator |
| FRIGIDAIRE CRSH268MW4 | Refrigerator |
| FRIGIDAIRE CRSH268MW6 | Refrigerator |
| FRIGIDAIRE CRSH268MW7 | Refrigerator |
| FRIGIDAIRE CRSH268MW8 | Refrigerator |
| FRIGIDAIRE CRSH268MW9 | Refrigerator |
| FRIGIDAIRE CRSH268MWB | Refrigerator |
| FRIGIDAIRE CRSH268MWCA | Refrigerator |
| FRIGIDAIRE CRSS262QB0 | Refrigerator |
| FRIGIDAIRE CRSS262QB1 | Refrigerator |
| FRIGIDAIRE CRSS262QB2 | Refrigerator |
| FRIGIDAIRE CRSS262QB3 | Refrigerator |
| FRIGIDAIRE CRSS262QB4 | Refrigerator |
| FRIGIDAIRE CRSS262QB5 | Refrigerator |
| FRIGIDAIRE CRSS262QS0 | Refrigerator |
| FRIGIDAIRE CRSS262QS1 | Refrigerator |
| FRIGIDAIRE CRSS262QS2 | Refrigerator |
| FRIGIDAIRE CRSS262QS3 | Refrigerator |
| FRIGIDAIRE CRSS262QS4 | Refrigerator |
| FRIGIDAIRE CRSS262QS5 | Refrigerator |
| FRIGIDAIRE CRSS262QW0 | Refrigerator |
| FRIGIDAIRE CRSS262QW1 | Refrigerator |
| FRIGIDAIRE CRSS262QW2 | Refrigerator |
| FRIGIDAIRE CRSS262QW3 | Refrigerator |
| FRIGIDAIRE CRSS262QW4 | Refrigerator |
| FRIGIDAIRE CRSS262QW5 | Refrigerator |
| Frigidaire DFHS2313MF | Refrigerator |
| Frigidaire DFHS2313MF0 | Refrigerator |
| Frigidaire DFHS2313MF1 | Refrigerator |
| Frigidaire DFHS2313MF2 | Refrigerator |
| Frigidaire DFHS2313MF3 | Refrigerator |
| Frigidaire DFHS2313MF4 | Refrigerator |
| Frigidaire DFHS2313MF5 | Refrigerator |
| Frigidaire DFHS2313MF6 | Refrigerator |
| Frigidaire DFHS2313MF7 | Refrigerator |
| Frigidaire DFHS2313MF8 | Refrigerator |
| Frigidaire DFHS2313MF9 | Refrigerator |
| Frigidaire DFHS2313MFA | Refrigerator |
| Frigidaire DFHS2313MFB | Refrigerator |
| Frigidaire DFHS2313MFCA | Refrigerator |
| Frigidaire DFHS2313MFDA | Refrigerator |
| Frigidaire DFHS2313MFEA | Refrigerator |
| Frigidaire DFHS2313MFFA | Refrigerator |
| Frigidaire DFHS2313MFHA | Refrigerator |
| Frigidaire DFHS2313MFJA | Refrigerator |
| FRIGIDAIRE DFHS2313MFKA | Refrigerator |
| Frigidaire DGUS2635LE | Refrigerator |
| Frigidaire DGUS2635LE0 | Refrigerator |
| Frigidaire DGUS2635LE1 | Refrigerator |
| Frigidaire DGUS2635LE2 | Refrigerator |
| Frigidaire DGUS2635LP | Refrigerator |
| Frigidaire DGUS2635LP0 | Refrigerator |
| Frigidaire DGUS2635LP1 | Refrigerator |
| Frigidaire DGUS2635LP2 | Refrigerator |
| Frigidaire DGUS2645LF | Refrigerator |
| Frigidaire DGUS2645LF0 | Refrigerator |
| Frigidaire DGUS2645LF1 | Refrigerator |
| Frigidaire DGUS2645LF2 | Refrigerator |
| Frigidaire DGUS2645LF3 | Refrigerator |
| Frigidaire DGUS2645LF4 | Refrigerator |
| Frigidaire DGUS2645LF5 | Refrigerator |
| Frigidaire DGUS2645LF6A | Refrigerator |
| Frigidaire FFEX2315QE | Refrigerator |
| Frigidaire FFEX2315QE0 | Refrigerator |
| Frigidaire FFEX2315QE1 | Refrigerator |
| Frigidaire FFEX2315QM | Refrigerator |
| Frigidaire FFEX2315QM0 | Refrigerator |
| Frigidaire FFEX2315QM1 | Refrigerator |
| Frigidaire FFEX2315QP | Refrigerator |
| Frigidaire FFEX2315QP0 | Refrigerator |
| Frigidaire FFEX2315QP1 | Refrigerator |
| Frigidaire FFEX2315QS | Refrigerator |
| Frigidaire FFEX2315QS0 | Refrigerator |
| Frigidaire FFEX2315QS1 | Refrigerator |
| frigidaire FFHS2311LB | Refrigerator |
| Frigidaire FFHS2311LB0 | Refrigerator |
| Frigidaire FFHS2311LB1 | Refrigerator |
| Frigidaire FFHS2311LB2 | Refrigerator |
| Frigidaire FFHS2311LB3 | Refrigerator |
| Frigidaire FFHS2311LB6 | Refrigerator |
| Frigidaire FFHS2311LB7 | Refrigerator |
| Frigidaire FFHS2311LB8 | Refrigerator |
| Frigidaire FFHS2311LB9 | Refrigerator |
| Frigidaire FFHS2311LBA | Refrigerator |
| Frigidaire FFHS2311LBB | Refrigerator |
| Frigidaire FFHS2311LBC | Refrigerator |
| Frigidaire FFHS2311LBD | Refrigerator |
| Frigidaire FFHS2311LBE | Refrigerator |
| Frigidaire FFHS2311LBFA | Refrigerator |
| FRIGIDAIRE FFHS2311LBHA | Refrigerator |
| Frigidaire FFHS2311LBJA | Refrigerator |
| Frigidaire FFHS2311LBKA | Refrigerator |
| Frigidaire FFHS2311LBLA | Refrigerator |
| Frigidaire FFHS2311LBMA | Refrigerator |
| Frigidaire FFHS2311LBNA | Refrigerator |
| Frigidaire FFHS2311LBPA | Refrigerator |
| Frigidaire FFHS2311LBQA | Refrigerator |
| Frigidaire FFHS2311LBRA | Refrigerator |
| FRIGIDAIRE FFHS2311LBSA | Refrigerator |
| Frigidaire FFHS2311LQ | Refrigerator |
| Frigidaire FFHS2311LQ0 | Refrigerator |
| Frigidaire FFHS2311LQ2 | Refrigerator |
| Frigidaire FFHS2311LQ3 | Refrigerator |
| frigidaire FFHS2311LW | Refrigerator |
| Frigidaire FFHS2311LW | Refrigerator |
| Frigidaire FFHS2311LW | Refrigerator |
| Frigidaire FFHS2311LW | Refrigerator |
| Frigidaire FFHS2311LW0 | Refrigerator |
| Frigidaire FFHS2311LW0 | Refrigerator |
| Frigidaire FFHS2311LW1 | Refrigerator |
| Frigidaire FFHS2311LW1 | Refrigerator |
| Frigidaire FFHS2311LW2 | Refrigerator |
| Frigidaire FFHS2311LW2 | Refrigerator |
| Frigidaire FFHS2311LW3 | Refrigerator |
| Frigidaire FFHS2311LW3 | Refrigerator |
| Frigidaire FFHS2311LW6 | Refrigerator |
| Frigidaire FFHS2311LW6 | Refrigerator |
| Frigidaire FFHS2311LW7 | Refrigerator |
| Frigidaire FFHS2311LW7 | Refrigerator |
| Frigidaire FFHS2311LW8 | Refrigerator |
| Frigidaire FFHS2311LW8 | Refrigerator |
| Frigidaire FFHS2311LW9 | Refrigerator |
| Frigidaire FFHS2311LW9 | Refrigerator |
| Frigidaire FFHS2311LWA | Refrigerator |
| Frigidaire FFHS2311LWA | Refrigerator |
| Frigidaire FFHS2311LWB | Refrigerator |
| Frigidaire FFHS2311LWB | Refrigerator |
| Frigidaire FFHS2311LWC | Refrigerator |
| Frigidaire FFHS2311LWC | Refrigerator |
| Frigidaire FFHS2311LWD | Refrigerator |
| Frigidaire FFHS2311LWD | Refrigerator |
| Frigidaire FFHS2311LWEA | Refrigerator |
| Frigidaire FFHS2311LWEA | Refrigerator |
| Frigidaire FFHS2311LWFA | Refrigerator |
| Frigidaire FFHS2311LWFA | Refrigerator |
| Frigidaire FFHS2311LWGA | Refrigerator |
| Frigidaire FFHS2311LWGA | Refrigerator |
| Frigidaire FFHS2311LWJA | Refrigerator |
| Frigidaire FFHS2311LWJA | Refrigerator |
| Frigidaire FFHS2311LWKA | Refrigerator |
| Frigidaire FFHS2311LWKA | Refrigerator |
| Frigidaire FFHS2311LWMA | Refrigerator |
| Frigidaire FFHS2311LWMA | Refrigerator |
| Frigidaire FFHS2311LWNA | Refrigerator |
| Frigidaire FFHS2311LWPA | Refrigerator |
| Frigidaire FFHS2311LWPA | Refrigerator |
| Frigidaire FFHS2311LWQA | Refrigerator |
| Frigidaire FFHS2311LWQA | Refrigerator |
| Frigidaire FFHS2311LWRA | Refrigerator |
| Frigidaire FFHS2311PF | Refrigerator |
| Frigidaire FFHS2311PF0 | Refrigerator |
| Frigidaire FFHS2311PF1 | Refrigerator |
| Frigidaire FFHS2311PF2 | Refrigerator |
| Frigidaire FFHS2311PF3 | Refrigerator |
| Frigidaire FFHS2311PF4 | Refrigerator |
| Frigidaire FFHS2311PF5 | Refrigerator |
| Frigidaire FFHS2311PF6A | Refrigerator |
| Frigidaire FFHS2311PF7A | Refrigerator |
| Frigidaire FFHS2311PF8A | Refrigerator |
| Frigidaire FFHS2311PF9A | Refrigerator |
| Frigidaire FFHS2311PFAA | Refrigerator |
| Frigidaire FFHS2311PFBA | Refrigerator |
| Frigidaire FFHS2311PFCA | Refrigerator |
| Frigidaire FFHS2311PFDA | Refrigerator |
| Frigidaire FFHS2311PFEA | Refrigerator |
| Frigidaire FFHS2311PFFA | Refrigerator |
| Frigidaire FFHS2311PFGA | Refrigerator |
| FRIGIDAIRE FFHS2311PFHA | Refrigerator |
| Frigidaire FFHS2312N | Refrigerator |
| Frigidaire FFHS2312NS | Refrigerator |
| Frigidaire FFHS2312NS0 | Refrigerator |
| Frigidaire FFHS2312NS1 | Refrigerator |
| Frigidaire FFHS2312NS2 | Refrigerator |
| Frigidaire FFHS2312NS3 | Refrigerator |
| Frigidaire FFHS2313LE | Refrigerator |
| Frigidaire FFHS2313LE | Refrigerator |
| Frigidaire FFHS2313LE0 | Refrigerator |
| Frigidaire FFHS2313LE0 | Refrigerator |
| Frigidaire FFHS2313LE0 | Refrigerator |
| Frigidaire FFHS2313LE1 | Refrigerator |
| Frigidaire FFHS2313LE1 | Refrigerator |
| Frigidaire FFHS2313LE1 | Refrigerator |
| Frigidaire FFHS2313LE3 | Refrigerator |
| Frigidaire FFHS2313LE3 | Refrigerator |
| Frigidaire FFHS2313LE3 | Refrigerator |
| Frigidaire FFHS2313LE4 | Refrigerator |
| Frigidaire FFHS2313LE4 | Refrigerator |
| Frigidaire FFHS2313LE4 | Refrigerator |
| Frigidaire FFHS2313LE5 | Refrigerator |
| Frigidaire FFHS2313LE5 | Refrigerator |
| Frigidaire FFHS2313LE5 | Refrigerator |
| Frigidaire FFHS2313LE6 | Refrigerator |
| Frigidaire FFHS2313LE6 | Refrigerator |
| Frigidaire FFHS2313LE6 | Refrigerator |
| Frigidaire FFHS2313LE7 | Refrigerator |
| Frigidaire FFHS2313LE7 | Refrigerator |
| Frigidaire FFHS2313LE7 | Refrigerator |
| Frigidaire FFHS2313LE8 | Refrigerator |
| Frigidaire FFHS2313LE8 | Refrigerator |
| Frigidaire FFHS2313LE8 | Refrigerator |
| Frigidaire FFHS2313LE9 | Refrigerator |
| Frigidaire FFHS2313LE9 | Refrigerator |
| Frigidaire FFHS2313LE9 | Refrigerator |
| Frigidaire FFHS2313LEB | Refrigerator |
| Frigidaire FFHS2313LEB | Refrigerator |
| Frigidaire FFHS2313LEB | Refrigerator |
| Frigidaire FFHS2313LEC | Refrigerator |
| Frigidaire FFHS2313LEC | Refrigerator |
| Frigidaire FFHS2313LEC | Refrigerator |
| Frigidaire FFHS2313LM | Refrigerator |
| Frigidaire FFHS2313LM0 | Refrigerator |
| Frigidaire FFHS2313LM0 | Refrigerator |
| Frigidaire FFHS2313LM1 | Refrigerator |
| Frigidaire FFHS2313LM1 | Refrigerator |
| Frigidaire FFHS2313LM3 | Refrigerator |
| Frigidaire FFHS2313LM3 | Refrigerator |
| Frigidaire FFHS2313LM4 | Refrigerator |
| Frigidaire FFHS2313LM4 | Refrigerator |
| Frigidaire FFHS2313LM5 | Refrigerator |
| Frigidaire FFHS2313LM5 | Refrigerator |
| Frigidaire FFHS2313LM6 | Refrigerator |
| Frigidaire FFHS2313LM6 | Refrigerator |
| Frigidaire FFHS2313LM7 | Refrigerator |
| Frigidaire FFHS2313LM7 | Refrigerator |
| Frigidaire FFHS2313LM8 | Refrigerator |
| Frigidaire FFHS2313LM8 | Refrigerator |
| Frigidaire FFHS2313LM9 | Refrigerator |
| Frigidaire FFHS2313LMA | Refrigerator |
| Frigidaire FFHS2313LMA | Refrigerator |
| Frigidaire FFHS2313LMB | Refrigerator |
| Frigidaire FFHS2313LMB | Refrigerator |
| Frigidaire FFHS2313LMC | Refrigerator |
| Frigidaire FFHS2313LMC | Refrigerator |
| Frigidaire FFHS2313LMD | Refrigerator |
| Frigidaire FFHS2313LMD | Refrigerator |
| Frigidaire FFHS2313LME | Refrigerator |
| Frigidaire FFHS2313LME | Refrigerator |
| Frigidaire FFHS2313LP | Refrigerator |
| Frigidaire FFHS2313LP0 | Refrigerator |
| Frigidaire FFHS2313LP0 | Refrigerator |
| Frigidaire FFHS2313LP3 | Refrigerator |
| Frigidaire FFHS2313LP3 | Refrigerator |
| Frigidaire FFHS2313LP4 | Refrigerator |
| Frigidaire FFHS2313LP4 | Refrigerator |
| Frigidaire FFHS2313LP5 | Refrigerator |
| Frigidaire FFHS2313LP5 | Refrigerator |
| Frigidaire FFHS2313LP6 | Refrigerator |
| Frigidaire FFHS2313LP6 | Refrigerator |
| Frigidaire FFHS2313LP7 | Refrigerator |
| Frigidaire FFHS2313LP7 | Refrigerator |
| Frigidaire FFHS2313LP8 | Refrigerator |
| Frigidaire FFHS2313LP8 | Refrigerator |
| Frigidaire FFHS2313LP9 | Refrigerator |
| Frigidaire FFHS2313LP9 | Refrigerator |
| Frigidaire FFHS2313LPA | Refrigerator |
| Frigidaire FFHS2313LPA | Refrigerator |
| Frigidaire FFHS2313LPB | Refrigerator |
| Frigidaire FFHS2313LPB | Refrigerator |
| Frigidaire FFHS2313LPC | Refrigerator |
| Frigidaire FFHS2313LPC | Refrigerator |
| Frigidaire FFHS2313LPD | Refrigerator |
| Frigidaire FFHS2313LPD | Refrigerator |
| Frigidaire FFHS2313LS | Refrigerator |
| Frigidaire FFHS2313LS | Refrigerator |
| Frigidaire FFHS2313LS0 | Refrigerator |
| Frigidaire FFHS2313LS0 | Refrigerator |
| Frigidaire FFHS2313LS0 | Refrigerator |
| Frigidaire FFHS2313LS1 | Refrigerator |
| Frigidaire FFHS2313LS1 | Refrigerator |
| Frigidaire FFHS2313LS1 | Refrigerator |
| Frigidaire FFHS2313LS2 | Refrigerator |
| Frigidaire FFHS2313LS2 | Refrigerator |
| Frigidaire FFHS2313LS2 | Refrigerator |
| Frigidaire FFHS2313LS3 | Refrigerator |
| Frigidaire FFHS2313LS3 | Refrigerator |
| Frigidaire FFHS2313LS3 | Refrigerator |
| Frigidaire FFHS2313LS4 | Refrigerator |
| Frigidaire FFHS2313LS4 | Refrigerator |
| Frigidaire FFHS2313LS4 | Refrigerator |
| Frigidaire FFHS2313LS5 | Refrigerator |
| Frigidaire FFHS2313LS5 | Refrigerator |
| Frigidaire FFHS2313LS5 | Refrigerator |
| Frigidaire FFHS2313LS6 | Refrigerator |
| Frigidaire FFHS2313LS6 | Refrigerator |
| Frigidaire FFHS2313LS6 | Refrigerator |
| Frigidaire FFHS2313LS7 | Refrigerator |
| Frigidaire FFHS2313LS7 | Refrigerator |
| Frigidaire FFHS2313LS7 | Refrigerator |
| Frigidaire FFHS2313LS8 | Refrigerator |
| Frigidaire FFHS2313LS8 | Refrigerator |
| Frigidaire FFHS2313LS8 | Refrigerator |
| Frigidaire FFHS2313LS9 | Refrigerator |
| Frigidaire FFHS2313LS9 | Refrigerator |
| Frigidaire FFHS2313LS9 | Refrigerator |
| Frigidaire FFHS2313LSA | Refrigerator |
| Frigidaire FFHS2313LSA | Refrigerator |
| Frigidaire FFHS2313LSA | Refrigerator |
| Frigidaire FFHS2313LSB | Refrigerator |
| Frigidaire FFHS2313LSB | Refrigerator |
| Frigidaire FFHS2313LSB | Refrigerator |
| Frigidaire FFHS2313LSC | Refrigerator |
| Frigidaire FFHS2313LSC | Refrigerator |
| Frigidaire FFHS2313LSC | Refrigerator |
| Frigidaire FFHS2313LSD | Refrigerator |
| Frigidaire FFHS2313LSD | Refrigerator |
| Frigidaire FFHS2313LSD | Refrigerator |
| Frigidaire FFHS2313LSE | Refrigerator |
| Frigidaire FFHS2313LSE | Refrigerator |
| Frigidaire FFHS2313LSE | Refrigerator |
| frigidaire FFHS2322MB | Refrigerator |
| Frigidaire FFHS2322MB | Refrigerator |
| Frigidaire FFHS2322MB0 | Refrigerator |
| Frigidaire FFHS2322MB0 | Refrigerator |
| Frigidaire FFHS2322MB1 | Refrigerator |
| Frigidaire FFHS2322MB1 | Refrigerator |
| Frigidaire FFHS2322MB2 | Refrigerator |
| Frigidaire FFHS2322MB2 | Refrigerator |
| Frigidaire FFHS2322MB4 | Refrigerator |
| Frigidaire FFHS2322MB4 | Refrigerator |
| Frigidaire FFHS2322MB5 | Refrigerator |
| Frigidaire FFHS2322MB5 | Refrigerator |
| Frigidaire FFHS2322MB7 | Refrigerator |
| Frigidaire FFHS2322MB7 | Refrigerator |
| Frigidaire FFHS2322MB8 | Refrigerator |
| Frigidaire FFHS2322MB8 | Refrigerator |
| Frigidaire FFHS2322MB9 | Refrigerator |
| Frigidaire FFHS2322MB9 | Refrigerator |
| Frigidaire FFHS2322MBA | Refrigerator |
| Frigidaire FFHS2322MBA | Refrigerator |
| Frigidaire FFHS2322MBB | Refrigerator |
| Frigidaire FFHS2322MBB | Refrigerator |
| Frigidaire FFHS2322MBC | Refrigerator |
| Frigidaire FFHS2322MBD | Refrigerator |
| Frigidaire FFHS2322MBD | Refrigerator |
| Frigidaire FFHS2322MBE | Refrigerator |
| Frigidaire FFHS2322MBE | Refrigerator |
| Frigidaire FFHS2322MBFA | Refrigerator |
| Frigidaire FFHS2322MBFA | Refrigerator |
| Frigidaire FFHS2322MBGA | Refrigerator |
| Frigidaire FFHS2322MBGA | Refrigerator |
| Frigidaire FFHS2322MBHA | Refrigerator |
| Frigidaire FFHS2322MBHA | Refrigerator |
| Frigidaire FFHS2322MBJA | Refrigerator |
| Frigidaire FFHS2322MBJA | Refrigerator |
| Frigidaire FFHS2322MBKA | Refrigerator |
| Frigidaire FFHS2322MBKA | Refrigerator |
| Frigidaire FFHS2322MBLA | Refrigerator |
| Frigidaire FFHS2322MBLA | Refrigerator |
| Frigidaire FFHS2322MBMA | Refrigerator |
| frigidaire FFHS2322MM | Refrigerator |
| Frigidaire FFHS2322MM0 | Refrigerator |
| Frigidaire FFHS2322MM1 | Refrigerator |
| Frigidaire FFHS2322MM2 | Refrigerator |
| Frigidaire FFHS2322MM3 | Refrigerator |
| Frigidaire FFHS2322MM4 | Refrigerator |
| frigidaire FFHS2322MQ | Refrigerator |
| Frigidaire FFHS2322MQ0 | Refrigerator |
| Frigidaire FFHS2322MQ1 | Refrigerator |
| Frigidaire FFHS2322MQ2 | Refrigerator |
| Frigidaire FFHS2322MQ4 | Refrigerator |
| Frigidaire FFHS2322MQ5 | Refrigerator |
| Frigidaire FFHS2322MQ6 | Refrigerator |
| Frigidaire FFHS2322MQ7 | Refrigerator |
| frigidaire FFHS2322MS | Refrigerator |
| Frigidaire FFHS2322MS0 | Refrigerator |
| Frigidaire FFHS2322MS1 | Refrigerator |
| Frigidaire FFHS2322MS2 | Refrigerator |
| Frigidaire FFHS2322MS3 | Refrigerator |
| Frigidaire FFHS2322MS4 | Refrigerator |
| Frigidaire FFHS2322MS5 | Refrigerator |
| Frigidaire FFHS2322MS6 | Refrigerator |
| Frigidaire FFHS2322MS7 | Refrigerator |
| Frigidaire FFHS2322MS8 | Refrigerator |
| Frigidaire FFHS2322MS9 | Refrigerator |
| Frigidaire FFHS2322MSB | Refrigerator |
| Frigidaire FFHS2322MSC | Refrigerator |
| Frigidaire FFHS2322MSD | Refrigerator |
| Frigidaire FFHS2322MSEA | Refrigerator |
| Frigidaire FFHS2322MSFA | Refrigerator |
| Frigidaire FFHS2322MSGA | Refrigerator |
| Frigidaire FFHS2322MSHA | Refrigerator |
| Frigidaire FFHS2322MSJA | Refrigerator |
| Frigidaire FFHS2322MSKA | Refrigerator |
| frigidaire FFHS2322MW | Refrigerator |
| Frigidaire FFHS2322MW | Refrigerator |
| Frigidaire FFHS2322MW0 | Refrigerator |
| Frigidaire FFHS2322MW1 | Refrigerator |
| Frigidaire FFHS2322MW1 | Refrigerator |
| Frigidaire FFHS2322MW2 | Refrigerator |
| Frigidaire FFHS2322MW2 | Refrigerator |
| Frigidaire FFHS2322MW3 | Refrigerator |
| Frigidaire FFHS2322MW3 | Refrigerator |
| Frigidaire FFHS2322MW4 | Refrigerator |
| Frigidaire FFHS2322MW4 | Refrigerator |
| Frigidaire FFHS2322MW5 | Refrigerator |
| Frigidaire FFHS2322MW5 | Refrigerator |
| Frigidaire FFHS2322MW6 | Refrigerator |
| Frigidaire FFHS2322MW6 | Refrigerator |
| Frigidaire FFHS2322MW7 | Refrigerator |
| Frigidaire FFHS2322MW7 | Refrigerator |
| Frigidaire FFHS2322MW8 | Refrigerator |
| Frigidaire FFHS2322MW8 | Refrigerator |
| Frigidaire FFHS2322MW9 | Refrigerator |
| Frigidaire FFHS2322MW9 | Refrigerator |
| Frigidaire FFHS2322MWA | Refrigerator |
| Frigidaire FFHS2322MWA | Refrigerator |
| Frigidaire FFHS2322MWB | Refrigerator |
| Frigidaire FFHS2322MWB | Refrigerator |
| Frigidaire FFHS2322MWC | Refrigerator |
| Frigidaire FFHS2322MWC | Refrigerator |
| Frigidaire FFHS2322MWD | Refrigerator |
| Frigidaire FFHS2322MWD | Refrigerator |
| Frigidaire FFHS2322MWEA | Refrigerator |
| Frigidaire FFHS2322MWEA | Refrigerator |
| Frigidaire FFHS2322MWFA | Refrigerator |
| Frigidaire FFHS2322MWFA | Refrigerator |
| Frigidaire FFHS2322MWGA | Refrigerator |
| Frigidaire FFHS2322MWGA | Refrigerator |
| Frigidaire FFHS2322MWHA | Refrigerator |
| Frigidaire FFHS2322MWHA | Refrigerator |
| Frigidaire FFHS2322MWJA | Refrigerator |
| Frigidaire FFHS2322MWJA | Refrigerator |
| Frigidaire FFHS2322MWKA | Refrigerator |
| Frigidaire FFHS2322MWKA | Refrigerator |
| Frigidaire FFHS2322MWLA | Refrigerator |
| Frigidaire FFHS2322MWO | Refrigerator |
| frigidaire FFHS2611LB | Refrigerator |
| Frigidaire FFHS2611LB0 | Refrigerator |
| Frigidaire FFHS2611LB1 | Refrigerator |
| Frigidaire FFHS2611LB2 | Refrigerator |
| Frigidaire FFHS2611LB4 | Refrigerator |
| Frigidaire FFHS2611LB5 | Refrigerator |
| Frigidaire FFHS2611LB6 | Refrigerator |
| Frigidaire FFHS2611LB7 | Refrigerator |
| Frigidaire FFHS2611LB8 | Refrigerator |
| Frigidaire FFHS2611LB9 | Refrigerator |
| Frigidaire FFHS2611LBA | Refrigerator |
| Frigidaire FFHS2611LBB | Refrigerator |
| Frigidaire FFHS2611LBC | Refrigerator |
| Frigidaire FFHS2611LBD | Refrigerator |
| Frigidaire FFHS2611LBE | Refrigerator |
| Frigidaire FFHS2611LBF | Refrigerator |
| Frigidaire FFHS2611LBG | Refrigerator |
| Frigidaire FFHS2611LBH | Refrigerator |
| Frigidaire FFHS2611LBJ | Refrigerator |
| Frigidaire FFHS2611LBK | Refrigerator |
| Frigidaire FFHS2611LBLA | Refrigerator |
| Frigidaire FFHS2611LBMA | Refrigerator |
| Frigidaire FFHS2611LBNA | Refrigerator |
| Frigidaire FFHS2611LBPA | Refrigerator |
| Frigidaire FFHS2611LBRA | Refrigerator |
| Frigidaire FFHS2611LQ | Refrigerator |
| Frigidaire FFHS2611LQ0 | Refrigerator |
| Frigidaire FFHS2611LQ1 | Refrigerator |
| Frigidaire FFHS2611LQ2 | Refrigerator |
| Frigidaire FFHS2611LS | Refrigerator |
| Frigidaire FFHS2611LS0 | Refrigerator |
| Frigidaire FFHS2611LS1 | Refrigerator |
| Frigidaire FFHS2611LS2 | Refrigerator |
| frigidaire FFHS2611LW | Refrigerator |
| Frigidaire FFHS2611LW0 | Refrigerator |
| Frigidaire FFHS2611LW1 | Refrigerator |
| Frigidaire FFHS2611LW2 | Refrigerator |
| Frigidaire FFHS2611LW4 | Refrigerator |
| Frigidaire FFHS2611LW5 | Refrigerator |
| Frigidaire FFHS2611LW6 | Refrigerator |
| Frigidaire FFHS2611LW7 | Refrigerator |
| Frigidaire FFHS2611LW8 | Refrigerator |
| Frigidaire FFHS2611LW9 | Refrigerator |
| Frigidaire FFHS2611LWA | Refrigerator |
| Frigidaire FFHS2611LWB | Refrigerator |
| Frigidaire FFHS2611LWC | Refrigerator |
| Frigidaire FFHS2611LWD | Refrigerator |
| Frigidaire FFHS2611LWE | Refrigerator |
| Frigidaire FFHS2611LWF | Refrigerator |
| Frigidaire FFHS2611LWG | Refrigerator |
| Frigidaire FFHS2611LWHA | Refrigerator |
| Frigidaire FFHS2611LWJA | Refrigerator |
| Frigidaire FFHS2611LWKA | Refrigerator |
| Frigidaire FFHS2611LWLA | Refrigerator |
| Frigidaire FFHS2611LWMA | Refrigerator |
| Frigidaire FFHS2611PF | Refrigerator |
| Frigidaire FFHS2611PF0 | Refrigerator |
| Frigidaire FFHS2611PF1 | Refrigerator |
| Frigidaire FFHS2611PF2 | Refrigerator |
| Frigidaire FFHS2611PF4 | Refrigerator |
| Frigidaire FFHS2611PF5 | Refrigerator |
| Frigidaire FFHS2611PF6 | Refrigerator |
| Frigidaire FFHS2611PF7 | Refrigerator |
| Frigidaire FFHS2611PF9 | Refrigerator |
| Frigidaire FFHS2611PFAA | Refrigerator |
| Frigidaire FFHS2611PFBA | Refrigerator |
| Frigidaire FFHS2611PFCA | Refrigerator |
| Frigidaire FFHS2611PFDA | Refrigerator |
| Frigidaire FFHS2611PFEA | Refrigerator |
| Frigidaire FFHS2612LS | Refrigerator |
| Frigidaire FFHS2612LS0 | Refrigerator |
| Frigidaire FFHS2612LS1 | Refrigerator |
| Frigidaire FFHS2612LS2 | Refrigerator |
| Frigidaire FFHS2612LS4 | Refrigerator |
| Frigidaire FFHS2612LS5 | Refrigerator |
| Frigidaire FFHS2612LS6 | Refrigerator |
| Frigidaire FFHS2612LS7 | Refrigerator |
| Frigidaire FFHS2612LS8 | Refrigerator |
| Frigidaire FFHS2612LSB | Refrigerator |
| Frigidaire FFHS2612LSD | Refrigerator |
| Frigidaire FFHS2612LSE | Refrigerator |
| frigidaire FFHS2622MB | Refrigerator |
| Frigidaire FFHS2622MB | Refrigerator |
| Frigidaire FFHS2622MB0 | Refrigerator |
| Frigidaire FFHS2622MB0 | Refrigerator |
| Frigidaire FFHS2622MB1 | Refrigerator |
| Frigidaire FFHS2622MB1 | Refrigerator |
| Frigidaire FFHS2622MB2 | Refrigerator |
| Frigidaire FFHS2622MB2 | Refrigerator |
| Frigidaire FFHS2622MB3 | Refrigerator |
| Frigidaire FFHS2622MB3 | Refrigerator |
| Frigidaire FFHS2622MB4 | Refrigerator |
| Frigidaire FFHS2622MB4 | Refrigerator |
| Frigidaire FFHS2622MB5 | Refrigerator |
| Frigidaire FFHS2622MB5 | Refrigerator |
| Frigidaire FFHS2622MB6 | Refrigerator |
| Frigidaire FFHS2622MB7 | Refrigerator |
| Frigidaire FFHS2622MB7 | Refrigerator |
| Frigidaire FFHS2622MB8 | Refrigerator |
| Frigidaire FFHS2622MB8 | Refrigerator |
| Frigidaire FFHS2622MB9 | Refrigerator |
| Frigidaire FFHS2622MB9 | Refrigerator |
| Frigidaire FFHS2622MBA | Refrigerator |
| Frigidaire FFHS2622MBA | Refrigerator |
| Frigidaire FFHS2622MBB | Refrigerator |
| Frigidaire FFHS2622MBB | Refrigerator |
| Frigidaire FFHS2622MBC | Refrigerator |
| Frigidaire FFHS2622MBC | Refrigerator |
| Frigidaire FFHS2622MBD | Refrigerator |
| Frigidaire FFHS2622MBD | Refrigerator |
| Frigidaire FFHS2622MBE | Refrigerator |
| Frigidaire FFHS2622MBE | Refrigerator |
| Frigidaire FFHS2622MBF | Refrigerator |
| Frigidaire FFHS2622MBF | Refrigerator |
| Frigidaire FFHS2622MBG | Refrigerator |
| Frigidaire FFHS2622MBG | Refrigerator |
| Frigidaire FFHS2622MBH | Refrigerator |
| Frigidaire FFHS2622MBH | Refrigerator |
| Frigidaire FFHS2622MBJ | Refrigerator |
| Frigidaire FFHS2622MBJ | Refrigerator |
| Frigidaire FFHS2622MBL | Refrigerator |
| Frigidaire FFHS2622MBL | Refrigerator |
| Frigidaire FFHS2622MBMA | Refrigerator |
| Frigidaire FFHS2622MBMA | Refrigerator |
| Frigidaire FFHS2622MBNA | Refrigerator |
| Frigidaire FFHS2622MBPA | Refrigerator |
| Frigidaire FFHS2622MBPA | Refrigerator |
| Frigidaire FFHS2622MBQA | Refrigerator |
| Frigidaire FFHS2622MBQA | Refrigerator |
| frigidaire FFHS2622MH | Refrigerator |
| Frigidaire FFHS2622MH | Refrigerator |
| Frigidaire FFHS2622MH | Refrigerator |
| Frigidaire FFHS2622MH0 | Refrigerator |
| Frigidaire FFHS2622MH0 | Refrigerator |
| Frigidaire FFHS2622MH0 | Refrigerator |
| Frigidaire FFHS2622MH1 | Refrigerator |
| Frigidaire FFHS2622MH1 | Refrigerator |
| Frigidaire FFHS2622MH1 | Refrigerator |
| Frigidaire FFHS2622MH2 | Refrigerator |
| Frigidaire FFHS2622MH2 | Refrigerator |
| Frigidaire FFHS2622MH2 | Refrigerator |
| Frigidaire FFHS2622MH3 | Refrigerator |
| Frigidaire FFHS2622MH3 | Refrigerator |
| Frigidaire FFHS2622MH3 | Refrigerator |
| Frigidaire FFHS2622MH5 | Refrigerator |
| Frigidaire FFHS2622MH5 | Refrigerator |
| Frigidaire FFHS2622MH5 | Refrigerator |
| Frigidaire FFHS2622MH6 | Refrigerator |
| Frigidaire FFHS2622MH6 | Refrigerator |
| Frigidaire FFHS2622MH6 | Refrigerator |
| Frigidaire FFHS2622MH8 | Refrigerator |
| Frigidaire FFHS2622MH8 | Refrigerator |
| Frigidaire FFHS2622MH8 | Refrigerator |
| Frigidaire FFHS2622MH9 | Refrigerator |
| Frigidaire FFHS2622MH9 | Refrigerator |
| Frigidaire FFHS2622MH9 | Refrigerator |
| Frigidaire FFHS2622MHA | Refrigerator |
| Frigidaire FFHS2622MHA | Refrigerator |
| Frigidaire FFHS2622MHA | Refrigerator |
| Frigidaire FFHS2622MHB | Refrigerator |
| Frigidaire FFHS2622MHB | Refrigerator |
| Frigidaire FFHS2622MHB | Refrigerator |
| Frigidaire FFHS2622MHE | Refrigerator |
| Frigidaire FFHS2622MHE | Refrigerator |
| Frigidaire FFHS2622MHE | Refrigerator |
| Frigidaire FFHS2622MHF | Refrigerator |
| Frigidaire FFHS2622MHF | Refrigerator |
| Frigidaire FFHS2622MHF | Refrigerator |
| Frigidaire FFHS2622MHH | Refrigerator |
| Frigidaire FFHS2622MHH | Refrigerator |
| Frigidaire FFHS2622MHH | Refrigerator |
| frigidaire FFHS2622MM | Refrigerator |
| Frigidaire FFHS2622MM | Refrigerator |
| Frigidaire FFHS2622MM | Refrigerator |
| Frigidaire FFHS2622MM0 | Refrigerator |
| Frigidaire FFHS2622MM0 | Refrigerator |
| Frigidaire FFHS2622MM0 | Refrigerator |
| Frigidaire FFHS2622MM1 | Refrigerator |
| Frigidaire FFHS2622MM1 | Refrigerator |
| Frigidaire FFHS2622MM1 | Refrigerator |
| Frigidaire FFHS2622MM2 | Refrigerator |
| Frigidaire FFHS2622MM2 | Refrigerator |
| Frigidaire FFHS2622MM2 | Refrigerator |
| Frigidaire FFHS2622MM3 | Refrigerator |
| Frigidaire FFHS2622MM3 | Refrigerator |
| Frigidaire FFHS2622MM3 | Refrigerator |
| Frigidaire FFHS2622MM5 | Refrigerator |
| Frigidaire FFHS2622MM5 | Refrigerator |
| Frigidaire FFHS2622MM5 | Refrigerator |
| Frigidaire FFHS2622MM6 | Refrigerator |
| Frigidaire FFHS2622MM6 | Refrigerator |
| Frigidaire FFHS2622MM6 | Refrigerator |
| Frigidaire FFHS2622MM7 | Refrigerator |
| Frigidaire FFHS2622MM7 | Refrigerator |
| Frigidaire FFHS2622MM7 | Refrigerator |
| Frigidaire FFHS2622MM8 | Refrigerator |
| Frigidaire FFHS2622MM8 | Refrigerator |
| Frigidaire FFHS2622MM8 | Refrigerator |
| Frigidaire FFHS2622MM9 | Refrigerator |
| Frigidaire FFHS2622MM9 | Refrigerator |
| Frigidaire FFHS2622MM9 | Refrigerator |
| Frigidaire FFHS2622MMA | Refrigerator |
| Frigidaire FFHS2622MMA | Refrigerator |
| Frigidaire FFHS2622MMA | Refrigerator |
| Frigidaire FFHS2622MMB | Refrigerator |
| Frigidaire FFHS2622MMB | Refrigerator |
| Frigidaire FFHS2622MMB | Refrigerator |
| Frigidaire FFHS2622MMD | Refrigerator |
| Frigidaire FFHS2622MMD | Refrigerator |
| Frigidaire FFHS2622MMD | Refrigerator |
| Frigidaire FFHS2622MME | Refrigerator |
| Frigidaire FFHS2622MME | Refrigerator |
| Frigidaire FFHS2622MME | Refrigerator |
| Frigidaire FFHS2622MMF | Refrigerator |
| Frigidaire FFHS2622MMF | Refrigerator |
| Frigidaire FFHS2622MMF | Refrigerator |
| Frigidaire FFHS2622MMH | Refrigerator |
| Frigidaire FFHS2622MMH | Refrigerator |
| Frigidaire FFHS2622MMH | Refrigerator |
| frigidaire FFHS2622MQ | Refrigerator |
| Frigidaire FFHS2622MQ0 | Refrigerator |
| Frigidaire FFHS2622MQ1 | Refrigerator |
| Frigidaire FFHS2622MQ2 | Refrigerator |
| Frigidaire FFHS2622MQ3 | Refrigerator |
| Frigidaire FFHS2622MQ5 | Refrigerator |
| Frigidaire FFHS2622MQ6 | Refrigerator |
| Frigidaire FFHS2622MQ7 | Refrigerator |
| Frigidaire FFHS2622MQ8 | Refrigerator |
| Frigidaire FFHS2622MQ9 | Refrigerator |
| Frigidaire FFHS2622MQA | Refrigerator |
| Frigidaire FFHS2622MQB | Refrigerator |
| Frigidaire FFHS2622MQC | Refrigerator |
| Frigidaire FFHS2622MQD | Refrigerator |
| Frigidaire FFHS2622MQF | Refrigerator |
| Frigidaire FFHS2622MQG | Refrigerator |
| Frigidaire FFHS2622MQJ | Refrigerator |
| frigidaire FFHS2622MS | Refrigerator |
| Frigidaire FFHS2622MS0 | Refrigerator |
| Frigidaire FFHS2622MS1 | Refrigerator |
| Frigidaire FFHS2622MS2 | Refrigerator |
| Frigidaire FFHS2622MS3 | Refrigerator |
| Frigidaire FFHS2622MS4 | Refrigerator |
| Frigidaire FFHS2622MS5 | Refrigerator |
| Frigidaire FFHS2622MS7 | Refrigerator |
| Frigidaire FFHS2622MS8 | Refrigerator |
| Frigidaire FFHS2622MS9 | Refrigerator |
| Frigidaire FFHS2622MSA | Refrigerator |
| Frigidaire FFHS2622MSB | Refrigerator |
| Frigidaire FFHS2622MSC | Refrigerator |
| Frigidaire FFHS2622MSE | Refrigerator |
| Frigidaire FFHS2622MSF | Refrigerator |
| Frigidaire FFHS2622MSG | Refrigerator |
| Frigidaire FFHS2622MSH | Refrigerator |
| Frigidaire FFHS2622MSJ | Refrigerator |
| Frigidaire FFHS2622MSL | Refrigerator |
| Frigidaire FFHS2622MSM | Refrigerator |
| Frigidaire FFHS2622MSN | Refrigerator |
| Frigidaire FFHS2622MSP | Refrigerator |
| FRIGIDAIRE FFHS2622MSQ | Refrigerator |
| Frigidaire FFHS2622MSR | Refrigerator |
| Frigidaire FFHS2622MSS | Refrigerator |
| Frigidaire FFHS2622MST | Refrigerator |
| Frigidaire FFHS2622MSU | Refrigerator |
| Frigidaire FFHS2622MSVA | Refrigerator |
| Frigidaire FFHS2622MSWA | Refrigerator |
| Frigidaire FFHS2622MSXA | Refrigerator |
| Frigidaire FFHS2622MSYA | Refrigerator |
| FRIGIDAIRE FFHS2622MSZA | Refrigerator |
| frigidaire FFHS2622MW | Refrigerator |
| Frigidaire FFHS2622MW | Refrigerator |
| Frigidaire FFHS2622MW0 | Refrigerator |
| Frigidaire FFHS2622MW0 | Refrigerator |
| Frigidaire FFHS2622MW1 | Refrigerator |
| Frigidaire FFHS2622MW1 | Refrigerator |
| Frigidaire FFHS2622MW2 | Refrigerator |
| Frigidaire FFHS2622MW2 | Refrigerator |
| Frigidaire FFHS2622MW3 | Refrigerator |
| Frigidaire FFHS2622MW3 | Refrigerator |
| Frigidaire FFHS2622MW4 | Refrigerator |
| Frigidaire FFHS2622MW4 | Refrigerator |
| Frigidaire FFHS2622MW5 | Refrigerator |
| Frigidaire FFHS2622MW5 | Refrigerator |
| Frigidaire FFHS2622MW6 | Refrigerator |
| Frigidaire FFHS2622MW7 | Refrigerator |
| Frigidaire FFHS2622MW7 | Refrigerator |
| Frigidaire FFHS2622MW8 | Refrigerator |
| Frigidaire FFHS2622MW8 | Refrigerator |
| Frigidaire FFHS2622MWA | Refrigerator |
| Frigidaire FFHS2622MWA | Refrigerator |
| Frigidaire FFHS2622MWB | Refrigerator |
| Frigidaire FFHS2622MWB | Refrigerator |
| Frigidaire FFHS2622MWC | Refrigerator |
| Frigidaire FFHS2622MWC | Refrigerator |
| Frigidaire FFHS2622MWD | Refrigerator |
| Frigidaire FFHS2622MWD | Refrigerator |
| Frigidaire FFHS2622MWF | Refrigerator |
| Frigidaire FFHS2622MWF | Refrigerator |
| Frigidaire FFHS2622MWG | Refrigerator |
| Frigidaire FFHS2622MWG | Refrigerator |
| Frigidaire FFHS2622MWJ | Refrigerator |
| Frigidaire FFHS2622MWJ | Refrigerator |
| Frigidaire FFHS2622MWKA | Refrigerator |
| Frigidaire FFHS2622MWKA | Refrigerator |
| Frigidaire FFHS2622MWLA | Refrigerator |
| Frigidaire FFHS2622MWLA | Refrigerator |
| Frigidaire FFHS2622MWMA | Refrigerator |
| Frigidaire FFHS2622MWMA | Refrigerator |
| Frigidaire FFHS2622MWNA | Refrigerator |
| Frigidaire FFHS2622MWNA | Refrigerator |
| Frigidaire FFHS2624LE0 | Refrigerator |
| Frigidaire FFHS2624LM0 | Refrigerator |
| Frigidaire FFHS2624LP0 | Refrigerator |
| Frigidaire FFHS2624LS0 | Refrigerator |
| Frigidaire FFHS2626LE0 | Refrigerator |
| Frigidaire FFHS2626LP0 | Refrigerator |
| Frigidaire FFHS2626LS0 | Refrigerator |
| Frigidaire FFHX2325TE | Refrigerator |
| FRIGIDAIRE FFHX2325TE0 | Refrigerator |
| Frigidaire FFHX2325TE0  | Refrigerator |
| FRIGIDAIRE FFHX2325TE2 | Refrigerator |
| FRIGIDAIRE FFHX2325TE3 | Refrigerator |
| Frigidaire FFHX2325TM | Refrigerator |
| FRIGIDAIRE FFHX2325TM0 | Refrigerator |
| Frigidaire FFHX2325TP | Refrigerator |
| FRIGIDAIRE FFHX2325TP0 | Refrigerator |
| Frigidaire FFHX2325TS | Refrigerator |
| Frigidaire FFHX2325TS0 | Refrigerator |
| FRIGIDAIRE FFHX2325TS1 | Refrigerator |
| FRIGIDAIRE FFHX2325TS2 | Refrigerator |
| FRIGIDAIRE FFHX2325TS3 | Refrigerator |
| Frigidaire FFSC2315LE0 | Refrigerator |
| Frigidaire FFSC2315LP0 | Refrigerator |
| Frigidaire FFSC2315LS0 | Refrigerator |
| Frigidaire FFSC2323LE | Refrigerator |
| Frigidaire FFSC2323LE1 | Refrigerator |
| Frigidaire FFSC2323LE2 | Refrigerator |
| Frigidaire FFSC2323LE3 | Refrigerator |
| Frigidaire FFSC2323LE4 | Refrigerator |
| Frigidaire FFSC2323LE5 | Refrigerator |
| Frigidaire FFSC2323LE6 | Refrigerator |
| Frigidaire FFSC2323LE9 | Refrigerator |
| Frigidaire FFSC2323LEA | Refrigerator |
| Frigidaire FFSC2323LEBA | Refrigerator |
| FRIGIDAIRE FFSC2323LECA | Refrigerator |
| Frigidaire FFSC2323LP | Refrigerator |
| Frigidaire FFSC2323LP1 | Refrigerator |
| Frigidaire FFSC2323LP3 | Refrigerator |
| Frigidaire FFSC2323LP4 | Refrigerator |
| Frigidaire FFSC2323LP5 | Refrigerator |
| Frigidaire FFSC2323LP6 | Refrigerator |
| Frigidaire FFSC2323LP7 | Refrigerator |
| Frigidaire FFSC2323LP8 | Refrigerator |
| Frigidaire FFSC2323LP9 | Refrigerator |
| Frigidaire FFSC2323LPA | Refrigerator |
| Frigidaire FFSC2323LPBA | Refrigerator |
| FRIGIDAIRE FFSC2323LPCA | Refrigerator |
| frigidaire FFSC2323LS | Refrigerator |
| Frigidaire FFSC2323LS1 | Refrigerator |
| Frigidaire FFSC2323LS3 | Refrigerator |
| Frigidaire FFSC2323LS4 | Refrigerator |
| Frigidaire FFSC2323LS5 | Refrigerator |
| Frigidaire FFSC2323LS6 | Refrigerator |
| Frigidaire FFSC2323LS7 | Refrigerator |
| Frigidaire FFSC2323LS9 | Refrigerator |
| Frigidaire FFSC2323LSB | Refrigerator |
| Frigidaire FFSC2323LSCA | Refrigerator |
| Frigidaire FFSC2323LSDA | Refrigerator |
| Frigidaire FFSS2314QE | Refrigerator |
| Frigidaire FFSS2314QE | Refrigerator |
| Frigidaire FFSS2314QE | Refrigerator |
| Frigidaire FFSS2314QE0 | Refrigerator |
| Frigidaire FFSS2314QE0 | Refrigerator |
| Frigidaire FFSS2314QE0 | Refrigerator |
| Frigidaire FFSS2314QE1 | Refrigerator |
| Frigidaire FFSS2314QE1 | Refrigerator |
| Frigidaire FFSS2314QE1 | Refrigerator |
| Frigidaire FFSS2314QE2A | Refrigerator |
| Frigidaire FFSS2314QE2A | Refrigerator |
| Frigidaire FFSS2314QE2A | Refrigerator |
| Frigidaire FFSS2314QE4A | Refrigerator |
| Frigidaire FFSS2314QE4A | Refrigerator |
| Frigidaire FFSS2314QE4A | Refrigerator |
| Frigidaire FFSS2314QE5A | Refrigerator |
| Frigidaire FFSS2314QE5A | Refrigerator |
| Frigidaire FFSS2314QE5A | Refrigerator |
| Frigidaire FFSS2314QE6A | Refrigerator |
| Frigidaire FFSS2314QE6A | Refrigerator |
| Frigidaire FFSS2314QE6A | Refrigerator |
| Frigidaire FFSS2314QE7A | Refrigerator |
| Frigidaire FFSS2314QE7A | Refrigerator |
| Frigidaire FFSS2314QE7A | Refrigerator |
| Frigidaire FFSS2314QE8A | Refrigerator |
| Frigidaire FFSS2314QE8A | Refrigerator |
| Frigidaire FFSS2314QE8A | Refrigerator |
| Frigidaire FFSS2314QE9A | Refrigerator |
| Frigidaire FFSS2314QE9A | Refrigerator |
| Frigidaire FFSS2314QE9A | Refrigerator |
| Frigidaire FFSS2314QEAA | Refrigerator |
| Frigidaire FFSS2314QEAA | Refrigerator |
| Frigidaire FFSS2314QEAA | Refrigerator |
| Frigidaire FFSS2314QEBA | Refrigerator |
| Frigidaire FFSS2314QEBA | Refrigerator |
| Frigidaire FFSS2314QP | Refrigerator |
| Frigidaire FFSS2314QP | Refrigerator |
| Frigidaire FFSS2314QP0 | Refrigerator |
| Frigidaire FFSS2314QP0 | Refrigerator |
| Frigidaire FFSS2314QP0 | Refrigerator |
| Frigidaire FFSS2314QP1 | Refrigerator |
| Frigidaire FFSS2314QP1 | Refrigerator |
| Frigidaire FFSS2314QP1 | Refrigerator |
| Frigidaire FFSS2314QP2A | Refrigerator |
| Frigidaire FFSS2314QP2A | Refrigerator |
| Frigidaire FFSS2314QP2A | Refrigerator |
| Frigidaire FFSS2314QP4A | Refrigerator |
| Frigidaire FFSS2314QP4A | Refrigerator |
| Frigidaire FFSS2314QP4A | Refrigerator |
| Frigidaire FFSS2314QP5A | Refrigerator |
| Frigidaire FFSS2314QP5A | Refrigerator |
| Frigidaire FFSS2314QP5A | Refrigerator |
| Frigidaire FFSS2314QP6A | Refrigerator |
| Frigidaire FFSS2314QP6A | Refrigerator |
| Frigidaire FFSS2314QP6A | Refrigerator |
| Frigidaire FFSS2314QP7A | Refrigerator |
| Frigidaire FFSS2314QP7A | Refrigerator |
| Frigidaire FFSS2314QP7A | Refrigerator |
| Frigidaire FFSS2314QP8A | Refrigerator |
| Frigidaire FFSS2314QP8A | Refrigerator |
| Frigidaire FFSS2314QP8A | Refrigerator |
| Frigidaire FFSS2314QP9A | Refrigerator |
| Frigidaire FFSS2314QP9A | Refrigerator |
| Frigidaire FFSS2314QP9A | Refrigerator |
| Frigidaire FFSS2314QPAA | Refrigerator |
| Frigidaire FFSS2314QPAA | Refrigerator |
| Frigidaire FFSS2314QPAA | Refrigerator |
| Frigidaire FFSS2314QPBA | Refrigerator |
| Frigidaire FFSS2314QPBA | Refrigerator |
| Frigidaire FFSS2314QS | Refrigerator |
| Frigidaire FFSS2314QS0 | Refrigerator |
| Frigidaire FFSS2314QS1 | Refrigerator |
| Frigidaire FFSS2314QS2A | Refrigerator |
| Frigidaire FFSS2314QS4A | Refrigerator |
| Frigidaire FFSS2314QS5A | Refrigerator |
| Frigidaire FFSS2314QS6A | Refrigerator |
| Frigidaire FFSS2314QS7A | Refrigerator |
| Frigidaire FFSS2314QS8A | Refrigerator |
| Frigidaire FFSS2314QS9A | Refrigerator |
| Frigidaire FFSS2314QSAA | Refrigerator |
| FRIGIDAIRE FFSS2314QSBA | Refrigerator |
| Frigidaire FFSS2315TD | Refrigerator |
| Frigidaire FFSS2315TD0 | Refrigerator |
| FRIGIDAIRE FFSS2315TD1 | Refrigerator |
| FRIGIDAIRE FFSS2315TD2 | Refrigerator |
| FRIGIDAIRE FFSS2315TD3 | Refrigerator |
| FRIGIDAIRE FFSS2315TD4 | Refrigerator |
| Frigidaire FFSS2315TE | Refrigerator |
| Frigidaire FFSS2315TE0 | Refrigerator |
| FRIGIDAIRE FFSS2315TE1 | Refrigerator |
| FRIGIDAIRE FFSS2315TE2 | Refrigerator |
| FRIGIDAIRE FFSS2315TE3 | Refrigerator |
| FRIGIDAIRE FFSS2315TE4 | Refrigerator |
| Frigidaire FFSS2315TP | Refrigerator |
| Frigidaire FFSS2315TP0 | Refrigerator |
| FRIGIDAIRE FFSS2315TP1 | Refrigerator |
| FRIGIDAIRE FFSS2315TP2 | Refrigerator |
| FRIGIDAIRE FFSS2315TP3 | Refrigerator |
| FRIGIDAIRE FFSS2315TP4 | Refrigerator |
| Frigidaire FFSS2315TS | Refrigerator |
| Frigidaire FFSS2315TS0 | Refrigerator |
| FRIGIDAIRE FFSS2315TS1 | Refrigerator |
| FRIGIDAIRE FFSS2315TS2 | Refrigerator |
| FRIGIDAIRE FFSS2315TS3 | Refrigerator |
| FRIGIDAIRE FFSS2315TS5 | Refrigerator |
| Frigidaire FFSS2325TE | Refrigerator |
| FRIGIDAIRE FFSS2325TE0 | Refrigerator |
| Frigidaire FFSS2325TP | Refrigerator |
| FRIGIDAIRE FFSS2325TP0 | Refrigerator |
| Frigidaire FFSS2325TS | Refrigerator |
| Frigidaire FFSS2325TS0 | Refrigerator |
| Frigidaire FFSS2614QE | Refrigerator |
| Frigidaire FFSS2614QE | Refrigerator |
| Frigidaire FFSS2614QE0 | Refrigerator |
| Frigidaire FFSS2614QE0 | Refrigerator |
| Frigidaire FFSS2614QE1A | Refrigerator |
| Frigidaire FFSS2614QE1A | Refrigerator |
| Frigidaire FFSS2614QE2A | Refrigerator |
| Frigidaire FFSS2614QE2A | Refrigerator |
| Frigidaire FFSS2614QE3A | Refrigerator |
| Frigidaire FFSS2614QE3A | Refrigerator |
| Frigidaire FFSS2614QE4A | Refrigerator |
| Frigidaire FFSS2614QE4A | Refrigerator |
| Frigidaire FFSS2614QE5A | Refrigerator |
| Frigidaire FFSS2614QE5A | Refrigerator |
| Frigidaire FFSS2614QE6A | Refrigerator |
| Frigidaire FFSS2614QE6A | Refrigerator |
| Frigidaire FFSS2614QP | Refrigerator |
| Frigidaire FFSS2614QP | Refrigerator |
| Frigidaire FFSS2614QP | Refrigerator |
| Frigidaire FFSS2614QP0 | Refrigerator |
| Frigidaire FFSS2614QP0 | Refrigerator |
| Frigidaire FFSS2614QP1A | Refrigerator |
| Frigidaire FFSS2614QP1A | Refrigerator |
| Frigidaire FFSS2614QP2A | Refrigerator |
| Frigidaire FFSS2614QP2A | Refrigerator |
| Frigidaire FFSS2614QP3A | Refrigerator |
| Frigidaire FFSS2614QP3A | Refrigerator |
| Frigidaire FFSS2614QP4A | Refrigerator |
| Frigidaire FFSS2614QP4A | Refrigerator |
| Frigidaire FFSS2614QP5A | Refrigerator |
| Frigidaire FFSS2614QP5A | Refrigerator |
| Frigidaire FFSS2614QP6A | Refrigerator |
| Frigidaire FFSS2614QP6A | Refrigerator |
| Frigidaire FFSS2614QS | Refrigerator |
| Frigidaire FFSS2614QS0 | Refrigerator |
| Frigidaire FFSS2614QS1A | Refrigerator |
| Frigidaire FFSS2614QS2A | Refrigerator |
| Frigidaire FFSS2614QS3A | Refrigerator |
| Frigidaire FFSS2614QS4A | Refrigerator |
| Frigidaire FFSS2614QS5A | Refrigerator |
| Frigidaire FFSS2614QS6A | Refrigerator |
| FRIGIDAIRE FFSS2614QS7A | Refrigerator |
| Frigidaire FFSS2615TD | Refrigerator |
| Frigidaire FFSS2615TD0 | Refrigerator |
| FRIGIDAIRE FFSS2615TD1 | Refrigerator |
| FRIGIDAIRE FFSS2615TD2 | Refrigerator |
| FRIGIDAIRE FFSS2615TD3 | Refrigerator |
| FRIGIDAIRE FFSS2615TD4 | Refrigerator |
| Frigidaire FFSS2615TE | Refrigerator |
| Frigidaire FFSS2615TE0 | Refrigerator |
| FRIGIDAIRE FFSS2615TE1 | Refrigerator |
| FRIGIDAIRE FFSS2615TE2 | Refrigerator |
| FRIGIDAIRE FFSS2615TE3 | Refrigerator |
| FRIGIDAIRE FFSS2615TE4 | Refrigerator |
| Frigidaire FFSS2615TP | Refrigerator |
| FRIGIDAIRE FFSS2615TP0 | Refrigerator |
| Frigidaire FFSS2615TP01 | Refrigerator |
| FRIGIDAIRE FFSS2615TP1 | Refrigerator |
| FRIGIDAIRE FFSS2615TP2 | Refrigerator |
| FRIGIDAIRE FFSS2615TP3 | Refrigerator |
| Frigidaire FFSS2615TP4 | Refrigerator |
| Frigidaire FFSS2615TS | Refrigerator |
| FRIGIDAIRE FFSS2615TS0 | Refrigerator |
| Frigidaire FFSS2615TS0  | Refrigerator |
| FRIGIDAIRE FFSS2615TS1 | Refrigerator |
| Frigidaire FFSS2615TS2 | Refrigerator |
| FRIGIDAIRE FFSS2615TS3 | Refrigerator |
| FRIGIDAIRE FFSS2615TS5 | Refrigerator |
| FRIGIDAIRE FFSS2618SS0 | Refrigerator |
| Frigidaire FFSS2622NB0 | Refrigerator |
| Frigidaire FFSS2622NB2 | Refrigerator |
| Frigidaire FFSS2622NB3 | Refrigerator |
| Frigidaire FFSS2622NB4 | Refrigerator |
| Frigidaire FFSS2622NB5 | Refrigerator |
| Frigidaire FFSS2622NS0 | Refrigerator |
| Frigidaire FFSS2622NS2 | Refrigerator |
| Frigidaire FFSS2622NS3 | Refrigerator |
| Frigidaire FFSS2622NS4 | Refrigerator |
| Frigidaire FFSS2622NS5 | Refrigerator |
| Frigidaire FFSS2622NW0 | Refrigerator |
| Frigidaire FFSS2622NW2 | Refrigerator |
| Frigidaire FFSS2622NW3 | Refrigerator |
| Frigidaire FFSS2622NW4 | Refrigerator |
| Frigidaire FFSS2622NW5 | Refrigerator |
| Frigidaire FFSS2625TE | Refrigerator |
| FRIGIDAIRE FFSS2625TE0 | Refrigerator |
| Frigidaire FFSS2625TE0  | Refrigerator |
| FRIGIDAIRE FFSS2625TE1 | Refrigerator |
| FRIGIDAIRE FFSS2625TE2 | Refrigerator |
| FRIGIDAIRE FFSS2625TE3 | Refrigerator |
| Frigidaire FFSS2625TP | Refrigerator |
| FRIGIDAIRE FFSS2625TP0 | Refrigerator |
| FRIGIDAIRE FFSS2625TP1 | Refrigerator |
| FRIGIDAIRE FFSS2625TP2 | Refrigerator |
| FRIGIDAIRE FFSS2625TP3 | Refrigerator |
| Frigidaire FFSS2625TS | Refrigerator |
| FRIGIDAIRE FFSS2625TS0 | Refrigerator |
| Frigidaire FFSS2625TS0  | Refrigerator |
| FRIGIDAIRE FFSS2625TS1 | Refrigerator |
| FRIGIDAIRE FFSS2625TS2 | Refrigerator |
| FRIGIDAIRE FFSS2625TS3 | Refrigerator |
| FRIGIDAIRE FFSS2625TS5 | Refrigerator |
| FRIGIDAIRE FFSS2625TS6 | Refrigerator |
| Frigidaire FFUS2613LE | Refrigerator |
| Frigidaire FFUS2613LE0 | Refrigerator |
| Frigidaire FFUS2613LE1 | Refrigerator |
| Frigidaire FFUS2613LE2 | Refrigerator |
| Frigidaire FFUS2613LE3 | Refrigerator |
| Frigidaire FFUS2613LE4 | Refrigerator |
| Frigidaire FFUS2613LE5 | Refrigerator |
| Frigidaire FFUS2613LE6 | Refrigerator |
| frigidaire FFUS2613LM | Refrigerator |
| Frigidaire FFUS2613LM0 | Refrigerator |
| Frigidaire FFUS2613LM1 | Refrigerator |
| Frigidaire FFUS2613LM2 | Refrigerator |
| Frigidaire FFUS2613LM3 | Refrigerator |
| Frigidaire FFUS2613LM4 | Refrigerator |
| Frigidaire FFUS2613LM5 | Refrigerator |
| Frigidaire FFUS2613LM6 | Refrigerator |
| Frigidaire FFUS2613LP | Refrigerator |
| Frigidaire FFUS2613LP0 | Refrigerator |
| Frigidaire FFUS2613LP1 | Refrigerator |
| Frigidaire FFUS2613LP2 | Refrigerator |
| Frigidaire FFUS2613LP3 | Refrigerator |
| Frigidaire FFUS2613LP4 | Refrigerator |
| Frigidaire FFUS2613LP5 | Refrigerator |
| Frigidaire FFUS2613LP6 | Refrigerator |
| Frigidaire FFUS2613LS | Refrigerator |
| Frigidaire FFUS2613LS0 | Refrigerator |
| Frigidaire FFUS2613LS1 | Refrigerator |
| Frigidaire FFUS2613LS2 | Refrigerator |
| Frigidaire FFUS2613LS3 | Refrigerator |
| Frigidaire FFUS2613LS4 | Refrigerator |
| Frigidaire FFUS2613LS5 | Refrigerator |
| Frigidaire FFUS2613LS6 | Refrigerator |
| Frigidaire FGHC2335LE | Refrigerator |
| Frigidaire FGHC2335LE0 | Refrigerator |
| Frigidaire FGHC2335LE1 | Refrigerator |
| Frigidaire FGHC2335LE2 | Refrigerator |
| Frigidaire FGHC2335LE3 | Refrigerator |
| Frigidaire FGHC2335LE4 | Refrigerator |
| Frigidaire FGHC2335LP | Refrigerator |
| Frigidaire FGHC2335LP0 | Refrigerator |
| Frigidaire FGHC2335LP1 | Refrigerator |
| Frigidaire FGHC2335LP2 | Refrigerator |
| Frigidaire FGHC2335LP3 | Refrigerator |
| Frigidaire FGHC2335LP4 | Refrigerator |
| Frigidaire FGHC2344KF | Refrigerator |
| Frigidaire FGHC2345LF | Refrigerator |
| Frigidaire FGHC2345LF0 | Refrigerator |
| Frigidaire FGHC2345LF1 | Refrigerator |
| Frigidaire FGHC2345LF2 | Refrigerator |
| Frigidaire FGHC2345LF3 | Refrigerator |
| Frigidaire FGHC2345LF4 | Refrigerator |
| Frigidaire FGHC2345LF5 | Refrigerator |
| Frigidaire FGHS2332LE | Refrigerator |
| Frigidaire FGHS2332LE0 | Refrigerator |
| Frigidaire FGHS2332LE2 | Refrigerator |
| Frigidaire FGHS2332LE3 | Refrigerator |
| Frigidaire FGHS2332LE4 | Refrigerator |
| Frigidaire FGHS2332LE5 | Refrigerator |
| Frigidaire FGHS2332LE6 | Refrigerator |
| Frigidaire FGHS2332LP | Refrigerator |
| Frigidaire FGHS2332LP0 | Refrigerator |
| Frigidaire FGHS2332LP1 | Refrigerator |
| Frigidaire FGHS2332LP2 | Refrigerator |
| Frigidaire FGHS2332LP3 | Refrigerator |
| Frigidaire FGHS2332LP4 | Refrigerator |
| Frigidaire FGHS2332LP5 | Refrigerator |
| Frigidaire FGHS2332LP6 | Refrigerator |
| Frigidaire FGHS2332LP7 | Refrigerator |
| Frigidaire FGHS2342LF | Refrigerator |
| Frigidaire FGHS2342LF0 | Refrigerator |
| Frigidaire FGHS2342LF1 | Refrigerator |
| Frigidaire FGHS2342LF2 | Refrigerator |
| Frigidaire FGHS2342LF3 | Refrigerator |
| Frigidaire FGHS2342LF4 | Refrigerator |
| Frigidaire FGHS2342LF5 | Refrigerator |
| Frigidaire FGHS2342LF6 | Refrigerator |
| Frigidaire FGHS2342LF7 | Refrigerator |
| Frigidaire FGHS2342LF8 | Refrigerator |
| Frigidaire FGUS2632LE | Refrigerator |
| Frigidaire FGUS2632LE0 | Refrigerator |
| Frigidaire FGUS2632LE1 | Refrigerator |
| Frigidaire FGUS2632LE2 | Refrigerator |
| Frigidaire FGUS2632LP | Refrigerator |
| Frigidaire FGUS2632LP0 | Refrigerator |
| Frigidaire FGUS2632LP1 | Refrigerator |
| Frigidaire FGUS2632LP2 | Refrigerator |
| Frigidaire FGUS2635LE | Refrigerator |
| Frigidaire FGUS2635LE0 | Refrigerator |
| Frigidaire FGUS2635LE1 | Refrigerator |
| Frigidaire FGUS2635LP | Refrigerator |
| Frigidaire FGUS2635LP0 | Refrigerator |
| Frigidaire FGUS2635LP1 | Refrigerator |
| Frigidaire FGUS2642LF | Refrigerator |
| Frigidaire FGUS2642LF0 | Refrigerator |
| Frigidaire FGUS2642LF1 | Refrigerator |
| Frigidaire FGUS2642LF2 | Refrigerator |
| Frigidaire FGUS2645LF | Refrigerator |
| Frigidaire FGUS2645LF | Refrigerator |
| Frigidaire FGUS2645LF0 | Refrigerator |
| Frigidaire FGUS2645LF0 | Refrigerator |
| Frigidaire FGUS2645LF0 | Refrigerator |
| Frigidaire FGUS2645LF1 | Refrigerator |
| Frigidaire FGUS2645LF1 | Refrigerator |
| Frigidaire FGUS2645LF1 | Refrigerator |
| Frigidaire FGUS2645LF2 | Refrigerator |
| Frigidaire FGUS2645LF2 | Refrigerator |
| Frigidaire FGUS2645LF2 | Refrigerator |
| Frigidaire FGUS2645LF3 | Refrigerator |
| Frigidaire FGUS2645LF3 | Refrigerator |
| Frigidaire FGUS2645LF3 | Refrigerator |
| Frigidaire LFSS2312TD | Refrigerator |
| Frigidaire LFSS2312TD0 | Refrigerator |
| Frigidaire LFSS2312TD1 | Refrigerator |
| Frigidaire LFSS2312TD2 | Refrigerator |
| FRIGIDAIRE LFSS2312TD4 | Refrigerator |
| Frigidaire LFSS2312TDO | Refrigerator |
| Frigidaire LFSS2312TE | Refrigerator |
| Frigidaire LFSS2312TE0 | Refrigerator |
| Frigidaire LFSS2312TE1 | Refrigerator |
| Frigidaire LFSS2312TE2 | Refrigerator |
| FRIGIDAIRE LFSS2312TE4 | Refrigerator |
| Frigidaire LFSS2312TEO | Refrigerator |
| Frigidaire LFSS2312TF | Refrigerator |
| Frigidaire LFSS2312TF0 | Refrigerator |
| Frigidaire LFSS2312TF1 | Refrigerator |
| Frigidaire LFSS2312TF2 | Refrigerator |
| FRIGIDAIRE LFSS2312TF4 | Refrigerator |
| Frigidaire LFSS2312TFO | Refrigerator |
| Frigidaire LFSS2312TP | Refrigerator |
| Frigidaire LFSS2312TP0 | Refrigerator |
| Frigidaire LFSS2312TP1 | Refrigerator |
| Frigidaire LFSS2312TP2 | Refrigerator |
| FRIGIDAIRE LFSS2312TP4 | Refrigerator |
| Frigidaire LFSS2312TPO | Refrigerator |
| Frigidaire LFSS2612T | Refrigerator |
| Frigidaire LFSS2612TD | Refrigerator |
| Frigidaire LFSS2612TD0 | Refrigerator |
| Frigidaire LFSS2612TD1 | Refrigerator |
| Frigidaire LFSS2612TE | Refrigerator |
| Frigidaire LFSS2612TE0 | Refrigerator |
| Frigidaire LFSS2612TE1 | Refrigerator |
| Frigidaire LFSS2612TE2 | Refrigerator |
| FRIGIDAIRE LFSS2612TE3 | Refrigerator |
| Frigidaire LFSS2612TE4 | Refrigerator |
| Frigidaire LFSS2612TEO | Refrigerator |
| Frigidaire LFSS2612TF | Refrigerator |
| Frigidaire LFSS2612TF0 | Refrigerator |
| Frigidaire LFSS2612TF1 | Refrigerator |
| Frigidaire LFSS2612TF2 | Refrigerator |
| FRIGIDAIRE LFSS2612TF3 | Refrigerator |
| FRIGIDAIRE LFSS2612TF4 | Refrigerator |
| Frigidaire LFSS2612TP | Refrigerator |
| Frigidaire LFSS2612TP0 | Refrigerator |
| Frigidaire LFSS2612TP1 | Refrigerator |
| Frigidaire LFSS2612TP2 | Refrigerator |
| FRIGIDAIRE LFSS2612TP3 | Refrigerator |
| FRIGIDAIRE LFSS2612TP5 | Refrigerator |
| Frigidaire LFSS2612TPO | Refrigerator |
| frigidaire LFUS2613LE | Refrigerator |
| Frigidaire LFUS2613LE0 | Refrigerator |
| Frigidaire LFUS2613LE1 | Refrigerator |
| Frigidaire LFUS2613LE2 | Refrigerator |
| Frigidaire LFUS2613LE3 | Refrigerator |
| Frigidaire LFUS2613LF | Refrigerator |
| Frigidaire LFUS2613LF0 | Refrigerator |
| Frigidaire LFUS2613LF1 | Refrigerator |
| Frigidaire LFUS2613LF2 | Refrigerator |
| Frigidaire LFUS2613LF3 | Refrigerator |
| Frigidaire LFUS2613LM | Refrigerator |
| Frigidaire LFUS2613LM0 | Refrigerator |
| Frigidaire LFUS2613LM1 | Refrigerator |
| Frigidaire LFUS2613LM2 | Refrigerator |
| Frigidaire LFUS2613LM3 | Refrigerator |
| Frigidaire LFUS2613LP | Refrigerator |
| Frigidaire LFUS2613LP0 | Refrigerator |
| Frigidaire LFUS2613LP1 | Refrigerator |
| Frigidaire LFUS2613LP2 | Refrigerator |
| Frigidaire LFUS2613LP3 | Refrigerator |
| frigidaire LGUS2642LE | Refrigerator |
| Frigidaire LGUS2642LE0 | Refrigerator |
| Frigidaire LGUS2642LE1 | Refrigerator |
| Frigidaire LGUS2642LE2 | Refrigerator |
| frigidaire LGUS2642LF | Refrigerator |
| Frigidaire LGUS2642LF0 | Refrigerator |
| Frigidaire LGUS2642LF1 | Refrigerator |
| Frigidaire LGUS2642LF2 | Refrigerator |
| Frigidaire LGUS2642LM | Refrigerator |
| Frigidaire LGUS2642LM0 | Refrigerator |
| Frigidaire LGUS2642LM1 | Refrigerator |
| Frigidaire LGUS2642LM2 | Refrigerator |
| Frigidaire LGUS2642LP | Refrigerator |
| Frigidaire LGUS2642LP0 | Refrigerator |
| Frigidaire LGUS2642LP1 | Refrigerator |
| Frigidaire LGUS2642LP2 | Refrigerator |
| FRIGIDAIRE WWHS2311NP0 | Refrigerator |
| FRIGIDAIRE WWSC2323NE1 | Refrigerator |
| FRIGIDAIRE WWSS2614SP0 | Refrigerator |
| FRIGIDAIRE WWSS2614SS1 | Refrigerator |
| 012505452185 | Filter |
| 1005565084 | Filter |
| 242069601 | Filter |
| 242086201 | Filter |
| 313853978 | Filter |
| 706465 | Filter |
| 85075-SGP-001 | Filter |
| AFC-RF-E2 | Filter |
| AP4567491 | Filter |
| CLCH122 | Filter |
| GP005 | Filter |
| HDWF3CB | Filter |
| PS3412266 | Filter |
| PURESOURCE3 | Filter |
| SCWF3CTO | Filter |
| SCWF4CT0 | Filter |
| SCWF4CTO | Filter |
| WF3CB | Filter |
Additional Information
---