Omnipure Q5672 S | Our#: 186310
Omnipure Q5672 S Q-Series 50 GPD PuroTwist RO Membrane
Omnipure Q5672 S | Our#: 186310
Fast Shipping & Free Returns
100% Compatibility Guarantee
NSF certified
Omnipure Q5672 Q-Series 50 GPD PuroTwist RO Membrane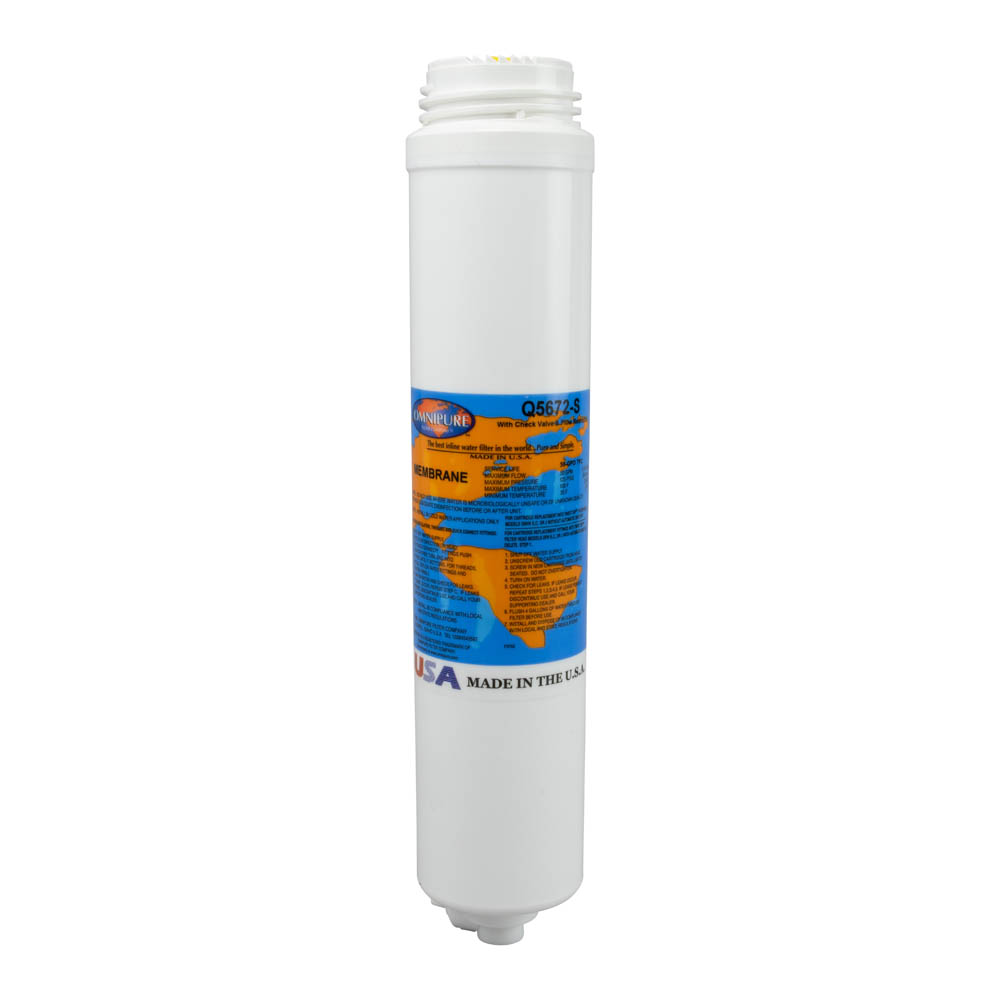 3 people in your area recently purchased this product!
In Stock
Ships in 24 hours
Fast Shipping & Free Returns
100% Compatibility Guarantee
NSF certified
Frequently Purchased Together
Product Details
The Omnipure Q5672 - 50 Gallons Per Day RO Membrane with check valve and flow restrictor will fit Omnipure Twist Tap filter heads QNVH B, C, or J with or without automatic shutoff.
The PuROtwist is designed for simple change-out. The RO membrane is encapsulated in the housing so all you have to do is twist out the old and twist in the new. The RO membrane housing and the flow control are included with the membrane. There is no need to buy the RO membrane housing or flow control separately. The membrane can last up to 5 years, depending on water quality and usage.
Note: Replacement O-Rings not included
Q-5672S Specifications:
0.5 GPM Flow Rate
Filter Media: Thin Film Composite Membrane
Max Pressure: 125 psi
Max Temp: 100 deg F
Dimensions: 2.5" x 12"
50 Gallons Per Day Membrane
95-99% Rejection Rate When Installed New
Reduces: barium, cadmium, chromium III & VI, copper, flouride, lead, mercury, nitrate, nitrite, radium, selenium, and Total Dissolved Solids
---
Specifications
Capacity:
50 Gallons per day
Certifications:
NSF certified
Filter Dimensions:
12" L X 2.5" Dia.
Flow Rate:
.5 Gallons Per Minute
Materials:
Thin Film Composite Membrane
Micron Rating:
RO
Reduction Claims:
Barium, Cadmium, flouride, mercury, copper, lead, nitrates, nitrites, Total Dissolved Solids, selenium, radium, chromium
Service Life:
2-5 years
Replaces These Membranes:
ESP Water Systems:
EZ-450
MM-TFC50.Q
TQ56-50FC
Farris:
MSCTFC1812
MSLTFC3512
MSLTFC5012
Freshwatersystems:
MM-TFC50.Q
Good Water Warehouse:
Omnipure:
Topway Global International:
TQ56-50FC
Fits In These Systems:
Omnipure:
"Q" Series Heads
Additional Information
---