LG MDJ64844601 | Our#: 183028
LG MDJ64844601 Refrigerator Filter

17 review(s)
LG MDJ64844601 | Our#: 183028
Fast Shipping & Free Returns
100% Compatibility Guarantee
Compatibility guaranteed! Free return shipping and 100% money back if there are any issues.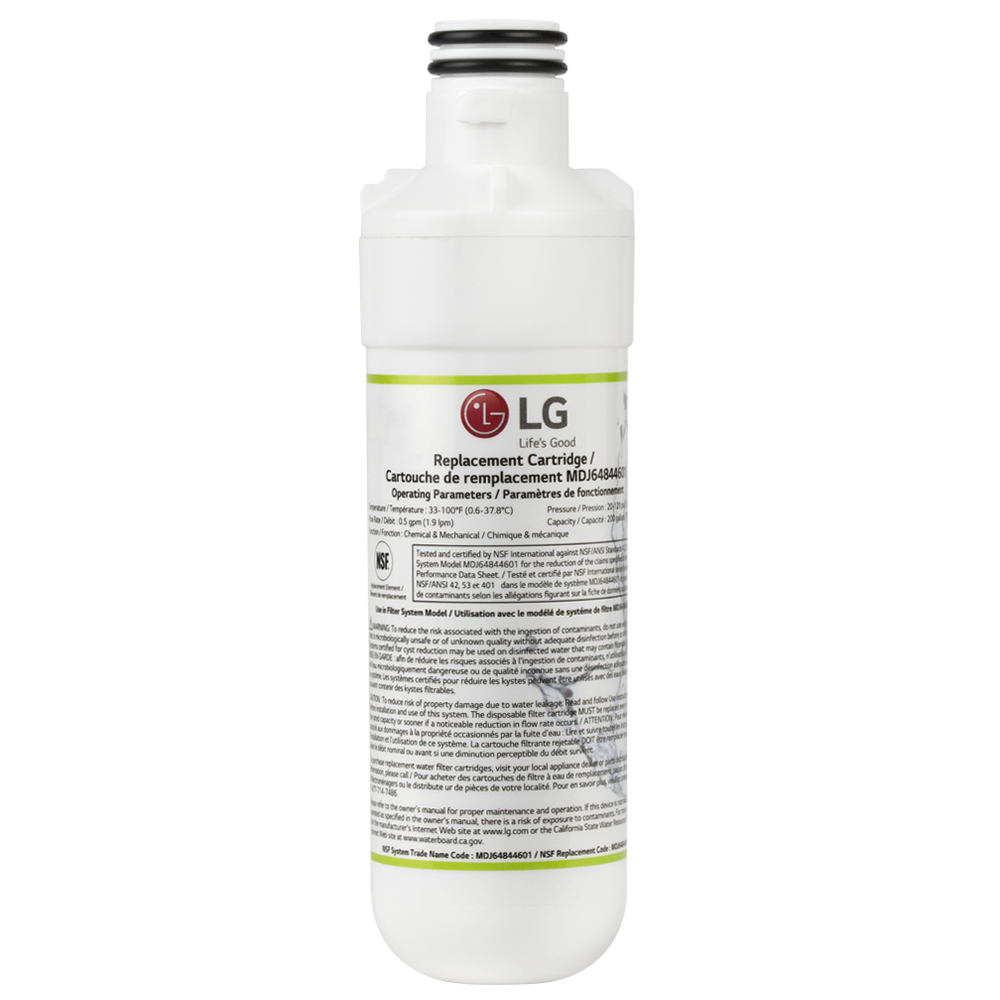 6 people in your area recently purchased this product!
In Stock
Ships in 24 hours
Fast Shipping & Free Returns
100% Compatibility Guarantee
Frequently Purchased Together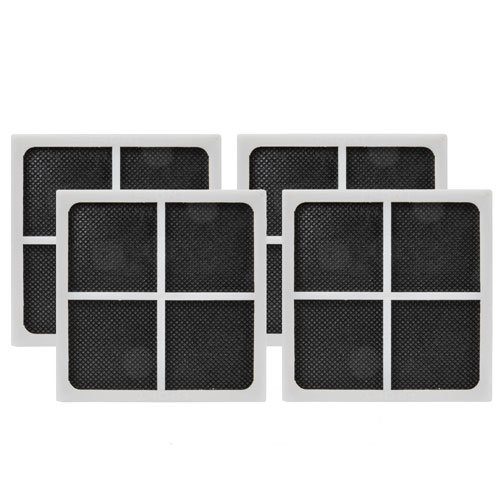 Product Details
The MDJ64844601 Filter is used in refrigerators by LG. It is also known as the LT1000P or ADQ74793501. The MDJ64844601 filter creates better tasting water for drinking and making beverages as well as clean, clearer, healthy ice.

Features:
Factory original filter
Easy installation and operation
Helps reduce chlorine taste and odor, and other contaminants
Helps reduce contaminants found in tap water and improves its quality
Tested and certified by NSF International against NSI/ANSI Standards 42, 53, and 401
LG is a registered trademark of LG Electronics, Inc.. National Trade Supply, Inc, and DiscountFilters.com are not affiliated with LG Electronics, Inc.
---
Popular Part Numbers
---
Installation Instructions
How To Install The MDJ64844601 Filter:

Press the push button to open the filter cover
Pull the old cartridge downward, turn it counter-clockwise to remove and discard
Remove protective cover from new filter cartridge
With new filter cartridge tabs in the horizontal position, push the filter into the manifold hole and turn it clockwise
Push the filter cover until it clicks into place
After replacing, flush 2.5 gallons of water through filter before use
Press and hold the Water Filter button for three seconds to reset the indicator light
---
Compatible Part Numbers
Search by your filter part number or appliance model number to verify compatibility
| Model or Part Number | Type |
| --- | --- |
| Kenmore 79572595711 | Refrigerator |
| Kenmore 79573105711 | Refrigerator |
| Kenmore 79574305810 | Refrigerator |
| Kenmore 79574307810 | Refrigerator |
| LG LFCC22426S | Refrigerator |
| LG LFCC23596S | Refrigerator |
| LG LFCS27596S | Refrigerator |
| LG LFXC22526S | Refrigerator |
| LG LFXC22596D | Refrigerator |
| LG LFXC22596S | Refrigerator |
| LG LFXS26596D | Refrigerator |
| LG LFXS26596S | Refrigerator |
| LG LFXS26973S | Refrigerator |
| LG LFXS26973SD | Refrigerator |
| LG LFXS274665 | Refrigerator |
| LG LFXS28566S | Refrigerator |
| LG LFXS28596D | Refrigerator |
| LG LFXS28596S | Refrigerator |
| LG LFXS28968S | Refrigerator |
| LG LFXS30796S | Refrigerator |
| LG LFXS30796S00 | Refrigerator |
| LG LHSXS2706S | Refrigerator |
| LG LLMXS3006S | Refrigerator |
| LG LMWC23626S | Refrigerator |
| LG LMWS27626S | Refrigerator |
| LG LMXC22626D | Refrigerator |
| LG LMXC23796D | Refrigerator |
| LG LMXC23796D00 | Refrigerator |
| LG LMXS28262D | Refrigerator |
| LG LMXS28596D | Refrigerator |
| LG LMXS28596S | Refrigerator |
| LG LMXS28596S/00 | Refrigerator |
| LG LMXS28596S/01 | Refrigerator |
| LG LMXS28626S | Refrigerator |
| LG LRFCS25D3S | Refrigerator |
| LG LRFCS29D6S | Refrigerator |
| LG LRFDS3016S | Refrigerator |
| LG LRFVC2406S | Refrigerator |
| LG LRFVS3006D | Refrigerator |
| LG LRFVS3006S | Refrigerator |
| LG LRFWS2906S | Refrigerator |
| LG LRFXC2406S | Refrigerator |
| LG LRFXC2416S | Refrigerator |
| LG LRFXS2503D | Refrigerator |
| LG LRFXS2503S | Refrigerator |
| LG LRMDC2306S | Refrigerator |
| LG LRMDS3006D | Refrigerator |
| LG LRMDS3006D/00 | Refrigerator |
| LG LRMDS3006D/01 | Refrigerator |
| LG LRMDS3006D/O1 | Refrigerator |
| LG LRMDS3006D/OO | Refrigerator |
| LG LRMDS3006S | Refrigerator |
| LG LRMDS3006S/00 | Refrigerator |
| LG LRMDS3006S/01 | Refrigerator |
| LG LRMDS3006S/O1 | Refrigerator |
| LG LRMDS3006S/OO | Refrigerator |
| LG LRMVC2306D | Refrigerator |
| LG LRMVS2806S | Refrigerator |
| LG LRMVS3006S | Refrigerator |
| LG LRMWS2906S | Refrigerator |
| LG LRMXC2206D | Refrigerator |
| LG LRMXS2806S | Refrigerator |
| LG LRSDS2706S | Refrigerator |
| LG LRSOS2706S | Refrigerator |
| LG LRSXC2306S | Refrigerator |
| LG LSXC22396D | Refrigerator |
| LG LSXC22396S | Refrigerator |
| LG LSXC22396S00 | Refrigerator |
| LG LSXC22436D | Refrigerator |
| LG LSXS26336S | Refrigerator |
| LG LSXS26336S/00 | Refrigerator |
| LG LSXS26396S | Refrigerator |
| LG LSXS26396S00 | Refrigerator |
| LG SRFVC2406S | Refrigerator |
| 46-9980 | Filter |
| 469980 | Filter |
| 9980 | Filter |
| AB-9834 | Filter |
| ADQ74793501 | Filter |
| ADQ74793502 | Filter |
| AGF80300704 | Filter |
| BL003-S | Filter |
| CF16 | Filter |
| CLT-2 | Filter |
| CWMF002 | Filter |
| EFF-6046A | Filter |
| FL-RF46 | Filter |
| GF-1000P | Filter |
| L-5-2 | Filter |
| LT1000P | Filter |
| MB-LT1000P | Filter |
| MDJ64844601 | Filter |
| OH-1000P | Filter |
| PP-LT1000P | Filter |
| RWF1053 | Filter |
| RWF4700A | Filter |
| RWF4700A-S | Filter |
| WD-LT1000P | Filter |
| WF-1050A | Filter |
| WS646A | Filter |
| ZWFL7-RF300 | Filter |
Additional Information
---