LG LT700P | Our#: 177251
LG Refrigerator Water Filter (ADQ36006101, LT700P), 2-Pack

103 review(s)
LG LT700P | Our#: 177251
Fast Shipping & Free Returns
100% Compatibility Guarantee
Compatibility guaranteed! Free return shipping and 100% money back if there are any issues.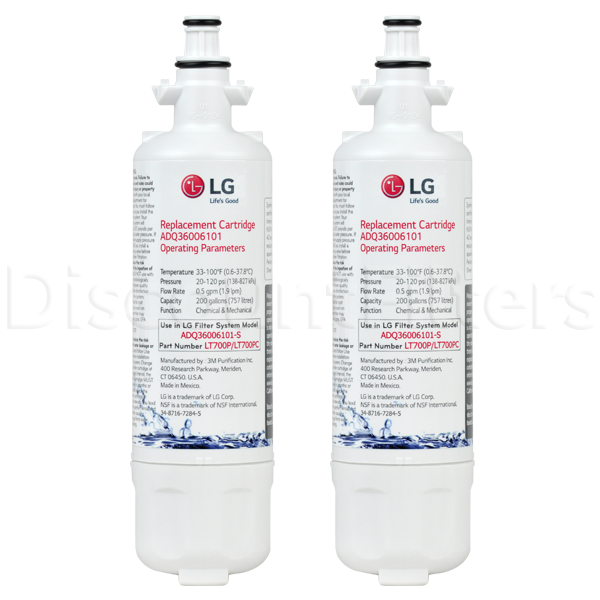 6 people in your area recently purchased this product!
$

63.47
(

2

Filters for $

126.93

)
Fast Shipping & Free Returns
100% Compatibility Guarantee
Frequently Purchased Together
Product Details
Factory Original LT700P and ADQ36006101 Refrigerator Water Filters - 2 Pack
For clean and healthy water and ice, LG, Kenmore and other refrigerators use water filters like the LG filter model LT700P, ADQ36006101. The factory original filter meets NSF/ANSI International Standards 42 and 53. According to these standards, the filter reduces cysts, chlorine, lead, rust, turbidity, lime scale, particulates and other contaminants. It dispenses half a gallon of water every minute and can successfully process up to 200 gallons of water. For the best water quality, replace the filter once every six months.
Factory original product
Tested against NSF/ANSI International Standard 42 for chlorine odor and taste reduction
Tested against NSF/ANSI International Standard 53 for cyst, chemical, lead, turbidity and other contaminant reduction
Accommodates 25 - 125 PSI and 33 - 100 °F
200 gallon filtration limit
0.5 GPM guaranteed flow rate
Filter measures 6-7/8" L x 1-3/4" in diameter
Replace every six months
Two pack
---
Popular Part Numbers
---
Installation Instructions
How To Install The ADQ36006101 Filter:
Press the push button to open the filter cover
Pull the old cartridge downward to remove and discard
With new cartridge in the horizontal position, push the the cartridge into the manifold hold until it stops
Push it up in firmly until you cannot push up further
Push the filter cover until it clicks into place
After replacing flush 2.5 gallons of water through filter before use
---
Compatible Part Numbers
Search by your filter part number or appliance model number to verify compatibility
| Model or Part Number | Type |
| --- | --- |
| Kenmore 4673132 | Refrigerator |
| Kenmore 70322 | Refrigerator |
| Kenmore 70323 | Refrigerator |
| Kenmore 70329 | Refrigerator |
| Kenmore 70332 | Refrigerator |
| Kenmore 70333 | Refrigerator |
| Kenmore 70339 | Refrigerator |
| Kenmore 71032 | Refrigerator |
| Kenmore 71033 | Refrigerator |
| Kenmore 71036 | Refrigerator |
| Kenmore 71039 | Refrigerator |
| Kenmore 71052 | Refrigerator |
| Kenmore 71053 | Refrigerator |
| Kenmore 71054 | Refrigerator |
| Kenmore 71056 | Refrigerator |
| Kenmore 71059 | Refrigerator |
| Kenmore 71062 | Refrigerator |
| Kenmore 71063 | Refrigerator |
| Kenmore 71069 | Refrigerator |
| Kenmore 71072 | Refrigerator |
| Kenmore 71073 | Refrigerator |
| Kenmore 71079 | Refrigerator |
| Kenmore 71092 | Refrigerator |
| Kenmore 71093 | Refrigerator |
| Kenmore 71099 | Refrigerator |
| Kenmore 71322 | Refrigerator |
| Kenmore 71323 | Refrigerator |
| Kenmore 71329 | Refrigerator |
| Kenmore 72032 | Refrigerator |
| Kenmore 72033 | Refrigerator |
| Kenmore 72034 | Refrigerator |
| Kenmore 72036 | Refrigerator |
| Kenmore 72039 | Refrigerator |
| Kenmore 72042 | Refrigerator |
| Kenmore 72043 | Refrigerator |
| Kenmore 72049 | Refrigerator |
| Kenmore 72052 | Refrigerator |
| Kenmore 72053 | Refrigerator |
| Kenmore 72059 | Refrigerator |
| Kenmore 72062 | Refrigerator |
| Kenmore 72063 | Refrigerator |
| Kenmore 72069 | Refrigerator |
| Kenmore 72092 | Refrigerator |
| Kenmore 72093 | Refrigerator |
| Kenmore 72099 | Refrigerator |
| Kenmore 72122 | Refrigerator |
| Kenmore 72123 | Refrigerator |
| Kenmore 72129 | Refrigerator |
| Kenmore 72182 | Refrigerator |
| Kenmore 72183 | Refrigerator |
| Kenmore 72189 | Refrigerator |
| Kenmore 72193 | Refrigerator |
| Kenmore 72353 | Refrigerator |
| Kenmore 72372 | Refrigerator |
| Kenmore 72373 | Refrigerator |
| Kenmore 72379 | Refrigerator |
| Kenmore 72493 | Refrigerator |
| Kenmore 73052 | Refrigerator |
| Kenmore 73053 | Refrigerator |
| Kenmore 73054 | Refrigerator |
| Kenmore 73055 | Refrigerator |
| Kenmore 73059 | Refrigerator |
| Kenmore 73063 | Refrigerator |
| kenmore 73065 | Refrigerator |
| Kenmore 73132 | Refrigerator |
| Kenmore 73133 | Refrigerator |
| Kenmore 73139 | Refrigerator |
| Kenmore 73153 | Refrigerator |
| Kenmore 73157 | Refrigerator |
| Kenmore 73163 | Refrigerator |
| Kenmore 73165 | Refrigerator |
| Kenmore 73167 | Refrigerator |
| Kenmore 74012 | Refrigerator |
| Kenmore 74013 | Refrigerator |
| Kenmore 74015 | Refrigerator |
| Kenmore 74019 | Refrigerator |
| Kenmore 74022 | Refrigerator |
| Kenmore 74023 | Refrigerator |
| Kenmore 74024 | Refrigerator |
| Kenmore 74025 | Refrigerator |
| Kenmore 74027 | Refrigerator |
| Kenmore 74029 | Refrigerator |
| Kenmore 74032 | Refrigerator |
| Kenmore 74033 | Refrigerator |
| Kenmore 74039 | Refrigerator |
| Kenmore 74042 | Refrigerator |
| Kenmore 74043 | Refrigerator |
| Kenmore 74049 | Refrigerator |
| Kenmore 74053 | Refrigerator |
| Kenmore 74092 | Refrigerator |
| Kenmore 74093 | Refrigerator |
| Kenmore 74099 | Refrigerator |
| Kenmore 75042 | Refrigerator |
| Kenmore 75043 | Refrigerator |
| Kenmore 75049 | Refrigerator |
| Kenmore 75053 | Refrigerator |
| Kenmore 7954673132 | Refrigerator |
| Kenmore 79551733810 | Refrigerator |
| Kenmore 79570322310 | Refrigerator |
| Kenmore 79570322311 | Refrigerator |
| Kenmore 79570322312 | Refrigerator |
| Kenmore 79570323310 | Refrigerator |
| Kenmore 79570323311 | Refrigerator |
| Kenmore 79570323312 | Refrigerator |
| Kenmore 79570329310 | Refrigerator |
| Kenmore 79570329312 | Refrigerator |
| Kenmore 79570332410 | Refrigerator |
| Kenmore 79570333410 | Refrigerator |
| Kenmore 79570339410 | Refrigerator |
| Kenmore 79571032010 | Refrigerator |
| Kenmore 79571032011 | Refrigerator |
| Kenmore 79571032012 | Refrigerator |
| Kenmore 79571033010 | Refrigerator |
| Kenmore 79571033011 | Refrigerator |
| Kenmore 79571036010 | Refrigerator |
| Kenmore 79571036011 | Refrigerator |
| Kenmore 79571039010 | Refrigerator |
| Kenmore 79571039011 | Refrigerator |
| Kenmore 79571052010 | Refrigerator |
| Kenmore 79571052011 | Refrigerator |
| Kenmore 79571052012 | Refrigerator |
| Kenmore 79571052013 | Refrigerator |
| Kenmore 79571052014 | Refrigerator |
| Kenmore 79571053010 | Refrigerator |
| Kenmore 79571053011 | Refrigerator |
| Kenmore 79571053012 | Refrigerator |
| Kenmore 79571053013 | Refrigerator |
| Kenmore 79571053014 | Refrigerator |
| Kenmore 79571054010 | Refrigerator |
| Kenmore 79571054011 | Refrigerator |
| Kenmore 79571054012 | Refrigerator |
| Kenmore 79571054013 | Refrigerator |
| Kenmore 79571054014 | Refrigerator |
| Kenmore 79571056010 | Refrigerator |
| Kenmore 79571056011 | Refrigerator |
| Kenmore 79571056012 | Refrigerator |
| Kenmore 79571056013 | Refrigerator |
| Kenmore 79571056014 | Refrigerator |
| Kenmore 79571059010 | Refrigerator |
| Kenmore 79571059011 | Refrigerator |
| Kenmore 79571059012 | Refrigerator |
| Kenmore 79571059013 | Refrigerator |
| Kenmore 79571059014 | Refrigerator |
| Kenmore 79571062010 | Refrigerator |
| Kenmore 79571062011 | Refrigerator |
| Kenmore 79571062012 | Refrigerator |
| Kenmore 79571063010 | Refrigerator |
| Kenmore 79571063011 | Refrigerator |
| Kenmore 79571063012 | Refrigerator |
| Kenmore 79571069010 | Refrigerator |
| Kenmore 79571069011 | Refrigerator |
| Kenmore 79571069012 | Refrigerator |
| Kenmore 79571072 | Refrigerator |
| Kenmore 79571072010 | Refrigerator |
| Kenmore 79571072011 | Refrigerator |
| Kenmore 79571072012 | Refrigerator |
| Kenmore 79571072013 | Refrigerator |
| Kenmore 79571073 | Refrigerator |
| Kenmore 79571073010 | Refrigerator |
| Kenmore 79571073011 | Refrigerator |
| Kenmore 79571073012 | Refrigerator |
| Kenmore 79571073013 | Refrigerator |
| Kenmore 79571079 | Refrigerator |
| Kenmore 79571079010 | Refrigerator |
| Kenmore 79571079011 | Refrigerator |
| Kenmore 79571079012 | Refrigerator |
| Kenmore 79571079013 | Refrigerator |
| Kenmore 79571092110 | Refrigerator |
| Kenmore 79571093110 | Refrigerator |
| Kenmore 79571093111 | Refrigerator |
| Kenmore 79571099110 | Refrigerator |
| Kenmore 79571099111 | Refrigerator |
| Kenmore 79571322410 | Refrigerator |
| Kenmore 79571323410 | Refrigerator |
| Kenmore 79571323411 | Refrigerator |
| Kenmore 79571329410 | Refrigerator |
| Kenmore 79571329411 | Refrigerator |
| Kenmore 7957203112 | Refrigerator |
| Kenmore 79572032110 | Refrigerator |
| Kenmore 79572032111 | Refrigerator |
| Kenmore 79572032112 | Refrigerator |
| Kenmore 79572033110 | Refrigerator |
| Kenmore 79572033111 | Refrigerator |
| Kenmore 79572033112 | Refrigerator |
| Kenmore 79572034110 | Refrigerator |
| Kenmore 79572034111 | Refrigerator |
| Kenmore 79572034112 | Refrigerator |
| Kenmore 79572036110 | Refrigerator |
| Kenmore 79572036111 | Refrigerator |
| Kenmore 79572036112 | Refrigerator |
| Kenmore 79572039110 | Refrigerator |
| Kenmore 79572039111 | Refrigerator |
| Kenmore 79572039112 | Refrigerator |
| Kenmore 79572042012 | Refrigerator |
| Kenmore 79572042110 | Refrigerator |
| Kenmore 79572042111 | Refrigerator |
| Kenmore 79572042112 | Refrigerator |
| Kenmore 79572042313 | Refrigerator |
| Kenmore 79572042316 | Refrigerator |
| Kenmore 79572043012 | Refrigerator |
| Kenmore 79572043110 | Refrigerator |
| Kenmore 79572043111 | Refrigerator |
| Kenmore 79572043112 | Refrigerator |
| Kenmore 79572043313 | Refrigerator |
| Kenmore 79572043316 | Refrigerator |
| Kenmore 79572049012 | Refrigerator |
| Kenmore 79572049110 | Refrigerator |
| Kenmore 79572049111 | Refrigerator |
| Kenmore 79572049112 | Refrigerator |
| Kenmore 79572049313 | Refrigerator |
| Kenmore 79572049316 | Refrigerator |
| Kenmore 79572052110 | Refrigerator |
| Kenmore 79572052111 | Refrigerator |
| Kenmore 79572052112 | Refrigerator |
| Kenmore 79572052113 | Refrigerator |
| Kenmore 79572052114 | Refrigerator |
| Kenmore 79572052115 | Refrigerator |
| Kenmore 79572052116 | Refrigerator |
| Kenmore 79572052313 | Refrigerator |
| Kenmore 79572053110 | Refrigerator |
| Kenmore 79572053111 | Refrigerator |
| Kenmore 79572053112 | Refrigerator |
| Kenmore 79572053113 | Refrigerator |
| Kenmore 79572053114 | Refrigerator |
| Kenmore 79572053116 | Refrigerator |
| Kenmore 79572053117 | Refrigerator |
| Kenmore 79572053118 | Refrigerator |
| Kenmore 79572053316 | Refrigerator |
| Kenmore 79572059110 | Refrigerator |
| Kenmore 79572059111 | Refrigerator |
| Kenmore 79572059112 | Refrigerator |
| Kenmore 79572059113 | Refrigerator |
| Kenmore 79572059114 | Refrigerator |
| Kenmore 79572059115 | Refrigerator |
| Kenmore 79572059116 | Refrigerator |
| Kenmore 79572062110 | Refrigerator |
| Kenmore 79572062111 | Refrigerator |
| Kenmore 79572062112 | Refrigerator |
| Kenmore 79572062212 | Refrigerator |
| Kenmore 79572062312 | Refrigerator |
| Kenmore 79572062313 | Refrigerator |
| Kenmore 79572062315 | Refrigerator |
| Kenmore 79572062316 | Refrigerator |
| Kenmore 79572063110 | Refrigerator |
| Kenmore 79572063111 | Refrigerator |
| Kenmore 79572063112 | Refrigerator |
| Kenmore 79572063113 | Refrigerator |
| Kenmore 79572063315 | Refrigerator |
| Kenmore 79572063316 | Refrigerator |
| Kenmore 79572063317 | Refrigerator |
| Kenmore 79572069110 | Refrigerator |
| Kenmore 79572069111 | Refrigerator |
| Kenmore 79572069112 | Refrigerator |
| Kenmore 79572069212 | Refrigerator |
| Kenmore 79572069313 | Refrigerator |
| Kenmore 79572069315 | Refrigerator |
| Kenmore 79572069316 | Refrigerator |
| Kenmore 79572092310 | Refrigerator |
| Kenmore 79572092311 | Refrigerator |
| Kenmore 79572093310 | Refrigerator |
| Kenmore 79572093311 | Refrigerator |
| Kenmore 79572093312 | Refrigerator |
| Kenmore 79572099310 | Refrigerator |
| Kenmore 79572099311 | Refrigerator |
| Kenmore 79572122210 | Refrigerator |
| Kenmore 79572123210 | Refrigerator |
| Kenmore 79572129210 | Refrigerator |
| Kenmore 79572182210 | Refrigerator |
| Kenmore 79572182211 | Refrigerator |
| Kenmore 79572182315 | Refrigerator |
| Kenmore 79572183210 | Refrigerator |
| Kenmore 79572183211 | Refrigerator |
| Kenmore 79572183312 | Refrigerator |
| Kenmore 79572183313 | Refrigerator |
| Kenmore 79572183314 | Refrigerator |
| Kenmore 79572183315 | Refrigerator |
| Kenmore 79572189210 | Refrigerator |
| Kenmore 79572189211 | Refrigerator |
| Kenmore 79572189315 | Refrigerator |
| Kenmore 79572193310 | Refrigerator |
| Kenmore 79572193311 | Refrigerator |
| Kenmore 79572353310 | Refrigerator |
| Kenmore 79572353312 | Refrigerator |
| Kenmore 79572372310 | Refrigerator |
| Kenmore 79572372312 | Refrigerator |
| Kenmore 79572373310 | Refrigerator |
| Kenmore 79572373312 | Refrigerator |
| Kenmore 79572379310 | Refrigerator |
| Kenmore 79572379312 | Refrigerator |
| Kenmore 79572493610 | Refrigerator |
| Kenmore 79572493611 | Refrigerator |
| Kenmore 79573052410 | Refrigerator |
| Kenmore 79573053410 | Refrigerator |
| Kenmore 79573054410 | Refrigerator |
| Kenmore 79573055410 | Refrigerator |
| Kenmore 79573055411 | Refrigerator |
| Kenmore 79573059410 | Refrigerator |
| Kenmore 79573063410 | Refrigerator |
| Kenmore 79573132410 | Refrigerator |
| Kenmore 79573133410 | Refrigerator |
| Kenmore 79573139410 | Refrigerator |
| Kenmore 79573153610 | Refrigerator |
| Kenmore 79573157610 | Refrigerator |
| Kenmore 79573163610 | Refrigerator |
| Kenmore 79573165610 | Refrigerator |
| Kenmore 79573167610 | Refrigerator |
| Kenmore 79574012410 | Refrigerator |
| Kenmore 79574012411 | Refrigerator |
| Kenmore 79574013410 | Refrigerator |
| Kenmore 79574013411 | Refrigerator |
| Kenmore 79574015410 | Refrigerator |
| Kenmore 79574015411 | Refrigerator |
| Kenmore 79574019410 | Refrigerator |
| Kenmore 79574019411 | Refrigerator |
| Kenmore 79574022410 | Refrigerator |
| Kenmore 79574022411 | Refrigerator |
| Kenmore 79574022412 | Refrigerator |
| Kenmore 79574023410 | Refrigerator |
| Kenmore 79574023411 | Refrigerator |
| Kenmore 79574023412 | Refrigerator |
| Kenmore 79574024410 | Refrigerator |
| Kenmore 79574024411 | Refrigerator |
| Kenmore 79574025410 | Refrigerator |
| Kenmore 79574025411 | Refrigerator |
| Kenmore 79574025412 | Refrigerator |
| Kenmore 79574027610 | Refrigerator |
| Kenmore 79574029410 | Refrigerator |
| Kenmore 79574029411 | Refrigerator |
| Kenmore 79574032410 | Refrigerator |
| Kenmore 79574032411 | Refrigerator |
| Kenmore 79574033410 | Refrigerator |
| Kenmore 79574033411 | Refrigerator |
| Kenmore 79574039410 | Refrigerator |
| Kenmore 79574039411 | Refrigerator |
| Kenmore 79574042410 | Refrigerator |
| Kenmore 79574042411 | Refrigerator |
| Kenmore 79574043410 | Refrigerator |
| Kenmore 79574043411 | Refrigerator |
| Kenmore 79574043412 | Refrigerator |
| Kenmore 79574049410 | Refrigerator |
| Kenmore 79574049411 | Refrigerator |
| Kenmore 79574053410 | Refrigerator |
| Kenmore 79574053411 | Refrigerator |
| Kenmore 79574092410 | Refrigerator |
| Kenmore 79574093410 | Refrigerator |
| Kenmore 79574093411 | Refrigerator |
| Kenmore 79574099410 | Refrigerator |
| Kenmore 79575042610 | Refrigerator |
| Kenmore 79575043610 | Refrigerator |
| Kenmore 79575049610 | Refrigerator |
| Kenmore 79575053710 | Refrigerator |
| Kenmore 79575053712 | Refrigerator |
| Kenmore 7957993510 | Refrigerator |
| Kenmore 79579983510 | Refrigerator |
| Kenmore 79579993510 | Refrigerator |
| Kenmore 79983 | Refrigerator |
| Kenmore 79993 | Refrigerator |
| LG LFC21770ST | Refrigerator |
| lg LFC21776ST | Refrigerator |
| lg LFC28768SB | Refrigerator |
| lg LFC28768ST | Refrigerator |
| lg LFC28768SW | Refrigerator |
| lg LFCS31626S | Refrigerator |
| LG LFD20786SB | Refrigerator |
| LG LFD20786ST | Refrigerator |
| LG LFD20786SW | Refrigerator |
| LG LFD22786SB | Refrigerator |
| LG LFD22786ST | Refrigerator |
| LG LFD22786SW | Refrigerator |
| LG LFDS225205 | Refrigerator |
| LG LFDS225205/00 | Refrigerator |
| LG LFDS225205/01 | Refrigerator |
| LG LFDS225205/02 | Refrigerator |
| LG LFDS225205/03 | Refrigerator |
| LG LFDS225205/04 | Refrigerator |
| LG LFDS225205/05 | Refrigerator |
| LG LFDS22520S | Refrigerator |
| LG LFX21976ST/00 | Refrigerator |
| LG LFX21976ST/01 | Refrigerator |
| LG LFX21976ST/02 | Refrigerator |
| LG LFX21976ST/03 | Refrigerator |
| LG LFX21976ST/04 | Refrigerator |
| LG LFX21976ST/05 | Refrigerator |
| LG LFX21976ST/06 | Refrigerator |
| LG LFX21976ST/07 | Refrigerator |
| LG LFX25976SB | Refrigerator |
| LG LFX25976SB/00 | Refrigerator |
| LG LFX25976SB/01 | Refrigerator |
| LG LFX25976ST | Refrigerator |
| LG LFX25976ST/00 | Refrigerator |
| LG LFX25976ST/01 | Refrigerator |
| LG LFX25976ST/03 | Refrigerator |
| LG LFX25976SW | Refrigerator |
| LG LFX25976SW/00 | Refrigerator |
| LG LFX25976SW/01 | Refrigerator |
| lg LFX25978SB | Refrigerator |
| LG LFX25978SB/00 | Refrigerator |
| LG LFX25978SB/01 | Refrigerator |
| lg LFX25978ST | Refrigerator |
| LG LFX25978ST/00 | Refrigerator |
| LG LFX25978ST/01 | Refrigerator |
| lg LFX25978SW | Refrigerator |
| LG LFX25978SW/00 | Refrigerator |
| LG LFX25978SW/01 | Refrigerator |
| lg LFX25991ST | Refrigerator |
| LG LFX25991ST/00 | Refrigerator |
| LG LFX25991ST/01 | Refrigerator |
| LG LFX25991ST/02 | Refrigerator |
| LG LFX25991ST/05 | Refrigerator |
| LG LFX25991ST/06 | Refrigerator |
| LG LFX25992ST | Refrigerator |
| LG LFX28968D | Refrigerator |
| LG LFX28968D/00 | Refrigerator |
| lg LFX28968SB | Refrigerator |
| LG LFX28968SB/00 | Refrigerator |
| LG LFX28968SB/01 | Refrigerator |
| lg LFX28968ST | Refrigerator |
| LG LFX28968ST/00 | Refrigerator |
| LG LFX28968ST/01 | Refrigerator |
| LG LFX28968ST/02 | Refrigerator |
| LG LFX28968ST/03 | Refrigerator |
| LG LFX28968ST/04 | Refrigerator |
| LG LFX28968ST/06 | Refrigerator |
| lg LFX28968SW | Refrigerator |
| LG LFX28968SW/00 | Refrigerator |
| LG LFX28968SW/01 | Refrigerator |
| LG LFX28978 | Refrigerator |
| lg LFX28978SB | Refrigerator |
| LG LFX28978SB/00 | Refrigerator |
| LG LFX28978SB/01 | Refrigerator |
| LG LFX28978SB/02 | Refrigerator |
| LG LFX28978SB/03 | Refrigerator |
| lg LFX28978ST | Refrigerator |
| LG LFX28978ST/00 | Refrigerator |
| LG LFX28978ST/01 | Refrigerator |
| LG LFX28978ST/02 | Refrigerator |
| LG LFX28978ST/04 | Refrigerator |
| lg LFX28978SW | Refrigerator |
| LG LFX28978SW/00 | Refrigerator |
| LG LFX28978SW/01 | Refrigerator |
| LG LFX28978SW/02 | Refrigerator |
| lg LFX28979SB | Refrigerator |
| LG LFX28979SB/00 | Refrigerator |
| LG LFX28979SB/01 | Refrigerator |
| LG LFX28979SB/02 | Refrigerator |
| LG LFX28979SB/05 | Refrigerator |
| lg LFX28979ST | Refrigerator |
| LG LFX28979ST/00 | Refrigerator |
| LG LFX28979ST/01 | Refrigerator |
| LG LFX28979ST/02 | Refrigerator |
| LG LFX28979ST/05 | Refrigerator |
| lg LFX28979SW | Refrigerator |
| LG LFX28979SW/00 | Refrigerator |
| LG LFX28979SW/01 | Refrigerator |
| LG LFX28979SW/02 | Refrigerator |
| LG LFX28979SW/05 | Refrigerator |
| lg LFX28991ST | Refrigerator |
| LG LFX28991ST/00 | Refrigerator |
| LG LFX28992ST | Refrigerator |
| lg LFX28995ST | Refrigerator |
| LG LFX28995ST/00 | Refrigerator |
| lg LFX29927SB | Refrigerator |
| LG LFX29927SB/00 | Refrigerator |
| lg LFX29927ST | Refrigerator |
| LG LFX29927ST/00 | Refrigerator |
| LG LFX29927ST/01 | Refrigerator |
| LG LFX29927ST/03 | Refrigerator |
| lg LFX29927SW | Refrigerator |
| LG LFX29927SW/00 | Refrigerator |
| LG LFX29927WB | Refrigerator |
| lg LFX29937ST | Refrigerator |
| LG LFX29945ST | Refrigerator |
| LG LFX29945ST/00 | Refrigerator |
| LG LFX31915SB | Refrigerator |
| lg LFX31915ST | Refrigerator |
| LG LFX31915SW | Refrigerator |
| lg LFX31925SB | Refrigerator |
| LG LFX31925SB/00 | Refrigerator |
| LG LFX31925SB/01 | Refrigerator |
| LG LFX31925SB/02 | Refrigerator |
| lg LFX31925ST | Refrigerator |
| LG LFX31925ST/00 | Refrigerator |
| LG LFX31925ST/01 | Refrigerator |
| LG LFX31925ST/02 | Refrigerator |
| LG LFX31925ST/03 | Refrigerator |
| LG LFX31925ST/04 | Refrigerator |
| LG LFX31925ST/05 | Refrigerator |
| LG LFX31925ST/06 | Refrigerator |
| LG LFX31925ST/08 | Refrigerator |
| LG LFX31925SW | Refrigerator |
| LG LFX31925SW/00 | Refrigerator |
| LG LFX31925SW/01 | Refrigerator |
| LG LFX31925SW/02 | Refrigerator |
| LG LFX31935ST | Refrigerator |
| LG LFX31935ST/01 | Refrigerator |
| LG LFX31935ST/02 | Refrigerator |
| LG LFX31945ST | Refrigerator |
| LG LFX31945ST/00 | Refrigerator |
| LG LFX31945ST/01 | Refrigerator |
| LG LFX31945ST/02 | Refrigerator |
| LG LFX31945ST/05 | Refrigerator |
| LG LFX31945ST/06 | Refrigerator |
| LG LFX31945ST/07 | Refrigerator |
| lg LFX31995ST | Refrigerator |
| LG LFX32945ST | Refrigerator |
| lg LFX33975ST | Refrigerator |
| LG LFX33975ST/01 | Refrigerator |
| LG LFX33975ST/02 | Refrigerator |
| LG LFX33975ST/03 | Refrigerator |
| LG LFX33975ST/04 | Refrigerator |
| LG LFX33975ST/05 | Refrigerator |
| LG LFXC24726D | Refrigerator |
| LG LFXC24726D/00 | Refrigerator |
| LG LFXC24726D/01 | Refrigerator |
| lg LFXC24726S | Refrigerator |
| LG LFXC24726S/00 | Refrigerator |
| LG LFXC24726S/01 | Refrigerator |
| LG LFXC24726S/02 | Refrigerator |
| LG LFXC24726S/03 | Refrigerator |
| LG LFXC24766 | Refrigerator |
| LG LFXC24766S | Refrigerator |
| lg LFXS24623B | Refrigerator |
| LG LFXS24623B/00 | Refrigerator |
| LG LFXS24623D | Refrigerator |
| LG LFXS24623D/00 | Refrigerator |
| LG LFXS24623S | Refrigerator |
| LG LFXS24623S/00 | Refrigerator |
| LG LFXS24623S/01 | Refrigerator |
| LG LFXS24623S00 | Refrigerator |
| LG LFXS24623S01 | Refrigerator |
| lg LFXS24623W | Refrigerator |
| LG LFXS24623W/00 | Refrigerator |
| lg LFXS24663S | Refrigerator |
| LG LFXS24663S/00 | Refrigerator |
| LG LFXS24663S/01 | Refrigerator |
| LG LFXS25973D/00 | Refrigerator |
| lg LFXS27566S | Refrigerator |
| lg LFXS29626B | Refrigerator |
| LG LFXS29626B/00 | Refrigerator |
| LG LFXS29626B/01 | Refrigerator |
| lg LFXS29626S | Refrigerator |
| LG LFXS29626S/00 | Refrigerator |
| LG LFXS29626S/01 | Refrigerator |
| lg LFXS29626W | Refrigerator |
| LG LFXS29626W/00 | Refrigerator |
| LG LFXS29626W/01 | Refrigerator |
| lg LFXS29766S | Refrigerator |
| LG LFXS29766S/00 | Refrigerator |
| LG LFXS29766S/01 | Refrigerator |
| LG LFXS30726B | Refrigerator |
| LG LFXS30726B/00 | Refrigerator |
| lg LFXS30726S | Refrigerator |
| LG LFXS30726S/00 | Refrigerator |
| LG LFXS30726S/02 | Refrigerator |
| LG LFXS30726W | Refrigerator |
| LG LFXS30726W/00 | Refrigerator |
| LG LFXS30766D | Refrigerator |
| LG LFXS30766D/00 | Refrigerator |
| LG LFXS30766D/01 | Refrigerator |
| lg LFXS30766S | Refrigerator |
| LG LFXS30766S/00 | Refrigerator |
| LG LFXS30766S/01 | Refrigerator |
| LG LFXS30766S/02 | Refrigerator |
| LG LFXS30766S/03 | Refrigerator |
| LG LFXS30786S | Refrigerator |
| lg LFXS32726S | Refrigerator |
| LG LFXS32726S/00 | Refrigerator |
| LG LFXS32726S/01 | Refrigerator |
| LG LFXS32736D | Refrigerator |
| lg LFXS32766S | Refrigerator |
| LG LFXS32766S/00 | Refrigerator |
| LG LMX21986ST | Refrigerator |
| LG LMX25986SB | Refrigerator |
| LG LMX25986SB/00 | Refrigerator |
| LG LMX25986ST | Refrigerator |
| LG LMX25986ST/00 | Refrigerator |
| LG LMX25986SW | Refrigerator |
| LG LMX25986SW/00 | Refrigerator |
| LG LMX25988SB | Refrigerator |
| LG LMX25988SB/00 | Refrigerator |
| lg LMX25988ST | Refrigerator |
| LG LMX25988ST/00 | Refrigerator |
| LG LMX25988SW | Refrigerator |
| LG LMX25988SW/00 | Refrigerator |
| LG LMX28988SB | Refrigerator |
| LG LMX28988ST | Refrigerator |
| LG LMX28988SW | Refrigerator |
| LG LMX28994ST | Refrigerator |
| lg LMX30995ST | Refrigerator |
| LG LMX30995ST/00 | Refrigerator |
| LG LMX31985ST | Refrigerator |
| LG LMXS27626D | Refrigerator |
| LG LMXS27626D/00 | Refrigerator |
| LG LMXS27626D/01 | Refrigerator |
| lg LMXS27626S | Refrigerator |
| LG LMXS27626S/00 | Refrigerator |
| LG LMXS27626S/01 | Refrigerator |
| LG LMXS27676D | Refrigerator |
| LG LMXS27766S | Refrigerator |
| LG LPCS34886C | Refrigerator |
| lg LSFD2491ST | Refrigerator |
| LG LSFD2491ST/00 | Refrigerator |
| lg LSFD2591ST | Refrigerator |
| lg LSFS213ST | Refrigerator |
| LG LSFXC2476S | Refrigerator |
| LG LSFXC2476S/00 | Refrigerator |
| LG LSFXC2476S/01 | Refrigerator |
| lg LSSB2691ST | Refrigerator |
| LG LSSB2692ST | Refrigerator |
| LG LSSB2692ST/00 | Refrigerator |
| LG LSSB2696BD/00 | Refrigerator |
| lg LSSB2791ST | Refrigerator |
| LG SRSXB2622S | Refrigerator |
| 176272 | Filter |
| 2790072 | Filter |
| 46-9690 | Filter |
| 4609690000 | Filter |
| 469690 | Filter |
| 6523393 | Filter |
| 7364289S | Filter |
| 795.7205 | Filter |
| 9690 | Filter |
| ADQ36006101 | Filter |
| ADQ36006101-S | Filter |
| ADQ36006101S | Filter |
| ADQ36006102 | Filter |
| ADQ36006102-S | Filter |
| ADQ36006102S | Filter |
| AQF-LT700P | Filter |
| BCF70 | Filter |
| CLCH106 | Filter |
| CW-L3 | Filter |
| EBL7700 | Filter |
| EFF-6032A | Filter |
| EP-LT700P | Filter |
| FML-3 | Filter |
| HDX-FML-3 | Filter |
| LFX31925 | Filter |
| LGEADQ36006101 | Filter |
| LP-1400P | Filter |
| LT700P | Filter |
| NVW-145 | Filter |
| PD00001835 | Filter |
| PF01 | Filter |
| PG-700P | Filter |
| PH21410 | Filter |
| R-9690 | Filter |
| RB-L3 | Filter |
| RFC1200A | Filter |
| RWF1052 | Filter |
| SGF-LA07 | Filter |
| SW-L3 | Filter |
| WD-LT700P | Filter |
| WF700 | Filter |
| WFBRFLG2 | Filter |
| WFC2401 | Filter |
| WLF-01 | Filter |
| WSL-3 | Filter |
Additional Information
---