LG LT500P | Our#: 177249
LG Refrigerator Water Filter (5231JA2002A, LT500P), 2-Pack

43 review(s)
LG LT500P | Our#: 177249
Fast Shipping & Free Returns
100% Compatibility Guarantee
Compatibility guaranteed! Free return shipping and 100% money back if there are any issues.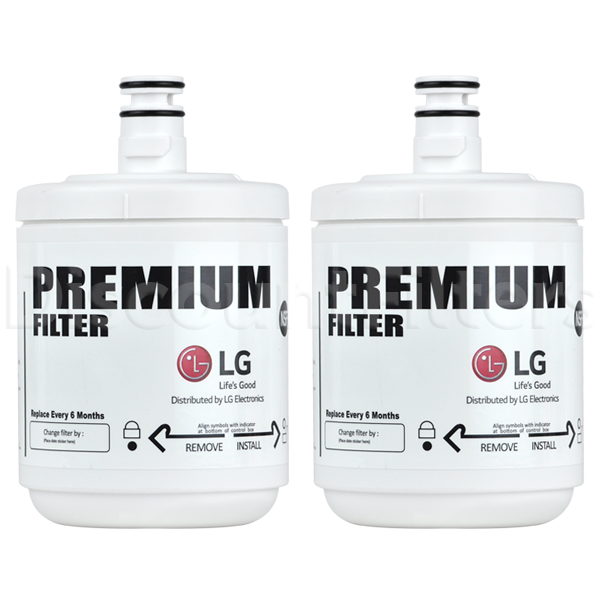 6 people in your area recently purchased this product!
$

58.91
(

2

Filters for $

117.81

)
Fast Shipping & Free Returns
100% Compatibility Guarantee
Frequently Purchased Together
Product Details
The factory original LG LT500P (5231JA2002A) is used in refrigerators by LG, Kenmore and others. LT500P filter creates better tasting water for drinking and making beverages as well as clean, clearer, healthy ice.
Features:
Original OEM product
Easy installation and operation
Helps reduce chlorine taste and odor
Helps reduce contaminants found in tap water and improves its quality
Tested by NSF/ANSI International against Standard 42 for the reduction of chlorine taste and odor and particulates
---
Popular Part Numbers
---
Installation Instructions
How To Install The 5231JA2002A Filter:
Remove old filter cartridge by grasping and turning to the left about 1/4 turn
Apply the month sticker (included) to the cartridge as a reminder to replace the filter with 6 months and remove red cap
Align unlabeled side of filter with the indictor line so that it can be inserted into the filter head
Turn the cartridge 1/4 turn to the right to lock it into place - you will feel a stop and the locked symbol should now be lined up with the indicator line
Run water through the dispenser for 3 minutes to purge the system
---
Compatible Part Numbers
Search by your filter part number or appliance model number to verify compatibility
| Model or Part Number | Type |
| --- | --- |
| Kenmore 51012 | Refrigerator |
| Kenmore 51013 | Refrigerator |
| Kenmore 51014 | Refrigerator |
| Kenmore 51016 | Refrigerator |
| Kenmore 51019 | Refrigerator |
| Kenmore 51022 | Refrigerator |
| Kenmore 51023 | Refrigerator |
| Kenmore 51024 | Refrigerator |
| Kenmore 51026 | Refrigerator |
| Kenmore 51029 | Refrigerator |
| Kenmore 51032 | Refrigerator |
| Kenmore 51033 | Refrigerator |
| Kenmore 51034 | Refrigerator |
| Kenmore 51036 | Refrigerator |
| Kenmore 51039 | Refrigerator |
| Kenmore 51312 | Refrigerator |
| Kenmore 51313 | Refrigerator |
| Kenmore 51314 | Refrigerator |
| Kenmore 51316 | Refrigerator |
| Kenmore 51319 | Refrigerator |
| Kenmore 51322 | Refrigerator |
| Kenmore 51323 | Refrigerator |
| Kenmore 51326 | Refrigerator |
| Kenmore 51329 | Refrigerator |
| Kenmore 58812 | Refrigerator |
| Kenmore 58814 | Refrigerator |
| Kenmore 58816 | Refrigerator |
| Kenmore 58819 | Refrigerator |
| Kenmore 58822 | Refrigerator |
| Kenmore 58823 | Refrigerator |
| Kenmore 58826 | Refrigerator |
| Kenmore 58829 | Refrigerator |
| Kenmore 72022 | Refrigerator |
| Kenmore 72023 | Refrigerator |
| Kenmore 72029 | Refrigerator |
| Kenmore 79402 | Refrigerator |
| Kenmore 79409 | Refrigerator |
| Kenmore 79432 | Refrigerator |
| Kenmore 79433 | Refrigerator |
| Kenmore 795.31002700 | Refrigerator |
| Kenmore 795.58813900 | Refrigerator |
| Kenmore 795.58826900 | Refrigerator |
| Kenmore 79531002700 | Refrigerator |
| Kenmore 79551012010 | Refrigerator |
| Kenmore 79551013010 | Refrigerator |
| Kenmore 79551014010 | Refrigerator |
| Kenmore 79551016010 | Refrigerator |
| Kenmore 79551016012 | Refrigerator |
| Kenmore 79551019010 | Refrigerator |
| Kenmore 79551022010 | Refrigerator |
| Kenmore 79551023010 | Refrigerator |
| Kenmore 79551024010 | Refrigerator |
| Kenmore 79551026010 | Refrigerator |
| Kenmore 79551029010 | Refrigerator |
| Kenmore 79551032010 | Refrigerator |
| Kenmore 79551032011 | Refrigerator |
| Kenmore 79551033010 | Refrigerator |
| Kenmore 79551033011 | Refrigerator |
| Kenmore 79551034010 | Refrigerator |
| Kenmore 79551034011 | Refrigerator |
| Kenmore 79551036010 | Refrigerator |
| Kenmore 79551036011 | Refrigerator |
| Kenmore 79551039010 | Refrigerator |
| Kenmore 79551039011 | Refrigerator |
| Kenmore 79551312010 | Refrigerator |
| Kenmore 79551313010 | Refrigerator |
| Kenmore 79551314010 | Refrigerator |
| Kenmore 79551316010 | Refrigerator |
| Kenmore 79551319010 | Refrigerator |
| Kenmore 79551322010 | Refrigerator |
| Kenmore 79551323010 | Refrigerator |
| Kenmore 79551326010 | Refrigerator |
| Kenmore 79551329010 | Refrigerator |
| Kenmore 79558812900 | Refrigerator |
| Kenmore 79558813900 | Refrigerator |
| Kenmore 79558814900 | Refrigerator |
| Kenmore 79558816900 | Refrigerator |
| Kenmore 79558819900 | Refrigerator |
| Kenmore 79558822900 | Refrigerator |
| Kenmore 79558823900 | Refrigerator |
| Kenmore 79558826900 | Refrigerator |
| Kenmore 79558826900 | Refrigerator |
| Kenmore 79558829900 | Refrigerator |
| Kenmore 79572022110 | Refrigerator |
| Kenmore 79572023110 | Refrigerator |
| Kenmore 79572029110 | Refrigerator |
| Kenmore 79579402210 | Refrigerator |
| Kenmore 79579409210 | Refrigerator |
| Kenmore 79579432210 | Refrigerator |
| Kenmore 79579432211 | Refrigerator |
| Kenmore 79579432215 | Refrigerator |
| Kenmore 79579432217 | Refrigerator |
| Kenmore 79579433211 | Refrigerator |
| Kenmore 79579433213 | Refrigerator |
| Kenmore 79579433214 | Refrigerator |
| Kenmore 79579433215 | Refrigerator |
| Kenmore 79579433216 | Refrigerator |
| Kenmore 79579433217 | Refrigerator |
| Kenmore 79579433218 | Refrigerator |
| LG LFX25778SB | Refrigerator |
| LG LFX25778ST | Refrigerator |
| LG LFX25778SW | Refrigerator |
| LG LFX259730 | Refrigerator |
| LG LFX25973D | Refrigerator |
| lg LFX25973SB | Refrigerator |
| LG LFX25973SB/00 | Refrigerator |
| lg LFX25973ST | Refrigerator |
| LG LFX25973ST/00 | Refrigerator |
| LG LFX25973ST/03 | Refrigerator |
| lg LFX25973SW | Refrigerator |
| LG LFX25973SW/00 | Refrigerator |
| lg LFX25974SB | Refrigerator |
| LG LFX25974SB/00 | Refrigerator |
| LG LFX25974SB/01 | Refrigerator |
| lg LFX25974ST | Refrigerator |
| LG LFX25974ST/00 | Refrigerator |
| LG LFX25974ST/01 | Refrigerator |
| LG LFX25974ST/02 | Refrigerator |
| LG LFX25974ST/03 | Refrigerator |
| LG LFX25974ST/04 | Refrigerator |
| LG LFX25974ST/05 | Refrigerator |
| LG LFX25974ST/06 | Refrigerator |
| LG LFX25974ST/07 | Refrigerator |
| lg LFX25974SW | Refrigerator |
| LG LFX25974SW/00 | Refrigerator |
| LG LFX25974SW/01 | Refrigerator |
| LG LFX25974SW/04 | Refrigerator |
| LG LFX25974SW/05 | Refrigerator |
| LG LFXS24566S | Refrigerator |
| LG LFXS24626D | Refrigerator |
| LG LFXS24626S | Refrigerator |
| LG LMX25964SS | Refrigerator |
| LG LMX25964SS/00 | Refrigerator |
| LG LMX25964ST | Refrigerator |
| LG LMX25964ST/00 | Refrigerator |
| LG LMX25964ST/01 | Refrigerator |
| LG LMX25964ST/02 | Refrigerator |
| LG LRSC21934SB | Refrigerator |
| LG LRSC21934SW | Refrigerator |
| LG LRSC21934TT | Refrigerator |
| LG LRSC21935SB | Refrigerator |
| LG LRSC21935SW | Refrigerator |
| LG LRSC21935TT | Refrigerator |
| LG LRSC21951ST | Refrigerator |
| LG LRSC23915SW | Refrigerator |
| LG LRSP2031BS | Refrigerator |
| LG LRSPC2031BK | Refrigerator |
| LG LRSPC2031BS | Refrigerator |
| LG LRSPC2031NI | Refrigerator |
| LG LRSPC2031T | Refrigerator |
| LG LRSPC2031W | Refrigerator |
| LG LRSPC2041T | Refrigerator |
| LG LRSPC2051AB | Refrigerator |
| LG LRSPC2051BM | Refrigerator |
| LG LRSPC2051ST | Refrigerator |
| LG LRSPC2331BK | Refrigerator |
| LG LRSPC2331BS | Refrigerator |
| LG LRSPC2331NI | Refrigerator |
| LG LRSPC2331T | Refrigerator |
| LG LRSPC2331W | Refrigerator |
| LG LRSPC2661T | Refrigerator |
| LG LRSPC266IT | Refrigerator |
| LG LSC20913SW | Refrigerator |
| LG LSC20913TT | Refrigerator |
| LG LSC21943ST | Refrigerator |
| LG LSC23924SB | Refrigerator |
| lg LSC23924ST | Refrigerator |
| LG LSC23924SW | Refrigerator |
| LG LSC23954ST | Refrigerator |
| LG LSC23954SW | Refrigerator |
| LG LSC26905SB | Refrigerator |
| LG LSC26905ST | Refrigerator |
| LG LSC26905SW | Refrigerator |
| LG LSC26905TT | Refrigerator |
| LG LSC269905TT | Refrigerator |
| LG LSC27910SB | Refrigerator |
| LG LSC27910ST | Refrigerator |
| LG LSC27910SW | Refrigerator |
| LG LSC27910TT | Refrigerator |
| LG LSC27911ST | Refrigerator |
| LG LSC27911SW | Refrigerator |
| LG LSC27914SB | Refrigerator |
| LG LSC27914ST | Refrigerator |
| LG LSC27914SW | Refrigerator |
| LG LSC27914TT | Refrigerator |
| LG LSC27921SB | Refrigerator |
| LG LSC27921SB02 | Refrigerator |
| LG LSC27921SB03 | Refrigerator |
| LG LSC27921SB04 | Refrigerator |
| LG LSC27921SB05 | Refrigerator |
| LG LSC27921ST | Refrigerator |
| LG LSC27921SW | Refrigerator |
| LG LSC27921TT | Refrigerator |
| LG LSC27925SB | Refrigerator |
| LG LSC27925ST | Refrigerator |
| LG LSC27925SW | Refrigerator |
| 113542 | Filter |
| 1648-0019 | Filter |
| 2571632 | Filter |
| 3660175 | Filter |
| 46-9890 | Filter |
| 4609890000 | Filter |
| 469890 | Filter |
| 5231JA2002 | Filter |
| 5231JA2002A | Filter |
| 5231JA2002A-S | Filter |
| 5231JA2002B | Filter |
| 5231JA2002B-S | Filter |
| 88009234 | Filter |
| 88009235 | Filter |
| 9890 | Filter |
| ADQ72910901 | Filter |
| ADQ72910902 | Filter |
| ADQ72910907 | Filter |
| AFC-RF-L1 | Filter |
| AQF-LT500P | Filter |
| AQUACLEAR510 | Filter |
| CLCH110 | Filter |
| CW-L1 | Filter |
| DWF-1 | Filter |
| EFF-6005A | Filter |
| EFW-LT500 | Filter |
| EL-1 | Filter |
| FML-1 | Filter |
| GEN11042F-08 | Filter |
| GEN11042FR-08 | Filter |
| L-1-2 | Filter |
| LT500P | Filter |
| MCWF-L1 | Filter |
| NJW-08 | Filter |
| OPFL-RF300 | Filter |
| PH21420 | Filter |
| PS2487038 | Filter |
| R-9890 | Filter |
| RF-300 | Filter |
| RF-L2A | Filter |
| RFC0100A | Filter |
| RWF1050 | Filter |
| SGF-LA22 | Filter |
| SW-L1 | Filter |
| T2004CNZ1648-0019 | Filter |
| WD-LT500P | Filter |
| WF-290 | Filter |
| WF-LT500P | Filter |
| WF290 | Filter |
| WFBRFLG4 | Filter |
| WSL-1 | Filter |
Additional Information
---