GE MWF | Our#: 111295
GE SmartWater MWF Filter Cartridge (GWF)

67 review(s)
GE MWF | Our#: 111295
Fast Shipping & Free Returns
100% Compatibility Guarantee
Compatibility guaranteed! Free return shipping and 100% money back if there are any issues.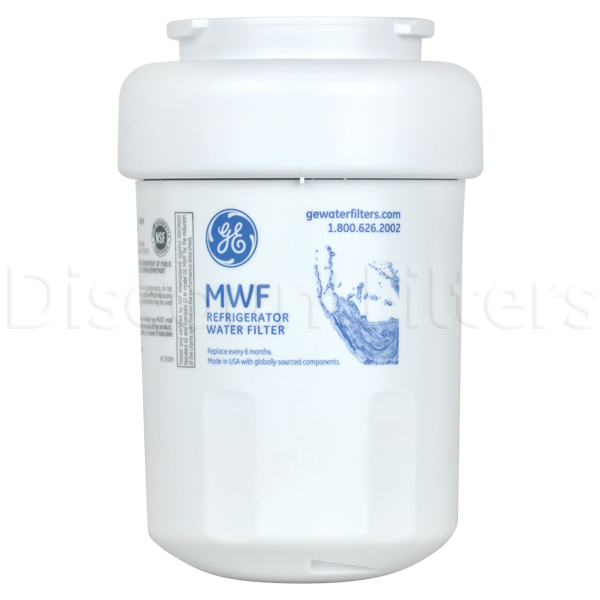 4 people in your area recently purchased this product!
Fast Shipping & Free Returns
100% Compatibility Guarantee
Frequently Purchased Together
Product Details
Designed to remove contaminants from well and municipal water, the GE SmartWater MWF filter fits GE, Kenmore, Amana and other refrigerator brands. A factory original part, it meets NSF/ANSI International Standards 42 and 53 as it significantly reduces chlorine, cysts, dirt, minerals and chemicals from the water it filters. This filter successfully processes up to 300 gallons of water, and it dispenses clean water at a flow rate of half a gallon per minute. Replace the filter at least once every six months. The simple replacement procedure ensures the appliance produces a steady flow of clean water and ice.
Reduces chlorine, cysts, chemicals, minerals, dirt and other contaminants as per NSF/ANSI International Standards 42 and 53
Requires 40 - 120 PSI and 33 - 100 °F
Flow rate of 0.5 GPM
Replace every 6 months
OEM product
---
Popular Part Numbers
---
Installation Instructions
How To Install The MWF Filter:

The water filter cartridge is located in the back upper right corner of the refrigerator compartment. The filter cartridge should be replaced when the replacement indicator light turns red or if the flow of water to the dispenser or icemaker decreases. For refrigerators without an indicator light - replace the filters every 6 months.

Remove old filter cartridge by grasping and turning to the left about 1/2 turn
Fill the replacement filter with water from the tap to allow for better flow immediately after installation
Place the top of the new cartridge up inside the cartridge holder
Slowly turn the filter until the filter cartridge stops. Do not over tighten. As you turn the cartridge it will automatically raise itself into position. The cartridge will move about 1/2 turn
Run water from the dispenser for 3 minutes (about 1-1/2 gallons) to clear the system and prevent sputtering
Press and hold reset water filter button if your fridge has one
---
Compatible Part Numbers
Search by your filter part number or appliance model number to verify compatibility
| Model or Part Number | Type |
| --- | --- |
| dacor DTF364 | Refrigerator |
| GE BSS25GFPACC | Refrigerator |
| GE BSS25GFPACC | Refrigerator |
| GE BSS25GFPAWW | Refrigerator |
| GE BSS25GFPAWW | Refrigerator |
| GE BSS25GFPCCC | Refrigerator |
| GE BSS25GFPCCC | Refrigerator |
| GE BSS25GFPCWW | Refrigerator |
| GE BSS25GFPCWW | Refrigerator |
| GE BSS25GFPDCC | Refrigerator |
| GE BSS25GFPDCC | Refrigerator |
| GE BSS25GFPDWW | Refrigerator |
| GE BSS25GFPDWW | Refrigerator |
| GE BSS25GFPECC | Refrigerator |
| GE BSS25GFPECC | Refrigerator |
| GE BSS25GFPEWW | Refrigerator |
| GE BSS25GFPEWW | Refrigerator |
| GE BSS25GFPHCC | Refrigerator |
| GE BSS25GFPHCC | Refrigerator |
| GE BSS25GFPHWW | Refrigerator |
| GE BSS25GFPHWW | Refrigerator |
| GE BSS25JFRFWW | Refrigerator |
| GE BSS25JFRFWW | Refrigerator |
| GE BSS25JFRJWW | Refrigerator |
| GE BSS25JFRJWW | Refrigerator |
| GE BSS25JFTAWW | Refrigerator |
| GE BSS25JFTAWW | Refrigerator |
| GE BSS25JFTBWW | Refrigerator |
| GE BSS25JFTBWW | Refrigerator |
| GE BSS25JFTCWW | Refrigerator |
| GE BSS25JFTCWW | Refrigerator |
| GE BSS25JFTDWW | Refrigerator |
| GE BSS25JFTDWW | Refrigerator |
| GE BSS25JFTEWW | Refrigerator |
| GE BSS25JFTEWW | Refrigerator |
| GE BSS25JFTGWW | Refrigerator |
| GE BSS25JFTGWW | Refrigerator |
| GE BSS25JFTHWW | Refrigerator |
| GE BSS25JFTHWW | Refrigerator |
| GE BSS25JFTIWW | Refrigerator |
| GE BSS25JFTIWW | Refrigerator |
| GE BSS25JFTJWW | Refrigerator |
| GE BSS25JFTJWW | Refrigerator |
| GE BSS25JFTNWW | Refrigerator |
| GE BSS25JFTNWW | Refrigerator |
| GE BSS25JFTPWW | Refrigerator |
| GE BSS25JFTPWW | Refrigerator |
| GE BSS25JSRFSS | Refrigerator |
| GE BSS25JSRFSS | Refrigerator |
| GE BSS25JSRJSS | Refrigerator |
| GE BSS25JSRJSS | Refrigerator |
| GE BSS25JSTASS | Refrigerator |
| GE BSS25JSTASS | Refrigerator |
| GE BSS25JSTBSS | Refrigerator |
| GE BSS25JSTBSS | Refrigerator |
| GE BSS25JSTCSS | Refrigerator |
| GE BSS25JSTCSS | Refrigerator |
| GE BSS25JSTDSS | Refrigerator |
| GE BSS25JSTDSS | Refrigerator |
| GE BSS25JSTESS | Refrigerator |
| GE BSS25JSTESS | Refrigerator |
| GE BSS25JSTGSS | Refrigerator |
| GE BSS25JSTGSS | Refrigerator |
| GE BSS25JSTHSS | Refrigerator |
| GE BSS25JSTHSS | Refrigerator |
| GE BSS25JSTISS | Refrigerator |
| GE BSS25JSTISS | Refrigerator |
| GE BSS25JSTJSS | Refrigerator |
| GE BSS25JSTJSS | Refrigerator |
| GE BSS25JSTNSS | Refrigerator |
| GE BSS25JSTNSS | Refrigerator |
| GE BSS25JSTPSS | Refrigerator |
| GE BSS25JSTPSS | Refrigerator |
| GE BSS25JSTRSS | Refrigerator |
| GE BSS25JSTRSS | Refrigerator |
| GE BSY25GFMCCC | Refrigerator |
| GE BSY25GFMCCC | Refrigerator |
| GE BSY25GFMCWW | Refrigerator |
| GE BSY25GFMCWW | Refrigerator |
| GE BSY25GFMDCC | Refrigerator |
| GE BSY25GFMDCC | Refrigerator |
| GE BSY25GFMDWW | Refrigerator |
| GE BSY25GFMDWW | Refrigerator |
| GE C23NHPBWW | Refrigerator |
| GE CDB36LP2PBS1 | Refrigerator |
| GE CDB36RP2PBS1 | Refrigerator |
| GE CFCP1NIYASS | Refrigerator |
| GE CFCP1NIYASS | Refrigerator |
| GE CFCP1NIYCSS | Refrigerator |
| GE CFCP1NIYCSS | Refrigerator |
| GE CFCP1NIZASS | Refrigerator |
| GE CFCP1NIZASS | Refrigerator |
| GE CFCP1NIZBSS | Refrigerator |
| GE CFCP1NIZBSS | Refrigerator |
| GE CFCP1NIZCSS | Refrigerator |
| GE CFCP1NIZCSS | Refrigerator |
| GE CFCP1NIZDSS | Refrigerator |
| GE CFCP1NIZDSS | Refrigerator |
| GE CFCP1NIZESS | Refrigerator |
| GE CFCP1NIZESS | Refrigerator |
| ge CFCP1NIZSS | Refrigerator |
| GE CFCP1RKBA SS | Refrigerator |
| GE CFCP1RKBASS | Refrigerator |
| GE CFCP1RKBDSS | Refrigerator |
| GE CFCP1RKBDSS | Refrigerator |
| ge CFCP1RKBSS | Refrigerator |
| GE CFCP1ZIYASS | Refrigerator |
| GE CFCP1ZIYASS | Refrigerator |
| GE CFCP1ZIYCSS | Refrigerator |
| GE CFCP1ZIYCSS | Refrigerator |
| GE CFSP5RKBBSS | Refrigerator |
| GE CFSP5RKBBSS | Refrigerator |
| GE CFSP5RKBCSS | Refrigerator |
| GE CFSP5RKBCSS | Refrigerator |
| GE CFSP5RKBDSS | Refrigerator |
| GE CFSP5RKBDSS | Refrigerator |
| GE CFSP5RKBE SS | Refrigerator |
| GE CFSP5RKBESS | Refrigerator |
| ge CFSP5RKBSS | Refrigerator |
| GE CNE22SSEAFSS | Refrigerator |
| GE CNE22SSEAFSS | Refrigerator |
| ge CNE22SSESS | Refrigerator |
| GE CNE25SSKAKSS | Refrigerator |
| GE CNE25SSKAKSS | Refrigerator |
| GE CNS23SSHAFSS | Refrigerator |
| GE CNS23SSHAFSS | Refrigerator |
| ge CNS23SSHSS | Refrigerator |
| GE CSB42WP2NCS1 | Refrigerator |
| GE CSB42WSKBSS | Refrigerator |
| GE CSB42WSKBSS | Refrigerator |
| GE CSB42WSKCSS | Refrigerator |
| GE CSB42YP2NBS1 | Refrigerator |
| GE CSB48WP2NCS1 | Refrigerator |
| GE CSB48WSKBSS | Refrigerator |
| GE CSB48WSKBSS | Refrigerator |
| GE CSB48WSKCSS | Refrigerator |
| GE CSB48WSKSS | Refrigerator |
| GE CSB48YP2NBS1 | Refrigerator |
| GE CSW25LSWASS | Refrigerator |
| GE CSX25DPBAAA | Refrigerator |
| GE CSX25DPBAWW | Refrigerator |
| GE CSX25DPBBAA | Refrigerator |
| GE CSX25DPBBWW | Refrigerator |
| GE CSX25GPCCAA | Refrigerator |
| GE CSX25GPCCAA | Refrigerator |
| GE CSX25GPCCWW | Refrigerator |
| GE CSX25GPCCWW | Refrigerator |
| GE CSX25GPCEAA | Refrigerator |
| GE CSX25GPCEAA | Refrigerator |
| GE CSX25GPCEWW | Refrigerator |
| GE CSX25GPCEWW | Refrigerator |
| GE CSX25GPCGAA | Refrigerator |
| GE CSX25GPCGAA | Refrigerator |
| GE CSX25GPCGWW | Refrigerator |
| GE CSX25GPCGWW | Refrigerator |
| GE CWS21SSEAFSS | Refrigerator |
| GE CWS21SSEAFSS | Refrigerator |
| GE CWS21SSEBFSS | Refrigerator |
| GE CWS21SSEBFSS | Refrigerator |
| ge CWS21SSESS | Refrigerator |
| GE CZS22MSKBHSS | Refrigerator |
| GE CZS22MSKBHSS | Refrigerator |
| GE CZS22MSKEHSS | Refrigerator |
| GE CZS22MSKEHSS | Refrigerator |
| GE CZS22MSKGHSS | Refrigerator |
| GE CZS22MSKGHSS | Refrigerator |
| GE DFSF9VKBABB | Refrigerator |
| GE DFSF9VKBABB | Refrigerator |
| GE DFSF9VKBAWW | Refrigerator |
| GE DFSF9VKBAWW | Refrigerator |
| ge DFSF9VKBWW | Refrigerator |
| GE DFSS9VKBASS | Refrigerator |
| GE DFSS9VKBASS | Refrigerator |
| GE DSE25JBLJCTS | Refrigerator |
| GE DSE25JBLJCTS | Refrigerator |
| GE DSE25JEMGCDS | Refrigerator |
| GE DSE25JGHBCBB | Refrigerator |
| GE DSE25JGHBCBB | Refrigerator |
| GE DSE25JGHBCWW | Refrigerator |
| GE DSE25JGHBCWW | Refrigerator |
| GE DSE25JGHECBB | Refrigerator |
| GE DSE25JGHECBB | Refrigerator |
| GE DSE25JGHECWW | Refrigerator |
| GE DSE25JGHECWW | Refrigerator |
| GE DSE25JGHGCBB | Refrigerator |
| GE DSE25JGHGCWW | Refrigerator |
| GE DSE25JMHBCES | Refrigerator |
| GE DSE25JMHECES | Refrigerator |
| GE DSE25JMHECES | Refrigerator |
| ge DSE25JMHES | Refrigerator |
| GE DSE25JMHGCES | Refrigerator |
| GE DSE25JSHBCSS | Refrigerator |
| GE DSE25JSHBCSS | Refrigerator |
| GE DSE25JSHECSS | Refrigerator |
| GE DSE25JSHECSS | Refrigerator |
| GE DSE25JSHGCSS | Refrigerator |
| GE DSE25JSHGCSS | Refrigerator |
| GE DSE26JGEBCBB | Refrigerator |
| GE DSE26JGEBCBB | Refrigerator |
| GE DSE26JGEBCWW | Refrigerator |
| GE DSE26JGEBCWW | Refrigerator |
| GE DSE26JGECCBB | Refrigerator |
| GE DSE26JGECCWW | Refrigerator |
| GE DSE26JMEBCES | Refrigerator |
| GE DSE26JMEBCES | Refrigerator |
| GE DSE26JMECCES | Refrigerator |
| GE DSE26JMEDCES | Refrigerator |
| GE DSE26JMEDCES | Refrigerator |
| ge DSE26JMEES | Refrigerator |
| GE DSE26JSEBCSS | Refrigerator |
| GE DSE26JSEBCSS | Refrigerator |
| GE DSE26JSECCSS | Refrigerator |
| GE DSE26JSEDCSS | Refrigerator |
| GE DSE26JSEDCSS | Refrigerator |
| GE DSF25KGTABG | Refrigerator |
| GE DSF25KGTABG | Refrigerator |
| GE DSF25KGTBBG | Refrigerator |
| GE DSF25KGTBBG | Refrigerator |
| GE DSF25MGSBBB | Refrigerator |
| GE DSF25MGSBBB | Refrigerator |
| GE DSF25MGSBWW | Refrigerator |
| GE DSF25MGSBWW | Refrigerator |
| ge DSHF6VGBBB | Refrigerator |
| GE DSHF6VGBBCBB | Refrigerator |
| GE DSHF6VGBBCBB | Refrigerator |
| GE DSHF6VGBBCWW | Refrigerator |
| GE DSHF6VGBBCWW | Refrigerator |
| GE DSHF6VGBCCBB | Refrigerator |
| GE DSHF6VGBCCBB | Refrigerator |
| GE DSHF6VGBCCWW | Refrigerator |
| GE DSHF6VGBCCWW | Refrigerator |
| GE DSHF9NGYACBB | Refrigerator |
| GE DSHF9NGYACBB | Refrigerator |
| GE DSHF9NGYACWW | Refrigerator |
| GE DSHF9NGYACWW | Refrigerator |
| GE DSHS6VGBBCSS | Refrigerator |
| GE DSHS6VGBBCSS | Refrigerator |
| GE DSHS9NGYACSS | Refrigerator |
| GE DSHS9NGYACSS | Refrigerator |
| GE DSS25JFPACC | Refrigerator |
| GE DSS25JFPACC | Refrigerator |
| GE DSS25JFPAWW | Refrigerator |
| GE DSS25JFPAWW | Refrigerator |
| GE DSS25JFPCCC | Refrigerator |
| GE DSS25JFPCCC | Refrigerator |
| GE DSS25JFPCWW | Refrigerator |
| GE DSS25JFPCWW | Refrigerator |
| GE DSS25JFPDCC | Refrigerator |
| GE DSS25JFPDCC | Refrigerator |
| GE DSS25JFPDWW | Refrigerator |
| GE DSS25JFPDWW | Refrigerator |
| GE DSS25JFPECC | Refrigerator |
| GE DSS25JFPECC | Refrigerator |
| GE DSS25JFPEWW | Refrigerator |
| GE DSS25JFPEWW | Refrigerator |
| GE DSS25JFPHCC | Refrigerator |
| GE DSS25JFPHCC | Refrigerator |
| GE DSS25JFPHWW | Refrigerator |
| GE DSS25JFPHWW | Refrigerator |
| GE DSS25JFPMCC | Refrigerator |
| GE DSS25JFPMCC | Refrigerator |
| GE DSS25JFPMWW | Refrigerator |
| GE DSS25JFPMWW | Refrigerator |
| GE DSS25KGRABB | Refrigerator |
| GE DSS25KGRABB | Refrigerator |
| GE DSS25KGRACC | Refrigerator |
| GE DSS25KGRACC | Refrigerator |
| GE DSS25KGRAWW | Refrigerator |
| GE DSS25KGRAWW | Refrigerator |
| GE DSS25KGRBBB | Refrigerator |
| GE DSS25KGRBBB | Refrigerator |
| GE DSS25KGRBCC | Refrigerator |
| GE DSS25KGRBCC | Refrigerator |
| GE DSS25KGRBWW | Refrigerator |
| GE DSS25KGRBWW | Refrigerator |
| GE DSS25KGRCBB | Refrigerator |
| GE DSS25KGRCBB | Refrigerator |
| GE DSS25KGRCCC | Refrigerator |
| GE DSS25KGRCCC | Refrigerator |
| GE DSS25KGRCWW | Refrigerator |
| GE DSS25KGRCWW | Refrigerator |
| GE DSS25KGRDBB | Refrigerator |
| GE DSS25KGRDCC | Refrigerator |
| GE DSS25KGRDWW | Refrigerator |
| GE DSS25KGREBB | Refrigerator |
| GE DSS25KGREBB | Refrigerator |
| GE DSS25KGRECC | Refrigerator |
| GE DSS25KGRECC | Refrigerator |
| GE DSS25KGREWW | Refrigerator |
| GE DSS25KGREWW | Refrigerator |
| GE DSS25KGTABB | Refrigerator |
| GE DSS25KGTABB | Refrigerator |
| GE DSS25KGTAWW | Refrigerator |
| GE DSS25KGTAWW | Refrigerator |
| GE DSS25KGTBBB | Refrigerator |
| GE DSS25KGTBBB | Refrigerator |
| GE DSS25KGTBWW | Refrigerator |
| GE DSS25KGTBWW | Refrigerator |
| GE DSS25KSRASS | Refrigerator |
| GE DSS25KSRASS | Refrigerator |
| GE DSS25KSRBSS | Refrigerator |
| GE DSS25KSRBSS | Refrigerator |
| GE DSS25KSRCSS | Refrigerator |
| GE DSS25KSRCSS | Refrigerator |
| GE DSS25KSRDSS | Refrigerator |
| GE DSS25KSRDSS | Refrigerator |
| GE DSS25KSRESS | Refrigerator |
| GE DSS25KSRESS | Refrigerator |
| GE DSS25KSTASS | Refrigerator |
| GE DSS25KSTASS | Refrigerator |
| GE DSS25KSTBSS | Refrigerator |
| GE DSS25KSTBSS | Refrigerator |
| GE DSS25LGPABB | Refrigerator |
| GE DSS25LGPABB | Refrigerator |
| GE DSS25LGPACC | Refrigerator |
| GE DSS25LGPACC | Refrigerator |
| GE DSS25LGPAWW | Refrigerator |
| GE DSS25LGPAWW | Refrigerator |
| GE DSS25LSPABS | Refrigerator |
| GE DSS25LSPABS | Refrigerator |
| GE DSS25MGSCBB | Refrigerator |
| GE DSS25MGSCBB | Refrigerator |
| GE DSS25MGSCWW | Refrigerator |
| GE DSS25MGSCWW | Refrigerator |
| GE DSS25MSSFSS | Refrigerator |
| GE DSS25MSSFSS | Refrigerator |
| GE DSS25MSSGSS | Refrigerator |
| GE DSS25MSSGSS | Refrigerator |
| GE DSS25MSSHSS | Refrigerator |
| GE DSS25MSSHSS | Refrigerator |
| GE DSS25PFMCCC | Refrigerator |
| GE DSS25PFMCCC | Refrigerator |
| GE DSS25PFMCWW | Refrigerator |
| GE DSS25PFMCWW | Refrigerator |
| GE DSS25PFMDCC | Refrigerator |
| GE DSS25PFMDCC | Refrigerator |
| GE DSS25PFMDWW | Refrigerator |
| GE DSS25PFMDWW | Refrigerator |
| GE ERS2022DABB | Refrigerator |
| GE ERS2022DACC | Refrigerator |
| GE ERS2022DAWW | Refrigerator |
| GE ERS2026DABB | Refrigerator |
| GE ERS2026DACC | Refrigerator |
| GE ERS2026DAWW | Refrigerator |
| GE ESF25KGTABB | Refrigerator |
| GE ESF25KGTABB | Refrigerator |
| GE ESF25KGTACC | Refrigerator |
| GE ESF25KGTACC | Refrigerator |
| GE ESF25KGTAWW | Refrigerator |
| GE ESF25KGTAWW | Refrigerator |
| GE ESF25KGTBBB | Refrigerator |
| GE ESF25KGTBBB | Refrigerator |
| GE ESF25KGTBCC | Refrigerator |
| GE ESF25KGTBCC | Refrigerator |
| GE ESF25KGTBWW | Refrigerator |
| GE ESF25KGTBWW | Refrigerator |
| GE ESF25LGRABB | Refrigerator |
| GE ESF25LGRABB | Refrigerator |
| GE ESF25LGRACC | Refrigerator |
| GE ESF25LGRACC | Refrigerator |
| GE ESF25LGRAWW | Refrigerator |
| GE ESF25LGRAWW | Refrigerator |
| GE ESF25LGRBBB | Refrigerator |
| GE ESF25LGRBBB | Refrigerator |
| GE ESF25LGRBCC | Refrigerator |
| GE ESF25LGRBCC | Refrigerator |
| GE ESF25LGRBWW | Refrigerator |
| GE ESF25LGRBWW | Refrigerator |
| GE ESF25LGRCBB | Refrigerator |
| GE ESF25LGRCBB | Refrigerator |
| GE ESF25LGRCCC | Refrigerator |
| GE ESF25LGRCCC | Refrigerator |
| GE ESF25LGRCWW | Refrigerator |
| GE ESF25LGRCWW | Refrigerator |
| GE ESF25LGRDBB | Refrigerator |
| GE ESF25LGRDBB | Refrigerator |
| GE ESF25LGRDCC | Refrigerator |
| GE ESF25LGRDCC | Refrigerator |
| GE ESF25LGRDWW | Refrigerator |
| GE ESF25LGRDWW | Refrigerator |
| GE ESF25LGREBB | Refrigerator |
| GE ESF25LGREBB | Refrigerator |
| GE ESF25LGRECC | Refrigerator |
| GE ESF25LGRECC | Refrigerator |
| GE ESF25LGREWW | Refrigerator |
| GE ESF25LGREWW | Refrigerator |
| GE ESF25QGWABB | Refrigerator |
| GE ESF25QGWABB | Refrigerator |
| GE ESF25QGWACC | Refrigerator |
| GE ESF25QGWACC | Refrigerator |
| GE ESF25QGWAWW | Refrigerator |
| GE ESF25QGWAWW | Refrigerator |
| GE ESH22JFWABB | Refrigerator |
| GE ESH22JFWABB | Refrigerator |
| GE ESH22JFWAWW | Refrigerator |
| GE ESH22JFWAWW | Refrigerator |
| GE ESH22JFWBBB | Refrigerator |
| GE ESH22JFWBBB | Refrigerator |
| GE ESH22JFWBWW | Refrigerator |
| GE ESH22JFWBWW | Refrigerator |
| GE ESH22JFWCBB | Refrigerator |
| GE ESH22JFWCBB | Refrigerator |
| GE ESH22JFWCWW | Refrigerator |
| GE ESH22JFWCWW | Refrigerator |
| GE ESH22JFWDBB | Refrigerator |
| GE ESH22JFWDBB | Refrigerator |
| GE ESH22JFWDWW | Refrigerator |
| GE ESH22JFWDWW | Refrigerator |
| GE ESH22JFWEBB | Refrigerator |
| GE ESH22JFWEBB | Refrigerator |
| GE ESH22JFWEWW | Refrigerator |
| GE ESH22JFWEWW | Refrigerator |
| GE ESH22JFXABB | Refrigerator |
| GE ESH22JFXABB | Refrigerator |
| GE ESH22JFXAWW | Refrigerator |
| GE ESH22JFXAWW | Refrigerator |
| GE ESH22JFXJBB | Refrigerator |
| GE ESH22JFXJBB | Refrigerator |
| GE ESH22JFXJWW | Refrigerator |
| GE ESH22JFXJWW | Refrigerator |
| GE ESH22JFXKBB | Refrigerator |
| GE ESH22JFXKBB | Refrigerator |
| GE ESH22JFXKWW | Refrigerator |
| GE ESH22JFXKWW | Refrigerator |
| GE ESH22JSWASS | Refrigerator |
| GE ESH22JSWASS | Refrigerator |
| GE ESH22JSWBSS | Refrigerator |
| GE ESH22JSWBSS | Refrigerator |
| GE ESH22JSWCSS | Refrigerator |
| GE ESH22JSWCSS | Refrigerator |
| GE ESH22JSWDSS | Refrigerator |
| GE ESH22JSWDSS | Refrigerator |
| GE ESH22JSWESS | Refrigerator |
| GE ESH22JSWESS | Refrigerator |
| GE ESH22JSXASS | Refrigerator |
| GE ESH22JSXASS | Refrigerator |
| GE ESH22JSXJSS | Refrigerator |
| GE ESH22JSXJSS | Refrigerator |
| GE ESH22JSXKSS | Refrigerator |
| GE ESH22JSXKSS | Refrigerator |
| GE ESH22XGPABB | Refrigerator |
| GE ESH22XGPABB | Refrigerator |
| GE ESH22XGPACC | Refrigerator |
| GE ESH22XGPACC | Refrigerator |
| GE ESH22XGPAWW | Refrigerator |
| GE ESH22XGPAWW | Refrigerator |
| GE ESH22XGPBBB | Refrigerator |
| GE ESH22XGPBBB | Refrigerator |
| GE ESH22XGPBCC | Refrigerator |
| GE ESH22XGPBCC | Refrigerator |
| GE ESH22XGPBWW | Refrigerator |
| GE ESH22XGPBWW | Refrigerator |
| GE ESH22XGPCBB | Refrigerator |
| GE ESH22XGPCBB | Refrigerator |
| GE ESH22XGPCCC | Refrigerator |
| GE ESH22XGPCCC | Refrigerator |
| GE ESH22XGPCWW | Refrigerator |
| GE ESH22XGPCWW | Refrigerator |
| GE ESH22XGPDBB | Refrigerator |
| GE ESH22XGPDBB | Refrigerator |
| GE ESH22XGPDCC | Refrigerator |
| GE ESH22XGPDCC | Refrigerator |
| GE ESH22XGPDWW | Refrigerator |
| GE ESH22XGPDWW | Refrigerator |
| GE ESH22XGRBBB | Refrigerator |
| GE ESH22XGRBBB | Refrigerator |
| GE ESH22XGRBCC | Refrigerator |
| GE ESH22XGRBCC | Refrigerator |
| GE ESH22XGRBWW | Refrigerator |
| GE ESH22XGRBWW | Refrigerator |
| GE ESH22XGREBB | Refrigerator |
| GE ESH22XGREBB | Refrigerator |
| GE ESH22XGRECC | Refrigerator |
| GE ESH22XGRECC | Refrigerator |
| GE ESH22XGREWW | Refrigerator |
| GE ESH22XGREWW | Refrigerator |
| GE ESH25JFWABB | Refrigerator |
| GE ESH25JFWABB | Refrigerator |
| GE ESH25JFWAWW | Refrigerator |
| GE ESH25JFWAWW | Refrigerator |
| GE ESH25JFWBBB | Refrigerator |
| GE ESH25JFWBBB | Refrigerator |
| GE ESH25JFWBWW | Refrigerator |
| GE ESH25JFWBWW | Refrigerator |
| GE ESH25JFWDBB | Refrigerator |
| GE ESH25JFWDBB | Refrigerator |
| GE ESH25JFWDWW | Refrigerator |
| GE ESH25JFWDWW | Refrigerator |
| GE ESH25JFWFBB | Refrigerator |
| GE ESH25JFWFBB | Refrigerator |
| GE ESH25JFWFWW | Refrigerator |
| GE ESH25JFWFWW | Refrigerator |
| GE ESH25JFXABB | Refrigerator |
| GE ESH25JFXABB | Refrigerator |
| GE ESH25JFXAWW | Refrigerator |
| GE ESH25JFXAWW | Refrigerator |
| GE ESH25JFXBBB | Refrigerator |
| GE ESH25JFXBBB | Refrigerator |
| GE ESH25JFXBWW | Refrigerator |
| GE ESH25JFXBWW | Refrigerator |
| GE ESH25JFXJBB | Refrigerator |
| GE ESH25JFXJBB | Refrigerator |
| GE ESH25JFXJWW | Refrigerator |
| GE ESH25JFXJWW | Refrigerator |
| GE ESH25JSWASS | Refrigerator |
| GE ESH25JSWASS | Refrigerator |
| GE ESH25JSWBSS | Refrigerator |
| GE ESH25JSWBSS | Refrigerator |
| GE ESH25JSWDSS | Refrigerator |
| GE ESH25JSWDSS | Refrigerator |
| GE ESH25JSWESS | Refrigerator |
| GE ESH25JSWESS | Refrigerator |
| GE ESH25JSWFSS | Refrigerator |
| GE ESH25JSWFSS | Refrigerator |
| GE ESH25JSXASS | Refrigerator |
| GE ESH25JSXASS | Refrigerator |
| GE ESH25JSXBSS | Refrigerator |
| GE ESH25JSXBSS | Refrigerator |
| GE ESH25JSXJSS | Refrigerator |
| GE ESH25JSXJSS | Refrigerator |
| GE ESH25XGPABB | Refrigerator |
| GE ESH25XGPABB | Refrigerator |
| GE ESH25XGPACC | Refrigerator |
| GE ESH25XGPACC | Refrigerator |
| GE ESH25XGPAWW | Refrigerator |
| GE ESH25XGPAWW | Refrigerator |
| GE ESH25XGPCBB | Refrigerator |
| GE ESH25XGPCBB | Refrigerator |
| GE ESH25XGPCCC | Refrigerator |
| GE ESH25XGPCCC | Refrigerator |
| GE ESH25XGPCWW | Refrigerator |
| GE ESH25XGPCWW | Refrigerator |
| GE ESH25XGPDBB | Refrigerator |
| GE ESH25XGPDBB | Refrigerator |
| GE ESH25XGPDCC | Refrigerator |
| GE ESH25XGPDCC | Refrigerator |
| GE ESH25XGPDWW | Refrigerator |
| GE ESH25XGPDWW | Refrigerator |
| GE ESH25XGRABB | Refrigerator |
| GE ESH25XGRABB | Refrigerator |
| GE ESH25XGRACC | Refrigerator |
| GE ESH25XGRACC | Refrigerator |
| GE ESH25XGRAWW | Refrigerator |
| GE ESH25XGRAWW | Refrigerator |
| GE ESH25XGRBBB | Refrigerator |
| GE ESH25XGRBBB | Refrigerator |
| GE ESH25XGRBCC | Refrigerator |
| GE ESH25XGRBCC | Refrigerator |
| GE ESH25XGRBWW | Refrigerator |
| GE ESH25XGRBWW | Refrigerator |
| GE ESH25XGREBB | Refrigerator |
| GE ESH25XGREBB | Refrigerator |
| GE ESH25XGRECC | Refrigerator |
| GE ESH25XGRECC | Refrigerator |
| GE ESH25XGREWW | Refrigerator |
| GE ESH25XGREWW | Refrigerator |
| GE ESL22JFWABS | Refrigerator |
| GE ESL22JFWABS | Refrigerator |
| GE ESL22JFWBBS | Refrigerator |
| GE ESL22JFWBBS | Refrigerator |
| GE ESL22JFWCBS | Refrigerator |
| GE ESL22JFWCBS | Refrigerator |
| GE ESL22JFWDBS | Refrigerator |
| GE ESL22JFWDBS | Refrigerator |
| GE ESL22JFWEBS | Refrigerator |
| GE ESL22JFWEBS | Refrigerator |
| GE ESL22JFXALB | Refrigerator |
| GE ESL22JFXALB | Refrigerator |
| GE ESL22JFXJLB | Refrigerator |
| GE ESL22JFXJLB | Refrigerator |
| GE ESL22JFXKLB | Refrigerator |
| GE ESL22JFXKLB | Refrigerator |
| GE ESL22XGPCBS | Refrigerator |
| GE ESL22XGPCBS | Refrigerator |
| GE ESL22XGPDBS | Refrigerator |
| GE ESL22XGPDBS | Refrigerator |
| GE ESL22XGRBBS | Refrigerator |
| GE ESL22XGRBBS | Refrigerator |
| GE ESL22XGREBS | Refrigerator |
| GE ESL22XGREBS | Refrigerator |
| GE ESL23XGSBBS | Refrigerator |
| GE ESL23XGSBBS | Refrigerator |
| GE ESL25JFWABS | Refrigerator |
| GE ESL25JFWABS | Refrigerator |
| GE ESL25JFWBBS | Refrigerator |
| GE ESL25JFWBBS | Refrigerator |
| GE ESL25JFWDBS | Refrigerator |
| GE ESL25JFWDBS | Refrigerator |
| GE ESL25JFWEBS | Refrigerator |
| GE ESL25JFWEBS | Refrigerator |
| GE ESL25JFWFBS | Refrigerator |
| GE ESL25JFWFBS | Refrigerator |
| GE ESL25JFXALB | Refrigerator |
| GE ESL25JFXALB | Refrigerator |
| GE ESL25JFXBLB | Refrigerator |
| GE ESL25JFXBLB | Refrigerator |
| GE ESL25JFXJLB | Refrigerator |
| GE ESL25JFXJLB | Refrigerator |
| GE ESL25XGPABS | Refrigerator |
| GE ESL25XGPABS | Refrigerator |
| GE ESL25XGPCBS | Refrigerator |
| GE ESL25XGPCBS | Refrigerator |
| GE ESL25XGPDBS | Refrigerator |
| GE ESL25XGPDBS | Refrigerator |
| GE ESL25XGRBBS | Refrigerator |
| GE ESL25XGRBBS | Refrigerator |
| GE ESL25XGREBS | Refrigerator |
| GE ESL25XGREBS | Refrigerator |
| GE ESL25XGSBBS | Refrigerator |
| GE ESL25XGSBBS | Refrigerator |
| GE ESL25XGSCBS | Refrigerator |
| GE ESL25XGSCBS | Refrigerator |
| GE ESS22XGMABB | Refrigerator |
| GE ESS22XGMABB | Refrigerator |
| GE ESS22XGMACC | Refrigerator |
| GE ESS22XGMACC | Refrigerator |
| GE ESS22XGMAWW | Refrigerator |
| GE ESS22XGMAWW | Refrigerator |
| GE ESS22XGMBBB | Refrigerator |
| GE ESS22XGMBBB | Refrigerator |
| GE ESS22XGMBCC | Refrigerator |
| GE ESS22XGMBCC | Refrigerator |
| GE ESS22XGMBWW | Refrigerator |
| GE ESS22XGMBWW | Refrigerator |
| GE ESS22XGMCBB | Refrigerator |
| GE ESS22XGMCBB | Refrigerator |
| GE ESS22XGMCCC | Refrigerator |
| GE ESS22XGMCCC | Refrigerator |
| GE ESS22XGMCWW | Refrigerator |
| GE ESS22XGMCWW | Refrigerator |
| GE ESS22XGMDBB | Refrigerator |
| GE ESS22XGMDBB | Refrigerator |
| GE ESS22XGMDCC | Refrigerator |
| GE ESS22XGMDCC | Refrigerator |
| GE ESS22XGMDWW | Refrigerator |
| GE ESS22XGMDWW | Refrigerator |
| GE ESS23SGSASS | Refrigerator |
| GE ESS23SGSASS | Refrigerator |
| GE ESS23XGSABB | Refrigerator |
| GE ESS23XGSABB | Refrigerator |
| GE ESS23XGSACC | Refrigerator |
| GE ESS23XGSACC | Refrigerator |
| GE ESS23XGSAWW | Refrigerator |
| GE ESS23XGSAWW | Refrigerator |
| GE ESS23XGSBBB | Refrigerator |
| GE ESS23XGSBBB | Refrigerator |
| GE ESS23XGSBCC | Refrigerator |
| GE ESS23XGSBCC | Refrigerator |
| GE ESS23XGSBWW | Refrigerator |
| GE ESS23XGSBWW | Refrigerator |
| GE ESS25KSTASS | Refrigerator |
| GE ESS25KSTASS | Refrigerator |
| GE ESS25KSTBSS | Refrigerator |
| GE ESS25KSTBSS | Refrigerator |
| GE ESS25KSTFSS | Refrigerator |
| GE ESS25KSTFSS | Refrigerator |
| GE ESS25KSTISS | Refrigerator |
| GE ESS25KSTISS | Refrigerator |
| GE ESS25KSTMSS | Refrigerator |
| GE ESS25KSTMSS | Refrigerator |
| GE ESS25LGMABB | Refrigerator |
| GE ESS25LGMABB | Refrigerator |
| GE ESS25LGMACC | Refrigerator |
| GE ESS25LGMACC | Refrigerator |
| GE ESS25LGMAWW | Refrigerator |
| GE ESS25LGMAWW | Refrigerator |
| GE ESS25LGMBBB | Refrigerator |
| GE ESS25LGMBBB | Refrigerator |
| GE ESS25LGMBCC | Refrigerator |
| GE ESS25LGMBCC | Refrigerator |
| GE ESS25LGMBWW | Refrigerator |
| GE ESS25LGMBWW | Refrigerator |
| GE ESS25LGMEBB | Refrigerator |
| GE ESS25LGMEBB | Refrigerator |
| GE ESS25LGMECC | Refrigerator |
| GE ESS25LGMECC | Refrigerator |
| GE ESS25LGMEWW | Refrigerator |
| GE ESS25LGMEWW | Refrigerator |
| GE ESS25LGNABB | Refrigerator |
| GE ESS25LGNABB | Refrigerator |
| GE ESS25LGNACC | Refrigerator |
| GE ESS25LGNACC | Refrigerator |
| GE ESS25LGNAWW | Refrigerator |
| GE ESS25LGNAWW | Refrigerator |
| GE ESS25LGPABB | Refrigerator |
| GE ESS25LGPABB | Refrigerator |
| GE ESS25LGPACC | Refrigerator |
| GE ESS25LGPACC | Refrigerator |
| GE ESS25LGPAWW | Refrigerator |
| GE ESS25LGPAWW | Refrigerator |
| GE ESS25LSMABS | Refrigerator |
| GE ESS25LSMABS | Refrigerator |
| GE ESS25LSMBBS | Refrigerator |
| GE ESS25LSMBBS | Refrigerator |
| GE ESS25LSMEBS | Refrigerator |
| GE ESS25LSMEBS | Refrigerator |
| GE ESS25LSNABS | Refrigerator |
| GE ESS25LSNABS | Refrigerator |
| GE ESS25LSPABS | Refrigerator |
| GE ESS25LSPABS | Refrigerator |
| GE ESS25LSQASS | Refrigerator |
| GE ESS25LSQASS | Refrigerator |
| GE ESS25LSRASS | Refrigerator |
| GE ESS25LSRASS | Refrigerator |
| GE ESS25LSRBSS | Refrigerator |
| GE ESS25LSRBSS | Refrigerator |
| GE ESS25LSRCSS | Refrigerator |
| GE ESS25LSRCSS | Refrigerator |
| GE ESS25LSRDSS | Refrigerator |
| GE ESS25LSRDSS | Refrigerator |
| GE ESS25LSRESS | Refrigerator |
| GE ESS25LSRESS | Refrigerator |
| GE ESS25QSWASS | Refrigerator |
| GE ESS25QSWASS | Refrigerator |
| GE ESS25SGMABS | Refrigerator |
| GE ESS25SGMABS | Refrigerator |
| GE ESS25SGMBBS | Refrigerator |
| GE ESS25SGMBBS | Refrigerator |
| GE ESS25SGSASS | Refrigerator |
| GE ESS25SGSASS | Refrigerator |
| GE ESS25XGMABB | Refrigerator |
| GE ESS25XGMABB | Refrigerator |
| GE ESS25XGMACC | Refrigerator |
| GE ESS25XGMACC | Refrigerator |
| GE ESS25XGMAWW | Refrigerator |
| GE ESS25XGMAWW | Refrigerator |
| GE ESS25XGMBBB | Refrigerator |
| GE ESS25XGMBBB | Refrigerator |
| GE ESS25XGMBCC | Refrigerator |
| GE ESS25XGMBCC | Refrigerator |
| GE ESS25XGMBWW | Refrigerator |
| GE ESS25XGMBWW | Refrigerator |
| GE ESS25XGMCBB | Refrigerator |
| GE ESS25XGMCBB | Refrigerator |
| GE ESS25XGMCCC | Refrigerator |
| GE ESS25XGMCCC | Refrigerator |
| GE ESS25XGMCWW | Refrigerator |
| GE ESS25XGMCWW | Refrigerator |
| GE ESS25XGMDBB | Refrigerator |
| GE ESS25XGMDBB | Refrigerator |
| GE ESS25XGMDCC | Refrigerator |
| GE ESS25XGMDCC | Refrigerator |
| GE ESS25XGMDWW | Refrigerator |
| GE ESS25XGMDWW | Refrigerator |
| GE ESS25XGSABB | Refrigerator |
| GE ESS25XGSABB | Refrigerator |
| GE ESS25XGSACC | Refrigerator |
| GE ESS25XGSACC | Refrigerator |
| GE ESS25XGSAWW | Refrigerator |
| GE ESS25XGSAWW | Refrigerator |
| GE ESS25XGSBBB | Refrigerator |
| GE ESS25XGSBBB | Refrigerator |
| GE ESS25XGSBCC | Refrigerator |
| GE ESS25XGSBCC | Refrigerator |
| GE ESS25XGSBWW | Refrigerator |
| GE ESS25XGSBWW | Refrigerator |
| GE ESS25XGSCBB | Refrigerator |
| GE ESS25XGSCBB | Refrigerator |
| GE ESS25XGSCCC | Refrigerator |
| GE ESS25XGSCCC | Refrigerator |
| GE ESS25XGSCWW | Refrigerator |
| GE ESS25XGSCWW | Refrigerator |
| GE GCE21LGTBFBB | Refrigerator |
| GE GCE21LGTBFBB | Refrigerator |
| GE GCE21LGTBFNS | Refrigerator |
| GE GCE21LGTBFNS | Refrigerator |
| GE GCE21LGTBFSS | Refrigerator |
| GE GCE21LGTBFSS | Refrigerator |
| GE GCE21LGTBFWW | Refrigerator |
| GE GCE21LGTBFWW | Refrigerator |
| GE GCE21LGWAFBB | Refrigerator |
| GE GCE21LGWAFBB | Refrigerator |
| GE GCE21LGWAFNS | Refrigerator |
| GE GCE21LGWAFNS | Refrigerator |
| GE GCE21LGWAFSS | Refrigerator |
| GE GCE21LGWAFSS | Refrigerator |
| GE GCE21LGWAFWW | Refrigerator |
| GE GCE21LGWAFWW | Refrigerator |
| GE GCE21LGWHFBB | Refrigerator |
| GE GCE21LGWHFBB | Refrigerator |
| GE GCE21LGWHFSS | Refrigerator |
| GE GCE21LGWHFSS | Refrigerator |
| GE GCE21LGWHFWW | Refrigerator |
| GE GCE21LGWHFWW | Refrigerator |
| GE GCE21LGWIFBB | Refrigerator |
| GE GCE21LGWIFBB | Refrigerator |
| GE GCE21LGWIFSS | Refrigerator |
| GE GCE21LGWIFSS | Refrigerator |
| GE GCE21LGWIFWW | Refrigerator |
| GE GCE21LGWIFWW | Refrigerator |
| GE GCE21LGYAFSS | Refrigerator |
| GE GCE21LGYAFSS | Refrigerator |
| GE GCE21LGYAFWW | Refrigerator |
| GE GCE21LGYAFWW | Refrigerator |
| GE GCE21LGYBFSS | Refrigerator |
| GE GCE21LGYBFSS | Refrigerator |
| GE GCE21LGYBFWW | Refrigerator |
| GE GCE21LGYBFWW | Refrigerator |
| GE GCE21LGYCFSS | Refrigerator |
| GE GCE21LGYCFSS | Refrigerator |
| GE GCE21LGYCFWW | Refrigerator |
| GE GCE21LGYCFWW | Refrigerator |
| GE GCE21LGYDFSS | Refrigerator |
| GE GCE21LGYDFSS | Refrigerator |
| GE GCE21LGYDFWW | Refrigerator |
| GE GCE21LGYDFWW | Refrigerator |
| GE GCE21MGTAFBB | Refrigerator |
| GE GCE21MGTAFBB | Refrigerator |
| GE GCE21MGTAFSS | Refrigerator |
| GE GCE21MGTAFSS | Refrigerator |
| GE GCE21MGTAFWW | Refrigerator |
| GE GCE21MGTAFWW | Refrigerator |
| GE GCE21MGTBFBB | Refrigerator |
| GE GCE21MGTBFBB | Refrigerator |
| GE GCE21MGTBFSS | Refrigerator |
| GE GCE21MGTBFSS | Refrigerator |
| GE GCE21MGTBFWW | Refrigerator |
| GE GCE21MGTBFWW | Refrigerator |
| GE GCE21MGTIFBB | Refrigerator |
| GE GCE21MGTIFBB | Refrigerator |
| GE GCE21MGTIFSS | Refrigerator |
| GE GCE21MGTIFSS | Refrigerator |
| GE GCE21MGTIFWW | Refrigerator |
| GE GCE21MGTIFWW | Refrigerator |
| GE GCE21MGTJFBB | Refrigerator |
| GE GCE21MGTJFBB | Refrigerator |
| GE GCE21MGTJFSS | Refrigerator |
| GE GCE21MGTJFSS | Refrigerator |
| GE GCE21MGTJFWW | Refrigerator |
| GE GCE21MGTJFWW | Refrigerator |
| GE GCE21XGYAFBB | Refrigerator |
| GE GCE21XGYAFBB | Refrigerator |
| GE GCE21XGYAFLS | Refrigerator |
| GE GCE21XGYAFLS | Refrigerator |
| GE GCE21XGYAFNB | Refrigerator |
| GE GCE21XGYAFNB | Refrigerator |
| GE GCE21XGYAFWW | Refrigerator |
| GE GCE21XGYAFWW | Refrigerator |
| GE GCE21XGYBFBB | Refrigerator |
| GE GCE21XGYBFBB | Refrigerator |
| GE GCE21XGYBFLS | Refrigerator |
| GE GCE21XGYBFLS | Refrigerator |
| GE GCE21XGYBFNB | Refrigerator |
| GE GCE21XGYBFNB | Refrigerator |
| GE GCE21XGYBFWW | Refrigerator |
| GE GCE21XGYBFWW | Refrigerator |
| GE GCE21XGYCFBB | Refrigerator |
| GE GCE21XGYCFBB | Refrigerator |
| GE GCE21XGYCFLS | Refrigerator |
| GE GCE21XGYCFLS | Refrigerator |
| GE GCE21XGYCFNB | Refrigerator |
| GE GCE21XGYCFNB | Refrigerator |
| GE GCE21XGYCFWW | Refrigerator |
| GE GCE21XGYCFWW | Refrigerator |
| GE GCE21XGYDFBB | Refrigerator |
| GE GCE21XGYDFBB | Refrigerator |
| GE GCE21XGYDFLS | Refrigerator |
| GE GCE21XGYDFLS | Refrigerator |
| GE GCE21XGYDFNB | Refrigerator |
| GE GCE21XGYDFNB | Refrigerator |
| GE GCE21XGYDFWW | Refrigerator |
| GE GCE21XGYDFWW | Refrigerator |
| GE GCE21ZGTAFWW | Refrigerator |
| GE GCE21ZGTAFWW | Refrigerator |
| GE GCE21ZGTBFWW | Refrigerator |
| GE GCE21ZGTBFWW | Refrigerator |
| GE GCE21ZGWAFWW | Refrigerator |
| GE GCE21ZGWAFWW | Refrigerator |
| GE GCE23LGTAFBB | Refrigerator |
| GE GCE23LGTAFBB | Refrigerator |
| GE GCE23LGTAFSS | Refrigerator |
| GE GCE23LGTAFSS | Refrigerator |
| GE GCE23LGTAFWW | Refrigerator |
| GE GCE23LGTAFWW | Refrigerator |
| GE GCE23LGTBFAV | Refrigerator |
| GE GCE23LGTBFAV | Refrigerator |
| GE GCE23LGTBFBB | Refrigerator |
| GE GCE23LGTBFBB | Refrigerator |
| GE GCE23LGTBFBG | Refrigerator |
| GE GCE23LGTBFBG | Refrigerator |
| GE GCE23LGTBFLS | Refrigerator |
| GE GCE23LGTBFLS | Refrigerator |
| GE GCE23LGTBFSS | Refrigerator |
| GE GCE23LGTBFSS | Refrigerator |
| GE GCE23LGTBFWW | Refrigerator |
| GE GCE23LGTBFWW | Refrigerator |
| GE GCE23LGTIFAV | Refrigerator |
| GE GCE23LGTIFAV | Refrigerator |
| GE GCE23LGTIFBG | Refrigerator |
| GE GCE23LGTIFBG | Refrigerator |
| GE GCE23LGTIFLS | Refrigerator |
| GE GCE23LGTIFLS | Refrigerator |
| GE GCE23LGTJFAV | Refrigerator |
| GE GCE23LGTJFAV | Refrigerator |
| GE GCE23LGTJFBG | Refrigerator |
| GE GCE23LGTJFBG | Refrigerator |
| GE GCE23LGTJFLS | Refrigerator |
| GE GCE23LGTJFLS | Refrigerator |
| GE GCE23LGWAFAV | Refrigerator |
| GE GCE23LGWAFAV | Refrigerator |
| GE GCE23LGWAFBG | Refrigerator |
| GE GCE23LGWAFBG | Refrigerator |
| GE GCE23LGWAFLS | Refrigerator |
| GE GCE23LGWAFLS | Refrigerator |
| GE GCE23LGWHFBB | Refrigerator |
| GE GCE23LGWHFBB | Refrigerator |
| GE GCE23LGWHFBG | Refrigerator |
| GE GCE23LGWHFBG | Refrigerator |
| GE GCE23LGWHFSS | Refrigerator |
| GE GCE23LGWHFSS | Refrigerator |
| GE GCE23LGWHFWW | Refrigerator |
| GE GCE23LGWHFWW | Refrigerator |
| GE GCE23LGWIFBB | Refrigerator |
| GE GCE23LGWIFBB | Refrigerator |
| GE GCE23LGWIFSS | Refrigerator |
| GE GCE23LGWIFSS | Refrigerator |
| GE GCE23LGWIFWW | Refrigerator |
| GE GCE23LGWIFWW | Refrigerator |
| GE GCE23LGYAFLS | Refrigerator |
| GE GCE23LGYAFLS | Refrigerator |
| GE GCE23LGYAFLV | Refrigerator |
| GE GCE23LGYAFLV | Refrigerator |
| GE GCE23LGYAFNB | Refrigerator |
| GE GCE23LGYAFNB | Refrigerator |
| GE GCE23LGYAFSS | Refrigerator |
| GE GCE23LGYAFSS | Refrigerator |
| GE GCE23LGYAFWW | Refrigerator |
| GE GCE23LGYAFWW | Refrigerator |
| GE GCE23LGYCFLS | Refrigerator |
| GE GCE23LGYCFLS | Refrigerator |
| GE GCE23LGYCFLV | Refrigerator |
| GE GCE23LGYCFLV | Refrigerator |
| GE GCE23LGYCFNB | Refrigerator |
| GE GCE23LGYCFNB | Refrigerator |
| GE GCE23LGYCFSS | Refrigerator |
| GE GCE23LGYCFSS | Refrigerator |
| GE GCE23LGYCFWW | Refrigerator |
| GE GCE23LGYCFWW | Refrigerator |
| GE GCE23LGYDFLS | Refrigerator |
| GE GCE23LGYDFLS | Refrigerator |
| GE GCE23LGYDFLV | Refrigerator |
| GE GCE23LGYDFLV | Refrigerator |
| GE GCE23LGYDFNB | Refrigerator |
| GE GCE23LGYDFNB | Refrigerator |
| GE GCE23LGYDFWW | Refrigerator |
| GE GCE23LGYDFWW | Refrigerator |
| GE GCE23LHTAFWW | Refrigerator |
| GE GCE23LHTAFWW | Refrigerator |
| GE GCE23LHTBFBB | Refrigerator |
| GE GCE23LHTBFBB | Refrigerator |
| GE GCE23LHTBFSS | Refrigerator |
| GE GCE23LHTBFSS | Refrigerator |
| GE GCE23LHTBFWW | Refrigerator |
| GE GCE23LHTBFWW | Refrigerator |
| GE GCE23LHWAFBB | Refrigerator |
| GE GCE23LHWAFBB | Refrigerator |
| GE GCE23LHWAFSS | Refrigerator |
| GE GCE23LHWAFSS | Refrigerator |
| GE GCE23LHWAFWW | Refrigerator |
| GE GCE23LHWAFWW | Refrigerator |
| GE GCE23LHWGFBB | Refrigerator |
| GE GCE23LHWGFBB | Refrigerator |
| GE GCE23LHWGFSS | Refrigerator |
| GE GCE23LHWGFSS | Refrigerator |
| GE GCE23LHWGFWW | Refrigerator |
| GE GCE23LHWGFWW | Refrigerator |
| GE GCE23LHWHFBB | Refrigerator |
| GE GCE23LHWHFBB | Refrigerator |
| GE GCE23LHWHFSS | Refrigerator |
| GE GCE23LHWHFSS | Refrigerator |
| GE GCE23LHWHFWW | Refrigerator |
| GE GCE23LHWHFWW | Refrigerator |
| GE GCE23LHWIFBB | Refrigerator |
| GE GCE23LHWIFBB | Refrigerator |
| GE GCE23LHWIFSS | Refrigerator |
| GE GCE23LHWIFSS | Refrigerator |
| GE GCE23LHWIFWW | Refrigerator |
| GE GCE23LHWIFWW | Refrigerator |
| GE GCE23LHYAFSS | Refrigerator |
| GE GCE23LHYAFSS | Refrigerator |
| GE GCE23LHYAFWW | Refrigerator |
| GE GCE23LHYAFWW | Refrigerator |
| GE GCE23LHYCFSS | Refrigerator |
| GE GCE23LHYCFSS | Refrigerator |
| GE GCE23LHYCFWW | Refrigerator |
| GE GCE23LHYCFWW | Refrigerator |
| GE GCE23LHYDFSS | Refrigerator |
| GE GCE23LHYDFSS | Refrigerator |
| GE GCE23XGBBFLS | Refrigerator |
| GE GCE23XGBBFLS | Refrigerator |
| GE GCL22K | Refrigerator |
| GE GCL22KGRESV | Refrigerator |
| GE GCL22QGTASV | Refrigerator |
| GE GCL22QGTGSV | Refrigerator |
| GE GCR23UDPCWW | Refrigerator |
| GE GCR23UDPCWW | Refrigerator |
| GE GCR23UDPDWW | Refrigerator |
| GE GCR23YLRBWW | Refrigerator |
| GE GCR23YLRBWW | Refrigerator |
| GE GCR23YLRCWW | Refrigerator |
| GE GCR23YLRCWW | Refrigerator |
| GE GCR23YLRDWW | Refrigerator |
| GE GCU21LGTAFBB | Refrigerator |
| GE GCU21LGTAFSS | Refrigerator |
| GE GCU21LGTBFSS | Refrigerator |
| GE GCU21LGWAFSS | Refrigerator |
| GE GCU21XGYAFBB | Refrigerator |
| GE GCU21XGYAFLS | Refrigerator |
| GE GCU21XGYCFBB | Refrigerator |
| GE GCU21XGYCFLS | Refrigerator |
| GE GCU21XGYDFLS | Refrigerator |
| GE GCU23LGYAFSS | Refrigerator |
| GE GCU23LGYAFWW | Refrigerator |
| GE GCU23LGYCFSS | Refrigerator |
| GE GCU23LGYCFWW | Refrigerator |
| GE GCU23LGYDFSS | Refrigerator |
| GE GCU23LGYDFWW | Refrigerator |
| GE GDE21EGKARBB | Refrigerator |
| GE GDE21EGKARBB | Refrigerator |
| GE GDE21EGKARWW | Refrigerator |
| GE GDE21EGKARWW | Refrigerator |
| GE GDE21EGKBRBB | Refrigerator |
| GE GDE21EGKBRWW | Refrigerator |
| GE GDE21EGKFRBB | Refrigerator |
| GE GDE21EGKFRBB | Refrigerator |
| GE GDE21EGKFRWW | Refrigerator |
| GE GDE21EGKFRWW | Refrigerator |
| GE GDE21EMKARES | Refrigerator |
| GE GDE21EMKARES | Refrigerator |
| GE GDE21EMKBRES | Refrigerator |
| GE GDE21EMKFRES | Refrigerator |
| GE GDE21EMKFRES | Refrigerator |
| GE GDE21ESKARSS | Refrigerator |
| GE GDE21ESKARSS | Refrigerator |
| GE GDE21ESKBRSS | Refrigerator |
| GE GDE21ESKFRSS | Refrigerator |
| GE GDE21ESKFRSS | Refrigerator |
| GE GDE23GGHBB | Refrigerator |
| GE GDE23GGHWW | Refrigerator |
| GE GDE23GSHSS | Refrigerator |
| GE GDE25EGKARBB | Refrigerator |
| GE GDE25EGKARBB | Refrigerator |
| GE GDE25EGKARWW | Refrigerator |
| GE GDE25EGKARWW | Refrigerator |
| GE GDE25EGKBRBB | Refrigerator |
| GE GDE25EGKBRBB | Refrigerator |
| GE GDE25EGKBRWW | Refrigerator |
| GE GDE25EGKBRWW | Refrigerator |
| GE GDE25ESKARSS | Refrigerator |
| GE GDE25ESKARSS | Refrigerator |
| GE GDE25ESKBRSS | Refrigerator |
| GE GDE25ESKBRSS | Refrigerator |
| GE GDE25ESKFRSS | Refrigerator |
| GE GFCE1NFBADSS | Refrigerator |
| GE GFCE1NFBEDSS | Refrigerator |
| GE GFCE1NFBFDSS | Refrigerator |
| GE GFE24JBLAFTS | Refrigerator |
| GE GFE24JGKAFBB | Refrigerator |
| GE GFE24JGKAFBB | Refrigerator |
| GE GFE24JGKAFWW | Refrigerator |
| GE GFE24JGKAFWW | Refrigerator |
| GE GFE24JGKBFBB | Refrigerator |
| GE GFE24JGKBFWW | Refrigerator |
| GE GFE24JGKFFBB | Refrigerator |
| GE GFE24JGKFFBB | Refrigerator |
| GE GFE24JGKFFWW | Refrigerator |
| GE GFE24JGKFFWW | Refrigerator |
| GE GFE24JMKAFES | Refrigerator |
| GE GFE24JMKAFES | Refrigerator |
| GE GFE24JMKBFES | Refrigerator |
| GE GFE24JMKFFES | Refrigerator |
| GE GFE24JMKFFES | Refrigerator |
| GE GFE24JSKAFSS | Refrigerator |
| GE GFE24JSKAFSS | Refrigerator |
| GE GFE24JSKBFSS | Refrigerator |
| GE GFE24JSKFFSS | Refrigerator |
| GE GFE24JSKFFSS | Refrigerator |
| GE GFSF2KEYABB | Refrigerator |
| GE GFSF2KEYACC | Refrigerator |
| GE GFSF2KEYAWW | Refrigerator |
| GE GFSF2KEYCBB | Refrigerator |
| GE GFSF2KEYCCC | Refrigerator |
| GE GFSF2KEYCWW | Refrigerator |
| GE GFSF2KEYHBB | Refrigerator |
| GE GFSF2KEYHCC | Refrigerator |
| GE GFSF2KEYHWW | Refrigerator |
| GE GFSF6KEXABB | Refrigerator |
| GE GFSF6KEXACC | Refrigerator |
| GE GFSF6KEXAWW | Refrigerator |
| ge GFSF6KEXBB | Refrigerator |
| GE GFSF6KEXBBB | Refrigerator |
| GE GFSF6KEXBCC | Refrigerator |
| GE GFSF6KEXBWW | Refrigerator |
| GE GFSF6KEXCBB | Refrigerator |
| GE GFSF6KEXCBB | Refrigerator |
| GE GFSF6KEXCWW | Refrigerator |
| GE GFSF6KEXCWW | Refrigerator |
| GE GFSF6KEXDBB | Refrigerator |
| GE GFSF6KEXDBB | Refrigerator |
| GE GFSF6KEXDWW | Refrigerator |
| GE GFSF6KEXDWW | Refrigerator |
| GE GFSF6KEXEBB | Refrigerator |
| GE GFSF6KEXEBB | Refrigerator |
| GE GFSF6KEXEWW | Refrigerator |
| GE GFSF6KEXEWW | Refrigerator |
| GE GFSF6KKXABB | Refrigerator |
| GE GFSF6KKXAWW | Refrigerator |
| GE GFSF6KKXBBB | Refrigerator |
| GE GFSF6KKXBWW | Refrigerator |
| GE GFSF6KKYABB | Refrigerator |
| GE GFSF6KKYABB | Refrigerator |
| GE GFSF6KKYAWW | Refrigerator |
| GE GFSF6KKYAWW | Refrigerator |
| ge GFSF6KKYBB | Refrigerator |
| GE GFSF6KKYBBB | Refrigerator |
| GE GFSF6KKYBBB | Refrigerator |
| GE GFSF6KKYBWW | Refrigerator |
| GE GFSF6KKYBWW | Refrigerator |
| GE GFSF6KKYCBB | Refrigerator |
| GE GFSF6KKYCBB | Refrigerator |
| GE GFSF6KKYCWW | Refrigerator |
| GE GFSF6KKYCWW | Refrigerator |
| GE GFSF6KKYDBB | Refrigerator |
| GE GFSF6KKYDBB | Refrigerator |
| GE GFSF6KKYDWW | Refrigerator |
| GE GFSF6KKYDWW | Refrigerator |
| GE GFSF6KKYEBB | Refrigerator |
| GE GFSF6KKYEBB | Refrigerator |
| GE GFSF6KKYEWW | Refrigerator |
| GE GFSF6KKYEWW | Refrigerator |
| GE GFSF6PKBABB | Refrigerator |
| GE GFSF6PKBABB | Refrigerator |
| GE GFSF6PKBAWW | Refrigerator |
| GE GFSF6PKBAWW | Refrigerator |
| GE GFSL2KEYALS | Refrigerator |
| GE GFSL2KEYCLS | Refrigerator |
| GE GFSL2KEYHLS | Refrigerator |
| GE GFSL6KEXALS | Refrigerator |
| GE GFSL6KEXBLS | Refrigerator |
| GE GFSL6KEXCLS | Refrigerator |
| GE GFSL6KEXCLS | Refrigerator |
| GE GFSL6KEXDLS | Refrigerator |
| GE GFSL6KEXDLS | Refrigerator |
| GE GFSL6KEXELS | Refrigerator |
| GE GFSL6KEXELS | Refrigerator |
| GE GFSL6KKXALS | Refrigerator |
| GE GFSL6KKXBLS | Refrigerator |
| GE GFSL6KKYALS | Refrigerator |
| GE GFSL6KKYALS | Refrigerator |
| GE GFSL6KKYBLS | Refrigerator |
| GE GFSL6KKYBLS | Refrigerator |
| GE GFSL6KKYCLS | Refrigerator |
| GE GFSL6KKYCLS | Refrigerator |
| GE GFSL6KKYDLS | Refrigerator |
| GE GFSL6KKYDLS | Refrigerator |
| GE GFSL6KKYELS | Refrigerator |
| GE GFSL6KKYELS | Refrigerator |
| GE GFSM6KEXABG | Refrigerator |
| GE GFSM6KEXBBG | Refrigerator |
| GE GFSS2KEYASS | Refrigerator |
| GE GFSS2KEYCSS | Refrigerator |
| GE GFSS2KEYHSS | Refrigerator |
| GE GFSS6KEXASS | Refrigerator |
| GE GFSS6KEXBSS | Refrigerator |
| GE GFSS6KEXCSS | Refrigerator |
| GE GFSS6KEXCSS | Refrigerator |
| GE GFSS6KEXDSS | Refrigerator |
| GE GFSS6KEXDSS | Refrigerator |
| GE GFSS6KEXESS | Refrigerator |
| GE GFSS6KEXESS | Refrigerator |
| GE GFSS6KIXASS | Refrigerator |
| GE GFSS6KIXBSS | Refrigerator |
| GE GFSS6KIXBSS | Refrigerator |
| GE GFSS6KIXCSS | Refrigerator |
| GE GFSS6KIXCSS | Refrigerator |
| GE GFSS6KKXASS | Refrigerator |
| GE GFSS6KKXBSS | Refrigerator |
| GE GFSS6KKYASS | Refrigerator |
| GE GFSS6KKYASS | Refrigerator |
| GE GFSS6KKYBSS | Refrigerator |
| GE GFSS6KKYBSS | Refrigerator |
| GE GFSS6KKYCSS | Refrigerator |
| GE GFSS6KKYCSS | Refrigerator |
| GE GFSS6KKYDSS | Refrigerator |
| GE GFSS6KKYDSS | Refrigerator |
| GE GFSS6KKYESS | Refrigerator |
| GE GFSS6KKYESS | Refrigerator |
| ge GFSS6KKYSS | Refrigerator |
| GE GFSS6PKBASS | Refrigerator |
| GE GFSS6PKBASS | Refrigerator |
| GE GHE25RGXAFSS | Refrigerator |
| GE GIE21LGTAFBB | Refrigerator |
| GE GIE21LGTAFKB | Refrigerator |
| GE GIE21LGTBFBB | Refrigerator |
| GE GIE21LGTBFKB | Refrigerator |
| GE GIE21LGWAFKB | Refrigerator |
| GE GIE21LGWHFBB | Refrigerator |
| GE GIE21LGWHFKB | Refrigerator |
| GE GIE21LGWIFBB | Refrigerator |
| GE GIE21LGWIFKB | Refrigerator |
| GE GIE21LGYAFKB | Refrigerator |
| GE GIE21LGYBFKB | Refrigerator |
| GE GIE21LGYCFKB | Refrigerator |
| GE GIE21LGYDFKB | Refrigerator |
| GE GIE21MGTBFBB | Refrigerator |
| GE GIE21MGTBFKB | Refrigerator |
| GE GIE21MGTIFBB | Refrigerator |
| GE GIE21MGTIFKB | Refrigerator |
| GE GIE21MGTJFBB | Refrigerator |
| GE GIE21MGTJFKB | Refrigerator |
| GE GIE21MGWHFBB | Refrigerator |
| GE GIE21MGWHFKB | Refrigerator |
| GE GIE21XGYAFKB | Refrigerator |
| GE GIE21XGYBFKB | Refrigerator |
| GE GIE21XGYCFKB | Refrigerator |
| GE GIE21XGYDFKB | Refrigerator |
| GE GIU21XGYAFKB | Refrigerator |
| GE GIU21XGYCFKB | Refrigerator |
| GE GIU21XGYDFKB | Refrigerator |
| GE GNE21FGKAKBB | Refrigerator |
| GE GNE21FGKAKBB | Refrigerator |
| GE GNE21FGKAKWW | Refrigerator |
| GE GNE21FGKAKWW | Refrigerator |
| GE GNE21FMKAFES | Refrigerator |
| GE GNE21FMKAFES | Refrigerator |
| GE GNE21FMKBFES | Refrigerator |
| GE GNE21FMKFFES | Refrigerator |
| GE GNE21FMKFFES | Refrigerator |
| GE GNE21FSKAFSS | Refrigerator |
| GE GNE21FSKAFSS | Refrigerator |
| GE GNE21FSKBFSS | Refrigerator |
| GE GNE21FSKFFSS | Refrigerator |
| GE GNE21FSKFFSS | Refrigerator |
| GE GNE22GAFBB | Refrigerator |
| GE GNE22GAFWW | Refrigerator |
| GE GNE22GBFBB | Refrigerator |
| GE GNE22GBFWW | Refrigerator |
| GE GNE22GGEAFBB | Refrigerator |
| GE GNE22GGEAFWW | Refrigerator |
| ge GNE22GGEBB | Refrigerator |
| GE GNE22GGEBFBB | Refrigerator |
| GE GNE22GGEBFWW | Refrigerator |
| ge GNE22GGEWW | Refrigerator |
| GE GNE22GMEAFES | Refrigerator |
| GE GNE22GMEBFES | Refrigerator |
| GE GNE22GMECFES | Refrigerator |
| ge GNE22GMEES | Refrigerator |
| GE GNE22GSEAFSS | Refrigerator |
| GE GNE22GSEBFSS | Refrigerator |
| ge GNE22GSESS | Refrigerator |
| GE GNE25JGKAFBB | Refrigerator |
| GE GNE25JGKAFBB | Refrigerator |
| GE GNE25JGKAFWW | Refrigerator |
| GE GNE25JGKAFWW | Refrigerator |
| GE GNE25JGKBFBB | Refrigerator |
| GE GNE25JGKBFBB | Refrigerator |
| GE GNE25JGKBFWW | Refrigerator |
| GE GNE25JGKBFWW | Refrigerator |
| GE GNE25JGKCFBB | Refrigerator |
| GE GNE25JGKCFBB | Refrigerator |
| GE GNE25JGKCFWW | Refrigerator |
| GE GNE25JGKCFWW | Refrigerator |
| GE GNE25JGKFFBB | Refrigerator |
| GE GNE25JGKFFBB | Refrigerator |
| GE GNE25JGKFFWW | Refrigerator |
| GE GNE25JGKFFWW | Refrigerator |
| GE GNE25JMKAFES | Refrigerator |
| GE GNE25JMKAFES | Refrigerator |
| GE GNE25JMKBFES | Refrigerator |
| GE GNE25JMKBFES | Refrigerator |
| GE GNE25JMKCFES | Refrigerator |
| GE GNE25JMKCFES | Refrigerator |
| GE GNE25JMKFFES | Refrigerator |
| GE GNE25JMKFFES | Refrigerator |
| GE GNE25JSKAFSS | Refrigerator |
| GE GNE25JSKAFSS | Refrigerator |
| GE GNE25JSKBFSS | Refrigerator |
| GE GNE25JSKBFSS | Refrigerator |
| GE GNE25JSKCFSS | Refrigerator |
| GE GNE25JSKCFSS | Refrigerator |
| GE GNE25JSKFFSS | Refrigerator |
| GE GNE25JSKFFSS | Refrigerator |
| GE GNS23GGHBB | Refrigerator |
| GE GNS23GGHBFBB | Refrigerator |
| GE GNS23GGHBFWW | Refrigerator |
| GE GNS23GGHWW | Refrigerator |
| GE GNS23GMHBFES | Refrigerator |
| GE GNS23GMHES | Refrigerator |
| GE GNS23GSHBFSS | Refrigerator |
| GE GNS23GSHSS | Refrigerator |
| GE GSC21KGRABB | Refrigerator |
| GE GSC21KGRABB | Refrigerator |
| GE GSC21KGRAWW | Refrigerator |
| GE GSC21KGRAWW | Refrigerator |
| GE GSC21KGRBBB | Refrigerator |
| GE GSC21KGRBBB | Refrigerator |
| GE GSC21KGRBWW | Refrigerator |
| GE GSC21KGRBWW | Refrigerator |
| GE GSC21KGRCBB | Refrigerator |
| GE GSC21KGRCBB | Refrigerator |
| GE GSC21KGRCWW | Refrigerator |
| GE GSC21KGRCWW | Refrigerator |
| GE GSC22KGRABB | Refrigerator |
| GE GSC22KGRABB | Refrigerator |
| GE GSC22KGRAWW | Refrigerator |
| GE GSC22KGRAWW | Refrigerator |
| GE GSC22KGRCBB | Refrigerator |
| GE GSC22KGRCBB | Refrigerator |
| GE GSC22KGRCWW | Refrigerator |
| GE GSC22KGRCWW | Refrigerator |
| GE GSC22KGRDBB | Refrigerator |
| GE GSC22KGRDWW | Refrigerator |
| GE GSC22QGTABB | Refrigerator |
| GE GSC22QGTAWW | Refrigerator |
| GE GSC22QGTGBB | Refrigerator |
| GE GSC22QGTGWW | Refrigerator |
| GE GSC22QGTIBB | Refrigerator |
| GE GSC22QGTIWW | Refrigerator |
| GE GSC22QGTLBB | Refrigerator |
| GE GSC22QGTLWW | Refrigerator |
| GE GSC22QGTM BB | Refrigerator |
| GE GSC22QGTM WW | Refrigerator |
| GE GSC22QGTMBB | Refrigerator |
| GE GSC22QGTMWW | Refrigerator |
| GE GSC23KGTABB | Refrigerator |
| GE GSC23KGTAWW | Refrigerator |
| GE GSC23KGTEBB | Refrigerator |
| GE GSC23KGTEWW | Refrigerator |
| GE GSC23KSTASS | Refrigerator |
| GE GSC23KSTESS | Refrigerator |
| GE GSC23LGPABB | Refrigerator |
| GE GSC23LGPABB | Refrigerator |
| GE GSC23LGPACC | Refrigerator |
| GE GSC23LGPACC | Refrigerator |
| GE GSC23LGPAWW | Refrigerator |
| GE GSC23LGPAWW | Refrigerator |
| GE GSC23LGQABB | Refrigerator |
| GE GSC23LGQABB | Refrigerator |
| GE GSC23LGQACC | Refrigerator |
| GE GSC23LGQACC | Refrigerator |
| GE GSC23LGQAWW | Refrigerator |
| GE GSC23LGQAWW | Refrigerator |
| GE GSC23LGQCBB | Refrigerator |
| GE GSC23LGQCBB | Refrigerator |
| GE GSC23LGQCCC | Refrigerator |
| GE GSC23LGQCCC | Refrigerator |
| GE GSC23LGQCWW | Refrigerator |
| GE GSC23LGQCWW | Refrigerator |
| GE GSC23LGRCBB | Refrigerator |
| GE GSC23LGRCBB | Refrigerator |
| GE GSC23LGRCWW | Refrigerator |
| GE GSC23LGRCWW | Refrigerator |
| GE GSC23LGRDBB | Refrigerator |
| GE GSC23LGRDWW | Refrigerator |
| GE GSC23LSPASS | Refrigerator |
| GE GSC23LSPASS | Refrigerator |
| GE GSC23LSQASS | Refrigerator |
| GE GSC23LSQASS | Refrigerator |
| GE GSC23LSRASS | Refrigerator |
| GE GSC23LSRASS | Refrigerator |
| GE GSC23LSRBSS | Refrigerator |
| GE GSC23LSRBSS | Refrigerator |
| GE GSC23LSRCSS | Refrigerator |
| GE GSC23LSRCSS | Refrigerator |
| GE GSC23LSRDSS | Refrigerator |
| GE GSCS3KGYAFSS | Refrigerator |
| GE GSCS3KGYCFSS | Refrigerator |
| GE GSCS3KGYDFSS | Refrigerator |
| GE GSE22ESHB SS | Refrigerator |
| GE GSE22ESHBSS | Refrigerator |
| GE GSE22ESHC SS | Refrigerator |
| GE GSE22ESHCSS | Refrigerator |
| GE GSE22ESHD SS | Refrigerator |
| GE GSE22ESHDSS | Refrigerator |
| GE GSE22ESHSS | Refrigerator |
| GE GSE22ETHB BB | Refrigerator |
| GE GSE22ETHB CC | Refrigerator |
| GE GSE22ETHB WW | Refrigerator |
| GE GSE22ETHBB | Refrigerator |
| GE GSE22ETHBBB | Refrigerator |
| GE GSE22ETHBCC | Refrigerator |
| GE GSE22ETHBWW | Refrigerator |
| GE GSE22ETHC BB | Refrigerator |
| GE GSE22ETHC CC | Refrigerator |
| GE GSE22ETHC WW | Refrigerator |
| GE GSE22ETHCBB | Refrigerator |
| GE GSE22ETHCC | Refrigerator |
| GE GSE22ETHCCC | Refrigerator |
| GE GSE22ETHCWW | Refrigerator |
| GE GSE22ETHD BB | Refrigerator |
| GE GSE22ETHD CC | Refrigerator |
| GE GSE22ETHD WW | Refrigerator |
| GE GSE22ETHDBB | Refrigerator |
| GE GSE22ETHDCC | Refrigerator |
| GE GSE22ETHDWW | Refrigerator |
| GE GSE22ETHWW | Refrigerator |
| GE GSE23GBCBB | Refrigerator |
| GE GSE23GBCWW | Refrigerator |
| ge GSE23GGEBB | Refrigerator |
| GE GSE23GGEBCBB | Refrigerator |
| GE GSE23GGEBCWW | Refrigerator |
| ge GSE23GGEWW | Refrigerator |
| GE GSE23GGKECBB | Refrigerator |
| GE GSE23GGKECCC | Refrigerator |
| GE GSE23GGKECWW | Refrigerator |
| GE GSE23GGKJCBB | Refrigerator |
| GE GSE23GGKJCBB | Refrigerator |
| GE GSE23GGKJCCC | Refrigerator |
| GE GSE23GGKJCCC | Refrigerator |
| GE GSE23GGKJCWW | Refrigerator |
| GE GSE23GGKJCWW | Refrigerator |
| GE GSE23GSECCSS | Refrigerator |
| GE GSE23GSEFCSS | Refrigerator |
| ge GSE23GSESS | Refrigerator |
| GE GSE23GSKECSS | Refrigerator |
| GE GSE23GSKJCSS | Refrigerator |
| GE GSE23GSKJCSS | Refrigerator |
| GE GSE25ESHB SS | Refrigerator |
| GE GSE25ESHBSS | Refrigerator |
| GE GSE25ESHC SS | Refrigerator |
| GE GSE25ESHCSS | Refrigerator |
| GE GSE25ESHD SS | Refrigerator |
| GE GSE25ESHDSS | Refrigerator |
| GE GSE25ESHSS | Refrigerator |
| GE GSE25ETHB BB | Refrigerator |
| GE GSE25ETHB CC | Refrigerator |
| GE GSE25ETHB WW | Refrigerator |
| GE GSE25ETHBB | Refrigerator |
| GE GSE25ETHBBB | Refrigerator |
| GE GSE25ETHBCC | Refrigerator |
| GE GSE25ETHBWW | Refrigerator |
| GE GSE25ETHC BB | Refrigerator |
| GE GSE25ETHC CC | Refrigerator |
| GE GSE25ETHC WW | Refrigerator |
| GE GSE25ETHCBB | Refrigerator |
| GE GSE25ETHCC | Refrigerator |
| GE GSE25ETHCCC | Refrigerator |
| GE GSE25ETHCWW | Refrigerator |
| GE GSE25ETHD BB | Refrigerator |
| GE GSE25ETHD CC | Refrigerator |
| GE GSE25ETHD WW | Refrigerator |
| GE GSE25ETHDBB | Refrigerator |
| GE GSE25ETHDCC | Refrigerator |
| GE GSE25ETHDWW | Refrigerator |
| GE GSE25ETHWW | Refrigerator |
| GE GSE25GGHBB | Refrigerator |
| GE GSE25GGHBCBB | Refrigerator |
| GE GSE25GGHBCWW | Refrigerator |
| GE GSE25GGHECBB | Refrigerator |
| GE GSE25GGHECCC | Refrigerator |
| GE GSE25GGHECWW | Refrigerator |
| GE GSE25GGHHCBB | Refrigerator |
| GE GSE25GGHHCBB | Refrigerator |
| GE GSE25GGHHCCC | Refrigerator |
| GE GSE25GGHHCCC | Refrigerator |
| GE GSE25GGHHCWW | Refrigerator |
| GE GSE25GGHHCWW | Refrigerator |
| GE GSE25GGHJCBB | Refrigerator |
| GE GSE25GGHJCBB | Refrigerator |
| GE GSE25GGHJCCC | Refrigerator |
| GE GSE25GGHJCCC | Refrigerator |
| GE GSE25GGHJCWW | Refrigerator |
| GE GSE25GGHJCWW | Refrigerator |
| GE GSE25GGHWW | Refrigerator |
| GE GSE25GSHBCSS | Refrigerator |
| GE GSE25GSHBCSS | Refrigerator |
| GE GSE25GSHECSS | Refrigerator |
| GE GSE25GSHECSS | Refrigerator |
| GE GSE25GSHHCSS | Refrigerator |
| GE GSE25GSHHCSS | Refrigerator |
| GE GSE25GSHJCSS | Refrigerator |
| GE GSE25GSHJCSS | Refrigerator |
| GE GSE25GSHSS | Refrigerator |
| GE GSE25HBLJHTS | Refrigerator |
| GE GSE25HBLJHTS | Refrigerator |
| GE GSE25HEMJHDS | Refrigerator |
| GE GSE25HGHBB | Refrigerator |
| GE GSE25HGHBHBB | Refrigerator |
| GE GSE25HGHBHWW | Refrigerator |
| GE GSE25HGHEHBB | Refrigerator |
| GE GSE25HGHEHWW | Refrigerator |
| GE GSE25HGHJHBB | Refrigerator |
| GE GSE25HGHJHBB | Refrigerator |
| GE GSE25HGHJHWW | Refrigerator |
| GE GSE25HGHJHWW | Refrigerator |
| GE GSE25HGHWW | Refrigerator |
| GE GSE25HMHBHES | Refrigerator |
| GE GSE25HMHEHES | Refrigerator |
| GE GSE25HMHES | Refrigerator |
| GE GSE25HMHJHES | Refrigerator |
| GE GSE25HMHJHES | Refrigerator |
| GE GSE25HSHBHSS | Refrigerator |
| GE GSE25HSHBHSS | Refrigerator |
| GE GSE25HSHEHSS | Refrigerator |
| GE GSE25HSHEHSS | Refrigerator |
| GE GSE25HSHJHSS | Refrigerator |
| GE GSE25HSHJHSS | Refrigerator |
| GE GSE25HSHSS | Refrigerator |
| GE GSE25MGTBCBB | Refrigerator |
| GE GSE25MGTBCSS | Refrigerator |
| GE GSE25MGTBCWW | Refrigerator |
| GE GSE25MGTECSS | Refrigerator |
| GE GSE25MGTECWW | Refrigerator |
| GE GSE25MGTICBB | Refrigerator |
| GE GSE25MGTICSS | Refrigerator |
| GE GSE25MGTICWW | Refrigerator |
| GE GSE25MGTJCBB | Refrigerator |
| GE GSE25MGTJCSS | Refrigerator |
| GE GSE25MGTJCWW | Refrigerator |
| GE GSE25MGYACSS | Refrigerator |
| GE GSE25MGYACWW | Refrigerator |
| GE GSE25MGYCCSS | Refrigerator |
| GE GSE25MGYCCWW | Refrigerator |
| GE GSE26GBCBB | Refrigerator |
| GE GSE26GBCCC | Refrigerator |
| GE GSE26GBCWW | Refrigerator |
| GE GSE26GCCBB | Refrigerator |
| GE GSE26GCCCC | Refrigerator |
| GE GSE26GCCWW | Refrigerator |
| ge GSE26GGEBB | Refrigerator |
| GE GSE26GGEBCBB | Refrigerator |
| GE GSE26GGEBCCC | Refrigerator |
| GE GSE26GGEBCWW | Refrigerator |
| ge GSE26GGECC | Refrigerator |
| GE GSE26GGECCBB | Refrigerator |
| GE GSE26GGECCCC | Refrigerator |
| GE GSE26GGECCWW | Refrigerator |
| ge GSE26GGEWW | Refrigerator |
| GE GSE26GSEBCSS | Refrigerator |
| GE GSE26GSECCSS | Refrigerator |
| GE GSE26GSEDCSS | Refrigerator |
| ge GSE26GSESS | Refrigerator |
| GE GSE26HBHBB | Refrigerator |
| GE GSE26HBHWW | Refrigerator |
| GE GSE26HCHBB | Refrigerator |
| GE GSE26HCHWW | Refrigerator |
| ge GSE26HGEBB | Refrigerator |
| GE GSE26HGEBHBB | Refrigerator |
| GE GSE26HGEBHWW | Refrigerator |
| GE GSE26HGECHBB | Refrigerator |
| GE GSE26HGECHWW | Refrigerator |
| ge GSE26HGEWW | Refrigerator |
| GE GSE26HMEBHES | Refrigerator |
| GE GSE26HMECHES | Refrigerator |
| GE GSE26HMEDHES | Refrigerator |
| ge GSE26HMEES | Refrigerator |
| GE GSE26HSEBHSS | Refrigerator |
| GE GSE26HSECHSS | Refrigerator |
| GE GSE26HSEDHSS | Refrigerator |
| ge GSE26HSESS | Refrigerator |
| GE GSE27NGBACSS | Refrigerator |
| GE GSE27NGBACWW | Refrigerator |
| GE GSE29KGYACSS | Refrigerator |
| GE GSE29KGYACWW | Refrigerator |
| GE GSE29KGYBCSS | Refrigerator |
| GE GSE29KGYBCWW | Refrigerator |
| GE GSF25IGXBBB | Refrigerator |
| GE GSF25IGXBWW | Refrigerator |
| GE GSF25IGXJBB | Refrigerator |
| GE GSF25IGXJWW | Refrigerator |
| GE GSF25IGXLBB | Refrigerator |
| GE GSF25IGXLWW | Refrigerator |
| GE GSF25IGXNBB | Refrigerator |
| GE GSF25IGXNWW | Refrigerator |
| GE GSF25IGXPBB | Refrigerator |
| GE GSF25IGXPWW | Refrigerator |
| GE GSF25IGZBBB | Refrigerator |
| GE GSF25IGZBWW | Refrigerator |
| GE GSF25IGZCBB | Refrigerator |
| GE GSF25IGZCWW | Refrigerator |
| GE GSF25IGZDBB | Refrigerator |
| GE GSF25IGZDWW | Refrigerator |
| GE GSF25JGBBBB | Refrigerator |
| GE GSF25JGBBWW | Refrigerator |
| GE GSF25JGCBBB | Refrigerator |
| GE GSF25JGCBWW | Refrigerator |
| GE GSF25JGCCBB | Refrigerator |
| GE GSF25JGCCWW | Refrigerator |
| GE GSF25JGCEBB | Refrigerator |
| GE GSF25JGCEWW | Refrigerator |
| GE GSF25JGDCBB | Refrigerator |
| GE GSF25JGDCBB | Refrigerator |
| GE GSF25JGDCWW | Refrigerator |
| GE GSF25JGDCWW | Refrigerator |
| GE GSF25JGDD BB | Refrigerator |
| GE GSF25JGDD WW | Refrigerator |
| GE GSF25JGDDBB | Refrigerator |
| GE GSF25JGDDWW | Refrigerator |
| GE GSF25JGDE BB | Refrigerator |
| GE GSF25JGDE WW | Refrigerator |
| GE GSF25JGDEBB | Refrigerator |
| GE GSF25JGDEWW | Refrigerator |
| GE GSF25JGDF WW | Refrigerator |
| GE GSF25JGDFWW | Refrigerator |
| GE GSF25JGDS WW | Refrigerator |
| GE GSF25JGDSWW | Refrigerator |
| GE GSF25TGTABB | Refrigerator |
| GE GSF25TGTAWW | Refrigerator |
| GE GSF25TGTBBB | Refrigerator |
| GE GSF25TGTBWW | Refrigerator |
| GE GSF25TGTEBB | Refrigerator |
| GE GSF25TGTEWW | Refrigerator |
| GE GSF25XGRABB | Refrigerator |
| GE GSF25XGRABB | Refrigerator |
| GE GSF25XGRACC | Refrigerator |
| GE GSF25XGRACC | Refrigerator |
| GE GSF25XGRAWW | Refrigerator |
| GE GSF25XGRAWW | Refrigerator |
| GE GSF25XGRCBB | Refrigerator |
| GE GSF25XGRCBB | Refrigerator |
| GE GSF25XGRCCC | Refrigerator |
| GE GSF25XGRCCC | Refrigerator |
| GE GSF25XGRCWW | Refrigerator |
| GE GSF25XGRCWW | Refrigerator |
| GE GSF25XGRDBB | Refrigerator |
| GE GSF25XGRDBB | Refrigerator |
| GE GSF25XGRDCC | Refrigerator |
| GE GSF25XGRDCC | Refrigerator |
| GE GSF25XGRDWW | Refrigerator |
| GE GSF25XGRDWW | Refrigerator |
| GE GSF25XGREBB | Refrigerator |
| GE GSF25XGRECC | Refrigerator |
| GE GSF25XGREWW | Refrigerator |
| GE GSF25XGWABB | Refrigerator |
| GE GSF25XGWAWW | Refrigerator |
| GE GSH22IFTBBB | Refrigerator |
| GE GSH22IFTBCC | Refrigerator |
| GE GSH22IFTBWW | Refrigerator |
| GE GSH22IFTEBB | Refrigerator |
| GE GSH22IFTECC | Refrigerator |
| GE GSH22IFTEWW | Refrigerator |
| GE GSH22JFBBBB | Refrigerator |
| GE GSH22JFBBCC | Refrigerator |
| GE GSH22JFBBWW | Refrigerator |
| GE GSH22JFPACC | Refrigerator |
| GE GSH22JFPACC | Refrigerator |
| GE GSH22JFPAWW | Refrigerator |
| GE GSH22JFPAWW | Refrigerator |
| GE GSH22JFPBCC | Refrigerator |
| GE GSH22JFPBCC | Refrigerator |
| GE GSH22JFPBWW | Refrigerator |
| GE GSH22JFPBWW | Refrigerator |
| GE GSH22JFPCCC | Refrigerator |
| GE GSH22JFPCCC | Refrigerator |
| GE GSH22JFPCWW | Refrigerator |
| GE GSH22JFPCWW | Refrigerator |
| GE GSH22JFPDCC | Refrigerator |
| GE GSH22JFPDCC | Refrigerator |
| GE GSH22JFPDWW | Refrigerator |
| GE GSH22JFPDWW | Refrigerator |
| GE GSH22JFPHCC | Refrigerator |
| GE GSH22JFPHCC | Refrigerator |
| GE GSH22JFPHWW | Refrigerator |
| GE GSH22JFPHWW | Refrigerator |
| GE GSH22JFREBB | Refrigerator |
| GE GSH22JFREBB | Refrigerator |
| GE GSH22JFRECC | Refrigerator |
| GE GSH22JFRECC | Refrigerator |
| GE GSH22JFREWW | Refrigerator |
| GE GSH22JFREWW | Refrigerator |
| GE GSH22JFRHBB | Refrigerator |
| GE GSH22JFRHBB | Refrigerator |
| GE GSH22JFRHWW | Refrigerator |
| GE GSH22JFRHWW | Refrigerator |
| GE GSH22JFRIBB | Refrigerator |
| GE GSH22JFRIWW | Refrigerator |
| GE GSH22JFRJBB | Refrigerator |
| GE GSH22JFRJCC | Refrigerator |
| GE GSH22JFRJWW | Refrigerator |
| GE GSH22JFTABB | Refrigerator |
| GE GSH22JFTACC | Refrigerator |
| GE GSH22JFTAWW | Refrigerator |
| GE GSH22JFTBBB | Refrigerator |
| GE GSH22JFTBCC | Refrigerator |
| GE GSH22JFTBWW | Refrigerator |
| GE GSH22JFTCBB | Refrigerator |
| GE GSH22JFTCCC | Refrigerator |
| GE GSH22JFTCWW | Refrigerator |
| GE GSH22JFTDBB | Refrigerator |
| GE GSH22JFTDCC | Refrigerator |
| GE GSH22JFTDWW | Refrigerator |
| GE GSH22JFTEBB | Refrigerator |
| GE GSH22JFTECC | Refrigerator |
| GE GSH22JFTEWW | Refrigerator |
| GE GSH22JFXABB | Refrigerator |
| GE GSH22JFXACC | Refrigerator |
| GE GSH22JFXAWW | Refrigerator |
| GE GSH22JFXJBB | Refrigerator |
| GE GSH22JFXJCC | Refrigerator |
| GE GSH22JFXJWW | Refrigerator |
| GE GSH22JFXKBB | Refrigerator |
| GE GSH22JFXKCC | Refrigerator |
| GE GSH22JFXKWW | Refrigerator |
| GE GSH22JFXLBB | Refrigerator |
| GE GSH22JFXLCC | Refrigerator |
| GE GSH22JFXLWW | Refrigerator |
| GE GSH22JFXMBB | Refrigerator |
| GE GSH22JFXMCC | Refrigerator |
| GE GSH22JFXMWW | Refrigerator |
| GE GSH22JFXNBB | Refrigerator |
| GE GSH22JFXNCC | Refrigerator |
| GE GSH22JFXNWW | Refrigerator |
| GE GSH22JFXPBB | Refrigerator |
| GE GSH22JFXPCC | Refrigerator |
| GE GSH22JFXPWW | Refrigerator |
| GE GSH22JFZBBB | Refrigerator |
| GE GSH22JFZBCC | Refrigerator |
| GE GSH22JFZBWW | Refrigerator |
| GE GSH22JFZCBB | Refrigerator |
| GE GSH22JFZCCC | Refrigerator |
| GE GSH22JFZCWW | Refrigerator |
| GE GSH22JGBBBB | Refrigerator |
| GE GSH22JGBBCC | Refrigerator |
| GE GSH22JGBBWW | Refrigerator |
| GE GSH22JGCBBB | Refrigerator |
| GE GSH22JGCBCC | Refrigerator |
| GE GSH22JGCBWW | Refrigerator |
| GE GSH22JGCEBB | Refrigerator |
| GE GSH22JGCECC | Refrigerator |
| GE GSH22JGCEWW | Refrigerator |
| ge GSH22JGDBB | Refrigerator |
| GE GSH22JGDCBB | Refrigerator |
| GE GSH22JGDCBB | Refrigerator |
| ge GSH22JGDCC | Refrigerator |
| GE GSH22JGDCCC | Refrigerator |
| GE GSH22JGDCCC | Refrigerator |
| GE GSH22JGDCWW | Refrigerator |
| GE GSH22JGDCWW | Refrigerator |
| GE GSH22JGDD BB | Refrigerator |
| GE GSH22JGDD CC | Refrigerator |
| GE GSH22JGDD WW | Refrigerator |
| GE GSH22JGDDBB | Refrigerator |
| GE GSH22JGDDCC | Refrigerator |
| GE GSH22JGDDWW | Refrigerator |
| ge GSH22JGDWW | Refrigerator |
| GE GSH22JSBBSS | Refrigerator |
| GE GSH22JSCBSS | Refrigerator |
| GE GSH22JSCCSS | Refrigerator |
| GE GSH22JSCESS | Refrigerator |
| GE GSH22JSDD SS | Refrigerator |
| GE GSH22JSDDSS | Refrigerator |
| GE GSH22JSDSS | Refrigerator |
| GE GSH22JSRESS | Refrigerator |
| GE GSH22JSRESS | Refrigerator |
| GE GSH22JSRJSS | Refrigerator |
| GE GSH22JSTASS | Refrigerator |
| GE GSH22JSTBSS | Refrigerator |
| GE GSH22JSTCSS | Refrigerator |
| GE GSH22JSTDSS | Refrigerator |
| GE GSH22JSTESS | Refrigerator |
| GE GSH22JSTS | Refrigerator |
| GE GSH22JSXASS | Refrigerator |
| GE GSH22JSXJSS | Refrigerator |
| GE GSH22JSXKSS | Refrigerator |
| GE GSH22JSXLSS | Refrigerator |
| GE GSH22JSXMSS | Refrigerator |
| GE GSH22JSXNSS | Refrigerator |
| GE GSH22JSXPSS | Refrigerator |
| GE GSH22JSZBSS | Refrigerator |
| GE GSH22KGMAAA | Refrigerator |
| GE GSH22KGMAAA | Refrigerator |
| GE GSH22KGMABB | Refrigerator |
| GE GSH22KGMABB | Refrigerator |
| GE GSH22KGMACC | Refrigerator |
| GE GSH22KGMACC | Refrigerator |
| GE GSH22KGMAWW | Refrigerator |
| GE GSH22KGMAWW | Refrigerator |
| GE GSH22KGMBAA | Refrigerator |
| GE GSH22KGMBAA | Refrigerator |
| GE GSH22KGMBBB | Refrigerator |
| GE GSH22KGMBBB | Refrigerator |
| GE GSH22KGMBCC | Refrigerator |
| GE GSH22KGMBCC | Refrigerator |
| GE GSH22KGMBWW | Refrigerator |
| GE GSH22KGMBWW | Refrigerator |
| GE GSH22KGMCAA | Refrigerator |
| GE GSH22KGMCAA | Refrigerator |
| GE GSH22KGMCBB | Refrigerator |
| GE GSH22KGMCBB | Refrigerator |
| GE GSH22KGMCCC | Refrigerator |
| GE GSH22KGMCCC | Refrigerator |
| GE GSH22KGMCWW | Refrigerator |
| GE GSH22KGMCWW | Refrigerator |
| GE GSH22KGMDBB | Refrigerator |
| GE GSH22KGMDBB | Refrigerator |
| GE GSH22KGMDCC | Refrigerator |
| GE GSH22KGMDCC | Refrigerator |
| GE GSH22KGMDWW | Refrigerator |
| GE GSH22KGMDWW | Refrigerator |
| GE GSH22KGPABB | Refrigerator |
| GE GSH22KGPABB | Refrigerator |
| GE GSH22KGPACC | Refrigerator |
| GE GSH22KGPACC | Refrigerator |
| GE GSH22KGPAWW | Refrigerator |
| GE GSH22KGPAWW | Refrigerator |
| GE GSH22KGPBBB | Refrigerator |
| GE GSH22KGPBBB | Refrigerator |
| GE GSH22KGPBCC | Refrigerator |
| GE GSH22KGPBCC | Refrigerator |
| GE GSH22KGPBWW | Refrigerator |
| GE GSH22KGPBWW | Refrigerator |
| GE GSH22KGPCBB | Refrigerator |
| GE GSH22KGPCBB | Refrigerator |
| GE GSH22KGPCCC | Refrigerator |
| GE GSH22KGPCCC | Refrigerator |
| GE GSH22KGPCWW | Refrigerator |
| GE GSH22KGPCWW | Refrigerator |
| GE GSH22KGPDBB | Refrigerator |
| GE GSH22KGPDBB | Refrigerator |
| GE GSH22KGPDCC | Refrigerator |
| GE GSH22KGPDCC | Refrigerator |
| GE GSH22KGPDWW | Refrigerator |
| GE GSH22KGPDWW | Refrigerator |
| GE GSH22KGRBBB | Refrigerator |
| GE GSH22KGRBBB | Refrigerator |
| GE GSH22KGRBCC | Refrigerator |
| GE GSH22KGRBCC | Refrigerator |
| GE GSH22KGRBWW | Refrigerator |
| GE GSH22KGRBWW | Refrigerator |
| GE GSH22KGREBB | Refrigerator |
| GE GSH22KGREBB | Refrigerator |
| GE GSH22KGRECC | Refrigerator |
| GE GSH22KGRECC | Refrigerator |
| GE GSH22KGREWW | Refrigerator |
| GE GSH22KGREWW | Refrigerator |
| GE GSH22SGPASS | Refrigerator |
| GE GSH22SGPASS | Refrigerator |
| GE GSH22SGPBSS | Refrigerator |
| GE GSH22SGPBSS | Refrigerator |
| GE GSH22SGPCSS | Refrigerator |
| GE GSH22SGPCSS | Refrigerator |
| GE GSH22SGPDSS | Refrigerator |
| GE GSH22SGPDSS | Refrigerator |
| GE GSH22SGRBSS | Refrigerator |
| GE GSH22SGRESS | Refrigerator |
| GE GSH22SGRESS | Refrigerator |
| GE GSH22UFREBB | Refrigerator |
| GE GSH22UFREBB | Refrigerator |
| GE GSH22UFRECC | Refrigerator |
| GE GSH22UFRECC | Refrigerator |
| GE GSH22UFREWW | Refrigerator |
| GE GSH22UFREWW | Refrigerator |
| GE GSH22UFRJBB | Refrigerator |
| GE GSH22UFRJCC | Refrigerator |
| GE GSH22UFRJWW | Refrigerator |
| GE GSH22VGPABB | Refrigerator |
| GE GSH22VGPABB | Refrigerator |
| GE GSH22VGPACC | Refrigerator |
| GE GSH22VGPACC | Refrigerator |
| GE GSH22VGPAWW | Refrigerator |
| GE GSH22VGPAWW | Refrigerator |
| GE GSH22VGPBBB | Refrigerator |
| GE GSH22VGPBBB | Refrigerator |
| GE GSH22VGPBCC | Refrigerator |
| GE GSH22VGPBCC | Refrigerator |
| GE GSH22VGPBWW | Refrigerator |
| GE GSH22VGPBWW | Refrigerator |
| GE GSH22VGPCBB | Refrigerator |
| GE GSH22VGPCBB | Refrigerator |
| GE GSH22VGPCCC | Refrigerator |
| GE GSH22VGPCCC | Refrigerator |
| GE GSH22VGPCWW | Refrigerator |
| GE GSH22VGPCWW | Refrigerator |
| GE GSH22VGPDBB | Refrigerator |
| GE GSH22VGPDBB | Refrigerator |
| GE GSH22VGPDCC | Refrigerator |
| GE GSH22VGPDCC | Refrigerator |
| GE GSH22VGPDWW | Refrigerator |
| GE GSH22VGPDWW | Refrigerator |
| GE GSH22VGRBCC | Refrigerator |
| GE GSH22VGRBCC | Refrigerator |
| GE GSH22VGRBWW | Refrigerator |
| GE GSH22VGRBWW | Refrigerator |
| GE GSH22VGRECC | Refrigerator |
| GE GSH22VGRECC | Refrigerator |
| GE GSH22VGREWW | Refrigerator |
| GE GSH22VGREWW | Refrigerator |
| GE GSH25GGBBWW | Refrigerator |
| GE GSH25GGCBBB | Refrigerator |
| GE GSH25GGCBWW | Refrigerator |
| GE GSH25GGCEBB | Refrigerator |
| GE GSH25GGCEWW | Refrigerator |
| GE GSH25IFTBBB | Refrigerator |
| GE GSH25IFTBCC | Refrigerator |
| GE GSH25IFTBWW | Refrigerator |
| GE GSH25IGRBCC | Refrigerator |
| GE GSH25IGRBCC | Refrigerator |
| GE GSH25IGRBWW | Refrigerator |
| GE GSH25IGRBWW | Refrigerator |
| GE GSH25IGRECC | Refrigerator |
| GE GSH25IGRECC | Refrigerator |
| GE GSH25IGREWW | Refrigerator |
| GE GSH25IGREWW | Refrigerator |
| GE GSH25ISXBSS | Refrigerator |
| GE GSH25ISXJSS | Refrigerator |
| GE GSH25ISXLSS | Refrigerator |
| GE GSH25ISXNSS | Refrigerator |
| GE GSH25ISXPSS | Refrigerator |
| GE GSH25ISZBSS | Refrigerator |
| GE GSH25ISZCSS | Refrigerator |
| GE GSH25JFPACC | Refrigerator |
| GE GSH25JFPACC | Refrigerator |
| GE GSH25JFPAWW | Refrigerator |
| GE GSH25JFPAWW | Refrigerator |
| GE GSH25JFPCCC | Refrigerator |
| GE GSH25JFPCCC | Refrigerator |
| GE GSH25JFPCWW | Refrigerator |
| GE GSH25JFPCWW | Refrigerator |
| GE GSH25JFPDCC | Refrigerator |
| GE GSH25JFPDCC | Refrigerator |
| GE GSH25JFPDWW | Refrigerator |
| GE GSH25JFPDWW | Refrigerator |
| GE GSH25JFPHCC | Refrigerator |
| GE GSH25JFPHCC | Refrigerator |
| GE GSH25JFREWW | Refrigerator |
| GE GSH25JFREWW | Refrigerator |
| GE GSH25JFRFBB | Refrigerator |
| GE GSH25JFRFBB | Refrigerator |
| GE GSH25JFRFCC | Refrigerator |
| GE GSH25JFRFCC | Refrigerator |
| GE GSH25JFRFWW | Refrigerator |
| GE GSH25JFRFWW | Refrigerator |
| GE GSH25JFRGWW | Refrigerator |
| GE GSH25JFRGWW | Refrigerator |
| GE GSH25JFRHBB | Refrigerator |
| GE GSH25JFRHBB | Refrigerator |
| GE GSH25JFRHWW | Refrigerator |
| GE GSH25JFRHWW | Refrigerator |
| GE GSH25JFRICC | Refrigerator |
| GE GSH25JFRIWW | Refrigerator |
| GE GSH25JFRJBB | Refrigerator |
| GE GSH25JFRJCC | Refrigerator |
| GE GSH25JFRJWW | Refrigerator |
| GE GSH25JFTABB | Refrigerator |
| GE GSH25JFTACC | Refrigerator |
| GE GSH25JFTAWW | Refrigerator |
| GE GSH25JFTBBB | Refrigerator |
| GE GSH25JFTBCC | Refrigerator |
| GE GSH25JFTBWW | Refrigerator |
| GE GSH25JFTCBB | Refrigerator |
| GE GSH25JFTCCC | Refrigerator |
| GE GSH25JFTCWW | Refrigerator |
| GE GSH25JFTDBB | Refrigerator |
| GE GSH25JFTDCC | Refrigerator |
| GE GSH25JFTDWW | Refrigerator |
| GE GSH25JFTEBB | Refrigerator |
| GE GSH25JFTECC | Refrigerator |
| GE GSH25JFTEWW | Refrigerator |
| GE GSH25JFTFBB | Refrigerator |
| GE GSH25JFTFCC | Refrigerator |
| GE GSH25JFTFWW | Refrigerator |
| GE GSH25JFXABB | Refrigerator |
| GE GSH25JFXACC | Refrigerator |
| GE GSH25JFXAWW | Refrigerator |
| GE GSH25JFXBBB | Refrigerator |
| GE GSH25JFXBCC | Refrigerator |
| GE GSH25JFXBWW | Refrigerator |
| GE GSH25JFXJBB | Refrigerator |
| GE GSH25JFXJCC | Refrigerator |
| GE GSH25JFXJWW | Refrigerator |
| GE GSH25JFXLBB | Refrigerator |
| GE GSH25JFXLCC | Refrigerator |
| GE GSH25JFXLWW | Refrigerator |
| GE GSH25JFXNBB | Refrigerator |
| GE GSH25JFXNCC | Refrigerator |
| GE GSH25JFXNWW | Refrigerator |
| GE GSH25JFXPBB | Refrigerator |
| GE GSH25JFXPCC | Refrigerator |
| GE GSH25JFXPWW | Refrigerator |
| GE GSH25JGBBBB | Refrigerator |
| GE GSH25JGBBCC | Refrigerator |
| GE GSH25JGBBWW | Refrigerator |
| GE GSH25JGBCBB | Refrigerator |
| GE GSH25JGBCWW | Refrigerator |
| GE GSH25JGCBBB | Refrigerator |
| GE GSH25JGCBCC | Refrigerator |
| GE GSH25JGCBWW | Refrigerator |
| GE GSH25JGCCBB | Refrigerator |
| GE GSH25JGCCWW | Refrigerator |
| GE GSH25JGCEBB | Refrigerator |
| GE GSH25JGCECC | Refrigerator |
| GE GSH25JGCEWW | Refrigerator |
| ge GSH25JGDBB | Refrigerator |
| GE GSH25JGDBBB | Refrigerator |
| GE GSH25JGDBBB | Refrigerator |
| GE GSH25JGDBCC | Refrigerator |
| GE GSH25JGDBCC | Refrigerator |
| GE GSH25JGDBWW | Refrigerator |
| GE GSH25JGDBWW | Refrigerator |
| GE GSH25JGDCBB | Refrigerator |
| GE GSH25JGDCBB | Refrigerator |
| ge GSH25JGDCC | Refrigerator |
| GE GSH25JGDCCC | Refrigerator |
| GE GSH25JGDCCC | Refrigerator |
| GE GSH25JGDCWW | Refrigerator |
| GE GSH25JGDCWW | Refrigerator |
| GE GSH25JGDD BB | Refrigerator |
| GE GSH25JGDD CC | Refrigerator |
| GE GSH25JGDD WW | Refrigerator |
| GE GSH25JGDDBB | Refrigerator |
| GE GSH25JGDDCC | Refrigerator |
| GE GSH25JGDDWW | Refrigerator |
| GE GSH25JGDE BB | Refrigerator |
| GE GSH25JGDE CC | Refrigerator |
| GE GSH25JGDE WW | Refrigerator |
| GE GSH25JGDEBB | Refrigerator |
| GE GSH25JGDECC | Refrigerator |
| GE GSH25JGDEWW | Refrigerator |
| ge GSH25JGDWW | Refrigerator |
| GE GSH25JSBBSS | Refrigerator |
| GE GSH25JSCBSS | Refrigerator |
| GE GSH25JSCCSS | Refrigerator |
| GE GSH25JSCESS | Refrigerator |
| GE GSH25JSDBSS | Refrigerator |
| GE GSH25JSDBSS | Refrigerator |
| GE GSH25JSDD SS | Refrigerator |
| GE GSH25JSDDSS | Refrigerator |
| GE GSH25JSDE SS | Refrigerator |
| GE GSH25JSDESS | Refrigerator |
| ge GSH25JSDSS | Refrigerator |
| GE GSH25JSRFSS | Refrigerator |
| GE GSH25JSRFSS | Refrigerator |
| GE GSH25JSRIBB | Refrigerator |
| GE GSH25JSRISS | Refrigerator |
| GE GSH25JSRJSS | Refrigerator |
| GE GSH25JSTASS | Refrigerator |
| GE GSH25JSTBSS | Refrigerator |
| GE GSH25JSTCSS | Refrigerator |
| GE GSH25JSTDSS | Refrigerator |
| GE GSH25JSTESS | Refrigerator |
| GE GSH25JSTFSS | Refrigerator |
| GE GSH25JSXASS | Refrigerator |
| GE GSH25JSXB | Refrigerator |
| GE GSH25JSXBSS | Refrigerator |
| GE GSH25JSXJSS | Refrigerator |
| GE GSH25JSXLSS | Refrigerator |
| GE GSH25JSXNSS | Refrigerator |
| GE GSH25KGMAAA | Refrigerator |
| GE GSH25KGMAAA | Refrigerator |
| GE GSH25KGMABB | Refrigerator |
| GE GSH25KGMABB | Refrigerator |
| GE GSH25KGMACC | Refrigerator |
| GE GSH25KGMACC | Refrigerator |
| GE GSH25KGMAWW | Refrigerator |
| GE GSH25KGMAWW | Refrigerator |
| GE GSH25KGMBAA | Refrigerator |
| GE GSH25KGMBAA | Refrigerator |
| GE GSH25KGMBBB | Refrigerator |
| GE GSH25KGMBBB | Refrigerator |
| GE GSH25KGMBCC | Refrigerator |
| GE GSH25KGMBCC | Refrigerator |
| GE GSH25KGMBWW | Refrigerator |
| GE GSH25KGMBWW | Refrigerator |
| GE GSH25KGMCAA | Refrigerator |
| GE GSH25KGMCAA | Refrigerator |
| GE GSH25KGMCBB | Refrigerator |
| GE GSH25KGMCBB | Refrigerator |
| GE GSH25KGMCCC | Refrigerator |
| GE GSH25KGMCCC | Refrigerator |
| GE GSH25KGMCWW | Refrigerator |
| GE GSH25KGMCWW | Refrigerator |
| GE GSH25KGMDBB | Refrigerator |
| GE GSH25KGMDBB | Refrigerator |
| GE GSH25KGMDCC | Refrigerator |
| GE GSH25KGMDCC | Refrigerator |
| GE GSH25KGMDWW | Refrigerator |
| GE GSH25KGMDWW | Refrigerator |
| GE GSH25KGPABB | Refrigerator |
| GE GSH25KGPABB | Refrigerator |
| GE GSH25KGPACC | Refrigerator |
| GE GSH25KGPACC | Refrigerator |
| GE GSH25KGPAWW | Refrigerator |
| GE GSH25KGPAWW | Refrigerator |
| GE GSH25KGPCBB | Refrigerator |
| GE GSH25KGPCBB | Refrigerator |
| GE GSH25KGPCCC | Refrigerator |
| GE GSH25KGPCCC | Refrigerator |
| GE GSH25KGPCWW | Refrigerator |
| GE GSH25KGPCWW | Refrigerator |
| GE GSH25KGPDBB | Refrigerator |
| GE GSH25KGPDBB | Refrigerator |
| GE GSH25KGPDCC | Refrigerator |
| GE GSH25KGPDCC | Refrigerator |
| GE GSH25KGPDWW | Refrigerator |
| GE GSH25KGPDWW | Refrigerator |
| GE GSH25KGRBBB | Refrigerator |
| GE GSH25KGRBBB | Refrigerator |
| GE GSH25KGRBCC | Refrigerator |
| GE GSH25KGRBCC | Refrigerator |
| GE GSH25KGRBWW | Refrigerator |
| GE GSH25KGRBWW | Refrigerator |
| GE GSH25KGREBB | Refrigerator |
| GE GSH25KGREBB | Refrigerator |
| GE GSH25KGRECC | Refrigerator |
| GE GSH25KGRECC | Refrigerator |
| GE GSH25KGREWW | Refrigerator |
| GE GSH25KGREWW | Refrigerator |
| GE GSH25SGPASS | Refrigerator |
| GE GSH25SGPASS | Refrigerator |
| GE GSH25SGPCSS | Refrigerator |
| GE GSH25SGPCSS | Refrigerator |
| GE GSH25SGPDSS | Refrigerator |
| GE GSH25SGPDSS | Refrigerator |
| GE GSH25SGRBSS | Refrigerator |
| GE GSH25SGRBSS | Refrigerator |
| GE GSH25SGRESS | Refrigerator |
| GE GSH25SGRESS | Refrigerator |
| GE GSH25UFRFBB | Refrigerator |
| GE GSH25UFRFBB | Refrigerator |
| GE GSH25UFRFCC | Refrigerator |
| GE GSH25UFRFCC | Refrigerator |
| GE GSH25UFRFWW | Refrigerator |
| GE GSH25UFRFWW | Refrigerator |
| GE GSH25UFRJBB | Refrigerator |
| GE GSH25UFRJCC | Refrigerator |
| GE GSH25UFRJWW | Refrigerator |
| GE GSH25VGPABB | Refrigerator |
| GE GSH25VGPABB | Refrigerator |
| GE GSH25VGPACC | Refrigerator |
| GE GSH25VGPACC | Refrigerator |
| GE GSH25VGPAWW | Refrigerator |
| GE GSH25VGPAWW | Refrigerator |
| GE GSH25VGPCBB | Refrigerator |
| GE GSH25VGPCBB | Refrigerator |
| GE GSH25VGPCCC | Refrigerator |
| GE GSH25VGPCCC | Refrigerator |
| GE GSH25VGPCWW | Refrigerator |
| GE GSH25VGPCWW | Refrigerator |
| GE GSH25VGPDBB | Refrigerator |
| GE GSH25VGPDBB | Refrigerator |
| GE GSH25VGPDCC | Refrigerator |
| GE GSH25VGPDCC | Refrigerator |
| GE GSH25VGPDWW | Refrigerator |
| GE GSH25VGPDWW | Refrigerator |
| GE GSH25VGRBCC | Refrigerator |
| GE GSH25VGRBCC | Refrigerator |
| GE GSH25VGRBWW | Refrigerator |
| GE GSH25VGRBWW | Refrigerator |
| GE GSH25VGRECC | Refrigerator |
| GE GSH25VGRECC | Refrigerator |
| GE GSH25VGREWW | Refrigerator |
| GE GSH25VGREWW | Refrigerator |
| GE GSHF3KGXBCBB | Refrigerator |
| GE GSHF3KGXBCCC | Refrigerator |
| GE GSHF3KGXBCWW | Refrigerator |
| GE GSHF3KGXCCBB | Refrigerator |
| GE GSHF3KGXCCCC | Refrigerator |
| GE GSHF3KGXCCWW | Refrigerator |
| GE GSHF3KGXFCBB | Refrigerator |
| GE GSHF3KGXFCCC | Refrigerator |
| GE GSHF3KGXFCWW | Refrigerator |
| GE GSHF3KGXGCBB | Refrigerator |
| GE GSHF3KGXGCCC | Refrigerator |
| GE GSHF3KGXGCWW | Refrigerator |
| GE GSHF3KGXHCBB | Refrigerator |
| GE GSHF3KGXHCCC | Refrigerator |
| GE GSHF3KGXHCWW | Refrigerator |
| ge GSHF3KGZBB | Refrigerator |
| GE GSHF3KGZBCBB | Refrigerator |
| GE GSHF3KGZBCCC | Refrigerator |
| GE GSHF3KGZBCWW | Refrigerator |
| ge GSHF3KGZCC | Refrigerator |
| ge GSHF3KGZWW | Refrigerator |
| GE GSHF5KGXBCBB | Refrigerator |
| GE GSHF5KGXBCCC | Refrigerator |
| GE GSHF5KGXBCWW | Refrigerator |
| GE GSHF5KGXCCBB | Refrigerator |
| GE GSHF5KGXCCCC | Refrigerator |
| GE GSHF5KGXCCWW | Refrigerator |
| GE GSHF5KGXDCBB | Refrigerator |
| GE GSHF5KGXDCWW | Refrigerator |
| GE GSHF5KGXECBB | Refrigerator |
| GE GSHF5KGXECCC | Refrigerator |
| GE GSHF5KGXECWW | Refrigerator |
| GE GSHF5KGXFCBB | Refrigerator |
| GE GSHF5KGXFCCC | Refrigerator |
| GE GSHF5KGXFCWW | Refrigerator |
| GE GSHF5KGXGCBB | Refrigerator |
| GE GSHF5KGXGCCC | Refrigerator |
| GE GSHF5KGXGCWW | Refrigerator |
| ge GSHF6HGDBB | Refrigerator |
| GE GSHF6HGDBCBB | Refrigerator |
| GE GSHF6HGDBCCC | Refrigerator |
| GE GSHF6HGDBCWW | Refrigerator |
| ge GSHF6HGDCC | Refrigerator |
| GE GSHF6HGDCCBB | Refrigerator |
| GE GSHF6HGDCCCC | Refrigerator |
| GE GSHF6HGDCCWW | Refrigerator |
| ge GSHF6HGDWW | Refrigerator |
| GE GSHF6KGZBCBB | Refrigerator |
| GE GSHF6KGZBCCC | Refrigerator |
| GE GSHF6KGZBCWW | Refrigerator |
| ge GSHF6LGBBB | Refrigerator |
| GE GSHF6LGBBHBB | Refrigerator |
| GE GSHF6LGBBHWW | Refrigerator |
| GE GSHF6LGBCHBB | Refrigerator |
| GE GSHF6LGBCHWW | Refrigerator |
| ge GSHF6LGBWW | Refrigerator |
| GE GSHF6LGZBCBB | Refrigerator |
| GE GSHF6LGZBCWW | Refrigerator |
| ge GSHF6NGBBB | Refrigerator |
| GE GSHF6NGBBHBB | Refrigerator |
| GE GSHF6NGBBHWW | Refrigerator |
| GE GSHF6NGBCHBB | Refrigerator |
| GE GSHF6NGBCHWW | Refrigerator |
| ge GSHF6NGBWW | Refrigerator |
| GE GSHF9NGYACBB | Refrigerator |
| GE GSHF9NGYACWW | Refrigerator |
| GE GSHL5KGXBCLS | Refrigerator |
| GE GSHL5KGXCCLS | Refrigerator |
| GE GSHL5KGXDCLS | Refrigerator |
| GE GSHL5KGXECLS | Refrigerator |
| GE GSHL5KGXGCLS | Refrigerator |
| GE GSHL6KGZBCLS | Refrigerator |
| GE GSHL6KGZCCLS | Refrigerator |
| GE GSHL6KGZDCLS | Refrigerator |
| GE GSHS3KGXBCSS | Refrigerator |
| GE GSHS3KGXCCSS | Refrigerator |
| GE GSHS3KGXGCSS | Refrigerator |
| GE GSHS3KGXHCSS | Refrigerator |
| GE GSHS3KGZBCSS | Refrigerator |
| ge GSHS3KGZSS | Refrigerator |
| GE GSHS5KGXBCSS | Refrigerator |
| GE GSHS5KGXCCSS | Refrigerator |
| GE GSHS5KGXDCSS | Refrigerator |
| GE GSHS5KGXECSS | Refrigerator |
| GE GSHS5KGXGCSS | Refrigerator |
| GE GSHS6HGDBCSS | Refrigerator |
| GE GSHS6HGDCCSS | Refrigerator |
| GE GSHS6HGDDCSS | Refrigerator |
| GE GSHS6HGDECSS | Refrigerator |
| ge GSHS6HGDSS | Refrigerator |
| GE GSHS6KGZBCSS | Refrigerator |
| GE GSHS6KGZCCSS | Refrigerator |
| GE GSHS6LGBBHSS | Refrigerator |
| ge GSHS6LGBSS | Refrigerator |
| GE GSHS6LGZBCSS | Refrigerator |
| GE GSHS6NGBBHSS | Refrigerator |
| ge GSHS6NGBSS | Refrigerator |
| GE GSHS9NGYACSS | Refrigerator |
| GE GSHS9NGYCCSS | Refrigerator |
| GE GSHS9NGYDCSS | Refrigerator |
| GE GSL22JFBBLB | Refrigerator |
| GE GSL22JFPCBS | Refrigerator |
| GE GSL22JFPCBS | Refrigerator |
| GE GSL22JFPDBS | Refrigerator |
| GE GSL22JFPDBS | Refrigerator |
| GE GSL22JFPHBS | Refrigerator |
| GE GSL22JFPHBS | Refrigerator |
| GE GSL22JFPJBS | Refrigerator |
| GE GSL22JFPJBS | Refrigerator |
| GE GSL22JFREBS | Refrigerator |
| GE GSL22JFREBS | Refrigerator |
| GE GSL22JFRJBS | Refrigerator |
| GE GSL22JFTABS | Refrigerator |
| GE GSL22JFTBBS | Refrigerator |
| GE GSL22JFTCBS | Refrigerator |
| GE GSL22JFTDBS | Refrigerator |
| GE GSL22JFTEBS | Refrigerator |
| GE GSL22JFXALB | Refrigerator |
| GE GSL22JFXJLB | Refrigerator |
| GE GSL22JFXKLB | Refrigerator |
| GE GSL22JFXLLB | Refrigerator |
| GE GSL22JFXMLB | Refrigerator |
| GE GSL22JFXNLB | Refrigerator |
| GE GSL22JFZBLB | Refrigerator |
| GE GSL22JFZCLB | Refrigerator |
| GE GSL22JGBBLB | Refrigerator |
| GE GSL22JGCBLB | Refrigerator |
| GE GSL22JGCBLS | Refrigerator |
| GE GSL22JGCCLS | Refrigerator |
| GE GSL22JGCELS | Refrigerator |
| GE GSL22JGDD LS | Refrigerator |
| GE GSL22JGDDLS | Refrigerator |
| ge GSL22JGDLS | Refrigerator |
| GE GSL22QGPDBS | Refrigerator |
| GE GSL22QGPDBS | Refrigerator |
| GE GSL22QGPHBS | Refrigerator |
| GE GSL22QGPHBS | Refrigerator |
| GE GSL22QGPJBS | Refrigerator |
| GE GSL22QGPJBS | Refrigerator |
| GE GSL22WGPDBS | Refrigerator |
| GE GSL22WGPDBS | Refrigerator |
| GE GSL22WGPEBS | Refrigerator |
| GE GSL22WGPEBS | Refrigerator |
| GE GSL22WGPHBS | Refrigerator |
| GE GSL22WGPHBS | Refrigerator |
| GE GSL22WGPJBS | Refrigerator |
| GE GSL22WGPJBS | Refrigerator |
| GE GSL23WGSABS | Refrigerator |
| GE GSL23WGSABS | Refrigerator |
| GE GSL23WGSBBS | Refrigerator |
| GE GSL23WGSBBS | Refrigerator |
| GE GSL25IFRFBS | Refrigerator |
| GE GSL25IFRFBS | Refrigerator |
| GE GSL25IFRJBS | Refrigerator |
| GE GSL25IGRBBS | Refrigerator |
| GE GSL25IGRBBS | Refrigerator |
| GE GSL25IGREBS | Refrigerator |
| GE GSL25IGREBS | Refrigerator |
| GE GSL25IGXBLS | Refrigerator |
| GE GSL25IGXJLS | Refrigerator |
| GE GSL25IGXLLS | Refrigerator |
| GE GSL25IGXNLS | Refrigerator |
| GE GSL25IGZBLS | Refrigerator |
| GE GSL25JFPABS | Refrigerator |
| GE GSL25JFPABS | Refrigerator |
| GE GSL25JFPBBS | Refrigerator |
| GE GSL25JFPBBS | Refrigerator |
| GE GSL25JFPCBS | Refrigerator |
| GE GSL25JFPCBS | Refrigerator |
| GE GSL25JFPDBS | Refrigerator |
| GE GSL25JFPDBS | Refrigerator |
| GE GSL25JFPEBS | Refrigerator |
| GE GSL25JFPEBS | Refrigerator |
| GE GSL25JFPHBS | Refrigerator |
| GE GSL25JFPHBS | Refrigerator |
| GE GSL25JFPJBS | Refrigerator |
| GE GSL25JFPJBS | Refrigerator |
| GE GSL25JFRFBS | Refrigerator |
| GE GSL25JFRFBS | Refrigerator |
| GE GSL25JFRIBS | Refrigerator |
| GE GSL25JFRJBS | Refrigerator |
| GE GSL25JFTABS | Refrigerator |
| GE GSL25JFTBBS | Refrigerator |
| GE GSL25JFTCBS | Refrigerator |
| GE GSL25JFTDBS | Refrigerator |
| GE GSL25JFTEBS | Refrigerator |
| GE GSL25JFTFBS | Refrigerator |
| GE GSL25JFXALB | Refrigerator |
| GE GSL25JFXBLB | Refrigerator |
| GE GSL25JFXJLB | Refrigerator |
| GE GSL25JFXLLB | Refrigerator |
| GE GSL25JFXNLB | Refrigerator |
| GE GSL25JFXPLB | Refrigerator |
| GE GSL25JGBBLB | Refrigerator |
| GE GSL25JGCBLB | Refrigerator |
| GE GSL25JGCCLS | Refrigerator |
| GE GSL25JGCELS | Refrigerator |
| GE GSL25JGDBLS | Refrigerator |
| GE GSL25JGDBLS | Refrigerator |
| GE GSL25JGDD LS | Refrigerator |
| GE GSL25JGDDLS | Refrigerator |
| GE GSL25JGDE LS | Refrigerator |
| GE GSL25JGDELS | Refrigerator |
| ge GSL25JGDLS | Refrigerator |
| GE GSL25KGRBBS | Refrigerator |
| GE GSL25KGRBBS | Refrigerator |
| GE GSL25KGREBS | Refrigerator |
| GE GSL25KGREBS | Refrigerator |
| GE GSL25KGSBBS | Refrigerator |
| GE GSL25KGSBBS | Refrigerator |
| GE GSL25KGSCBS | Refrigerator |
| GE GSL25KGSCBS | Refrigerator |
| GE GSL25LGTBBS | Refrigerator |
| GE GSL25LGTCBS | Refrigerator |
| GE GSL25LGTDBS | Refrigerator |
| GE GSL25LGTEBS | Refrigerator |
| GE GSL25QGPDBS | Refrigerator |
| GE GSL25QGPDBS | Refrigerator |
| GE GSL25QGPHBS | Refrigerator |
| GE GSL25QGPHBS | Refrigerator |
| GE GSL25QGPJBS | Refrigerator |
| GE GSL25QGPJBS | Refrigerator |
| GE GSL25WGPABS | Refrigerator |
| GE GSL25WGPABS | Refrigerator |
| GE GSL25WGPBBS | Refrigerator |
| GE GSL25WGPBBS | Refrigerator |
| GE GSL25WGPCBS | Refrigerator |
| GE GSL25WGPCBS | Refrigerator |
| GE GSL25WGPDBS | Refrigerator |
| GE GSL25WGPDBS | Refrigerator |
| GE GSL25WGPEBS | Refrigerator |
| GE GSL25WGPEBS | Refrigerator |
| GE GSL25WGPHBS | Refrigerator |
| GE GSL25WGPHBS | Refrigerator |
| GE GSL25WGPJBS | Refrigerator |
| GE GSL25WGPJBS | Refrigerator |
| GE GSL25WGSABS | Refrigerator |
| GE GSL25WGSABS | Refrigerator |
| GE GSL25WGSBBS | Refrigerator |
| GE GSL25WGSBBS | Refrigerator |
| GE GSL25WGSCBS | Refrigerator |
| GE GSL25WGSCBS | Refrigerator |
| GE GSL25XGWASS | Refrigerator |
| GE GSL25XGWCSS | Refrigerator |
| GE GSP25IGBBSS | Refrigerator |
| GE GSP25ISBBSS | Refrigerator |
| GE GSQ25JSBBSS | Refrigerator |
| GE GSR23WSSASS | Refrigerator |
| GE GSS20ESHSS | Refrigerator |
| GE GSS20ETHBB | Refrigerator |
| GE GSS20ETHCC | Refrigerator |
| GE GSS20ETHWW | Refrigerator |
| GE GSS20GEWBB | Refrigerator |
| GE GSS20GEWCC | Refrigerator |
| GE GSS20GEWWW | Refrigerator |
| GE GSS20GSDSS | Refrigerator |
| GE GSS22IFPACC | Refrigerator |
| GE GSS22IFPAWW | Refrigerator |
| GE GSS22IFPCBB | Refrigerator |
| GE GSS22IFPCBB | Refrigerator |
| GE GSS22IFPCCC | Refrigerator |
| GE GSS22IFPCCC | Refrigerator |
| GE GSS22IFPCWW | Refrigerator |
| GE GSS22IFPCWW | Refrigerator |
| GE GSS22IFPDBB | Refrigerator |
| GE GSS22IFPDBB | Refrigerator |
| GE GSS22IFPDCC | Refrigerator |
| GE GSS22IFPDCC | Refrigerator |
| GE GSS22IFPDWW | Refrigerator |
| GE GSS22IFPDWW | Refrigerator |
| GE GSS22IFPHBB | Refrigerator |
| GE GSS22IFPHBB | Refrigerator |
| GE GSS22IFPHCC | Refrigerator |
| GE GSS22IFPHCC | Refrigerator |
| GE GSS22IFPHWW | Refrigerator |
| GE GSS22IFPHWW | Refrigerator |
| GE GSS22IFPJBB | Refrigerator |
| GE GSS22IFPJBB | Refrigerator |
| GE GSS22IFPJCC | Refrigerator |
| GE GSS22IFPJCC | Refrigerator |
| GE GSS22IFPJWW | Refrigerator |
| GE GSS22IFPJWW | Refrigerator |
| GE GSS22IFREBB | Refrigerator |
| GE GSS22IFREBB | Refrigerator |
| GE GSS22IFRECC | Refrigerator |
| GE GSS22IFRECC | Refrigerator |
| GE GSS22IFREWW | Refrigerator |
| GE GSS22IFREWW | Refrigerator |
| GE GSS22IFRFBB | Refrigerator |
| GE GSS22IFRFBB | Refrigerator |
| GE GSS22IFRFCC | Refrigerator |
| GE GSS22IFRFCC | Refrigerator |
| GE GSS22IFRFWW | Refrigerator |
| GE GSS22IFRFWW | Refrigerator |
| GE GSS22IFRJBB | Refrigerator |
| GE GSS22IFRJCC | Refrigerator |
| GE GSS22IFRJWW | Refrigerator |
| GE GSS22JFMACC | Refrigerator |
| GE GSS22JFMACC | Refrigerator |
| GE GSS22JFMAWW | Refrigerator |
| GE GSS22JFMAWW | Refrigerator |
| GE GSS22JFMBCC | Refrigerator |
| GE GSS22JFMBCC | Refrigerator |
| GE GSS22JFMBWW | Refrigerator |
| GE GSS22JFMBWW | Refrigerator |
| GE GSS22JFMCCC | Refrigerator |
| GE GSS22JFMCCC | Refrigerator |
| GE GSS22JFMCWW | Refrigerator |
| GE GSS22JFMCWW | Refrigerator |
| GE GSS22JFMDCC | Refrigerator |
| GE GSS22JFMDCC | Refrigerator |
| GE GSS22JFMDWW | Refrigerator |
| GE GSS22JFMDWW | Refrigerator |
| GE GSS22JFPACC | Refrigerator |
| GE GSS22JFPACC | Refrigerator |
| GE GSS22JFPAWW | Refrigerator |
| GE GSS22JFPAWW | Refrigerator |
| GE GSS22JFPCBB | Refrigerator |
| GE GSS22JFPCBB | Refrigerator |
| GE GSS22JFPCCC | Refrigerator |
| GE GSS22JFPCCC | Refrigerator |
| GE GSS22JFPCWW | Refrigerator |
| GE GSS22JFPCWW | Refrigerator |
| GE GSS22JFPDBB | Refrigerator |
| GE GSS22JFPDBB | Refrigerator |
| GE GSS22JFPDCC | Refrigerator |
| GE GSS22JFPDCC | Refrigerator |
| GE GSS22JFPDWW | Refrigerator |
| GE GSS22JFPDWW | Refrigerator |
| GE GSS22JFPHBB | Refrigerator |
| GE GSS22JFPHBB | Refrigerator |
| GE GSS22JFPHCC | Refrigerator |
| GE GSS22JFPHCC | Refrigerator |
| GE GSS22JFPHWW | Refrigerator |
| GE GSS22JFPHWW | Refrigerator |
| GE GSS22JFPJBB | Refrigerator |
| GE GSS22JFPJBB | Refrigerator |
| GE GSS22JFPJCC | Refrigerator |
| GE GSS22JFPJCC | Refrigerator |
| GE GSS22JFPJWW | Refrigerator |
| GE GSS22JFPJWW | Refrigerator |
| GE GSS22JFPKBB | Refrigerator |
| GE GSS22JFPKBB | Refrigerator |
| GE GSS22JFPKWW | Refrigerator |
| GE GSS22JFPKWW | Refrigerator |
| GE GSS22KGMAAA | Refrigerator |
| GE GSS22KGMAAA | Refrigerator |
| GE GSS22KGMABB | Refrigerator |
| GE GSS22KGMABB | Refrigerator |
| GE GSS22KGMACC | Refrigerator |
| GE GSS22KGMACC | Refrigerator |
| GE GSS22KGMAWW | Refrigerator |
| GE GSS22KGMAWW | Refrigerator |
| GE GSS22KGMBAA | Refrigerator |
| GE GSS22KGMBAA | Refrigerator |
| GE GSS22KGMBBB | Refrigerator |
| GE GSS22KGMBBB | Refrigerator |
| GE GSS22KGMBCC | Refrigerator |
| GE GSS22KGMBCC | Refrigerator |
| GE GSS22KGMBWW | Refrigerator |
| GE GSS22KGMBWW | Refrigerator |
| GE GSS22KGMCAA | Refrigerator |
| GE GSS22KGMCAA | Refrigerator |
| GE GSS22KGMCBB | Refrigerator |
| GE GSS22KGMCBB | Refrigerator |
| GE GSS22KGMCCC | Refrigerator |
| GE GSS22KGMCCC | Refrigerator |
| GE GSS22KGMCWW | Refrigerator |
| GE GSS22KGMCWW | Refrigerator |
| GE GSS22KGMDBB | Refrigerator |
| GE GSS22KGMDBB | Refrigerator |
| GE GSS22KGMDCC | Refrigerator |
| GE GSS22KGMDCC | Refrigerator |
| GE GSS22KGMDWW | Refrigerator |
| GE GSS22KGMDWW | Refrigerator |
| GE GSS22KGPABB | Refrigerator |
| GE GSS22KGPABB | Refrigerator |
| GE GSS22KGPACC | Refrigerator |
| GE GSS22KGPACC | Refrigerator |
| GE GSS22KGPAWW | Refrigerator |
| GE GSS22KGPAWW | Refrigerator |
| GE GSS22KGPCBB | Refrigerator |
| GE GSS22KGPCBB | Refrigerator |
| GE GSS22KGPCCC | Refrigerator |
| GE GSS22KGPCCC | Refrigerator |
| GE GSS22KGPCWW | Refrigerator |
| GE GSS22KGPCWW | Refrigerator |
| GE GSS22KGPDBB | Refrigerator |
| GE GSS22KGPDBB | Refrigerator |
| GE GSS22KGPDCC | Refrigerator |
| GE GSS22KGPDCC | Refrigerator |
| GE GSS22KGPDWW | Refrigerator |
| GE GSS22KGPDWW | Refrigerator |
| GE GSS22KGPHBB | Refrigerator |
| GE GSS22KGPHBB | Refrigerator |
| GE GSS22KGPHCC | Refrigerator |
| GE GSS22KGPHCC | Refrigerator |
| GE GSS22KGPHWW | Refrigerator |
| GE GSS22KGPHWW | Refrigerator |
| GE GSS22KGPJBB | Refrigerator |
| GE GSS22KGPJBB | Refrigerator |
| GE GSS22KGPJCC | Refrigerator |
| GE GSS22KGPJCC | Refrigerator |
| GE GSS22KGPJWW | Refrigerator |
| GE GSS22KGPJWW | Refrigerator |
| GE GSS22QFMABB | Refrigerator |
| GE GSS22QFMABB | Refrigerator |
| GE GSS22QFMACC | Refrigerator |
| GE GSS22QFMACC | Refrigerator |
| GE GSS22QFMAWW | Refrigerator |
| GE GSS22QFMAWW | Refrigerator |
| GE GSS22QFMBBB | Refrigerator |
| GE GSS22QFMBBB | Refrigerator |
| GE GSS22QFMBCC | Refrigerator |
| GE GSS22QFMBCC | Refrigerator |
| GE GSS22QFMBWW | Refrigerator |
| GE GSS22QFMBWW | Refrigerator |
| GE GSS22QFMCBB | Refrigerator |
| GE GSS22QFMCBB | Refrigerator |
| GE GSS22QFMCCC | Refrigerator |
| GE GSS22QFMCCC | Refrigerator |
| GE GSS22QFMCWW | Refrigerator |
| GE GSS22QFMCWW | Refrigerator |
| GE GSS22QFMDBB | Refrigerator |
| GE GSS22QFMDBB | Refrigerator |
| GE GSS22QFMDCC | Refrigerator |
| GE GSS22QFMDCC | Refrigerator |
| GE GSS22QFMDWW | Refrigerator |
| GE GSS22QFMDWW | Refrigerator |
| GE GSS22QGMCBB | Refrigerator |
| GE GSS22QGMCBB | Refrigerator |
| GE GSS22QGMCCC | Refrigerator |
| GE GSS22QGMCCC | Refrigerator |
| GE GSS22QGMCWW | Refrigerator |
| GE GSS22QGMCWW | Refrigerator |
| GE GSS22QGMDBB | Refrigerator |
| GE GSS22QGMDBB | Refrigerator |
| GE GSS22QGMDCC | Refrigerator |
| GE GSS22QGMDCC | Refrigerator |
| GE GSS22QGMDWW | Refrigerator |
| GE GSS22QGMDWW | Refrigerator |
| GE GSS22QGPABB | Refrigerator |
| GE GSS22QGPABB | Refrigerator |
| GE GSS22QGPACC | Refrigerator |
| GE GSS22QGPACC | Refrigerator |
| GE GSS22QGPAWW | Refrigerator |
| GE GSS22QGPAWW | Refrigerator |
| GE GSS22QGPBBB | Refrigerator |
| GE GSS22QGPBBB | Refrigerator |
| GE GSS22QGPBCC | Refrigerator |
| GE GSS22QGPBCC | Refrigerator |
| GE GSS22QGPBWW | Refrigerator |
| GE GSS22QGPBWW | Refrigerator |
| GE GSS22QGPCBB | Refrigerator |
| GE GSS22QGPCBB | Refrigerator |
| GE GSS22QGPCCC | Refrigerator |
| GE GSS22QGPCCC | Refrigerator |
| GE GSS22QGPCWW | Refrigerator |
| GE GSS22QGPCWW | Refrigerator |
| GE GSS22QGPDBB | Refrigerator |
| GE GSS22QGPDBB | Refrigerator |
| GE GSS22QGPDCC | Refrigerator |
| GE GSS22QGPDCC | Refrigerator |
| GE GSS22QGPDWW | Refrigerator |
| GE GSS22QGPDWW | Refrigerator |
| GE GSS22QGPEBB | Refrigerator |
| GE GSS22QGPEBB | Refrigerator |
| GE GSS22QGPECC | Refrigerator |
| GE GSS22QGPECC | Refrigerator |
| GE GSS22QGPEWW | Refrigerator |
| GE GSS22QGPEWW | Refrigerator |
| GE GSS22QGPHBB | Refrigerator |
| GE GSS22QGPHBB | Refrigerator |
| GE GSS22QGPHCC | Refrigerator |
| GE GSS22QGPHCC | Refrigerator |
| GE GSS22QGPHWW | Refrigerator |
| GE GSS22QGPHWW | Refrigerator |
| GE GSS22QGPJBB | Refrigerator |
| GE GSS22QGPJBB | Refrigerator |
| GE GSS22QGPJCC | Refrigerator |
| GE GSS22QGPJCC | Refrigerator |
| GE GSS22QGPJWW | Refrigerator |
| GE GSS22QGPJWW | Refrigerator |
| GE GSS22SGMABS | Refrigerator |
| GE GSS22SGMABS | Refrigerator |
| GE GSS22SGMBBS | Refrigerator |
| GE GSS22SGMBBS | Refrigerator |
| GE GSS22SGMCBS | Refrigerator |
| GE GSS22SGMCBS | Refrigerator |
| GE GSS22SGMDBS | Refrigerator |
| GE GSS22SGMDBS | Refrigerator |
| GE GSS22SGMFBS | Refrigerator |
| GE GSS22SGMFBS | Refrigerator |
| GE GSS22SGPABS | Refrigerator |
| GE GSS22SGPABS | Refrigerator |
| GE GSS22SGPASS | Refrigerator |
| GE GSS22SGPASS | Refrigerator |
| GE GSS22SGPCBS | Refrigerator |
| GE GSS22SGPCBS | Refrigerator |
| GE GSS22SGPCSS | Refrigerator |
| GE GSS22SGPCSS | Refrigerator |
| GE GSS22SGPDBS | Refrigerator |
| GE GSS22SGPDBS | Refrigerator |
| GE GSS22SGPDSS | Refrigerator |
| GE GSS22SGPDSS | Refrigerator |
| GE GSS22SGPHBS | Refrigerator |
| GE GSS22SGPHBS | Refrigerator |
| GE GSS22SGRBSS | Refrigerator |
| GE GSS22SGRBSS | Refrigerator |
| GE GSS22SGRESS | Refrigerator |
| GE GSS22SGRESS | Refrigerator |
| GE GSS22SGRFSS | Refrigerator |
| GE GSS22SGRFSS | Refrigerator |
| GE GSS22UFMABB | Refrigerator |
| GE GSS22UFMABB | Refrigerator |
| GE GSS22UFMACC | Refrigerator |
| GE GSS22UFMACC | Refrigerator |
| GE GSS22UFMAWW | Refrigerator |
| GE GSS22UFMAWW | Refrigerator |
| GE GSS22UFMBBB | Refrigerator |
| GE GSS22UFMBBB | Refrigerator |
| GE GSS22UFMBCC | Refrigerator |
| GE GSS22UFMBCC | Refrigerator |
| GE GSS22UFMBWW | Refrigerator |
| GE GSS22UFMBWW | Refrigerator |
| GE GSS22UFMCBB | Refrigerator |
| GE GSS22UFMCBB | Refrigerator |
| GE GSS22UFMCCC | Refrigerator |
| GE GSS22UFMCCC | Refrigerator |
| GE GSS22UFMCWW | Refrigerator |
| GE GSS22UFMCWW | Refrigerator |
| GE GSS22UFMDBB | Refrigerator |
| GE GSS22UFMDBB | Refrigerator |
| GE GSS22UFMDCC | Refrigerator |
| GE GSS22UFMDCC | Refrigerator |
| GE GSS22UFMDWW | Refrigerator |
| GE GSS22UFMDWW | Refrigerator |
| GE GSS22UFPABB | Refrigerator |
| GE GSS22UFPABB | Refrigerator |
| GE GSS22UFPACC | Refrigerator |
| GE GSS22UFPACC | Refrigerator |
| GE GSS22UFPAWW | Refrigerator |
| GE GSS22UFPAWW | Refrigerator |
| GE GSS22UFPCBB | Refrigerator |
| GE GSS22UFPCBB | Refrigerator |
| GE GSS22UFPCCC | Refrigerator |
| GE GSS22UFPCCC | Refrigerator |
| GE GSS22UFPCWW | Refrigerator |
| GE GSS22UFPCWW | Refrigerator |
| GE GSS22UFPDBB | Refrigerator |
| GE GSS22UFPDBB | Refrigerator |
| GE GSS22UFPDCC | Refrigerator |
| GE GSS22UFPDCC | Refrigerator |
| GE GSS22UFPDWW | Refrigerator |
| GE GSS22UFPDWW | Refrigerator |
| GE GSS22UFPHBB | Refrigerator |
| GE GSS22UFPHBB | Refrigerator |
| GE GSS22UFPHCC | Refrigerator |
| GE GSS22UFPHCC | Refrigerator |
| GE GSS22UFPHWW | Refrigerator |
| GE GSS22UFPHWW | Refrigerator |
| GE GSS22UFPJBB | Refrigerator |
| GE GSS22UFPJBB | Refrigerator |
| GE GSS22UFPJCC | Refrigerator |
| GE GSS22UFPJCC | Refrigerator |
| GE GSS22UFPJWW | Refrigerator |
| GE GSS22UFPJWW | Refrigerator |
| GE GSS22VFPACC | Refrigerator |
| GE GSS22VFPACC | Refrigerator |
| GE GSS22VFPAWW | Refrigerator |
| GE GSS22VFPAWW | Refrigerator |
| GE GSS22VFPCCC | Refrigerator |
| GE GSS22VFPCCC | Refrigerator |
| GE GSS22VFPCWW | Refrigerator |
| GE GSS22VFPCWW | Refrigerator |
| GE GSS22VFPDCC | Refrigerator |
| GE GSS22VFPDCC | Refrigerator |
| GE GSS22VFPDWW | Refrigerator |
| GE GSS22VFPDWW | Refrigerator |
| GE GSS22VFPHCC | Refrigerator |
| GE GSS22VFPHCC | Refrigerator |
| GE GSS22VFPHWW | |