GE MWF | Our#: 111514
GE SmartWater MWF Filter Cartridge (GWF), 3-Pack

66 review(s)
GE MWF | Our#: 111514
Fast Shipping & Free Returns
100% Compatibility Guarantee
Compatibility guaranteed! Free return shipping and 100% money back if there are any issues.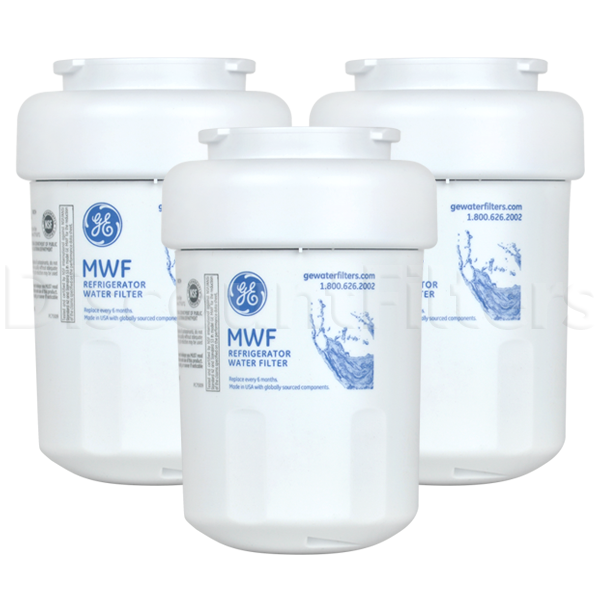 5 people in your area recently purchased this product!
$

47.50
(

3

Filters for $

142.50

)
In Stock
Ships in 24 hours
Fast Shipping & Free Returns
100% Compatibility Guarantee
Frequently Purchased Together
Product Details
Inside your indoor water supply, there are harsh contaminants that can be potentially harmful to your health. The GE MWF refrigerator water filter works to remove these harsh impurities in your water supply to ensure that your home or office is supplied with clean, healthy water. Enjoy the peace of mind and the taste of clear, refreshing water by installing a GE MWF filter into your water filtration system.
In GE, Kenmore, Hotpoint, Amana, and other brands, the GE MWF refrigerator water filter reduces the amount of contaminants that enter your water supply. Tested against NSF/ANSI International Standards 42 and 53, it reduces chlorine, cysts, leads, mercury, dirt, and particulates that can enter your tap water. The GE MWF filter works by taking water from your home's water line running to your refrigerator and moving it through the filter chamber in your GE water filter. Within this filter, the water comes into contact with a carbon chamber. This carbon removes the undesired contaminants in your water supply which results in clean, refreshing, healthy water made readily available.
To ensure that your MWF GE refrigerator water filter is working at maximum capacity. Regular routine filter changes should be made. As more water moves through the filter chamber, the carbon in the filter will begin to degrade. This means that your filtration system is susceptible to reduced efficiency and the potential to allow contaminants to enter your water supply. In order to prevent this from occurring, you should replace your filter once every six months or sooner if the water quality decreases. Follow the instructions on the replacement filter's package and stay hydrated with healthy water.
MWF filter reduces chlorine, lead and particulates
40 - 120 PSI optimal pressure
33 - 100 °F optimal temperature
300 gallon filtration limit
0.5 GPM flow rate
Original GE filter
Change once every six months
Buy a three pack and save
Fast shipping and free returns on all refrigerator water filters
---
Popular Part Numbers
---
Installation Instructions
How To Install The MWF Filter:

The water filter cartridge is located in the back upper right corner of the refrigerator compartment. The filter cartridge should be replaced when the replacement indicator light turns red or if the flow of water to the dispenser or icemaker decreases. For refrigerators without an indicator light - replace the filters every 6 months.

Remove old filter cartridge by grasping and turning to the left about 1/2 turn
Fill the replacement filter with water from the tap to allow for better flow immediately after installation
Place the top of the new cartridge up inside the cartridge holder
Slowly turn the filter until the filter cartridge stops. Do not over tighten. As you turn the cartridge it will automatically raise itself into position. The cartridge will move about 1/2 turn
Run water from the dispenser for 3 minutes (about 1-1/2 gallons) to clear the system and prevent sputtering
Press and hold reset water filter button if your fridge has one
---
Compatible Part Numbers
Search by your filter part number or appliance model number to verify compatibility
Model or Part Number
Type
dacor DTF364
Refrigerator
GE BSS25GFPACC
Refrigerator
GE BSS25GFPACC
Refrigerator
GE BSS25GFPAWW
Refrigerator
GE BSS25GFPAWW
Refrigerator
GE BSS25GFPCCC
Refrigerator
GE BSS25GFPCCC
Refrigerator
GE BSS25GFPCWW
Refrigerator
GE BSS25GFPCWW
Refrigerator
GE BSS25GFPDCC
Refrigerator
GE BSS25GFPDCC
Refrigerator
GE BSS25GFPDWW
Refrigerator
GE BSS25GFPDWW
Refrigerator
GE BSS25GFPECC
Refrigerator
GE BSS25GFPECC
Refrigerator
GE BSS25GFPEWW
Refrigerator
GE BSS25GFPEWW
Refrigerator
GE BSS25GFPHCC
Refrigerator
GE BSS25GFPHCC
Refrigerator
GE BSS25GFPHWW
Refrigerator
GE BSS25GFPHWW
Refrigerator
GE BSS25JFRFWW
Refrigerator
GE BSS25JFRFWW
Refrigerator
GE BSS25JFRJWW
Refrigerator
GE BSS25JFRJWW
Refrigerator
GE BSS25JFTAWW
Refrigerator
GE BSS25JFTAWW
Refrigerator
GE BSS25JFTBWW
Refrigerator
GE BSS25JFTBWW
Refrigerator
GE BSS25JFTCWW
Refrigerator
GE BSS25JFTCWW
Refrigerator
GE BSS25JFTDWW
Refrigerator
GE BSS25JFTDWW
Refrigerator
GE BSS25JFTEWW
Refrigerator
GE BSS25JFTEWW
Refrigerator
GE BSS25JFTGWW
Refrigerator
GE BSS25JFTGWW
Refrigerator
GE BSS25JFTHWW
Refrigerator
GE BSS25JFTHWW
Refrigerator
GE BSS25JFTIWW
Refrigerator
GE BSS25JFTIWW
Refrigerator
GE BSS25JFTJWW
Refrigerator
GE BSS25JFTJWW
Refrigerator
GE BSS25JFTNWW
Refrigerator
GE BSS25JFTNWW
Refrigerator
GE BSS25JFTPWW
Refrigerator
GE BSS25JFTPWW
Refrigerator
GE BSS25JSRFSS
Refrigerator
GE BSS25JSRFSS
Refrigerator
GE BSS25JSRJSS
Refrigerator
GE BSS25JSRJSS
Refrigerator
GE BSS25JSTASS
Refrigerator
GE BSS25JSTASS
Refrigerator
GE BSS25JSTBSS
Refrigerator
GE BSS25JSTBSS
Refrigerator
GE BSS25JSTCSS
Refrigerator
GE BSS25JSTCSS
Refrigerator
GE BSS25JSTDSS
Refrigerator
GE BSS25JSTDSS
Refrigerator
GE BSS25JSTESS
Refrigerator
GE BSS25JSTESS
Refrigerator
GE BSS25JSTGSS
Refrigerator
GE BSS25JSTGSS
Refrigerator
GE BSS25JSTHSS
Refrigerator
GE BSS25JSTHSS
Refrigerator
GE BSS25JSTISS
Refrigerator
GE BSS25JSTISS
Refrigerator
GE BSS25JSTJSS
Refrigerator
GE BSS25JSTJSS
Refrigerator
GE BSS25JSTNSS
Refrigerator
GE BSS25JSTNSS
Refrigerator
GE BSS25JSTPSS
Refrigerator
GE BSS25JSTPSS
Refrigerator
GE BSS25JSTRSS
Refrigerator
GE BSS25JSTRSS
Refrigerator
GE BSY25GFMCCC
Refrigerator
GE BSY25GFMCCC
Refrigerator
GE BSY25GFMCWW
Refrigerator
GE BSY25GFMCWW
Refrigerator
GE BSY25GFMDCC
Refrigerator
GE BSY25GFMDCC
Refrigerator
GE BSY25GFMDWW
Refrigerator
GE BSY25GFMDWW
Refrigerator
GE C23NHPBWW
Refrigerator
GE CDB36LP2PBS1
Refrigerator
GE CDB36RP2PBS1
Refrigerator
GE CFCP1NIYASS
Refrigerator
GE CFCP1NIYASS
Refrigerator
GE CFCP1NIYCSS
Refrigerator
GE CFCP1NIYCSS
Refrigerator
GE CFCP1NIZASS
Refrigerator
GE CFCP1NIZASS
Refrigerator
GE CFCP1NIZBSS
Refrigerator
GE CFCP1NIZBSS
Refrigerator
GE CFCP1NIZCSS
Refrigerator
GE CFCP1NIZCSS
Refrigerator
GE CFCP1NIZDSS
Refrigerator
GE CFCP1NIZDSS
Refrigerator
GE CFCP1NIZESS
Refrigerator
GE CFCP1NIZESS
Refrigerator
ge CFCP1NIZSS
Refrigerator
GE CFCP1RKBA SS
Refrigerator
GE CFCP1RKBASS
Refrigerator
GE CFCP1RKBDSS
Refrigerator
GE CFCP1RKBDSS
Refrigerator
ge CFCP1RKBSS
Refrigerator
GE CFCP1ZIYASS
Refrigerator
GE CFCP1ZIYASS
Refrigerator
GE CFCP1ZIYCSS
Refrigerator
GE CFCP1ZIYCSS
Refrigerator
GE CFSP5RKBBSS
Refrigerator
GE CFSP5RKBBSS
Refrigerator
GE CFSP5RKBCSS
Refrigerator
GE CFSP5RKBCSS
Refrigerator
GE CFSP5RKBDSS
Refrigerator
GE CFSP5RKBDSS
Refrigerator
GE CFSP5RKBE SS
Refrigerator
GE CFSP5RKBESS
Refrigerator
ge CFSP5RKBSS
Refrigerator
GE CNE22SSEAFSS
Refrigerator
GE CNE22SSEAFSS
Refrigerator
ge CNE22SSESS
Refrigerator
GE CNE25SSKAKSS
Refrigerator
GE CNE25SSKAKSS
Refrigerator
GE CNS23SSHAFSS
Refrigerator
GE CNS23SSHAFSS
Refrigerator
ge CNS23SSHSS
Refrigerator
GE CSB42WP2NCS1
Refrigerator
GE CSB42WSKBSS
Refrigerator
GE CSB42WSKBSS
Refrigerator
GE CSB42WSKCSS
Refrigerator
GE CSB42YP2NBS1
Refrigerator
GE CSB48WP2NCS1
Refrigerator
GE CSB48WSKBSS
Refrigerator
GE CSB48WSKBSS
Refrigerator
GE CSB48WSKCSS
Refrigerator
GE CSB48WSKSS
Refrigerator
GE CSB48YP2NBS1
Refrigerator
GE CSW25LSWASS
Refrigerator
GE CSX25DPBAAA
Refrigerator
GE CSX25DPBAWW
Refrigerator
GE CSX25DPBBAA
Refrigerator
GE CSX25DPBBWW
Refrigerator
GE CSX25GPCCAA
Refrigerator
GE CSX25GPCCAA
Refrigerator
GE CSX25GPCCWW
Refrigerator
GE CSX25GPCCWW
Refrigerator
GE CSX25GPCEAA
Refrigerator
GE CSX25GPCEAA
Refrigerator
GE CSX25GPCEWW
Refrigerator
GE CSX25GPCEWW
Refrigerator
GE CSX25GPCGAA
Refrigerator
GE CSX25GPCGAA
Refrigerator
GE CSX25GPCGWW
Refrigerator
GE CSX25GPCGWW
Refrigerator
GE CWS21SSEAFSS
Refrigerator
GE CWS21SSEAFSS
Refrigerator
GE CWS21SSEBFSS
Refrigerator
GE CWS21SSEBFSS
Refrigerator
ge CWS21SSESS
Refrigerator
GE CZS22MSKBHSS
Refrigerator
GE CZS22MSKBHSS
Refrigerator
GE CZS22MSKEHSS
Refrigerator
GE CZS22MSKEHSS
Refrigerator
GE CZS22MSKGHSS
Refrigerator
GE CZS22MSKGHSS
Refrigerator
GE DFSF9VKBABB
Refrigerator
GE DFSF9VKBABB
Refrigerator
GE DFSF9VKBAWW
Refrigerator
GE DFSF9VKBAWW
Refrigerator
ge DFSF9VKBWW
Refrigerator
GE DFSS9VKBASS
Refrigerator
GE DFSS9VKBASS
Refrigerator
GE DSE25JBLJCTS
Refrigerator
GE DSE25JBLJCTS
Refrigerator
GE DSE25JEMGCDS
Refrigerator
GE DSE25JGHBCBB
Refrigerator
GE DSE25JGHBCBB
Refrigerator
GE DSE25JGHBCWW
Refrigerator
GE DSE25JGHBCWW
Refrigerator
GE DSE25JGHECBB
Refrigerator
GE DSE25JGHECBB
Refrigerator
GE DSE25JGHECWW
Refrigerator
GE DSE25JGHECWW
Refrigerator
GE DSE25JGHGCBB
Refrigerator
GE DSE25JGHGCWW
Refrigerator
GE DSE25JMHBCES
Refrigerator
GE DSE25JMHECES
Refrigerator
GE DSE25JMHECES
Refrigerator
ge DSE25JMHES
Refrigerator
GE DSE25JMHGCES
Refrigerator
GE DSE25JSHBCSS
Refrigerator
GE DSE25JSHBCSS
Refrigerator
GE DSE25JSHECSS
Refrigerator
GE DSE25JSHECSS
Refrigerator
GE DSE25JSHGCSS
Refrigerator
GE DSE25JSHGCSS
Refrigerator
GE DSE26JGEBCBB
Refrigerator
GE DSE26JGEBCBB
Refrigerator
GE DSE26JGEBCWW
Refrigerator
GE DSE26JGEBCWW
Refrigerator
GE DSE26JGECCBB
Refrigerator
GE DSE26JGECCWW
Refrigerator
GE DSE26JMEBCES
Refrigerator
GE DSE26JMEBCES
Refrigerator
GE DSE26JMECCES
Refrigerator
GE DSE26JMEDCES
Refrigerator
GE DSE26JMEDCES
Refrigerator
ge DSE26JMEES
Refrigerator
GE DSE26JSEBCSS
Refrigerator
GE DSE26JSEBCSS
Refrigerator
GE DSE26JSECCSS
Refrigerator
GE DSE26JSEDCSS
Refrigerator
GE DSE26JSEDCSS
Refrigerator
GE DSF25KGTABG
Refrigerator
GE DSF25KGTABG
Refrigerator
GE DSF25KGTBBG
Refrigerator
GE DSF25KGTBBG
Refrigerator
GE DSF25MGSBBB
Refrigerator
GE DSF25MGSBBB
Refrigerator
GE DSF25MGSBWW
Refrigerator
GE DSF25MGSBWW
Refrigerator
ge DSHF6VGBBB
Refrigerator
GE DSHF6VGBBCBB
Refrigerator
GE DSHF6VGBBCBB
Refrigerator
GE DSHF6VGBBCWW
Refrigerator
GE DSHF6VGBBCWW
Refrigerator
GE DSHF6VGBCCBB
Refrigerator
GE DSHF6VGBCCBB
Refrigerator
GE DSHF6VGBCCWW
Refrigerator
GE DSHF6VGBCCWW
Refrigerator
GE DSHF9NGYACBB
Refrigerator
GE DSHF9NGYACBB
Refrigerator
GE DSHF9NGYACWW
Refrigerator
GE DSHF9NGYACWW
Refrigerator
GE DSHS6VGBBCSS
Refrigerator
GE DSHS6VGBBCSS
Refrigerator
GE DSHS9NGYACSS
Refrigerator
GE DSHS9NGYACSS
Refrigerator
GE DSS25JFPACC
Refrigerator
GE DSS25JFPACC
Refrigerator
GE DSS25JFPAWW
Refrigerator
GE DSS25JFPAWW
Refrigerator
GE DSS25JFPCCC
Refrigerator
GE DSS25JFPCCC
Refrigerator
GE DSS25JFPCWW
Refrigerator
GE DSS25JFPCWW
Refrigerator
GE DSS25JFPDCC
Refrigerator
GE DSS25JFPDCC
Refrigerator
GE DSS25JFPDWW
Refrigerator
GE DSS25JFPDWW
Refrigerator
GE DSS25JFPECC
Refrigerator
GE DSS25JFPECC
Refrigerator
GE DSS25JFPEWW
Refrigerator
GE DSS25JFPEWW
Refrigerator
GE DSS25JFPHCC
Refrigerator
GE DSS25JFPHCC
Refrigerator
GE DSS25JFPHWW
Refrigerator
GE DSS25JFPHWW
Refrigerator
GE DSS25JFPMCC
Refrigerator
GE DSS25JFPMCC
Refrigerator
GE DSS25JFPMWW
Refrigerator
GE DSS25JFPMWW
Refrigerator
GE DSS25KGRABB
Refrigerator
GE DSS25KGRABB
Refrigerator
GE DSS25KGRACC
Refrigerator
GE DSS25KGRACC
Refrigerator
GE DSS25KGRAWW
Refrigerator
GE DSS25KGRAWW
Refrigerator
GE DSS25KGRBBB
Refrigerator
GE DSS25KGRBBB
Refrigerator
GE DSS25KGRBCC
Refrigerator
GE DSS25KGRBCC
Refrigerator
GE DSS25KGRBWW
Refrigerator
GE DSS25KGRBWW
Refrigerator
GE DSS25KGRCBB
Refrigerator
GE DSS25KGRCBB
Refrigerator
GE DSS25KGRCCC
Refrigerator
GE DSS25KGRCCC
Refrigerator
GE DSS25KGRCWW
Refrigerator
GE DSS25KGRCWW
Refrigerator
GE DSS25KGRDBB
Refrigerator
GE DSS25KGRDCC
Refrigerator
GE DSS25KGRDWW
Refrigerator
GE DSS25KGREBB
Refrigerator
GE DSS25KGREBB
Refrigerator
GE DSS25KGRECC
Refrigerator
GE DSS25KGRECC
Refrigerator
GE DSS25KGREWW
Refrigerator
GE DSS25KGREWW
Refrigerator
GE DSS25KGTABB
Refrigerator
GE DSS25KGTABB
Refrigerator
GE DSS25KGTAWW
Refrigerator
GE DSS25KGTAWW
Refrigerator
GE DSS25KGTBBB
Refrigerator
GE DSS25KGTBBB
Refrigerator
GE DSS25KGTBWW
Refrigerator
GE DSS25KGTBWW
Refrigerator
GE DSS25KSRASS
Refrigerator
GE DSS25KSRASS
Refrigerator
GE DSS25KSRBSS
Refrigerator
GE DSS25KSRBSS
Refrigerator
GE DSS25KSRCSS
Refrigerator
GE DSS25KSRCSS
Refrigerator
GE DSS25KSRDSS
Refrigerator
GE DSS25KSRDSS
Refrigerator
GE DSS25KSRESS
Refrigerator
GE DSS25KSRESS
Refrigerator
GE DSS25KSTASS
Refrigerator
GE DSS25KSTASS
Refrigerator
GE DSS25KSTBSS
Refrigerator
GE DSS25KSTBSS
Refrigerator
GE DSS25LGPABB
Refrigerator
GE DSS25LGPABB
Refrigerator
GE DSS25LGPACC
Refrigerator
GE DSS25LGPACC
Refrigerator
GE DSS25LGPAWW
Refrigerator
GE DSS25LGPAWW
Refrigerator
GE DSS25LSPABS
Refrigerator
GE DSS25LSPABS
Refrigerator
GE DSS25MGSCBB
Refrigerator
GE DSS25MGSCBB
Refrigerator
GE DSS25MGSCWW
Refrigerator
GE DSS25MGSCWW
Refrigerator
GE DSS25MSSFSS
Refrigerator
GE DSS25MSSFSS
Refrigerator
GE DSS25MSSGSS
Refrigerator
GE DSS25MSSGSS
Refrigerator
GE DSS25MSSHSS
Refrigerator
GE DSS25MSSHSS
Refrigerator
GE DSS25PFMCCC
Refrigerator
GE DSS25PFMCCC
Refrigerator
GE DSS25PFMCWW
Refrigerator
GE DSS25PFMCWW
Refrigerator
GE DSS25PFMDCC
Refrigerator
GE DSS25PFMDCC
Refrigerator
GE DSS25PFMDWW
Refrigerator
GE DSS25PFMDWW
Refrigerator
GE ERS2022DABB
Refrigerator
GE ERS2022DACC
Refrigerator
GE ERS2022DAWW
Refrigerator
GE ERS2026DABB
Refrigerator
GE ERS2026DACC
Refrigerator
GE ERS2026DAWW
Refrigerator
GE ESF25KGTABB
Refrigerator
GE ESF25KGTABB
Refrigerator
GE ESF25KGTACC
Refrigerator
GE ESF25KGTACC
Refrigerator
GE ESF25KGTAWW
Refrigerator
GE ESF25KGTAWW
Refrigerator
GE ESF25KGTBBB
Refrigerator
GE ESF25KGTBBB
Refrigerator
GE ESF25KGTBCC
Refrigerator
GE ESF25KGTBCC
Refrigerator
GE ESF25KGTBWW
Refrigerator
GE ESF25KGTBWW
Refrigerator
GE ESF25LGRABB
Refrigerator
GE ESF25LGRABB
Refrigerator
GE ESF25LGRACC
Refrigerator
GE ESF25LGRACC
Refrigerator
GE ESF25LGRAWW
Refrigerator
GE ESF25LGRAWW
Refrigerator
GE ESF25LGRBBB
Refrigerator
GE ESF25LGRBBB
Refrigerator
GE ESF25LGRBCC
Refrigerator
GE ESF25LGRBCC
Refrigerator
GE ESF25LGRBWW
Refrigerator
GE ESF25LGRBWW
Refrigerator
GE ESF25LGRCBB
Refrigerator
GE ESF25LGRCBB
Refrigerator
GE ESF25LGRCCC
Refrigerator
GE ESF25LGRCCC
Refrigerator
GE ESF25LGRCWW
Refrigerator
GE ESF25LGRCWW
Refrigerator
GE ESF25LGRDBB
Refrigerator
GE ESF25LGRDBB
Refrigerator
GE ESF25LGRDCC
Refrigerator
GE ESF25LGRDCC
Refrigerator
GE ESF25LGRDWW
Refrigerator
GE ESF25LGRDWW
Refrigerator
GE ESF25LGREBB
Refrigerator
GE ESF25LGREBB
Refrigerator
GE ESF25LGRECC
Refrigerator
GE ESF25LGRECC
Refrigerator
GE ESF25LGREWW
Refrigerator
GE ESF25LGREWW
Refrigerator
GE ESF25QGWABB
Refrigerator
GE ESF25QGWABB
Refrigerator
GE ESF25QGWACC
Refrigerator
GE ESF25QGWACC
Refrigerator
GE ESF25QGWAWW
Refrigerator
GE ESF25QGWAWW
Refrigerator
GE ESH22JFWABB
Refrigerator
GE ESH22JFWABB
Refrigerator
GE ESH22JFWAWW
Refrigerator
GE ESH22JFWAWW
Refrigerator
GE ESH22JFWBBB
Refrigerator
GE ESH22JFWBBB
Refrigerator
GE ESH22JFWBWW
Refrigerator
GE ESH22JFWBWW
Refrigerator
GE ESH22JFWCBB
Refrigerator
GE ESH22JFWCBB
Refrigerator
GE ESH22JFWCWW
Refrigerator
GE ESH22JFWCWW
Refrigerator
GE ESH22JFWDBB
Refrigerator
GE ESH22JFWDBB
Refrigerator
GE ESH22JFWDWW
Refrigerator
GE ESH22JFWDWW
Refrigerator
GE ESH22JFWEBB
Refrigerator
GE ESH22JFWEBB
Refrigerator
GE ESH22JFWEWW
Refrigerator
GE ESH22JFWEWW
Refrigerator
GE ESH22JFXABB
Refrigerator
GE ESH22JFXABB
Refrigerator
GE ESH22JFXAWW
Refrigerator
GE ESH22JFXAWW
Refrigerator
GE ESH22JFXJBB
Refrigerator
GE ESH22JFXJBB
Refrigerator
GE ESH22JFXJWW
Refrigerator
GE ESH22JFXJWW
Refrigerator
GE ESH22JFXKBB
Refrigerator
GE ESH22JFXKBB
Refrigerator
GE ESH22JFXKWW
Refrigerator
GE ESH22JFXKWW
Refrigerator
GE ESH22JSWASS
Refrigerator
GE ESH22JSWASS
Refrigerator
GE ESH22JSWBSS
Refrigerator
GE ESH22JSWBSS
Refrigerator
GE ESH22JSWCSS
Refrigerator
GE ESH22JSWCSS
Refrigerator
GE ESH22JSWDSS
Refrigerator
GE ESH22JSWDSS
Refrigerator
GE ESH22JSWESS
Refrigerator
GE ESH22JSWESS
Refrigerator
GE ESH22JSXASS
Refrigerator
GE ESH22JSXASS
Refrigerator
GE ESH22JSXJSS
Refrigerator
GE ESH22JSXJSS
Refrigerator
GE ESH22JSXKSS
Refrigerator
GE ESH22JSXKSS
Refrigerator
GE ESH22XGPABB
Refrigerator
GE ESH22XGPABB
Refrigerator
GE ESH22XGPACC
Refrigerator
GE ESH22XGPACC
Refrigerator
GE ESH22XGPAWW
Refrigerator
GE ESH22XGPAWW
Refrigerator
GE ESH22XGPBBB
Refrigerator
GE ESH22XGPBBB
Refrigerator
GE ESH22XGPBCC
Refrigerator
GE ESH22XGPBCC
Refrigerator
GE ESH22XGPBWW
Refrigerator
GE ESH22XGPBWW
Refrigerator
GE ESH22XGPCBB
Refrigerator
GE ESH22XGPCBB
Refrigerator
GE ESH22XGPCCC
Refrigerator
GE ESH22XGPCCC
Refrigerator
GE ESH22XGPCWW
Refrigerator
GE ESH22XGPCWW
Refrigerator
GE ESH22XGPDBB
Refrigerator
GE ESH22XGPDBB
Refrigerator
GE ESH22XGPDCC
Refrigerator
GE ESH22XGPDCC
Refrigerator
GE ESH22XGPDWW
Refrigerator
GE ESH22XGPDWW
Refrigerator
GE ESH22XGRBBB
Refrigerator
GE ESH22XGRBBB
Refrigerator
GE ESH22XGRBCC
Refrigerator
GE ESH22XGRBCC
Refrigerator
GE ESH22XGRBWW
Refrigerator
GE ESH22XGRBWW
Refrigerator
GE ESH22XGREBB
Refrigerator
GE ESH22XGREBB
Refrigerator
GE ESH22XGRECC
Refrigerator
GE ESH22XGRECC
Refrigerator
GE ESH22XGREWW
Refrigerator
GE ESH22XGREWW
Refrigerator
GE ESH25JFWABB
Refrigerator
GE ESH25JFWABB
Refrigerator
GE ESH25JFWAWW
Refrigerator
GE ESH25JFWAWW
Refrigerator
GE ESH25JFWBBB
Refrigerator
GE ESH25JFWBBB
Refrigerator
GE ESH25JFWBWW
Refrigerator
GE ESH25JFWBWW
Refrigerator
GE ESH25JFWDBB
Refrigerator
GE ESH25JFWDBB
Refrigerator
GE ESH25JFWDWW
Refrigerator
GE ESH25JFWDWW
Refrigerator
GE ESH25JFWFBB
Refrigerator
GE ESH25JFWFBB
Refrigerator
GE ESH25JFWFWW
Refrigerator
GE ESH25JFWFWW
Refrigerator
GE ESH25JFXABB
Refrigerator
GE ESH25JFXABB
Refrigerator
GE ESH25JFXAWW
Refrigerator
GE ESH25JFXAWW
Refrigerator
GE ESH25JFXBBB
Refrigerator
GE ESH25JFXBBB
Refrigerator
GE ESH25JFXBWW
Refrigerator
GE ESH25JFXBWW
Refrigerator
GE ESH25JFXJBB
Refrigerator
GE ESH25JFXJBB
Refrigerator
GE ESH25JFXJWW
Refrigerator
GE ESH25JFXJWW
Refrigerator
GE ESH25JSWASS
Refrigerator
GE ESH25JSWASS
Refrigerator
GE ESH25JSWBSS
Refrigerator
GE ESH25JSWBSS
Refrigerator
GE ESH25JSWDSS
Refrigerator
GE ESH25JSWDSS
Refrigerator
GE ESH25JSWESS
Refrigerator
GE ESH25JSWESS
Refrigerator
GE ESH25JSWFSS
Refrigerator
GE ESH25JSWFSS
Refrigerator
GE ESH25JSXASS
Refrigerator
GE ESH25JSXASS
Refrigerator
GE ESH25JSXBSS
Refrigerator
GE ESH25JSXBSS
Refrigerator
GE ESH25JSXJSS
Refrigerator
GE ESH25JSXJSS
Refrigerator
GE ESH25XGPABB
Refrigerator
GE ESH25XGPABB
Refrigerator
GE ESH25XGPACC
Refrigerator
GE ESH25XGPACC
Refrigerator
GE ESH25XGPAWW
Refrigerator
GE ESH25XGPAWW
Refrigerator
GE ESH25XGPCBB
Refrigerator
GE ESH25XGPCBB
Refrigerator
GE ESH25XGPCCC
Refrigerator
GE ESH25XGPCCC
Refrigerator
GE ESH25XGPCWW
Refrigerator
GE ESH25XGPCWW
Refrigerator
GE ESH25XGPDBB
Refrigerator
GE ESH25XGPDBB
Refrigerator
GE ESH25XGPDCC
Refrigerator
GE ESH25XGPDCC
Refrigerator
GE ESH25XGPDWW
Refrigerator
GE ESH25XGPDWW
Refrigerator
GE ESH25XGRABB
Refrigerator
GE ESH25XGRABB
Refrigerator
GE ESH25XGRACC
Refrigerator
GE ESH25XGRACC
Refrigerator
GE ESH25XGRAWW
Refrigerator
GE ESH25XGRAWW
Refrigerator
GE ESH25XGRBBB
Refrigerator
GE ESH25XGRBBB
Refrigerator
GE ESH25XGRBCC
Refrigerator
GE ESH25XGRBCC
Refrigerator
GE ESH25XGRBWW
Refrigerator
GE ESH25XGRBWW
Refrigerator
GE ESH25XGREBB
Refrigerator
GE ESH25XGREBB
Refrigerator
GE ESH25XGRECC
Refrigerator
GE ESH25XGRECC
Refrigerator
GE ESH25XGREWW
Refrigerator
GE ESH25XGREWW
Refrigerator
GE ESL22JFWABS
Refrigerator
GE ESL22JFWABS
Refrigerator
GE ESL22JFWBBS
Refrigerator
GE ESL22JFWBBS
Refrigerator
GE ESL22JFWCBS
Refrigerator
GE ESL22JFWCBS
Refrigerator
GE ESL22JFWDBS
Refrigerator
GE ESL22JFWDBS
Refrigerator
GE ESL22JFWEBS
Refrigerator
GE ESL22JFWEBS
Refrigerator
GE ESL22JFXALB
Refrigerator
GE ESL22JFXALB
Refrigerator
GE ESL22JFXJLB
Refrigerator
GE ESL22JFXJLB
Refrigerator
GE ESL22JFXKLB
Refrigerator
GE ESL22JFXKLB
Refrigerator
GE ESL22XGPCBS
Refrigerator
GE ESL22XGPCBS
Refrigerator
GE ESL22XGPDBS
Refrigerator
GE ESL22XGPDBS
Refrigerator
GE ESL22XGRBBS
Refrigerator
GE ESL22XGRBBS
Refrigerator
GE ESL22XGREBS
Refrigerator
GE ESL22XGREBS
Refrigerator
GE ESL23XGSBBS
Refrigerator
GE ESL23XGSBBS
Refrigerator
GE ESL25JFWABS
Refrigerator
GE ESL25JFWABS
Refrigerator
GE ESL25JFWBBS
Refrigerator
GE ESL25JFWBBS
Refrigerator
GE ESL25JFWDBS
Refrigerator
GE ESL25JFWDBS
Refrigerator
GE ESL25JFWEBS
Refrigerator
GE ESL25JFWEBS
Refrigerator
GE ESL25JFWFBS
Refrigerator
GE ESL25JFWFBS
Refrigerator
GE ESL25JFXALB
Refrigerator
GE ESL25JFXALB
Refrigerator
GE ESL25JFXBLB
Refrigerator
GE ESL25JFXBLB
Refrigerator
GE ESL25JFXJLB
Refrigerator
GE ESL25JFXJLB
Refrigerator
GE ESL25XGPABS
Refrigerator
GE ESL25XGPABS
Refrigerator
GE ESL25XGPCBS
Refrigerator
GE ESL25XGPCBS
Refrigerator
GE ESL25XGPDBS
Refrigerator
GE ESL25XGPDBS
Refrigerator
GE ESL25XGRBBS
Refrigerator
GE ESL25XGRBBS
Refrigerator
GE ESL25XGREBS
Refrigerator
GE ESL25XGREBS
Refrigerator
GE ESL25XGSBBS
Refrigerator
GE ESL25XGSBBS
Refrigerator
GE ESL25XGSCBS
Refrigerator
GE ESL25XGSCBS
Refrigerator
GE ESS22XGMABB
Refrigerator
GE ESS22XGMABB
Refrigerator
GE ESS22XGMACC
Refrigerator
GE ESS22XGMACC
Refrigerator
GE ESS22XGMAWW
Refrigerator
GE ESS22XGMAWW
Refrigerator
GE ESS22XGMBBB
Refrigerator
GE ESS22XGMBBB
Refrigerator
GE ESS22XGMBCC
Refrigerator
GE ESS22XGMBCC
Refrigerator
GE ESS22XGMBWW
Refrigerator
GE ESS22XGMBWW
Refrigerator
GE ESS22XGMCBB
Refrigerator
GE ESS22XGMCBB
Refrigerator
GE ESS22XGMCCC
Refrigerator
GE ESS22XGMCCC
Refrigerator
GE ESS22XGMCWW
Refrigerator
GE ESS22XGMCWW
Refrigerator
GE ESS22XGMDBB
Refrigerator
GE ESS22XGMDBB
Refrigerator
GE ESS22XGMDCC
Refrigerator
GE ESS22XGMDCC
Refrigerator
GE ESS22XGMDWW
Refrigerator
GE ESS22XGMDWW
Refrigerator
GE ESS23SGSASS
Refrigerator
GE ESS23SGSASS
Refrigerator
GE ESS23XGSABB
Refrigerator
GE ESS23XGSABB
Refrigerator
GE ESS23XGSACC
Refrigerator
GE ESS23XGSACC
Refrigerator
GE ESS23XGSAWW
Refrigerator
GE ESS23XGSAWW
Refrigerator
GE ESS23XGSBBB
Refrigerator
GE ESS23XGSBBB
Refrigerator
GE ESS23XGSBCC
Refrigerator
GE ESS23XGSBCC
Refrigerator
GE ESS23XGSBWW
Refrigerator
GE ESS23XGSBWW
Refrigerator
GE ESS25KSTASS
Refrigerator
GE ESS25KSTASS
Refrigerator
GE ESS25KSTBSS
Refrigerator
GE ESS25KSTBSS
Refrigerator
GE ESS25KSTFSS
Refrigerator
GE ESS25KSTFSS
Refrigerator
GE ESS25KSTISS
Refrigerator
GE ESS25KSTISS
Refrigerator
GE ESS25KSTMSS
Refrigerator
GE ESS25KSTMSS
Refrigerator
GE ESS25LGMABB
Refrigerator
GE ESS25LGMABB
Refrigerator
GE ESS25LGMACC
Refrigerator
GE ESS25LGMACC
Refrigerator
GE ESS25LGMAWW
Refrigerator
GE ESS25LGMAWW
Refrigerator
GE ESS25LGMBBB
Refrigerator
GE ESS25LGMBBB
Refrigerator
GE ESS25LGMBCC
Refrigerator
GE ESS25LGMBCC
Refrigerator
GE ESS25LGMBWW
Refrigerator
GE ESS25LGMBWW
Refrigerator
GE ESS25LGMEBB
Refrigerator
GE ESS25LGMEBB
Refrigerator
GE ESS25LGMECC
Refrigerator
GE ESS25LGMECC
Refrigerator
GE ESS25LGMEWW
Refrigerator
GE ESS25LGMEWW
Refrigerator
GE ESS25LGNABB
Refrigerator
GE ESS25LGNABB
Refrigerator
GE ESS25LGNACC
Refrigerator
GE ESS25LGNACC
Refrigerator
GE ESS25LGNAWW
Refrigerator
GE ESS25LGNAWW
Refrigerator
GE ESS25LGPABB
Refrigerator
GE ESS25LGPABB
Refrigerator
GE ESS25LGPACC
Refrigerator
GE ESS25LGPACC
Refrigerator
GE ESS25LGPAWW
Refrigerator
GE ESS25LGPAWW
Refrigerator
GE ESS25LSMABS
Refrigerator
GE ESS25LSMABS
Refrigerator
GE ESS25LSMBBS
Refrigerator
GE ESS25LSMBBS
Refrigerator
GE ESS25LSMEBS
Refrigerator
GE ESS25LSMEBS
Refrigerator
GE ESS25LSNABS
Refrigerator
GE ESS25LSNABS
Refrigerator
GE ESS25LSPABS
Refrigerator
GE ESS25LSPABS
Refrigerator
GE ESS25LSQASS
Refrigerator
GE ESS25LSQASS
Refrigerator
GE ESS25LSRASS
Refrigerator
GE ESS25LSRASS
Refrigerator
GE ESS25LSRBSS
Refrigerator
GE ESS25LSRBSS
Refrigerator
GE ESS25LSRCSS
Refrigerator
GE ESS25LSRCSS
Refrigerator
GE ESS25LSRDSS
Refrigerator
GE ESS25LSRDSS
Refrigerator
GE ESS25LSRESS
Refrigerator
GE ESS25LSRESS
Refrigerator
GE ESS25QSWASS
Refrigerator
GE ESS25QSWASS
Refrigerator
GE ESS25SGMABS
Refrigerator
GE ESS25SGMABS
Refrigerator
GE ESS25SGMBBS
Refrigerator
GE ESS25SGMBBS
Refrigerator
GE ESS25SGSASS
Refrigerator
GE ESS25SGSASS
Refrigerator
GE ESS25XGMABB
Refrigerator
GE ESS25XGMABB
Refrigerator
GE ESS25XGMACC
Refrigerator
GE ESS25XGMACC
Refrigerator
GE ESS25XGMAWW
Refrigerator
GE ESS25XGMAWW
Refrigerator
GE ESS25XGMBBB
Refrigerator
GE ESS25XGMBBB
Refrigerator
GE ESS25XGMBCC
Refrigerator
GE ESS25XGMBCC
Refrigerator
GE ESS25XGMBWW
Refrigerator
GE ESS25XGMBWW
Refrigerator
GE ESS25XGMCBB
Refrigerator
GE ESS25XGMCBB
Refrigerator
GE ESS25XGMCCC
Refrigerator
GE ESS25XGMCCC
Refrigerator
GE ESS25XGMCWW
Refrigerator
GE ESS25XGMCWW
Refrigerator
GE ESS25XGMDBB
Refrigerator
GE ESS25XGMDBB
Refrigerator
GE ESS25XGMDCC
Refrigerator
GE ESS25XGMDCC
Refrigerator
GE ESS25XGMDWW
Refrigerator
GE ESS25XGMDWW
Refrigerator
GE ESS25XGSABB
Refrigerator
GE ESS25XGSABB
Refrigerator
GE ESS25XGSACC
Refrigerator
GE ESS25XGSACC
Refrigerator
GE ESS25XGSAWW
Refrigerator
GE ESS25XGSAWW
Refrigerator
GE ESS25XGSBBB
Refrigerator
GE ESS25XGSBBB
Refrigerator
GE ESS25XGSBCC
Refrigerator
GE ESS25XGSBCC
Refrigerator
GE ESS25XGSBWW
Refrigerator
GE ESS25XGSBWW
Refrigerator
GE ESS25XGSCBB
Refrigerator
GE ESS25XGSCBB
Refrigerator
GE ESS25XGSCCC
Refrigerator
GE ESS25XGSCCC
Refrigerator
GE ESS25XGSCWW
Refrigerator
GE ESS25XGSCWW
Refrigerator
GE GCE21LGTBFBB
Refrigerator
GE GCE21LGTBFBB
Refrigerator
GE GCE21LGTBFNS
Refrigerator
GE GCE21LGTBFNS
Refrigerator
GE GCE21LGTBFSS
Refrigerator
GE GCE21LGTBFSS
Refrigerator
GE GCE21LGTBFWW
Refrigerator
GE GCE21LGTBFWW
Refrigerator
GE GCE21LGWAFBB
Refrigerator
GE GCE21LGWAFBB
Refrigerator
GE GCE21LGWAFNS
Refrigerator
GE GCE21LGWAFNS
Refrigerator
GE GCE21LGWAFSS
Refrigerator
GE GCE21LGWAFSS
Refrigerator
GE GCE21LGWAFWW
Refrigerator
GE GCE21LGWAFWW
Refrigerator
GE GCE21LGWHFBB
Refrigerator
GE GCE21LGWHFBB
Refrigerator
GE GCE21LGWHFSS
Refrigerator
GE GCE21LGWHFSS
Refrigerator
GE GCE21LGWHFWW
Refrigerator
GE GCE21LGWHFWW
Refrigerator
GE GCE21LGWIFBB
Refrigerator
GE GCE21LGWIFBB
Refrigerator
GE GCE21LGWIFSS
Refrigerator
GE GCE21LGWIFSS
Refrigerator
GE GCE21LGWIFWW
Refrigerator
GE GCE21LGWIFWW
Refrigerator
GE GCE21LGYAFSS
Refrigerator
GE GCE21LGYAFSS
Refrigerator
GE GCE21LGYAFWW
Refrigerator
GE GCE21LGYAFWW
Refrigerator
GE GCE21LGYBFSS
Refrigerator
GE GCE21LGYBFSS
Refrigerator
GE GCE21LGYBFWW
Refrigerator
GE GCE21LGYBFWW
Refrigerator
GE GCE21LGYCFSS
Refrigerator
GE GCE21LGYCFSS
Refrigerator
GE GCE21LGYCFWW
Refrigerator
GE GCE21LGYCFWW
Refrigerator
GE GCE21LGYDFSS
Refrigerator
GE GCE21LGYDFSS
Refrigerator
GE GCE21LGYDFWW
Refrigerator
GE GCE21LGYDFWW
Refrigerator
GE GCE21MGTAFBB
Refrigerator
GE GCE21MGTAFBB
Refrigerator
GE GCE21MGTAFSS
Refrigerator
GE GCE21MGTAFSS
Refrigerator
GE GCE21MGTAFWW
Refrigerator
GE GCE21MGTAFWW
Refrigerator
GE GCE21MGTBFBB
Refrigerator
GE GCE21MGTBFBB
Refrigerator
GE GCE21MGTBFSS
Refrigerator
GE GCE21MGTBFSS
Refrigerator
GE GCE21MGTBFWW
Refrigerator
GE GCE21MGTBFWW
Refrigerator
GE GCE21MGTIFBB
Refrigerator
GE GCE21MGTIFBB
Refrigerator
GE GCE21MGTIFSS
Refrigerator
GE GCE21MGTIFSS
Refrigerator
GE GCE21MGTIFWW
Refrigerator
GE GCE21MGTIFWW
Refrigerator
GE GCE21MGTJFBB
Refrigerator
GE GCE21MGTJFBB
Refrigerator
GE GCE21MGTJFSS
Refrigerator
GE GCE21MGTJFSS
Refrigerator
GE GCE21MGTJFWW
Refrigerator
GE GCE21MGTJFWW
Refrigerator
GE GCE21XGYAFBB
Refrigerator
GE GCE21XGYAFBB
Refrigerator
GE GCE21XGYAFLS
Refrigerator
GE GCE21XGYAFLS
Refrigerator
GE GCE21XGYAFNB
Refrigerator
GE GCE21XGYAFNB
Refrigerator
GE GCE21XGYAFWW
Refrigerator
GE GCE21XGYAFWW
Refrigerator
GE GCE21XGYBFBB
Refrigerator
GE GCE21XGYBFBB
Refrigerator
GE GCE21XGYBFLS
Refrigerator
GE GCE21XGYBFLS
Refrigerator
GE GCE21XGYBFNB
Refrigerator
GE GCE21XGYBFNB
Refrigerator
GE GCE21XGYBFWW
Refrigerator
GE GCE21XGYBFWW
Refrigerator
GE GCE21XGYCFBB
Refrigerator
GE GCE21XGYCFBB
Refrigerator
GE GCE21XGYCFLS
Refrigerator
GE GCE21XGYCFLS
Refrigerator
GE GCE21XGYCFNB
Refrigerator
GE GCE21XGYCFNB
Refrigerator
GE GCE21XGYCFWW
Refrigerator
GE GCE21XGYCFWW
Refrigerator
GE GCE21XGYDFBB
Refrigerator
GE GCE21XGYDFBB
Refrigerator
GE GCE21XGYDFLS
Refrigerator
GE GCE21XGYDFLS
Refrigerator
GE GCE21XGYDFNB
Refrigerator
GE GCE21XGYDFNB
Refrigerator
GE GCE21XGYDFWW
Refrigerator
GE GCE21XGYDFWW
Refrigerator
GE GCE21ZGTAFWW
Refrigerator
GE GCE21ZGTAFWW
Refrigerator
GE GCE21ZGTBFWW
Refrigerator
GE GCE21ZGTBFWW
Refrigerator
GE GCE21ZGWAFWW
Refrigerator
GE GCE21ZGWAFWW
Refrigerator
GE GCE23LGTAFBB
Refrigerator
GE GCE23LGTAFBB
Refrigerator
GE GCE23LGTAFSS
Refrigerator
GE GCE23LGTAFSS
Refrigerator
GE GCE23LGTAFWW
Refrigerator
GE GCE23LGTAFWW
Refrigerator
GE GCE23LGTBFAV
Refrigerator
GE GCE23LGTBFAV
Refrigerator
GE GCE23LGTBFBB
Refrigerator
GE GCE23LGTBFBB
Refrigerator
GE GCE23LGTBFBG
Refrigerator
GE GCE23LGTBFBG
Refrigerator
GE GCE23LGTBFLS
Refrigerator
GE GCE23LGTBFLS
Refrigerator
GE GCE23LGTBFSS
Refrigerator
GE GCE23LGTBFSS
Refrigerator
GE GCE23LGTBFWW
Refrigerator
GE GCE23LGTBFWW
Refrigerator
GE GCE23LGTIFAV
Refrigerator
GE GCE23LGTIFAV
Refrigerator
GE GCE23LGTIFBG
Refrigerator
GE GCE23LGTIFBG
Refrigerator
GE GCE23LGTIFLS
Refrigerator
GE GCE23LGTIFLS
Refrigerator
GE GCE23LGTJFAV
Refrigerator
GE GCE23LGTJFAV
Refrigerator
GE GCE23LGTJFBG
Refrigerator
GE GCE23LGTJFBG
Refrigerator
GE GCE23LGTJFLS
Refrigerator
GE GCE23LGTJFLS
Refrigerator
GE GCE23LGWAFAV
Refrigerator
GE GCE23LGWAFAV
Refrigerator
GE GCE23LGWAFBG
Refrigerator
GE GCE23LGWAFBG
Refrigerator
GE GCE23LGWAFLS
Refrigerator
GE GCE23LGWAFLS
Refrigerator
GE GCE23LGWHFBB
Refrigerator
GE GCE23LGWHFBB
Refrigerator
GE GCE23LGWHFBG
Refrigerator
GE GCE23LGWHFBG
Refrigerator
GE GCE23LGWHFSS
Refrigerator
GE GCE23LGWHFSS
Refrigerator
GE GCE23LGWHFWW
Refrigerator
GE GCE23LGWHFWW
Refrigerator
GE GCE23LGWIFBB
Refrigerator
GE GCE23LGWIFBB
Refrigerator
GE GCE23LGWIFSS
Refrigerator
GE GCE23LGWIFSS
Refrigerator
GE GCE23LGWIFWW
Refrigerator
GE GCE23LGWIFWW
Refrigerator
GE GCE23LGYAFLS
Refrigerator
GE GCE23LGYAFLS
Refrigerator
GE GCE23LGYAFLV
Refrigerator
GE GCE23LGYAFLV
Refrigerator
GE GCE23LGYAFNB
Refrigerator
GE GCE23LGYAFNB
Refrigerator
GE GCE23LGYAFSS
Refrigerator
GE GCE23LGYAFSS
Refrigerator
GE GCE23LGYAFWW
Refrigerator
GE GCE23LGYAFWW
Refrigerator
GE GCE23LGYCFLS
Refrigerator
GE GCE23LGYCFLS
Refrigerator
GE GCE23LGYCFLV
Refrigerator
GE GCE23LGYCFLV
Refrigerator
GE GCE23LGYCFNB
Refrigerator
GE GCE23LGYCFNB
Refrigerator
GE GCE23LGYCFSS
Refrigerator
GE GCE23LGYCFSS
Refrigerator
GE GCE23LGYCFWW
Refrigerator
GE GCE23LGYCFWW
Refrigerator
GE GCE23LGYDFLS
Refrigerator
GE GCE23LGYDFLS
Refrigerator
GE GCE23LGYDFLV
Refrigerator
GE GCE23LGYDFLV
Refrigerator
GE GCE23LGYDFNB
Refrigerator
GE GCE23LGYDFNB
Refrigerator
GE GCE23LGYDFWW
Refrigerator
GE GCE23LGYDFWW
Refrigerator
GE GCE23LHTAFWW
Refrigerator
GE GCE23LHTAFWW
Refrigerator
GE GCE23LHTBFBB
Refrigerator
GE GCE23LHTBFBB
Refrigerator
GE GCE23LHTBFSS
Refrigerator
GE GCE23LHTBFSS
Refrigerator
GE GCE23LHTBFWW
Refrigerator
GE GCE23LHTBFWW
Refrigerator
GE GCE23LHWAFBB
Refrigerator
GE GCE23LHWAFBB
Refrigerator
GE GCE23LHWAFSS
Refrigerator
GE GCE23LHWAFSS
Refrigerator
GE GCE23LHWAFWW
Refrigerator
GE GCE23LHWAFWW
Refrigerator
GE GCE23LHWGFBB
Refrigerator
GE GCE23LHWGFBB
Refrigerator
GE GCE23LHWGFSS
Refrigerator
GE GCE23LHWGFSS
Refrigerator
GE GCE23LHWGFWW
Refrigerator
GE GCE23LHWGFWW
Refrigerator
GE GCE23LHWHFBB
Refrigerator
GE GCE23LHWHFBB
Refrigerator
GE GCE23LHWHFSS
Refrigerator
GE GCE23LHWHFSS
Refrigerator
GE GCE23LHWHFWW
Refrigerator
GE GCE23LHWHFWW
Refrigerator
GE GCE23LHWIFBB
Refrigerator
GE GCE23LHWIFBB
Refrigerator
GE GCE23LHWIFSS
Refrigerator
GE GCE23LHWIFSS
Refrigerator
GE GCE23LHWIFWW
Refrigerator
GE GCE23LHWIFWW
Refrigerator
GE GCE23LHYAFSS
Refrigerator
GE GCE23LHYAFSS
Refrigerator
GE GCE23LHYAFWW
Refrigerator
GE GCE23LHYAFWW
Refrigerator
GE GCE23LHYCFSS
Refrigerator
GE GCE23LHYCFSS
Refrigerator
GE GCE23LHYCFWW
Refrigerator
GE GCE23LHYCFWW
Refrigerator
GE GCE23LHYDFSS
Refrigerator
GE GCE23LHYDFSS
Refrigerator
GE GCE23XGBBFLS
Refrigerator
GE GCE23XGBBFLS
Refrigerator
GE GCL22K
Refrigerator
GE GCL22KGRESV
Refrigerator
GE GCL22QGTASV
Refrigerator
GE GCL22QGTGSV
Refrigerator
GE GCR23UDPCWW
Refrigerator
GE GCR23UDPCWW
Refrigerator
GE GCR23UDPDWW
Refrigerator
GE GCR23YLRBWW
Refrigerator
GE GCR23YLRBWW
Refrigerator
GE GCR23YLRCWW
Refrigerator
GE GCR23YLRCWW
Refrigerator
GE GCR23YLRDWW
Refrigerator
GE GCU21LGTAFBB
Refrigerator
GE GCU21LGTAFSS
Refrigerator
GE GCU21LGTBFSS
Refrigerator
GE GCU21LGWAFSS
Refrigerator
GE GCU21XGYAFBB
Refrigerator
GE GCU21XGYAFLS
Refrigerator
GE GCU21XGYCFBB
Refrigerator
GE GCU21XGYCFLS
Refrigerator
GE GCU21XGYDFLS
Refrigerator
GE GCU23LGYAFSS
Refrigerator
GE GCU23LGYAFWW
Refrigerator
GE GCU23LGYCFSS
Refrigerator
GE GCU23LGYCFWW
Refrigerator
GE GCU23LGYDFSS
Refrigerator
GE GCU23LGYDFWW
Refrigerator
GE GDE21EGKARBB
Refrigerator
GE GDE21EGKARBB
Refrigerator
GE GDE21EGKARWW
Refrigerator
GE GDE21EGKARWW
Refrigerator
GE GDE21EGKBRBB
Refrigerator
GE GDE21EGKBRWW
Refrigerator
GE GDE21EGKFRBB
Refrigerator
GE GDE21EGKFRBB
Refrigerator
GE GDE21EGKFRWW
Refrigerator
GE GDE21EGKFRWW
Refrigerator
GE GDE21EMKARES
Refrigerator
GE GDE21EMKARES
Refrigerator
GE GDE21EMKBRES
Refrigerator
GE GDE21EMKFRES
Refrigerator
GE GDE21EMKFRES
Refrigerator
GE GDE21ESKARSS
Refrigerator
GE GDE21ESKARSS
Refrigerator
GE GDE21ESKBRSS
Refrigerator
GE GDE21ESKFRSS
Refrigerator
GE GDE21ESKFRSS
Refrigerator
GE GDE23GGHBB
Refrigerator
GE GDE23GGHWW
Refrigerator
GE GDE23GSHSS
Refrigerator
GE GDE25EGKARBB
Refrigerator
GE GDE25EGKARBB
Refrigerator
GE GDE25EGKARWW
Refrigerator
GE GDE25EGKARWW
Refrigerator
GE GDE25EGKBRBB
Refrigerator
GE GDE25EGKBRBB
Refrigerator
GE GDE25EGKBRWW
Refrigerator
GE GDE25EGKBRWW
Refrigerator
GE GDE25ESKARSS
Refrigerator
GE GDE25ESKARSS
Refrigerator
GE GDE25ESKBRSS
Refrigerator
GE GDE25ESKBRSS
Refrigerator
GE GDE25ESKFRSS
Refrigerator
GE GFCE1NFBADSS
Refrigerator
GE GFCE1NFBEDSS
Refrigerator
GE GFCE1NFBFDSS
Refrigerator
GE GFE24JBLAFTS
Refrigerator
GE GFE24JGKAFBB
Refrigerator
GE GFE24JGKAFBB
Refrigerator
GE GFE24JGKAFWW
Refrigerator
GE GFE24JGKAFWW
Refrigerator
GE GFE24JGKBFBB
Refrigerator
GE GFE24JGKBFWW
Refrigerator
GE GFE24JGKFFBB
Refrigerator
GE GFE24JGKFFBB
Refrigerator
GE GFE24JGKFFWW
Refrigerator
GE GFE24JGKFFWW
Refrigerator
GE GFE24JMKAFES
Refrigerator
GE GFE24JMKAFES
Refrigerator
GE GFE24JMKBFES
Refrigerator
GE GFE24JMKFFES
Refrigerator
GE GFE24JMKFFES
Refrigerator
GE GFE24JSKAFSS
Refrigerator
GE GFE24JSKAFSS
Refrigerator
GE GFE24JSKBFSS
Refrigerator
GE GFE24JSKFFSS
Refrigerator
GE GFE24JSKFFSS
Refrigerator
GE GFSF2KEYABB
Refrigerator
GE GFSF2KEYACC
Refrigerator
GE GFSF2KEYAWW
Refrigerator
GE GFSF2KEYCBB
Refrigerator
GE GFSF2KEYCCC
Refrigerator
GE GFSF2KEYCWW
Refrigerator
GE GFSF2KEYHBB
Refrigerator
GE GFSF2KEYHCC
Refrigerator
GE GFSF2KEYHWW
Refrigerator
GE GFSF6KEXABB
Refrigerator
GE GFSF6KEXACC
Refrigerator
GE GFSF6KEXAWW
Refrigerator
ge GFSF6KEXBB
Refrigerator
GE GFSF6KEXBBB
Refrigerator
GE GFSF6KEXBCC
Refrigerator
GE GFSF6KEXBWW
Refrigerator
GE GFSF6KEXCBB
Refrigerator
GE GFSF6KEXCBB
Refrigerator
GE GFSF6KEXCWW
Refrigerator
GE GFSF6KEXCWW
Refrigerator
GE GFSF6KEXDBB
Refrigerator
GE GFSF6KEXDBB
Refrigerator
GE GFSF6KEXDWW
Refrigerator
GE GFSF6KEXDWW
Refrigerator
GE GFSF6KEXEBB
Refrigerator
GE GFSF6KEXEBB
Refrigerator
GE GFSF6KEXEWW
Refrigerator
GE GFSF6KEXEWW
Refrigerator
GE GFSF6KKXABB
Refrigerator
GE GFSF6KKXAWW
Refrigerator
GE GFSF6KKXBBB
Refrigerator
GE GFSF6KKXBWW
Refrigerator
GE GFSF6KKYABB
Refrigerator
GE GFSF6KKYABB
Refrigerator
GE GFSF6KKYAWW
Refrigerator
GE GFSF6KKYAWW
Refrigerator
ge GFSF6KKYBB
Refrigerator
GE GFSF6KKYBBB
Refrigerator
GE GFSF6KKYBBB
Refrigerator
GE GFSF6KKYBWW
Refrigerator
GE GFSF6KKYBWW
Refrigerator
GE GFSF6KKYCBB
Refrigerator
GE GFSF6KKYCBB
Refrigerator
GE GFSF6KKYCWW
Refrigerator
GE GFSF6KKYCWW
Refrigerator
GE GFSF6KKYDBB
Refrigerator
GE GFSF6KKYDBB
Refrigerator
GE GFSF6KKYDWW
Refrigerator
GE GFSF6KKYDWW
Refrigerator
GE GFSF6KKYEBB
Refrigerator
GE GFSF6KKYEBB
Refrigerator
GE GFSF6KKYEWW
Refrigerator
GE GFSF6KKYEWW
Refrigerator
GE GFSF6PKBABB
Refrigerator
GE GFSF6PKBABB
Refrigerator
GE GFSF6PKBAWW
Refrigerator
GE GFSF6PKBAWW
Refrigerator
GE GFSL2KEYALS
Refrigerator
GE GFSL2KEYCLS
Refrigerator
GE GFSL2KEYHLS
Refrigerator
GE GFSL6KEXALS
Refrigerator
GE GFSL6KEXBLS
Refrigerator
GE GFSL6KEXCLS
Refrigerator
GE GFSL6KEXCLS
Refrigerator
GE GFSL6KEXDLS
Refrigerator
GE GFSL6KEXDLS
Refrigerator
GE GFSL6KEXELS
Refrigerator
GE GFSL6KEXELS
Refrigerator
GE GFSL6KKXALS
Refrigerator
GE GFSL6KKXBLS
Refrigerator
GE GFSL6KKYALS
Refrigerator
GE GFSL6KKYALS
Refrigerator
GE GFSL6KKYBLS
Refrigerator
GE GFSL6KKYBLS
Refrigerator
GE GFSL6KKYCLS
Refrigerator
GE GFSL6KKYCLS
Refrigerator
GE GFSL6KKYDLS
Refrigerator
GE GFSL6KKYDLS
Refrigerator
GE GFSL6KKYELS
Refrigerator
GE GFSL6KKYELS
Refrigerator
GE GFSM6KEXABG
Refrigerator
GE GFSM6KEXBBG
Refrigerator
GE GFSS2KEYASS
Refrigerator
GE GFSS2KEYCSS
Refrigerator
GE GFSS2KEYHSS
Refrigerator
GE GFSS6KEXASS
Refrigerator
GE GFSS6KEXBSS
Refrigerator
GE GFSS6KEXCSS
Refrigerator
GE GFSS6KEXCSS
Refrigerator
GE GFSS6KEXDSS
Refrigerator
GE GFSS6KEXDSS
Refrigerator
GE GFSS6KEXESS
Refrigerator
GE GFSS6KEXESS
Refrigerator
GE GFSS6KIXASS
Refrigerator
GE GFSS6KIXBSS
Refrigerator
GE GFSS6KIXBSS
Refrigerator
GE GFSS6KIXCSS
Refrigerator
GE GFSS6KIXCSS
Refrigerator
GE GFSS6KKXASS
Refrigerator
GE GFSS6KKXBSS
Refrigerator
GE GFSS6KKYASS
Refrigerator
GE GFSS6KKYASS
Refrigerator
GE GFSS6KKYBSS
Refrigerator
GE GFSS6KKYBSS
Refrigerator
GE GFSS6KKYCSS
Refrigerator
GE GFSS6KKYCSS
Refrigerator
GE GFSS6KKYDSS
Refrigerator
GE GFSS6KKYDSS
Refrigerator
GE GFSS6KKYESS
Refrigerator
GE GFSS6KKYESS
Refrigerator
ge GFSS6KKYSS
Refrigerator
GE GFSS6PKBASS
Refrigerator
GE GFSS6PKBASS
Refrigerator
GE GHE25RGXAFSS
Refrigerator
GE GIE21LGTAFBB
Refrigerator
GE GIE21LGTAFKB
Refrigerator
GE GIE21LGTBFBB
Refrigerator
GE GIE21LGTBFKB
Refrigerator
GE GIE21LGWAFKB
Refrigerator
GE GIE21LGWHFBB
Refrigerator
GE GIE21LGWHFKB
Refrigerator
GE GIE21LGWIFBB
Refrigerator
GE GIE21LGWIFKB
Refrigerator
GE GIE21LGYAFKB
Refrigerator
GE GIE21LGYBFKB
Refrigerator
GE GIE21LGYCFKB
Refrigerator
GE GIE21LGYDFKB
Refrigerator
GE GIE21MGTBFBB
Refrigerator
GE GIE21MGTBFKB
Refrigerator
GE GIE21MGTIFBB
Refrigerator
GE GIE21MGTIFKB
Refrigerator
GE GIE21MGTJFBB
Refrigerator
GE GIE21MGTJFKB
Refrigerator
GE GIE21MGWHFBB
Refrigerator
GE GIE21MGWHFKB
Refrigerator
GE GIE21XGYAFKB
Refrigerator
GE GIE21XGYBFKB
Refrigerator
GE GIE21XGYCFKB
Refrigerator
GE GIE21XGYDFKB
Refrigerator
GE GIU21XGYAFKB
Refrigerator
GE GIU21XGYCFKB
Refrigerator
GE GIU21XGYDFKB
Refrigerator
GE GNE21FGKAKBB
Refrigerator
GE GNE21FGKAKBB
Refrigerator
GE GNE21FGKAKWW
Refrigerator
GE GNE21FGKAKWW
Refrigerator
GE GNE21FMKAFES
Refrigerator
GE GNE21FMKAFES
Refrigerator
GE GNE21FMKBFES
Refrigerator
GE GNE21FMKFFES
Refrigerator
GE GNE21FMKFFES
Refrigerator
GE GNE21FSKAFSS
Refrigerator
GE GNE21FSKAFSS
Refrigerator
GE GNE21FSKBFSS
Refrigerator
GE GNE21FSKFFSS
Refrigerator
GE GNE21FSKFFSS
Refrigerator
GE GNE22GAFBB
Refrigerator
GE GNE22GAFWW
Refrigerator
GE GNE22GBFBB
Refrigerator
GE GNE22GBFWW
Refrigerator
GE GNE22GGEAFBB
Refrigerator
GE GNE22GGEAFWW
Refrigerator
ge GNE22GGEBB
Refrigerator
GE GNE22GGEBFBB
Refrigerator
GE GNE22GGEBFWW
Refrigerator
ge GNE22GGEWW
Refrigerator
GE GNE22GMEAFES
Refrigerator
GE GNE22GMEBFES
Refrigerator
GE GNE22GMECFES
Refrigerator
ge GNE22GMEES
Refrigerator
GE GNE22GSEAFSS
Refrigerator
GE GNE22GSEBFSS
Refrigerator
ge GNE22GSESS
Refrigerator
GE GNE25JGKAFBB
Refrigerator
GE GNE25JGKAFBB
Refrigerator
GE GNE25JGKAFWW
Refrigerator
GE GNE25JGKAFWW
Refrigerator
GE GNE25JGKBFBB
Refrigerator
GE GNE25JGKBFBB
Refrigerator
GE GNE25JGKBFWW
Refrigerator
GE GNE25JGKBFWW
Refrigerator
GE GNE25JGKCFBB
Refrigerator
GE GNE25JGKCFBB
Refrigerator
GE GNE25JGKCFWW
Refrigerator
GE GNE25JGKCFWW
Refrigerator
GE GNE25JGKFFBB
Refrigerator
GE GNE25JGKFFBB
Refrigerator
GE GNE25JGKFFWW
Refrigerator
GE GNE25JGKFFWW
Refrigerator
GE GNE25JMKAFES
Refrigerator
GE GNE25JMKAFES
Refrigerator
GE GNE25JMKBFES
Refrigerator
GE GNE25JMKBFES
Refrigerator
GE GNE25JMKCFES
Refrigerator
GE GNE25JMKCFES
Refrigerator
GE GNE25JMKFFES
Refrigerator
GE GNE25JMKFFES
Refrigerator
GE GNE25JSKAFSS
Refrigerator
GE GNE25JSKAFSS
Refrigerator
GE GNE25JSKBFSS
Refrigerator
GE GNE25JSKBFSS
Refrigerator
GE GNE25JSKCFSS
Refrigerator
GE GNE25JSKCFSS
Refrigerator
GE GNE25JSKFFSS
Refrigerator
GE GNE25JSKFFSS
Refrigerator
GE GNS23GGHBB
Refrigerator
GE GNS23GGHBFBB
Refrigerator
GE GNS23GGHBFWW
Refrigerator
GE GNS23GGHWW
Refrigerator
GE GNS23GMHBFES
Refrigerator
GE GNS23GMHES
Refrigerator
GE GNS23GSHBFSS
Refrigerator
GE GNS23GSHSS
Refrigerator
GE GSC21KGRABB
Refrigerator
GE GSC21KGRABB
Refrigerator
GE GSC21KGRAWW
Refrigerator
GE GSC21KGRAWW
Refrigerator
GE GSC21KGRBBB
Refrigerator
GE GSC21KGRBBB
Refrigerator
GE GSC21KGRBWW
Refrigerator
GE GSC21KGRBWW
Refrigerator
GE GSC21KGRCBB
Refrigerator
GE GSC21KGRCBB
Refrigerator
GE GSC21KGRCWW
Refrigerator
GE GSC21KGRCWW
Refrigerator
GE GSC22KGRABB
Refrigerator
GE GSC22KGRABB
Refrigerator
GE GSC22KGRAWW
Refrigerator
GE GSC22KGRAWW
Refrigerator
GE GSC22KGRCBB
Refrigerator
GE GSC22KGRCBB
Refrigerator
GE GSC22KGRCWW
Refrigerator
GE GSC22KGRCWW
Refrigerator
GE GSC22KGRDBB
Refrigerator
GE GSC22KGRDWW
Refrigerator
GE GSC22QGTABB
Refrigerator
GE GSC22QGTAWW
Refrigerator
GE GSC22QGTGBB
Refrigerator
GE GSC22QGTGWW
Refrigerator
GE GSC22QGTIBB
Refrigerator
GE GSC22QGTIWW
Refrigerator
GE GSC22QGTLBB
Refrigerator
GE GSC22QGTLWW
Refrigerator
GE GSC22QGTM BB
Refrigerator
GE GSC22QGTM WW
Refrigerator
GE GSC22QGTMBB
Refrigerator
GE GSC22QGTMWW
Refrigerator
GE GSC23KGTABB
Refrigerator
GE GSC23KGTAWW
Refrigerator
GE GSC23KGTEBB
Refrigerator
GE GSC23KGTEWW
Refrigerator
GE GSC23KSTASS
Refrigerator
GE GSC23KSTESS
Refrigerator
GE GSC23LGPABB
Refrigerator
GE GSC23LGPABB
Refrigerator
GE GSC23LGPACC
Refrigerator
GE GSC23LGPACC
Refrigerator
GE GSC23LGPAWW
Refrigerator
GE GSC23LGPAWW
Refrigerator
GE GSC23LGQABB
Refrigerator
GE GSC23LGQABB
Refrigerator
GE GSC23LGQACC
Refrigerator
GE GSC23LGQACC
Refrigerator
GE GSC23LGQAWW
Refrigerator
GE GSC23LGQAWW
Refrigerator
GE GSC23LGQCBB
Refrigerator
GE GSC23LGQCBB
Refrigerator
GE GSC23LGQCCC
Refrigerator
GE GSC23LGQCCC
Refrigerator
GE GSC23LGQCWW
Refrigerator
GE GSC23LGQCWW
Refrigerator
GE GSC23LGRCBB
Refrigerator
GE GSC23LGRCBB
Refrigerator
GE GSC23LGRCWW
Refrigerator
GE GSC23LGRCWW
Refrigerator
GE GSC23LGRDBB
Refrigerator
GE GSC23LGRDWW
Refrigerator
GE GSC23LSPASS
Refrigerator
GE GSC23LSPASS
Refrigerator
GE GSC23LSQASS
Refrigerator
GE GSC23LSQASS
Refrigerator
GE GSC23LSRASS
Refrigerator
GE GSC23LSRASS
Refrigerator
GE GSC23LSRBSS
Refrigerator
GE GSC23LSRBSS
Refrigerator
GE GSC23LSRCSS
Refrigerator
GE GSC23LSRCSS
Refrigerator
GE GSC23LSRDSS
Refrigerator
GE GSCS3KGYAFSS
Refrigerator
GE GSCS3KGYCFSS
Refrigerator
GE GSCS3KGYDFSS
Refrigerator
GE GSE22ESHB SS
Refrigerator
GE GSE22ESHBSS
Refrigerator
GE GSE22ESHC SS
Refrigerator
GE GSE22ESHCSS
Refrigerator
GE GSE22ESHD SS
Refrigerator
GE GSE22ESHDSS
Refrigerator
GE GSE22ESHSS
Refrigerator
GE GSE22ETHB BB
Refrigerator
GE GSE22ETHB CC
Refrigerator
GE GSE22ETHB WW
Refrigerator
GE GSE22ETHBB
Refrigerator
GE GSE22ETHBBB
Refrigerator
GE GSE22ETHBCC
Refrigerator
GE GSE22ETHBWW
Refrigerator
GE GSE22ETHC BB
Refrigerator
GE GSE22ETHC CC
Refrigerator
GE GSE22ETHC WW
Refrigerator
GE GSE22ETHCBB
Refrigerator
GE GSE22ETHCC
Refrigerator
GE GSE22ETHCCC
Refrigerator
GE GSE22ETHCWW
Refrigerator
GE GSE22ETHD BB
Refrigerator
GE GSE22ETHD CC
Refrigerator
GE GSE22ETHD WW
Refrigerator
GE GSE22ETHDBB
Refrigerator
GE GSE22ETHDCC
Refrigerator
GE GSE22ETHDWW
Refrigerator
GE GSE22ETHWW
Refrigerator
GE GSE23GBCBB
Refrigerator
GE GSE23GBCWW
Refrigerator
ge GSE23GGEBB
Refrigerator
GE GSE23GGEBCBB
Refrigerator
GE GSE23GGEBCWW
Refrigerator
ge GSE23GGEWW
Refrigerator
GE GSE23GGKECBB
Refrigerator
GE GSE23GGKECCC
Refrigerator
GE GSE23GGKECWW
Refrigerator
GE GSE23GGKJCBB
Refrigerator
GE GSE23GGKJCBB
Refrigerator
GE GSE23GGKJCCC
Refrigerator
GE GSE23GGKJCCC
Refrigerator
GE GSE23GGKJCWW
Refrigerator
GE GSE23GGKJCWW
Refrigerator
GE GSE23GSECCSS
Refrigerator
GE GSE23GSEFCSS
Refrigerator
ge GSE23GSESS
Refrigerator
GE GSE23GSKECSS
Refrigerator
GE GSE23GSKJCSS
Refrigerator
GE GSE23GSKJCSS
Refrigerator
GE GSE25ESHB SS
Refrigerator
GE GSE25ESHBSS
Refrigerator
GE GSE25ESHC SS
Refrigerator
GE GSE25ESHCSS
Refrigerator
GE GSE25ESHD SS
Refrigerator
GE GSE25ESHDSS
Refrigerator
GE GSE25ESHSS
Refrigerator
GE GSE25ETHB BB
Refrigerator
GE GSE25ETHB CC
Refrigerator
GE GSE25ETHB WW
Refrigerator
GE GSE25ETHBB
Refrigerator
GE GSE25ETHBBB
Refrigerator
GE GSE25ETHBCC
Refrigerator
GE GSE25ETHBWW
Refrigerator
GE GSE25ETHC BB
Refrigerator
GE GSE25ETHC CC
Refrigerator
GE GSE25ETHC WW
Refrigerator
GE GSE25ETHCBB
Refrigerator
GE GSE25ETHCC
Refrigerator
GE GSE25ETHCCC
Refrigerator
GE GSE25ETHCWW
Refrigerator
GE GSE25ETHD BB
Refrigerator
GE GSE25ETHD CC
Refrigerator
GE GSE25ETHD WW
Refrigerator
GE GSE25ETHDBB
Refrigerator
GE GSE25ETHDCC
Refrigerator
GE GSE25ETHDWW
Refrigerator
GE GSE25ETHWW
Refrigerator
GE GSE25GGHBB
Refrigerator
GE GSE25GGHBCBB
Refrigerator
GE GSE25GGHBCWW
Refrigerator
GE GSE25GGHECBB
Refrigerator
GE GSE25GGHECCC
Refrigerator
GE GSE25GGHECWW
Refrigerator
GE GSE25GGHHCBB
Refrigerator
GE GSE25GGHHCBB
Refrigerator
GE GSE25GGHHCCC
Refrigerator
GE GSE25GGHHCCC
Refrigerator
GE GSE25GGHHCWW
Refrigerator
GE GSE25GGHHCWW
Refrigerator
GE GSE25GGHJCBB
Refrigerator
GE GSE25GGHJCBB
Refrigerator
GE GSE25GGHJCCC
Refrigerator
GE GSE25GGHJCCC
Refrigerator
GE GSE25GGHJCWW
Refrigerator
GE GSE25GGHJCWW
Refrigerator
GE GSE25GGHWW
Refrigerator
GE GSE25GSHBCSS
Refrigerator
GE GSE25GSHBCSS
Refrigerator
GE GSE25GSHECSS
Refrigerator
GE GSE25GSHECSS
Refrigerator
GE GSE25GSHHCSS
Refrigerator
GE GSE25GSHHCSS
Refrigerator
GE GSE25GSHJCSS
Refrigerator
GE GSE25GSHJCSS
Refrigerator
GE GSE25GSHSS
Refrigerator
GE GSE25HBLJHTS
Refrigerator
GE GSE25HBLJHTS
Refrigerator
GE GSE25HEMJHDS
Refrigerator
GE GSE25HGHBB
Refrigerator
GE GSE25HGHBHBB
Refrigerator
GE GSE25HGHBHWW
Refrigerator
GE GSE25HGHEHBB
Refrigerator
GE GSE25HGHEHWW
Refrigerator
GE GSE25HGHJHBB
Refrigerator
GE GSE25HGHJHBB
Refrigerator
GE GSE25HGHJHWW
Refrigerator
GE GSE25HGHJHWW
Refrigerator
GE GSE25HGHWW
Refrigerator
GE GSE25HMHBHES
Refrigerator
GE GSE25HMHEHES
Refrigerator
GE GSE25HMHES
Refrigerator
GE GSE25HMHJHES
Refrigerator
GE GSE25HMHJHES
Refrigerator
GE GSE25HSHBHSS
Refrigerator
GE GSE25HSHBHSS
Refrigerator
GE GSE25HSHEHSS
Refrigerator
GE GSE25HSHEHSS
Refrigerator
GE GSE25HSHJHSS
Refrigerator
GE GSE25HSHJHSS
Refrigerator
GE GSE25HSHSS
Refrigerator
GE GSE25MGTBCBB
Refrigerator
GE GSE25MGTBCSS
Refrigerator
GE GSE25MGTBCWW
Refrigerator
GE GSE25MGTECSS
Refrigerator
GE GSE25MGTECWW
Refrigerator
GE GSE25MGTICBB
Refrigerator
GE GSE25MGTICSS
Refrigerator
GE GSE25MGTICWW
Refrigerator
GE GSE25MGTJCBB
Refrigerator
GE GSE25MGTJCSS
Refrigerator
GE GSE25MGTJCWW
Refrigerator
GE GSE25MGYACSS
Refrigerator
GE GSE25MGYACWW
Refrigerator
GE GSE25MGYCCSS
Refrigerator
GE GSE25MGYCCWW
Refrigerator
GE GSE26GBCBB
Refrigerator
GE GSE26GBCCC
Refrigerator
GE GSE26GBCWW
Refrigerator
GE GSE26GCCBB
Refrigerator
GE GSE26GCCCC
Refrigerator
GE GSE26GCCWW
Refrigerator
ge GSE26GGEBB
Refrigerator
GE GSE26GGEBCBB
Refrigerator
GE GSE26GGEBCCC
Refrigerator
GE GSE26GGEBCWW
Refrigerator
ge GSE26GGECC
Refrigerator
GE GSE26GGECCBB
Refrigerator
GE GSE26GGECCCC
Refrigerator
GE GSE26GGECCWW
Refrigerator
ge GSE26GGEWW
Refrigerator
GE GSE26GSEBCSS
Refrigerator
GE GSE26GSECCSS
Refrigerator
GE GSE26GSEDCSS
Refrigerator
ge GSE26GSESS
Refrigerator
GE GSE26HBHBB
Refrigerator
GE GSE26HBHWW
Refrigerator
GE GSE26HCHBB
Refrigerator
GE GSE26HCHWW
Refrigerator
ge GSE26HGEBB
Refrigerator
GE GSE26HGEBHBB
Refrigerator
GE GSE26HGEBHWW
Refrigerator
GE GSE26HGECHBB
Refrigerator
GE GSE26HGECHWW
Refrigerator
ge GSE26HGEWW
Refrigerator
GE GSE26HMEBHES
Refrigerator
GE GSE26HMECHES
Refrigerator
GE GSE26HMEDHES
Refrigerator
ge GSE26HMEES
Refrigerator
GE GSE26HSEBHSS
Refrigerator
GE GSE26HSECHSS
Refrigerator
GE GSE26HSEDHSS
Refrigerator
ge GSE26HSESS
Refrigerator
GE GSE27NGBACSS
Refrigerator
GE GSE27NGBACWW
Refrigerator
GE GSE29KGYACSS
Refrigerator
GE GSE29KGYACWW
Refrigerator
GE GSE29KGYBCSS
Refrigerator
GE GSE29KGYBCWW
Refrigerator
GE GSF25IGXBBB
Refrigerator
GE GSF25IGXBWW
Refrigerator
GE GSF25IGXJBB
Refrigerator
GE GSF25IGXJWW
Refrigerator
GE GSF25IGXLBB
Refrigerator
GE GSF25IGXLWW
Refrigerator
GE GSF25IGXNBB
Refrigerator
GE GSF25IGXNWW
Refrigerator
GE GSF25IGXPBB
Refrigerator
GE GSF25IGXPWW
Refrigerator
GE GSF25IGZBBB
Refrigerator
GE GSF25IGZBWW
Refrigerator
GE GSF25IGZCBB
Refrigerator
GE GSF25IGZCWW
Refrigerator
GE GSF25IGZDBB
Refrigerator
GE GSF25IGZDWW
Refrigerator
GE GSF25JGBBBB
Refrigerator
GE GSF25JGBBWW
Refrigerator
GE GSF25JGCBBB
Refrigerator
GE GSF25JGCBWW
Refrigerator
GE GSF25JGCCBB
Refrigerator
GE GSF25JGCCWW
Refrigerator
GE GSF25JGCEBB
Refrigerator
GE GSF25JGCEWW
Refrigerator
GE GSF25JGDCBB
Refrigerator
GE GSF25JGDCBB
Refrigerator
GE GSF25JGDCWW
Refrigerator
GE GSF25JGDCWW
Refrigerator
GE GSF25JGDD BB
Refrigerator
GE GSF25JGDD WW
Refrigerator
GE GSF25JGDDBB
Refrigerator
GE GSF25JGDDWW
Refrigerator
GE GSF25JGDE BB
Refrigerator
GE GSF25JGDE WW
Refrigerator
GE GSF25JGDEBB
Refrigerator
GE GSF25JGDEWW
Refrigerator
GE GSF25JGDF WW
Refrigerator
GE GSF25JGDFWW
Refrigerator
GE GSF25JGDS WW
Refrigerator
GE GSF25JGDSWW
Refrigerator
GE GSF25TGTABB
Refrigerator
GE GSF25TGTAWW
Refrigerator
GE GSF25TGTBBB
Refrigerator
GE GSF25TGTBWW
Refrigerator
GE GSF25TGTEBB
Refrigerator
GE GSF25TGTEWW
Refrigerator
GE GSF25XGRABB
Refrigerator
GE GSF25XGRABB
Refrigerator
GE GSF25XGRACC
Refrigerator
GE GSF25XGRACC
Refrigerator
GE GSF25XGRAWW
Refrigerator
GE GSF25XGRAWW
Refrigerator
GE GSF25XGRCBB
Refrigerator
GE GSF25XGRCBB
Refrigerator
GE GSF25XGRCCC
Refrigerator
GE GSF25XGRCCC
Refrigerator
GE GSF25XGRCWW
Refrigerator
GE GSF25XGRCWW
Refrigerator
GE GSF25XGRDBB
Refrigerator
GE GSF25XGRDBB
Refrigerator
GE GSF25XGRDCC
Refrigerator
GE GSF25XGRDCC
Refrigerator
GE GSF25XGRDWW
Refrigerator
GE GSF25XGRDWW
Refrigerator
GE GSF25XGREBB
Refrigerator
GE GSF25XGRECC
Refrigerator
GE GSF25XGREWW
Refrigerator
GE GSF25XGWABB
Refrigerator
GE GSF25XGWAWW
Refrigerator
GE GSH22IFTBBB
Refrigerator
GE GSH22IFTBCC
Refrigerator
GE GSH22IFTBWW
Refrigerator
GE GSH22IFTEBB
Refrigerator
GE GSH22IFTECC
Refrigerator
GE GSH22IFTEWW
Refrigerator
GE GSH22JFBBBB
Refrigerator
GE GSH22JFBBCC
Refrigerator
GE GSH22JFBBWW
Refrigerator
GE GSH22JFPACC
Refrigerator
GE GSH22JFPACC
Refrigerator
GE GSH22JFPAWW
Refrigerator
GE GSH22JFPAWW
Refrigerator
GE GSH22JFPBCC
Refrigerator
GE GSH22JFPBCC
Refrigerator
GE GSH22JFPBWW
Refrigerator
GE GSH22JFPBWW
Refrigerator
GE GSH22JFPCCC
Refrigerator
GE GSH22JFPCCC
Refrigerator
GE GSH22JFPCWW
Refrigerator
GE GSH22JFPCWW
Refrigerator
GE GSH22JFPDCC
Refrigerator
GE GSH22JFPDCC
Refrigerator
GE GSH22JFPDWW
Refrigerator
GE GSH22JFPDWW
Refrigerator
GE GSH22JFPHCC
Refrigerator
GE GSH22JFPHCC
Refrigerator
GE GSH22JFPHWW
Refrigerator
GE GSH22JFPHWW
Refrigerator
GE GSH22JFREBB
Refrigerator
GE GSH22JFREBB
Refrigerator
GE GSH22JFRECC
Refrigerator
GE GSH22JFRECC
Refrigerator
GE GSH22JFREWW
Refrigerator
GE GSH22JFREWW
Refrigerator
GE GSH22JFRHBB
Refrigerator
GE GSH22JFRHBB
Refrigerator
GE GSH22JFRHWW
Refrigerator
GE GSH22JFRHWW
Refrigerator
GE GSH22JFRIBB
Refrigerator
GE GSH22JFRIWW
Refrigerator
GE GSH22JFRJBB
Refrigerator
GE GSH22JFRJCC
Refrigerator
GE GSH22JFRJWW
Refrigerator
GE GSH22JFTABB
Refrigerator
GE GSH22JFTACC
Refrigerator
GE GSH22JFTAWW
Refrigerator
GE GSH22JFTBBB
Refrigerator
GE GSH22JFTBCC
Refrigerator
GE GSH22JFTBWW
Refrigerator
GE GSH22JFTCBB
Refrigerator
GE GSH22JFTCCC
Refrigerator
GE GSH22JFTCWW
Refrigerator
GE GSH22JFTDBB
Refrigerator
GE GSH22JFTDCC
Refrigerator
GE GSH22JFTDWW
Refrigerator
GE GSH22JFTEBB
Refrigerator
GE GSH22JFTECC
Refrigerator
GE GSH22JFTEWW
Refrigerator
GE GSH22JFXABB
Refrigerator
GE GSH22JFXACC
Refrigerator
GE GSH22JFXAWW
Refrigerator
GE GSH22JFXJBB
Refrigerator
GE GSH22JFXJCC
Refrigerator
GE GSH22JFXJWW
Refrigerator
GE GSH22JFXKBB
Refrigerator
GE GSH22JFXKCC
Refrigerator
GE GSH22JFXKWW
Refrigerator
GE GSH22JFXLBB
Refrigerator
GE GSH22JFXLCC
Refrigerator
GE GSH22JFXLWW
Refrigerator
GE GSH22JFXMBB
Refrigerator
GE GSH22JFXMCC
Refrigerator
GE GSH22JFXMWW
Refrigerator
GE GSH22JFXNBB
Refrigerator
GE GSH22JFXNCC
Refrigerator
GE GSH22JFXNWW
Refrigerator
GE GSH22JFXPBB
Refrigerator
GE GSH22JFXPCC
Refrigerator
GE GSH22JFXPWW
Refrigerator
GE GSH22JFZBBB
Refrigerator
GE GSH22JFZBCC
Refrigerator
GE GSH22JFZBWW
Refrigerator
GE GSH22JFZCBB
Refrigerator
GE GSH22JFZCCC
Refrigerator
GE GSH22JFZCWW
Refrigerator
GE GSH22JGBBBB
Refrigerator
GE GSH22JGBBCC
Refrigerator
GE GSH22JGBBWW
Refrigerator
GE GSH22JGCBBB
Refrigerator
GE GSH22JGCBCC
Refrigerator
GE GSH22JGCBWW
Refrigerator
GE GSH22JGCEBB
Refrigerator
GE GSH22JGCECC
Refrigerator
GE GSH22JGCEWW
Refrigerator
ge GSH22JGDBB
Refrigerator
GE GSH22JGDCBB
Refrigerator
GE GSH22JGDCBB
Refrigerator
ge GSH22JGDCC
Refrigerator
GE GSH22JGDCCC
Refrigerator
GE GSH22JGDCCC
Refrigerator
GE GSH22JGDCWW
Refrigerator
GE GSH22JGDCWW
Refrigerator
GE GSH22JGDD BB
Refrigerator
GE GSH22JGDD CC
Refrigerator
GE GSH22JGDD WW
Refrigerator
GE GSH22JGDDBB
Refrigerator
GE GSH22JGDDCC
Refrigerator
GE GSH22JGDDWW
Refrigerator
ge GSH22JGDWW
Refrigerator
GE GSH22JSBBSS
Refrigerator
GE GSH22JSCBSS
Refrigerator
GE GSH22JSCCSS
Refrigerator
GE GSH22JSCESS
Refrigerator
GE GSH22JSDD SS
Refrigerator
GE GSH22JSDDSS
Refrigerator
GE GSH22JSDSS
Refrigerator
GE GSH22JSRESS
Refrigerator
GE GSH22JSRESS
Refrigerator
GE GSH22JSRJSS
Refrigerator
GE GSH22JSTASS
Refrigerator
GE GSH22JSTBSS
Refrigerator
GE GSH22JSTCSS
Refrigerator
GE GSH22JSTDSS
Refrigerator
GE GSH22JSTESS
Refrigerator
GE GSH22JSTS
Refrigerator
GE GSH22JSXASS
Refrigerator
GE GSH22JSXJSS
Refrigerator
GE GSH22JSXKSS
Refrigerator
GE GSH22JSXLSS
Refrigerator
GE GSH22JSXMSS
Refrigerator
GE GSH22JSXNSS
Refrigerator
GE GSH22JSXPSS
Refrigerator
GE GSH22JSZBSS
Refrigerator
GE GSH22KGMAAA
Refrigerator
GE GSH22KGMAAA
Refrigerator
GE GSH22KGMABB
Refrigerator
GE GSH22KGMABB
Refrigerator
GE GSH22KGMACC
Refrigerator
GE GSH22KGMACC
Refrigerator
GE GSH22KGMAWW
Refrigerator
GE GSH22KGMAWW
Refrigerator
GE GSH22KGMBAA
Refrigerator
GE GSH22KGMBAA
Refrigerator
GE GSH22KGMBBB
Refrigerator
GE GSH22KGMBBB
Refrigerator
GE GSH22KGMBCC
Refrigerator
GE GSH22KGMBCC
Refrigerator
GE GSH22KGMBWW
Refrigerator
GE GSH22KGMBWW
Refrigerator
GE GSH22KGMCAA
Refrigerator
GE GSH22KGMCAA
Refrigerator
GE GSH22KGMCBB
Refrigerator
GE GSH22KGMCBB
Refrigerator
GE GSH22KGMCCC
Refrigerator
GE GSH22KGMCCC
Refrigerator
GE GSH22KGMCWW
Refrigerator
GE GSH22KGMCWW
Refrigerator
GE GSH22KGMDBB
Refrigerator
GE GSH22KGMDBB
Refrigerator
GE GSH22KGMDCC
Refrigerator
GE GSH22KGMDCC
Refrigerator
GE GSH22KGMDWW
Refrigerator
GE GSH22KGMDWW
Refrigerator
GE GSH22KGPABB
Refrigerator
GE GSH22KGPABB
Refrigerator
GE GSH22KGPACC
Refrigerator
GE GSH22KGPACC
Refrigerator
GE GSH22KGPAWW
Refrigerator
GE GSH22KGPAWW
Refrigerator
GE GSH22KGPBBB
Refrigerator
GE GSH22KGPBBB
Refrigerator
GE GSH22KGPBCC
Refrigerator
GE GSH22KGPBCC
Refrigerator
GE GSH22KGPBWW
Refrigerator
GE GSH22KGPBWW
Refrigerator
GE GSH22KGPCBB
Refrigerator
GE GSH22KGPCBB
Refrigerator
GE GSH22KGPCCC
Refrigerator
GE GSH22KGPCCC
Refrigerator
GE GSH22KGPCWW
Refrigerator
GE GSH22KGPCWW
Refrigerator
GE GSH22KGPDBB
Refrigerator
GE GSH22KGPDBB
Refrigerator
GE GSH22KGPDCC
Refrigerator
GE GSH22KGPDCC
Refrigerator
GE GSH22KGPDWW
Refrigerator
GE GSH22KGPDWW
Refrigerator
GE GSH22KGRBBB
Refrigerator
GE GSH22KGRBBB
Refrigerator
GE GSH22KGRBCC
Refrigerator
GE GSH22KGRBCC
Refrigerator
GE GSH22KGRBWW
Refrigerator
GE GSH22KGRBWW
Refrigerator
GE GSH22KGREBB
Refrigerator
GE GSH22KGREBB
Refrigerator
GE GSH22KGRECC
Refrigerator
GE GSH22KGRECC
Refrigerator
GE GSH22KGREWW
Refrigerator
GE GSH22KGREWW
Refrigerator
GE GSH22SGPASS
Refrigerator
GE GSH22SGPASS
Refrigerator
GE GSH22SGPBSS
Refrigerator
GE GSH22SGPBSS
Refrigerator
GE GSH22SGPCSS
Refrigerator
GE GSH22SGPCSS
Refrigerator
GE GSH22SGPDSS
Refrigerator
GE GSH22SGPDSS
Refrigerator
GE GSH22SGRBSS
Refrigerator
GE GSH22SGRESS
Refrigerator
GE GSH22SGRESS
Refrigerator
GE GSH22UFREBB
Refrigerator
GE GSH22UFREBB
Refrigerator
GE GSH22UFRECC
Refrigerator
GE GSH22UFRECC
Refrigerator
GE GSH22UFREWW
Refrigerator
GE GSH22UFREWW
Refrigerator
GE GSH22UFRJBB
Refrigerator
GE GSH22UFRJCC
Refrigerator
GE GSH22UFRJWW
Refrigerator
GE GSH22VGPABB
Refrigerator
GE GSH22VGPABB
Refrigerator
GE GSH22VGPACC
Refrigerator
GE GSH22VGPACC
Refrigerator
GE GSH22VGPAWW
Refrigerator
GE GSH22VGPAWW
Refrigerator
GE GSH22VGPBBB
Refrigerator
GE GSH22VGPBBB
Refrigerator
GE GSH22VGPBCC
Refrigerator
GE GSH22VGPBCC
Refrigerator
GE GSH22VGPBWW
Refrigerator
GE GSH22VGPBWW
Refrigerator
GE GSH22VGPCBB
Refrigerator
GE GSH22VGPCBB
Refrigerator
GE GSH22VGPCCC
Refrigerator
GE GSH22VGPCCC
Refrigerator
GE GSH22VGPCWW
Refrigerator
GE GSH22VGPCWW
Refrigerator
GE GSH22VGPDBB
Refrigerator
GE GSH22VGPDBB
Refrigerator
GE GSH22VGPDCC
Refrigerator
GE GSH22VGPDCC
Refrigerator
GE GSH22VGPDWW
Refrigerator
GE GSH22VGPDWW
Refrigerator
GE GSH22VGRBCC
Refrigerator
GE GSH22VGRBCC
Refrigerator
GE GSH22VGRBWW
Refrigerator
GE GSH22VGRBWW
Refrigerator
GE GSH22VGRECC
Refrigerator
GE GSH22VGRECC
Refrigerator
GE GSH22VGREWW
Refrigerator
GE GSH22VGREWW
Refrigerator
GE GSH25GGBBWW
Refrigerator
GE GSH25GGCBBB
Refrigerator
GE GSH25GGCBWW
Refrigerator
GE GSH25GGCEBB
Refrigerator
GE GSH25GGCEWW
Refrigerator
GE GSH25IFTBBB
Refrigerator
GE GSH25IFTBCC
Refrigerator
GE GSH25IFTBWW
Refrigerator
GE GSH25IGRBCC
Refrigerator
GE GSH25IGRBCC
Refrigerator
GE GSH25IGRBWW
Refrigerator
GE GSH25IGRBWW
Refrigerator
GE GSH25IGRECC
Refrigerator
GE GSH25IGRECC
Refrigerator
GE GSH25IGREWW
Refrigerator
GE GSH25IGREWW
Refrigerator
GE GSH25ISXBSS
Refrigerator
GE GSH25ISXJSS
Refrigerator
GE GSH25ISXLSS
Refrigerator
GE GSH25ISXNSS
Refrigerator
GE GSH25ISXPSS
Refrigerator
GE GSH25ISZBSS
Refrigerator
GE GSH25ISZCSS
Refrigerator
GE GSH25JFPACC
Refrigerator
GE GSH25JFPACC
Refrigerator
GE GSH25JFPAWW
Refrigerator
GE GSH25JFPAWW
Refrigerator
GE GSH25JFPCCC
Refrigerator
GE GSH25JFPCCC
Refrigerator
GE GSH25JFPCWW
Refrigerator
GE GSH25JFPCWW
Refrigerator
GE GSH25JFPDCC
Refrigerator
GE GSH25JFPDCC
Refrigerator
GE GSH25JFPDWW
Refrigerator
GE GSH25JFPDWW
Refrigerator
GE GSH25JFPHCC
Refrigerator
GE GSH25JFPHCC
Refrigerator
GE GSH25JFREWW
Refrigerator
GE GSH25JFREWW
Refrigerator
GE GSH25JFRFBB
Refrigerator
GE GSH25JFRFBB
Refrigerator
GE GSH25JFRFCC
Refrigerator
GE GSH25JFRFCC
Refrigerator
GE GSH25JFRFWW
Refrigerator
GE GSH25JFRFWW
Refrigerator
GE GSH25JFRGWW
Refrigerator
GE GSH25JFRGWW
Refrigerator
GE GSH25JFRHBB
Refrigerator
GE GSH25JFRHBB
Refrigerator
GE GSH25JFRHWW
Refrigerator
GE GSH25JFRHWW
Refrigerator
GE GSH25JFRICC
Refrigerator
GE GSH25JFRIWW
Refrigerator
GE GSH25JFRJBB
Refrigerator
GE GSH25JFRJCC
Refrigerator
GE GSH25JFRJWW
Refrigerator
GE GSH25JFTABB
Refrigerator
GE GSH25JFTACC
Refrigerator
GE GSH25JFTAWW
Refrigerator
GE GSH25JFTBBB
Refrigerator
GE GSH25JFTBCC
Refrigerator
GE GSH25JFTBWW
Refrigerator
GE GSH25JFTCBB
Refrigerator
GE GSH25JFTCCC
Refrigerator
GE GSH25JFTCWW
Refrigerator
GE GSH25JFTDBB
Refrigerator
GE GSH25JFTDCC
Refrigerator
GE GSH25JFTDWW
Refrigerator
GE GSH25JFTEBB
Refrigerator
GE GSH25JFTECC
Refrigerator
GE GSH25JFTEWW
Refrigerator
GE GSH25JFTFBB
Refrigerator
GE GSH25JFTFCC
Refrigerator
GE GSH25JFTFWW
Refrigerator
GE GSH25JFXABB
Refrigerator
GE GSH25JFXACC
Refrigerator
GE GSH25JFXAWW
Refrigerator
GE GSH25JFXBBB
Refrigerator
GE GSH25JFXBCC
Refrigerator
GE GSH25JFXBWW
Refrigerator
GE GSH25JFXJBB
Refrigerator
GE GSH25JFXJCC
Refrigerator
GE GSH25JFXJWW
Refrigerator
GE GSH25JFXLBB
Refrigerator
GE GSH25JFXLCC
Refrigerator
GE GSH25JFXLWW
Refrigerator
GE GSH25JFXNBB
Refrigerator
GE GSH25JFXNCC
Refrigerator
GE GSH25JFXNWW
Refrigerator
GE GSH25JFXPBB
Refrigerator
GE GSH25JFXPCC
Refrigerator
GE GSH25JFXPWW
Refrigerator
GE GSH25JGBBBB
Refrigerator
GE GSH25JGBBCC
Refrigerator
GE GSH25JGBBWW
Refrigerator
GE GSH25JGBCBB
Refrigerator
GE GSH25JGBCWW
Refrigerator
GE GSH25JGCBBB
Refrigerator
GE GSH25JGCBCC
Refrigerator
GE GSH25JGCBWW
Refrigerator
GE GSH25JGCCBB
Refrigerator
GE GSH25JGCCWW
Refrigerator
GE GSH25JGCEBB
Refrigerator
GE GSH25JGCECC
Refrigerator
GE GSH25JGCEWW
Refrigerator
ge GSH25JGDBB
Refrigerator
GE GSH25JGDBBB
Refrigerator
GE GSH25JGDBBB
Refrigerator
GE GSH25JGDBCC
Refrigerator
GE GSH25JGDBCC
Refrigerator
GE GSH25JGDBWW
Refrigerator
GE GSH25JGDBWW
Refrigerator
GE GSH25JGDCBB
Refrigerator
GE GSH25JGDCBB
Refrigerator
ge GSH25JGDCC
Refrigerator
GE GSH25JGDCCC
Refrigerator
GE GSH25JGDCCC
Refrigerator
GE GSH25JGDCWW
Refrigerator
GE GSH25JGDCWW
Refrigerator
GE GSH25JGDD BB
Refrigerator
GE GSH25JGDD CC
Refrigerator
GE GSH25JGDD WW
Refrigerator
GE GSH25JGDDBB
Refrigerator
GE GSH25JGDDCC
Refrigerator
GE GSH25JGDDWW
Refrigerator
GE GSH25JGDE BB
Refrigerator
GE GSH25JGDE CC
Refrigerator
GE GSH25JGDE WW
Refrigerator
GE GSH25JGDEBB
Refrigerator
GE GSH25JGDECC
Refrigerator
GE GSH25JGDEWW
Refrigerator
ge GSH25JGDWW
Refrigerator
GE GSH25JSBBSS
Refrigerator
GE GSH25JSCBSS
Refrigerator
GE GSH25JSCCSS
Refrigerator
GE GSH25JSCESS
Refrigerator
GE GSH25JSDBSS
Refrigerator
GE GSH25JSDBSS
Refrigerator
GE GSH25JSDD SS
Refrigerator
GE GSH25JSDDSS
Refrigerator
GE GSH25JSDE SS
Refrigerator
GE GSH25JSDESS
Refrigerator
ge GSH25JSDSS
Refrigerator
GE GSH25JSRFSS
Refrigerator
GE GSH25JSRFSS
Refrigerator
GE GSH25JSRIBB
Refrigerator
GE GSH25JSRISS
Refrigerator
GE GSH25JSRJSS
Refrigerator
GE GSH25JSTASS
Refrigerator
GE GSH25JSTBSS
Refrigerator
GE GSH25JSTCSS
Refrigerator
GE GSH25JSTDSS
Refrigerator
GE GSH25JSTESS
Refrigerator
GE GSH25JSTFSS
Refrigerator
GE GSH25JSXASS
Refrigerator
GE GSH25JSXB
Refrigerator
GE GSH25JSXBSS
Refrigerator
GE GSH25JSXJSS
Refrigerator
GE GSH25JSXLSS
Refrigerator
GE GSH25JSXNSS
Refrigerator
GE GSH25KGMAAA
Refrigerator
GE GSH25KGMAAA
Refrigerator
GE GSH25KGMABB
Refrigerator
GE GSH25KGMABB
Refrigerator
GE GSH25KGMACC
Refrigerator
GE GSH25KGMACC
Refrigerator
GE GSH25KGMAWW
Refrigerator
GE GSH25KGMAWW
Refrigerator
GE GSH25KGMBAA
Refrigerator
GE GSH25KGMBAA
Refrigerator
GE GSH25KGMBBB
Refrigerator
GE GSH25KGMBBB
Refrigerator
GE GSH25KGMBCC
Refrigerator
GE GSH25KGMBCC
Refrigerator
GE GSH25KGMBWW
Refrigerator
GE GSH25KGMBWW
Refrigerator
GE GSH25KGMCAA
Refrigerator
GE GSH25KGMCAA
Refrigerator
GE GSH25KGMCBB
Refrigerator
GE GSH25KGMCBB
Refrigerator
GE GSH25KGMCCC
Refrigerator
GE GSH25KGMCCC
Refrigerator
GE GSH25KGMCWW
Refrigerator
GE GSH25KGMCWW
Refrigerator
GE GSH25KGMDBB
Refrigerator
GE GSH25KGMDBB
Refrigerator
GE GSH25KGMDCC
Refrigerator
GE GSH25KGMDCC
Refrigerator
GE GSH25KGMDWW
Refrigerator
GE GSH25KGMDWW
Refrigerator
GE GSH25KGPABB
Refrigerator
GE GSH25KGPABB
Refrigerator
GE GSH25KGPACC
Refrigerator
GE GSH25KGPACC
Refrigerator
GE GSH25KGPAWW
Refrigerator
GE GSH25KGPAWW
Refrigerator
GE GSH25KGPCBB
Refrigerator
GE GSH25KGPCBB
Refrigerator
GE GSH25KGPCCC
Refrigerator
GE GSH25KGPCCC
Refrigerator
GE GSH25KGPCWW
Refrigerator
GE GSH25KGPCWW
Refrigerator
GE GSH25KGPDBB
Refrigerator
GE GSH25KGPDBB
Refrigerator
GE GSH25KGPDCC
Refrigerator
GE GSH25KGPDCC
Refrigerator
GE GSH25KGPDWW
Refrigerator
GE GSH25KGPDWW
Refrigerator
GE GSH25KGRBBB
Refrigerator
GE GSH25KGRBBB
Refrigerator
GE GSH25KGRBCC
Refrigerator
GE GSH25KGRBCC
Refrigerator
GE GSH25KGRBWW
Refrigerator
GE GSH25KGRBWW
Refrigerator
GE GSH25KGREBB
Refrigerator
GE GSH25KGREBB
Refrigerator
GE GSH25KGRECC
Refrigerator
GE GSH25KGRECC
Refrigerator
GE GSH25KGREWW
Refrigerator
GE GSH25KGREWW
Refrigerator
GE GSH25SGPASS
Refrigerator
GE GSH25SGPASS
Refrigerator
GE GSH25SGPCSS
Refrigerator
GE GSH25SGPCSS
Refrigerator
GE GSH25SGPDSS
Refrigerator
GE GSH25SGPDSS
Refrigerator
GE GSH25SGRBSS
Refrigerator
GE GSH25SGRBSS
Refrigerator
GE GSH25SGRESS
Refrigerator
GE GSH25SGRESS
Refrigerator
GE GSH25UFRFBB
Refrigerator
GE GSH25UFRFBB
Refrigerator
GE GSH25UFRFCC
Refrigerator
GE GSH25UFRFCC
Refrigerator
GE GSH25UFRFWW
Refrigerator
GE GSH25UFRFWW
Refrigerator
GE GSH25UFRJBB
Refrigerator
GE GSH25UFRJCC
Refrigerator
GE GSH25UFRJWW
Refrigerator
GE GSH25VGPABB
Refrigerator
GE GSH25VGPABB
Refrigerator
GE GSH25VGPACC
Refrigerator
GE GSH25VGPACC
Refrigerator
GE GSH25VGPAWW
Refrigerator
GE GSH25VGPAWW
Refrigerator
GE GSH25VGPCBB
Refrigerator
GE GSH25VGPCBB
Refrigerator
GE GSH25VGPCCC
Refrigerator
GE GSH25VGPCCC
Refrigerator
GE GSH25VGPCWW
Refrigerator
GE GSH25VGPCWW
Refrigerator
GE GSH25VGPDBB
Refrigerator
GE GSH25VGPDBB
Refrigerator
GE GSH25VGPDCC
Refrigerator
GE GSH25VGPDCC
Refrigerator
GE GSH25VGPDWW
Refrigerator
GE GSH25VGPDWW
Refrigerator
GE GSH25VGRBCC
Refrigerator
GE GSH25VGRBCC
Refrigerator
GE GSH25VGRBWW
Refrigerator
GE GSH25VGRBWW
Refrigerator
GE GSH25VGRECC
Refrigerator
GE GSH25VGRECC
Refrigerator
GE GSH25VGREWW
Refrigerator
GE GSH25VGREWW
Refrigerator
GE GSHF3KGXBCBB
Refrigerator
GE GSHF3KGXBCCC
Refrigerator
GE GSHF3KGXBCWW
Refrigerator
GE GSHF3KGXCCBB
Refrigerator
GE GSHF3KGXCCCC
Refrigerator
GE GSHF3KGXCCWW
Refrigerator
GE GSHF3KGXFCBB
Refrigerator
GE GSHF3KGXFCCC
Refrigerator
GE GSHF3KGXFCWW
Refrigerator
GE GSHF3KGXGCBB
Refrigerator
GE GSHF3KGXGCCC
Refrigerator
GE GSHF3KGXGCWW
Refrigerator
GE GSHF3KGXHCBB
Refrigerator
GE GSHF3KGXHCCC
Refrigerator
GE GSHF3KGXHCWW
Refrigerator
ge GSHF3KGZBB
Refrigerator
GE GSHF3KGZBCBB
Refrigerator
GE GSHF3KGZBCCC
Refrigerator
GE GSHF3KGZBCWW
Refrigerator
ge GSHF3KGZCC
Refrigerator
ge GSHF3KGZWW
Refrigerator
GE GSHF5KGXBCBB
Refrigerator
GE GSHF5KGXBCCC
Refrigerator
GE GSHF5KGXBCWW
Refrigerator
GE GSHF5KGXCCBB
Refrigerator
GE GSHF5KGXCCCC
Refrigerator
GE GSHF5KGXCCWW
Refrigerator
GE GSHF5KGXDCBB
Refrigerator
GE GSHF5KGXDCWW
Refrigerator
GE GSHF5KGXECBB
Refrigerator
GE GSHF5KGXECCC
Refrigerator
GE GSHF5KGXECWW
Refrigerator
GE GSHF5KGXFCBB
Refrigerator
GE GSHF5KGXFCCC
Refrigerator
GE GSHF5KGXFCWW
Refrigerator
GE GSHF5KGXGCBB
Refrigerator
GE GSHF5KGXGCCC
Refrigerator
GE GSHF5KGXGCWW
Refrigerator
ge GSHF6HGDBB
Refrigerator
GE GSHF6HGDBCBB
Refrigerator
GE GSHF6HGDBCCC
Refrigerator
GE GSHF6HGDBCWW
Refrigerator
ge GSHF6HGDCC
Refrigerator
GE GSHF6HGDCCBB
Refrigerator
GE GSHF6HGDCCCC
Refrigerator
GE GSHF6HGDCCWW
Refrigerator
ge GSHF6HGDWW
Refrigerator
GE GSHF6KGZBCBB
Refrigerator
GE GSHF6KGZBCCC
Refrigerator
GE GSHF6KGZBCWW
Refrigerator
ge GSHF6LGBBB
Refrigerator
GE GSHF6LGBBHBB
Refrigerator
GE GSHF6LGBBHWW
Refrigerator
GE GSHF6LGBCHBB
Refrigerator
GE GSHF6LGBCHWW
Refrigerator
ge GSHF6LGBWW
Refrigerator
GE GSHF6LGZBCBB
Refrigerator
GE GSHF6LGZBCWW
Refrigerator
ge GSHF6NGBBB
Refrigerator
GE GSHF6NGBBHBB
Refrigerator
GE GSHF6NGBBHWW
Refrigerator
GE GSHF6NGBCHBB
Refrigerator
GE GSHF6NGBCHWW
Refrigerator
ge GSHF6NGBWW
Refrigerator
GE GSHF9NGYACBB
Refrigerator
GE GSHF9NGYACWW
Refrigerator
GE GSHL5KGXBCLS
Refrigerator
GE GSHL5KGXCCLS
Refrigerator
GE GSHL5KGXDCLS
Refrigerator
GE GSHL5KGXECLS
Refrigerator
GE GSHL5KGXGCLS
Refrigerator
GE GSHL6KGZBCLS
Refrigerator
GE GSHL6KGZCCLS
Refrigerator
GE GSHL6KGZDCLS
Refrigerator
GE GSHS3KGXBCSS
Refrigerator
GE GSHS3KGXCCSS
Refrigerator
GE GSHS3KGXGCSS
Refrigerator
GE GSHS3KGXHCSS
Refrigerator
GE GSHS3KGZBCSS
Refrigerator
ge GSHS3KGZSS
Refrigerator
GE GSHS5KGXBCSS
Refrigerator
GE GSHS5KGXCCSS
Refrigerator
GE GSHS5KGXDCSS
Refrigerator
GE GSHS5KGXECSS
Refrigerator
GE GSHS5KGXGCSS
Refrigerator
GE GSHS6HGDBCSS
Refrigerator
GE GSHS6HGDCCSS
Refrigerator
GE GSHS6HGDDCSS
Refrigerator
GE GSHS6HGDECSS
Refrigerator
ge GSHS6HGDSS
Refrigerator
GE GSHS6KGZBCSS
Refrigerator
GE GSHS6KGZCCSS
Refrigerator
GE GSHS6LGBBHSS
Refrigerator
ge GSHS6LGBSS
Refrigerator
GE GSHS6LGZBCSS
Refrigerator
GE GSHS6NGBBHSS
Refrigerator
ge GSHS6NGBSS
Refrigerator
GE GSHS9NGYACSS
Refrigerator
GE GSHS9NGYCCSS
Refrigerator
GE GSHS9NGYDCSS
Refrigerator
GE GSL22JFBBLB
Refrigerator
GE GSL22JFPCBS
Refrigerator
GE GSL22JFPCBS
Refrigerator
GE GSL22JFPDBS
Refrigerator
GE GSL22JFPDBS
Refrigerator
GE GSL22JFPHBS
Refrigerator
GE GSL22JFPHBS
Refrigerator
GE GSL22JFPJBS
Refrigerator
GE GSL22JFPJBS
Refrigerator
GE GSL22JFREBS
Refrigerator
GE GSL22JFREBS
Refrigerator
GE GSL22JFRJBS
Refrigerator
GE GSL22JFTABS
Refrigerator
GE GSL22JFTBBS
Refrigerator
GE GSL22JFTCBS
Refrigerator
GE GSL22JFTDBS
Refrigerator
GE GSL22JFTEBS
Refrigerator
GE GSL22JFXALB
Refrigerator
GE GSL22JFXJLB
Refrigerator
GE GSL22JFXKLB
Refrigerator
GE GSL22JFXLLB
Refrigerator
GE GSL22JFXMLB
Refrigerator
GE GSL22JFXNLB
Refrigerator
GE GSL22JFZBLB
Refrigerator
GE GSL22JFZCLB
Refrigerator
GE GSL22JGBBLB
Refrigerator
GE GSL22JGCBLB
Refrigerator
GE GSL22JGCBLS
Refrigerator
GE GSL22JGCCLS
Refrigerator
GE GSL22JGCELS
Refrigerator
GE GSL22JGDD LS
Refrigerator
GE GSL22JGDDLS
Refrigerator
ge GSL22JGDLS
Refrigerator
GE GSL22QGPDBS
Refrigerator
GE GSL22QGPDBS
Refrigerator
GE GSL22QGPHBS
Refrigerator
GE GSL22QGPHBS
Refrigerator
GE GSL22QGPJBS
Refrigerator
GE GSL22QGPJBS
Refrigerator
GE GSL22WGPDBS
Refrigerator
GE GSL22WGPDBS
Refrigerator
GE GSL22WGPEBS
Refrigerator
GE GSL22WGPEBS
Refrigerator
GE GSL22WGPHBS
Refrigerator
GE GSL22WGPHBS
Refrigerator
GE GSL22WGPJBS
Refrigerator
GE GSL22WGPJBS
Refrigerator
GE GSL23WGSABS
Refrigerator
GE GSL23WGSABS
Refrigerator
GE GSL23WGSBBS
Refrigerator
GE GSL23WGSBBS
Refrigerator
GE GSL25IFRFBS
Refrigerator
GE GSL25IFRFBS
Refrigerator
GE GSL25IFRJBS
Refrigerator
GE GSL25IGRBBS
Refrigerator
GE GSL25IGRBBS
Refrigerator
GE GSL25IGREBS
Refrigerator
GE GSL25IGREBS
Refrigerator
GE GSL25IGXBLS
Refrigerator
GE GSL25IGXJLS
Refrigerator
GE GSL25IGXLLS
Refrigerator
GE GSL25IGXNLS
Refrigerator
GE GSL25IGZBLS
Refrigerator
GE GSL25JFPABS
Refrigerator
GE GSL25JFPABS
Refrigerator
GE GSL25JFPBBS
Refrigerator
GE GSL25JFPBBS
Refrigerator
GE GSL25JFPCBS
Refrigerator
GE GSL25JFPCBS
Refrigerator
GE GSL25JFPDBS
Refrigerator
GE GSL25JFPDBS
Refrigerator
GE GSL25JFPEBS
Refrigerator
GE GSL25JFPEBS
Refrigerator
GE GSL25JFPHBS
Refrigerator
GE GSL25JFPHBS
Refrigerator
GE GSL25JFPJBS
Refrigerator
GE GSL25JFPJBS
Refrigerator
GE GSL25JFRFBS
Refrigerator
GE GSL25JFRFBS
Refrigerator
GE GSL25JFRIBS
Refrigerator
GE GSL25JFRJBS
Refrigerator
GE GSL25JFTABS
Refrigerator
GE GSL25JFTBBS
Refrigerator
GE GSL25JFTCBS
Refrigerator
GE GSL25JFTDBS
Refrigerator
GE GSL25JFTEBS
Refrigerator
GE GSL25JFTFBS
Refrigerator
GE GSL25JFXALB
Refrigerator
GE GSL25JFXBLB
Refrigerator
GE GSL25JFXJLB
Refrigerator
GE GSL25JFXLLB
Refrigerator
GE GSL25JFXNLB
Refrigerator
GE GSL25JFXPLB
Refrigerator
GE GSL25JGBBLB
Refrigerator
GE GSL25JGCBLB
Refrigerator
GE GSL25JGCCLS
Refrigerator
GE GSL25JGCELS
Refrigerator
GE GSL25JGDBLS
Refrigerator
GE GSL25JGDBLS
Refrigerator
GE GSL25JGDD LS
Refrigerator
GE GSL25JGDDLS
Refrigerator
GE GSL25JGDE LS
Refrigerator
GE GSL25JGDELS
Refrigerator
ge GSL25JGDLS
Refrigerator
GE GSL25KGRBBS
Refrigerator
GE GSL25KGRBBS
Refrigerator
GE GSL25KGREBS
Refrigerator
GE GSL25KGREBS
Refrigerator
GE GSL25KGSBBS
Refrigerator
GE GSL25KGSBBS
Refrigerator
GE GSL25KGSCBS
Refrigerator
GE GSL25KGSCBS
Refrigerator
GE GSL25LGTBBS
Refrigerator
GE GSL25LGTCBS
Refrigerator
GE GSL25LGTDBS
Refrigerator
GE GSL25LGTEBS
Refrigerator
GE GSL25QGPDBS
Refrigerator
GE GSL25QGPDBS
Refrigerator
GE GSL25QGPHBS
Refrigerator
GE GSL25QGPHBS
Refrigerator
GE GSL25QGPJBS
Refrigerator
GE GSL25QGPJBS
Refrigerator
GE GSL25WGPABS
Refrigerator
GE GSL25WGPABS
Refrigerator
GE GSL25WGPBBS
Refrigerator
GE GSL25WGPBBS
Refrigerator
GE GSL25WGPCBS
Refrigerator
GE GSL25WGPCBS
Refrigerator
GE GSL25WGPDBS
Refrigerator
GE GSL25WGPDBS
Refrigerator
GE GSL25WGPEBS
Refrigerator
GE GSL25WGPEBS
Refrigerator
GE GSL25WGPHBS
Refrigerator
GE GSL25WGPHBS
Refrigerator
GE GSL25WGPJBS
Refrigerator
GE GSL25WGPJBS
Refrigerator
GE GSL25WGSABS
Refrigerator
GE GSL25WGSABS
Refrigerator
GE GSL25WGSBBS
Refrigerator
GE GSL25WGSBBS
Refrigerator
GE GSL25WGSCBS
Refrigerator
GE GSL25WGSCBS
Refrigerator
GE GSL25XGWASS
Refrigerator
GE GSL25XGWCSS
Refrigerator
GE GSP25IGBBSS
Refrigerator
GE GSP25ISBBSS
Refrigerator
GE GSQ25JSBBSS
Refrigerator
GE GSR23WSSASS
Refrigerator
GE GSS20ESHSS
Refrigerator
GE GSS20ETHBB
Refrigerator
GE GSS20ETHCC
Refrigerator
GE GSS20ETHWW
Refrigerator
GE GSS20GEWBB
Refrigerator
GE GSS20GEWCC
Refrigerator
GE GSS20GEWWW
Refrigerator
GE GSS20GSDSS
Refrigerator
GE GSS22IFPACC
Refrigerator
GE GSS22IFPAWW
Refrigerator
GE GSS22IFPCBB
Refrigerator
GE GSS22IFPCBB
Refrigerator
GE GSS22IFPCCC
Refrigerator
GE GSS22IFPCCC
Refrigerator
GE GSS22IFPCWW
Refrigerator
GE GSS22IFPCWW
Refrigerator
GE GSS22IFPDBB
Refrigerator
GE GSS22IFPDBB
Refrigerator
GE GSS22IFPDCC
Refrigerator
GE GSS22IFPDCC
Refrigerator
GE GSS22IFPDWW
Refrigerator
GE GSS22IFPDWW
Refrigerator
GE GSS22IFPHBB
Refrigerator
GE GSS22IFPHBB
Refrigerator
GE GSS22IFPHCC
Refrigerator
GE GSS22IFPHCC
Refrigerator
GE GSS22IFPHWW
Refrigerator
GE GSS22IFPHWW
Refrigerator
GE GSS22IFPJBB
Refrigerator
GE GSS22IFPJBB
Refrigerator
GE GSS22IFPJCC
Refrigerator
GE GSS22IFPJCC
Refrigerator
GE GSS22IFPJWW
Refrigerator
GE GSS22IFPJWW
Refrigerator
GE GSS22IFREBB
Refrigerator
GE GSS22IFREBB
Refrigerator
GE GSS22IFRECC
Refrigerator
GE GSS22IFRECC
Refrigerator
GE GSS22IFREWW
Refrigerator
GE GSS22IFREWW
Refrigerator
GE GSS22IFRFBB
Refrigerator
GE GSS22IFRFBB
Refrigerator
GE GSS22IFRFCC
Refrigerator
GE GSS22IFRFCC
Refrigerator
GE GSS22IFRFWW
Refrigerator
GE GSS22IFRFWW
Refrigerator
GE GSS22IFRJBB
Refrigerator
GE GSS22IFRJCC
Refrigerator
GE GSS22IFRJWW
Refrigerator
GE GSS22JFMACC
Refrigerator
GE GSS22JFMACC
Refrigerator
GE GSS22JFMAWW
Refrigerator
GE GSS22JFMAWW
Refrigerator
GE GSS22JFMBCC
Refrigerator
GE GSS22JFMBCC
Refrigerator
GE GSS22JFMBWW
Refrigerator
GE GSS22JFMBWW
Refrigerator
GE GSS22JFMCCC
Refrigerator
GE GSS22JFMCCC
Refrigerator
GE GSS22JFMCWW
Refrigerator
GE GSS22JFMCWW
Refrigerator
GE GSS22JFMDCC
Refrigerator
GE GSS22JFMDCC
Refrigerator
GE GSS22JFMDWW
Refrigerator
GE GSS22JFMDWW
Refrigerator
GE GSS22JFPACC
Refrigerator
GE GSS22JFPACC
Refrigerator
GE GSS22JFPAWW
Refrigerator
GE GSS22JFPAWW
Refrigerator
GE GSS22JFPCBB
Refrigerator
GE GSS22JFPCBB
Refrigerator
GE GSS22JFPCCC
Refrigerator
GE GSS22JFPCCC
Refrigerator
GE GSS22JFPCWW
Refrigerator
GE GSS22JFPCWW
Refrigerator
GE GSS22JFPDBB
Refrigerator
GE GSS22JFPDBB
Refrigerator
GE GSS22JFPDCC
Refrigerator
GE GSS22JFPDCC
Refrigerator
GE GSS22JFPDWW
Refrigerator
GE GSS22JFPDWW
Refrigerator
GE GSS22JFPHBB
Refrigerator
GE GSS22JFPHBB
Refrigerator
GE GSS22JFPHCC
Refrigerator
GE GSS22JFPHCC
Refrigerator
GE GSS22JFPHWW
Refrigerator
GE GSS22JFPHWW
Refrigerator
GE GSS22JFPJBB
Refrigerator
GE GSS22JFPJBB
Refrigerator
GE GSS22JFPJCC
Refrigerator
GE GSS22JFPJCC
Refrigerator
GE GSS22JFPJWW
Refrigerator
GE GSS22JFPJWW
Refrigerator
GE GSS22JFPKBB
Refrigerator
GE GSS22JFPKBB
Refrigerator
GE GSS22JFPKWW
Refrigerator
GE GSS22JFPKWW
Refrigerator
GE GSS22KGMAAA
Refrigerator
GE GSS22KGMAAA
Refrigerator
GE GSS22KGMABB
Refrigerator
GE GSS22KGMABB
Refrigerator
GE GSS22KGMACC
Refrigerator
GE GSS22KGMACC
Refrigerator
GE GSS22KGMAWW
Refrigerator
GE GSS22KGMAWW
Refrigerator
GE GSS22KGMBAA
Refrigerator
GE GSS22KGMBAA
Refrigerator
GE GSS22KGMBBB
Refrigerator
GE GSS22KGMBBB
Refrigerator
GE GSS22KGMBCC
Refrigerator
GE GSS22KGMBCC
Refrigerator
GE GSS22KGMBWW
Refrigerator
GE GSS22KGMBWW
Refrigerator
GE GSS22KGMCAA
Refrigerator
GE GSS22KGMCAA
Refrigerator
GE GSS22KGMCBB
Refrigerator
GE GSS22KGMCBB
Refrigerator
GE GSS22KGMCCC
Refrigerator
GE GSS22KGMCCC
Refrigerator
GE GSS22KGMCWW
Refrigerator
GE GSS22KGMCWW
Refrigerator
GE GSS22KGMDBB
Refrigerator
GE GSS22KGMDBB
Refrigerator
GE GSS22KGMDCC
Refrigerator
GE GSS22KGMDCC
Refrigerator
GE GSS22KGMDWW
Refrigerator
GE GSS22KGMDWW
Refrigerator
GE GSS22KGPABB
Refrigerator
GE GSS22KGPABB
Refrigerator
GE GSS22KGPACC
Refrigerator
GE GSS22KGPACC
Refrigerator
GE GSS22KGPAWW
Refrigerator
GE GSS22KGPAWW
Refrigerator
GE GSS22KGPCBB
Refrigerator
GE GSS22KGPCBB
Refrigerator
GE GSS22KGPCCC
Refrigerator
GE GSS22KGPCCC
Refrigerator
GE GSS22KGPCWW
Refrigerator
GE GSS22KGPCWW
Refrigerator
GE GSS22KGPDBB
Refrigerator
GE GSS22KGPDBB
Refrigerator
GE GSS22KGPDCC
Refrigerator
GE GSS22KGPDCC
Refrigerator
GE GSS22KGPDWW
Refrigerator
GE GSS22KGPDWW
Refrigerator
GE GSS22KGPHBB
Refrigerator
GE GSS22KGPHBB
Refrigerator
GE GSS22KGPHCC
Refrigerator
GE GSS22KGPHCC
Refrigerator
GE GSS22KGPHWW
Refrigerator
GE GSS22KGPHWW
Refrigerator
GE GSS22KGPJBB
Refrigerator
GE GSS22KGPJBB
Refrigerator
GE GSS22KGPJCC
Refrigerator
GE GSS22KGPJCC
Refrigerator
GE GSS22KGPJWW
Refrigerator
GE GSS22KGPJWW
Refrigerator
GE GSS22QFMABB
Refrigerator
GE GSS22QFMABB
Refrigerator
GE GSS22QFMACC
Refrigerator
GE GSS22QFMACC
Refrigerator
GE GSS22QFMAWW
Refrigerator
GE GSS22QFMAWW
Refrigerator
GE GSS22QFMBBB
Refrigerator
GE GSS22QFMBBB
Refrigerator
GE GSS22QFMBCC
Refrigerator
GE GSS22QFMBCC
Refrigerator
GE GSS22QFMBWW
Refrigerator
GE GSS22QFMBWW
Refrigerator
GE GSS22QFMCBB
Refrigerator
GE GSS22QFMCBB
Refrigerator
GE GSS22QFMCCC
Refrigerator
GE GSS22QFMCCC
Refrigerator
GE GSS22QFMCWW
Refrigerator
GE GSS22QFMCWW
Refrigerator
GE GSS22QFMDBB
Refrigerator
GE GSS22QFMDBB
Refrigerator
GE GSS22QFMDCC
Refrigerator
GE GSS22QFMDCC
Refrigerator
GE GSS22QFMDWW
Refrigerator
GE GSS22QFMDWW
Refrigerator
GE GSS22QGMCBB
Refrigerator
GE GSS22QGMCBB
Refrigerator
GE GSS22QGMCCC
Refrigerator
GE GSS22QGMCCC
Refrigerator
GE GSS22QGMCWW
Refrigerator
GE GSS22QGMCWW
Refrigerator
GE GSS22QGMDBB
Refrigerator
GE GSS22QGMDBB
Refrigerator
GE GSS22QGMDCC
Refrigerator
GE GSS22QGMDCC
Refrigerator
GE GSS22QGMDWW
Refrigerator
GE GSS22QGMDWW
Refrigerator
GE GSS22QGPABB
Refrigerator
GE GSS22QGPABB
Refrigerator
GE GSS22QGPACC
Refrigerator
GE GSS22QGPACC
Refrigerator
GE GSS22QGPAWW
Refrigerator
GE GSS22QGPAWW
Refrigerator
GE GSS22QGPBBB
Refrigerator
GE GSS22QGPBBB
Refrigerator
GE GSS22QGPBCC
Refrigerator
GE GSS22QGPBCC
Refrigerator
GE GSS22QGPBWW
Refrigerator
GE GSS22QGPBWW
Refrigerator
GE GSS22QGPCBB
Refrigerator
GE GSS22QGPCBB
Refrigerator
GE GSS22QGPCCC
Refrigerator
GE GSS22QGPCCC
Refrigerator
GE GSS22QGPCWW
Refrigerator
GE GSS22QGPCWW
Refrigerator
GE GSS22QGPDBB
Refrigerator
GE GSS22QGPDBB
Refrigerator
GE GSS22QGPDCC
Refrigerator
GE GSS22QGPDCC
Refrigerator
GE GSS22QGPDWW
Refrigerator
GE GSS22QGPDWW
Refrigerator
GE GSS22QGPEBB
Refrigerator
GE GSS22QGPEBB
Refrigerator
GE GSS22QGPECC
Refrigerator
GE GSS22QGPECC
Refrigerator
GE GSS22QGPEWW
Refrigerator
GE GSS22QGPEWW
Refrigerator
GE GSS22QGPHBB
Refrigerator
GE GSS22QGPHBB
Refrigerator
GE GSS22QGPHCC
Refrigerator
GE GSS22QGPHCC
Refrigerator
GE GSS22QGPHWW
Refrigerator
GE GSS22QGPHWW
Refrigerator
GE GSS22QGPJBB
Refrigerator
GE GSS22QGPJBB
Refrigerator
GE GSS22QGPJCC
Refrigerator
GE GSS22QGPJCC
Refrigerator
GE GSS22QGPJWW
Refrigerator
GE GSS22QGPJWW
Refrigerator
GE GSS22SGMABS
Refrigerator
GE GSS22SGMABS
Refrigerator
GE GSS22SGMBBS
Refrigerator
GE GSS22SGMBBS
Refrigerator
GE GSS22SGMCBS
Refrigerator
GE GSS22SGMCBS
Refrigerator
GE GSS22SGMDBS
Refrigerator
GE GSS22SGMDBS
Refrigerator
GE GSS22SGMFBS
Refrigerator
GE GSS22SGMFBS
Refrigerator
GE GSS22SGPABS
Refrigerator
GE GSS22SGPABS
Refrigerator
GE GSS22SGPASS
Refrigerator
GE GSS22SGPASS
Refrigerator
GE GSS22SGPCBS
Refrigerator
GE GSS22SGPCBS
Refrigerator
GE GSS22SGPCSS
Refrigerator
GE GSS22SGPCSS
Refrigerator
GE GSS22SGPDBS
Refrigerator
GE GSS22SGPDBS
Refrigerator
GE GSS22SGPDSS
Refrigerator
GE GSS22SGPDSS
Refrigerator
GE GSS22SGPHBS
Refrigerator
GE GSS22SGPHBS
Refrigerator
GE GSS22SGRBSS
Refrigerator
GE GSS22SGRBSS
Refrigerator
GE GSS22SGRESS
Refrigerator
GE GSS22SGRESS
Refrigerator
GE GSS22SGRFSS
Refrigerator
GE GSS22SGRFSS
Refrigerator
GE GSS22UFMABB
Refrigerator
GE GSS22UFMABB
Refrigerator
GE GSS22UFMACC
Refrigerator
GE GSS22UFMACC
Refrigerator
GE GSS22UFMAWW
Refrigerator
GE GSS22UFMAWW
Refrigerator
GE GSS22UFMBBB
Refrigerator
GE GSS22UFMBBB
Refrigerator
GE GSS22UFMBCC
Refrigerator
GE GSS22UFMBCC
Refrigerator
GE GSS22UFMBWW
Refrigerator
GE GSS22UFMBWW
Refrigerator
GE GSS22UFMCBB
Refrigerator
GE GSS22UFMCBB
Refrigerator
GE GSS22UFMCCC
Refrigerator
GE GSS22UFMCCC
Refrigerator
GE GSS22UFMCWW
Refrigerator
GE GSS22UFMCWW
Refrigerator
GE GSS22UFMDBB
Refrigerator
GE GSS22UFMDBB
Refrigerator
GE GSS22UFMDCC
Refrigerator
GE GSS22UFMDCC
Refrigerator
GE GSS22UFMDWW
Refrigerator
GE GSS22UFMDWW
Refrigerator
GE GSS22UFPABB
Refrigerator
GE GSS22UFPABB
Refrigerator
GE GSS22UFPACC
Refrigerator
GE GSS22UFPACC
Refrigerator
GE GSS22UFPAWW
Refrigerator
GE GSS22UFPAWW
Refrigerator
GE GSS22UFPCBB
Refrigerator
GE GSS22UFPCBB
Refrigerator
GE GSS22UFPCCC
Refrigerator
GE GSS22UFPCCC
Refrigerator
GE GSS22UFPCWW
Refrigerator
GE GSS22UFPCWW
Refrigerator
GE GSS22UFPDBB
Refrigerator
GE GSS22UFPDBB
Refrigerator
GE GSS22UFPDCC
Refrigerator
GE GSS22UFPDCC
Refrigerator
GE GSS22UFPDWW
Refrigerator
GE GSS22UFPDWW
Refrigerator
GE GSS22UFPHBB
Refrigerator
GE GSS22UFPHBB
Refrigerator
GE GSS22UFPHCC
Refrigerator
GE GSS22UFPHCC
Refrigerator
GE GSS22UFPHWW
Refrigerator
GE GSS22UFPHWW
Refrigerator
GE GSS22UFPJBB
Refrigerator
GE GSS22UFPJBB
Refrigerator
GE GSS22UFPJCC
Refrigerator
GE GSS22UFPJCC
Refrigerator
GE GSS22UFPJWW
Refrigerator
GE GSS22UFPJWW
Refrigerator
GE GSS22VFPACC
Refrigerator
GE GSS22VFPACC
Refrigerator
GE GSS22VFPAWW
Refrigerator
GE GSS22VFPAWW
Refrigerator
GE GSS22VFPCCC
Refrigerator
GE GSS22VFPCCC
Refrigerator
GE GSS22VFPCWW
Refrigerator
GE GSS22VFPCWW
Refrigerator
GE GSS22VFPDCC
Refrigerator
GE GSS22VFPDCC
Refrigerator
GE GSS22VFPDWW
Refrigerator
GE GSS22VFPDWW
Refrigerator
GE GSS22VFPHCC
Refrigerator
GE GSS22VFPHCC
Refrigerator
GE GSS22VFPHWW
Refrigerator
GE GSS22VFPHWW
Refrigerator
GE GSS22VFPJCC
Refrigerator
GE GSS22VFPJCC
Refrigerator
GE GSS22VFPJWW
Refrigerator
GE GSS22VFPJWW
Refrigerator
GE GSS22VGMABB
Refrigerator
GE GSS22VGMABB
Refrigerator
GE GSS22VGMACC
Refrigerator
GE GSS22VGMACC
Refrigerator
GE GSS22VGMAWW
Refrigerator
GE GSS22VGMAWW
Refrigerator
GE GSS22VGMBCC
Refrigerator