ClearChoice Replacement for GE MWF Filter, 3-Pack
ClearChoice CLCH102 | Our#: 180549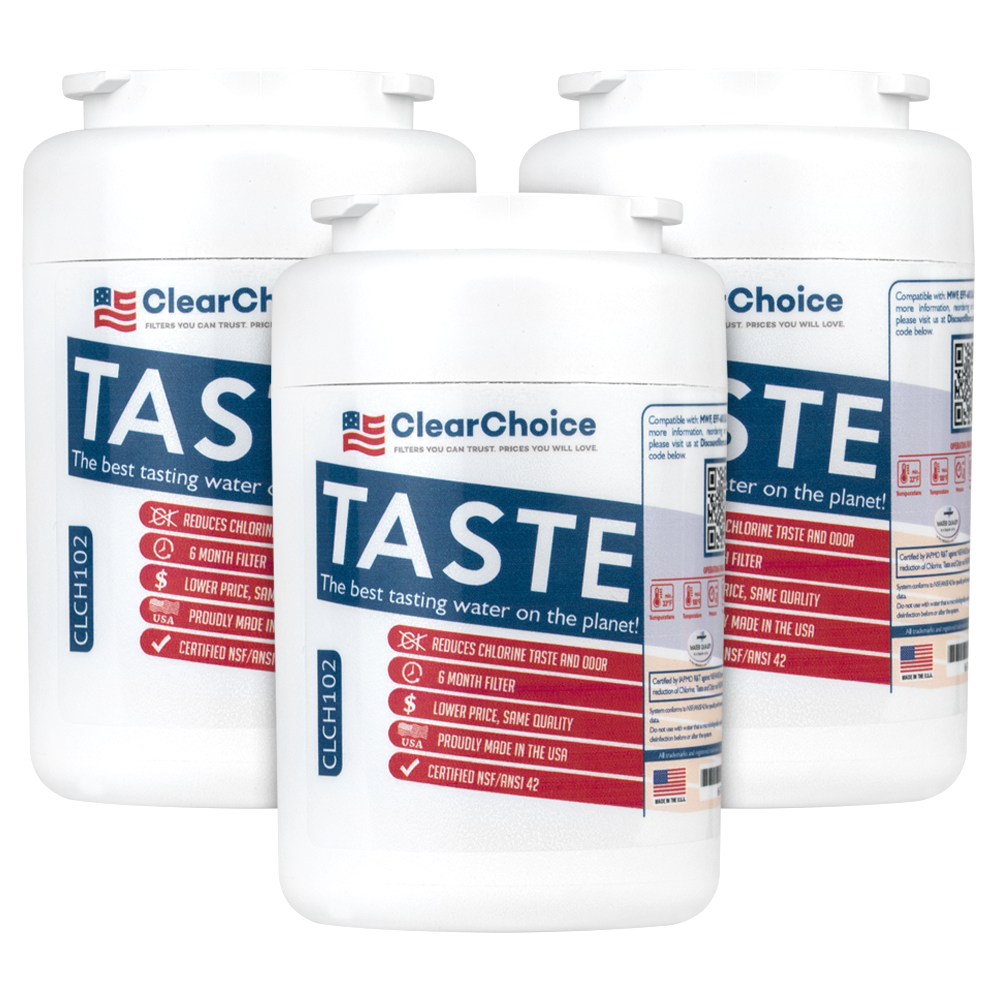 Description
---
ClearChoice CLCH102 - Replacement for GE MWF Filter 3-Pack
Save up to 75% on the aftermarket MWF ClearChoice CLCH102 is used in refrigerators by GE, Amana, Hotpoint, Kenmore, and others. It replaces popular fridge filter models like the 9991, GWF, WF287 filter and more. The CLCH102 filter is specifically designed to replace the GE MWF refrigerator water filter. Unfiltered tap water can bring a number of potential health hazards to yourself and your home. The CLCH102 filter reduces substances present in your tap water while creating better tasting water for drinking and making beverages as well as clean, clearer, healthy ice. This replacement for your GE MWF filter acts as a high quality, cost-effective alternative to the factory original.
Features

High quality, cost effective alternative to factory original
Easy installation and operation
100% money back guarantee
Free shipping on all orders
Made in the USA
Free, no hassle returns
Helps reduce chlorine taste and odor
Helps reduce contaminants found in tap water and improve water quality
---
The ClearChoice CLCH102 is compatible with the following obsolete or alternate filter part numbers:
RFC0600A
101057-A
101057A
101300-0110
101300-A
101300A
197D6321P001
46-9991
46-9996
469991
469996
9991
9996
AB-1501
AL-1180
AP3859302
AP3967843
AQF-MWF
BF-G01
CMWF
DWF-6
EBL7771
EFF-6013A
EG-1
FMG-1
GERF-100
GWF
GWF01
GWF06
GWFA
GWFDS
HWF
HWFA
MPF15020
MWF
MWF3PK
MWFA
MWFAP
MWFDS
MWFINT
MWFP
OPFG-RF300
PC40677
PC61278A
PG-MWF
PH21100
PHGMWF01
PL-100
PS981638
PS983115
PT11577906
R-MWF
RF-G1
RFC-600A
RFC0600A
RFC2500A
RPF-MWF
RWF1060
SGF-G1
SGF-G9
TPD35026
WD-MWF
WF287
WFC1201
WFI-1
WLF-GE01
WR02X11020
WR02X11287
WR02X11290
WR17S12
WR2M3552
WSG-1
---
How To Install The ClearChoice CLCH102 Filter:
The water filter cartridge is located in the back upper right corner of the refrigerator compartment. The filter cartridge should be replaced when the replacement indicator light turns red or if the flow of water to the dispenser or icemaker decreases. For refrigerators without an indicator light - replace the filters every 6 months.
Remove old filter cartridge by grasping and turning to the left about 1/2 turn
Fill the replacement filter with water from the tap to allow for better flow immediately after installation
Place the top of the new cartridge up inside the cartridge holder
Slowly turn the filter until the filter cartridge stops. Do not over tighten. As you turn the cartridge it will automatically raise itself into position. The cartridge will move about 1/2 turn
Run water from the dispenser for 3 minutes (about 1-1/2 gallons) to clear the system and prevent sputtering
Press and hold reset water filter button if your fridge has one
Reviews
---
ClearChoice Replacement for GE MWF Filter, 3-Pack
Kenneth J. 8 days ago
Order on time excellent product great company would recommend to anyone
Vivian L. W. 15 days ago
Filter is as good as expensive GE brand, & can't beat price..get the 3 for almost price of 1 in store. Am more likely to change every 6 months..when original filter said change one time a yr. Not paying over $100 for two filters. Taste is good..no problem replacing ,& installing.
June . 15 days ago
Good product. Will order again.
D M. 21 days ago
Great price. Fits well. No leaks. Fast shipping
John K. 24 days ago
Quality product. Fits my refrigerator well.
Larry A. B. S. 1 month ago
Great filters as good as the originals
MJC 1 month ago
These things work great and the price is very agreeable.
David H. 1 month ago
100% satiffied great prices excellnt products an super fast shipping. Dave Howerdel
Brian K. 2 months ago
Outstanding filters at a fraction of the cost. These filters work perfectly with my GE fridge. One thing to keep in mind (and they note this in the installation instructions), be sure to fill the replacement filter with water BEFORE installing it. This will help minimize the recommended time it takes to prime the filter. Overall, I couldn't be happier.
Steven R. 3 months ago
good product, same as original. good price, fast shipping. Love it.
Satiisfied C. 3 months ago
Good price and service would recomend
Jay H. 3 months ago
I have used ClearChoice Replacement for GE MWF Filters for a period of time and have found that they do the job equal to or better than the GE MWF filter that I was using before and there is no comparison in the price of the filters.
Carol S. 3 months ago
Not in use yet but they seem to be just like the GE ones and a heck of a lot less expensive.
Lovie/Barry B. 3 months ago
Very satisfied with the product..Excellent prices.
Beverly P. 3 months ago
They are great! I've purchased them before.
Caldonia 4 months ago
Excellent product for the money.
MargeL 4 months ago
reorder great price and free ship
Harlene S. . 5 months ago
Great Price, great value, great product, highly recommend.
Larry D. 5 months ago
These filters are not working when I hit the water dispenser I get good pressure for a second or two then it only dribbles takes long time to fill my plastic water bottle The old filter worked very well but new one is horrible
Donna P. 6 months ago
Good price and quick service
Christopher F. 6 months ago
Filter seems to be working as it should be for the last 2 weeks.
Anthony S. 7 months ago
I have nothing but great results with these water filters
Patty D. 7 months ago
Love Discount Filters!! We have ordered our fridge filters for the past few years now. They are as good as the expensive brand filters we had been purchasing at Lowe's! Highly pleased! We are going to buy our ac filters from Discount Filters, too! Thank you for your great products!
Theresa 7 months ago
Purchased these filters for my refrigerator. Good price and am pleased with my purchase, They work well.
Neil T. 7 months ago
I like that the water filter is cheaper... I can't vouch for its quality or effectiveness since I have no equipment to test it.
Max P. 8 months ago
Filters arrived quickly, priced very well, and seem to work exactly like they're supposed to. Will order again
Sean A. P. 8 months ago
I recommend for great savings
Michael R. 8 months ago
Filters work great Good Deal
Carolyn H. 9 months ago
Great product and Great price
David H. 10 months ago
This is my secound order great price. and greeat filters. Will order from you again
Timothy H. 10 months ago
filter fit perfect took no time to install. Price was right.
Kathy B. 10 months ago
I am giving the product 4 stars at this time because it has only been 3 weeks since my purchase. The filter was easy to install, fits well and seems to provide the same good tasting, filtered water as the GE or Home Depot brands. I have no complaints. If the filter lasts as long as the brand name filters I used previously (almost 6 months) I will raise my rating to 5 stars.
Rakesh M. S. 10 months ago
I started using it now and so far it's working fine.
Cris J. . 10 months ago
Just as good as the big name brands at a lot better price.
Joaquin T. 10 months ago
very good price if I buy local cost much more I also buy for my sister and she save money I don't have any problem I also get the ac filter with them J.T.
Code 11 months ago
Working great! Easy to replace.
Steve J. 2 days ago
Perfect fit, easy installation. Very satisfied!
Mathman1976 14 days ago
Very fairly priced and served my needs nicely
George N. 23 days ago
This is the Greatest Quality Deal you can find anywhere, I have been looking for many years and paying the same price of 3 for just 1 at the Home Depot and Lowe's and have had problems with some. This Company is as good as it gets in quality, price , customer service and they stand behind their products, guaranteed.
Pamela D. 25 days ago
These work just fine and are a whole lot cheaper than the recommended filters from GE.
Mike 1 month ago
great product at an ever greater price.
Margil G. 1 month ago
Good clean tasting water.
Curt W. 1 month ago
Works perfectly. Like buying 2 get 1 free !
Katy L. C. . 1 month ago
Best price I could find anywhere. Fast shipment and easy transaction! I will definitely be using them again!
David L. 2 months ago
Love the price and convenience
Colleen H. 2 months ago
Awesome, great price, great product!!!!!
Alan H. 3 months ago
Terrible aftertaste in water and ice cubes.
Kathy A. M. 3 months ago
Purchased the replacement water filters for the GE MWF. This is my second order - got the 3 pack. So far they work as well as the original GE brand and the Clear Choice was less expensive!!
Thomas P. D. 3 months ago
A great savings and just as good as the GE filters. Thank you.
Ken U. 3 months ago
Good product, easy to use and install. Instructions are on the filters and simple, straightforward. Arrived in less than a week and clean water the next day. Great price.
Mark M. 3 months ago
Using one of three filters now, took over a week to get them but that was OK.
Charles A. H. 3 months ago
Great price, great service. Thank you! Will definitely order again!
Delmar V. 3 months ago
Great price and they work great. So glad I found this web site
Cherie S. 3 months ago
When I bought this house I put off buying water filter for the fridge. When my icemaker stopped working I decided it could be the water filter so I went online and found Discount Filters. I could buy 3 of their generic filters for the price of one GE. I received right away and installed it promptly and voila!! Ice. Great company. Great Service. Wonderful experience. I will be using them again.
Rene S. T. 3 months ago
Filters work great! Fit perfectly as a replacement for the MWF filter from GE. Better flow-through and MUCH cheaper!!
Kimberly B. 3 months ago
Boy am I glad my husband looked into replacement filters for our refrigerator on discountfilters.com!! We got 3 filters for a little more than the price of just one at the big box store and I didn't have to fight the crowd to go get it. Thank you - we will be back for all out filter needs.
Lisa B. 4 months ago
Great customer service, fast shipping. We now purchase ALL of our household filters from Discount Filters, high quality products and their prices beat any retail store.
Richard G. 4 months ago
Have yet to use as waiting for current filter to expire.
Rocco C. . 4 months ago
Shipping was inexpensive they came when they said they would they fit perfectly and work great I have no complaints
Betty S. 4 months ago
I'm still waiting on the return label. This is the wrong product. I can't get nobody on the phone (live). What type of customer service is this? I want my money back and you'll receive the product back. I don't like the way they do business. Send me the label so I can return the product asap. Betty Sykes
Lewis R. H. 4 months ago
Product quality looks as good as the factory original and performs well. Delivery was prompt also. We will be reordering from DF when the time comes.
R D. T. 4 months ago
The filters fit, and apparently do the job, I have not yet had the water tested. However, the original filters were good for one year, and the replacements are good for 6 months - so figure twice the price when you are comparing.
Paul S. . 4 months ago
Filter indicator light on fridge doesn't show green as it did with the original WMF filter. It's just blank. Also, water dispenser now drips.
John M. 4 months ago
Great product, reasonably priced! Fast shipping as well. Will definitely reorder.
Joseph P. 4 months ago
Great product, great price.
Karen T. 4 months ago
The filters I ordered were exactly what I expected and they arrived in a timely matter.
Jerome L. 4 months ago
I reordered these filters for one of my Sons after hearing what at he paid for one filter at a big box store. We both have the same model refrigerator. I'm well pleased with these filters and the price.
Janet G. 4 months ago
Very satisfied and what a huge savings on the fridge filters! Prompt delivery. Highly recommend this company and product.
Jacqui L. 4 months ago
These fit our fridge perfectly. The ice was starting to taste funny. Now it tastes wonderful. Received the filters quickly. Great Value.
Michelle K. 4 months ago
My water and ice from my refrigerator tastes so much better! Thanks
Lindy W. 4 months ago
Good clear water and ice!
Saundra P. 4 months ago
I have not had to replace the filters as yet.
Vincent S. 4 months ago
I received the product promptly with no problems.
Michael S. 4 months ago
Service was great, filters are working as promised.
58 people in your area have bought this product in the last day!
FREE to join and you can easily cancel online at anytime
With auto delivery, you will always have a new filter on time (no need to remember to log on to place an order).
You control order frequency, delivery schedule, and quantity - all online!
Get email reminders before each delivery
---

Save Your Furnace Tip #1:
Make sure the airflow arrow is pointed in the direction that air flows through your system.