ClearChoice Replacement for GE MWF Filter, 3-Pack
ClearChoice CLCH102 | Our#: 180549
1 Year Purchase Guarantee - Free returns for a year, up to $1000 of purchase protection.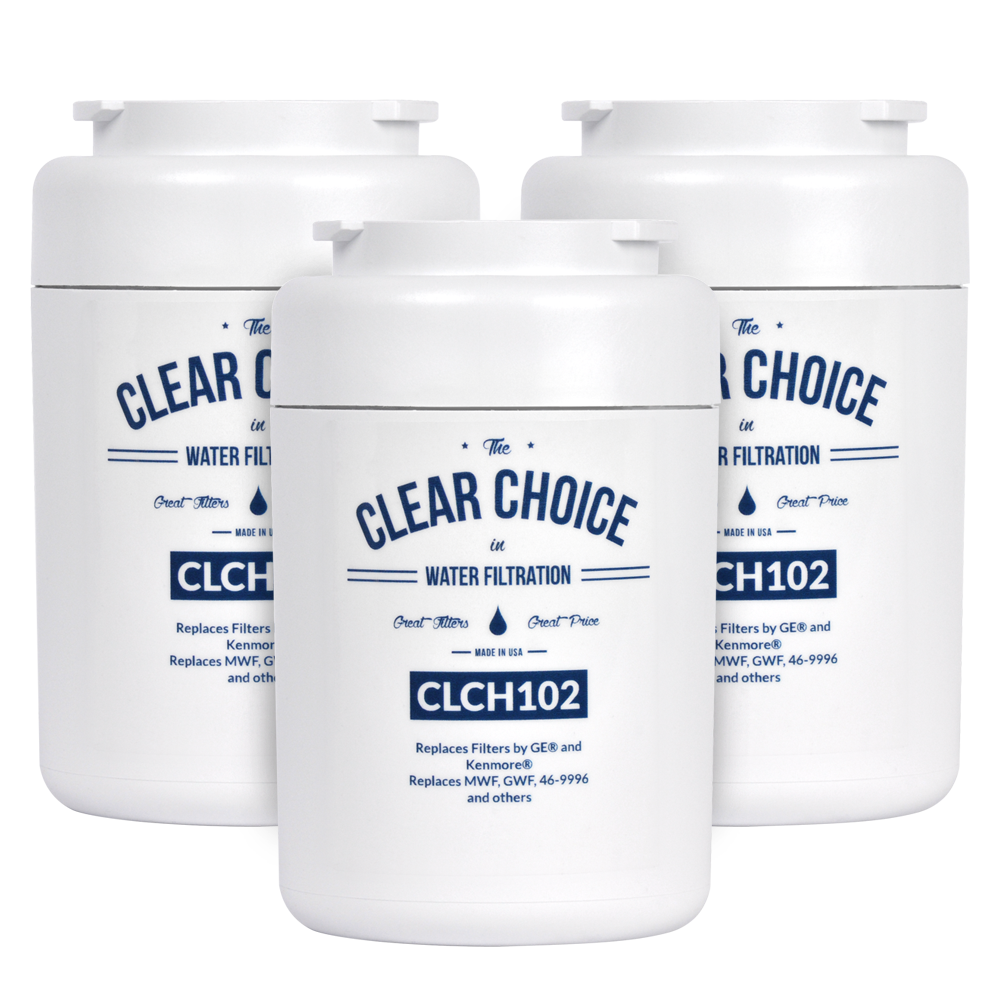 Description
---
ClearChoice CLCH102 - Replacement for GE MWF Filter 3-Pack
The aftermarket MWF ClearChoice CLCH102 is used in refrigerators by GE, Amana, Hotpoint, Kenmore, and others. It replaces popular fridge filter models like the 9991, GWF, WF287 filter and more. The CLCH102 filter is specifically designed to replace the GE MWF refrigerator water filter. Unfiltered tap water can bring a number of potential health hazards to yourself and your home. The CLCH102 filter reduces substances present in your tap water while creating better tasting water for drinking and making beverages as well as clean, clearer, healthy ice. This replacement for your GE MWF filter acts as a high quality, cost-effective alternative to the factory original.
This ClearChoice CLCH102 replacement for your GE MWF filter provides clean, clear water to your household by removing potentially hazardous particles present in your home's water supply. Water from your home's water line running to your refrigerator enters the water filter and the filtration process begins. The MWF filter contains a carbon-filled chamber that filters the water and removes unwanted minerals and substances from your water supply. From there, clean, clear, and safe water is made available to you with ease. The use of the CLCH102 filter by ClearChoice can help reduce the chlorine taste and odor present in tap water, as well as reducing contaminants and improving water quality.
Keep your replacement for the GE MWF refrigerator water filter running efficiently by changing the CLCH102 routinely. Over extended periods of time, the carbon in the water filter that filters and cleans the water supply becomes less effective at removing unwanted contaminants. A filter running at less than maximum capacity can cause a number of problems including increased health risks and energy costs. Improve the taste and clarity of your water by making routine filter changes every six months to ensure that your household has clean, healthy water available at all times. See all of our compatible part numbers below.
Features
High quality, cost effective alternative to factory original
Easy installation and operation
100% money back guarantee
Free shipping on all orders
Made in the USA
Free, no hassle returns
Helps reduce chlorine taste and odor
Helps reduce contaminants found in tap water and improve water quality
---
The ClearChoice CLCH102 is compatible with the following obsolete or alternate filter part numbers:
RFC0600A
101057-A
101057A
101300-0110
101300-A
101300A
197D6321P001
46-9991
46-9996
469991
469996
9991
9996
AP3859302
AP3967843
EFF-6013A
EG-1
FMG-1
GERF-100
GWF
GWF01
GWF06
GWFA
GWFDS
HWF
HWFA
MWF
MWF3PK
MWFA
MWFAP
MWFDS
MWFINT
MWFP
OPFG-RF300
PC40677
PC61278A
PS981638
PS983115
PT11577906
RWF1060
SGF-G1
SGF-G9
WF287
WR02X11020
WR02X11287
WR02X11290
WR17S12
WR2M3552
WSG-1
---
How To Install The ClearChoice CLCH102 Filter:
The water filter cartridge is located in the back upper right corner of the refrigerator compartment. The filter cartridge should be replaced when the replacement indicator light turns red or if the flow of water to the dispenser or icemaker decreases. For refrigerators without an indicator light - replace the filters every 6 months.
Remove old filter cartridge by grasping and turning to the left about 1/2 turn
Fill the replacement filter with water from the tap to allow for better flow immediately after installation
Place the top of the new cartridge up inside the cartridge holder
Slowly turn the filter until the filter cartridge stops. Do not over tighten. As you turn the cartridge it will automatically raise itself into position. The cartridge will move about 1/2 turn
Run water from the dispenser for 3 minutes (about 1-1/2 gallons) to clear the system and prevent sputtering
Press and hold reset water filter button if your fridge has one
FREE to join and you can easily cancel online at anytime
With auto delivery, you will always have a new filter on time (no need to remember to log on to place an order).
You control order frequency, delivery schedule, and quantity - all online!
Get email reminders before each delivery
---

Save Your Furnace Tip #1:
Make sure the airflow arrow is pointed in the direction that air flows through your system.