GE MSWF | Our#: 172052
GE SmartWater Refrigerator Water Filter Cartridge (MSWF), 3-Pack

29 review(s)
GE MSWF | Our#: 172052
Fast Shipping & Free Returns
100% Compatibility Guarantee
Compatibility guaranteed! Free return shipping and 100% money back if there are any issues.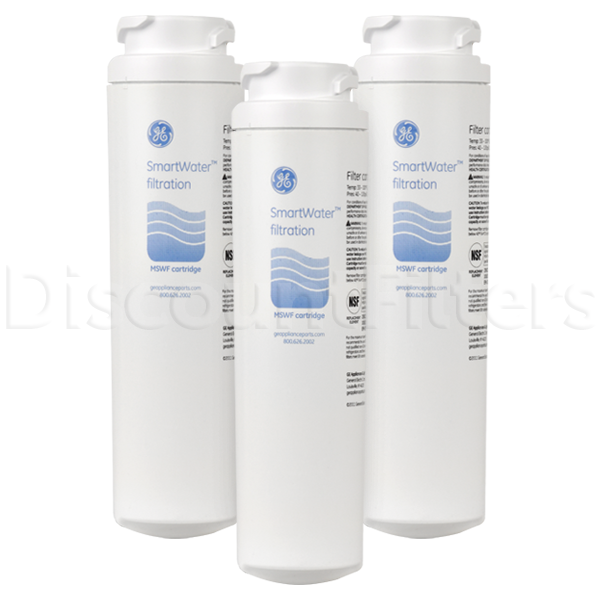 6 people in your area recently purchased this product!
$

54.08
(

3

Filters for $

162.25

)
Fast Shipping & Free Returns
100% Compatibility Guarantee
Frequently Purchased Together
Product Details
The GE MSWF is the factory original replacement water filter. This makes it an OEM, original equipment manufacturer, appliance part. This GE water filter is part of the GE SmartWater line of products. It is made for easy installation in compatible refrigerator models. The replacement GE refrigerator water filter model MSWF is used in fridges by GE, Kenmore, Amana, and more. Scroll down for instructions on how to install the filter. The filter, like other replacement water filters, is a 6 month filter. You may have to replace sooner with higher usage. The filter provides filtration for common contaminants found in your water. This includes chlorine, dirt, and odors. The replacement filter is available in multiple quantities for a better deal. You can sign up for auto-delivery to save you the hassle of reordering. DiscountFilters.com provides the GE SmartWater MSWF with fast shipping and free returns.
---
Popular Part Numbers
---
Installation Instructions
How To Install The MSWF Filter:

Remove old filter cartridge by grasping and slowly rotating to the left (counterclockwise)
Position new cartridge inside the cartridge holder and slowly rotate the cartridge to the right (clockwise) until it stops.  The cartridge will rotate about 1/2 turn.  Do not overtighten
Flush 4.5 gallons through the filter before use.  This will clear the system and prevent sputtering
Press and hold reset water filter button if your fridge has one
Replace the filter every 6 months
---
Compatible Part Numbers
Search by your filter part number or appliance model number to verify compatibility
| Model or Part Number | Type |
| --- | --- |
| GE CSCP5UGXAFSS | Refrigerator |
| GE CSCP5UGXAFSS | Refrigerator |
| GE CSCP5UGXCFSS | Refrigerator |
| GE CSCP5UGXCFSS | Refrigerator |
| GE CSCP5UGXDFSS | Refrigerator |
| GE CSCP5UGXDFSS | Refrigerator |
| ge CSCP5UGXSS | Refrigerator |
| GE CSHS5UGXBSS | Refrigerator |
| GE CSHS5UGXBSS | Refrigerator |
| GE CSHS5UGXCSS | Refrigerator |
| GE CSHS5UGXCSS | Refrigerator |
| GE CSHS6UGZBSS | Refrigerator |
| GE CSHS6UGZBSS | Refrigerator |
| GE CSHS6UGZESS | Refrigerator |
| GE CSHS6UGZESS | Refrigerator |
| GE CSHS6UGZF SS | Refrigerator |
| GE CSHS6UGZFSS | Refrigerator |
| ge CSHS6UGZSS | Refrigerator |
| GE CSS25USWASS | Refrigerator |
| GE CSS25USWASS | Refrigerator |
| GE CSS25USWCSS | Refrigerator |
| GE CSS25USWCSS | Refrigerator |
| GE CZS25TSEBFSS | Refrigerator |
| GE CZS25TSEBFSS | Refrigerator |
| GE CZS25TSESS | Refrigerator |
| GE DSD26DGWABG | Refrigerator |
| GE DSD26DGWABG | Refrigerator |
| GE DSD26DGWCBG | Refrigerator |
| GE DSD26DGWCBG | Refrigerator |
| GE DSD26DHWABG | Refrigerator |
| GE DSD26DHWABG | Refrigerator |
| GE DSD26DHWCBG | Refrigerator |
| GE DSD26DHWCBG | Refrigerator |
| GE DSF25KGWA | Refrigerator |
| GE DSF26DHWABB | Refrigerator |
| GE DSF26DHWABB | Refrigerator |
| GE DSF26DHWAWW | Refrigerator |
| GE DSF26DHWAWW | Refrigerator |
| GE DSF26DHWCBB | Refrigerator |
| GE DSF26DHWCBB | Refrigerator |
| GE DSF26DHWCWW | Refrigerator |
| GE DSF26DHWCWW | Refrigerator |
| GE DSHF5PGXAEBB | Refrigerator |
| GE DSHF5PGXAEBB | Refrigerator |
| GE DSHF5PGXAEWW | Refrigerator |
| GE DSHF5PGXAEWW | Refrigerator |
| GE DSHF5PGXCEBB | Refrigerator |
| GE DSHF5PGXCEBB | Refrigerator |
| GE DSHF5PGXCEWW | Refrigerator |
| GE DSHF5PGXCEWW | Refrigerator |
| GE DSHS5PGXAESS | Refrigerator |
| GE DSHS5PGXAESS | Refrigerator |
| GE DSHS5PGXCESS | Refrigerator |
| GE DSHS5PGXCESS | Refrigerator |
| GE DSL26DHWASS | Refrigerator |
| GE DSL26DHWASS | Refrigerator |
| GE DSL26DHWCSS | Refrigerator |
| GE DSL26DHWCSS | Refrigerator |
| GE DSS25KSWA | Refrigerator |
| GE DSS26DHWASS | Refrigerator |
| GE DSS26DHWASS | Refrigerator |
| GE DSS26DHWCSS | Refrigerator |
| GE DSS26DHWCSS | Refrigerator |
| GE ECF23KGWA | Refrigerator |
| GE ESC23KSWA | Refrigerator |
| GE ESF25KGWA | Refrigerator |
| GE ESHF5MGXBB | Refrigerator |
| GE ESHF5MGXBEBB | Refrigerator |
| GE ESHF5MGXBEBB | Refrigerator |
| GE ESHF5MGXBEWW | Refrigerator |
| GE ESHF5MGXBEWW | Refrigerator |
| GE ESHF5MGXCEBB | Refrigerator |
| GE ESHF5MGXCEBB | Refrigerator |
| GE ESHF5MGXCEWW | Refrigerator |
| GE ESHF5MGXCEWW | Refrigerator |
| GE ESHF5MGXGEBB | Refrigerator |
| GE ESHF5MGXGEWW | Refrigerator |
| GE ESHF5MGXWW | Refrigerator |
| GE ESHF6PGYAEBB | Refrigerator |
| GE ESHF6PGYAEBB | Refrigerator |
| GE ESHF6PGYAEWW | Refrigerator |
| GE ESHF6PGYAEWW | Refrigerator |
| GE ESHF6PGYCEBB | Refrigerator |
| GE ESHF6PGYCEBB | Refrigerator |
| GE ESHF6PGYCEWW | Refrigerator |
| GE ESHF6PGYCEWW | Refrigerator |
| GE ESHS5MGXBESS | Refrigerator |
| GE ESHS5MGXBESS | Refrigerator |
| GE ESHS5MGXCESS | Refrigerator |
| GE ESHS5MGXCESS | Refrigerator |
| GE ESHS5MGXGESS | Refrigerator |
| GE ESHS5MGXSS | Refrigerator |
| GE ESHS6PGYAESS | Refrigerator |
| GE ESHS6PGYAESS | Refrigerator |
| GE ESHS6PGYCESS | Refrigerator |
| GE ESHS6PGYCESS | Refrigerator |
| GE ESS25KSWA | Refrigerator |
| GE GCF23KGWA | Refrigerator |
| GE GCF23KGWABB | Refrigerator |
| GE GCF23KGWABB | Refrigerator |
| GE GCF23KGWAWW | Refrigerator |
| GE GCF23KGWAWW | Refrigerator |
| GE GCF23KGWCBB | Refrigerator |
| GE GCF23KGWCBB | Refrigerator |
| GE GCF23KGWCWW | Refrigerator |
| GE GCF23KGWCWW | Refrigerator |
| GE GCF23KGWDBB | Refrigerator |
| GE GCF23KGWDBB | Refrigerator |
| GE GCF23KGWDWW | Refrigerator |
| GE GCF23KGWDWW | Refrigerator |
| GE GSA28VGBAFSS | Refrigerator |
| GE GSA28VGBAFSS | Refrigerator |
| GE GSC23KSWA | Refrigerator |
| GE GSC23KSWASS | Refrigerator |
| GE GSC23KSWASS | Refrigerator |
| GE GSC23KSWCSS | Refrigerator |
| GE GSC23KSWCSS | Refrigerator |
| GE GSC23KSWDSS | Refrigerator |
| GE GSC23KSWDSS | Refrigerator |
| GE GSC23KSWHSS | Refrigerator |
| GE GSC23KSWHSS | Refrigerator |
| GE GSCF3PGXAFBB | Refrigerator |
| GE GSCF3PGXAFBB | Refrigerator |
| GE GSCF3PGXAFWW | Refrigerator |
| GE GSCF3PGXAFWW | Refrigerator |
| ge GSCF3PGXBB | Refrigerator |
| GE GSCF3PGXCFBB | Refrigerator |
| GE GSCF3PGXCFBB | Refrigerator |
| GE GSCF3PGXCFWW | Refrigerator |
| GE GSCF3PGXCFWW | Refrigerator |
| GE GSCF3PGXGFBB | Refrigerator |
| GE GSCF3PGXGFBB | Refrigerator |
| GE GSCF3PGXGFWW | Refrigerator |
| GE GSCF3PGXGFWW | Refrigerator |
| ge GSCF3PGXWW | Refrigerator |
| GE GSCS3PGXAFSS | Refrigerator |
| GE GSCS3PGXAFSS | Refrigerator |
| GE GSCS3PGXBFSS | Refrigerator |
| GE GSCS3PGXBFSS | Refrigerator |
| GE GSCS3PGXCFSS | Refrigerator |
| GE GSCS3PGXCFSS | Refrigerator |
| GE GSCS3PGXGFSS | Refrigerator |
| GE GSCS3PGXGFSS | Refrigerator |
| ge GSCS3PGXSS | Refrigerator |
| GE GSE28VGBACSS | Refrigerator |
| GE GSE28VGBACSS | Refrigerator |
| GE GSE28VGBAFWW | Refrigerator |
| GE GSE28VGBAFWW | Refrigerator |
| GE GSE28VGBECSS | Refrigerator |
| GE GSE28VGBECSS | Refrigerator |
| GE GSE28VHBATWW | Refrigerator |
| GE GSE28VHBATWW | Refrigerator |
| GE GSE30VHBATBB | Refrigerator |
| GE GSE30VHBATBB | Refrigerator |
| GE GSE30VHBATSS | Refrigerator |
| GE GSE30VHBATSS | Refrigerator |
| GE GSE30VHBATWW | Refrigerator |
| GE GSE30VHBATWW | Refrigerator |
| GE GSE30VHBBTSS | Refrigerator |
| GE GSE30VHBBTSS | Refrigerator |
| GE GSF25KGWA | Refrigerator |
| GE GSF25KGWABB | Refrigerator |
| GE GSF25KGWABB | Refrigerator |
| GE GSF25KGWAWW | Refrigerator |
| GE GSF25KGWAWW | Refrigerator |
| GE GSF25KGWCBB | Refrigerator |
| GE GSF25KGWCBB | Refrigerator |
| GE GSF25KGWCWW | Refrigerator |
| GE GSF25KGWCWW | Refrigerator |
| GE GSF25LGWA | Refrigerator |
| GE GSF25LGWABB | Refrigerator |
| GE GSF25LGWABB | Refrigerator |
| GE GSF25LGWACC | Refrigerator |
| GE GSF25LGWACC | Refrigerator |
| GE GSF25LGWAWW | Refrigerator |
| GE GSF25LGWAWW | Refrigerator |
| GE GSF25LGWCBB | Refrigerator |
| GE GSF25LGWCBB | Refrigerator |
| GE GSF25LGWCWW | Refrigerator |
| GE GSF25LGWCWW | Refrigerator |
| GE GSF25TGWA | Refrigerator |
| GE GSF25TGWABB | Refrigerator |
| GE GSF25TGWABB | Refrigerator |
| GE GSF25TGWAWW | Refrigerator |
| GE GSF25TGWAWW | Refrigerator |
| GE GSF25TGWCBB | Refrigerator |
| GE GSF25TGWCBB | Refrigerator |
| GE GSF25TGWCWW | Refrigerator |
| GE GSF25TGWCWW | Refrigerator |
| GE GSF26KHWABB | Refrigerator |
| GE GSF26KHWABB | Refrigerator |
| GE GSF26KHWAWW | Refrigerator |
| GE GSF26KHWAWW | Refrigerator |
| GE GSHF5MGXBB | Refrigerator |
| GE GSHF5MGXBEBB | Refrigerator |
| GE GSHF5MGXBEBB | Refrigerator |
| GE GSHF5MGXBEWW | Refrigerator |
| GE GSHF5MGXBEWW | Refrigerator |
| GE GSHF5MGXCEBB | Refrigerator |
| GE GSHF5MGXCEBB | Refrigerator |
| GE GSHF5MGXCEWW | Refrigerator |
| GE GSHF5MGXCEWW | Refrigerator |
| GE GSHF5MGXGEBB | Refrigerator |
| GE GSHF5MGXGEWW | Refrigerator |
| GE GSHF5MGXWW | Refrigerator |
| GE GSHF5PGXAEBB | Refrigerator |
| GE GSHF5PGXAEBB | Refrigerator |
| GE GSHF5PGXAEWW | Refrigerator |
| GE GSHF5PGXAEWW | Refrigerator |
| GE GSHF5PGXCEBB | Refrigerator |
| GE GSHF5PGXCEBB | Refrigerator |
| GE GSHF5PGXCEWW | Refrigerator |
| GE GSHF5PGXCEWW | Refrigerator |
| GE GSHF6PGYAEBB | Refrigerator |
| GE GSHF6PGYAEBB | Refrigerator |
| GE GSHF6PGYAEWW | Refrigerator |
| GE GSHF6PGYAEWW | Refrigerator |
| GE GSHF6PHXBEBB | Refrigerator |
| GE GSHF6PHXBEBB | Refrigerator |
| GE GSHF6PHXBEWW | Refrigerator |
| GE GSHF6PHXBEWW | Refrigerator |
| GE GSHF6PHXCEBB | Refrigerator |
| GE GSHF6PHXCEBB | Refrigerator |
| GE GSHF6PHXCEWW | Refrigerator |
| GE GSHF6PHXCEWW | Refrigerator |
| GE GSHF6PHXIEBB | Refrigerator |
| GE GSHF6PHXIEBB | Refrigerator |
| GE GSHF6PHXIEWW | Refrigerator |
| GE GSHF6PHXIEWW | Refrigerator |
| GE GSHL5MGXBELS | Refrigerator |
| GE GSHL5MGXBELS | Refrigerator |
| GE GSHL5MGXCELS | Refrigerator |
| GE GSHL5MGXCELS | Refrigerator |
| GE GSHL5MGXGELS | Refrigerator |
| GE GSHL5MGXLS | Refrigerator |
| GE GSHL6PHXBELS | Refrigerator |
| GE GSHL6PHXBELS | Refrigerator |
| GE GSHL6PHXCELS | Refrigerator |
| GE GSHL6PHXCELS | Refrigerator |
| GE GSHL6PHXIELS | Refrigerator |
| GE GSHL6PHXIELS | Refrigerator |
| GE GSHS5MGXBESS | Refrigerator |
| GE GSHS5MGXBESS | Refrigerator |
| GE GSHS5MGXCESS | Refrigerator |
| GE GSHS5MGXCESS | Refrigerator |
| GE GSHS5MGXGESS | Refrigerator |
| GE GSHS5MGXSS | Refrigerator |
| GE GSHS5PGXAESS | Refrigerator |
| GE GSHS5PGXAESS | Refrigerator |
| GE GSHS5PGXCESS | Refrigerator |
| GE GSHS5PGXCESS | Refrigerator |
| GE GSHS6PGYAESS | Refrigerator |
| GE GSHS6PGYAESS | Refrigerator |
| GE GSL25LGWA | Refrigerator |
| GE GSL25LGWABS | Refrigerator |
| GE GSL25LGWABS | Refrigerator |
| GE GSL25LGWASS | Refrigerator |
| GE GSL25LGWASS | Refrigerator |
| GE GSL25LGWCSS | Refrigerator |
| GE GSL25LGWCSS | Refrigerator |
| GE GSS25KSWA | Refrigerator |
| GE GSS25KSWASS | Refrigerator |
| GE GSS25KSWASS | Refrigerator |
| GE GSS25KSWCSS | Refrigerator |
| GE GSS25KSWCSS | Refrigerator |
| GE GSS25LSWA | Refrigerator |
| GE GSS25LSWASS | Refrigerator |
| GE GSS25LSWASS | Refrigerator |
| GE GSS25LSWCSS | Refrigerator |
| GE GSS25LSWCSS | Refrigerator |
| GE GSS25LSWDSS | Refrigerator |
| GE GSS25LSWDSS | Refrigerator |
| GE GSS25LSWJSS | Refrigerator |
| GE GSS25LSWJSS | Refrigerator |
| GE GSS25TSWA | Refrigerator |
| GE GSS25TSWASS | Refrigerator |
| GE GSS25TSWASS | Refrigerator |
| GE GSS25TSWCSS | Refrigerator |
| GE GSS25TSWCSS | Refrigerator |
| GE GSS26KHWASS | Refrigerator |
| GE GSS26KHWASS | Refrigerator |
| GE LSHF5MGXBEBB | Refrigerator |
| GE LSHF5MGXBEBB | Refrigerator |
| GE LSHF5MGXBEWW | Refrigerator |
| GE LSHF5MGXBEWW | Refrigerator |
| GE LSHS5MGXBESS | Refrigerator |
| GE LSHS5MGXBESS | Refrigerator |
| GE LSHS5PGXBESS | Refrigerator |
| GE LSHS5PGXBESS | Refrigerator |
| GE LSS25XSWA | Refrigerator |
| GE LSS25XSWASS | Refrigerator |
| GE LSS25XSWASS | Refrigerator |
| GE LSS25XSWCSS | Refrigerator |
| GE LSS25XSWCSS | Refrigerator |
| GE PCA23VGXAFSS | Refrigerator |
| GE PCA23VGXAFSS | Refrigerator |
| GE PCA23VGXEFSS | Refrigerator |
| GE PCA23VGXEFSS | Refrigerator |
| GE PCA23VGXGFSS | Refrigerator |
| GE PCA23VGXGFSS | Refrigerator |
| GE PCE23VGXAFBB | Refrigerator |
| GE PCE23VGXAFBB | Refrigerator |
| GE PCE23VGXAFSS | Refrigerator |
| GE PCE23VGXAFSS | Refrigerator |
| GE PCE23VGXAFWW | Refrigerator |
| GE PCE23VGXAFWW | Refrigerator |
| GE PCE23VGXEFBB | Refrigerator |
| GE PCE23VGXEFBB | Refrigerator |
| GE PCE23VGXEFSS | Refrigerator |
| GE PCE23VGXEFSS | Refrigerator |
| GE PCE23VGXEFWW | Refrigerator |
| GE PCE23VGXEFWW | Refrigerator |
| GE PCE23VGXGFBB | Refrigerator |
| GE PCE23VGXGFBB | Refrigerator |
| GE PCE23VGXGFSS | Refrigerator |
| GE PCE23VGXGFSS | Refrigerator |
| GE PCE23VGXGFWW | Refrigerator |
| GE PCE23VGXGFWW | Refrigerator |
| GE PCF23MGWA | Refrigerator |
| GE PCF23MGWABB | Refrigerator |
| GE PCF23MGWABB | Refrigerator |
| GE PCF23MGWACC | Refrigerator |
| GE PCF23MGWACC | Refrigerator |
| GE PCF23MGWAWW | Refrigerator |
| GE PCF23MGWAWW | Refrigerator |
| GE PCF23MGWCBB | Refrigerator |
| GE PCF23MGWCBB | Refrigerator |
| GE PCF23MGWCCC | Refrigerator |
| GE PCF23MGWCCC | Refrigerator |
| GE PCF23MGWCWW | Refrigerator |
| GE PCF23MGWCWW | Refrigerator |
| GE PCF23MGWDBB | Refrigerator |
| GE PCF23MGWDBB | Refrigerator |
| GE PCF23MGWDCC | Refrigerator |
| GE PCF23MGWDCC | Refrigerator |
| GE PCF23MGWDWW | Refrigerator |
| GE PCF23MGWDWW | Refrigerator |
| GE PCF23NGWA | Refrigerator |
| GE PCF23NGWABB | Refrigerator |
| GE PCF23NGWABB | Refrigerator |
| GE PCF23NGWACC | Refrigerator |
| GE PCF23NGWACC | Refrigerator |
| GE PCF23NGWAWW | Refrigerator |
| GE PCF23NGWAWW | Refrigerator |
| GE PCF23NGWCBB | Refrigerator |
| GE PCF23NGWCBB | Refrigerator |
| GE PCF23NGWCWW | Refrigerator |
| GE PCF23NGWCWW | Refrigerator |
| GE PCF23NGWDBB | Refrigerator |
| GE PCF23NGWDBB | Refrigerator |
| GE PCF23NGWDWW | Refrigerator |
| GE PCF23NGWDWW | Refrigerator |
| GE PCF23PGWABB | Refrigerator |
| GE PCF23PGWABB | Refrigerator |
| GE PCF23PGWAWW | Refrigerator |
| GE PCF23PGWAWW | Refrigerator |
| GE PCF23PGWCBB | Refrigerator |
| GE PCF23PGWCBB | Refrigerator |
| GE PCF23PGWCWW | Refrigerator |
| GE PCF23PGWCWW | Refrigerator |
| GE PCF23RGWA | Refrigerator |
| GE PCF23RGWABB | Refrigerator |
| GE PCF23RGWABB | Refrigerator |
| GE PCF23RGWAWW | Refrigerator |
| GE PCF23RGWAWW | Refrigerator |
| GE PCF23RGWCBB | Refrigerator |
| GE PCF23RGWCBB | Refrigerator |
| GE PCF23RGWCWW | Refrigerator |
| GE PCF23RGWCWW | Refrigerator |
| GE PCF25MGWA | Refrigerator |
| GE PCF25MGWABB | Refrigerator |
| GE PCF25MGWABB | Refrigerator |
| GE PCF25MGWACC | Refrigerator |
| GE PCF25MGWACC | Refrigerator |
| GE PCF25MGWAWW | Refrigerator |
| GE PCF25MGWAWW | Refrigerator |
| GE PCF25MGWCBB | Refrigerator |
| GE PCF25MGWCBB | Refrigerator |
| GE PCF25MGWCCC | Refrigerator |
| GE PCF25MGWCCC | Refrigerator |
| GE PCF25MGWCWW | Refrigerator |
| GE PCF25MGWCWW | Refrigerator |
| GE PCF25NGWABB | Refrigerator |
| GE PCF25NGWABB | Refrigerator |
| GE PCF25NGWAWW | Refrigerator |
| GE PCF25NGWAWW | Refrigerator |
| GE PCF25NGWCBB | Refrigerator |
| GE PCF25NGWCBB | Refrigerator |
| GE PCF25NGWCWW | Refrigerator |
| GE PCF25NGWCWW | Refrigerator |
| GE PCF25PGWA | Refrigerator |
| GE PCF25PGWABB | Refrigerator |
| GE PCF25PGWABB | Refrigerator |
| GE PCF25PGWAWW | Refrigerator |
| GE PCF25PGWAWW | Refrigerator |
| GE PCF25PGWCBB | Refrigerator |
| GE PCF25PGWCBB | Refrigerator |
| GE PCF25PGWCWW | Refrigerator |
| GE PCF25PGWCWW | Refrigerator |
| GE PCK23VHXAFCC | Refrigerator |
| GE PCK23VHXAFCC | Refrigerator |
| GE PCK23VHXAFWW | Refrigerator |
| GE PCK23VHXAFWW | Refrigerator |
| GE PCK23VHXEFCC | Refrigerator |
| GE PCK23VHXEFCC | Refrigerator |
| GE PCK23VHXEFWW | Refrigerator |
| GE PCK23VHXEFWW | Refrigerator |
| GE PCU23VGXAFSS | Refrigerator |
| GE PCU23VGXAFSS | Refrigerator |
| GE PCU23VGXEFSS | Refrigerator |
| GE PCU23VGXEFSS | Refrigerator |
| ge PFSS0MFCSS | Refrigerator |
| GE PHE25YGXAFBB | Refrigerator |
| GE PHE25YGXAFBB | Refrigerator |
| GE PHE25YGXAFWW | Refrigerator |
| GE PHE25YGXAFWW | Refrigerator |
| GE PIE23VGXAFSV | Refrigerator |
| GE PIE23VGXAFSV | Refrigerator |
| GE PIE23VGXEFSV | Refrigerator |
| GE PIE23VGXEFSV | Refrigerator |
| GE PIE23VGXGFSV | Refrigerator |
| GE PIE23VGXGFSV | Refrigerator |
| GE PJA25YGXAFSV | Refrigerator |
| GE PJA25YGXAFSV | Refrigerator |
| GE PJE25YGXAFKB | Refrigerator |
| GE PJE25YGXAFKB | Refrigerator |
| GE PJE25YGXAFSV | Refrigerator |
| GE PJE25YGXAFSV | Refrigerator |
| GE PJU25YGXAFSV | Refrigerator |
| GE PJU25YGXAFSV | Refrigerator |
| GE PSA29VGXACSS | Refrigerator |
| GE PSA29VGXACSS | Refrigerator |
| GE PSC23MSWA | Refrigerator |
| GE PSC23MSWASS | Refrigerator |
| GE PSC23MSWASS | Refrigerator |
| GE PSC23MSWCSS | Refrigerator |
| GE PSC23MSWCSS | Refrigerator |
| GE PSC23MSWDSS | Refrigerator |
| GE PSC23MSWDSS | Refrigerator |
| GE PSC23NSWA | Refrigerator |
| GE PSC23NSWASS | Refrigerator |
| GE PSC23NSWASS | Refrigerator |
| GE PSC23NSWCSS | Refrigerator |
| GE PSC23NSWCSS | Refrigerator |
| GE PSC23NSWDSS | Refrigerator |
| GE PSC23NSWDSS | Refrigerator |
| GE PSC23PSWA | Refrigerator |
| GE PSC23PSWASS | Refrigerator |
| GE PSC23PSWASS | Refrigerator |
| GE PSC23PSWCSS | Refrigerator |
| GE PSC23PSWCSS | Refrigerator |
| GE PSC25MSWA | Refrigerator |
| GE PSC25MSWASS | Refrigerator |
| GE PSC25MSWASS | Refrigerator |
| GE PSC25MSWCSS | Refrigerator |
| GE PSC25MSWCSS | Refrigerator |
| GE PSC25NSWA | Refrigerator |
| GE PSC25NSWASS | Refrigerator |
| GE PSC25NSWASS | Refrigerator |
| GE PSC25NSWCSS | Refrigerator |
| GE PSC25NSWCSS | Refrigerator |
| GE PSC25PSWA | Refrigerator |
| GE PSC25PSWASS | Refrigerator |
| GE PSC25PSWASS | Refrigerator |
| GE PSC25PSWCSS | Refrigerator |
| GE PSC25PSWCSS | Refrigerator |
| GE PSCF3RGXAFBB | Refrigerator |
| GE PSCF3RGXAFBB | Refrigerator |
| GE PSCF3RGXAFCC | Refrigerator |
| GE PSCF3RGXAFCC | Refrigerator |
| GE PSCF3RGXAFWW | Refrigerator |
| GE PSCF3RGXAFWW | Refrigerator |
| ge PSCF3RGXBB | Refrigerator |
| ge PSCF3RGXCC | Refrigerator |
| GE PSCF3RGXCFBB | Refrigerator |
| GE PSCF3RGXCFBB | Refrigerator |
| GE PSCF3RGXCFCC | Refrigerator |
| GE PSCF3RGXCFCC | Refrigerator |
| GE PSCF3RGXCFWW | Refrigerator |
| GE PSCF3RGXCFWW | Refrigerator |
| GE PSCF3RGXGFBB | Refrigerator |
| GE PSCF3RGXGFBB | Refrigerator |
| GE PSCF3RGXGFCC | Refrigerator |
| GE PSCF3RGXGFCC | Refrigerator |
| GE PSCF3RGXGFWW | Refrigerator |
| GE PSCF3RGXGFWW | Refrigerator |
| ge PSCF3RGXWW | Refrigerator |
| GE PSCF3TGXAFBB | Refrigerator |
| GE PSCF3TGXAFBB | Refrigerator |
| GE PSCF3TGXAFWW | Refrigerator |
| GE PSCF3TGXAFWW | Refrigerator |
| GE PSCF3TGXCFBB | Refrigerator |
| GE PSCF3TGXCFBB | Refrigerator |
| GE PSCF3TGXCFWW | Refrigerator |
| GE PSCF3TGXCFWW | Refrigerator |
| GE PSCF3VGXAFBB | Refrigerator |
| GE PSCF3VGXAFBB | Refrigerator |
| GE PSCF3VGXAFWW | Refrigerator |
| GE PSCF3VGXAFWW | Refrigerator |
| GE PSCF3VGXCFBB | Refrigerator |
| GE PSCF3VGXCFBB | Refrigerator |
| GE PSCF3VGXCFWW | Refrigerator |
| GE PSCF3VGXCFWW | Refrigerator |
| GE PSCF5RGXAFBB | Refrigerator |
| GE PSCF5RGXAFBB | Refrigerator |
| GE PSCF5RGXAFCC | Refrigerator |
| GE PSCF5RGXAFCC | Refrigerator |
| GE PSCF5RGXAFWW | Refrigerator |
| GE PSCF5RGXAFWW | Refrigerator |
| ge PSCF5RGXBB | Refrigerator |
| GE PSCF5RGXCFBB | Refrigerator |
| GE PSCF5RGXCFBB | Refrigerator |
| GE PSCF5RGXCFCC | Refrigerator |
| GE PSCF5RGXCFCC | Refrigerator |
| GE PSCF5RGXCFWW | Refrigerator |
| GE PSCF5RGXCFWW | Refrigerator |
| ge PSCF5RGXWW | Refrigerator |
| GE PSCF5TGXAFBB | Refrigerator |
| GE PSCF5TGXAFBB | Refrigerator |
| GE PSCF5TGXAFWW | Refrigerator |
| GE PSCF5TGXAFWW | Refrigerator |
| GE PSCF5TGXCFBB | Refrigerator |
| GE PSCF5TGXCFBB | Refrigerator |
| GE PSCF5TGXCFWW | Refrigerator |
| GE PSCF5TGXCFWW | Refrigerator |
| GE PSCF5VGXAFBB | Refrigerator |
| GE PSCF5VGXAFBB | Refrigerator |
| GE PSCF5VGXAFWW | Refrigerator |
| GE PSCF5VGXAFWW | Refrigerator |
| GE PSCF5VGXCFBB | Refrigerator |
| GE PSCF5VGXCFBB | Refrigerator |
| GE PSCF5VGXCFWW | Refrigerator |
| GE PSCF5VGXCFWW | Refrigerator |
| GE PSCS3RGXAFSS | Refrigerator |
| GE PSCS3RGXAFSS | Refrigerator |
| GE PSCS3RGXCFSS | Refrigerator |
| GE PSCS3RGXCFSS | Refrigerator |
| GE PSCS3RGXGFSS | Refrigerator |
| GE PSCS3RGXGFSS | Refrigerator |
| ge PSCS3RGXSS | Refrigerator |
| GE PSCS3TGXAFSS | Refrigerator |
| GE PSCS3TGXAFSS | Refrigerator |
| GE PSCS3TGXCFSS | Refrigerator |
| GE PSCS3TGXCFSS | Refrigerator |
| GE PSCS3VGXAFSS | Refrigerator |
| GE PSCS3VGXAFSS | Refrigerator |
| GE PSCS3VGXCFSS | Refrigerator |
| GE PSCS3VGXCFSS | Refrigerator |
| GE PSCS5RGDBFSS | Refrigerator |
| GE PSCS5RGDBFSS | Refrigerator |
| GE PSCS5RGXAFSS | Refrigerator |
| GE PSCS5RGXAFSS | Refrigerator |
| GE PSCS5RGXCFSS | Refrigerator |
| GE PSCS5RGXCFSS | Refrigerator |
| ge PSCS5RGXSS | Refrigerator |
| GE PSCS5TGXAFSS | Refrigerator |
| GE PSCS5TGXAFSS | Refrigerator |
| GE PSCS5TGXCFSS | Refrigerator |
| GE PSCS5TGXCFSS | Refrigerator |
| GE PSCS5VGXAFSS | Refrigerator |
| GE PSCS5VGXAFSS | Refrigerator |
| GE PSCS5VGXCFSS | Refrigerator |
| GE PSCS5VGXCFSS | Refrigerator |
| GE PSDF3YGXBFBB | Refrigerator |
| GE PSDF3YGXBFBB | Refrigerator |
| GE PSDF3YGXBFWW | Refrigerator |
| GE PSDF3YGXBFWW | Refrigerator |
| GE PSDF3YGXCFBB | Refrigerator |
| GE PSDF3YGXCFBB | Refrigerator |
| GE PSDF3YGXCFWW | Refrigerator |
| GE PSDF3YGXCFWW | Refrigerator |
| GE PSDF3YGXGFBB | Refrigerator |
| GE PSDF3YGXGFBB | Refrigerator |
| GE PSDF3YGXGFWW | Refrigerator |
| GE PSDF3YGXGFWW | Refrigerator |
| GE PSDF5RGXCFBB | Refrigerator |
| GE PSDF5RGXCFBB | Refrigerator |
| GE PSDF5RGXCFCC | Refrigerator |
| GE PSDF5RGXCFCC | Refrigerator |
| GE PSDF5RGXCFWW | Refrigerator |
| GE PSDF5RGXCFWW | Refrigerator |
| GE PSDF5YGXBFBB | Refrigerator |
| GE PSDF5YGXBFBB | Refrigerator |
| GE PSDF5YGXBFWW | Refrigerator |
| GE PSDF5YGXBFWW | Refrigerator |
| GE PSDF5YGXCFBB | Refrigerator |
| GE PSDF5YGXCFBB | Refrigerator |
| GE PSDF5YGXCFWW | Refrigerator |
| GE PSDF5YGXCFWW | Refrigerator |
| GE PSDS3YGXBFSS | Refrigerator |
| GE PSDS3YGXBFSS | Refrigerator |
| GE PSDS3YGXCFSS | Refrigerator |
| GE PSDS3YGXCFSS | Refrigerator |
| GE PSDS3YGXGFSS | Refrigerator |
| GE PSDS3YGXGFSS | Refrigerator |
| ge PSDS3YGXSS | Refrigerator |
| GE PSDS5RGXCFSS | Refrigerator |
| GE PSDS5RGXCFSS | Refrigerator |
| GE PSDS5YGXBFSS | Refrigerator |
| GE PSDS5YGXBFSS | Refrigerator |
| GE PSDS5YGXCFSS | Refrigerator |
| GE PSDS5YGXCFSS | Refrigerator |
| GE PSDS5YGXSS | Refrigerator |
| GE PSDW3YGXBFSS | Refrigerator |
| GE PSDW3YGXBFSS | Refrigerator |
| GE PSDW3YGXCFSS | Refrigerator |
| GE PSDW3YGXCFSS | Refrigerator |
| GE PSDW3YGXGFSS | Refrigerator |
| GE PSDW3YGXGFSS | Refrigerator |
| ge PSDW3YGXSS | Refrigerator |
| GE PSE25VGXACSS | Refrigerator |
| GE PSE25VGXACSS | Refrigerator |
| GE PSE25VGXACWW | Refrigerator |
| GE PSE25VGXACWW | Refrigerator |
| GE PSE25VGXICSS | Refrigerator |
| GE PSE25VGXICSS | Refrigerator |
| GE PSE25VGXICWW | Refrigerator |
| GE PSE25VGXICWW | Refrigerator |
| GE PSE27VGXAFBB | Refrigerator |
| GE PSE27VGXAFBB | Refrigerator |
| GE PSE27VGXAFWW | Refrigerator |
| GE PSE27VGXAFWW | Refrigerator |
| GE PSE27VHXATBB | Refrigerator |
| GE PSE27VHXATBB | Refrigerator |
| GE PSE27VHXATWW | Refrigerator |
| GE PSE27VHXATWW | Refrigerator |
| GE PSE29VHXATBB | Refrigerator |
| GE PSE29VHXATBB | Refrigerator |
| GE PSE29VHXATWW | Refrigerator |
| GE PSE29VHXATWW | Refrigerator |
| GE PSF23MGWABB | Refrigerator |
| GE PSF23MGWABB | Refrigerator |
| GE PSF23MGWACC | Refrigerator |
| GE PSF23MGWACC | Refrigerator |
| GE PSF23MGWAWW | Refrigerator |
| GE PSF23MGWAWW | Refrigerator |
| GE PSF26MGWA | Refrigerator |
| GE PSF26MGWABB | Refrigerator |
| GE PSF26MGWABB | Refrigerator |
| GE PSF26MGWACC | Refrigerator |
| GE PSF26MGWACC | Refrigerator |
| GE PSF26MGWAWW | Refrigerator |
| GE PSF26MGWAWW | Refrigerator |
| GE PSF26MGWCBB | Refrigerator |
| GE PSF26MGWCBB | Refrigerator |
| GE PSF26MGWCCC | Refrigerator |
| GE PSF26MGWCCC | Refrigerator |
| GE PSF26MGWCWW | Refrigerator |
| GE PSF26MGWCWW | Refrigerator |
| GE PSF26NGWA | Refrigerator |
| GE PSF26NGWABB | Refrigerator |
| GE PSF26NGWABB | Refrigerator |
| GE PSF26NGWACC | Refrigerator |
| GE PSF26NGWACC | Refrigerator |
| GE PSF26NGWAWW | Refrigerator |
| GE PSF26NGWAWW | Refrigerator |
| GE PSF26NGWCBB | Refrigerator |
| GE PSF26NGWCBB | Refrigerator |
| GE PSF26NGWCWW | Refrigerator |
| GE PSF26NGWCWW | Refrigerator |
| GE PSF26PGWA | Refrigerator |
| GE PSF26PGWABB | Refrigerator |
| GE PSF26PGWABB | Refrigerator |
| GE PSF26PGWASB | Refrigerator |
| GE PSF26PGWASB | Refrigerator |
| GE PSF26PGWAWW | Refrigerator |
| GE PSF26PGWAWW | Refrigerator |
| GE PSF26PGWCBB | Refrigerator |
| GE PSF26PGWCBB | Refrigerator |
| GE PSF26PGWCWW | Refrigerator |
| GE PSF26PGWCWW | Refrigerator |
| GE PSF26RGWA | Refrigerator |
| GE PSF26RGWABB | Refrigerator |
| GE PSF26RGWABB | Refrigerator |
| GE PSF26RGWAWW | Refrigerator |
| GE PSF26RGWAWW | Refrigerator |
| GE PSF26RGWCBB | Refrigerator |
| GE PSF26RGWCBB | Refrigerator |
| GE PSF26RGWCWW | Refrigerator |
| GE PSF26RGWCWW | Refrigerator |
| GE PSFW3YGXBGSS | Refrigerator |
| GE PSFW3YGXBGSS | Refrigerator |
| GE PSFW3YGXCGSS | Refrigerator |
| GE PSFW3YGXCGSS | Refrigerator |
| GE PSH23PGWA | Refrigerator |
| GE PSH23PGWABV | Refrigerator |
| GE PSH23PGWABV | Refrigerator |
| GE PSH23PGWAWV | Refrigerator |
| GE PSH23PGWAWV | Refrigerator |
| GE PSH23PSWA | Refrigerator |
| GE PSH23PSWASS | Refrigerator |
| GE PSH23PSWASS | Refrigerator |
| GE PSH23PSWASV | Refrigerator |
| GE PSH23PSWASV | Refrigerator |
| GE PSH23PSWCSS | Refrigerator |
| GE PSH23PSWCSS | Refrigerator |
| GE PSH25MGWA | Refrigerator |
| GE PSH25MGWABV | Refrigerator |
| GE PSH25MGWABV | Refrigerator |
| GE PSH25MGWACV | Refrigerator |
| GE PSH25MGWACV | Refrigerator |
| GE PSH25MGWAWV | Refrigerator |
| GE PSH25MGWAWV | Refrigerator |
| GE PSH25MGWCBV | Refrigerator |
| GE PSH25MGWCBV | Refrigerator |
| GE PSH25MGWCCV | Refrigerator |
| GE PSH25MGWCCV | Refrigerator |
| GE PSH25MGWCWV | Refrigerator |
| GE PSH25MGWCWV | Refrigerator |
| GE PSH25MSWA | Refrigerator |
| GE PSH25MSWASV | Refrigerator |
| GE PSH25MSWASV | Refrigerator |
| GE PSH25PGWABV | Refrigerator |
| GE PSH25PGWABV | Refrigerator |
| GE PSH25PGWAWV | Refrigerator |
| GE PSH25PGWAWV | Refrigerator |
| GE PSH25PGWCBV | Refrigerator |
| GE PSH25PGWCBV | Refrigerator |
| GE PSH25PGWCWV | Refrigerator |
| GE PSH25PGWCWV | Refrigerator |
| GE PSH25PSWA | Refrigerator |
| GE PSH25PSWASS | Refrigerator |
| GE PSH25PSWASS | Refrigerator |
| GE PSH25PSWASV | Refrigerator |
| GE PSH25PSWASV | Refrigerator |
| GE PSH25PSWCSS | Refrigerator |
| GE PSH25PSWCSS | Refrigerator |
| GE PSHF6RGXBDBB | Refrigerator |
| GE PSHF6RGXBDBB | Refrigerator |
| GE PSHF6RGXBDCC | Refrigerator |
| GE PSHF6RGXBDCC | Refrigerator |
| GE PSHF6RGXBDWW | Refrigerator |
| GE PSHF6RGXBDWW | Refrigerator |
| GE PSHF6RGXCDBB | Refrigerator |
| GE PSHF6RGXCDBB | Refrigerator |
| GE PSHF6RGXCDCC | Refrigerator |
| GE PSHF6RGXCDCC | Refrigerator |
| GE PSHF6RGXCDWW | Refrigerator |
| GE PSHF6RGXCDWW | Refrigerator |
| GE PSHF6TGXBDBB | Refrigerator |
| GE PSHF6TGXBDBB | Refrigerator |
| GE PSHF6TGXBDWW | Refrigerator |
| GE PSHF6TGXBDWW | Refrigerator |
| GE PSHF6TGXCDBB | Refrigerator |
| GE PSHF6TGXCDBB | Refrigerator |
| GE PSHF6TGXCDWW | Refrigerator |
| GE PSHF6TGXCDWW | Refrigerator |
| GE PSHF6VGXBDBB | Refrigerator |
| GE PSHF6VGXBDBB | Refrigerator |
| GE PSHF6VGXBDWW | Refrigerator |
| GE PSHF6VGXBDWW | Refrigerator |
| GE PSHF6VGXCDBB | Refrigerator |
| GE PSHF6VGXCDBB | Refrigerator |
| GE PSHF6VGXCDWW | Refrigerator |
| GE PSHF6VGXCDWW | Refrigerator |
| GE PSHF6YGXBDBB | Refrigerator |
| GE PSHF6YGXBDBB | Refrigerator |
| GE PSHF6YGXBDWW | Refrigerator |
| GE PSHF6YGXBDWW | Refrigerator |
| GE PSHF6YGXCDBB | Refrigerator |
| GE PSHF6YGXCDBB | Refrigerator |
| GE PSHF6YGXCDWW | Refrigerator |
| GE PSHF6YGXCDWW | Refrigerator |
| ge PSHF6YGZBB | Refrigerator |
| GE PSHF6YGZBEBB | Refrigerator |
| GE PSHF6YGZBEBB | Refrigerator |
| GE PSHF6YGZBEWW | Refrigerator |
| GE PSHF6YGZBEWW | Refrigerator |
| ge PSHS6PGZSS | Refrigerator |
| GE PSHS6RGXBDSS | Refrigerator |
| GE PSHS6RGXBDSS | Refrigerator |
| GE PSHS6RGXCDSS | Refrigerator |
| GE PSHS6RGXCDSS | Refrigerator |
| GE PSHS6TGXBDSS | Refrigerator |
| GE PSHS6TGXBDSS | Refrigerator |
| GE PSHS6TGXCDSS | Refrigerator |
| GE PSHS6TGXCDSS | Refrigerator |
| GE PSHS6VGXBDSS | Refrigerator |
| GE PSHS6VGXBDSS | Refrigerator |
| GE PSHS6VGXCDSS | Refrigerator |
| GE PSHS6VGXCDSS | Refrigerator |
| GE PSHS6YGXBDSS | Refrigerator |
| GE PSHS6YGXBDSS | Refrigerator |
| GE PSHS6YGXCDSS | Refrigerator |
| GE PSHS6YGXCDSS | Refrigerator |
| GE PSHS6YGZBESS | Refrigerator |
| GE PSHS6YGZBESS | Refrigerator |
| GE PSHW6YGXBDSS | Refrigerator |
| GE PSHW6YGXBDSS | Refrigerator |
| GE PSHW6YGXCDSS | Refrigerator |
| GE PSHW6YGXCDSS | Refrigerator |
| GE PSHW6YGZBESS | Refrigerator |
| GE PSHW6YGZBESS | Refrigerator |
| ge PSHW6YGZSS | Refrigerator |
| GE PSI23MGWA | Refrigerator |
| GE PSI23MGWABV | Refrigerator |
| GE PSI23MGWABV | Refrigerator |
| GE PSI23MGWACV | Refrigerator |
| GE PSI23MGWACV | Refrigerator |
| GE PSI23MGWAWV | Refrigerator |
| GE PSI23MGWAWV | Refrigerator |
| GE PSI23MGWCBV | Refrigerator |
| GE PSI23MGWCBV | Refrigerator |
| GE PSI23MGWCCV | Refrigerator |
| GE PSI23MGWCCV | Refrigerator |
| GE PSI23MGWCWV | Refrigerator |
| GE PSI23MGWCWV | Refrigerator |
| GE PSI23MGWDBV | Refrigerator |
| GE PSI23MGWDBV | Refrigerator |
| GE PSI23MGWDCV | Refrigerator |
| GE PSI23MGWDCV | Refrigerator |
| GE PSI23MGWDWV | Refrigerator |
| GE PSI23MGWDWV | Refrigerator |
| GE PSI23NGWA | Refrigerator |
| GE PSI23NGWABV | Refrigerator |
| GE PSI23NGWABV | Refrigerator |
| GE PSI23NGWACV | Refrigerator |
| GE PSI23NGWACV | Refrigerator |
| GE PSI23NGWAWV | Refrigerator |
| GE PSI23NGWAWV | Refrigerator |
| GE PSI23NGWCBV | Refrigerator |
| GE PSI23NGWCBV | Refrigerator |
| GE PSI23NGWCWV | Refrigerator |
| GE PSI23NGWCWV | Refrigerator |
| GE PSI23NGWDBV | Refrigerator |
| GE PSI23NGWDBV | Refrigerator |
| GE PSI23NGWDWV | Refrigerator |
| GE PSI23NGWDWV | Refrigerator |
| GE PSI23NSWA | Refrigerator |
| GE PSI23NSWASV | Refrigerator |
| GE PSI23NSWASV | Refrigerator |
| GE PSIC3RGXAFBV | Refrigerator |
| GE PSIC3RGXAFBV | Refrigerator |
| GE PSIC3RGXAFCV | Refrigerator |
| GE PSIC3RGXAFCV | Refrigerator |
| GE PSIC3RGXAFWV | Refrigerator |
| GE PSIC3RGXAFWV | Refrigerator |
| ge PSIC3RGXBV | Refrigerator |
| GE PSIC3RGXCFBV | Refrigerator |
| GE PSIC3RGXCFBV | Refrigerator |
| GE PSIC3RGXCFCV | Refrigerator |
| GE PSIC3RGXCFCV | Refrigerator |
| GE PSIC3RGXCFWV | Refrigerator |
| GE PSIC3RGXCFWV | Refrigerator |
| GE PSIC3RGXGFBV | Refrigerator |
| GE PSIC3RGXGFBV | Refrigerator |
| GE PSIC3RGXGFWV | Refrigerator |
| GE PSIC3RGXGFWV | Refrigerator |
| ge PSIC3RGXWV | Refrigerator |
| GE PSIC5RGXAFBV | Refrigerator |
| GE PSIC5RGXAFBV | Refrigerator |
| GE PSIC5RGXAFCV | Refrigerator |
| GE PSIC5RGXAFCV | Refrigerator |
| GE PSIC5RGXAFWV | Refrigerator |
| GE PSIC5RGXAFWV | Refrigerator |
| GE PSIC5RGXCFBV | Refrigerator |
| GE PSIC5RGXCFBV | Refrigerator |
| GE PSIC5RGXCFCV | Refrigerator |
| GE PSIC5RGXCFCV | Refrigerator |
| GE PSIC5RGXCFWV | Refrigerator |
| GE PSIC5RGXCFWV | Refrigerator |
| GE PSJC5YGXBFBV | Refrigerator |
| GE PSJC5YGXBFBV | Refrigerator |
| GE PSJC5YGXBFWV | Refrigerator |
| GE PSJC5YGXBFWV | Refrigerator |
| GE PSJC5YGXCFBV | Refrigerator |
| GE PSJC5YGXCFBV | Refrigerator |
| GE PSJC5YGXCFWV | Refrigerator |
| GE PSJC5YGXCFWV | Refrigerator |
| GE PSK25VGXACCC | Refrigerator |
| GE PSK25VGXACCC | Refrigerator |
| GE PSK25VGXICCC | Refrigerator |
| GE PSK25VGXICCC | Refrigerator |
| GE PSK27VGXACSS | Refrigerator |
| GE PSK27VGXACSS | Refrigerator |
| GE PSK27VGXBCSS | Refrigerator |
| GE PSK27VGXBCSS | Refrigerator |
| GE PSK27VHXACCC | Refrigerator |
| GE PSK27VHXACCC | Refrigerator |
| GE PSK27VHXACWW | Refrigerator |
| GE PSK27VHXACWW | Refrigerator |
| GE PSK29VHXACCC | Refrigerator |
| GE PSK29VHXACCC | Refrigerator |
| GE PSK29VHXACWW | Refrigerator |
| GE PSK29VHXACWW | Refrigerator |
| GE PSLS3YGXBFSS | Refrigerator |
| GE PSLS3YGXBFSS | Refrigerator |
| GE PSLS5YGXBFSS | Refrigerator |
| GE PSLS5YGXBFSS | Refrigerator |
| GE PSQS6YGYADSS | Refrigerator |
| GE PSQS6YGYADSS | Refrigerator |
| GE PSQS6YGYCDSS | Refrigerator |
| GE PSQS6YGYCDSS | Refrigerator |
| GE PSQS6YGZBESS | Refrigerator |
| GE PSQS6YGZBESS | Refrigerator |
| GE PSS23MSWASS | Refrigerator |
| GE PSS23MSWASS | Refrigerator |
| GE PSS26MSWA | Refrigerator |
| GE PSS26MSWASS | Refrigerator |
| GE PSS26MSWASS | Refrigerator |
| GE PSS26MSWCSS | Refrigerator |
| GE PSS26MSWCSS | Refrigerator |
| GE PSS26NSWA | Refrigerator |
| GE PSS26NSWASS | Refrigerator |
| GE PSS26NSWASS | Refrigerator |
| GE PSS26NSWCSS | Refrigerator |
| GE PSS26NSWCSS | Refrigerator |
| GE PSS26PSWA | Refrigerator |
| GE PSS26PSWASS | Refrigerator |
| GE PSS26PSWASS | Refrigerator |
| GE PSS26PSWCSS | Refrigerator |
| GE PSS26PSWCSS | Refrigerator |
| GE PSSB6KSWABS | Refrigerator |
| GE PSSB6KSWABS | Refrigerator |
| GE PSSB6KSXACSS | Refrigerator |
| GE PSSB6KSXACSS | Refrigerator |
| GE PSSC6KGWABB | Refrigerator |
| GE PSSC6KGWABB | Refrigerator |
| GE PSSC6KGWACC | Refrigerator |
| GE PSSC6KGWACC | Refrigerator |
| GE PSSC6KGWAWW | Refrigerator |
| GE PSSC6KGWAWW | Refrigerator |
| GE PSSC6KGXACBB | Refrigerator |
| GE PSSC6KGXACBB | Refrigerator |
| GE PSSC6KGXACCC | Refrigerator |
| GE PSSC6KGXACCC | Refrigerator |
| GE PSSC6KGXACWW | Refrigerator |
| GE PSSC6KGXACWW | Refrigerator |
| GE PSSC6KGXCCBB | Refrigerator |
| GE PSSC6KGXCCBB | Refrigerator |
| GE PSSC6KGXCCCC | Refrigerator |
| GE PSSC6KGXCCCC | Refrigerator |
| GE PSSC6KGXCCWW | Refrigerator |
| GE PSSC6KGXCCWW | Refrigerator |
| GE PSSF3RGXCBB | Refrigerator |
| GE PSSF3RGXCBB | Refrigerator |
| GE PSSF3RGXCCC | Refrigerator |
| GE PSSF3RGXCCC | Refrigerator |
| GE PSSF3RGXCWW | Refrigerator |
| GE PSSF3RGXCWW | Refrigerator |
| GE PSSF3RGXDBB | Refrigerator |
| GE PSSF3RGXDBB | Refrigerator |
| GE PSSF3RGXDCC | Refrigerator |
| GE PSSF3RGXDCC | Refrigerator |
| GE PSSF3RGXDWW | Refrigerator |
| GE PSSF3RGXDWW | Refrigerator |
| ge PSSF3RGZBB | Refrigerator |
| GE PSSF3RGZBBB | Refrigerator |
| GE PSSF3RGZBBB | Refrigerator |
| GE PSSF3RGZBCC | Refrigerator |
| GE PSSF3RGZBCC | Refrigerator |
| GE PSSF3RGZBWW | Refrigerator |
| GE PSSF3RGZBWW | Refrigerator |
| ge PSSF3RGZCC | Refrigerator |
| GE PSSS3RGXASS | Refrigerator |
| GE PSSS3RGXCSS | Refrigerator |
| GE PSSS3RGXCSS | Refrigerator |
| GE PSSS3RGXDSS | Refrigerator |
| GE PSSS3RGXDSS | Refrigerator |
| GE PSSS3RGZBSS | Refrigerator |
| GE PSSS3RGZBSS | Refrigerator |
| ge PSSS3RGZSS | Refrigerator |
| GE PSSS7RGXACSS | Refrigerator |
| GE PSSS7RGXACSS | Refrigerator |
| GE PSSS7RGXCCSS | Refrigerator |
| GE PSSS7RGXCCSS | Refrigerator |
| GE PSSS9RGXACSS | Refrigerator |
| GE PSSS9RGXACSS | Refrigerator |
| GE PSSS9RGXCCSS | Refrigerator |
| GE PSSS9RGXCCSS | Refrigerator |
| GE PSTW6YGXBGSS | Refrigerator |
| GE PSTW6YGXBGSS | Refrigerator |
| GE PSTW6YGXCGSS | Refrigerator |
| GE PSTW6YGXCGSS | Refrigerator |
| GE PSW23PSWA | Refrigerator |
| GE PSW23PSWASS | Refrigerator |
| GE PSW23PSWASS | Refrigerator |
| GE PSW23PSWCSS | Refrigerator |
| GE PSW23PSWCSS | Refrigerator |
| GE PSW23RSWA | Refrigerator |
| GE PSW23RSWASS | Refrigerator |
| GE PSW23RSWASS | Refrigerator |
| GE PSW23RSWCSS | Refrigerator |
| GE PSW23RSWCSS | Refrigerator |
| GE PSW26MSWA | Refrigerator |
| GE PSW26MSWASS | Refrigerator |
| GE PSW26MSWASS | Refrigerator |
| GE PSW26PSWA | Refrigerator |
| GE PSW26PSWASS | Refrigerator |
| GE PSW26PSWASS | Refrigerator |
| GE PSW26PSWCSS | Refrigerator |
| GE PSW26PSWCSS | Refrigerator |
| GE PSW26RSWA | Refrigerator |
| GE PSW26RSWASS | Refrigerator |
| GE PSW26RSWASS | Refrigerator |
| GE PSW26RSWCSS | Refrigerator |
| GE PSW26RSWCSS | Refrigerator |
| GE PZS23KSEBFSS | Refrigerator |
| GE PZS23KSECFSS | Refrigerator |
| GE PZS23KSEDFSS | Refrigerator |
| GE PZS23KSEEFSS | Refrigerator |
| GE PZS25KSEBFSS | Refrigerator |
| GE PZS25KSECFSS | Refrigerator |
| GE RCA24VGBBFBB | Refrigerator |
| GE RCA24VGBBFBB | Refrigerator |
| GE RCA24VGBBFSS | Refrigerator |
| GE RCA24VGBBFSS | Refrigerator |
| GE RCA24VGBBFWW | Refrigerator |
| GE RCA24VGBBFWW | Refrigerator |
| GE RCA25RGBBFKB | Refrigerator |
| GE RCA25RGBBFKB | Refrigerator |
| GE RCA25RGBBFNB | Refrigerator |
| GE RCA25RGBBFNB | Refrigerator |
| GE RCA25RGBBFSV | Refrigerator |
| GE RCA25RGBBFSV | Refrigerator |
| GE RCE24VGBBFBB | Refrigerator |
| GE RCE24VGBBFBB | Refrigerator |
| GE RCE24VGBBFSS | Refrigerator |
| GE RCE24VGBBFSS | Refrigerator |
| GE RCE24VGBBFWW | Refrigerator |
| GE RCE24VGBBFWW | Refrigerator |
| GE RCE25RGBBFKB | Refrigerator |
| GE RCE25RGBBFKB | Refrigerator |
| GE RCE25RGBBFNB | Refrigerator |
| GE RCE25RGBBFNB | Refrigerator |
| GE RCE25RGBBFSS | Refrigerator |
| GE RCE25RGBBFSS | Refrigerator |
| GE RCE25RGBBFSV | Refrigerator |
| GE RCE25RGBBFSV | Refrigerator |
| GE RCE25RGBBFWW | Refrigerator |
| GE RCE25RGBBFWW | Refrigerator |
| GE RCU24VGBBFSS | Refrigerator |
| GE RCU24VGBBFSS | Refrigerator |
| GE RCU25RGBBFSV | Refrigerator |
| GE RCU25RGBBFSV | Refrigerator |
| GE RIE24VGBBFSV | Refrigerator |
| GE RIE24VGBBFSV | Refrigerator |
| 101820A | Filter |
| 101821-B | Filter |
| 101821B | Filter |
| 238C2334P003 | Filter |
| AP3997949 | Filter |
| APF-1800 | Filter |
| AQF-MSWF | Filter |
| CF12 | Filter |
| CLCH113 | Filter |
| EFF-6022A | Filter |
| EWRF1018 | Filter |
| MSWF | Filter |
| MSWF3PK | Filter |
| MSWFDS | Filter |
| OPFG4 | Filter |
| PC46783 | Filter |
| PS1559689 | Filter |
| RB-G3 | Filter |
| RF-G2 | Filter |
| RFC1500A | Filter |
| RWF1062 | Filter |
| SGF-G23 | Filter |
| SSF5180 | Filter |
| SW-G3 | Filter |
| WD-MSWF | Filter |
| WF-282 | Filter |
| WF-MSWF | Filter |
| WF282 | Filter |
| WFC3001 | Filter |
| WR02X12345 | Filter |
| WR02X12801 | Filter |
| WSG-3 | Filter |
Additional Information
---