GE GSWF | Our#: 111517
GE SmartWater Slim Replacement Filter (GSWF), 3-Pack

10 review(s)
GE GSWF | Our#: 111517
Fast Shipping & Free Returns
100% Compatibility Guarantee
Compatibility guaranteed! Free return shipping and 100% money back if there are any issues.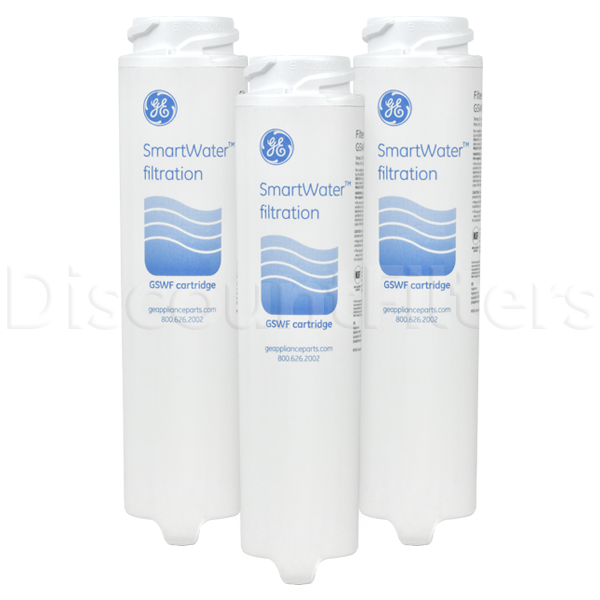 This product is currently unavailable.
The GE GSWF that you're looking for is so popular right now, it is not available at the moment. Enter your email address and we'll keep you updated when it's in stock.
Fast Shipping & Free Returns
100% Compatibility Guarantee
Frequently Purchased Together
Product Details
The GE SmartWater product line includes the GE GSWF. It is the factory original replacement filter. The OEM GE GSWF is made to give your home clean water. Having filtered water gives you better tasting beverages. The GE GSWF can filter most impurities found in tap water. This includes dirt, minerals, chlorine and bacteria. The GE GSWF is a replacement filter used in refrigerators by GE, Kenmore, Amana and more. This product is easily installed in compatible refrigerators. The GE GSWF filter model has been tested against NSF/ANSI international standards. This means it has been tested for reduction of chlorine, lead, cysts, turbidity, and more. This replacement filter, GE GSWF is popular for those wanting an OEM Product. It should be replaced every 6 months. The GE GSWF is sold with fast shipping and free returns.
---
Popular Part Numbers
---
Installation Instructions
How To Install The GSWF Filter:

Open cartridge cover by pushing in where indicated
Remove old filter cartridge by slowly rotating to the left (counterclockwise)
Position new cartridge inside the cartridge holder and slowly rotate the cartridge to the right (clockwise) until it stops.  The cartridge will rotate about 1/4 turn.  When installed correctly, the grip blade on the end of the cartridge should be positioned vertically for top-freezer models and horizontally for bottom freezer models.  Do not overtighten
Close cartridge cover
Reset filter change indicator if your refrigerator has one
Flush 1.5 gallons (approximately 3 minutes) through the filter before use.  This will clear the system and prevent sputtering
---
Compatible Part Numbers
Search by your filter part number or appliance model number to verify compatibility
| Model or Part Number | Type |
| --- | --- |
| GE ABE20EGHBS | Refrigerator |
| GE ABE20EGHWS | Refrigerator |
| GE CFCP1NIXASS | Refrigerator |
| GE CFCP1NIXASS | Refrigerator |
| GE CFCP1NIXBSS | Refrigerator |
| GE CFCP1NIXBSS | Refrigerator |
| GE CFCP1NIXCSS | Refrigerator |
| GE CFCP1NIXCSS | Refrigerator |
| GE GBS20EGHBB | Refrigerator |
| ge GBSC0HBXBB | Refrigerator |
| ge GBSC0HBXCC | Refrigerator |
| ge GBSC0HCXBB | Refrigerator |
| ge GBSL0HCXLLS | Refrigerator |
| ge GBSL0HCXRLS | Refrigerator |
| GE GDE20GGHWW | Refrigerator |
| GE GDE20GSHSS | Refrigerator |
| GE GDS20SBSDSS | Refrigerator |
| GE GDS20SCSASS | Refrigerator |
| GE GDS20SCSASS | Refrigerator |
| ge GDSC0KCXBB | Refrigerator |
| ge GDSC0KCXWW | Refrigerator |
| ge GDSC3KCYBB | Refrigerator |
| ge GDSC3KCYWW | Refrigerator |
| ge GDSL3KCYRLS | Refrigerator |
| GE GFSF2KEXABB | Refrigerator |
| GE GFSF2KEXABB | Refrigerator |
| GE GFSF2KEXACC | Refrigerator |
| GE GFSF2KEXACC | Refrigerator |
| GE GFSF2KEXAWW | Refrigerator |
| GE GFSF2KEXAWW | Refrigerator |
| GE GFSL2KEXALS | Refrigerator |
| GE GFSL2KEXALS | Refrigerator |
| GE GFSS2KEXASS | Refrigerator |
| GE GFSS2KEXASS | Refrigerator |
| GE GTH22SHPARBS | Refrigerator |
| GE GTH22SHRARBS | Refrigerator |
| GE GTH22SHSARSS | Refrigerator |
| GE GTS18KHP | Refrigerator |
| GE GTS18KHPARBB | Refrigerator |
| GE GTS18KHPARCC | Refrigerator |
| GE GTS18KHPARWW | Refrigerator |
| GE GTS18KHPCRBB | Refrigerator |
| GE GTS18KHPCRBB | Refrigerator |
| GE GTS18KHPCRCC | Refrigerator |
| GE GTS18KHPCRCC | Refrigerator |
| GE GTS18KHPCRWW | Refrigerator |
| GE GTS18KHPCRWW | Refrigerator |
| GE GTS18KHPDRBB | Refrigerator |
| GE GTS18KHPDRBB | Refrigerator |
| GE GTS18KHPDRCC | Refrigerator |
| GE GTS18KHPDRCC | Refrigerator |
| GE GTS18KHPDRWW | Refrigerator |
| GE GTS18KHPDRWW | Refrigerator |
| GE GTS18KHPKRBB | Refrigerator |
| GE GTS18KHPKRBB | Refrigerator |
| GE GTS18KHPKRCC | Refrigerator |
| GE GTS18KHPKRCC | Refrigerator |
| GE GTS18KHPKRWW | Refrigerator |
| GE GTS18KHPKRWW | Refrigerator |
| GE GTS18KHPLRBB | Refrigerator |
| GE GTS18KHPLRBB | Refrigerator |
| GE GTS18KHPLRCC | Refrigerator |
| GE GTS18KHPLRCC | Refrigerator |
| GE GTS18KHPLRWW | Refrigerator |
| GE GTS18KHPLRWW | Refrigerator |
| GE GTS18KHPPRBB | Refrigerator |
| GE GTS18KHPPRBB | Refrigerator |
| GE GTS18KHPPRCC | Refrigerator |
| GE GTS18KHPPRCC | Refrigerator |
| GE GTS18KHPPRWW | Refrigerator |
| GE GTS18KHPPRWW | Refrigerator |
| GE GTS18KHPVRBB | Refrigerator |
| GE GTS18KHPVRBB | Refrigerator |
| GE GTS18KHPVRCC | Refrigerator |
| GE GTS18KHPVRCC | Refrigerator |
| GE GTS18KHPVRWW | Refrigerator |
| GE GTS18KHPVRWW | Refrigerator |
| GE GTS18SHP | Refrigerator |
| GE GTS18SHPARBS | Refrigerator |
| GE GTS18SHPARBS | Refrigerator |
| GE GTS18SHPCRBS | Refrigerator |
| GE GTS18SHPCRBS | Refrigerator |
| GE GTS18SHPDRBS | Refrigerator |
| GE GTS18SHPDRBS | Refrigerator |
| GE GTS18SHPLRBS | Refrigerator |
| GE GTS18SHPLRBS | Refrigerator |
| GE GTS18SHPPRBS | Refrigerator |
| GE GTS18SHPPRBS | Refrigerator |
| GE GTS18SHSARSS | Refrigerator |
| GE GTS18SHSARSS | Refrigerator |
| GE GTS18SHSKRSS | Refrigerator |
| GE GTS18SHSKRSS | Refrigerator |
| GE GTS18SHSLRSS | Refrigerator |
| GE GTS18SHSLRSS | Refrigerator |
| GE GTS18SHSPRSS | Refrigerator |
| GE GTS18SHSPRSS | Refrigerator |
| GE GTS18SHSVRSS | Refrigerator |
| GE GTS18SHSVRSS | Refrigerator |
| GE GTS18SHXARSS | Refrigerator |
| GE GTS18SHXARSS | Refrigerator |
| GE GTS22KBPBB | Refrigerator |
| GE GTS22KBPWW | Refrigerator |
| GE GTS22KCPBB | Refrigerator |
| GE GTS22KCPCC | Refrigerator |
| GE GTS22KCPWW | Refrigerator |
| GE GTS22KHP | Refrigerator |
| GE GTS22KHPARBB | Refrigerator |
| GE GTS22KHPARBB | Refrigerator |
| GE GTS22KHPARCC | Refrigerator |
| GE GTS22KHPARCC | Refrigerator |
| GE GTS22KHPARWW | Refrigerator |
| GE GTS22KHPARWW | Refrigerator |
| GE GTS22KHPBB | Refrigerator |
| GE GTS22KHPBRBB | Refrigerator |
| GE GTS22KHPBRBB | Refrigerator |
| GE GTS22KHPBRCC | Refrigerator |
| GE GTS22KHPBRCC | Refrigerator |
| GE GTS22KHPBRWW | Refrigerator |
| GE GTS22KHPBRWW | Refrigerator |
| GE GTS22KHPCC | Refrigerator |
| GE GTS22KHPDRBB | Refrigerator |
| GE GTS22KHPDRBB | Refrigerator |
| GE GTS22KHPDRCC | Refrigerator |
| GE GTS22KHPDRCC | Refrigerator |
| GE GTS22KHPDRWW | Refrigerator |
| GE GTS22KHPDRWW | Refrigerator |
| GE GTS22KHPWW | Refrigerator |
| GE GTS22SHP | Refrigerator |
| GE PDF22MCRABB | Refrigerator |
| GE PDF22MCRAWW | Refrigerator |
| GE PDF22MFSABB | Refrigerator |
| GE PDF22MFSABB | Refrigerator |
| GE PDF22MFSAWW | Refrigerator |
| GE PDF22MFSAWW | Refrigerator |
| GE PDF22MFSBBB | Refrigerator |
| GE PDF22MFSBBB | Refrigerator |
| GE PDF22MFSBWW | Refrigerator |
| GE PDF22MFSBWW | Refrigerator |
| GE PDF22MFWABB | Refrigerator |
| GE PDF22MFWABB | Refrigerator |
| GE PDF22MFWAWW | Refrigerator |
| GE PDF22MFWAWW | Refrigerator |
| GE PDF22MFWBBB | Refrigerator |
| GE PDF22MFWBWW | Refrigerator |
| GE PDF22MFWCBB | Refrigerator |
| GE PDF22MFWCWW | Refrigerator |
| GE PDS20MCP | Refrigerator |
| GE PDS20MCPABB | Refrigerator |
| GE PDS20MCPABB | Refrigerator |
| GE PDS20MCPACC | Refrigerator |
| GE PDS20MCPACC | Refrigerator |
| GE PDS20MCPAWW | Refrigerator |
| GE PDS20MCPAWW | Refrigerator |
| GE PDS20MCRABB | Refrigerator |
| GE PDS20MCRABB | Refrigerator |
| GE PDS20MCRACC | Refrigerator |
| GE PDS20MCRACC | Refrigerator |
| GE PDS20MCRAWW | Refrigerator |
| GE PDS20MCRAWW | Refrigerator |
| GE PDS20MCRBBB | Refrigerator |
| GE PDS20MCRBBB | Refrigerator |
| GE PDS20MCRBCC | Refrigerator |
| GE PDS20MCRBCC | Refrigerator |
| GE PDS20MCRBWW | Refrigerator |
| GE PDS20MCRBWW | Refrigerator |
| GE PDS20MFSABB | Refrigerator |
| GE PDS20MFSABB | Refrigerator |
| GE PDS20MFSACC | Refrigerator |
| GE PDS20MFSACC | Refrigerator |
| GE PDS20MFSAWW | Refrigerator |
| GE PDS20MFSAWW | Refrigerator |
| GE PDS20MFSBBB | Refrigerator |
| GE PDS20MFSBBB | Refrigerator |
| GE PDS20MFSBCC | Refrigerator |
| GE PDS20MFSBCC | Refrigerator |
| GE PDS20MFSBWW | Refrigerator |
| GE PDS20MFSBWW | Refrigerator |
| GE PDS20MFWABB | Refrigerator |
| GE PDS20MFWABB | Refrigerator |
| GE PDS20MFWACC | Refrigerator |
| GE PDS20MFWACC | Refrigerator |
| GE PDS20MFWAWW | Refrigerator |
| GE PDS20MFWAWW | Refrigerator |
| GE PDS20MFWBBB | Refrigerator |
| GE PDS20MFWBCC | Refrigerator |
| GE PDS20MFWBWW | Refrigerator |
| GE PDS20SBSDLSS | Refrigerator |
| GE PDS20SBSDRSS | Refrigerator |
| GE PDS20SCP | Refrigerator |
| GE PDS20SCPALSS | Refrigerator |
| GE PDS20SCPALSS | Refrigerator |
| GE PDS20SCPARSS | Refrigerator |
| GE PDS20SCPARSS | Refrigerator |
| GE PDS20SCRALSS | Refrigerator |
| GE PDS20SCRALSS | Refrigerator |
| GE PDS20SCRARSS | Refrigerator |
| GE PDS20SCRARSS | Refrigerator |
| GE PDS20SCRBLSS | Refrigerator |
| GE PDS20SCRBLSS | Refrigerator |
| GE PDS20SCRBRSS | Refrigerator |
| GE PDS20SCRBRSS | Refrigerator |
| GE PDS20SFSALSS | Refrigerator |
| GE PDS20SFSALSS | Refrigerator |
| GE PDS20SFSARSS | Refrigerator |
| GE PDS20SFSARSS | Refrigerator |
| GE PDS20SFSBLSS | Refrigerator |
| GE PDS20SFSBLSS | Refrigerator |
| GE PDS20SFSBRSS | Refrigerator |
| GE PDS20SFSBRSS | Refrigerator |
| GE PDS20SFSCLSS | Refrigerator |
| GE PDS20SFSCRSS | Refrigerator |
| GE PDS20SFSDLSS | Refrigerator |
| GE PDS20SFSDRSS | Refrigerator |
| GE PDS22MCP | Refrigerator |
| GE PDS22MCPABB | Refrigerator |
| GE PDS22MCPABB | Refrigerator |
| GE PDS22MCPACC | Refrigerator |
| GE PDS22MCPACC | Refrigerator |
| GE PDS22MCPAWW | Refrigerator |
| GE PDS22MCPAWW | Refrigerator |
| GE PDS22MCRABB | Refrigerator |
| GE PDS22MCRABB | Refrigerator |
| GE PDS22MCRACC | Refrigerator |
| GE PDS22MCRACC | Refrigerator |
| GE PDS22MCRAWW | Refrigerator |
| GE PDS22MCRAWW | Refrigerator |
| GE PDS22MCRBBB | Refrigerator |
| GE PDS22MCRBBB | Refrigerator |
| GE PDS22MCRBCC | Refrigerator |
| GE PDS22MCRBCC | Refrigerator |
| GE PDS22MCRBWW | Refrigerator |
| GE PDS22MCRBWW | Refrigerator |
| GE PDS22MFSABB | Refrigerator |
| GE PDS22MFSABB | Refrigerator |
| GE PDS22MFSACC | Refrigerator |
| GE PDS22MFSACC | Refrigerator |
| GE PDS22MFSAWW | Refrigerator |
| GE PDS22MFSAWW | Refrigerator |
| GE PDS22MFSBBB | Refrigerator |
| GE PDS22MFSBBB | Refrigerator |
| GE PDS22MFSBCC | Refrigerator |
| GE PDS22MFSBCC | Refrigerator |
| GE PDS22MFSBWW | Refrigerator |
| GE PDS22MFSBWW | Refrigerator |
| GE PDS22MFWABB | Refrigerator |
| GE PDS22MFWABB | Refrigerator |
| GE PDS22MFWACC | Refrigerator |
| GE PDS22MFWACC | Refrigerator |
| GE PDS22MFWAWW | Refrigerator |
| GE PDS22MFWAWW | Refrigerator |
| GE PDS22MFWBBB | Refrigerator |
| GE PDS22MFWBCC | Refrigerator |
| GE PDS22MFWBWW | Refrigerator |
| GE PDS22MFWCBB | Refrigerator |
| GE PDS22MFWCCC | Refrigerator |
| GE PDS22MFWCWW | Refrigerator |
| GE PDS22MHRABB | Refrigerator |
| GE PDS22MHRABB | Refrigerator |
| GE PDS22MHRACC | Refrigerator |
| GE PDS22MHRACC | Refrigerator |
| GE PDS22MHRAWW | Refrigerator |
| GE PDS22MHRAWW | Refrigerator |
| GE PDS22MHRBBB | Refrigerator |
| GE PDS22MHRBBB | Refrigerator |
| GE PDS22MHRBCC | Refrigerator |
| GE PDS22MHRBCC | Refrigerator |
| GE PDS22MHRBWW | Refrigerator |
| GE PDS22MHRBWW | Refrigerator |
| GE PDS22MISABB | Refrigerator |
| GE PDS22MISABB | Refrigerator |
| GE PDS22MISACC | Refrigerator |
| GE PDS22MISACC | Refrigerator |
| GE PDS22MISAWW | Refrigerator |
| GE PDS22MISAWW | Refrigerator |
| GE PDS22MISBBB | Refrigerator |
| GE PDS22MISBBB | Refrigerator |
| GE PDS22MISBCC | Refrigerator |
| GE PDS22MISBCC | Refrigerator |
| GE PDS22MISBWW | Refrigerator |
| GE PDS22MISBWW | Refrigerator |
| GE PDS22MIWABB | Refrigerator |
| GE PDS22MIWABB | Refrigerator |
| GE PDS22MIWACC | Refrigerator |
| GE PDS22MIWACC | Refrigerator |
| GE PDS22MIWAWW | Refrigerator |
| GE PDS22MIWAWW | Refrigerator |
| GE PDS22MIWBBB | Refrigerator |
| GE PDS22MIWBCC | Refrigerator |
| GE PDS22MIWBWW | Refrigerator |
| GE PDS22MIWCBB | Refrigerator |
| GE PDS22MIWCCC | Refrigerator |
| GE PDS22MIWCWW | Refrigerator |
| GE PDS22SCP | Refrigerator |
| GE PDS22SCPALSS | Refrigerator |
| GE PDS22SCPALSS | Refrigerator |
| GE PDS22SCPARSS | Refrigerator |
| GE PDS22SCPARSS | Refrigerator |
| GE PDS22SCRALSS | Refrigerator |
| GE PDS22SCRALSS | Refrigerator |
| GE PDS22SCRARSS | Refrigerator |
| GE PDS22SCRARSS | Refrigerator |
| GE PDS22SCRBLSS | Refrigerator |
| GE PDS22SCRBLSS | Refrigerator |
| GE PDS22SCRBRSS | Refrigerator |
| GE PDS22SCRBRSS | Refrigerator |
| GE PDS22SFSALSS | Refrigerator |
| GE PDS22SFSALSS | Refrigerator |
| GE PDS22SFSARSS | Refrigerator |
| GE PDS22SFSARSS | Refrigerator |
| GE PDS22SFSBLSS | Refrigerator |
| GE PDS22SFSBLSS | Refrigerator |
| GE PDS22SFSBRSS | Refrigerator |
| GE PDS22SFSBRSS | Refrigerator |
| GE PDS22SFSCLSS | Refrigerator |
| GE PDS22SFSCRSS | Refrigerator |
| GE PDS22SHRALSS | Refrigerator |
| GE PDS22SHRALSS | Refrigerator |
| GE PDS22SHRARSS | Refrigerator |
| GE PDS22SHRARSS | Refrigerator |
| GE PDS22SHRBLSS | Refrigerator |
| GE PDS22SHRBLSS | Refrigerator |
| GE PDS22SHRBRSS | Refrigerator |
| GE PDS22SHRBRSS | Refrigerator |
| GE PDS22SISALSS | Refrigerator |
| GE PDS22SISALSS | Refrigerator |
| GE PDS22SISARSS | Refrigerator |
| GE PDS22SISARSS | Refrigerator |
| GE PDS22SISBLSS | Refrigerator |
| GE PDS22SISBLSS | Refrigerator |
| GE PDS22SISBRSS | Refrigerator |
| GE PDS22SISBRSS | Refrigerator |
| GE PDS22SISCLSS | Refrigerator |
| GE PDS22SISCRSS | Refrigerator |
| GE PDS22SISDLSS | Refrigerator |
| GE PDS22SISDRSS | Refrigerator |
| GE PDSF0MFXARBB | Refrigerator |
| GE PDSF0MFXARBB | Refrigerator |
| GE PDSF0MFXARCC | Refrigerator |
| GE PDSF0MFXARCC | Refrigerator |
| GE PDSF0MFXARWW | Refrigerator |
| GE PDSF0MFXARWW | Refrigerator |
| GE PDSF0MFXBRBB | Refrigerator |
| GE PDSF0MFXBRBB | Refrigerator |
| GE PDSF0MFXBRCC | Refrigerator |
| GE PDSF0MFXBRCC | Refrigerator |
| GE PDSF0MFXBRWW | Refrigerator |
| GE PDSF0MFXBRWW | Refrigerator |
| GE PDSS0MFXALSS | Refrigerator |
| GE PDSS0MFXALSS | Refrigerator |
| GE PDSS0MFXARSS | Refrigerator |
| GE PDSS0MFXARSS | Refrigerator |
| GE PDSS0MFXBLSS | Refrigerator |
| GE PDSS0MFXBLSS | Refrigerator |
| GE PDSS0MFXBRSS | Refrigerator |
| GE PDSS0MFXBRSS | Refrigerator |
| GE PDSS0MFYALSS | Refrigerator |
| GE PDSS0MFYALSS | Refrigerator |
| GE PDSS0MFYARSS | Refrigerator |
| GE PDSS0MFYARSS | Refrigerator |
| GE PDSS0MFYCLSS | Refrigerator |
| GE PDSS0MFYCLSS | Refrigerator |
| GE PDSS0MFYCRSS | Refrigerator |
| GE PDSS0MFYCRSS | Refrigerator |
| GE PDSS0MFYELSS | Refrigerator |
| GE PDSS0MFYELSS | Refrigerator |
| GE PDSS0MFYERSS | Refrigerator |
| GE PDSS0MFYERSS | Refrigerator |
| GE PDW22SCRARSS | Refrigerator |
| GE PDW22SCRARSS | Refrigerator |
| GE PDW22SCRBRSS | Refrigerator |
| GE PDW22SCRBRSS | Refrigerator |
| GE PDW22SHRARSS | Refrigerator |
| GE PDW22SHRARSS | Refrigerator |
| GE PDW22SISARSS | Refrigerator |
| GE PDW22SISASS | Refrigerator |
| GE PDW22SISBRSS | Refrigerator |
| GE PFCE1NJWADBB | Refrigerator |
| GE PFCE1NJWADBB | Refrigerator |
| GE PFCE1NJWADSS | Refrigerator |
| GE PFCE1NJWADSS | Refrigerator |
| GE PFCE1NJWADWW | Refrigerator |
| GE PFCE1NJWADWW | Refrigerator |
| GE PFCE1NJWBDBB | Refrigerator |
| GE PFCE1NJWBDBB | Refrigerator |
| GE PFCE1NJWBDSS | Refrigerator |
| GE PFCE1NJWBDSS | Refrigerator |
| GE PFCE1NJWBDWW | Refrigerator |
| GE PFCE1NJWBDWW | Refrigerator |
| GE PFCE1NJWCDBB | Refrigerator |
| GE PFCE1NJWCDBB | Refrigerator |
| GE PFCE1NJWCDSS | Refrigerator |
| GE PFCE1NJWCDSS | Refrigerator |
| GE PFCE1NJWCDWW | Refrigerator |
| GE PFCE1NJWCDWW | Refrigerator |
| GE PFCF1NFWABB | Refrigerator |
| GE PFCF1NFWABB | Refrigerator |
| GE PFCF1NFWAWW | Refrigerator |
| GE PFCF1NFWAWW | Refrigerator |
| GE PFCF1NFXABB | Refrigerator |
| GE PFCF1NFXABB | Refrigerator |
| GE PFCF1NFXAWW | Refrigerator |
| GE PFCF1NFXAWW | Refrigerator |
| GE PFCF1NFXBBB | Refrigerator |
| GE PFCF1NFXBBB | Refrigerator |
| GE PFCF1NFXBWW | Refrigerator |
| GE PFCF1NFXBWW | Refrigerator |
| GE PFCF1NFXCBB | Refrigerator |
| GE PFCF1NFXCBB | Refrigerator |
| GE PFCF1NFXCWW | Refrigerator |
| GE PFCF1NFXCWW | Refrigerator |
| GE PFCF1NJWABB | Refrigerator |
| GE PFCF1NJWABB | Refrigerator |
| GE PFCF1NJWACC | Refrigerator |
| GE PFCF1NJWACC | Refrigerator |
| GE PFCF1NJWAWW | Refrigerator |
| GE PFCF1NJWAWW | Refrigerator |
| GE PFCF1NJXABB | Refrigerator |
| GE PFCF1NJXABB | Refrigerator |
| GE PFCF1NJXACC | Refrigerator |
| GE PFCF1NJXACC | Refrigerator |
| GE PFCF1NJXAWW | Refrigerator |
| GE PFCF1NJXAWW | Refrigerator |
| GE PFCF1NJXBBB | Refrigerator |
| GE PFCF1NJXBBB | Refrigerator |
| GE PFCF1NJXBCC | Refrigerator |
| GE PFCF1NJXBCC | Refrigerator |
| GE PFCF1NJXBWW | Refrigerator |
| GE PFCF1NJXBWW | Refrigerator |
| GE PFCF1NJXCBB | Refrigerator |
| GE PFCF1NJXCBB | Refrigerator |
| GE PFCF1NJXCCC | Refrigerator |
| GE PFCF1NJXCCC | Refrigerator |
| GE PFCF1NJXCWW | Refrigerator |
| GE PFCF1NJXCWW | Refrigerator |
| GE PFCF1PJXABB | Refrigerator |
| GE PFCF1PJXABB | Refrigerator |
| GE PFCF1PJXAWW | Refrigerator |
| GE PFCF1PJXAWW | Refrigerator |
| GE PFCF1PJXBBB | Refrigerator |
| GE PFCF1PJXBBB | Refrigerator |
| GE PFCF1PJXBWW | Refrigerator |
| GE PFCF1PJXBWW | Refrigerator |
| GE PFCF1PJXCBB | Refrigerator |
| GE PFCF1PJXCBB | Refrigerator |
| GE PFCF1PJXCWW | Refrigerator |
| GE PFCF1PJXCWW | Refrigerator |
| GE PFCS1NFWASS | Refrigerator |
| GE PFCS1NFWASS | Refrigerator |
| GE PFCS1NFXASS | Refrigerator |
| GE PFCS1NFXASS | Refrigerator |
| GE PFCS1NFXBSS | Refrigerator |
| GE PFCS1NFXBSS | Refrigerator |
| GE PFCS1NFXCSS | Refrigerator |
| GE PFCS1NFXCSS | Refrigerator |
| GE PFCS1NJWASS | Refrigerator |
| GE PFCS1NJWASS | Refrigerator |
| GE PFCS1NJXASS | Refrigerator |
| GE PFCS1NJXASS | Refrigerator |
| GE PFCS1NJXBSS | Refrigerator |
| GE PFCS1NJXBSS | Refrigerator |
| GE PFCS1NJXCSS | Refrigerator |
| GE PFCS1NJXCSS | Refrigerator |
| GE PFCS1PJXASS | Refrigerator |
| GE PFCS1PJXASS | Refrigerator |
| GE PFCS1PJXBSS | Refrigerator |
| GE PFCS1PJXBSS | Refrigerator |
| GE PFCS1PJXCSS | Refrigerator |
| GE PFCS1PJXCSS | Refrigerator |
| GE PFIC1NFWABV | Refrigerator |
| GE PFIC1NFWABV | Refrigerator |
| GE PFIC1NFWAWV | Refrigerator |
| GE PFIC1NFWAWV | Refrigerator |
| GE PFIC1NFWBBV | Refrigerator |
| GE PFIC1NFWBBV | Refrigerator |
| GE PFIC1NFWBWV | Refrigerator |
| GE PFIC1NFWBWV | Refrigerator |
| GE PFIC1NFWCBV | Refrigerator |
| GE PFIC1NFWCBV | Refrigerator |
| GE PFIC1NFWCWV | Refrigerator |
| GE PFIC1NFWCWV | Refrigerator |
| GE PFIE1NFWAABV | Refrigerator |
| GE PFIE1NFWAABV | Refrigerator |
| GE PFIE1NFWAAKB | Refrigerator |
| GE PFIE1NFWAAKB | Refrigerator |
| GE PFIE1NFWBABV | Refrigerator |
| GE PFIE1NFWBABV | Refrigerator |
| GE PFIE1NFWBAKB | Refrigerator |
| GE PFIE1NFWBAKB | Refrigerator |
| GE PFIE1NFWCABV | Refrigerator |
| GE PFIE1NFWCABV | Refrigerator |
| GE PFIE1NFWCAKB | Refrigerator |
| GE PFIE1NFWCAKB | Refrigerator |
| GE PFS22MISABB | Refrigerator |
| GE PFS22MISABB | Refrigerator |
| GE PFS22MISAWW | Refrigerator |
| GE PFS22MISAWW | Refrigerator |
| GE PFS22MISBBB | Refrigerator |
| GE PFS22MISBBB | Refrigerator |
| GE PFS22MISBWW | Refrigerator |
| GE PFS22MISBWW | Refrigerator |
| GE PFS22MIWABB | Refrigerator |
| GE PFS22MIWABB | Refrigerator |
| GE PFS22MIWAWW | Refrigerator |
| GE PFS22MIWAWW | Refrigerator |
| GE PFS22MIWBB | Refrigerator |
| GE PFS22MIWBBB | Refrigerator |
| GE PFS22MIWBWW | Refrigerator |
| GE PFS22MIWCBB | Refrigerator |
| GE PFS22MIWCWW | Refrigerator |
| GE PFS22SISASS | Refrigerator |
| GE PFS22SISASS | Refrigerator |
| GE PFS22SISBSS | Refrigerator |
| GE PFS22SISBSS | Refrigerator |
| GE PFS22SISCSS | Refrigerator |
| GE PFS22SISDSS | Refrigerator |
| GE PFSE5NJWADBB | Refrigerator |
| GE PFSE5NJWADBB | Refrigerator |
| GE PFSE5NJWADSS | Refrigerator |
| GE PFSE5NJWADSS | Refrigerator |
| GE PFSE5NJWADWW | Refrigerator |
| GE PFSE5NJWADWW | Refrigerator |
| GE PFSE5NJWBDBB | Refrigerator |
| GE PFSE5NJWBDBB | Refrigerator |
| GE PFSE5NJWBDSS | Refrigerator |
| GE PFSE5NJWBDSS | Refrigerator |
| GE PFSE5NJWBDWW | Refrigerator |
| GE PFSE5NJWBDWW | Refrigerator |
| GE PFSE5NJWCDBB | Refrigerator |
| GE PFSE5NJWCDBB | Refrigerator |
| GE PFSE5NJWCDSS | Refrigerator |
| GE PFSE5NJWCDSS | Refrigerator |
| GE PFSE5NJWCDWW | Refrigerator |
| GE PFSE5NJWCDWW | Refrigerator |
| GE PFSF0MFCA BB | Refrigerator |
| GE PFSF0MFCA WW | Refrigerator |
| GE PFSF0MFCABB | Refrigerator |
| GE PFSF0MFCABB | Refrigerator |
| GE PFSF0MFCAWW | Refrigerator |
| GE PFSF0MFCAWW | Refrigerator |
| GE PFSF0MFCBB | Refrigerator |
| GE PFSF0MFZBBB | Refrigerator |
| GE PFSF0MFZBBB | Refrigerator |
| GE PFSF0MFZBWW | Refrigerator |
| GE PFSF0MFZBWW | Refrigerator |
| GE PFSF0MFZE BB | Refrigerator |
| GE PFSF0MFZE WW | Refrigerator |
| GE PFSF0MFZEBB | Refrigerator |
| GE PFSF0MFZEBB | Refrigerator |
| GE PFSF0MFZEWW | Refrigerator |
| GE PFSF0MFZEWW | Refrigerator |
| GE PFSF0MFZFBB | Refrigerator |
| GE PFSF0MFZFBB | Refrigerator |
| GE PFSF0MFZFWW | Refrigerator |
| GE PFSF0MFZFWW | Refrigerator |
| GE PFSF0MFZGBB | Refrigerator |
| GE PFSF0MFZGBB | Refrigerator |
| GE PFSF0MFZGWW | Refrigerator |
| GE PFSF0MFZGWW | Refrigerator |
| GE PFSF2MIXABB | Refrigerator |
| GE PFSF2MIXABB | Refrigerator |
| GE PFSF2MIXAWW | Refrigerator |
| GE PFSF2MIXAWW | Refrigerator |
| GE PFSF2MIXBBB | Refrigerator |
| GE PFSF2MIXBBB | Refrigerator |
| GE PFSF2MIXBWW | Refrigerator |
| GE PFSF2MIXBWW | Refrigerator |
| GE PFSF2MJXABB | Refrigerator |
| GE PFSF2MJXABB | Refrigerator |
| GE PFSF2MJXAWW | Refrigerator |
| GE PFSF2MJXAWW | Refrigerator |
| GE PFSF2MJXBBB | Refrigerator |
| GE PFSF2MJXBBB | Refrigerator |
| GE PFSF2MJXBWW | Refrigerator |
| GE PFSF2MJXBWW | Refrigerator |
| GE PFSF5NFWABB | Refrigerator |
| GE PFSF5NFWABB | Refrigerator |
| GE PFSF5NFWAWW | Refrigerator |
| GE PFSF5NFWAWW | Refrigerator |
| GE PFSF5NFXABB | Refrigerator |
| GE PFSF5NFXABB | Refrigerator |
| GE PFSF5NFXAWW | Refrigerator |
| GE PFSF5NFXAWW | Refrigerator |
| GE PFSF5NFXBBB | Refrigerator |
| GE PFSF5NFXBBB | Refrigerator |
| GE PFSF5NFXBWW | Refrigerator |
| GE PFSF5NFXBWW | Refrigerator |
| GE PFSF5NFXCBB | Refrigerator |
| GE PFSF5NFXCBB | Refrigerator |
| GE PFSF5NFXCWW | Refrigerator |
| GE PFSF5NFXCWW | Refrigerator |
| GE PFSF5NJWABB | Refrigerator |
| GE PFSF5NJWABB | Refrigerator |
| GE PFSF5NJWACC | Refrigerator |
| GE PFSF5NJWACC | Refrigerator |
| GE PFSF5NJWAWW | Refrigerator |
| GE PFSF5NJWAWW | Refrigerator |
| GE PFSF5NJXABB | Refrigerator |
| GE PFSF5NJXABB | Refrigerator |
| GE PFSF5NJXACC | Refrigerator |
| GE PFSF5NJXACC | Refrigerator |
| GE PFSF5NJXAWW | Refrigerator |
| GE PFSF5NJXAWW | Refrigerator |
| GE PFSF5NJXBBB | Refrigerator |
| GE PFSF5NJXBBB | Refrigerator |
| GE PFSF5NJXBCC | Refrigerator |
| GE PFSF5NJXBCC | Refrigerator |
| GE PFSF5NJXBWW | Refrigerator |
| GE PFSF5NJXBWW | Refrigerator |
| GE PFSF5NJXCBB | Refrigerator |
| GE PFSF5NJXCBB | Refrigerator |
| GE PFSF5NJXCCC | Refrigerator |
| GE PFSF5NJXCCC | Refrigerator |
| GE PFSF5NJXCWW | Refrigerator |
| GE PFSF5NJXCWW | Refrigerator |
| GE PFSF5PJXABB | Refrigerator |
| GE PFSF5PJXABB | Refrigerator |
| GE PFSF5PJXAWW | Refrigerator |
| GE PFSF5PJXAWW | Refrigerator |
| GE PFSF5PJXBBB | Refrigerator |
| GE PFSF5PJXBBB | Refrigerator |
| GE PFSF5PJXBWW | Refrigerator |
| GE PFSF5PJXBWW | Refrigerator |
| GE PFSF5PJXCBB | Refrigerator |
| GE PFSF5PJXCBB | Refrigerator |
| GE PFSF5PJXCWW | Refrigerator |
| GE PFSF5PJXCWW | Refrigerator |
| GE PFSS0MFCA SS | Refrigerator |
| GE PFSS0MFCASS | Refrigerator |
| GE PFSS0MFCASS | Refrigerator |
| GE PFSS0MFCB SS | Refrigerator |
| GE PFSS0MFCBSS | Refrigerator |
| GE PFSS0MFCBSS | Refrigerator |
| GE PFSS0MFZBSS | Refrigerator |
| GE PFSS0MFZBSS | Refrigerator |
| GE PFSS0MFZE SS | Refrigerator |
| GE PFSS0MFZESS | Refrigerator |
| GE PFSS0MFZESS | Refrigerator |
| GE PFSS0MFZGSS | Refrigerator |
| GE PFSS0MFZGSS | Refrigerator |
| GE PFSS0MFZH SS | Refrigerator |
| GE PFSS0MFZHSS | Refrigerator |
| GE PFSS0MFZHSS | Refrigerator |
| GE PFSS2MIXASS | Refrigerator |
| GE PFSS2MIXASS | Refrigerator |
| GE PFSS2MIXBSS | Refrigerator |
| GE PFSS2MIXBSS | Refrigerator |
| GE PFSS2MJXASS | Refrigerator |
| GE PFSS2MJXASS | Refrigerator |
| GE PFSS2MJXBSS | Refrigerator |
| GE PFSS2MJXBSS | Refrigerator |
| GE PFSS5NFWASS | Refrigerator |
| GE PFSS5NFWASS | Refrigerator |
| GE PFSS5NFXASS | Refrigerator |
| GE PFSS5NFXASS | Refrigerator |
| GE PFSS5NFXBSS | Refrigerator |
| GE PFSS5NFXBSS | Refrigerator |
| GE PFSS5NFXCSS | Refrigerator |
| GE PFSS5NFXCSS | Refrigerator |
| GE PFSS5NJWASS | Refrigerator |
| GE PFSS5NJWASS | Refrigerator |
| GE PFSS5NJXASS | Refrigerator |
| GE PFSS5NJXASS | Refrigerator |
| GE PFSS5NJXBSS | Refrigerator |
| GE PFSS5NJXBSS | Refrigerator |
| GE PFSS5NJXCSS | Refrigerator |
| GE PFSS5NJXCSS | Refrigerator |
| GE PFSS5PJXASS | Refrigerator |
| GE PFSS5PJXASS | Refrigerator |
| GE PFSS5PJXBSS | Refrigerator |
| GE PFSS5PJXBSS | Refrigerator |
| GE PFSS5PJXCSS | Refrigerator |
| GE PFSS5PJXCSS | Refrigerator |
| GE PFSW2MIXASS | Refrigerator |
| GE PFSW2MIXASS | Refrigerator |
| GE PFSW2MIXBSS | Refrigerator |
| GE PFSW2MIXBSS | Refrigerator |
| GE PGCS1NFXASS | Refrigerator |
| GE PGCS1NFXASS | Refrigerator |
| GE PGCS1NFXBSS | Refrigerator |
| GE PGCS1NFXBSS | Refrigerator |
| GE PGCS1NFXCSS | Refrigerator |
| GE PGCS1NFXCSS | Refrigerator |
| GE PGCS1PJXASS | Refrigerator |
| GE PGCS1PJXASS | Refrigerator |
| GE PGCS1PJXBSS | Refrigerator |
| GE PGCS1PJXBSS | Refrigerator |
| GE PGCS1PJXCSS | Refrigerator |
| GE PGCS1PJXCSS | Refrigerator |
| GE PGSS5NFXASS | Refrigerator |
| GE PGSS5NFXASS | Refrigerator |
| GE PGSS5NFXBSS | Refrigerator |
| GE PGSS5NFXBSS | Refrigerator |
| GE PGSS5NFXCSS | Refrigerator |
| GE PGSS5NFXCSS | Refrigerator |
| GE PGSS5PJXASS | Refrigerator |
| GE PGSS5PJXASS | Refrigerator |
| GE PGSS5PJXBSS | Refrigerator |
| GE PGSS5PJXBSS | Refrigerator |
| GE PGSS5PJXCSS | Refrigerator |
| GE PGSS5PJXCSS | Refrigerator |
| GE PNS20KSEAFSS | Refrigerator |
| GE PNS20KSEAFSS | Refrigerator |
| GE PNS20KSHAFSS | Refrigerator |
| GE PNS20KSHAFSS | Refrigerator |
| GE PTS18SHSKRSS | Refrigerator |
| GE PTS18SHSKRSS | Refrigerator |
| GE PTS18SHSVRSS | Refrigerator |
| GE PTS18SHSVRSS | Refrigerator |
| GE PTS18SHSXRSS | Refrigerator |
| GE PTS18SHSXRSS | Refrigerator |
| GE PTS18SHSYRSS | Refrigerator |
| GE PTS18SHSYRSS | Refrigerator |
| GE PTS22LHP | Refrigerator |
| GE PTS22LHPARBB | Refrigerator |
| GE PTS22LHPARBB | Refrigerator |
| GE PTS22LHPARCC | Refrigerator |
| GE PTS22LHPARCC | Refrigerator |
| GE PTS22LHPARWW | Refrigerator |
| GE PTS22LHPARWW | Refrigerator |
| GE PTS22LHRARBB | Refrigerator |
| GE PTS22LHRARBB | Refrigerator |
| GE PTS22LHRARCC | Refrigerator |
| GE PTS22LHRARCC | Refrigerator |
| GE PTS22LHRARWW | Refrigerator |
| GE PTS22LHRARWW | Refrigerator |
| GE PTS22LHSARBB | Refrigerator |
| GE PTS22LHSARBB | Refrigerator |
| GE PTS22LHSARCC | Refrigerator |
| GE PTS22LHSARCC | Refrigerator |
| GE PTS22LHSARWW | Refrigerator |
| GE PTS22LHSARWW | Refrigerator |
| ge PTS22LHSBB | Refrigerator |
| GE PTS22LHSCRBB | Refrigerator |
| GE PTS22LHSCRBB | Refrigerator |
| GE PTS22LHSCRCC | Refrigerator |
| GE PTS22LHSCRCC | Refrigerator |
| GE PTS22LHSCRWW | Refrigerator |
| GE PTS22LHSCRWW | Refrigerator |
| ge PTS22LHSWW | Refrigerator |
| GE PTS22SHP | Refrigerator |
| GE PTS22SHPARBS | Refrigerator |
| GE PTS22SHPARBS | Refrigerator |
| GE PTS22SHRARBS | Refrigerator |
| GE PTS22SHRARBS | Refrigerator |
| GE PTS22SHSARSS | Refrigerator |
| GE PTS22SHSARSS | Refrigerator |
| GE PTS22SHSCRSS | Refrigerator |
| GE PTS22SHSCRSS | Refrigerator |
| ge PTS22SHSSS | Refrigerator |
| GE PTS25LHP | Refrigerator |
| GE PTS25LHPARBB | Refrigerator |
| GE PTS25LHPARBB | Refrigerator |
| GE PTS25LHPARCC | Refrigerator |
| GE PTS25LHPARCC | Refrigerator |
| GE PTS25LHPARWW | Refrigerator |
| GE PTS25LHPARWW | Refrigerator |
| GE PTS25LHRARBB | Refrigerator |
| GE PTS25LHRARBB | Refrigerator |
| GE PTS25LHRARCC | Refrigerator |
| GE PTS25LHRARCC | Refrigerator |
| GE PTS25LHRARWW | Refrigerator |
| GE PTS25LHRARWW | Refrigerator |
| GE PTS25LHRBRBB | Refrigerator |
| GE PTS25LHRBRBB | Refrigerator |
| GE PTS25LHRBRCC | Refrigerator |
| GE PTS25LHRBRCC | Refrigerator |
| GE PTS25LHRBRWW | Refrigerator |
| GE PTS25LHRBRWW | Refrigerator |
| GE PTS25LHRCRBB | Refrigerator |
| GE PTS25LHRCRBB | Refrigerator |
| GE PTS25LHRCRCC | Refrigerator |
| GE PTS25LHRCRCC | Refrigerator |
| GE PTS25LHRCRWW | Refrigerator |
| GE PTS25LHRCRWW | Refrigerator |
| GE PTS25LHSARBB | Refrigerator |
| GE PTS25LHSARBB | Refrigerator |
| GE PTS25LHSARCC | Refrigerator |
| GE PTS25LHSARCC | Refrigerator |
| GE PTS25LHSARWW | Refrigerator |
| GE PTS25LHSARWW | Refrigerator |
| ge PTS25LHSBB | Refrigerator |
| GE PTS25LHSCRBB | Refrigerator |
| GE PTS25LHSCRBB | Refrigerator |
| GE PTS25LHSCRCC | Refrigerator |
| GE PTS25LHSCRCC | Refrigerator |
| GE PTS25LHSCRWW | Refrigerator |
| GE PTS25LHSCRWW | Refrigerator |
| ge PTS25LHSWW | Refrigerator |
| GE PTS25SHP | Refrigerator |
| GE PTS25SHPARBS | Refrigerator |
| GE PTS25SHPARBS | Refrigerator |
| GE PTS25SHRARBS | Refrigerator |
| GE PTS25SHRARBS | Refrigerator |
| GE PTS25SHRBRBS | Refrigerator |
| GE PTS25SHRBRBS | Refrigerator |
| GE PTS25SHRCRBS | Refrigerator |
| GE PTS25SHRCRBS | Refrigerator |
| GE PTS25SHSARSS | Refrigerator |
| GE PTS25SHSARSS | Refrigerator |
| GE PTS25SHSCRSS | Refrigerator |
| GE PTS25SHSCRSS | Refrigerator |
| ge PTS25SHSSS | Refrigerator |
| GE PTT25LHPARCC | Refrigerator |
| GE PTT25LHPARCC | Refrigerator |
| GE PTT25LHPARWW | Refrigerator |
| GE PTT25LHPARWW | Refrigerator |
| GE PTT25SHPARBS | Refrigerator |
| GE PTT25SHPARBS | Refrigerator |
| GE SDL20KCSABS | Refrigerator |
| GE SDL20KCSABS | Refrigerator |
| GE ZFGB21HXASS | Refrigerator |
| GE ZFGB21HXASS | Refrigerator |
| GE ZFGB21HXCSS | Refrigerator |
| GE ZFGB21HXCSS | Refrigerator |
| GE ZFGP21HXASS | Refrigerator |
| GE ZFGP21HXASS | Refrigerator |
| GE ZFGP21HXCSS | Refrigerator |
| GE ZFGP21HXCSS | Refrigerator |
| 100749-C | Filter |
| 100749C | Filter |
| 100810A | Filter |
| 111517 | Filter |
| 215C1152P002 | Filter |
| 238C2334P001 | Filter |
| 35917-MN-1 | Filter |
| 46-9914 | Filter |
| 469914 | Filter |
| 49W942 | Filter |
| 7619607 | Filter |
| 9914 | Filter |
| AP3418061 | Filter |
| CGSWF | Filter |
| CLCH112 | Filter |
| EAP951515 | Filter |
| EFF-6023A | Filter |
| GHPGSWF | Filter |
| GSWF | Filter |
| GSWF3PK | Filter |
| GSWFDS | Filter |
| GTH22SHP | Filter |
| OPFG-2 | Filter |
| OPFG2 | Filter |
| PC36011 | Filter |
| PC56994 | Filter |
| PC58696 | Filter |
| PDS22SHR | Filter |
| PFCS1NJWSS | Filter |
| PS951515 | Filter |
| RB-G2 | Filter |
| RF-G3A | Filter |
| RFC3000A | Filter |
| RWF1061 | Filter |
| RWF3000A | Filter |
| SGF-G22 | Filter |
| SW-G2 | Filter |
| VJ-298-3PK-1 | Filter |
| WD-GSWF | Filter |
| WF-GSWF | Filter |
| WF281 | Filter |
| WF298 | Filter |
| WFC6001 | Filter |
| WSG-2 | Filter |
Additional Information
---