EcoAqua EWF-8003A | Our#: 180230
EcoAqua Replacement for Sub-Zero 4204490 Refrigerator Filter, 3-Pack

24 review(s)
EcoAqua EWF-8003A | Our#: 180230
Fast Shipping & Free Returns
100% Compatibility Guarantee
Compatibility guaranteed! Free return shipping and 100% money back if there are any issues.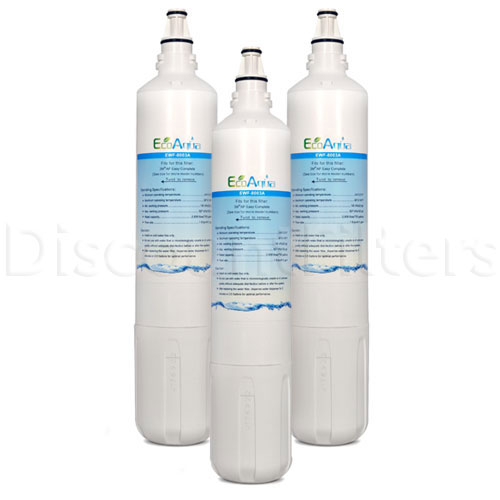 4 people in your area recently purchased this product!
$

34.22
(

3

Filters for $

102.65

)
In Stock
Ships in 24 hours
Fast Shipping & Free Returns
100% Compatibility Guarantee
Frequently Purchased Together
Product Details
EcoAqua Replacement for SubZero 4204490 Refrigerator Filter. Replaces Sub-Zero #4204490, and #4290510 Filters and Fits in Pro 48 Series Refrigerators. Fits Sub-Zero PRO 48 refrigeration system. Also replaces 3M AP Easy Complete, and Insinkerator F-2000, F-1000. Insure that you and your family are getting great tasting ice. This premium quality filter does an outstanding job of reducing contaminants, as well as chlorine taste and odor.
Features:
High quality, inexpensive alternative to factory original filter
Great value - lower cost than comparable "OEM" filter
Keeps fluoride in water
Uses advanced carbon block technology to provide the very best water filtration
---
Popular Part Numbers
---
Installation Instructions
How To Install The 4204490 Filter:
Lift the grille assembly to access the water filter. To lift the grille, pull out on the bottom edge of the grille and tilt the grille frame forward.
Slowly rotate the old filter cartridge 1/4 turn counterclockwise to disengage. Gently twist until the cartridge is free from base. DO NOT PULL.
Line up new cartridge so that the locking tabs can be inserte info the filter head.
Rotate the filter cartridge into the base about 1/4 clockwise until it stops. DO NOT overtighten.
After the new filter cartridge is installed, the first full bucket of ice produced should be discarded. This will help clean the water system and clear air from the line.
---
Compatible Part Numbers
Search by your filter part number or appliance model number to verify compatibility
| Model or Part Number | Type |
| --- | --- |
| SubZero 648PRO | Refrigerator |
| SubZero 648PROG | Refrigerator |
| SubZero BI-30U | Refrigerator |
| SubZero BI-30U/O | Refrigerator |
| SubZero BI-30U/O-LH | Refrigerator |
| SubZero BI-30U/O-RH | Refrigerator |
| SubZero BI-30U/S | Refrigerator |
| SubZero BI-30U/S/PH-LH | Refrigerator |
| SubZero BI-30U/S/PH-RH | Refrigerator |
| SubZero BI-30U/S/TH-LH | Refrigerator |
| SubZero BI-30U/S/TH-RH | Refrigerator |
| SubZero BI-30UG | Refrigerator |
| SubZero BI-30UG/O | Refrigerator |
| SubZero BI-30UG/S | Refrigerator |
| SubZero BI-30UG/S/PH | Refrigerator |
| SubZero BI-30UG/S/TH | Refrigerator |
| SubZero BI-36F | Refrigerator |
| SubZero BI-36F/O | Refrigerator |
| SubZero BI-36F/O-LH | Refrigerator |
| SubZero BI-36F/O-RH | Refrigerator |
| SubZero BI-36F/S | Refrigerator |
| SubZero BI-36F/S/PH | Refrigerator |
| SubZero BI-36F/S/PH-LH | Refrigerator |
| SubZero BI-36F/S/PH-RH | Refrigerator |
| SubZero BI-36F/S/TH | Refrigerator |
| SubZero BI-36F/S/TH-LH | Refrigerator |
| SubZero BI-36F/S/TH-RH | Refrigerator |
| SubZero BI-36R | Refrigerator |
| SubZero BI-36R/O | Refrigerator |
| SubZero BI-36R/O-LH | Refrigerator |
| SubZero BI-36R/O-RH | Refrigerator |
| SubZero BI-36R/S/PH | Refrigerator |
| SubZero BI-36R/S/PH-LH | Refrigerator |
| SubZero BI-36R/S/PH-RH | Refrigerator |
| SubZero BI-36R/S/TH | Refrigerator |
| SubZero BI-36R/S/TH-LH | Refrigerator |
| SubZero BI-36R/S/TH-RH | Refrigerator |
| SubZero BI-36RG | Refrigerator |
| SubZero BI-36RG/O | Refrigerator |
| SubZero BI-36RG/O-LH | Refrigerator |
| SubZero BI-36RG/O-RH | Refrigerator |
| SubZero BI-36RG/S/PH | Refrigerator |
| SubZero BI-36RG/S/PH-LH | Refrigerator |
| SubZero BI-36RG/S/PH-RH | Refrigerator |
| SubZero BI-36RG/S/TH | Refrigerator |
| SubZero BI-36RG/S/TH-LH | Refrigerator |
| SubZero BI-36RG/S/TH-RH | Refrigerator |
| SubZero BI-36S | Refrigerator |
| SubZero BI-36S/O | Refrigerator |
| SubZero BI-36S/S | Refrigerator |
| SubZero BI-36S/S/PH | Refrigerator |
| SubZero BI-36S/S/TH | Refrigerator |
| SubZero BI-36U | Refrigerator |
| SubZero BI-36U/O | Refrigerator |
| SubZero BI-36U/S | Refrigerator |
| SubZero BI-36U/S/PH | Refrigerator |
| SubZero BI-36U/S/TH | Refrigerator |
| SubZero BI-36UFD | Refrigerator |
| SubZero BI-36UFD/O | Refrigerator |
| SubZero BI-36UFD/S | Refrigerator |
| SubZero BI-36UFD/S/PH | Refrigerator |
| SubZero BI-36UFD/S/TH | Refrigerator |
| SubZero BI-36UFDID/O | Refrigerator |
| SubZero BI-36UFDID/S | Refrigerator |
| SubZero BI-36UFDID/S/PH | Refrigerator |
| SubZero BI-36UFDID/S/TH | Refrigerator |
| SubZero BI-36UG | Refrigerator |
| SubZero BI-36UG/O | Refrigerator |
| SubZero BI-36UG/S | Refrigerator |
| SubZero BI-36UG/S/PH | Refrigerator |
| SubZero BI-36UG/S/TH | Refrigerator |
| SubZero BI-36UID/O | Refrigerator |
| SubZero BI-36UID/S | Refrigerator |
| SubZero BI-36UID/S/PH | Refrigerator |
| SubZero BI-36UID/S/TH | Refrigerator |
| SubZero BI-42S | Refrigerator |
| SubZero BI-42S/O | Refrigerator |
| SubZero BI-42S/S | Refrigerator |
| SubZero BI-42S/S/PH | Refrigerator |
| SubZero BI-42S/S/TH | Refrigerator |
| SubZero BI-42SD | Refrigerator |
| SubZero BI-42SD/O | Refrigerator |
| SubZero BI-42SD/S | Refrigerator |
| SubZero BI-42SD/S/PH | Refrigerator |
| SubZero BI-42SD/S/TH | Refrigerator |
| SubZero BI-42SID | Refrigerator |
| SubZero BI-42SID/O | Refrigerator |
| SubZero BI-42SID/S | Refrigerator |
| SubZero BI-42SID/S/PH | Refrigerator |
| SubZero BI-42SID/S/TH | Refrigerator |
| SubZero BI-42UFD | Refrigerator |
| SubZero BI-42UFD/O | Refrigerator |
| SubZero BI-42UFD/S | Refrigerator |
| SubZero BI-42UFD/S/PH | Refrigerator |
| SubZero BI-42UFD/S/TH | Refrigerator |
| SubZero BI-42UFDID/O | Refrigerator |
| SubZero BI-42UFDID/S | Refrigerator |
| SubZero BI-42UFDID/S/PH | Refrigerator |
| SubZero BI-42UFDID/S/TH | Refrigerator |
| SubZero BI-48S | Refrigerator |
| SubZero BI-48S/O | Refrigerator |
| SubZero BI-48S/S | Refrigerator |
| SubZero BI-48S/S/PH | Refrigerator |
| SubZero BI-48S/S/TH | Refrigerator |
| SubZero BI-48SD | Refrigerator |
| SubZero BI-48SD/O | Refrigerator |
| SubZero BI-48SD/S | Refrigerator |
| SubZero BI-48SD/S/PH | Refrigerator |
| SubZero BI-48SD/S/TH | Refrigerator |
| SubZero BI-48SID | Refrigerator |
| SubZero BI-48SID/O | Refrigerator |
| SubZero BI-48SID/S | Refrigerator |
| SubZero BI-48SID/S/PH | Refrigerator |
| SubZero BI-48SID/S/TH | Refrigerator |
| SubZero BI30UG | Refrigerator |
| SubZero BI30UGO | Refrigerator |
| SubZero BI30UGSPH | Refrigerator |
| SubZero BI30UGSTH | Refrigerator |
| SubZero BI30UOLH | Refrigerator |
| SubZero BI30UORH | Refrigerator |
| SubZero BI30USPHLH | Refrigerator |
| SubZero BI30USPHRH | Refrigerator |
| SubZero BI30USTHLH | Refrigerator |
| SubZero BI30USTHRH | Refrigerator |
| SubZero BI36FO | Refrigerator |
| SubZero BI36FOLH | Refrigerator |
| SubZero BI36FORH | Refrigerator |
| SubZero BI36FSPH | Refrigerator |
| SubZero BI36FSPHLH | Refrigerator |
| SubZero BI36FSPHRH | Refrigerator |
| SubZero BI36FSTH | Refrigerator |
| SubZero BI36FSTHLH | Refrigerator |
| SubZero BI36FSTHRH | Refrigerator |
| SubZero BI36RGO | Refrigerator |
| SubZero BI36RGOLH | Refrigerator |
| SubZero BI36RGORH | Refrigerator |
| SubZero BI36RGSPH | Refrigerator |
| SubZero BI36RGSPHLH | Refrigerator |
| SubZero BI36RGSPHRH | Refrigerator |
| SubZero BI36RGSTH | Refrigerator |
| SubZero BI36RGSTHLH | Refrigerator |
| SubZero BI36RGSTHRH | Refrigerator |
| SubZero BI36RO | Refrigerator |
| SubZero BI36ROLH | Refrigerator |
| SubZero BI36RORH | Refrigerator |
| SubZero BI36RSPH | Refrigerator |
| SubZero BI36RSPHLH | Refrigerator |
| SubZero BI36RSPHRH | Refrigerator |
| SubZero BI36RSTH | Refrigerator |
| SubZero BI36RSTHLH | Refrigerator |
| SubZero BI36RSTHRH | Refrigerator |
| SubZero BI36S | Refrigerator |
| SubZero BI36SO | Refrigerator |
| SubZero BI36SSPH | Refrigerator |
| SubZero BI36SSTH | Refrigerator |
| SubZero BI36U | Refrigerator |
| SubZero BI36UFD | Refrigerator |
| SubZero BI36UFDIDO | Refrigerator |
| SubZero BI36UFDIDSPH | Refrigerator |
| SubZero BI36UFDIDSTH | Refrigerator |
| SubZero BI36UFDO | Refrigerator |
| SubZero BI36UFDSPH | Refrigerator |
| SubZero BI36UFDSTH | Refrigerator |
| SubZero BI36UG | Refrigerator |
| SubZero BI36UGO | Refrigerator |
| SubZero BI36UGSPH | Refrigerator |
| SubZero BI36UGSTH | Refrigerator |
| SubZero BI36UIDO | Refrigerator |
| SubZero BI36UIDSPH | Refrigerator |
| SubZero BI36UIDSTH | Refrigerator |
| SubZero BI36UO | Refrigerator |
| SubZero BI36USPH | Refrigerator |
| SubZero BI36USTH | Refrigerator |
| SubZero BI42S | Refrigerator |
| SubZero BI42SD | Refrigerator |
| SubZero BI42SDO | Refrigerator |
| SubZero BI42SDSPH | Refrigerator |
| SubZero BI42SDSTH | Refrigerator |
| SubZero BI42SID | Refrigerator |
| SubZero BI42SIDO | Refrigerator |
| SubZero BI42SIDSPH | Refrigerator |
| SubZero BI42SIDSTH | Refrigerator |
| SubZero BI42SO | Refrigerator |
| SubZero BI42SSPH | Refrigerator |
| SubZero BI42SSTH | Refrigerator |
| SubZero BI42UFD | Refrigerator |
| SubZero BI42UFDIDO | Refrigerator |
| SubZero BI42UFDIDSPH | Refrigerator |
| SubZero BI42UFDIDSTH | Refrigerator |
| SubZero BI42UFDO | Refrigerator |
| SubZero BI42UFDSPH | Refrigerator |
| SubZero BI42UFDSTH | Refrigerator |
| SubZero BI48S | Refrigerator |
| SubZero BI48SD | Refrigerator |
| SubZero BI48SDO | Refrigerator |
| SubZero BI48SDSPH | Refrigerator |
| SubZero BI48SDSTH | Refrigerator |
| SubZero BI48SID | Refrigerator |
| SubZero BI48SIDO | Refrigerator |
| SubZero BI48SIDSPH | Refrigerator |
| SubZero BI48SIDSTH | Refrigerator |
| SubZero BI48SO | Refrigerator |
| SubZero BI48SSPH | Refrigerator |
| SubZero BI48SSTH | Refrigerator |
| SubZero IC-18FI | Refrigerator |
| SubZero IC-18FI-LH | Refrigerator |
| SubZero IC-18FI-RH | Refrigerator |
| SubZero IC-24CI | Refrigerator |
| SubZero IC-24FI | Refrigerator |
| SubZero IC-24FI-LH | Refrigerator |
| SubZero IC-24FI-RH | Refrigerator |
| SubZero IC-24R | Refrigerator |
| SubZero IC-24R-LH | Refrigerator |
| SubZero IC-24R-RH | Refrigerator |
| SubZero IC-30FI | Refrigerator |
| SubZero IC-30FI-LH | Refrigerator |
| SubZero IC-30FI-RH | Refrigerator |
| SubZero IC-30R | Refrigerator |
| SubZero IC-30R-LH | Refrigerator |
| SubZero IC-30R-RH | Refrigerator |
| SubZero IC-30RID | Refrigerator |
| SubZero IC-30RID-LH | Refrigerator |
| SubZero IC-30RID-RH | Refrigerator |
| SubZero IC-36FI | Refrigerator |
| SubZero IC-36R-LH | Refrigerator |
| SubZero IC-36R-RH | Refrigerator |
| SubZero IC-36RID | Refrigerator |
| SubZero IC-36RID-LH | Refrigerator |
| SubZero IC-36RID-RH | Refrigerator |
| SubZero IC18FI | Refrigerator |
| SubZero IC18FILH | Refrigerator |
| SubZero IC18FIRH | Refrigerator |
| SubZero IC24FI | Refrigerator |
| SubZero IC24FILH | Refrigerator |
| SubZero IC24FIRH | Refrigerator |
| SubZero IC24R | Refrigerator |
| SubZero IC24RLH | Refrigerator |
| SubZero IC24RRH | Refrigerator |
| SubZero IC30FI | Refrigerator |
| SubZero IC30FILH | Refrigerator |
| SubZero IC30FIRH | Refrigerator |
| SubZero IC30R | Refrigerator |
| SubZero IC30RIDLH | Refrigerator |
| SubZero IC30RIDRH | Refrigerator |
| SubZero IC30RLH | Refrigerator |
| SubZero IC30RRH | Refrigerator |
| SubZero IC36R | Refrigerator |
| SubZero IC36RIDLH | Refrigerator |
| SubZero IC36RIDRH | Refrigerator |
| SubZero IC36RLH | Refrigerator |
| SubZero IC36RRH | Refrigerator |
| SubZero ID-24F | Refrigerator |
| SubZero ID-24FI | Refrigerator |
| SubZero ID-24FX | Refrigerator |
| SubZero ID-24R | Refrigerator |
| SubZero ID-27R | Refrigerator |
| SubZero ID-30F | Refrigerator |
| SubZero ID-30FI | Refrigerator |
| SubZero ID-30FX | Refrigerator |
| SubZero ID-30R | Refrigerator |
| SubZero ID-30RP | Refrigerator |
| SubZero ID-30RX | Refrigerator |
| SubZero ID-36C | Refrigerator |
| SubZero ID-36CI | Refrigerator |
| SubZero ID-36CX | Refrigerator |
| SubZero ID24F | Refrigerator |
| SubZero ID24FI | Refrigerator |
| SubZero ID24FX | Refrigerator |
| SubZero ID24R | Refrigerator |
| SubZero ID27R | Refrigerator |
| SubZero ID30F | Refrigerator |
| SubZero ID30FI | Refrigerator |
| SubZero ID30FX | Refrigerator |
| SubZero ID30R | Refrigerator |
| SubZero ID30RP | Refrigerator |
| SubZero ID30RX | Refrigerator |
| SubZero ID36C | Refrigerator |
| SubZero ID36CI | Refrigerator |
| SubZero ID36CX | Refrigerator |
| SubZero IT-30CI | Refrigerator |
| SubZero IT-30CI-LH | Refrigerator |
| SubZero IT-30CI-RH | Refrigerator |
| SubZero IT-30CIID | Refrigerator |
| SubZero IT-30CIID-LH | Refrigerator |
| SubZero IT-30CIID-RH | Refrigerator |
| SubZero IT-30FI | Refrigerator |
| SubZero IT-30FI-LH | Refrigerator |
| SubZero IT-30FI-RH | Refrigerator |
| SubZero IT-30R-LH | Refrigerator |
| SubZero IT-30R-RH | Refrigerator |
| SubZero IT-30RID | Refrigerator |
| SubZero IT-30RID-LH | Refrigerator |
| SubZero IT-30RID-RH | Refrigerator |
| SubZero IT-36CI | Refrigerator |
| SubZero IT-36CI-LH | Refrigerator |
| SubZero IT-36CI-RH | Refrigerator |
| SubZero IT-36CIID | Refrigerator |
| SubZero IT-36CIID-LH | Refrigerator |
| SubZero IT-36CIID-RH | Refrigerator |
| SubZero IT-36R | Refrigerator |
| SubZero IT-36RID | Refrigerator |
| SubZero IT-36RID-LH | Refrigerator |
| SubZero IT-36RID-RH | Refrigerator |
| SubZero IT30CI | Refrigerator |
| SubZero IT30CIIDLH | Refrigerator |
| SubZero IT30CIIDRH | Refrigerator |
| SubZero IT30CILH | Refrigerator |
| SubZero IT30CIRH | Refrigerator |
| SubZero IT30FILH | Refrigerator |
| SubZero IT30FIRH | Refrigerator |
| SubZero IT30R | Refrigerator |
| SubZero IT30RIDLH | Refrigerator |
| SubZero IT30RIDRH | Refrigerator |
| SubZero IT30RLH | Refrigerator |
| SubZero IT30RRH | Refrigerator |
| SubZero IT36CI | Refrigerator |
| SubZero IT36CIID | Refrigerator |
| SubZero IT36CIIDLH | Refrigerator |
| SubZero IT36CIIDRH | Refrigerator |
| SubZero IT36CILH | Refrigerator |
| SubZero IT36CIRH | Refrigerator |
| SubZero IT36R | Refrigerator |
| SubZero IT36RIDLH | Refrigerator |
| SubZero IT36RIDRH | Refrigerator |
| SubZero IW-30CI | Refrigerator |
| SubZero PRO 48 | Refrigerator |
| 4204490 | Filter |
| 4290510 | Filter |
| EWF-8003A | Filter |
| SGF-ZS48 | Filter |
| WF490 | Filter |
Additional Information
---