EcoAqua EFF-6048A | Our#: 189358
EcoAqua Replacement for GE XWF Fridge Filter

153 review(s)
EcoAqua EFF-6048A | Our#: 189358
Fast Shipping & Free Returns
100% Compatibility Guarantee
Compatibility guaranteed! Free return shipping and 100% money back if there are any issues.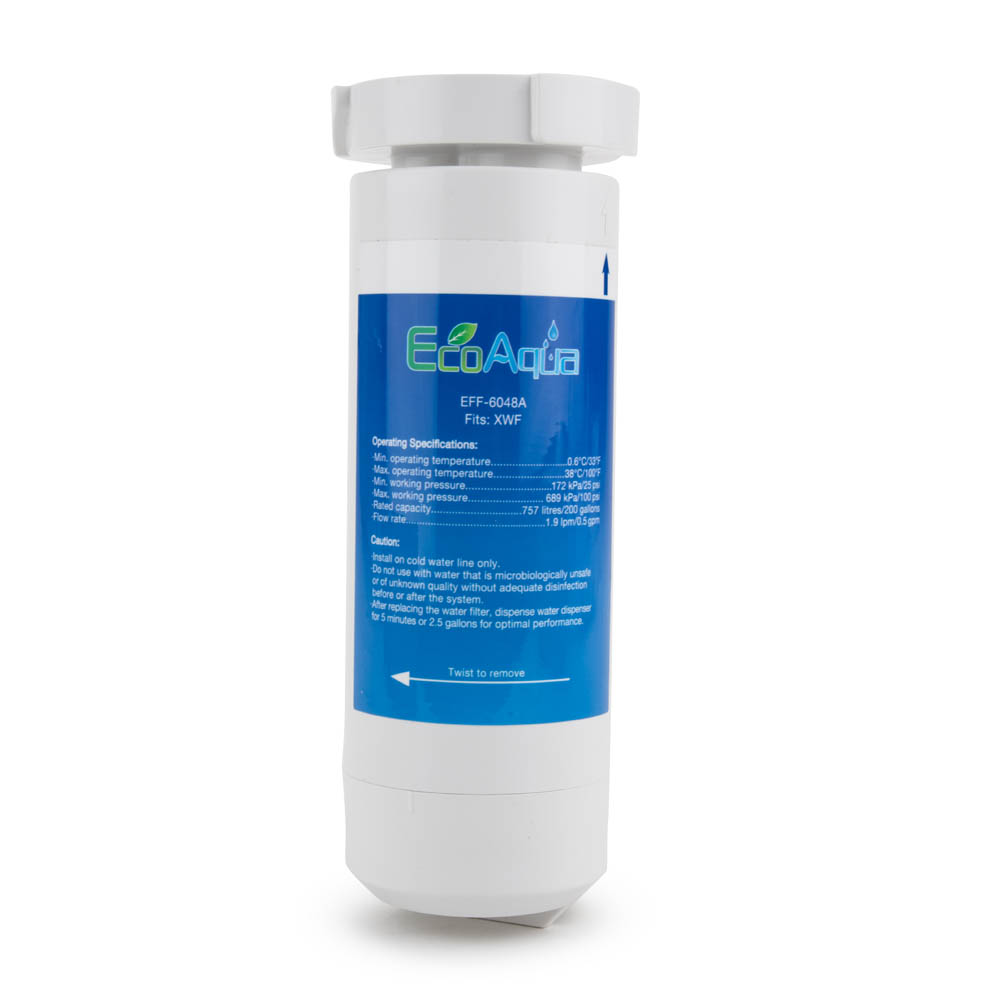 6 people in your area recently purchased this product!
Fast Shipping & Free Returns
100% Compatibility Guarantee
Frequently Purchased Together
Product Details
The EcoAqua EFF-6048A Filter is used in refrigerators by GE and is compatible with part number XWF. The EFF-6048A filter creates better tasting water for drinking and making beverages as well as clean, clearer, healthy ice. The EFF-6048A is used in newer bottom freezer, French 3-door, and side-by-side refrigerators. The XWF water filter cartridge holder is located in the back upper-right corner of the fresh food refrigerator compartment.
NOTE: This filter will not replace the GE XWFE Filter

Features:
Inexpensive alternative to OEM product
Easy installation and operation
Reduces chlorine taste and odor, for better tasting water and ice
Helps reduce contaminants found in tap water and improves its quality
GE is a trademark of General Electric Company. Company names are registered trademarks of their respective holders. National Trade Supply, Inc and DiscountFilters.com are not affiliated with the General Electric Company.
---
Popular Part Numbers
---
Installation Instructions
How To Install the XWF Filter:
Bottom Freezer & French 3-Door Refrigerators
Open the filter cartridge housing by squeezing the 2 front tabs and gently pulling down
Remove old filter by pulling down, grasping and twisting counterclockwise, discard
Line up the ports on the new filter with the ports on the filter cartridge holder and twist clockwise about ¼ turn
Swing the filter up and close the filter cartridge housing buy pushing the lid upwards until the tabs lock into place
Run water from the dispenser for 2 gallons to clear the system
Press and hold the RESET WATER FILTER button for 3 seconds to reset the filter timer
Side-By-Side Refrigerators
Remove old filter by grasping and twisting counterclockwise, discard
Insert new filter upwards, so that ports on the new filter and ports on the filter cartridge holder are lined up
Twist the filter clockwise about ¼ turn
Run water from the dispenser for 2 gallons to clear the system
Press and hold the RESET WATER FILTER button for 3 seconds to reset the filter timer
---
Compatible Part Numbers
Search by your filter part number or appliance model number to verify compatibility
| Model or Part Number | Type |
| --- | --- |
| GE CZS22MSKKHSS | Refrigerator |
| GE DSE25JBLKCTS | Refrigerator |
| GE DSE25JEMKCDS | Refrigerator |
| GE DSE25JGHKCBB | Refrigerator |
| GE DSE25JGHKCWW | Refrigerator |
| GE DSE25JMHKCES | Refrigerator |
| GE DSE25JSHKCSS | Refrigerator |
| GE GDE21EGKGRBB | Refrigerator |
| GE GDE21EGKGRWW | Refrigerator |
| GE GDE21EMKGRES | Refrigerator |
| GE GDE21ESKGRSS | Refrigerator |
| GE GFE24JBLGFTS | Refrigerator |
| GE GFE24JGKGFBB | Refrigerator |
| GE GFE24JGKGFWW | Refrigerator |
| GE GFE24JMKGFES | Refrigerator |
| GE GFE24JSKGFSS | Refrigerator |
| GE GFE26JBMTS | Refrigerator |
| GE GFE26JMM2S | Refrigerator |
| GE GFE26JSMAF | Refrigerator |
| GE GFE26JSMF | Refrigerator |
| GE GFE26JSMFSS | Refrigerator |
| GE GNE21FMKGFES | Refrigerator |
| GE GNE21FSKGFSS | Refrigerator |
| GE GNE25JGKGFBB | Refrigerator |
| GE GNE25JGKGFWW | Refrigerator |
| GE GNE25JMKGFES | Refrigerator |
| GE GNE25JSKGFSS | Refrigerator |
| GE GNE25JSKJFSS | Refrigerator |
| GE GNE27ESMAFSS | Refrigerator |
| GE GNE27ESMSS | Refrigerator |
| GE GNE27JGMAFBB | Refrigerator |
| GE GNE27JGMAFWW | Refrigerator |
| GE GNE27JGMBB | Refrigerator |
| GE GNE27JGMWW | Refrigerator |
| GE GNE27JMMAFES | Refrigerator |
| GE GNE27JMMES | Refrigerator |
| GE GNE27JSMAFSS | Refrigerator |
| GE GNE27JSMSS | Refrigerator |
| GE GSE23GGKKCBB | Refrigerator |
| GE GSE23GGKKCCC | Refrigerator |
| GE GSE23GGKKCWW | Refrigerator |
| GE GSE23GSKKCSS | Refrigerator |
| GE GSE25GGHKCBB | Refrigerator |
| GE GSE25GGHKCCC | Refrigerator |
| GE GSE25GGHKCWW | Refrigerator |
| GE GSE25GSHKCSS | Refrigerator |
| GE GSE25HBLKHTS | Refrigerator |
| GE GSE25HEMKHDS | Refrigerator |
| GE GSE25HGHKHBB | Refrigerator |
| GE GSE25HMHKHES | Refrigerator |
| GE GSE25HSHKHSS | Refrigerator |
| GE GSS23GGKKCBB | Refrigerator |
| GE GSS23GGKKCWW | Refrigerator |
| GE GSS23GMKKCES | Refrigerator |
| GE GSS23GSKKCSS | Refrigerator |
| GE GSS23HGHKCBB | Refrigerator |
| GE GSS23HGHKCWW | Refrigerator |
| GE GSS23HMHKCES | Refrigerator |
| GE GSS23HSHKCSS | Refrigerator |
| GE GSS25CGHKCBB | Refrigerator |
| GE GSS25CGHKCWW | Refrigerator |
| GE GSS25CSHKCSS | Refrigerator |
| GE GSS25GGHKCBB | Refrigerator |
| GE GSS25GGHKCWW | Refrigerator |
| GE GSS25GMHKCES | Refrigerator |
| GE GSS25GSHKCSS | Refrigerator |
| GE GSS25GSHLCSS | Refrigerator |
| GE GSS25LSLKCSS | Refrigerator |
| GE GWE19JGLWW | Refrigerator |
| GE GWE19JSLDFSS | Refrigerator |
| GE GWE19JSLGFSS | Refrigerator |
| GE GYE18JSLGFSS | Refrigerator |
| GE GZS22DGJKFBB | Refrigerator |
| GE GZS22DGJKFWW | Refrigerator |
| GE GZS22DMJKFES | Refrigerator |
| GE GZS22DSJKFSS | Refrigerator |
| GE PSE25KBLKHTS | Refrigerator |
| GE PSE25KSHKHSS | Refrigerator |
| GE PSS28KSHKCSS | Refrigerator |
| GE PZS22MSKKHSS | Refrigerator |
| AFC-RF-G11 | Filter |
| AQF-XWF | Filter |
| CF9 | Filter |
| EFF-6048A | Filter |
| FL-RF48 | Filter |
| GF-XWF | Filter |
| PF9 | Filter |
| WD-XWF | Filter |
| WS648A | Filter |
| XWF | Filter |
Additional Information
---