Bosch 644845 | Our#: 176345
Bosch / Cuno UltraClarity REPLFLTR10 Refrigerator Filter, 3-Pack

65 review(s)
Bosch 644845 | Our#: 176345
Fast Shipping & Free Returns
100% Compatibility Guarantee
NSF/ANSI 42 and 53
Compatibility guaranteed! Free return shipping and 100% money back if there are any issues.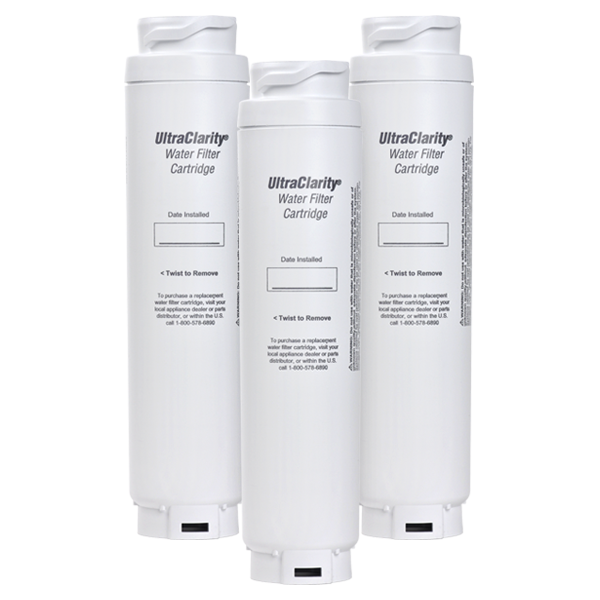 5 people in your area recently purchased this product!
$

61.95
(

3

Filters for $

185.85

)
Fast Shipping & Free Returns
100% Compatibility Guarantee
NSF/ANSI 42 and 53
Frequently Purchased Together
Product Details
The Cuno 644845 refrigerator water filter is an ideal replacement option. This product is the factory original filter. This Cuno 644845 works in refrigerators by Bosch, Thermador, and others. There may be alternate names for this product, such as the UltraClarity REPLFLT10. The Cuno 644845, also known as the Bosch 644845, replaces multiple water filter models. Check below to make sure it is compatible with your part number. The OEM Cuno 644845 is available in multiple quantities. Buying multiple filters is the cost-efficient option. The Cuno 644845 is a 6 month filter. It should be replaced on time or when the water starts to look or smell funny. Buy the Cuno 644845 with fast shipping and free returns. Discount Filters guarantees your happiness with your purchase up to a year. This refrigerator water filter, Cuno 644845 provides your home with better tasting water.
---
Popular Part Numbers
---
Installation Instructions
How To Install The 644845 Filter:

Twist the old filter a half-turn counterclockwise
Pull the filter straight out
Remove the reusable knob/cap from the end of the old filter
Discard the old filter
Snap the knob/cap onto the end of the new filter
Push the new filter into the fridge with the knob in the horizontal position until it stops
Twist the filter a half-turn clockwise
Reset your "change filter" light (if your fridge has one)
Change your filter every 6 months
---
Specifications
Capacity:
739.68 Gallons (or 6 months)
Certifications:
NSF/ANSI 42 and 53
Dimensions:
8.25" L x 2.0" Dia.
Flow Rate:
0.75 Gallons Per Minute
Micron Rating:
0.5
Reduction Claims:
Chlorine 97.5%
Reduction Claims:
Cysts 99.99%
Reduction Claims:
Particulates (Class 1) 99.0%
Reduction Claims:
Turbidity 98.8%
Compatible Part Numbers
Search by your filter part number or appliance model number to verify compatibility
| Model or Part Number | Type |
| --- | --- |
| Bosch B18IF800SP | Refrigerator |
| Bosch B18IF800SP/01 | Refrigerator |
| Bosch B18IF800SP/02 | Refrigerator |
| Bosch B18IF800SP/03 | Refrigerator |
| Bosch B18IF800SP/08 | Refrigerator |
| Bosch B22CS30SNS | Refrigerator |
| Bosch B22CS30SNS/01 | Refrigerator |
| Bosch B22CS30SNS/02 | Refrigerator |
| Bosch B22CS50SNB | Refrigerator |
| Bosch B22CS50SNB/01 | Refrigerator |
| Bosch B22CS50SNB/02 | Refrigerator |
| Bosch B22CS50SNB/03 | Refrigerator |
| Bosch B22CS50SNB/04 | Refrigerator |
| Bosch B22CS50SNB/05 | Refrigerator |
| Bosch B22CS50SNS | Refrigerator |
| Bosch B22CS50SNS/01 | Refrigerator |
| Bosch B22CS50SNS/02 | Refrigerator |
| Bosch B22CS50SNS/03 | Refrigerator |
| Bosch B22CS50SNS/04 | Refrigerator |
| Bosch B22CS50SNW | Refrigerator |
| Bosch B22CS50SNW/01 | Refrigerator |
| Bosch B22CS50SNW/02 | Refrigerator |
| Bosch B22CS50SNW/03 | Refrigerator |
| Bosch B22CS50SNW/04 | Refrigerator |
| Bosch B22CS50SNW/05 | Refrigerator |
| Bosch B22CS80SNS | Refrigerator |
| Bosch B22CS80SNS/01 | Refrigerator |
| Bosch B22CS80SNS/02 | Refrigerator |
| Bosch B22CS80SNS/03 | Refrigerator |
| Bosch B22CS80SNS/04 | Refrigerator |
| Bosch B26FT70SNS | Refrigerator |
| Bosch B26FT70SNS/01 | Refrigerator |
| Bosch B26FT70SNS/02 | Refrigerator |
| Bosch B26FT70SNS/03 | Refrigerator |
| Bosch B26FT70SNS/04 | Refrigerator |
| Bosch B26FT70SNS/05 | Refrigerator |
| Bosch B26FT70SNS/06 | Refrigerator |
| Bosch B26FT70SNS/07 | Refrigerator |
| Bosch B26FT70SNS/08 | Refrigerator |
| Bosch B26FT80SNS | Refrigerator |
| Bosch B26FT80SNS/01 | Refrigerator |
| Bosch B26FT80SNS/02 | Refrigerator |
| Bosch B26FT80SNS/03 | Refrigerator |
| Bosch B26FT80SNS/04 | Refrigerator |
| Bosch B26FT80SNS/05 | Refrigerator |
| Bosch B26FT80SNS/06 | Refrigerator |
| Bosch B26FT8O5NS/02 | Refrigerator |
| Bosch B30BB830SS | Refrigerator |
| Bosch B30BB830SS/02 | Refrigerator |
| Bosch B30BB830SS/05 | Refrigerator |
| Bosch B30BB830SS/13 | Refrigerator |
| Bosch B30BB830SS/15 | Refrigerator |
| Bosch B30BB830SS/18 | Refrigerator |
| Bosch B30BB830SS/19 | Refrigerator |
| Bosch B30BB830SS/20 | Refrigerator |
| Bosch B30BB830SS/22 | Refrigerator |
| Bosch B30BB830SS/23 | Refrigerator |
| Bosch B30BB830SS/26 | Refrigerator |
| Bosch B30BB830SS/50 | Refrigerator |
| Bosch B30BB830SS/52 | Refrigerator |
| Bosch B30BB830SS/54 | Refrigerator |
| Bosch B30BB830SS/55 | Refrigerator |
| Bosch B30BB830SS/56 | Refrigerator |
| Bosch B30BB830SS/57 | Refrigerator |
| Bosch B30BB830SS/61 | Refrigerator |
| Bosch B30BB830SS/62 | Refrigerator |
| Bosch B30BB830SS/63 | Refrigerator |
| Bosch B30BB830SS/64 | Refrigerator |
| Bosch B30IB800SP | Refrigerator |
| Bosch B30IB800SP/01 | Refrigerator |
| Bosch B30IB800SP/02 | Refrigerator |
| Bosch B30IB800SP/50 | Refrigerator |
| Bosch B30IB800SP/51 | Refrigerator |
| Bosch B30IB800SP/57 | Refrigerator |
| Bosch B30IB800SP/58 | Refrigerator |
| Bosch B30IB800SP/59 | Refrigerator |
| Bosch B30IB800SP/62 | Refrigerator |
| Bosch B30IB800SP/63 | Refrigerator |
| Bosch B30IB800SP/64 | Refrigerator |
| Bosch B30IB800SP/66 | Refrigerator |
| Bosch B30IB800SP/67 | Refrigerator |
| Bosch B30IB800SP/68 | Refrigerator |
| Bosch B36BT830NS | Refrigerator |
| Bosch B36BT830NS/01 | Refrigerator |
| Bosch B36BT830NS/04 | Refrigerator |
| Bosch B36BT830NS/05 | Refrigerator |
| Bosch B36BT830NS/06 | Refrigerator |
| Bosch B36BT830NS/07 | Refrigerator |
| Bosch B36BT830NS/11 | Refrigerator |
| Bosch B36BT830NS/15 | Refrigerator |
| Bosch B36BT830NS/20 | Refrigerator |
| Bosch B36BT830NS/21 | Refrigerator |
| Bosch B36BT830NS/25 | Refrigerator |
| Bosch B36BT830NS/29 | Refrigerator |
| Bosch B36BT830NS/50 | Refrigerator |
| Bosch B36BT830NS/56 | Refrigerator |
| Bosch B36BT830NS/57 | Refrigerator |
| Bosch B36BT830NS/59 | Refrigerator |
| Bosch B36BT830NS/62 | Refrigerator |
| Bosch B36BT830NS/63 | Refrigerator |
| Bosch B36BT830NS/65 | Refrigerator |
| Bosch B36BT830NS/66 | Refrigerator |
| Bosch B36BT830NS/68 | Refrigerator |
| Bosch B36BT930NS | Refrigerator |
| Bosch B36IT8 | Refrigerator |
| Bosch B36IT800NP | Refrigerator |
| Bosch B36IT800NP/01 | Refrigerator |
| Bosch B36IT800NP/02 | Refrigerator |
| Bosch B36IT800NP/03 | Refrigerator |
| Bosch B36IT800NP/04 | Refrigerator |
| Bosch B36IT800NP/05 | Refrigerator |
| Bosch B36IT800NP/06 | Refrigerator |
| Bosch B36IT800NP/07 | Refrigerator |
| Bosch B36IT800NP/08 | Refrigerator |
| Bosch B36IT800NP/10 | Refrigerator |
| Bosch B36IT800NP/13 | Refrigerator |
| Bosch B36IT800NP/14 | Refrigerator |
| Bosch B36IT800NP/16 | Refrigerator |
| Bosch B36IT800NP/17 | Refrigerator |
| 0060218743 | Filter |
| 0060820860 | Filter |
| 00740570 | Filter |
| 00740572 | Filter |
| 101443 | Filter |
| 101443-A | Filter |
| 1014430109 | Filter |
| 10169 | Filter |
| 101698B | Filter |
| 101699 | Filter |
| 101699B | Filter |
| 1017320109 | Filter |
| 11006598 | Filter |
| 11006599 | Filter |
| 11028820 | Filter |
| 11034152 | Filter |
| 11041140 | Filter |
| 11048053 | Filter |
| 17005585 | Filter |
| 641425 | Filter |
| 644845 | Filter |
| 740560 | Filter |
| 740570 | Filter |
| 740572 | Filter |
| 9000 077 104 | Filter |
| 9000 194412 | Filter |
| 9000-077-104 | Filter |
| 9000077095 | Filter |
| 9000077096 | Filter |
| 9000077104 | Filter |
| 9000194412 | Filter |
| BORPLFTR10 | Filter |
| BORPLFTR30 | Filter |
| BT-644845 | Filter |
| BT644845 | Filter |
| CLCH124 | Filter |
| EFF-6025A | Filter |
| RA450010 | Filter |
| REPLFLTR10 | Filter |
| RF-2800-13 | Filter |
| RF-2800-15 | Filter |
| RWF1110 | Filter |
| SCRNFLTR10/02 | Filter |
| SP-BH740 | Filter |
| ULTRACLARITY | Filter |
| WF299 | Filter |
Additional Information
---