AIRx FAF004 | Our#: 187359
AIRx Replacement for Whirlpool Freshflow Replacement AIR1 Filter Cartridge

1 review(s)
AIRx FAF004 | Our#: 187359
Fast Shipping & Free Returns
100% Compatibility Guarantee
AIRx Replacment for Whirlpool Freshflow Replacement AIR1 Filter Cartridge
Does not include indicator strip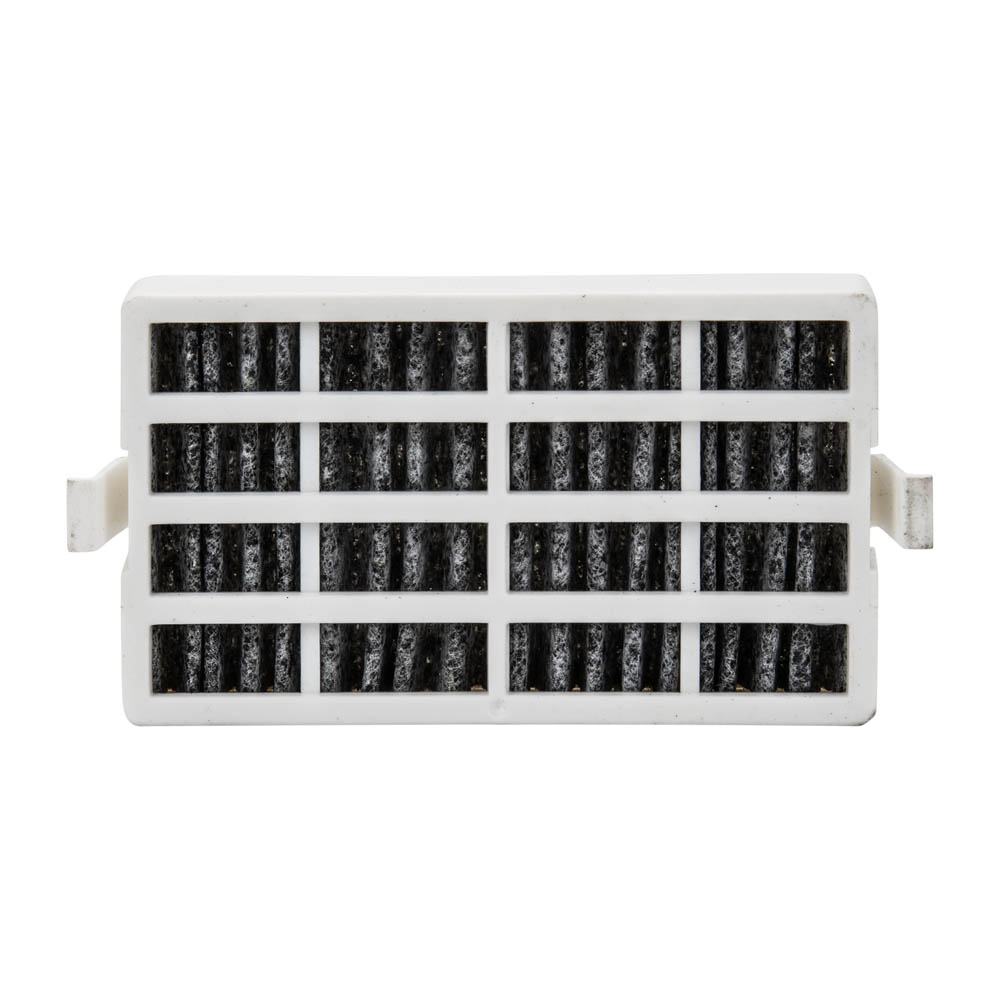 This product is currently unavailable.
The AIRx FAF004 that you're looking for is so popular right now, it is not available at the moment. Enter your email address and we'll keep you updated when it's in stock.
Fast Shipping & Free Returns
100% Compatibility Guarantee
Frequently Purchased Together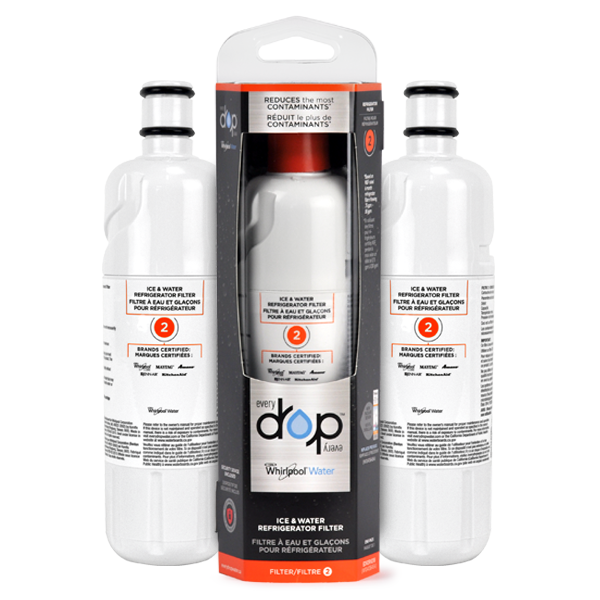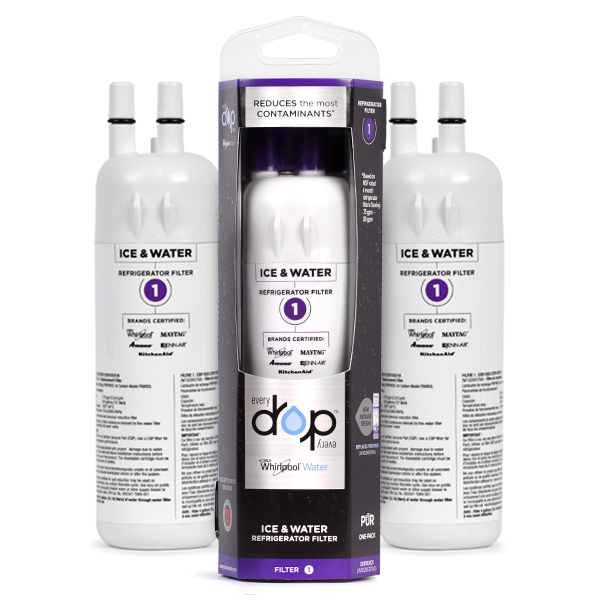 Product Details
AIRx Replacment for Whirlpool Freshflow Replacement AIR1 Filter Cartridge (W10311524, W10335147A)

Replacement for Whirlpool, KitchenAid, Maytag, Amana, and Jenn-Air refrigerators - this refrigerator air filter reduces common food odors.

The air filter lets air actively pass through the filter, helping neutralize odor and bacteria. Replace filter ever 6 months.

Works with Whirlpool models: GSS26C4XXB, WSF26D4EXA, WRT571SMYB, WRT771RWYB, WRT779RWYB, WRT579SMYB
Please Note: This filter DOES NOT include the Air Filter Status Indicator used on some models

Instructions:
On some models, your refrigerator's accessory packet includes an air filter, which must be installed prior to use. On some models, the air filter is already installed at the factory
The air filter reduces the buildup of odors. This helps to maintain a cleaner environment inside the refrigerator.
Installing the Air Filter (on some models)
The filter should be installed behind the vented door, which is located (depending on your model) along either the rear or left interior wall near the top of the refrigerator compartment.
1. Remove the air filter from its packaging.
2. Lift open the vented door.
3. Snap the filter into place
---
Compatible Part Numbers
Search by your filter part number or appliance model number to verify compatibility
| Model or Part Number | Type |
| --- | --- |
| Jenn-Air JB36NXFXLE00 | Refrigerator |
| Jenn-Air JB36NXFXLE01 | Refrigerator |
| Jenn-Air JB36NXFXRE00 | Refrigerator |
| Jenn-Air JB36NXFXRE01 | Refrigerator |
| Jenn-Air JF36NXFXDE00 | Refrigerator |
| Jenn-Air JF36NXFXDE01 | Refrigerator |
| Jenn-Air JF42NXFXDE00 | Refrigerator |
| Jenn-Air JF42NXFXDE02 | Refrigerator |
| Jenn-Air JFFCC72EFP00 | Refrigerator |
| Jenn-Air JFFCC72EFP02 | Refrigerator |
| Jenn-Air JFFCC72EFS00 | Refrigerator |
| Jenn-Air JFFCC72EFS02 | Refrigerator |
| Jenn-Air JFX2897DRM00 | Refrigerator |
| Jenn-Air JFX2897DRM01 | Refrigerator |
| Jenn-Air JFX2897DRM02 | Refrigerator |
| Jenn-Air JFX2897DRP00 | Refrigerator |
| Jenn-Air JFX2897DRP01 | Refrigerator |
| Jenn-Air JFX2897DRP02 | Refrigerator |
| Jenn-Air JSC23C9EEM00 | Refrigerator |
| Jenn-Air JSC24C8EAM01 | Refrigerator |
| Jenn-Air JSC24C8EAM02 | Refrigerator |
| Kenmore 106.322421 | Refrigerator |
| Kenmore 106.322431 | Refrigerator |
| Kenmore 106.322491 | Refrigerator |
| Kenmore 106.329421 | Refrigerator |
| Kenmore 106.329431 | Refrigerator |
| Kenmore 106.329491 | Refrigerator |
| Kenmore 106.4116231 | Refrigerator |
| Kenmore 106.4116331 | Refrigerator |
| Kenmore 106.4116931 | Refrigerator |
| Kenmore 106.5113221 | Refrigerator |
| Kenmore 106.5113221 | Refrigerator |
| Kenmore 106.5113321 | Refrigerator |
| Kenmore 106.5113321 | Refrigerator |
| Kenmore 106.5113421 | Refrigerator |
| Kenmore 106.5113421 | Refrigerator |
| Kenmore 106.5113561 | Refrigerator |
| Kenmore 106.5113621 | Refrigerator |
| Kenmore 106.5113921 | Refrigerator |
| Kenmore 106.5113921 | Refrigerator |
| Kenmore 106.5113921 | Refrigerator |
| Kenmore 106.5114211 | Refrigerator |
| Kenmore 106.5114211 | Refrigerator |
| Kenmore 106.5114211 | Refrigerator |
| Kenmore 106.5114311 | Refrigerator |
| Kenmore 106.5114311 | Refrigerator |
| Kenmore 106.5114311 | Refrigerator |
| Kenmore 106.5114911 | Refrigerator |
| Kenmore 106.5114911 | Refrigerator |
| Kenmore 106.5114911 | Refrigerator |
| Kenmore 106.5115211 | Refrigerator |
| Kenmore 106.5115211 | Refrigerator |
| Kenmore 106.5115211 | Refrigerator |
| Kenmore 106.5115311 | Refrigerator |
| Kenmore 106.5115311 | Refrigerator |
| Kenmore 106.5115311 | Refrigerator |
| Kenmore 106.5115911 | Refrigerator |
| Kenmore 106.5115911 | Refrigerator |
| Kenmore 106.5115911 | Refrigerator |
| Kenmore 106.5116221 | Refrigerator |
| Kenmore 106.5116321 | Refrigerator |
| Kenmore 106.5116421 | Refrigerator |
| Kenmore 106.5116921 | Refrigerator |
| Kenmore 106.5117231 | Refrigerator |
| Kenmore 106.5117331 | Refrigerator |
| Kenmore 106.5117931 | Refrigerator |
| Kenmore 106.5118211 | Refrigerator |
| Kenmore 106.5118211 | Refrigerator |
| Kenmore 106.5118211 | Refrigerator |
| Kenmore 106.5118311 | Refrigerator |
| Kenmore 106.5118311 | Refrigerator |
| Kenmore 106.5118311 | Refrigerator |
| Kenmore 106.5118911 | Refrigerator |
| Kenmore 106.5118911 | Refrigerator |
| Kenmore 106.5118911 | Refrigerator |
| Kenmore 106.5171241 | Refrigerator |
| Kenmore 106.5171241 | Refrigerator |
| Kenmore 106.5171341 | Refrigerator |
| Kenmore 106.5171341 | Refrigerator |
| Kenmore 106.5171941 | Refrigerator |
| Kenmore 106.5171941 | Refrigerator |
| Kenmore 106.5171941 | Refrigerator |
| Kenmore 106.5176251 | Refrigerator |
| Kenmore 106.5176251 | Refrigerator |
| Kenmore 106.5176351 | Refrigerator |
| Kenmore 106.5176351 | Refrigerator |
| Kenmore 106.5176451 | Refrigerator |
| Kenmore 106.5176451 | Refrigerator |
| Kenmore 106.5176951 | Refrigerator |
| Kenmore 106.5176951 | Refrigerator |
| Kenmore 106.5176951 | Refrigerator |
| Kenmore 106.5177251 | Refrigerator |
| Kenmore 106.5177351 | Refrigerator |
| Kenmore 106.5177951 | Refrigerator |
| Kenmore 106.5177951 | Refrigerator |
| Kenmore 106.5178241 | Refrigerator |
| Kenmore 106.5178341 | Refrigerator |
| Kenmore 106.5178341 | Refrigerator |
| Kenmore 106.5178941 | Refrigerator |
| Kenmore 106.5178941 | Refrigerator |
| Kenmore 106.7300251 | Refrigerator |
| Kenmore 106.7300251 | Refrigerator |
| Kenmore 106.7300351 | Refrigerator |
| Kenmore 106.7300351 | Refrigerator |
| Kenmore 106.7300951 | Refrigerator |
| Kenmore 106.7300951 | Refrigerator |
| Kenmore 106.7940241 | Refrigerator |
| Kenmore 106.7940341 | Refrigerator |
| Kenmore 106.7947241 | Refrigerator |
| Kenmore 106.7947241 | Refrigerator |
| Kenmore 106.7947341 | Refrigerator |
| Kenmore 106.7947341 | Refrigerator |
| Kenmore 596.7238241 | Refrigerator |
| Kenmore 596.7238241 | Refrigerator |
| Kenmore 596.7238241 | Refrigerator |
| Kenmore 596.7238241 | Refrigerator |
| Kenmore 596.7238341 | Refrigerator |
| Kenmore 596.7238341 | Refrigerator |
| Kenmore 596.7238341 | Refrigerator |
| Kenmore 596.7238941 | Refrigerator |
| Kenmore 596.7238941 | Refrigerator |
| Kenmore 596.7238941 | Refrigerator |
| Kenmore 596.7238941 | Refrigerator |
| Kenmore 596.7300251 | Refrigerator |
| Kenmore 596.7300351 | Refrigerator |
| Kenmore 596.7300351 | Refrigerator |
| Kenmore 596.7300951 | Refrigerator |
| KitchenAid KFFS20EYBL00 | Refrigerator |
| KitchenAid KFFS20EYMS00 | Refrigerator |
| KitchenAid KFFS20EYWH00 | Refrigerator |
| KitchenAid KRFC604FSS01 | Refrigerator |
| KitchenAid KRFC704FBS01 | Refrigerator |
| KitchenAid KRFC704FPS01 | Refrigerator |
| KitchenAid KRFC704FSS01 | Refrigerator |
| KitchenAid KRFC804GBS00 | Refrigerator |
| KitchenAid KRFC804GPS00 | Refrigerator |
| KitchenAid KRFC804GSS00 | Refrigerator |
| KitchenAid KRFF507HBL00 | Refrigerator |
| KitchenAid KRFF507HBS00 | Refrigerator |
| KitchenAid KRFF507HPS00 | Refrigerator |
| KitchenAid KRFF507HWH00 | Refrigerator |
| KitchenAid KRSC503EBS00 | Refrigerator |
| KitchenAid KRSC503EBS01 | Refrigerator |
| KitchenAid KRSC503ESS01 | Refrigerator |
| KitchenAid KRSF505EBL01 | Refrigerator |
| KitchenAid KRSF505ESS01 | Refrigerator |
| KitchenAid KRSF505EWH01 | Refrigerator |
| KitchenAid KSC23C8EYB00 | Refrigerator |
| KitchenAid KSC23C8EYW00 | Refrigerator |
| KitchenAid KSC23C8EYY00 | Refrigerator |
| KitchenAid KSC23C8EYY01 | Refrigerator |
| KitchenAid KSC23C9EYB00 | Refrigerator |
| KitchenAid KSC23C9EYW00 | Refrigerator |
| KitchenAid KSC23C9EYY00 | Refrigerator |
| KitchenAid KSC23C9EYY01 | Refrigerator |
| KitchenAid KSC23W8EYB00 | Refrigerator |
| KitchenAid KSC23W8EYW00 | Refrigerator |
| KitchenAid KSC23W8EYY00 | Refrigerator |
| KitchenAid KSC24C8EYB00 | Refrigerator |
| KitchenAid KSC24C8EYP00 | Refrigerator |
| KitchenAid KSC24C8EYW00 | Refrigerator |
| KitchenAid KSC24C8EYY00 | Refrigerator |
| KitchenAid KSF26C4XYB00 | Refrigerator |
| KitchenAid KSF26C4XYW00 | Refrigerator |
| KitchenAid KSF26C4XYY00 | Refrigerator |
| KitchenAid KSF26C6XYY00 | Refrigerator |
| KitchenAid KSF26C6XYY02 | Refrigerator |
| KitchenAid KSF26C7XYY00 | Refrigerator |
| KitchenAid KSF26C7XYY02 | Refrigerator |
| KitchenAid KSO24C8EYB00 | Refrigerator |
| KitchenAid KSO24C8EYW00 | Refrigerator |
| Maytag MFB2055YEB00 | Refrigerator |
| Maytag MFB2055YEM00 | Refrigerator |
| Maytag MFB2055YEW00 | Refrigerator |
| Maytag MFT2772HEZ00 | Refrigerator |
| Maytag MFT2776FEZ01 | Refrigerator |
| Maytag MSC21C6MFZ00 | Refrigerator |
| Maytag MSS26C6MEZ00 | Refrigerator |
| Maytag MSS26C6MFB01 | Refrigerator |
| Maytag MSS26C6MFW01 | Refrigerator |
| Maytag MSS26C6MFZ01 | Refrigerator |
| Whirlpool 3WSC19D4AY00 | Refrigerator |
| Whirlpool 3WSC19D4XB00 | Refrigerator |
| Whirlpool 3WSC19D4XD00 | Refrigerator |
| Whirlpool 3WSC19D4XW00 | Refrigerator |
| Whirlpool 3WSC19D4XY00 | Refrigerator |
| Whirlpool 3WSC19D4XY01 | Refrigerator |
| Whirlpool 3WSC20N4AY00 | Refrigerator |
| Whirlpool 3WSC20N4XB00 | Refrigerator |
| Whirlpool 3WSC20N4XD00 | Refrigerator |
| Whirlpool 3WSC20N4XW00 | Refrigerator |
| Whirlpool 3WSC20N4XY00 | Refrigerator |
| Whirlpool 3WSC20N4XY01 | Refrigerator |
| Whirlpool 5MT711BFEG00 | Refrigerator |
| Whirlpool 5MT711BFEH00 | Refrigerator |
| Whirlpool 5VM1BXGFYA00 | Refrigerator |
| Whirlpool 5VWT51SFYF00 | Refrigerator |
| Whirlpool 5VWT51SFYW00 | Refrigerator |
| Whirlpool 5VWT59SFYF00 | Refrigerator |
| Whirlpool 5VWT59SFYW00 | Refrigerator |
| Whirlpool 5VWT71REYF00 | Refrigerator |
| Whirlpool 5WSC20CAYB00 | Refrigerator |
| Whirlpool 5WSC20CAYY00 | Refrigerator |
| Whirlpool 5WSC21NAYY00 | Refrigerator |
| Whirlpool 5WT511SFEG00 | Refrigerator |
| Whirlpool 5WT511SFEW00 | Refrigerator |
| Whirlpool 6ISC20C6AY00 | Refrigerator |
| Whirlpool 6ISC21N4AD00 | Refrigerator |
| Whirlpool 6ISC21N4AF00 | Refrigerator |
| Whirlpool 6WSC20C6XB00 | Refrigerator |
| Whirlpool 6WSC20C6XB02 | Refrigerator |
| Whirlpool 6WSC20C6XB04 | Refrigerator |
| Whirlpool 6WSC20C6XD00 | Refrigerator |
| Whirlpool 6WSC20C6XD02 | Refrigerator |
| Whirlpool 6WSC20C6XD04 | Refrigerator |
| Whirlpool 6WSC20C6XW00 | Refrigerator |
| Whirlpool 6WSC20C6XW02 | Refrigerator |
| Whirlpool 6WSC20C6XW04 | Refrigerator |
| Whirlpool 6WSC20C6XY00 | Refrigerator |
| Whirlpool 6WSC20C6XY02 | Refrigerator |
| Whirlpool 6WSC20C6XY04 | Refrigerator |
| Whirlpool 6WSC20C6YB00 | Refrigerator |
| Whirlpool 6WSC20C6YY00 | Refrigerator |
| Whirlpool 6WSC21N4AF00 | Refrigerator |
| Whirlpool 6WSC21N4XD00 | Refrigerator |
| Whirlpool 6WSC21N4XD02 | Refrigerator |
| Whirlpool 6WSC21N4XD04 | Refrigerator |
| Whirlpool 6WSC21N4XW00 | Refrigerator |
| Whirlpool 6WSC21N4XW02 | Refrigerator |
| Whirlpool 6WSC21N4XW04 | Refrigerator |
| Whirlpool 6WSC21N4XY00 | Refrigerator |
| Whirlpool 6WSC21N4XY02 | Refrigerator |
| Whirlpool 6WSC21N4XY04 | Refrigerator |
| Whirlpool 6WSC21N4YD00 | Refrigerator |
| Whirlpool 6WSC21N4YY00 | Refrigerator |
| Whirlpool 7GSC22C6XA00 | Refrigerator |
| Whirlpool 7GSC22C6XW00 | Refrigerator |
| Whirlpool 7GSC22C6XY00 | Refrigerator |
| Whirlpool 7GSC22C6XY01 | Refrigerator |
| Whirlpool 7KRSF77EST00 | Refrigerator |
| Whirlpool 7KSC24C8EY00 | Refrigerator |
| Whirlpool 7KSF26C6YY00 | Refrigerator |
| Whirlpool 7MF2976AEM00 | Refrigerator |
| Whirlpool 7MF2976AEM01 | Refrigerator |
| Whirlpool 7MF2976AEM02 | Refrigerator |
| Whirlpool 7MF2976AEM03 | Refrigerator |
| Whirlpool 7WF736SDAM10 | Refrigerator |
| Whirlpool 7WF736SDAM11 | Refrigerator |
| Whirlpool 7WF736SDAM12 | Refrigerator |
| Whirlpool 7WF736SDAM13 | Refrigerator |
| Whirlpool 7WF736SDAM14 | Refrigerator |
| Whirlpool 7WSC19D2XS01 | Refrigerator |
| Whirlpool 7WSC21C4XY01 | Refrigerator |
| Whirlpool BRS80ARANA00 | Refrigerator |
| Whirlpool GSC25C4EYB00 | Refrigerator |
| Whirlpool GSC25C4EYB01 | Refrigerator |
| Whirlpool GSC25C4EYB02 | Refrigerator |
| Whirlpool GSC25C4EYW00 | Refrigerator |
| Whirlpool GSC25C4EYW01 | Refrigerator |
| Whirlpool GSC25C4EYW02 | Refrigerator |
| Whirlpool GSC25C4EYY00 | Refrigerator |
| Whirlpool GSC25C4EYY01 | Refrigerator |
| Whirlpool GSC25C4EYY02 | Refrigerator |
| Whirlpool GSC25C4EYY03 | Refrigerator |
| Whirlpool GSC25C5EYB00 | Refrigerator |
| Whirlpool GSC25C5EYB01 | Refrigerator |
| Whirlpool GSC25C5EYB02 | Refrigerator |
| Whirlpool GSC25C5EYW00 | Refrigerator |
| Whirlpool GSC25C5EYW01 | Refrigerator |
| Whirlpool GSC25C5EYW02 | Refrigerator |
| Whirlpool GSC25C5EYY00 | Refrigerator |
| Whirlpool GSC25C5EYY01 | Refrigerator |
| Whirlpool GSC25C5EYY02 | Refrigerator |
| Whirlpool GSC25C5EYY03 | Refrigerator |
| Whirlpool GSC25C6EYB00 | Refrigerator |
| Whirlpool GSC25C6EYB01 | Refrigerator |
| Whirlpool GSC25C6EYW00 | Refrigerator |
| Whirlpool GSC25C6EYW01 | Refrigerator |
| Whirlpool GSC25C6EYY00 | Refrigerator |
| Whirlpool GSC25C6EYY01 | Refrigerator |
| Whirlpool GSC25C6EYY02 | Refrigerator |
| Whirlpool GSC25C6EYY03 | Refrigerator |
| Whirlpool GSF26C4EXA00 | Refrigerator |
| Whirlpool GSF26C4EXA02 | Refrigerator |
| Whirlpool GSF26C4EXB00 | Refrigerator |
| Whirlpool GSF26C4EXB02 | Refrigerator |
| Whirlpool GSF26C4EXF02 | Refrigerator |
| Whirlpool GSF26C4EXS00 | Refrigerator |
| Whirlpool GSF26C4EXS02 | Refrigerator |
| Whirlpool GSF26C4EXS03 | Refrigerator |
| Whirlpool GSF26C4EXT00 | Refrigerator |
| Whirlpool GSF26C4EXT02 | Refrigerator |
| Whirlpool GSF26C4EXW00 | Refrigerator |
| Whirlpool GSF26C4EXW02 | Refrigerator |
| Whirlpool GSF26C4EXY00 | Refrigerator |
| Whirlpool GSF26C4EXY02 | Refrigerator |
| Whirlpool GSF26C4EXY03 | Refrigerator |
| Whirlpool GSF26C5EXA00 | Refrigerator |
| Whirlpool GSF26C5EXB00 | Refrigerator |
| Whirlpool GSF26C5EXB02 | Refrigerator |
| Whirlpool GSF26C5EXS00 | Refrigerator |
| Whirlpool GSF26C5EXS03 | Refrigerator |
| Whirlpool GSF26C5EXT00 | Refrigerator |
| Whirlpool GSF26C5EXW00 | Refrigerator |
| Whirlpool GSF26C5EXW02 | Refrigerator |
| Whirlpool GSF26C5EXY00 | Refrigerator |
| Whirlpool GSF26C5EXY02 | Refrigerator |
| Whirlpool GSF26C5EXY03 | Refrigerator |
| Whirlpool GSS26C4XXA00 | Refrigerator |
| Whirlpool GSS26C4XXA02 | Refrigerator |
| Whirlpool GSS26C4XXA03 | Refrigerator |
| Whirlpool GSS26C4XXB00 | Refrigerator |
| Whirlpool GSS26C4XXB02 | Refrigerator |
| Whirlpool GSS26C4XXB03 | Refrigerator |
| Whirlpool GSS26C4XXF02 | Refrigerator |
| Whirlpool GSS26C4XXW00 | Refrigerator |
| Whirlpool GSS26C4XXW02 | Refrigerator |
| Whirlpool GSS26C4XXW03 | Refrigerator |
| Whirlpool GSS26C4XXY00 | Refrigerator |
| Whirlpool GSS26C4XXY02 | Refrigerator |
| Whirlpool GSS26C4XXY03 | Refrigerator |
| Whirlpool GSS26C4XXY04 | Refrigerator |
| Whirlpool GSS26C5XXA00 | Refrigerator |
| Whirlpool GSS26C5XXA02 | Refrigerator |
| Whirlpool GSS26C5XXA03 | Refrigerator |
| Whirlpool GSS26C5XXB00 | Refrigerator |
| Whirlpool GSS26C5XXB02 | Refrigerator |
| Whirlpool GSS26C5XXB03 | Refrigerator |
| Whirlpool GSS26C5XXW00 | Refrigerator |
| Whirlpool GSS26C5XXW02 | Refrigerator |
| Whirlpool GSS26C5XXW03 | Refrigerator |
| Whirlpool GSS26C5XXY00 | Refrigerator |
| Whirlpool GSS26C5XXY02 | Refrigerator |
| Whirlpool GSS26C5XXY03 | Refrigerator |
| Whirlpool GSS26C5XXY04 | Refrigerator |
| Whirlpool GSS30C6EYB00 | Refrigerator |
| Whirlpool GSS30C6EYB02 | Refrigerator |
| Whirlpool GSS30C6EYB03 | Refrigerator |
| Whirlpool GSS30C6EYF00 | Refrigerator |
| Whirlpool GSS30C6EYF02 | Refrigerator |
| Whirlpool GSS30C6EYF03 | Refrigerator |
| Whirlpool GSS30C6EYW00 | Refrigerator |
| Whirlpool GSS30C6EYW02 | Refrigerator |
| Whirlpool GSS30C6EYW03 | Refrigerator |
| Whirlpool GSS30C6EYY00 | Refrigerator |
| Whirlpool GSS30C6EYY01 | Refrigerator |
| Whirlpool GSS30C6EYY02 | Refrigerator |
| Whirlpool GSS30C6EYY03 | Refrigerator |
| Whirlpool GSS30C7EYB00 | Refrigerator |
| Whirlpool GSS30C7EYB02 | Refrigerator |
| Whirlpool GSS30C7EYB03 | Refrigerator |
| Whirlpool GSS30C7EYF00 | Refrigerator |
| Whirlpool GSS30C7EYF02 | Refrigerator |
| Whirlpool GSS30C7EYF03 | Refrigerator |
| Whirlpool GSS30C7EYW00 | Refrigerator |
| Whirlpool GSS30C7EYW02 | Refrigerator |
| Whirlpool GSS30C7EYW03 | Refrigerator |
| Whirlpool GSS30C7EYY00 | Refrigerator |
| Whirlpool GSS30C7EYY01 | Refrigerator |
| Whirlpool GSS30C7EYY02 | Refrigerator |
| Whirlpool GSS30C7EYY03 | Refrigerator |
| Whirlpool ISC21CNEDS00 | Refrigerator |
| Whirlpool ISC23CDEXB00 | Refrigerator |
| Whirlpool ISC23CDEXB01 | Refrigerator |
| Whirlpool ISC23CDEXY00 | Refrigerator |
| Whirlpool ISC23CDEXY01 | Refrigerator |
| Whirlpool ISC23CDEXY02 | Refrigerator |
| Whirlpool ISC23CNEXW00 | Refrigerator |
| Whirlpool ISC23CNEXW01 | Refrigerator |
| Whirlpool ISC23CNEXY00 | Refrigerator |
| Whirlpool ISC23CNEXY01 | Refrigerator |
| Whirlpool ISC23CNEXY02 | Refrigerator |
| Whirlpool IX5BBEXDS00 | Refrigerator |
| Whirlpool IX5BBEXDS01 | Refrigerator |
| Whirlpool IX7DDEXDSM00 | Refrigerator |
| Whirlpool IX7DDEXDSM01 | Refrigerator |
| Whirlpool JB36NXFXLE00 | Refrigerator |
| Whirlpool JB36NXFXLE01 | Refrigerator |
| Whirlpool JB36NXFXRE00 | Refrigerator |
| Whirlpool JB36NXFXRE01 | Refrigerator |
| Whirlpool JF36NXFXDE00 | Refrigerator |
| Whirlpool JF36NXFXDE01 | Refrigerator |
| Whirlpool JF42NXFXDE00 | Refrigerator |
| Whirlpool JF42NXFXDE01 | Refrigerator |
| Whirlpool JF42NXFXDE02 | Refrigerator |
| Whirlpool JFFCC72EFP00 | Refrigerator |
| Whirlpool JFFCC72EFP02 | Refrigerator |
| Whirlpool JFFCC72EFS00 | Refrigerator |
| Whirlpool JFFCC72EFS02 | Refrigerator |
| Whirlpool JFFCC72EFS03 | Refrigerator |
| Whirlpool JFFCC72EFS04 | Refrigerator |
| Whirlpool JFFCC72EHL01 | Refrigerator |
| Whirlpool JFFCC72EHL02 | Refrigerator |
| Whirlpool JFX2897DRM00 | Refrigerator |
| Whirlpool JFX2897DRM01 | Refrigerator |
| Whirlpool JFX2897DRM02 | Refrigerator |
| Whirlpool JFX2897DRP00 | Refrigerator |
| Whirlpool JFX2897DRP01 | Refrigerator |
| Whirlpool JFX2897DRP02 | Refrigerator |
| Whirlpool JSC23C9EEM00 | Refrigerator |
| Whirlpool JSC24C8EAM00 | Refrigerator |
| Whirlpool JSC24C8EAM01 | Refrigerator |
| Whirlpool JSC24C8EAM02 | Refrigerator |
| Whirlpool KBBL206EPA00 | Refrigerator |
| Whirlpool KBBL206EPA01 | Refrigerator |
| Whirlpool KBBL206ESS00 | Refrigerator |
| Whirlpool KBBL206ESS01 | Refrigerator |
| Whirlpool KBBL306EPA00 | Refrigerator |
| Whirlpool KBBL306EPA01 | Refrigerator |
| Whirlpool KBBL306ESS00 | Refrigerator |
| Whirlpool KBBL306ESS01 | Refrigerator |
| Whirlpool KBBR206EPA00 | Refrigerator |
| Whirlpool KBBR206EPA01 | Refrigerator |
| Whirlpool KBBR206ESS00 | Refrigerator |
| Whirlpool KBBR206ESS01 | Refrigerator |
| Whirlpool KBBR306EPA00 | Refrigerator |
| Whirlpool KBBR306EPA01 | Refrigerator |
| Whirlpool KBBR306ESS00 | Refrigerator |
| Whirlpool KBBR306ESS01 | Refrigerator |
| Whirlpool KBFN402EPA00 | Refrigerator |
| Whirlpool KBFN402EPA01 | Refrigerator |
| Whirlpool KBFN402EPA02 | Refrigerator |
| Whirlpool KBFN402ESS00 | Refrigerator |
| Whirlpool KBFN402ESS01 | Refrigerator |
| Whirlpool KBFN402ESS02 | Refrigerator |
| Whirlpool KBFN406EPA00 | Refrigerator |
| Whirlpool KBFN406EPA01 | Refrigerator |
| Whirlpool KBFN406ESS00 | Refrigerator |
| Whirlpool KBFN406ESS01 | Refrigerator |
| Whirlpool KBFN502EBS00 | Refrigerator |
| Whirlpool KBFN502EBS01 | Refrigerator |
| Whirlpool KBFN502EBS02 | Refrigerator |
| Whirlpool KBFN502EPA00 | Refrigerator |
| Whirlpool KBFN502EPA01 | Refrigerator |
| Whirlpool KBFN502EPA02 | Refrigerator |
| Whirlpool KBFN502ESS00 | Refrigerator |
| Whirlpool KBFN502ESS01 | Refrigerator |
| Whirlpool KBFN502ESS02 | Refrigerator |
| Whirlpool KBFN506EBS01 | Refrigerator |
| Whirlpool KBFN506EPA00 | Refrigerator |
| Whirlpool KBFN506EPA01 | Refrigerator |
| Whirlpool KBFN506ESS00 | Refrigerator |
| Whirlpool KBFN506ESS01 | Refrigerator |
| Whirlpool KFFS20EYBL00 | Refrigerator |
| Whirlpool KFFS20EYBL01 | Refrigerator |
| Whirlpool KFFS20EYBL02 | Refrigerator |
| Whirlpool KFFS20EYBL04 | Refrigerator |
| Whirlpool KFFS20EYMS00 | Refrigerator |
| Whirlpool KFFS20EYMS01 | Refrigerator |
| Whirlpool KFFS20EYMS02 | Refrigerator |
| Whirlpool KFFS20EYMS04 | Refrigerator |
| Whirlpool KFFS20EYWH00 | Refrigerator |
| Whirlpool KFFS20EYWH01 | Refrigerator |
| Whirlpool KFFS20EYWH02 | Refrigerator |
| Whirlpool KFFS20EYWH04 | Refrigerator |
| Whirlpool KFIS29BBBL00 | Refrigerator |
| Whirlpool KFIS29BBBL01 | Refrigerator |
| Whirlpool KFIS29BBBL02 | Refrigerator |
| Whirlpool KFIS29BBBL03 | Refrigerator |
| Whirlpool KFIS29BBMS00 | Refrigerator |
| Whirlpool KFIS29BBMS01 | Refrigerator |
| Whirlpool KFIS29BBMS02 | Refrigerator |
| Whirlpool KFIS29BBMS03 | Refrigerator |
| Whirlpool KFIS29BBWH00 | Refrigerator |
| Whirlpool KFIS29BBWH01 | Refrigerator |
| Whirlpool KFIS29BBWH02 | Refrigerator |
| Whirlpool KFIS29BBWH03 | Refrigerator |
| Whirlpool KFIS29PBMS00 | Refrigerator |
| Whirlpool KFIS29PBMS01 | Refrigerator |
| Whirlpool KFIS29PBMS02 | Refrigerator |
| Whirlpool KFIS29PBMS03 | Refrigerator |
| Whirlpool KFIV29PCMS00 | Refrigerator |
| Whirlpool KFIV29PCMS01 | Refrigerator |
| Whirlpool KFIV29PCMS02 | Refrigerator |
| Whirlpool KFIV29PCMS03 | Refrigerator |
| Whirlpool KRFC604FSS00 | Refrigerator |
| Whirlpool KRFC604FSS01 | Refrigerator |
| Whirlpool KRFC604FSS02 | Refrigerator |
| Whirlpool KRFC604FSS03 | Refrigerator |
| Whirlpool KRFC704FBS00 | Refrigerator |
| Whirlpool KRFC704FBS01 | Refrigerator |
| Whirlpool KRFC704FBS02 | Refrigerator |
| Whirlpool KRFC704FBS03 | Refrigerator |
| Whirlpool KRFC704FPS00 | Refrigerator |
| Whirlpool KRFC704FPS01 | Refrigerator |
| Whirlpool KRFC704FPS03 | Refrigerator |
| Whirlpool KRFC704FPS04 | Refrigerator |
| Whirlpool KRFC704FSS00 | Refrigerator |
| Whirlpool KRFC704FSS01 | Refrigerator |
| Whirlpool KRFC704FSS02 | Refrigerator |
| Whirlpool KRFC704FSS03 | Refrigerator |
| Whirlpool KRFC804GBS00 | Refrigerator |
| Whirlpool KRFC804GPS00 | Refrigerator |
| Whirlpool KRFC804GSS00 | Refrigerator |
| Whirlpool KRFF300EBL00 | Refrigerator |
| Whirlpool KRFF300EBS00 | Refrigerator |
| Whirlpool KRFF300ESS00 | Refrigerator |
| Whirlpool KRFF300ESS01 | Refrigerator |
| Whirlpool KRFF300EWH00 | Refrigerator |
| Whirlpool KRFF300EWH01 | Refrigerator |
| Whirlpool KRFF507EBL00 | Refrigerator |
| Whirlpool KRFF507EBL01 | Refrigerator |
| Whirlpool KRFF507ESS00 | Refrigerator |
| Whirlpool KRFF507ESS01 | Refrigerator |
| Whirlpool KRFF507EWH00 | Refrigerator |
| Whirlpool KRFF507EWH01 | Refrigerator |
| Whirlpool KRFF507HBL00 | Refrigerator |
| Whirlpool KRFF507HBS00 | Refrigerator |
| Whirlpool KRFF507HBS02 | Refrigerator |
| Whirlpool KRFF507HPS00 | Refrigerator |
| Whirlpool KRFF507HPS01 | Refrigerator |
| Whirlpool KRFF507HPS02 | Refrigerator |
| Whirlpool KRFF507HWH00 | Refrigerator |
| Whirlpool KRFF507HWH02 | Refrigerator |
| Whirlpool KRFF707EBS00 | Refrigerator |
| Whirlpool KRFF707ESS00 | Refrigerator |
| Whirlpool KRFF707ESS01 | Refrigerator |
| Whirlpool KRMF606ESS00 | Refrigerator |
| Whirlpool KRMF606ESS01 | Refrigerator |
| Whirlpool KRMF706EBS00 | Refrigerator |
| Whirlpool KRMF706EBS01 | Refrigerator |
| Whirlpool KRMF706EBS04 | Refrigerator |
| Whirlpool KRMF706ESS00 | Refrigerator |
| Whirlpool KRMF706ESS01 | Refrigerator |
| Whirlpool KRMF706ESS02 | Refrigerator |
| Whirlpool KRMF706ESS04 | Refrigerator |
| Whirlpool KRSC500ESS00 | Refrigerator |
| Whirlpool KRSC500ESS01 | Refrigerator |
| Whirlpool KRSC503EBS00 | Refrigerator |
| Whirlpool KRSC503EBS01 | Refrigerator |
| Whirlpool KRSC503ESS00 | Refrigerator |
| Whirlpool KRSC503ESS01 | Refrigerator |
| Whirlpool KRSC700HBS00 | Refrigerator |
| Whirlpool KRSC700HBS01 | Refrigerator |
| Whirlpool KRSC700HPS00 | Refrigerator |
| Whirlpool KRSC700HPS01 | Refrigerator |
| Whirlpool KRSC703HBS00 | Refrigerator |
| Whirlpool KRSC703HBS01 | Refrigerator |
| Whirlpool KRSC703HPS00 | Refrigerator |
| Whirlpool KRSC703HPS01 | Refrigerator |
| Whirlpool KRSF505EBL00 | Refrigerator |
| Whirlpool KRSF505EBL01 | Refrigerator |
| Whirlpool KRSF505ESS00 | Refrigerator |
| Whirlpool KRSF505ESS01 | Refrigerator |
| Whirlpool KRSF505EWH00 | Refrigerator |
| Whirlpool KRSF505EWH01 | Refrigerator |
| Whirlpool KRSF705HBS00 | Refrigerator |
| Whirlpool KRSF705HBS01 | Refrigerator |
| Whirlpool KRSF705HPS00 | Refrigerator |
| Whirlpool KRSF705HPS01 | Refrigerator |
| Whirlpool KSC23C8EYB00 | Refrigerator |
| Whirlpool KSC23C8EYB02 | Refrigerator |
| Whirlpool KSC23C8EYW00 | Refrigerator |
| Whirlpool KSC23C8EYW02 | Refrigerator |
| Whirlpool KSC23C8EYY00 | Refrigerator |
| Whirlpool KSC23C8EYY01 | Refrigerator |
| Whirlpool KSC23C8EYY02 | Refrigerator |
| Whirlpool KSC23C8EYY03 | Refrigerator |
| Whirlpool KSC23C9EYB00 | Refrigerator |
| Whirlpool KSC23C9EYB02 | Refrigerator |
| Whirlpool KSC23C9EYW00 | Refrigerator |
| Whirlpool KSC23C9EYW02 | Refrigerator |
| Whirlpool KSC23C9EYY00 | Refrigerator |
| Whirlpool KSC23C9EYY01 | Refrigerator |
| Whirlpool KSC23C9EYY02 | Refrigerator |
| Whirlpool KSC23W8EYB00 | Refrigerator |
| Whirlpool KSC23W8EYW00 | Refrigerator |
| Whirlpool KSC23W8EYY00 | Refrigerator |
| Whirlpool KSC24C8EYB00 | Refrigerator |
| Whirlpool KSC24C8EYB02 | Refrigerator |
| Whirlpool KSC24C8EYP00 | Refrigerator |
| Whirlpool KSC24C8EYP01 | Refrigerator |
| Whirlpool KSC24C8EYP02 | Refrigerator |
| Whirlpool KSC24C8EYP03 | Refrigerator |
| Whirlpool KSC24C8EYP04 | Refrigerator |
| Whirlpool KSC24C8EYW00 | Refrigerator |
| Whirlpool KSC24C8EYW02 | Refrigerator |
| Whirlpool KSC24C8EYY00 | Refrigerator |
| Whirlpool KSC24C8EYY01 | Refrigerator |
| Whirlpool KSC24C8EYY02 | Refrigerator |
| Whirlpool KSC24C8EYY03 | Refrigerator |
| Whirlpool KSC24C8EYY04 | Refrigerator |
| Whirlpool KSF26C4XYB00 | Refrigerator |
| Whirlpool KSF26C4XYB02 | Refrigerator |
| Whirlpool KSF26C4XYB03 | Refrigerator |
| Whirlpool KSF26C4XYW00 | Refrigerator |
| Whirlpool KSF26C4XYW02 | Refrigerator |
| Whirlpool KSF26C4XYW03 | Refrigerator |
| Whirlpool KSF26C4XYY00 | Refrigerator |
| Whirlpool KSF26C4XYY01 | Refrigerator |
| Whirlpool KSF26C4XYY02 | Refrigerator |
| Whirlpool KSF26C4XYY03 | Refrigerator |
| Whirlpool KSF26C4XYY04 | Refrigerator |
| Whirlpool KSF26C6XYY00 | Refrigerator |
| Whirlpool KSF26C6XYY02 | Refrigerator |
| Whirlpool KSF26C6XYY03 | Refrigerator |
| Whirlpool KSF26C6XYY04 | Refrigerator |
| Whirlpool KSF26C6XYY05 | Refrigerator |
| Whirlpool KSF26C7XYY00 | Refrigerator |
| Whirlpool KSF26C7XYY02 | Refrigerator |
| Whirlpool KSF26C7XYY03 | Refrigerator |
| Whirlpool KSF26C7XYY04 | Refrigerator |
| Whirlpool KSO24C8EYB00 | Refrigerator |
| Whirlpool KSO24C8EYW00 | Refrigerator |
| Whirlpool M1BXXGMYB00 | Refrigerator |
| Whirlpool M1BXXGMYM00 | Refrigerator |
| Whirlpool M1BXXGMYW00 | Refrigerator |
| Whirlpool M1BXXLZYB00 | Refrigerator |
| Whirlpool M1BXXLZYM00 | Refrigerator |
| Whirlpool M1BXXLZYW00 | Refrigerator |
| Whirlpool M9BXXGMYB00 | Refrigerator |
| Whirlpool M9BXXGMYM00 | Refrigerator |
| Whirlpool M9BXXGMYW00 | Refrigerator |
| Whirlpool M9RXDGFYB10 | Refrigerator |
| Whirlpool M9RXDGFYM10 | Refrigerator |
| Whirlpool M9RXDGFYM11 | Refrigerator |
| Whirlpool M9RXDGFYW10 | Refrigerator |
| Whirlpool M9RXDGFYW11 | Refrigerator |
| Whirlpool MFB2055DRE00 | Refrigerator |
| Whirlpool MFB2055DRE01 | Refrigerator |
| Whirlpool MFB2055DRH00 | Refrigerator |
| Whirlpool MFB2055DRH01 | Refrigerator |
| Whirlpool MFB2055DRM00 | Refrigerator |
| Whirlpool MFB2055DRM01 | Refrigerator |
| Whirlpool MFB2055FRW00 | Refrigerator |
| Whirlpool MFB2055FRZ00 | Refrigerator |
| Whirlpool MFB2055YEB00 | Refrigerator |
| Whirlpool MFB2055YEB01 | Refrigerator |
| Whirlpool MFB2055YEB02 | Refrigerator |
| Whirlpool MFB2055YEM00 | Refrigerator |
| Whirlpool MFB2055YEM01 | Refrigerator |
| Whirlpool MFB2055YEM02 | Refrigerator |
| Whirlpool MFB2055YEW00 | Refrigerator |
| Whirlpool MFB2055YEW01 | Refrigerator |
| Whirlpool MFB2055YEW02 | Refrigerator |
| Whirlpool MFF2055DRE00 | Refrigerator |
| Whirlpool MFF2055DRE01 | Refrigerator |
| Whirlpool MFF2055DRH00 | Refrigerator |
| Whirlpool MFF2055DRH01 | Refrigerator |
| Whirlpool MFF2055DRM00 | Refrigerator |
| Whirlpool MFF2055DRM01 | Refrigerator |
| Whirlpool MFF2055FRB00 | Refrigerator |
| Whirlpool MFF2055FRW00 | Refrigerator |
| Whirlpool MFF2055FRZ00 | Refrigerator |
| Whirlpool MFF2055YEB00 | Refrigerator |
| Whirlpool MFF2055YEB01 | Refrigerator |
| Whirlpool MFF2055YEB02 | Refrigerator |
| Whirlpool MFF2055YEM00 | Refrigerator |
| Whirlpool MFF2055YEM01 | Refrigerator |
| Whirlpool MFF2055YEM02 | Refrigerator |
| Whirlpool MFF2055YEW00 | Refrigerator |
| Whirlpool MFF2055YEW01 | Refrigerator |
| Whirlpool MFF2055YEW02 | Refrigerator |
| Whirlpool MFT2574DEE00 | Refrigerator |
| Whirlpool MFT2574DEE01 | Refrigerator |
| Whirlpool MFT2574DEE02 | Refrigerator |
| Whirlpool MFT2574DEH00 | Refrigerator |
| Whirlpool MFT2574DEH01 | Refrigerator |
| Whirlpool MFT2574DEH02 | Refrigerator |
| Whirlpool MFT2574DEM00 | Refrigerator |
| Whirlpool MFT2574DEM01 | Refrigerator |
| Whirlpool MFT2574DEM02 | Refrigerator |
| Whirlpool MFT2672AEB10 | Refrigerator |
| Whirlpool MFT2672AEB11 | Refrigerator |
| Whirlpool MFT2672AEB12 | Refrigerator |
| Whirlpool MFT2672AEM10 | Refrigerator |
| Whirlpool MFT2672AEM11 | Refrigerator |
| Whirlpool MFT2672AEM12 | Refrigerator |
| Whirlpool MFT2672AEW10 | Refrigerator |
| Whirlpool MFT2672AEW11 | Refrigerator |
| Whirlpool MFT2672AEW12 | Refrigerator |
| Whirlpool MFT2673BEB10 | Refrigerator |
| Whirlpool MFT2673BEB11 | Refrigerator |
| Whirlpool MFT2673BEB12 | Refrigerator |
| Whirlpool MFT2673BEM10 | Refrigerator |
| Whirlpool MFT2673BEM11 | Refrigerator |
| Whirlpool MFT2673BEM12 | Refrigerator |
| Whirlpool MFT2673BEW10 | Refrigerator |
| Whirlpool MFT2673BEW11 | Refrigerator |
| Whirlpool MFT2673BEW12 | Refrigerator |
| Whirlpool MFT2772HEZ00 | Refrigerator |
| Whirlpool MFT2772HEZ01 | Refrigerator |
| Whirlpool MFT2772HEZ02 | Refrigerator |
| Whirlpool MFT2776DEE00 | Refrigerator |
| Whirlpool MFT2776DEE02 | Refrigerator |
| Whirlpool MFT2776DEH00 | Refrigerator |
| Whirlpool MFT2776DEH02 | Refrigerator |
| Whirlpool MFT2776DEM00 | Refrigerator |
| Whirlpool MFT2776DEM01 | Refrigerator |
| Whirlpool MFT2776DEM02 | Refrigerator |
| Whirlpool MFT2776FEZ00 | Refrigerator |
| Whirlpool MFT2776FEZ01 | Refrigerator |
| Whirlpool MFT2778EEZ00 | Refrigerator |
| Whirlpool MFT2778EEZ01 | Refrigerator |
| Whirlpool MFT2976AEB00 | Refrigerator |
| Whirlpool MFT2976AEB01 | Refrigerator |
| Whirlpool MFT2976AEB02 | Refrigerator |
| Whirlpool MFT2976AEB03 | Refrigerator |
| Whirlpool MFT2976AEM00 | Refrigerator |
| Whirlpool MFT2976AEM01 | Refrigerator |
| Whirlpool MFT2976AEM02 | Refrigerator |
| Whirlpool MFT2976AEM03 | Refrigerator |
| Whirlpool MFT2976AEW00 | Refrigerator |
| Whirlpool MFT2976AEW01 | Refrigerator |
| Whirlpool MFT2976AEW02 | Refrigerator |
| Whirlpool MFT2976AEW03 | Refrigerator |
| Whirlpool MFW2055DRE00 | Refrigerator |
| Whirlpool MFW2055DRE01 | Refrigerator |
| Whirlpool MFW2055DRH00 | Refrigerator |
| Whirlpool MFW2055DRH01 | Refrigerator |
| Whirlpool MFW2055DRM00 | Refrigerator |
| Whirlpool MFW2055DRM01 | Refrigerator |
| Whirlpool MFW2055FRH00 | Refrigerator |
| Whirlpool MFW2055FRZ00 | Refrigerator |
| Whirlpool MFW2055YEB00 | Refrigerator |
| Whirlpool MFW2055YEB01 | Refrigerator |
| Whirlpool MFW2055YEB02 | Refrigerator |
| Whirlpool MFW2055YEM00 | Refrigerator |
| Whirlpool MFW2055YEM01 | Refrigerator |
| Whirlpool MFW2055YEM02 | Refrigerator |
| Whirlpool MFW2055YEW00 | Refrigerator |
| Whirlpool MFW2055YEW01 | Refrigerator |
| Whirlpool MFW2055YEW02 | Refrigerator |
| Whirlpool MFX2676FRZ00 | Refrigerator |
| Whirlpool MFX2876DRE00 | Refrigerator |
| Whirlpool MFX2876DRE01 | Refrigerator |
| Whirlpool MFX2876DRE02 | Refrigerator |
| Whirlpool MFX2876DRH00 | Refrigerator |
| Whirlpool MFX2876DRH01 | Refrigerator |
| Whirlpool MFX2876DRH02 | Refrigerator |
| Whirlpool MFX2876DRM00 | Refrigerator |
| Whirlpool MFX2876DRM01 | Refrigerator |
| Whirlpool MFX2876DRM02 | Refrigerator |
| Whirlpool MRT711BZDE00 | Refrigerator |
| Whirlpool MRT711BZDH00 | Refrigerator |
| Whirlpool MRT711BZDM00 | Refrigerator |
| Whirlpool MRT711SMFB00 | Refrigerator |
| Whirlpool MRT711SMFW00 | Refrigerator |
| Whirlpool MRT711SMFZ00 | Refrigerator |
| Whirlpool MSB26C4XYB00 | Refrigerator |
| Whirlpool MSB26C4XYM00 | Refrigerator |
| Whirlpool MSB26C4XYW00 | Refrigerator |
| Whirlpool MSB27C2XAB00 | Refrigerator |
| Whirlpool MSB27C2XAM00 | Refrigerator |
| Whirlpool MSB27C2XAW00 | Refrigerator |
| Whirlpool MSC21C6MFZ00 | Refrigerator |
| Whirlpool MSS26C6MEZ00 | Refrigerator |
| Whirlpool MSS26C6MFB01 | Refrigerator |
| Whirlpool MSS26C6MFW01 | Refrigerator |
| Whirlpool MSS26C6MFZ01 | Refrigerator |
| Whirlpool W8CRNGMXD00 | Refrigerator |
| Whirlpool W8CRNGMXQ00 | Refrigerator |
| Whirlpool WRF560SEHB00 | Refrigerator |
| Whirlpool WRF560SEHV00 | Refrigerator |
| Whirlpool WRF560SEHW00 | Refrigerator |
| Whirlpool WRF560SEHZ00 | Refrigerator |
| Whirlpool WRF560SEYB00 | Refrigerator |
| Whirlpool WRF560SEYB01 | Refrigerator |
| Whirlpool WRF560SEYB02 | Refrigerator |
| Whirlpool WRF560SEYB04 | Refrigerator |
| Whirlpool WRF560SEYB05 | Refrigerator |
| Whirlpool WRF560SEYM00 | Refrigerator |
| Whirlpool WRF560SEYM01 | Refrigerator |
| Whirlpool WRF560SEYM02 | Refrigerator |
| Whirlpool WRF560SEYM04 | Refrigerator |
| Whirlpool WRF560SEYM05 | Refrigerator |
| Whirlpool WRF560SEYW00 | Refrigerator |
| Whirlpool WRF560SEYW01 | Refrigerator |
| Whirlpool WRF560SEYW02 | Refrigerator |
| Whirlpool WRF560SEYW04 | Refrigerator |
| Whirlpool WRF560SEYW05 | Refrigerator |
| Whirlpool WRF560SFHB00 | Refrigerator |
| Whirlpool WRF560SFHV00 | Refrigerator |
| Whirlpool WRF560SFHW00 | Refrigerator |
| Whirlpool WRF560SFHZ00 | Refrigerator |
| Whirlpool WRF560SFYB00 | Refrigerator |
| Whirlpool WRF560SFYB01 | Refrigerator |
| Whirlpool WRF560SFYB02 | Refrigerator |
| Whirlpool WRF560SFYB04 | Refrigerator |
| Whirlpool WRF560SFYB05 | Refrigerator |
| Whirlpool WRF560SFYE00 | Refrigerator |
| Whirlpool WRF560SFYE02 | Refrigerator |
| Whirlpool WRF560SFYE03 | Refrigerator |
| Whirlpool WRF560SFYH01 | Refrigerator |
| Whirlpool WRF560SFYH02 | Refrigerator |
| Whirlpool WRF560SFYH03 | Refrigerator |
| Whirlpool WRF560SFYH04 | Refrigerator |
| Whirlpool WRF560SFYM00 | Refrigerator |
| Whirlpool WRF560SFYM01 | Refrigerator |
| Whirlpool WRF560SFYM02 | Refrigerator |
| Whirlpool WRF560SFYM04 | Refrigerator |
| Whirlpool WRF560SFYM05 | Refrigerator |
| Whirlpool WRF560SFYW00 | Refrigerator |
| Whirlpool WRF560SFYW01 | Refrigerator |
| Whirlpool WRF560SFYW02 | Refrigerator |
| Whirlpool WRF560SFYW04 | Refrigerator |
| Whirlpool WRF560SFYW05 | Refrigerator |
| Whirlpool WRF560SMHB00 | Refrigerator |
| Whirlpool WRF560SMHM00 | Refrigerator |
| Whirlpool WRF560SMHV00 | Refrigerator |
| Whirlpool WRF560SMHW00 | Refrigerator |
| Whirlpool WRF560SMHZ00 | Refrigerator |
| Whirlpool WRF560SMYB00 | Refrigerator |
| Whirlpool WRF560SMYB01 | Refrigerator |
| Whirlpool WRF560SMYB02 | Refrigerator |
| Whirlpool WRF560SMYB04 | Refrigerator |
| Whirlpool WRF560SMYB05 | Refrigerator |
| Whirlpool WRF560SMYE00 | Refrigerator |
| Whirlpool WRF560SMYE01 | Refrigerator |
| Whirlpool WRF560SMYE02 | Refrigerator |
| Whirlpool WRF560SMYE03 | Refrigerator |
| Whirlpool WRF560SMYE04 | Refrigerator |
| Whirlpool WRF560SMYH00 | Refrigerator |
| Whirlpool WRF560SMYH01 | Refrigerator |
| Whirlpool WRF560SMYH02 | Refrigerator |
| Whirlpool WRF560SMYH03 | Refrigerator |
| Whirlpool WRF560SMYH04 | Refrigerator |
| Whirlpool WRF560SMYM00 | Refrigerator |
| Whirlpool WRF560SMYM01 | Refrigerator |
| Whirlpool WRF560SMYM02 | Refrigerator |
| Whirlpool WRF560SMYM04 | Refrigerator |
| Whirlpool WRF560SMYM05 | Refrigerator |
| Whirlpool WRF560SMYW00 | Refrigerator |
| Whirlpool WRF560SMYW01 | Refrigerator |
| Whirlpool WRF560SMYW02 | Refrigerator |
| Whirlpool WRF560SMYW04 | Refrigerator |
| Whirlpool WRF560SMYW05 | Refrigerator |
| Whirlpool WRF736SDAB00 | Refrigerator |
| Whirlpool WRF736SDAB10 | Refrigerator |
| Whirlpool WRF736SDAB11 | Refrigerator |
| Whirlpool WRF736SDAB12 | Refrigerator |
| Whirlpool WRF736SDAB13 | Refrigerator |
| Whirlpool WRF736SDAB14 | Refrigerator |
| Whirlpool WRF736SDAF00 | Refrigerator |
| Whirlpool WRF736SDAF10 | Refrigerator |
| Whirlpool WRF736SDAF12 | Refrigerator |
| Whirlpool WRF736SDAM00 | Refrigerator |
| Whirlpool WRF736SDAM10 | Refrigerator |
| Whirlpool WRF736SDAM11 | Refrigerator |
| Whirlpool WRF736SDAM12 | Refrigerator |
| Whirlpool WRF736SDAM13 | Refrigerator |
| Whirlpool WRF736SDAM14 | Refrigerator |
| Whirlpool WRF736SDAT00 | Refrigerator |
| Whirlpool WRF736SDAT10 | Refrigerator |
| Whirlpool WRF736SDAW00 | Refrigerator |
| Whirlpool WRF736SDAW10 | Refrigerator |
| Whirlpool WRF736SDAW11 | Refrigerator |
| Whirlpool WRF736SDAW12 | Refrigerator |
| Whirlpool WRF736SDAW13 | Refrigerator |
| Whirlpool WRF736SDAW14 | Refrigerator |
| Whirlpool WRF757SDEE00 | Refrigerator |
| Whirlpool WRF757SDEE01 | Refrigerator |
| Whirlpool WRF757SDEH00 | Refrigerator |
| Whirlpool WRF757SDEH01 | Refrigerator |
| Whirlpool WRF757SDEM00 | Refrigerator |
| Whirlpool WRF757SDEM01 | Refrigerator |
| Whirlpool WRF757SDHV00 | Refrigerator |
| Whirlpool WRF757SDHV02 | Refrigerator |
| Whirlpool WRF757SDHZ00 | Refrigerator |
| Whirlpool WRF757SDHZ01 | Refrigerator |
| Whirlpool WRF757SDHZ02 | Refrigerator |
| Whirlpool WRF767SDEM00 | Refrigerator |
| Whirlpool WRF767SDEM01 | Refrigerator |
| Whirlpool WRF767SDHV00 | Refrigerator |
| Whirlpool WRF767SDHV02 | Refrigerator |
| Whirlpool WRF767SDHZ00 | Refrigerator |
| Whirlpool WRF767SDHZ01 | Refrigerator |
| Whirlpool WRF767SDHZ02 | Refrigerator |
| Whirlpool WRF954CIHB00 | Refrigerator |
| Whirlpool WRF954CIHB01 | Refrigerator |
| Whirlpool WRF954CIHB02 | Refrigerator |
| Whirlpool WRF954CIHM00 | Refrigerator |
| Whirlpool WRF954CIHV00 | Refrigerator |
| Whirlpool WRF954CIHV01 | Refrigerator |
| Whirlpool WRF954CIHW00 | Refrigerator |
| Whirlpool WRF954CIHW01 | Refrigerator |
| Whirlpool WRF954CIHW02 | Refrigerator |
| Whirlpool WRF954CIHZ00 | Refrigerator |
| Whirlpool WRF954CIHZ01 | Refrigerator |
| Whirlpool WRF954CIHZ02 | Refrigerator |
| Whirlpool WRF954CIHZ03 | Refrigerator |
| Whirlpool WRF964CIHM00 | Refrigerator |
| Whirlpool WRF964CIHV00 | Refrigerator |
| Whirlpool WRF974CIHV00 | Refrigerator |
| Whirlpool WRF974CIHZ00 | Refrigerator |
| Whirlpool WRF989SDAB00 | Refrigerator |
| Whirlpool WRF989SDAB01 | Refrigerator |
| Whirlpool WRF989SDAB02 | Refrigerator |
| Whirlpool WRF989SDAB03 | Refrigerator |
| Whirlpool WRF989SDAE00 | Refrigerator |
| Whirlpool WRF989SDAE01 | Refrigerator |
| Whirlpool WRF989SDAE02 | Refrigerator |
| Whirlpool WRF989SDAE03 | Refrigerator |
| Whirlpool WRF989SDAF00 | Refrigerator |
| Whirlpool WRF989SDAF01 | Refrigerator |
| Whirlpool WRF989SDAF02 | Refrigerator |
| Whirlpool WRF989SDAF03 | Refrigerator |
| Whirlpool WRF989SDAH00 | Refrigerator |
| Whirlpool WRF989SDAH01 | Refrigerator |
| Whirlpool WRF989SDAH02 | Refrigerator |
| Whirlpool WRF989SDAH03 | Refrigerator |
| Whirlpool WRF989SDAM00 | Refrigerator |
| Whirlpool WRF989SDAM01 | Refrigerator |
| Whirlpool WRF989SDAM02 | Refrigerator |
| Whirlpool WRF989SDAM03 | Refrigerator |
| Whirlpool WRF989SDAW00 | Refrigerator |
| Whirlpool WRF989SDAW01 | Refrigerator |
| Whirlpool WRF989SDAW02 | Refrigerator |
| Whirlpool WRF989SDAW03 | Refrigerator |
| Whirlpool WRF990SLAB00 | Refrigerator |
| Whirlpool WRF990SLAM00 | Refrigerator |
| Whirlpool WRF990SLAM01 | Refrigerator |
| Whirlpool WRF990SLAM02 | Refrigerator |
| Whirlpool WRF990SLAM03 | Refrigerator |
| Whirlpool WRF990SLAW00 | Refrigerator |
| Whirlpool WRF991BOOM00 | Refrigerator |
| Whirlpool WRF991BOOM01 | Refrigerator |
| Whirlpool WRF992FIFE00 | Refrigerator |
| Whirlpool WRF992FIFH00 | Refrigerator |
| Whirlpool WRF992FIFM00 | Refrigerator |
| Whirlpool WRF993FIFM00 | Refrigerator |
| Whirlpool WRF995FIFZ00 | Refrigerator |
| Whirlpool WRF997SDDM00 | Refrigerator |
| Whirlpool WRF997SDDM02 | Refrigerator |
| Whirlpool WRFA60SFHN00 | Refrigerator |
| Whirlpool WRFA60SFHZ00 | Refrigerator |
| Whirlpool WRFA60SMHN00 | Refrigerator |
| Whirlpool WRFA60SMHZ00 | Refrigerator |
| Whirlpool WRL767SIAM00 | Refrigerator |
| Whirlpool WRS321CDBM00 | Refrigerator |
| Whirlpool WRS526SIAE00 | Refrigerator |
| Whirlpool WRS526SIAH00 | Refrigerator |
| Whirlpool WRS537SIAB00 | Refrigerator |
| Whirlpool WRS537SIAF00 | Refrigerator |
| Whirlpool WRS537SIAM00 | Refrigerator |
| Whirlpool WRS537SIAM01 | Refrigerator |
| Whirlpool WRS537SIAW00 | Refrigerator |
| Whirlpool WRS950SIAB00 | Refrigerator |
| Whirlpool WRS950SIAE00 | Refrigerator |
| Whirlpool WRS950SIAH00 | Refrigerator |
| Whirlpool WRS950SIAM00 | Refrigerator |
| Whirlpool WRS950SIAM01 | Refrigerator |
| Whirlpool WRS950SIAW00 | Refrigerator |
| Whirlpool WRS965CIAE00 | Refrigerator |
| Whirlpool WRS965CIAH00 | Refrigerator |
| Whirlpool WRS965CIAM00 | Refrigerator |
| Whirlpool WRS965CIAM01 | Refrigerator |
| Whirlpool WRS970CIDE00 | Refrigerator |
| Whirlpool WRS970CIDE01 | Refrigerator |
| Whirlpool WRS970CIDH00 | Refrigerator |
| Whirlpool WRS970CIDH01 | Refrigerator |
| Whirlpool WRS970CIDM00 | Refrigerator |
| Whirlpool WRS970CIDM01 | Refrigerator |
| Whirlpool WRS970CIHZ00 | Refrigerator |
| Whirlpool WRS970CIHZ01 | Refrigerator |
| Whirlpool WRS973CIDM00 | Refrigerator |
| Whirlpool WRS973CIHV00 | Refrigerator |
| Whirlpool WRS973CIHV01 | Refrigerator |
| Whirlpool WRS973CIHZ00 | Refrigerator |
| Whirlpool WRS973CIHZ01 | Refrigerator |
| Whirlpool WRS975SIDM00 | Refrigerator |
| Whirlpool WRT571SMYB00 | Refrigerator |
| Whirlpool WRT571SMYF00 | Refrigerator |
| Whirlpool WRT571SMYM00 | Refrigerator |
| Whirlpool WRT571SMYW00 | Refrigerator |
| Whirlpool WRT579SMYB00 | Refrigerator |
| Whirlpool WRT579SMYB01 | Refrigerator |
| Whirlpool WRT579SMYF00 | Refrigerator |
| Whirlpool WRT579SMYF01 | Refrigerator |
| Whirlpool WRT579SMYM00 | Refrigerator |
| Whirlpool WRT579SMYM01 | Refrigerator |
| Whirlpool WRT579SMYW00 | Refrigerator |
| Whirlpool WRT579SMYW01 | Refrigerator |
| Whirlpool WRT5L1SMYB00 | Refrigerator |
| Whirlpool WRT5L1SMYF00 | Refrigerator |
| Whirlpool WRT5L1SMYW00 | Refrigerator |
| Whirlpool WRT771REYB00 | Refrigerator |
| Whirlpool WRT771REYM00 | Refrigerator |
| Whirlpool WRT771REYW00 | Refrigerator |
| Whirlpool WRT771RWYB00 | Refrigerator |
| Whirlpool WRT771RWYB01 | Refrigerator |
| Whirlpool WRT771RWYM00 | Refrigerator |
| Whirlpool WRT771RWYM01 | Refrigerator |
| Whirlpool WRT771RWYW00 | Refrigerator |
| Whirlpool WRT771RWYW01 | Refrigerator |
| Whirlpool WRT779REYB00 | Refrigerator |
| Whirlpool WRT779REYB01 | Refrigerator |
| Whirlpool WRT779REYM00 | Refrigerator |
| Whirlpool WRT779REYM01 | Refrigerator |
| Whirlpool WRT779REYW00 | Refrigerator |
| Whirlpool WRT779REYW01 | Refrigerator |
| Whirlpool WRT779RFYB00 | Refrigerator |
| Whirlpool WRT779RFYB10 | Refrigerator |
| Whirlpool WRT779RFYM00 | Refrigerator |
| Whirlpool WRT779RFYM10 | Refrigerator |
| Whirlpool WRT779RFYW00 | Refrigerator |
| Whirlpool WRT779RFYW10 | Refrigerator |
| Whirlpool WRT779RWYB00 | Refrigerator |
| Whirlpool WRT779RWYM00 | Refrigerator |
| Whirlpool WRT779RWYW00 | Refrigerator |
| Whirlpool WRV976FDEM00 | Refrigerator |
| Whirlpool WRV986FDEM00 | Refrigerator |
| Whirlpool WRV986FDEM01 | Refrigerator |
| Whirlpool WRV996FDEE00 | Refrigerator |
| Whirlpool WRV996FDEE01 | Refrigerator |
| Whirlpool WRV996FDEE02 | Refrigerator |
| Whirlpool WRV996FDEH00 | Refrigerator |
| Whirlpool WRV996FDEH01 | Refrigerator |
| Whirlpool WRV996FDEM00 | Refrigerator |
| Whirlpool WRV996FDEM01 | Refrigerator |
| Whirlpool WRX986SIHV00 | Refrigerator |
| Whirlpool WRX986SIHV02 | Refrigerator |
| Whirlpool WRX986SIHZ00 | Refrigerator |
| Whirlpool WRX986SIHZ01 | Refrigerator |
| Whirlpool WRX986SIHZ02 | Refrigerator |
| Whirlpool WRX988SIBB00 | Refrigerator |
| Whirlpool WRX988SIBB01 | Refrigerator |
| Whirlpool WRX988SIBE00 | Refrigerator |
| Whirlpool WRX988SIBE01 | Refrigerator |
| Whirlpool WRX988SIBE02 | Refrigerator |
| Whirlpool WRX988SIBE03 | Refrigerator |
| Whirlpool WRX988SIBH00 | Refrigerator |
| Whirlpool WRX988SIBH01 | Refrigerator |
| Whirlpool WRX988SIBH02 | Refrigerator |
| Whirlpool WRX988SIBH03 | Refrigerator |
| Whirlpool WRX988SIBM00 | Refrigerator |
| Whirlpool WRX988SIBM01 | Refrigerator |
| Whirlpool WRX988SIBM02 | Refrigerator |
| Whirlpool WRX988SIBM03 | Refrigerator |
| Whirlpool WRX988SIBW00 | Refrigerator |
| Whirlpool WRX988SIBW01 | Refrigerator |
| Whirlpool WSF26C2EXB01 | Refrigerator |
| Whirlpool WSF26C2EXF01 | Refrigerator |
| Whirlpool WSF26C2EXW01 | Refrigerator |
| Whirlpool WSF26C2EXY01 | Refrigerator |
| Whirlpool WSF26C2EXY02 | Refrigerator |
| Whirlpool WSF26C3EXB01 | Refrigerator |
| Whirlpool WSF26C3EXF01 | Refrigerator |
| Whirlpool WSF26C3EXW01 | Refrigerator |
| Whirlpool WSF26C3EXY01 | Refrigerator |
| Whirlpool WSF26D2EXB01 | Refrigerator |
| Whirlpool WSF26D2EXF01 | Refrigerator |
| Whirlpool WSF26D2EXS02 | Refrigerator |
| Whirlpool WSF26D2EXW01 | Refrigerator |
| Whirlpool WSF26D2EXY01 | Refrigerator |
| Whirlpool WSF26D2EXY02 | Refrigerator |
| Whirlpool WSF26D3EXA00 | Refrigerator |
| Whirlpool WSF26D3EXB00 | Refrigerator |
| Whirlpool WSF26D3EXL00 | Refrigerator |
| Whirlpool WSF26D3EXS00 | Refrigerator |
| Whirlpool WSF26D3EXT00 | Refrigerator |
| Whirlpool WSF26D3EXW00 | Refrigerator |
| Whirlpool WSF26D3EXY00 | Refrigerator |
| Whirlpool WSF26D4EXA00 | Refrigerator |
| Whirlpool WSF26D4EXA02 | Refrigerator |
| Whirlpool WSF26D4EXB00 | Refrigerator |
| Whirlpool WSF26D4EXB02 | Refrigerator |
| Whirlpool WSF26D4EXL00 | Refrigerator |
| Whirlpool WSF26D4EXL02 | Refrigerator |
| Whirlpool WSF26D4EXS00 | Refrigerator |
| Whirlpool WSF26D4EXS02 | Refrigerator |
| Whirlpool WSF26D4EXS03 | Refrigerator |
| Whirlpool WSF26D4EXW00 | Refrigerator |
| Whirlpool WSF26D4EXW02 | Refrigerator |
| Whirlpool WSF26D4EXY00 | Refrigerator |
| Whirlpool WSF26D4EXY02 | Refrigerator |
| Whirlpool WSF26D5EXA00 | Refrigerator |
| Whirlpool WSF26D5EXB00 | Refrigerator |
| Whirlpool WSF26D5EXL00 | Refrigerator |
| Whirlpool WSF26D5EXS00 | Refrigerator |
| Whirlpool WSF26D5EXW00 | Refrigerator |
| Whirlpool WSF26D5EXY00 | Refrigerator |
Replaces These Filters:
Other:
1876318
2319308
AH2580853
AP4538127
EA258053
PS258053
PartSelect:
PS2580853
Whirlpool:
2319308
AIR1
W10311524
W10315189
W10335147
W10335147A