Whirlpool EDR2RXD1 | Our#: 180617
Whirlpool EDR2RXD1 Refrigerator Water Filter (Filter2), 3-Pack

168 review(s)
Whirlpool EDR2RXD1 | Our#: 180617
Fast Shipping & Free Returns
100% Compatibility Guarantee
Compatibility guaranteed! Free return shipping and 100% money back if there are any issues.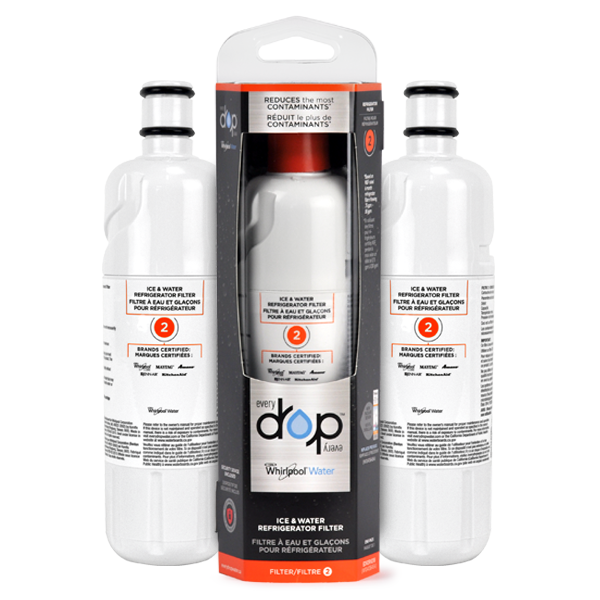 5 people in your area recently purchased this product!
$

70.57
(

3

Filters for $

211.72

)
Fast Shipping & Free Returns
100% Compatibility Guarantee
Frequently Purchased Together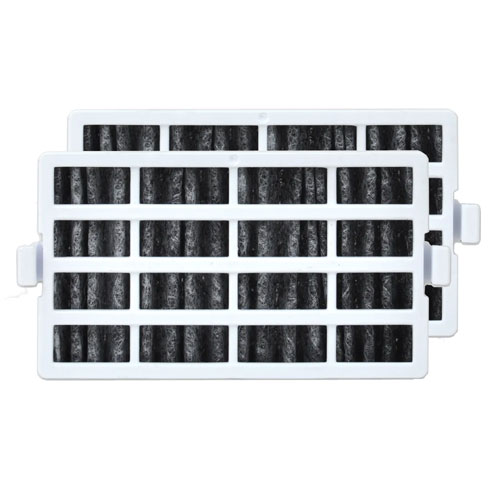 Product Details
Whirlpool EDR2RXD1 Fridge Filter also known as Filter2 & W1041645A
The factory original Whirlpool EveryDrop EDR2RXD1 (AKA FILTER 2) takes over for the W10413645A filter and is used in refrigerators by Whirlpool, KitchenAid, Maytag, Amana, Jenn-Air, Kenmore and others. The Whirlpool EDR2RXD1 filter creates better tasting water for drinking and making beverages as well as clean, clearer, healthy ice.

Features:
Original OEM product
Easy installation and operation
Helps reduce chlorine taste and odor
Helps reduce contaminants found in tap water and improves its quality
Tested by NSF/ANSI International against Standard 42 for the reduction of chlorine taste and odor and particulate
Tested by NSF/ANSI International against Standard 53 for the reduction of lead, cysts, turbidity and other chemicals and impurities
Replaces the popular W10413645A
Fast shipping and Free Returns on all whirlpool refrigerator filters
---
Popular Part Numbers
---
Installation Instructions
How To Install The W10413645A Filter:

Locate the filter door in the right side of the refrigerator ceiling.
Press in up on the filter cover door to release the door latch. The door will drop down.
If you are replacing a filter rotation the used filter counter clockwise to remove it from the filter head. Note: there may be some water in the filter and some spilling may occur.
Take the new water filter out of the packaging and remove the cap. Be sure the O-rings are still in place after the cover is removed.
Align the arrow on the water filter label with the cutout notch in the filter head and insert the filter.
Turn the filter clockwise until it locks into the housing.
Lift the filter up into the compartment. Close the filter door completely.
Reduce water spurts by flushing air from the system. Run water continuously for 4 gallons (approximately 5 minutes) through the dispenser until water runs steady. Additional flushing may be required in some households where water is of poor quality.
---
Compatible Part Numbers
Search by your filter part number or appliance model number to verify compatibility
| Model or Part Number | Type |
| --- | --- |
| Amana ASI2175GRB01 | Refrigerator |
| Jenn-Air JFFCC72EFP00 | Refrigerator |
| Jenn-Air JFFCC72EFS00 | Refrigerator |
| jenn-air JFX2897DRM | Refrigerator |
| Jenn-Air JFX2897DRM00 | Refrigerator |
| Jenn-Air JFX2897DRM01 | Refrigerator |
| Jenn-Air JFX2897DRM02 | Refrigerator |
| Jenn-Air JFX2897DRP00 | Refrigerator |
| Jenn-Air JFX2897DRP01 | Refrigerator |
| Jenn-Air JFX2897DRP02 | Refrigerator |
| Kenmore 5967238411 | Refrigerator |
| kenmore 72382 | Refrigerator |
| kenmore 72383 | Refrigerator |
| kenmore 72389 | Refrigerator |
| KitchenAid KFIS29BBBL00 | Refrigerator |
| KitchenAid KFIS29BBBL01 | Refrigerator |
| KitchenAid KFIS29BBBL02 | Refrigerator |
| KitchenAid KFIS29BBBL03 | Refrigerator |
| KitchenAid KFIS29BBMS00 | Refrigerator |
| KitchenAid KFIS29BBMS01 | Refrigerator |
| KitchenAid KFIS29BBMS02 | Refrigerator |
| KitchenAid KFIS29BBMS03 | Refrigerator |
| KitchenAid KFIS29BBWH00 | Refrigerator |
| KitchenAid KFIS29BBWH01 | Refrigerator |
| KitchenAid KFIS29BBWH02 | Refrigerator |
| KitchenAid KFIS29BBWH03 | Refrigerator |
| KitchenAid KFIS29PBMS00 | Refrigerator |
| KitchenAid KFIS29PBMS01 | Refrigerator |
| KitchenAid KFIS29PBMS02 | Refrigerator |
| KitchenAid KFIS29PBMS03 | Refrigerator |
| kitchenaid KFIV29PCMS | Refrigerator |
| KitchenAid KFIV29PCMS00 | Refrigerator |
| KitchenAid KFIV29PCMS01 | Refrigerator |
| KitchenAid KFIV29PCMS02 | Refrigerator |
| KitchenAid KFIV29PCMS03 | Refrigerator |
| KitchenAid KRFC604FSS00 | Refrigerator |
| KitchenAid KRFC704FBS00 | Refrigerator |
| KitchenAid KRFC704FP503 | Refrigerator |
| KitchenAid KRFC704FPS00 | Refrigerator |
| KitchenAid KRFC704FSS00 | Refrigerator |
| KitchenAid KRFF507EBL00 | Refrigerator |
| KitchenAid KRFF507EBL01 | Refrigerator |
| KitchenAid KRFF507ESS00 | Refrigerator |
| KitchenAid KRFF507ESS01 | Refrigerator |
| KitchenAid KRFF507EWH00 | Refrigerator |
| KitchenAid KRFF507EWH01 | Refrigerator |
| KitchenAid KRFF507HBS | Refrigerator |
| KitchenAid KRFF507HPS | Refrigerator |
| KitchenAid KRFF507HPS03 | Refrigerator |
| KitchenAid KRFF507HPS04 | Refrigerator |
| KitchenAid KRFF507HPS05 | Refrigerator |
| KitchenAid KRFF507HWH | Refrigerator |
| KitchenAid KRFF707EBS00 | Refrigerator |
| KitchenAid KRFF707ESS00 | Refrigerator |
| KitchenAid KRFF707ESS01 | Refrigerator |
| KitchenAid KRMF606ESS00 | Refrigerator |
| KitchenAid KRMF606ESS01 | Refrigerator |
| KitchenAid KRMF706EBS00 | Refrigerator |
| KitchenAid KRMF706EBS01 | Refrigerator |
| KitchenAid KRMF706ESS00 | Refrigerator |
| KitchenAid KRMF706ESS01 | Refrigerator |
| KitchenAid KRMF706ESS02 | Refrigerator |
| Maytag 7MF2976AEM00 | Refrigerator |
| Maytag 7MF2976AEM00 | Refrigerator |
| Maytag 7MF2976AEM01 | Refrigerator |
| Maytag 7MF2976AEM01 | Refrigerator |
| Maytag 7MF2976AEM02 | Refrigerator |
| Maytag 7MF2976AEM02 | Refrigerator |
| Maytag 7MF2976AEM03 | Refrigerator |
| Maytag 7MF2976AEM03 | Refrigerator |
| Maytag MFB2055DRE00 | Refrigerator |
| Maytag MFB2055DRE00 | Refrigerator |
| Maytag MFB2055DRE01 | Refrigerator |
| Maytag MFB2055DRE01 | Refrigerator |
| Maytag MFB2055DRH00 | Refrigerator |
| Maytag MFB2055DRH00 | Refrigerator |
| Maytag MFB2055DRH01 | Refrigerator |
| Maytag MFB2055DRH01 | Refrigerator |
| Maytag MFB2055DRM00 | Refrigerator |
| Maytag MFB2055DRM00 | Refrigerator |
| Maytag MFB2055DRM01 | Refrigerator |
| Maytag MFB2055DRM01 | Refrigerator |
| Maytag MFB2055FRW00 | Refrigerator |
| Maytag MFB2055FRW00 | Refrigerator |
| Maytag MFB2055FRZ00 | Refrigerator |
| Maytag MFB2055FRZ00 | Refrigerator |
| Maytag MFB2055YEB01 | Refrigerator |
| Maytag MFB2055YEB01 | Refrigerator |
| Maytag MFB2055YEB02 | Refrigerator |
| Maytag MFB2055YEB02 | Refrigerator |
| Maytag MFB2055YEM | Refrigerator |
| Maytag MFB2055YEM01 | Refrigerator |
| Maytag MFB2055YEM01 | Refrigerator |
| Maytag MFB2055YEM02 | Refrigerator |
| Maytag MFB2055YEM02 | Refrigerator |
| Maytag MFB2055YEW01 | Refrigerator |
| Maytag MFB2055YEW01 | Refrigerator |
| Maytag MFB2055YEW02 | Refrigerator |
| Maytag MFB2055YEW02 | Refrigerator |
| Maytag MFF2055DRE00 | Refrigerator |
| Maytag MFF2055DRE01 | Refrigerator |
| Maytag MFF2055DRH00 | Refrigerator |
| Maytag MFF2055DRH01 | Refrigerator |
| Maytag MFF2055DRM00 | Refrigerator |
| Maytag MFF2055DRM01 | Refrigerator |
| Maytag MFF2055FRB00 | Refrigerator |
| Maytag MFF2055FRW00 | Refrigerator |
| Maytag MFF2055FRZ00 | Refrigerator |
| Maytag MFT2574DEE00 | Refrigerator |
| Maytag MFT2574DEE00 | Refrigerator |
| Maytag MFT2574DEE01 | Refrigerator |
| Maytag MFT2574DEE01 | Refrigerator |
| Maytag MFT2574DEE02 | Refrigerator |
| Maytag MFT2574DEE02 | Refrigerator |
| Maytag MFT2574DEH00 | Refrigerator |
| Maytag MFT2574DEH00 | Refrigerator |
| Maytag MFT2574DEH01 | Refrigerator |
| Maytag MFT2574DEH01 | Refrigerator |
| Maytag MFT2574DEH02 | Refrigerator |
| Maytag MFT2574DEH02 | Refrigerator |
| maytag MFT2574DEM | Refrigerator |
| Maytag MFT2574DEM00 | Refrigerator |
| Maytag MFT2574DEM00 | Refrigerator |
| Maytag MFT2574DEM01 | Refrigerator |
| Maytag MFT2574DEM01 | Refrigerator |
| Maytag MFT2574DEM02 | Refrigerator |
| Maytag MFT2574DEM02 | Refrigerator |
| Maytag MFT2672AEB10 | Refrigerator |
| Maytag MFT2672AEB10 | Refrigerator |
| Maytag MFT2672AEB11 | Refrigerator |
| Maytag MFT2672AEB11 | Refrigerator |
| Maytag MFT2672AEB12 | Refrigerator |
| Maytag MFT2672AEB12 | Refrigerator |
| Maytag MFT2672AEM10 | Refrigerator |
| Maytag MFT2672AEM10 | Refrigerator |
| Maytag MFT2672AEM11 | Refrigerator |
| Maytag MFT2672AEM11 | Refrigerator |
| Maytag MFT2672AEM12 | Refrigerator |
| Maytag MFT2672AEM12 | Refrigerator |
| Maytag MFT2672AEW10 | Refrigerator |
| Maytag MFT2672AEW10 | Refrigerator |
| Maytag MFT2672AEW11 | Refrigerator |
| Maytag MFT2672AEW11 | Refrigerator |
| Maytag MFT2672AEW12 | Refrigerator |
| Maytag MFT2672AEW12 | Refrigerator |
| Maytag MFT2673BEB10 | Refrigerator |
| Maytag MFT2673BEB10 | Refrigerator |
| Maytag MFT2673BEB11 | Refrigerator |
| Maytag MFT2673BEB11 | Refrigerator |
| Maytag MFT2673BEB12 | Refrigerator |
| Maytag MFT2673BEB12 | Refrigerator |
| Maytag MFT2673BEM10 | Refrigerator |
| Maytag MFT2673BEM10 | Refrigerator |
| Maytag MFT2673BEM11 | Refrigerator |
| Maytag MFT2673BEM11 | Refrigerator |
| Maytag MFT2673BEM12 | Refrigerator |
| Maytag MFT2673BEM12 | Refrigerator |
| Maytag MFT2673BEW10 | Refrigerator |
| Maytag MFT2673BEW10 | Refrigerator |
| Maytag MFT2673BEW11 | Refrigerator |
| Maytag MFT2673BEW11 | Refrigerator |
| Maytag MFT2673BEW12 | Refrigerator |
| Maytag MFT2673BEW12 | Refrigerator |
| Maytag MFT2772HEZ | Refrigerator |
| maytag MFT2776DEE | Refrigerator |
| Maytag MFT2776DEE00 | Refrigerator |
| Maytag MFT2776DEE00 | Refrigerator |
| Maytag MFT2776DEE02 | Refrigerator |
| Maytag MFT2776DEE02 | Refrigerator |
| maytag MFT2776DEH | Refrigerator |
| Maytag MFT2776DEH00 | Refrigerator |
| Maytag MFT2776DEH00 | Refrigerator |
| Maytag MFT2776DEH02 | Refrigerator |
| Maytag MFT2776DEH02 | Refrigerator |
| maytag MFT2776DEM | Refrigerator |
| Maytag MFT2776DEM00 | Refrigerator |
| Maytag MFT2776DEM00 | Refrigerator |
| Maytag MFT2776DEM01 | Refrigerator |
| Maytag MFT2776DEM01 | Refrigerator |
| Maytag MFT2776DEM02 | Refrigerator |
| Maytag MFT2776DEM02 | Refrigerator |
| Maytag MFT2776FEZ00 | Refrigerator |
| Maytag MFT2776FEZ00 | Refrigerator |
| Maytag MFT2778EEZ00 | Refrigerator |
| Maytag MFT2778EEZ00 | Refrigerator |
| Maytag MFT2778EEZ01 | Refrigerator |
| Maytag MFT2778EEZ01 | Refrigerator |
| maytag MFT2976AEB | Refrigerator |
| Maytag MFT2976AEB00 | Refrigerator |
| Maytag MFT2976AEB00 | Refrigerator |
| Maytag MFT2976AEB01 | Refrigerator |
| Maytag MFT2976AEB01 | Refrigerator |
| Maytag MFT2976AEB02 | Refrigerator |
| Maytag MFT2976AEB02 | Refrigerator |
| Maytag MFT2976AEB03 | Refrigerator |
| Maytag MFT2976AEB03 | Refrigerator |
| maytag MFT2976AEM | Refrigerator |
| Maytag MFT2976AEM00 | Refrigerator |
| Maytag MFT2976AEM00 | Refrigerator |
| Maytag MFT2976AEM01 | Refrigerator |
| Maytag MFT2976AEM01 | Refrigerator |
| Maytag MFT2976AEM02 | Refrigerator |
| Maytag MFT2976AEM02 | Refrigerator |
| Maytag MFT2976AEM03 | Refrigerator |
| Maytag MFT2976AEM03 | Refrigerator |
| Maytag MFT2976AEW00 | Refrigerator |
| Maytag MFT2976AEW00 | Refrigerator |
| Maytag MFT2976AEW01 | Refrigerator |
| Maytag MFT2976AEW01 | Refrigerator |
| Maytag MFT2976AEW02 | Refrigerator |
| Maytag MFT2976AEW02 | Refrigerator |
| Maytag MFT2976AEW03 | Refrigerator |
| Maytag MFT2976AEW03 | Refrigerator |
| Maytag MFW2055DRE00 | Refrigerator |
| Maytag MFW2055DRE01 | Refrigerator |
| Maytag MFW2055DRH00 | Refrigerator |
| Maytag MFW2055DRH01 | Refrigerator |
| Maytag MFW2055DRM00 | Refrigerator |
| Maytag MFW2055DRM01 | Refrigerator |
| Maytag MFW2055FRH00 | Refrigerator |
| Maytag MFW2055FRZ00 | Refrigerator |
| Maytag MFW2055YEB00 | Refrigerator |
| Maytag MFW2055YEB01 | Refrigerator |
| Maytag MFW2055YEB02 | Refrigerator |
| Maytag MFW2055YEM00 | Refrigerator |
| Maytag MFW2055YEM01 | Refrigerator |
| Maytag MFW2055YEM02 | Refrigerator |
| Maytag MFW2055YEW00 | Refrigerator |
| Maytag MFW2055YEW01 | Refrigerator |
| Maytag MFW2055YEW02 | Refrigerator |
| Maytag MFX2676FRZ00 | Refrigerator |
| Maytag MFX2676FRZ00 | Refrigerator |
| maytag MFX2876DRE | Refrigerator |
| Maytag MFX2876DRE00 | Refrigerator |
| Maytag MFX2876DRE00 | Refrigerator |
| Maytag MFX2876DRE01 | Refrigerator |
| Maytag MFX2876DRE01 | Refrigerator |
| Maytag MFX2876DRE02 | Refrigerator |
| Maytag MFX2876DRE02 | Refrigerator |
| maytag MFX2876DRH | Refrigerator |
| Maytag MFX2876DRH00 | Refrigerator |
| Maytag MFX2876DRH00 | Refrigerator |
| Maytag MFX2876DRH01 | Refrigerator |
| Maytag MFX2876DRH01 | Refrigerator |
| Maytag MFX2876DRH02 | Refrigerator |
| Maytag MFX2876DRH02 | Refrigerator |
| maytag MFX2876DRM | Refrigerator |
| Maytag MFX2876DRM00 | Refrigerator |
| Maytag MFX2876DRM00 | Refrigerator |
| Maytag MFX2876DRM01 | Refrigerator |
| Maytag MFX2876DRM01 | Refrigerator |
| Maytag MFX2876DRM02 | Refrigerator |
| Maytag MFX2876DRM02 | Refrigerator |
| WHIRLPOOL 7MF2976AEM00 | Refrigerator |
| WHIRLPOOL 7MF2976AEM01 | Refrigerator |
| WHIRLPOOL 7MF2976AEM02 | Refrigerator |
| WHIRLPOOL 7MF2976AEM03 | Refrigerator |
| WHIRLPOOL 7WF736SDAM10 | Refrigerator |
| WHIRLPOOL 7WF736SDAM11 | Refrigerator |
| WHIRLPOOL 7WF736SDAM12 | Refrigerator |
| WHIRLPOOL 7WF736SDAM13 | Refrigerator |
| WHIRLPOOL 7WF736SDAM14 | Refrigerator |
| WHIRLPOOL ALOVE18FLC00 | Refrigerator |
| WHIRLPOOL ALOVE24FLC00 | Refrigerator |
| WHIRLPOOL ALOVE24RRC00 | Refrigerator |
| WHIRLPOOL ALOVE30RRC00 | Refrigerator |
| WHIRLPOOL IX5BBEXDS00 | Refrigerator |
| WHIRLPOOL IX5BBEXDS01 | Refrigerator |
| WHIRLPOOL IX7DDEXDSM00 | Refrigerator |
| WHIRLPOOL IX7DDEXDSM01 | Refrigerator |
| WHIRLPOOL IX7DDEXDSM02 | Refrigerator |
| WHIRLPOOL JBRFL24IGX00 | Refrigerator |
| WHIRLPOOL JBRFL30IGX00 | Refrigerator |
| WHIRLPOOL JBRFL36IGX00 | Refrigerator |
| WHIRLPOOL JBRFR24IGX00 | Refrigerator |
| WHIRLPOOL JBRFR30IGX00 | Refrigerator |
| WHIRLPOOL JBRFR36IGX00 | Refrigerator |
| WHIRLPOOL JBZFL18IGX00 | Refrigerator |
| WHIRLPOOL JBZFL24IGX00 | Refrigerator |
| WHIRLPOOL JBZFL30IGX00 | Refrigerator |
| WHIRLPOOL JBZFR18IGX00 | Refrigerator |
| WHIRLPOOL JBZFR24IGX00 | Refrigerator |
| WHIRLPOOL JBZFR30IGX00 | Refrigerator |
| WHIRLPOOL JFFCC72EFP00 | Refrigerator |
| WHIRLPOOL JFFCC72EFP02 | Refrigerator |
| WHIRLPOOL JFFCC72EFS00 | Refrigerator |
| WHIRLPOOL JFFCC72EFS02 | Refrigerator |
| WHIRLPOOL JFFCC72EFS03 | Refrigerator |
| WHIRLPOOL JFFCC72EFS04 | Refrigerator |
| WHIRLPOOL JFFCC72EHL01 | Refrigerator |
| WHIRLPOOL JFFCC72EHL02 | Refrigerator |
| WHIRLPOOL JFX2897DRM00 | Refrigerator |
| WHIRLPOOL JFX2897DRM01 | Refrigerator |
| WHIRLPOOL JFX2897DRM02 | Refrigerator |
| WHIRLPOOL JFX2897DRP00 | Refrigerator |
| WHIRLPOOL JFX2897DRP01 | Refrigerator |
| WHIRLPOOL JFX2897DRP02 | Refrigerator |
| WHIRLPOOL KFFS20EYBL01 | Refrigerator |
| WHIRLPOOL KFFS20EYBL02 | Refrigerator |
| WHIRLPOOL KFFS20EYBL04 | Refrigerator |
| WHIRLPOOL KFFS20EYMS01 | Refrigerator |
| WHIRLPOOL KFFS20EYMS02 | Refrigerator |
| WHIRLPOOL KFFS20EYMS04 | Refrigerator |
| WHIRLPOOL KFFS20EYWH01 | Refrigerator |
| WHIRLPOOL KFFS20EYWH02 | Refrigerator |
| WHIRLPOOL KFFS20EYWH04 | Refrigerator |
| WHIRLPOOL KFIS29BBBL00 | Refrigerator |
| WHIRLPOOL KFIS29BBBL01 | Refrigerator |
| WHIRLPOOL KFIS29BBBL02 | Refrigerator |
| WHIRLPOOL KFIS29BBBL03 | Refrigerator |
| WHIRLPOOL KFIS29BBMS00 | Refrigerator |
| WHIRLPOOL KFIS29BBMS01 | Refrigerator |
| WHIRLPOOL KFIS29BBMS02 | Refrigerator |
| WHIRLPOOL KFIS29BBMS03 | Refrigerator |
| WHIRLPOOL KFIS29BBWH00 | Refrigerator |
| WHIRLPOOL KFIS29BBWH01 | Refrigerator |
| WHIRLPOOL KFIS29BBWH02 | Refrigerator |
| WHIRLPOOL KFIS29BBWH03 | Refrigerator |
| WHIRLPOOL KFIS29PBMS00 | Refrigerator |
| WHIRLPOOL KFIS29PBMS01 | Refrigerator |
| WHIRLPOOL KFIS29PBMS02 | Refrigerator |
| WHIRLPOOL KFIS29PBMS03 | Refrigerator |
| WHIRLPOOL KFIV29PCMS00 | Refrigerator |
| WHIRLPOOL KFIV29PCMS01 | Refrigerator |
| WHIRLPOOL KFIV29PCMS02 | Refrigerator |
| WHIRLPOOL KFIV29PCMS03 | Refrigerator |
| WHIRLPOOL KRFC604FSS00 | Refrigerator |
| WHIRLPOOL KRFC604FSS01 | Refrigerator |
| WHIRLPOOL KRFC604FSS02 | Refrigerator |
| WHIRLPOOL KRFC604FSS03 | Refrigerator |
| WHIRLPOOL KRFC704FBS00 | Refrigerator |
| WHIRLPOOL KRFC704FBS01 | Refrigerator |
| WHIRLPOOL KRFC704FBS02 | Refrigerator |
| WHIRLPOOL KRFC704FBS03 | Refrigerator |
| WHIRLPOOL KRFC704FPS00 | Refrigerator |
| WHIRLPOOL KRFC704FPS01 | Refrigerator |
| WHIRLPOOL KRFC704FPS03 | Refrigerator |
| WHIRLPOOL KRFC704FPS04 | Refrigerator |
| WHIRLPOOL KRFC704FSS00 | Refrigerator |
| WHIRLPOOL KRFC704FSS01 | Refrigerator |
| WHIRLPOOL KRFC704FSS02 | Refrigerator |
| WHIRLPOOL KRFC704FSS03 | Refrigerator |
| WHIRLPOOL KRFC804GBS00 | Refrigerator |
| WHIRLPOOL KRFC804GPS00 | Refrigerator |
| WHIRLPOOL KRFC804GSS00 | Refrigerator |
| WHIRLPOOL KRFF300EBL00 | Refrigerator |
| WHIRLPOOL KRFF300EBS00 | Refrigerator |
| WHIRLPOOL KRFF300ESS00 | Refrigerator |
| WHIRLPOOL KRFF300ESS01 | Refrigerator |
| WHIRLPOOL KRFF300EWH00 | Refrigerator |
| WHIRLPOOL KRFF300EWH01 | Refrigerator |
| WHIRLPOOL KRFF507EBL00 | Refrigerator |
| WHIRLPOOL KRFF507EBL01 | Refrigerator |
| WHIRLPOOL KRFF507ESS00 | Refrigerator |
| WHIRLPOOL KRFF507ESS01 | Refrigerator |
| WHIRLPOOL KRFF507EWH00 | Refrigerator |
| WHIRLPOOL KRFF507EWH01 | Refrigerator |
| WHIRLPOOL KRFF507HBL00 | Refrigerator |
| WHIRLPOOL KRFF507HBS00 | Refrigerator |
| WHIRLPOOL KRFF507HBS02 | Refrigerator |
| WHIRLPOOL KRFF507HPS00 | Refrigerator |
| WHIRLPOOL KRFF507HPS01 | Refrigerator |
| WHIRLPOOL KRFF507HPS02 | Refrigerator |
| WHIRLPOOL KRFF507HWH00 | Refrigerator |
| WHIRLPOOL KRFF507HWH02 | Refrigerator |
| WHIRLPOOL KRFF707EBS00 | Refrigerator |
| WHIRLPOOL KRFF707ESS00 | Refrigerator |
| WHIRLPOOL KRFF707ESS01 | Refrigerator |
| WHIRLPOOL KRMF606ESS00 | Refrigerator |
| WHIRLPOOL KRMF606ESS01 | Refrigerator |
| WHIRLPOOL KRMF706EBS00 | Refrigerator |
| WHIRLPOOL KRMF706EBS01 | Refrigerator |
| WHIRLPOOL KRMF706EBS04 | Refrigerator |
| WHIRLPOOL KRMF706ESS00 | Refrigerator |
| WHIRLPOOL KRMF706ESS01 | Refrigerator |
| WHIRLPOOL KRMF706ESS02 | Refrigerator |
| WHIRLPOOL KRMF706ESS04 | Refrigerator |
| WHIRLPOOL MFB2055DRE00 | Refrigerator |
| WHIRLPOOL MFB2055DRE01 | Refrigerator |
| WHIRLPOOL MFB2055DRH00 | Refrigerator |
| WHIRLPOOL MFB2055DRH01 | Refrigerator |
| WHIRLPOOL MFB2055DRM00 | Refrigerator |
| WHIRLPOOL MFB2055DRM01 | Refrigerator |
| WHIRLPOOL MFB2055FRW00 | Refrigerator |
| WHIRLPOOL MFB2055FRZ00 | Refrigerator |
| WHIRLPOOL MFB2055YEB01 | Refrigerator |
| WHIRLPOOL MFB2055YEB02 | Refrigerator |
| WHIRLPOOL MFB2055YEM01 | Refrigerator |
| WHIRLPOOL MFB2055YEM02 | Refrigerator |
| WHIRLPOOL MFB2055YEW01 | Refrigerator |
| WHIRLPOOL MFB2055YEW02 | Refrigerator |
| WHIRLPOOL MFF2055DRE00 | Refrigerator |
| WHIRLPOOL MFF2055DRE01 | Refrigerator |
| WHIRLPOOL MFF2055DRH00 | Refrigerator |
| WHIRLPOOL MFF2055DRH01 | Refrigerator |
| WHIRLPOOL MFF2055DRM00 | Refrigerator |
| WHIRLPOOL MFF2055DRM01 | Refrigerator |
| WHIRLPOOL MFF2055FRB00 | Refrigerator |
| WHIRLPOOL MFF2055FRW00 | Refrigerator |
| WHIRLPOOL MFF2055FRZ00 | Refrigerator |
| WHIRLPOOL MFT2574DEE00 | Refrigerator |
| WHIRLPOOL MFT2574DEE01 | Refrigerator |
| WHIRLPOOL MFT2574DEE02 | Refrigerator |
| WHIRLPOOL MFT2574DEH00 | Refrigerator |
| WHIRLPOOL MFT2574DEH01 | Refrigerator |
| WHIRLPOOL MFT2574DEH02 | Refrigerator |
| WHIRLPOOL MFT2574DEM00 | Refrigerator |
| WHIRLPOOL MFT2574DEM01 | Refrigerator |
| WHIRLPOOL MFT2574DEM02 | Refrigerator |
| WHIRLPOOL MFT2672AEB10 | Refrigerator |
| WHIRLPOOL MFT2672AEB11 | Refrigerator |
| WHIRLPOOL MFT2672AEB12 | Refrigerator |
| WHIRLPOOL MFT2672AEM10 | Refrigerator |
| WHIRLPOOL MFT2672AEM11 | Refrigerator |
| WHIRLPOOL MFT2672AEM12 | Refrigerator |
| WHIRLPOOL MFT2672AEW10 | Refrigerator |
| WHIRLPOOL MFT2672AEW11 | Refrigerator |
| WHIRLPOOL MFT2672AEW12 | Refrigerator |
| WHIRLPOOL MFT2673BEB10 | Refrigerator |
| WHIRLPOOL MFT2673BEB11 | Refrigerator |
| WHIRLPOOL MFT2673BEB12 | Refrigerator |
| WHIRLPOOL MFT2673BEM10 | Refrigerator |
| WHIRLPOOL MFT2673BEM11 | Refrigerator |
| WHIRLPOOL MFT2673BEM12 | Refrigerator |
| WHIRLPOOL MFT2673BEW10 | Refrigerator |
| WHIRLPOOL MFT2673BEW11 | Refrigerator |
| WHIRLPOOL MFT2673BEW12 | Refrigerator |
| WHIRLPOOL MFT2772HEZ00 | Refrigerator |
| WHIRLPOOL MFT2772HEZ01 | Refrigerator |
| WHIRLPOOL MFT2772HEZ02 | Refrigerator |
| WHIRLPOOL MFT2776DEE00 | Refrigerator |
| WHIRLPOOL MFT2776DEE02 | Refrigerator |
| WHIRLPOOL MFT2776DEH00 | Refrigerator |
| WHIRLPOOL MFT2776DEH02 | Refrigerator |
| WHIRLPOOL MFT2776DEM00 | Refrigerator |
| WHIRLPOOL MFT2776DEM01 | Refrigerator |
| WHIRLPOOL MFT2776DEM02 | Refrigerator |
| WHIRLPOOL MFT2776FEZ00 | Refrigerator |
| WHIRLPOOL MFT2776FEZ01 | Refrigerator |
| WHIRLPOOL MFT2778EEZ00 | Refrigerator |
| WHIRLPOOL MFT2778EEZ01 | Refrigerator |
| WHIRLPOOL MFT2976AEB00 | Refrigerator |
| WHIRLPOOL MFT2976AEB01 | Refrigerator |
| WHIRLPOOL MFT2976AEB02 | Refrigerator |
| WHIRLPOOL MFT2976AEB03 | Refrigerator |
| WHIRLPOOL MFT2976AEM00 | Refrigerator |
| WHIRLPOOL MFT2976AEM01 | Refrigerator |
| WHIRLPOOL MFT2976AEM02 | Refrigerator |
| WHIRLPOOL MFT2976AEM03 | Refrigerator |
| WHIRLPOOL MFT2976AEW00 | Refrigerator |
| WHIRLPOOL MFT2976AEW01 | Refrigerator |
| WHIRLPOOL MFT2976AEW02 | Refrigerator |
| WHIRLPOOL MFT2976AEW03 | Refrigerator |
| WHIRLPOOL MFW2055DRE00 | Refrigerator |
| WHIRLPOOL MFW2055DRE01 | Refrigerator |
| WHIRLPOOL MFW2055DRH00 | Refrigerator |
| WHIRLPOOL MFW2055DRH01 | Refrigerator |
| WHIRLPOOL MFW2055DRM00 | Refrigerator |
| WHIRLPOOL MFW2055DRM01 | Refrigerator |
| WHIRLPOOL MFW2055FRH00 | Refrigerator |
| WHIRLPOOL MFW2055FRZ00 | Refrigerator |
| WHIRLPOOL MFW2055YEB00 | Refrigerator |
| WHIRLPOOL MFW2055YEB01 | Refrigerator |
| WHIRLPOOL MFW2055YEB02 | Refrigerator |
| WHIRLPOOL MFW2055YEM00 | Refrigerator |
| WHIRLPOOL MFW2055YEM01 | Refrigerator |
| WHIRLPOOL MFW2055YEM02 | Refrigerator |
| WHIRLPOOL MFW2055YEW00 | Refrigerator |
| WHIRLPOOL MFW2055YEW01 | Refrigerator |
| WHIRLPOOL MFW2055YEW02 | Refrigerator |
| WHIRLPOOL MFX2676FRZ00 | Refrigerator |
| WHIRLPOOL MFX2876DRE00 | Refrigerator |
| WHIRLPOOL MFX2876DRE01 | Refrigerator |
| WHIRLPOOL MFX2876DRE02 | Refrigerator |
| WHIRLPOOL MFX2876DRH00 | Refrigerator |
| WHIRLPOOL MFX2876DRH01 | Refrigerator |
| WHIRLPOOL MFX2876DRH02 | Refrigerator |
| WHIRLPOOL MFX2876DRM00 | Refrigerator |
| WHIRLPOOL MFX2876DRM01 | Refrigerator |
| WHIRLPOOL MFX2876DRM02 | Refrigerator |
| Whirlpool WRF560SEHV | Refrigerator |
| WHIRLPOOL WRF560SFHB00 | Refrigerator |
| WHIRLPOOL WRF560SFHV00 | Refrigerator |
| WHIRLPOOL WRF560SFHW00 | Refrigerator |
| WHIRLPOOL WRF560SFHZ00 | Refrigerator |
| Whirlpool WRF560SFYB00 | Refrigerator |
| WHIRLPOOL WRF560SFYB01 | Refrigerator |
| WHIRLPOOL WRF560SFYB02 | Refrigerator |
| WHIRLPOOL WRF560SFYB04 | Refrigerator |
| WHIRLPOOL WRF560SFYB05 | Refrigerator |
| WHIRLPOOL WRF560SFYE00 | Refrigerator |
| WHIRLPOOL WRF560SFYE02 | Refrigerator |
| WHIRLPOOL WRF560SFYE03 | Refrigerator |
| WHIRLPOOL WRF560SFYH01 | Refrigerator |
| WHIRLPOOL WRF560SFYH02 | Refrigerator |
| WHIRLPOOL WRF560SFYH03 | Refrigerator |
| WHIRLPOOL WRF560SFYH04 | Refrigerator |
| Whirlpool WRF560SFYM00 | Refrigerator |
| WHIRLPOOL WRF560SFYM01 | Refrigerator |
| WHIRLPOOL WRF560SFYM02 | Refrigerator |
| WHIRLPOOL WRF560SFYM04 | Refrigerator |
| WHIRLPOOL WRF560SFYM05 | Refrigerator |
| Whirlpool WRF560SFYW00 | Refrigerator |
| WHIRLPOOL WRF560SFYW01 | Refrigerator |
| WHIRLPOOL WRF560SFYW02 | Refrigerator |
| WHIRLPOOL WRF560SFYW04 | Refrigerator |
| WHIRLPOOL WRF560SFYW05 | Refrigerator |
| WHIRLPOOL WRF560SMYB00 | Refrigerator |
| WHIRLPOOL WRF560SMYB01 | Refrigerator |
| WHIRLPOOL WRF560SMYB02 | Refrigerator |
| WHIRLPOOL WRF560SMYB04 | Refrigerator |
| WHIRLPOOL WRF560SMYB05 | Refrigerator |
| WHIRLPOOL WRF560SMYE00 | Refrigerator |
| WHIRLPOOL WRF560SMYE01 | Refrigerator |
| WHIRLPOOL WRF560SMYE02 | Refrigerator |
| WHIRLPOOL WRF560SMYE03 | Refrigerator |
| WHIRLPOOL WRF560SMYE04 | Refrigerator |
| WHIRLPOOL WRF560SMYH00 | Refrigerator |
| WHIRLPOOL WRF560SMYH01 | Refrigerator |
| WHIRLPOOL WRF560SMYH02 | Refrigerator |
| WHIRLPOOL WRF560SMYH03 | Refrigerator |
| WHIRLPOOL WRF560SMYH04 | Refrigerator |
| WHIRLPOOL WRF560SMYM00 | Refrigerator |
| WHIRLPOOL WRF560SMYM01 | Refrigerator |
| WHIRLPOOL WRF560SMYM02 | Refrigerator |
| WHIRLPOOL WRF560SMYM04 | Refrigerator |
| WHIRLPOOL WRF560SMYM05 | Refrigerator |
| WHIRLPOOL WRF560SMYW00 | Refrigerator |
| WHIRLPOOL WRF560SMYW01 | Refrigerator |
| WHIRLPOOL WRF560SMYW02 | Refrigerator |
| WHIRLPOOL WRF560SMYW04 | Refrigerator |
| WHIRLPOOL WRF560SMYW05 | Refrigerator |
| whirlpool WRF736SDAB | Refrigerator |
| WHIRLPOOL WRF736SDAB10 | Refrigerator |
| WHIRLPOOL WRF736SDAB11 | Refrigerator |
| WHIRLPOOL WRF736SDAB12 | Refrigerator |
| WHIRLPOOL WRF736SDAB13 | Refrigerator |
| WHIRLPOOL WRF736SDAB14 | Refrigerator |
| Whirlpool WRF736SDAF | Refrigerator |
| WHIRLPOOL WRF736SDAF10 | Refrigerator |
| WHIRLPOOL WRF736SDAF12 | Refrigerator |
| whirlpool WRF736SDAM | Refrigerator |
| WHIRLPOOL WRF736SDAM10 | Refrigerator |
| WHIRLPOOL WRF736SDAM11 | Refrigerator |
| WHIRLPOOL WRF736SDAM12 | Refrigerator |
| WHIRLPOOL WRF736SDAM13 | Refrigerator |
| WHIRLPOOL WRF736SDAM14 | Refrigerator |
| whirlpool WRF736SDAW | Refrigerator |
| WHIRLPOOL WRF736SDAW10 | Refrigerator |
| WHIRLPOOL WRF736SDAW11 | Refrigerator |
| WHIRLPOOL WRF736SDAW12 | Refrigerator |
| WHIRLPOOL WRF736SDAW13 | Refrigerator |
| WHIRLPOOL WRF736SDAW14 | Refrigerator |
| WHIRLPOOL WRF757SDEE00 | Refrigerator |
| WHIRLPOOL WRF757SDEE01 | Refrigerator |
| WHIRLPOOL WRF757SDEH00 | Refrigerator |
| WHIRLPOOL WRF757SDEH01 | Refrigerator |
| whirlpool WRF757SDEM | Refrigerator |
| WHIRLPOOL WRF757SDEM00 | Refrigerator |
| WHIRLPOOL WRF757SDEM01 | Refrigerator |
| WHIRLPOOL WRF757SDHV00 | Refrigerator |
| WHIRLPOOL WRF757SDHV02 | Refrigerator |
| Whirlpool WRF757SDHZ | Refrigerator |
| WHIRLPOOL WRF757SDHZ00 | Refrigerator |
| WHIRLPOOL WRF757SDHZ01 | Refrigerator |
| WHIRLPOOL WRF757SDHZ02 | Refrigerator |
| WHIRLPOOL WRF767SDEM00 | Refrigerator |
| WHIRLPOOL WRF767SDEM01 | Refrigerator |
| WHIRLPOOL WRF767SDHV00 | Refrigerator |
| Whirlpool WRF767SDHV01 | Refrigerator |
| WHIRLPOOL WRF767SDHV02 | Refrigerator |
| Whirlpool WRF767SDHV03 | Refrigerator |
| Whirlpool WRF767SDHV04 | Refrigerator |
| Whirlpool WRF767SDHV0O4 | Refrigerator |
| Whirlpool WRF767SDHVO1 | Refrigerator |
| Whirlpool WRF767SDHVO3 | Refrigerator |
| Whirlpool WRF767SDHZ | Refrigerator |
| WHIRLPOOL WRF767SDHZ00 | Refrigerator |
| WHIRLPOOL WRF767SDHZ01 | Refrigerator |
| WHIRLPOOL WRF767SDHZ02 | Refrigerator |
| Whirlpool WRF767SDHZ03 | Refrigerator |
| Whirlpool WRF767SDHZ04 | Refrigerator |
| Whirlpool WRF767SDHZO3 | Refrigerator |
| Whirlpool WRF767SDHZO4 | Refrigerator |
| Whirlpool WRF767SDHZOO | Refrigerator |
| WHIRLPOOL WRF954CIHB00 | Refrigerator |
| WHIRLPOOL WRF954CIHB01 | Refrigerator |
| WHIRLPOOL WRF954CIHB02 | Refrigerator |
| WHIRLPOOL WRF954CIHM00 | Refrigerator |
| WHIRLPOOL WRF954CIHV00 | Refrigerator |
| WHIRLPOOL WRF954CIHV01 | Refrigerator |
| WHIRLPOOL WRF954CIHW00 | Refrigerator |
| WHIRLPOOL WRF954CIHW01 | Refrigerator |
| WHIRLPOOL WRF954CIHW02 | Refrigerator |
| WHIRLPOOL WRF954CIHZ00 | Refrigerator |
| WHIRLPOOL WRF954CIHZ01 | Refrigerator |
| WHIRLPOOL WRF954CIHZ02 | Refrigerator |
| WHIRLPOOL WRF954CIHZ03 | Refrigerator |
| WHIRLPOOL WRF964CIHM00 | Refrigerator |
| WHIRLPOOL WRF964CIHV00 | Refrigerator |
| WHIRLPOOL WRF974CIHV00 | Refrigerator |
| WHIRLPOOL WRF974CIHZ00 | Refrigerator |
| WHIRLPOOL WRF989SDAB00 | Refrigerator |
| WHIRLPOOL WRF989SDAB01 | Refrigerator |
| WHIRLPOOL WRF989SDAB02 | Refrigerator |
| WHIRLPOOL WRF989SDAB03 | Refrigerator |
| WHIRLPOOL WRF989SDAE00 | Refrigerator |
| WHIRLPOOL WRF989SDAE01 | Refrigerator |
| WHIRLPOOL WRF989SDAE02 | Refrigerator |
| WHIRLPOOL WRF989SDAE03 | Refrigerator |
| WHIRLPOOL WRF989SDAF00 | Refrigerator |
| WHIRLPOOL WRF989SDAF01 | Refrigerator |
| WHIRLPOOL WRF989SDAF02 | Refrigerator |
| WHIRLPOOL WRF989SDAF03 | Refrigerator |
| WHIRLPOOL WRF989SDAH00 | Refrigerator |
| WHIRLPOOL WRF989SDAH01 | Refrigerator |
| WHIRLPOOL WRF989SDAH02 | Refrigerator |
| WHIRLPOOL WRF989SDAH03 | Refrigerator |
| WHIRLPOOL WRF989SDAM00 | Refrigerator |
| WHIRLPOOL WRF989SDAM01 | Refrigerator |
| WHIRLPOOL WRF989SDAM02 | Refrigerator |
| WHIRLPOOL WRF989SDAM03 | Refrigerator |
| WHIRLPOOL WRF989SDAW00 | Refrigerator |
| WHIRLPOOL WRF989SDAW01 | Refrigerator |
| WHIRLPOOL WRF989SDAW02 | Refrigerator |
| WHIRLPOOL WRF989SDAW03 | Refrigerator |
| WHIRLPOOL WRF990SLAB00 | Refrigerator |
| whirlpool WRF990SLAM | Refrigerator |
| WHIRLPOOL WRF990SLAM00 | Refrigerator |
| WHIRLPOOL WRF990SLAM01 | Refrigerator |
| WHIRLPOOL WRF990SLAM02 | Refrigerator |
| WHIRLPOOL WRF990SLAM03 | Refrigerator |
| WHIRLPOOL WRF990SLAW00 | Refrigerator |
| whirlpool WRF991BOOM | Refrigerator |
| WHIRLPOOL WRF991BOOM00 | Refrigerator |
| WHIRLPOOL WRF991BOOM01 | Refrigerator |
| WHIRLPOOL WRF992FIFE00 | Refrigerator |
| WHIRLPOOL WRF992FIFH00 | Refrigerator |
| WHIRLPOOL WRF992FIFM00 | Refrigerator |
| WHIRLPOOL WRF993FIFM00 | Refrigerator |
| WHIRLPOOL WRF995FIFZ00 | Refrigerator |
| whirlpool WRF997SDDM | Refrigerator |
| WHIRLPOOL WRF997SDDM00 | Refrigerator |
| WHIRLPOOL WRF997SDDM02 | Refrigerator |
| WHIRLPOOL WRFA60SMHN00 | Refrigerator |
| WHIRLPOOL WRFA60SMHZ00 | Refrigerator |
| WHIRLPOOL WRV976FDEM00 | Refrigerator |
| WHIRLPOOL WRV976FDEM01 | Refrigerator |
| WHIRLPOOL WRV986FDEM00 | Refrigerator |
| WHIRLPOOL WRV986FDEM01 | Refrigerator |
| WHIRLPOOL WRV996FDEE00 | Refrigerator |
| WHIRLPOOL WRV996FDEE01 | Refrigerator |
| WHIRLPOOL WRV996FDEE02 | Refrigerator |
| WHIRLPOOL WRV996FDEH00 | Refrigerator |
| WHIRLPOOL WRV996FDEH01 | Refrigerator |
| WHIRLPOOL WRV996FDEM00 | Refrigerator |
| WHIRLPOOL WRV996FDEM01 | Refrigerator |
| Whirlpool WRX986SIHV | Refrigerator |
| WHIRLPOOL WRX986SIHV00 | Refrigerator |
| WHIRLPOOL WRX986SIHV02 | Refrigerator |
| Whirlpool WRX986SIHZ | Refrigerator |
| WHIRLPOOL WRX986SIHZ00 | Refrigerator |
| WHIRLPOOL WRX986SIHZ01 | Refrigerator |
| WHIRLPOOL WRX986SIHZ02 | Refrigerator |
| whirlpool WRX988SIBB | Refrigerator |
| WHIRLPOOL WRX988SIBB00 | Refrigerator |
| WHIRLPOOL WRX988SIBB01 | Refrigerator |
| whirlpool WRX988SIBE | Refrigerator |
| WHIRLPOOL WRX988SIBE00 | Refrigerator |
| WHIRLPOOL WRX988SIBE01 | Refrigerator |
| WHIRLPOOL WRX988SIBE02 | Refrigerator |
| WHIRLPOOL WRX988SIBE03 | Refrigerator |
| whirlpool WRX988SIBH | Refrigerator |
| WHIRLPOOL WRX988SIBH00 | Refrigerator |
| WHIRLPOOL WRX988SIBH01 | Refrigerator |
| WHIRLPOOL WRX988SIBH02 | Refrigerator |
| WHIRLPOOL WRX988SIBH03 | Refrigerator |
| whirlpool WRX988SIBM | Refrigerator |
| WHIRLPOOL WRX988SIBM00 | Refrigerator |
| WHIRLPOOL WRX988SIBM01 | Refrigerator |
| WHIRLPOOL WRX988SIBM02 | Refrigerator |
| WHIRLPOOL WRX988SIBM03 | Refrigerator |
| whirlpool WRX988SIBW | Refrigerator |
| WHIRLPOOL WRX988SIBW00 | Refrigerator |
| WHIRLPOOL WRX988SIBW01 | Refrigerator |
| 46 9082 | Filter |
| 46-9082 | Filter |
| 46-9903 | Filter |
| 46-9924 | Filter |
| 469082 | Filter |
| 9082 | Filter |
| BLZ-27899 | Filter |
| EDR2RXD1 | Filter |
| FILTER 2 | Filter |
| FILTER2 | Filter |
| GRE1002 | Filter |
| KAD2 | Filter |
| KAD2RXD1 | Filter |
| NMS02 | Filter |
| P6RFWB2 | Filter |
| P6RKFB2 | Filter |
| P9RFWB2L | Filter |
| P9WB2L | Filter |
| SW36 | Filter |
| W10238154 | Filter |
| W10413645A | Filter |
| WF645 | Filter |