AIRx FAF004 | Our#: 187769
AIRx Replacement for Whirlpool Freshflow Replacement AIR1 Filter Cartridge, 4-pack

49 review(s)
AIRx FAF004 | Our#: 187769
Fast Shipping & Free Returns
100% Compatibility Guarantee
AIRx Replacment for Whirlpool Freshflow Replacement AIR1 Filter Cartridge
Does not include indicator strip
5 people in your area recently purchased this product!
$

8.86
(

4

Filters for $

35.43

)
Fast Shipping & Free Returns
100% Compatibility Guarantee
Frequently Purchased Together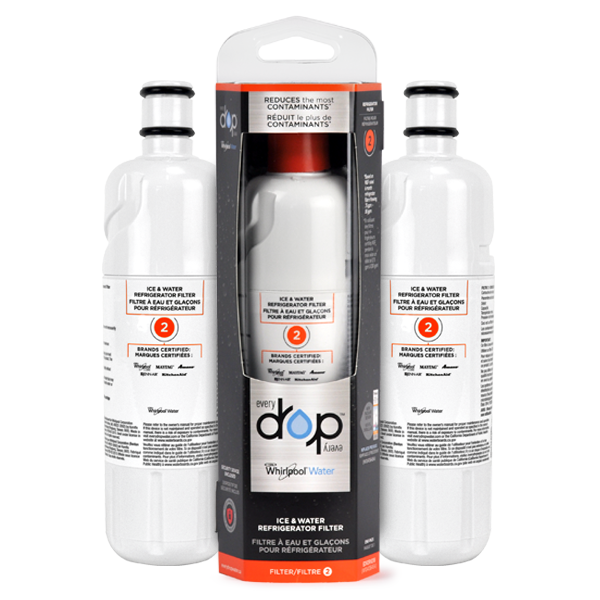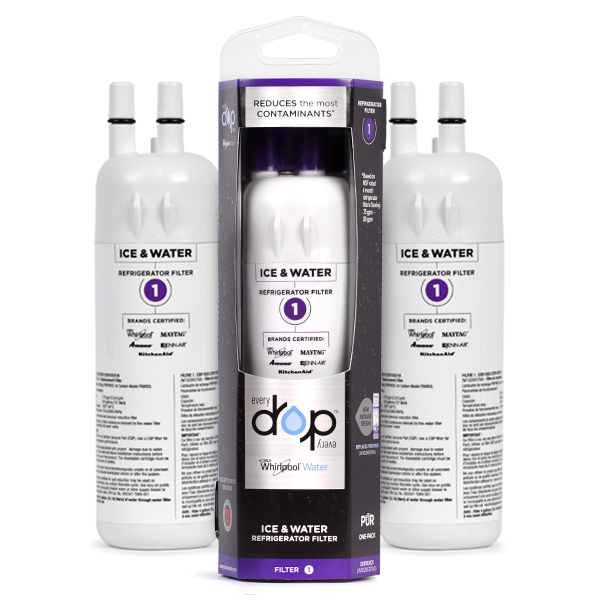 Product Details
AIRx Replacment for Whirlpool Freshflow Replacement AIR1 Filter Cartridge (W10311524, W10335147A, 2319308 & W10335147) KitchenAid Preserva
Replacement for Whirlpool, KitchenAid, Maytag, Amana, and Jenn-Air refrigerators - this refrigerator air filter reduces common food odors.
The air filter lets air actively pass through the filter, helping neutralize odor and bacteria. Replace filter ever 6 months.
Works with Whirlpool models: GSS26C4XXB, WSF26D4EXA, WRT571SMYB, WRT771RWYB, WRT779RWYB, WRT579SMYB, W10311524, AIR1, 2319308, W10335147, W10315189, RAF1180, WD-W10311524
Please Note: This filter DOES NOT include the Air Filter Status Indicator used on some models

Instructions:
On some models, your refrigerator's accessory packet includes an air filter, which must be installed prior to use. On some models, the air filter is already installed at the factory
The air filter reduces the buildup of odors. This helps to maintain a cleaner environment inside the refrigerator.
Installing the Air Filter (on some models)
The filter should be installed behind the vented door, which is located (depending on your model) along either the rear or left interior wall near the top of the refrigerator compartment.
1. Remove the air filter from its packaging.
2. Lift open the vented door.
3. Snap the filter into place
---
Search by your filter part number or appliance model number to verify compatibility
| Brand Name | Model Number | Type |
| --- | --- | --- |
| Jenn-Air | JB36NXFXLE00 | Refrigerator |
| Jenn-Air | JB36NXFXLE01 | Refrigerator |
| Jenn-Air | JB36NXFXRE00 | Refrigerator |
| Jenn-Air | JB36NXFXRE01 | Refrigerator |
| Jenn-Air | JF36NXFXDE00 | Refrigerator |
| Jenn-Air | JF36NXFXDE01 | Refrigerator |
| Jenn-Air | JF42NXFXDE00 | Refrigerator |
| Jenn-Air | JF42NXFXDE02 | Refrigerator |
| Jenn-Air | JFFCC72EFP00 | Refrigerator |
| Jenn-Air | JFFCC72EFP02 | Refrigerator |
| Jenn-Air | JFFCC72EFS00 | Refrigerator |
| Jenn-Air | JFFCC72EFS02 | Refrigerator |
| Jenn-Air | JFX2897DRM00 | Refrigerator |
| Jenn-Air | JFX2897DRM01 | Refrigerator |
| Jenn-Air | JFX2897DRM02 | Refrigerator |
| Jenn-Air | JFX2897DRP00 | Refrigerator |
| Jenn-Air | JFX2897DRP01 | Refrigerator |
| Jenn-Air | JFX2897DRP02 | Refrigerator |
| Jenn-Air | JSC23C9EEM00 | Refrigerator |
| Jenn-Air | JSC24C8EAM01 | Refrigerator |
| Jenn-Air | JSC24C8EAM02 | Refrigerator |
| Kenmore | 106.322421 | Refrigerator |
| Kenmore | 106.322431 | Refrigerator |
| Kenmore | 106.322491 | Refrigerator |
| Kenmore | 106.329421 | Refrigerator |
| Kenmore | 106.329431 | Refrigerator |
| Kenmore | 106.329491 | Refrigerator |
| Kenmore | 106.4116231 | Refrigerator |
| Kenmore | 106.4116331 | Refrigerator |
| Kenmore | 106.4116931 | Refrigerator |
| Kenmore | 106.5113221 | Refrigerator |
| Kenmore | 106.5113221 | Refrigerator |
| Kenmore | 106.5113321 | Refrigerator |
| Kenmore | 106.5113321 | Refrigerator |
| Kenmore | 106.5113421 | Refrigerator |
| Kenmore | 106.5113421 | Refrigerator |
| Kenmore | 106.5113561 | Refrigerator |
| Kenmore | 106.5113621 | Refrigerator |
| Kenmore | 106.5113921 | Refrigerator |
| Kenmore | 106.5113921 | Refrigerator |
| Kenmore | 106.5113921 | Refrigerator |
| Kenmore | 106.5114211 | Refrigerator |
| Kenmore | 106.5114211 | Refrigerator |
| Kenmore | 106.5114211 | Refrigerator |
| Kenmore | 106.5114311 | Refrigerator |
| Kenmore | 106.5114311 | Refrigerator |
| Kenmore | 106.5114311 | Refrigerator |
| Kenmore | 106.5114911 | Refrigerator |
| Kenmore | 106.5114911 | Refrigerator |
| Kenmore | 106.5114911 | Refrigerator |
| Kenmore | 106.5115211 | Refrigerator |
| Kenmore | 106.5115211 | Refrigerator |
| Kenmore | 106.5115211 | Refrigerator |
| Kenmore | 106.5115311 | Refrigerator |
| Kenmore | 106.5115311 | Refrigerator |
| Kenmore | 106.5115311 | Refrigerator |
| Kenmore | 106.5115911 | Refrigerator |
| Kenmore | 106.5115911 | Refrigerator |
| Kenmore | 106.5115911 | Refrigerator |
| Kenmore | 106.5116221 | Refrigerator |
| Kenmore | 106.5116321 | Refrigerator |
| Kenmore | 106.5116421 | Refrigerator |
| Kenmore | 106.5116921 | Refrigerator |
| Kenmore | 106.5117231 | Refrigerator |
| Kenmore | 106.5117331 | Refrigerator |
| Kenmore | 106.5117931 | Refrigerator |
| Kenmore | 106.5118211 | Refrigerator |
| Kenmore | 106.5118211 | Refrigerator |
| Kenmore | 106.5118211 | Refrigerator |
| Kenmore | 106.5118311 | Refrigerator |
| Kenmore | 106.5118311 | Refrigerator |
| Kenmore | 106.5118311 | Refrigerator |
| Kenmore | 106.5118911 | Refrigerator |
| Kenmore | 106.5118911 | Refrigerator |
| Kenmore | 106.5118911 | Refrigerator |
| Kenmore | 106.5171241 | Refrigerator |
| Kenmore | 106.5171241 | Refrigerator |
| Kenmore | 106.5171341 | Refrigerator |
| Kenmore | 106.5171341 | Refrigerator |
| Kenmore | 106.5171941 | Refrigerator |
| Kenmore | 106.5171941 | Refrigerator |
| Kenmore | 106.5171941 | Refrigerator |
| Kenmore | 106.5176251 | Refrigerator |
| Kenmore | 106.5176251 | Refrigerator |
| Kenmore | 106.5176351 | Refrigerator |
| Kenmore | 106.5176351 | Refrigerator |
| Kenmore | 106.5176451 | Refrigerator |
| Kenmore | 106.5176451 | Refrigerator |
| Kenmore | 106.5176951 | Refrigerator |
| Kenmore | 106.5176951 | Refrigerator |
| Kenmore | 106.5176951 | Refrigerator |
| Kenmore | 106.5177251 | Refrigerator |
| Kenmore | 106.5177351 | Refrigerator |
| Kenmore | 106.5177951 | Refrigerator |
| Kenmore | 106.5177951 | Refrigerator |
| Kenmore | 106.5178241 | Refrigerator |
| Kenmore | 106.5178341 | Refrigerator |
| Kenmore | 106.5178341 | Refrigerator |
| Kenmore | 106.5178941 | Refrigerator |
| Kenmore | 106.5178941 | Refrigerator |
| Kenmore | 106.7300251 | Refrigerator |
| Kenmore | 106.7300251 | Refrigerator |
| Kenmore | 106.7300351 | Refrigerator |
| Kenmore | 106.7300351 | Refrigerator |
| Kenmore | 106.7300951 | Refrigerator |
| Kenmore | 106.7300951 | Refrigerator |
| Kenmore | 106.7940241 | Refrigerator |
| Kenmore | 106.7940341 | Refrigerator |
| Kenmore | 106.7947241 | Refrigerator |
| Kenmore | 106.7947241 | Refrigerator |
| Kenmore | 106.7947341 | Refrigerator |
| Kenmore | 106.7947341 | Refrigerator |
| Kenmore | 596.7238241 | Refrigerator |
| Kenmore | 596.7238241 | Refrigerator |
| Kenmore | 596.7238241 | Refrigerator |
| Kenmore | 596.7238241 | Refrigerator |
| Kenmore | 596.7238341 | Refrigerator |
| Kenmore | 596.7238341 | Refrigerator |
| Kenmore | 596.7238341 | Refrigerator |
| Kenmore | 596.7238941 | Refrigerator |
| Kenmore | 596.7238941 | Refrigerator |
| Kenmore | 596.7238941 | Refrigerator |
| Kenmore | 596.7238941 | Refrigerator |
| Kenmore | 596.7300251 | Refrigerator |
| Kenmore | 596.7300351 | Refrigerator |
| Kenmore | 596.7300351 | Refrigerator |
| Kenmore | 596.7300951 | Refrigerator |
| KitchenAid | KFFS20EYBL00 | Refrigerator |
| KitchenAid | KFFS20EYMS00 | Refrigerator |
| KitchenAid | KFFS20EYWH00 | Refrigerator |
| KitchenAid | KRFC604FSS01 | Refrigerator |
| KitchenAid | KRFC704FBS01 | Refrigerator |
| KitchenAid | KRFC704FPS01 | Refrigerator |
| KitchenAid | KRFC704FSS01 | Refrigerator |
| KitchenAid | KRFC804GBS00 | Refrigerator |
| KitchenAid | KRFC804GPS00 | Refrigerator |
| KitchenAid | KRFC804GSS00 | Refrigerator |
| KitchenAid | KRFF507HBL00 | Refrigerator |
| KitchenAid | KRFF507HBS00 | Refrigerator |
| KitchenAid | KRFF507HPS00 | Refrigerator |
| KitchenAid | KRFF507HWH00 | Refrigerator |
| KitchenAid | KRSC503EBS00 | Refrigerator |
| KitchenAid | KRSC503EBS01 | Refrigerator |
| KitchenAid | KRSC503ESS01 | Refrigerator |
| KitchenAid | KRSF505EBL01 | Refrigerator |
| KitchenAid | KRSF505ESS01 | Refrigerator |
| KitchenAid | KRSF505EWH01 | Refrigerator |
| KitchenAid | KSC23C8EYB00 | Refrigerator |
| KitchenAid | KSC23C8EYW00 | Refrigerator |
| KitchenAid | KSC23C8EYY00 | Refrigerator |
| KitchenAid | KSC23C8EYY01 | Refrigerator |
| KitchenAid | KSC23C9EYB00 | Refrigerator |
| KitchenAid | KSC23C9EYW00 | Refrigerator |
| KitchenAid | KSC23C9EYY00 | Refrigerator |
| KitchenAid | KSC23C9EYY01 | Refrigerator |
| KitchenAid | KSC23W8EYB00 | Refrigerator |
| KitchenAid | KSC23W8EYW00 | Refrigerator |
| KitchenAid | KSC23W8EYY00 | Refrigerator |
| KitchenAid | KSC24C8EYB00 | Refrigerator |
| KitchenAid | KSC24C8EYP00 | Refrigerator |
| KitchenAid | KSC24C8EYW00 | Refrigerator |
| KitchenAid | KSC24C8EYY00 | Refrigerator |
| KitchenAid | KSF26C4XYB00 | Refrigerator |
| KitchenAid | KSF26C4XYW00 | Refrigerator |
| KitchenAid | KSF26C4XYY00 | Refrigerator |
| KitchenAid | KSF26C6XYY00 | Refrigerator |
| KitchenAid | KSF26C6XYY02 | Refrigerator |
| KitchenAid | KSF26C7XYY00 | Refrigerator |
| KitchenAid | KSF26C7XYY02 | Refrigerator |
| KitchenAid | KSO24C8EYB00 | Refrigerator |
| KitchenAid | KSO24C8EYW00 | Refrigerator |
| Maytag | MFB2055YEB00 | Refrigerator |
| Maytag | MFB2055YEM00 | Refrigerator |
| Maytag | MFB2055YEW00 | Refrigerator |
| Maytag | MFT2772HEZ00 | Refrigerator |
| Maytag | MFT2776FEZ01 | Refrigerator |
| Maytag | MSC21C6MFZ00 | Refrigerator |
| Maytag | MSS26C6MEZ00 | Refrigerator |
| Maytag | MSS26C6MFB01 | Refrigerator |
| Maytag | MSS26C6MFW01 | Refrigerator |
| Maytag | MSS26C6MFZ01 | Refrigerator |
| Whirlpool | 3WSC19D4AY00 | Refrigerator |
| Whirlpool | 3WSC19D4XB00 | Refrigerator |
| Whirlpool | 3WSC19D4XD00 | Refrigerator |
| Whirlpool | 3WSC19D4XW00 | Refrigerator |
| Whirlpool | 3WSC19D4XY00 | Refrigerator |
| Whirlpool | 3WSC19D4XY01 | Refrigerator |
| Whirlpool | 3WSC20N4AY00 | Refrigerator |
| Whirlpool | 3WSC20N4XB00 | Refrigerator |
| Whirlpool | 3WSC20N4XD00 | Refrigerator |
| Whirlpool | 3WSC20N4XW00 | Refrigerator |
| Whirlpool | 3WSC20N4XY00 | Refrigerator |
| Whirlpool | 3WSC20N4XY01 | Refrigerator |
| Whirlpool | 5MT711BFEG00 | Refrigerator |
| Whirlpool | 5MT711BFEH00 | Refrigerator |
| Whirlpool | 5VM1BXGFYA00 | Refrigerator |
| Whirlpool | 5VWT51SFYF00 | Refrigerator |
| Whirlpool | 5VWT51SFYW00 | Refrigerator |
| Whirlpool | 5VWT59SFYF00 | Refrigerator |
| Whirlpool | 5VWT59SFYW00 | Refrigerator |
| Whirlpool | 5VWT71REYF00 | Refrigerator |
| Whirlpool | 5WSC20CAYB00 | Refrigerator |
| Whirlpool | 5WSC20CAYY00 | Refrigerator |
| Whirlpool | 5WSC21NAYY00 | Refrigerator |
| Whirlpool | 5WT511SFEG00 | Refrigerator |
| Whirlpool | 5WT511SFEW00 | Refrigerator |
| Whirlpool | 6ISC20C6AY00 | Refrigerator |
| Whirlpool | 6ISC21N4AD00 | Refrigerator |
| Whirlpool | 6ISC21N4AF00 | Refrigerator |
| Whirlpool | 6WSC20C6XB00 | Refrigerator |
| Whirlpool | 6WSC20C6XB02 | Refrigerator |
| Whirlpool | 6WSC20C6XB04 | Refrigerator |
| Whirlpool | 6WSC20C6XD00 | Refrigerator |
| Whirlpool | 6WSC20C6XD02 | Refrigerator |
| Whirlpool | 6WSC20C6XD04 | Refrigerator |
| Whirlpool | 6WSC20C6XW00 | Refrigerator |
| Whirlpool | 6WSC20C6XW02 | Refrigerator |
| Whirlpool | 6WSC20C6XW04 | Refrigerator |
| Whirlpool | 6WSC20C6XY00 | Refrigerator |
| Whirlpool | 6WSC20C6XY02 | Refrigerator |
| Whirlpool | 6WSC20C6XY04 | Refrigerator |
| Whirlpool | 6WSC20C6YB00 | Refrigerator |
| Whirlpool | 6WSC20C6YY00 | Refrigerator |
| Whirlpool | 6WSC21N4AF00 | Refrigerator |
| Whirlpool | 6WSC21N4XD00 | Refrigerator |
| Whirlpool | 6WSC21N4XD02 | Refrigerator |
| Whirlpool | 6WSC21N4XD04 | Refrigerator |
| Whirlpool | 6WSC21N4XW00 | Refrigerator |
| Whirlpool | 6WSC21N4XW02 | Refrigerator |
| Whirlpool | 6WSC21N4XW04 | Refrigerator |
| Whirlpool | 6WSC21N4XY00 | Refrigerator |
| Whirlpool | 6WSC21N4XY02 | Refrigerator |
| Whirlpool | 6WSC21N4XY04 | Refrigerator |
| Whirlpool | 6WSC21N4YD00 | Refrigerator |
| Whirlpool | 6WSC21N4YY00 | Refrigerator |
| Whirlpool | 7GSC22C6XA00 | Refrigerator |
| Whirlpool | 7GSC22C6XW00 | Refrigerator |
| Whirlpool | 7GSC22C6XY00 | Refrigerator |
| Whirlpool | 7GSC22C6XY01 | Refrigerator |
| Whirlpool | 7KRSF77EST00 | Refrigerator |
| Whirlpool | 7KSC24C8EY00 | Refrigerator |
| Whirlpool | 7KSF26C6YY00 | Refrigerator |
| Whirlpool | 7MF2976AEM00 | Refrigerator |
| Whirlpool | 7MF2976AEM01 | Refrigerator |
| Whirlpool | 7MF2976AEM02 | Refrigerator |
| Whirlpool | 7MF2976AEM03 | Refrigerator |
| Whirlpool | 7WF736SDAM10 | Refrigerator |
| Whirlpool | 7WF736SDAM11 | Refrigerator |
| Whirlpool | 7WF736SDAM12 | Refrigerator |
| Whirlpool | 7WF736SDAM13 | Refrigerator |
| Whirlpool | 7WF736SDAM14 | Refrigerator |
| Whirlpool | 7WSC19D2XS01 | Refrigerator |
| Whirlpool | 7WSC21C4XY01 | Refrigerator |
| Whirlpool | BRS80ARANA00 | Refrigerator |
| Whirlpool | GSC25C4EYB00 | Refrigerator |
| Whirlpool | GSC25C4EYB01 | Refrigerator |
| Whirlpool | GSC25C4EYB02 | Refrigerator |
| Whirlpool | GSC25C4EYW00 | Refrigerator |
| Whirlpool | GSC25C4EYW01 | Refrigerator |
| Whirlpool | GSC25C4EYW02 | Refrigerator |
| Whirlpool | GSC25C4EYY00 | Refrigerator |
| Whirlpool | GSC25C4EYY01 | Refrigerator |
| Whirlpool | GSC25C4EYY02 | Refrigerator |
| Whirlpool | GSC25C4EYY03 | Refrigerator |
| Whirlpool | GSC25C5EYB00 | Refrigerator |
| Whirlpool | GSC25C5EYB01 | Refrigerator |
| Whirlpool | GSC25C5EYB02 | Refrigerator |
| Whirlpool | GSC25C5EYW00 | Refrigerator |
| Whirlpool | GSC25C5EYW01 | Refrigerator |
| Whirlpool | GSC25C5EYW02 | Refrigerator |
| Whirlpool | GSC25C5EYY00 | Refrigerator |
| Whirlpool | GSC25C5EYY01 | Refrigerator |
| Whirlpool | GSC25C5EYY02 | Refrigerator |
| Whirlpool | GSC25C5EYY03 | Refrigerator |
| Whirlpool | GSC25C6EYB00 | Refrigerator |
| Whirlpool | GSC25C6EYB01 | Refrigerator |
| Whirlpool | GSC25C6EYW00 | Refrigerator |
| Whirlpool | GSC25C6EYW01 | Refrigerator |
| Whirlpool | GSC25C6EYY00 | Refrigerator |
| Whirlpool | GSC25C6EYY01 | Refrigerator |
| Whirlpool | GSC25C6EYY02 | Refrigerator |
| Whirlpool | GSC25C6EYY03 | Refrigerator |
| Whirlpool | GSF26C4EXA00 | Refrigerator |
| Whirlpool | GSF26C4EXA02 | Refrigerator |
| Whirlpool | GSF26C4EXB00 | Refrigerator |
| Whirlpool | GSF26C4EXB02 | Refrigerator |
| Whirlpool | GSF26C4EXF02 | Refrigerator |
| Whirlpool | GSF26C4EXS00 | Refrigerator |
| Whirlpool | GSF26C4EXS02 | Refrigerator |
| Whirlpool | GSF26C4EXS03 | Refrigerator |
| Whirlpool | GSF26C4EXT00 | Refrigerator |
| Whirlpool | GSF26C4EXT02 | Refrigerator |
| Whirlpool | GSF26C4EXW00 | Refrigerator |
| Whirlpool | GSF26C4EXW02 | Refrigerator |
| Whirlpool | GSF26C4EXY00 | Refrigerator |
| Whirlpool | GSF26C4EXY02 | Refrigerator |
| Whirlpool | GSF26C4EXY03 | Refrigerator |
| Whirlpool | GSF26C5EXA00 | Refrigerator |
| Whirlpool | GSF26C5EXB00 | Refrigerator |
| Whirlpool | GSF26C5EXB02 | Refrigerator |
| Whirlpool | GSF26C5EXS00 | Refrigerator |
| Whirlpool | GSF26C5EXS03 | Refrigerator |
| Whirlpool | GSF26C5EXT00 | Refrigerator |
| Whirlpool | GSF26C5EXW00 | Refrigerator |
| Whirlpool | GSF26C5EXW02 | Refrigerator |
| Whirlpool | GSF26C5EXY00 | Refrigerator |
| Whirlpool | GSF26C5EXY02 | Refrigerator |
| Whirlpool | GSF26C5EXY03 | Refrigerator |
| Whirlpool | GSS26C4XXA00 | Refrigerator |
| Whirlpool | GSS26C4XXA02 | Refrigerator |
| Whirlpool | GSS26C4XXA03 | Refrigerator |
| Whirlpool | GSS26C4XXB00 | Refrigerator |
| Whirlpool | GSS26C4XXB02 | Refrigerator |
| Whirlpool | GSS26C4XXB03 | Refrigerator |
| Whirlpool | GSS26C4XXF02 | Refrigerator |
| Whirlpool | GSS26C4XXW00 | Refrigerator |
| Whirlpool | GSS26C4XXW02 | Refrigerator |
| Whirlpool | GSS26C4XXW03 | Refrigerator |
| Whirlpool | GSS26C4XXY00 | Refrigerator |
| Whirlpool | GSS26C4XXY02 | Refrigerator |
| Whirlpool | GSS26C4XXY03 | Refrigerator |
| Whirlpool | GSS26C4XXY04 | Refrigerator |
| Whirlpool | GSS26C5XXA00 | Refrigerator |
| Whirlpool | GSS26C5XXA02 | Refrigerator |
| Whirlpool | GSS26C5XXA03 | Refrigerator |
| Whirlpool | GSS26C5XXB00 | Refrigerator |
| Whirlpool | GSS26C5XXB02 | Refrigerator |
| Whirlpool | GSS26C5XXB03 | Refrigerator |
| Whirlpool | GSS26C5XXW00 | Refrigerator |
| Whirlpool | GSS26C5XXW02 | Refrigerator |
| Whirlpool | GSS26C5XXW03 | Refrigerator |
| Whirlpool | GSS26C5XXY00 | Refrigerator |
| Whirlpool | GSS26C5XXY02 | Refrigerator |
| Whirlpool | GSS26C5XXY03 | Refrigerator |
| Whirlpool | GSS26C5XXY04 | Refrigerator |
| Whirlpool | GSS30C6EYB00 | Refrigerator |
| Whirlpool | GSS30C6EYB02 | Refrigerator |
| Whirlpool | GSS30C6EYB03 | Refrigerator |
| Whirlpool | GSS30C6EYF00 | Refrigerator |
| Whirlpool | GSS30C6EYF02 | Refrigerator |
| Whirlpool | GSS30C6EYF03 | Refrigerator |
| Whirlpool | GSS30C6EYW00 | Refrigerator |
| Whirlpool | GSS30C6EYW02 | Refrigerator |
| Whirlpool | GSS30C6EYW03 | Refrigerator |
| Whirlpool | GSS30C6EYY00 | Refrigerator |
| Whirlpool | GSS30C6EYY01 | Refrigerator |
| Whirlpool | GSS30C6EYY02 | Refrigerator |
| Whirlpool | GSS30C6EYY03 | Refrigerator |
| Whirlpool | GSS30C7EYB00 | Refrigerator |
| Whirlpool | GSS30C7EYB02 | Refrigerator |
| Whirlpool | GSS30C7EYB03 | Refrigerator |
| Whirlpool | GSS30C7EYF00 | Refrigerator |
| Whirlpool | GSS30C7EYF02 | Refrigerator |
| Whirlpool | GSS30C7EYF03 | Refrigerator |
| Whirlpool | GSS30C7EYW00 | Refrigerator |
| Whirlpool | GSS30C7EYW02 | Refrigerator |
| Whirlpool | GSS30C7EYW03 | Refrigerator |
| Whirlpool | GSS30C7EYY00 | Refrigerator |
| Whirlpool | GSS30C7EYY01 | Refrigerator |
| Whirlpool | GSS30C7EYY02 | Refrigerator |
| Whirlpool | GSS30C7EYY03 | Refrigerator |
| Whirlpool | ISC21CNEDS00 | Refrigerator |
| Whirlpool | ISC23CDEXB00 | Refrigerator |
| Whirlpool | ISC23CDEXB01 | Refrigerator |
| Whirlpool | ISC23CDEXY00 | Refrigerator |
| Whirlpool | ISC23CDEXY01 | Refrigerator |
| Whirlpool | ISC23CDEXY02 | Refrigerator |
| Whirlpool | ISC23CNEXW00 | Refrigerator |
| Whirlpool | ISC23CNEXW01 | Refrigerator |
| Whirlpool | ISC23CNEXY00 | Refrigerator |
| Whirlpool | ISC23CNEXY01 | Refrigerator |
| Whirlpool | ISC23CNEXY02 | Refrigerator |
| Whirlpool | IX5BBEXDS00 | Refrigerator |
| Whirlpool | IX5BBEXDS01 | Refrigerator |
| Whirlpool | IX7DDEXDSM00 | Refrigerator |
| Whirlpool | IX7DDEXDSM01 | Refrigerator |
| Whirlpool | JB36NXFXLE00 | Refrigerator |
| Whirlpool | JB36NXFXLE01 | Refrigerator |
| Whirlpool | JB36NXFXRE00 | Refrigerator |
| Whirlpool | JB36NXFXRE01 | Refrigerator |
| Whirlpool | JF36NXFXDE00 | Refrigerator |
| Whirlpool | JF36NXFXDE01 | Refrigerator |
| Whirlpool | JF42NXFXDE00 | Refrigerator |
| Whirlpool | JF42NXFXDE01 | Refrigerator |
| Whirlpool | JF42NXFXDE02 | Refrigerator |
| Whirlpool | JFFCC72EFP00 | Refrigerator |
| Whirlpool | JFFCC72EFP02 | Refrigerator |
| Whirlpool | JFFCC72EFS00 | Refrigerator |
| Whirlpool | JFFCC72EFS02 | Refrigerator |
| Whirlpool | JFFCC72EFS03 | Refrigerator |
| Whirlpool | JFFCC72EFS04 | Refrigerator |
| Whirlpool | JFFCC72EHL01 | Refrigerator |
| Whirlpool | JFFCC72EHL02 | Refrigerator |
| Whirlpool | JFX2897DRM00 | Refrigerator |
| Whirlpool | JFX2897DRM01 | Refrigerator |
| Whirlpool | JFX2897DRM02 | Refrigerator |
| Whirlpool | JFX2897DRP00 | Refrigerator |
| Whirlpool | JFX2897DRP01 | Refrigerator |
| Whirlpool | JFX2897DRP02 | Refrigerator |
| Whirlpool | JSC23C9EEM00 | Refrigerator |
| Whirlpool | JSC24C8EAM00 | Refrigerator |
| Whirlpool | JSC24C8EAM01 | Refrigerator |
| Whirlpool | JSC24C8EAM02 | Refrigerator |
| Whirlpool | KBBL206EPA00 | Refrigerator |
| Whirlpool | KBBL206EPA01 | Refrigerator |
| Whirlpool | KBBL206ESS00 | Refrigerator |
| Whirlpool | KBBL206ESS01 | Refrigerator |
| Whirlpool | KBBL306EPA00 | Refrigerator |
| Whirlpool | KBBL306EPA01 | Refrigerator |
| Whirlpool | KBBL306ESS00 | Refrigerator |
| Whirlpool | KBBL306ESS01 | Refrigerator |
| Whirlpool | KBBR206EPA00 | Refrigerator |
| Whirlpool | KBBR206EPA01 | Refrigerator |
| Whirlpool | KBBR206ESS00 | Refrigerator |
| Whirlpool | KBBR206ESS01 | Refrigerator |
| Whirlpool | KBBR306EPA00 | Refrigerator |
| Whirlpool | KBBR306EPA01 | Refrigerator |
| Whirlpool | KBBR306ESS00 | Refrigerator |
| Whirlpool | KBBR306ESS01 | Refrigerator |
| Whirlpool | KBFN402EPA00 | Refrigerator |
| Whirlpool | KBFN402EPA01 | Refrigerator |
| Whirlpool | KBFN402EPA02 | Refrigerator |
| Whirlpool | KBFN402ESS00 | Refrigerator |
| Whirlpool | KBFN402ESS01 | Refrigerator |
| Whirlpool | KBFN402ESS02 | Refrigerator |
| Whirlpool | KBFN406EPA00 | Refrigerator |
| Whirlpool | KBFN406EPA01 | Refrigerator |
| Whirlpool | KBFN406ESS00 | Refrigerator |
| Whirlpool | KBFN406ESS01 | Refrigerator |
| Whirlpool | KBFN502EBS00 | Refrigerator |
| Whirlpool | KBFN502EBS01 | Refrigerator |
| Whirlpool | KBFN502EBS02 | Refrigerator |
| Whirlpool | KBFN502EPA00 | Refrigerator |
| Whirlpool | KBFN502EPA01 | Refrigerator |
| Whirlpool | KBFN502EPA02 | Refrigerator |
| Whirlpool | KBFN502ESS00 | Refrigerator |
| Whirlpool | KBFN502ESS01 | Refrigerator |
| Whirlpool | KBFN502ESS02 | Refrigerator |
| Whirlpool | KBFN506EBS01 | Refrigerator |
| Whirlpool | KBFN506EPA00 | Refrigerator |
| Whirlpool | KBFN506EPA01 | Refrigerator |
| Whirlpool | KBFN506ESS00 | Refrigerator |
| Whirlpool | KBFN506ESS01 | Refrigerator |
| Whirlpool | KFFS20EYBL00 | Refrigerator |
| Whirlpool | KFFS20EYBL01 | Refrigerator |
| Whirlpool | KFFS20EYBL02 | Refrigerator |
| Whirlpool | KFFS20EYBL04 | Refrigerator |
| Whirlpool | KFFS20EYMS00 | Refrigerator |
| Whirlpool | KFFS20EYMS01 | Refrigerator |
| Whirlpool | KFFS20EYMS02 | Refrigerator |
| Whirlpool | KFFS20EYMS04 | Refrigerator |
| Whirlpool | KFFS20EYWH00 | Refrigerator |
| Whirlpool | KFFS20EYWH01 | Refrigerator |
| Whirlpool | KFFS20EYWH02 | Refrigerator |
| Whirlpool | KFFS20EYWH04 | Refrigerator |
| Whirlpool | KFIS29BBBL00 | Refrigerator |
| Whirlpool | KFIS29BBBL01 | Refrigerator |
| Whirlpool | KFIS29BBBL02 | Refrigerator |
| Whirlpool | KFIS29BBBL03 | Refrigerator |
| Whirlpool | KFIS29BBMS00 | Refrigerator |
| Whirlpool | KFIS29BBMS01 | Refrigerator |
| Whirlpool | KFIS29BBMS02 | Refrigerator |
| Whirlpool | KFIS29BBMS03 | Refrigerator |
| Whirlpool | KFIS29BBWH00 | Refrigerator |
| Whirlpool | KFIS29BBWH01 | Refrigerator |
| Whirlpool | KFIS29BBWH02 | Refrigerator |
| Whirlpool | KFIS29BBWH03 | Refrigerator |
| Whirlpool | KFIS29PBMS00 | Refrigerator |
| Whirlpool | KFIS29PBMS01 | Refrigerator |
| Whirlpool | KFIS29PBMS02 | Refrigerator |
| Whirlpool | KFIS29PBMS03 | Refrigerator |
| Whirlpool | KFIV29PCMS00 | Refrigerator |
| Whirlpool | KFIV29PCMS01 | Refrigerator |
| Whirlpool | KFIV29PCMS02 | Refrigerator |
| Whirlpool | KFIV29PCMS03 | Refrigerator |
| Whirlpool | KRFC604FSS00 | Refrigerator |
| Whirlpool | KRFC604FSS01 | Refrigerator |
| Whirlpool | KRFC604FSS02 | Refrigerator |
| Whirlpool | KRFC604FSS03 | Refrigerator |
| Whirlpool | KRFC704FBS00 | Refrigerator |
| Whirlpool | KRFC704FBS01 | Refrigerator |
| Whirlpool | KRFC704FBS02 | Refrigerator |
| Whirlpool | KRFC704FBS03 | Refrigerator |
| Whirlpool | KRFC704FPS00 | Refrigerator |
| Whirlpool | KRFC704FPS01 | Refrigerator |
| Whirlpool | KRFC704FPS03 | Refrigerator |
| Whirlpool | KRFC704FPS04 | Refrigerator |
| Whirlpool | KRFC704FSS00 | Refrigerator |
| Whirlpool | KRFC704FSS01 | Refrigerator |
| Whirlpool | KRFC704FSS02 | Refrigerator |
| Whirlpool | KRFC704FSS03 | Refrigerator |
| Whirlpool | KRFC804GBS00 | Refrigerator |
| Whirlpool | KRFC804GPS00 | Refrigerator |
| Whirlpool | KRFC804GSS00 | Refrigerator |
| Whirlpool | KRFF300EBL00 | Refrigerator |
| Whirlpool | KRFF300EBS00 | Refrigerator |
| Whirlpool | KRFF300ESS00 | Refrigerator |
| Whirlpool | KRFF300ESS01 | Refrigerator |
| Whirlpool | KRFF300EWH00 | Refrigerator |
| Whirlpool | KRFF300EWH01 | Refrigerator |
| Whirlpool | KRFF507EBL00 | Refrigerator |
| Whirlpool | KRFF507EBL01 | Refrigerator |
| Whirlpool | KRFF507ESS00 | Refrigerator |
| Whirlpool | KRFF507ESS01 | Refrigerator |
| Whirlpool | KRFF507EWH00 | Refrigerator |
| Whirlpool | KRFF507EWH01 | Refrigerator |
| Whirlpool | KRFF507HBL00 | Refrigerator |
| Whirlpool | KRFF507HBS00 | Refrigerator |
| Whirlpool | KRFF507HBS02 | Refrigerator |
| Whirlpool | KRFF507HPS00 | Refrigerator |
| Whirlpool | KRFF507HPS01 | Refrigerator |
| Whirlpool | KRFF507HPS02 | Refrigerator |
| Whirlpool | KRFF507HWH00 | Refrigerator |
| Whirlpool | KRFF507HWH02 | Refrigerator |
| Whirlpool | KRFF707EBS00 | Refrigerator |
| Whirlpool | KRFF707ESS00 | Refrigerator |
| Whirlpool | KRFF707ESS01 | Refrigerator |
| Whirlpool | KRMF606ESS00 | Refrigerator |
| Whirlpool | KRMF606ESS01 | Refrigerator |
| Whirlpool | KRMF706EBS00 | Refrigerator |
| Whirlpool | KRMF706EBS01 | Refrigerator |
| Whirlpool | KRMF706EBS04 | Refrigerator |
| Whirlpool | KRMF706ESS00 | Refrigerator |
| Whirlpool | KRMF706ESS01 | Refrigerator |
| Whirlpool | KRMF706ESS02 | Refrigerator |
| Whirlpool | KRMF706ESS04 | Refrigerator |
| Whirlpool | KRSC500ESS00 | Refrigerator |
| Whirlpool | KRSC500ESS01 | Refrigerator |
| Whirlpool | KRSC503EBS00 | Refrigerator |
| Whirlpool | KRSC503EBS01 | Refrigerator |
| Whirlpool | KRSC503ESS00 | Refrigerator |
| Whirlpool | KRSC503ESS01 | Refrigerator |
| Whirlpool | KRSC700HBS00 | Refrigerator |
| Whirlpool | KRSC700HBS01 | Refrigerator |
| Whirlpool | KRSC700HPS00 | Refrigerator |
| Whirlpool | KRSC700HPS01 | Refrigerator |
| Whirlpool | KRSC703HBS00 | Refrigerator |
| Whirlpool | KRSC703HBS01 | Refrigerator |
| Whirlpool | KRSC703HPS00 | Refrigerator |
| Whirlpool | KRSC703HPS01 | Refrigerator |
| Whirlpool | KRSF505EBL00 | Refrigerator |
| Whirlpool | KRSF505EBL01 | Refrigerator |
| Whirlpool | KRSF505ESS00 | Refrigerator |
| Whirlpool | KRSF505ESS01 | Refrigerator |
| Whirlpool | KRSF505EWH00 | Refrigerator |
| Whirlpool | KRSF505EWH01 | Refrigerator |
| Whirlpool | KRSF705HBS00 | Refrigerator |
| Whirlpool | KRSF705HBS01 | Refrigerator |
| Whirlpool | KRSF705HPS00 | Refrigerator |
| Whirlpool | KRSF705HPS01 | Refrigerator |
| Whirlpool | KSC23C8EYB00 | Refrigerator |
| Whirlpool | KSC23C8EYB02 | Refrigerator |
| Whirlpool | KSC23C8EYW00 | Refrigerator |
| Whirlpool | KSC23C8EYW02 | Refrigerator |
| Whirlpool | KSC23C8EYY00 | Refrigerator |
| Whirlpool | KSC23C8EYY01 | Refrigerator |
| Whirlpool | KSC23C8EYY02 | Refrigerator |
| Whirlpool | KSC23C8EYY03 | Refrigerator |
| Whirlpool | KSC23C9EYB00 | Refrigerator |
| Whirlpool | KSC23C9EYB02 | Refrigerator |
| Whirlpool | KSC23C9EYW00 | Refrigerator |
| Whirlpool | KSC23C9EYW02 | Refrigerator |
| Whirlpool | KSC23C9EYY00 | Refrigerator |
| Whirlpool | KSC23C9EYY01 | Refrigerator |
| Whirlpool | KSC23C9EYY02 | Refrigerator |
| Whirlpool | KSC23W8EYB00 | Refrigerator |
| Whirlpool | KSC23W8EYW00 | Refrigerator |
| Whirlpool | KSC23W8EYY00 | Refrigerator |
| Whirlpool | KSC24C8EYB00 | Refrigerator |
| Whirlpool | KSC24C8EYB02 | Refrigerator |
| Whirlpool | KSC24C8EYP00 | Refrigerator |
| Whirlpool | KSC24C8EYP01 | Refrigerator |
| Whirlpool | KSC24C8EYP02 | Refrigerator |
| Whirlpool | KSC24C8EYP03 | Refrigerator |
| Whirlpool | KSC24C8EYP04 | Refrigerator |
| Whirlpool | KSC24C8EYW00 | Refrigerator |
| Whirlpool | KSC24C8EYW02 | Refrigerator |
| Whirlpool | KSC24C8EYY00 | Refrigerator |
| Whirlpool | KSC24C8EYY01 | Refrigerator |
| Whirlpool | KSC24C8EYY02 | Refrigerator |
| Whirlpool | KSC24C8EYY03 | Refrigerator |
| Whirlpool | KSC24C8EYY04 | Refrigerator |
| Whirlpool | KSF26C4XYB00 | Refrigerator |
| Whirlpool | KSF26C4XYB02 | Refrigerator |
| Whirlpool | KSF26C4XYB03 | Refrigerator |
| Whirlpool | KSF26C4XYW00 | Refrigerator |
| Whirlpool | KSF26C4XYW02 | Refrigerator |
| Whirlpool | KSF26C4XYW03 | Refrigerator |
| Whirlpool | KSF26C4XYY00 | Refrigerator |
| Whirlpool | KSF26C4XYY01 | Refrigerator |
| Whirlpool | KSF26C4XYY02 | Refrigerator |
| Whirlpool | KSF26C4XYY03 | Refrigerator |
| Whirlpool | KSF26C4XYY04 | Refrigerator |
| Whirlpool | KSF26C6XYY00 | Refrigerator |
| Whirlpool | KSF26C6XYY02 | Refrigerator |
| Whirlpool | KSF26C6XYY03 | Refrigerator |
| Whirlpool | KSF26C6XYY04 | Refrigerator |
| Whirlpool | KSF26C6XYY05 | Refrigerator |
| Whirlpool | KSF26C7XYY00 | Refrigerator |
| Whirlpool | KSF26C7XYY02 | Refrigerator |
| Whirlpool | KSF26C7XYY03 | Refrigerator |
| Whirlpool | KSF26C7XYY04 | Refrigerator |
| Whirlpool | KSO24C8EYB00 | Refrigerator |
| Whirlpool | KSO24C8EYW00 | Refrigerator |
| Whirlpool | M1BXXGMYB00 | Refrigerator |
| Whirlpool | M1BXXGMYM00 | Refrigerator |
| Whirlpool | M1BXXGMYW00 | Refrigerator |
| Whirlpool | M1BXXLZYB00 | Refrigerator |
| Whirlpool | M1BXXLZYM00 | Refrigerator |
| Whirlpool | M1BXXLZYW00 | Refrigerator |
| Whirlpool | M9BXXGMYB00 | Refrigerator |
| Whirlpool | M9BXXGMYM00 | Refrigerator |
| Whirlpool | M9BXXGMYW00 | Refrigerator |
| Whirlpool | M9RXDGFYB10 | Refrigerator |
| Whirlpool | M9RXDGFYM10 | Refrigerator |
| Whirlpool | M9RXDGFYM11 | Refrigerator |
| Whirlpool | M9RXDGFYW10 | Refrigerator |
| Whirlpool | M9RXDGFYW11 | Refrigerator |
| Whirlpool | MFB2055DRE00 | Refrigerator |
| Whirlpool | MFB2055DRE01 | Refrigerator |
| Whirlpool | MFB2055DRH00 | Refrigerator |
| Whirlpool | MFB2055DRH01 | Refrigerator |
| Whirlpool | MFB2055DRM00 | Refrigerator |
| Whirlpool | MFB2055DRM01 | Refrigerator |
| Whirlpool | MFB2055FRW00 | Refrigerator |
| Whirlpool | MFB2055FRZ00 | Refrigerator |
| Whirlpool | MFB2055YEB00 | Refrigerator |
| Whirlpool | MFB2055YEB01 | Refrigerator |
| Whirlpool | MFB2055YEB02 | Refrigerator |
| Whirlpool | MFB2055YEM00 | Refrigerator |
| Whirlpool | MFB2055YEM01 | Refrigerator |
| Whirlpool | MFB2055YEM02 | Refrigerator |
| Whirlpool | MFB2055YEW00 | Refrigerator |
| Whirlpool | MFB2055YEW01 | Refrigerator |
| Whirlpool | MFB2055YEW02 | Refrigerator |
| Whirlpool | MFF2055DRE00 | Refrigerator |
| Whirlpool | MFF2055DRE01 | Refrigerator |
| Whirlpool | MFF2055DRH00 | Refrigerator |
| Whirlpool | MFF2055DRH01 | Refrigerator |
| Whirlpool | MFF2055DRM00 | Refrigerator |
| Whirlpool | MFF2055DRM01 | Refrigerator |
| Whirlpool | MFF2055FRB00 | Refrigerator |
| Whirlpool | MFF2055FRW00 | Refrigerator |
| Whirlpool | MFF2055FRZ00 | Refrigerator |
| Whirlpool | MFF2055YEB00 | Refrigerator |
| Whirlpool | MFF2055YEB01 | Refrigerator |
| Whirlpool | MFF2055YEB02 | Refrigerator |
| Whirlpool | MFF2055YEM00 | Refrigerator |
| Whirlpool | MFF2055YEM01 | Refrigerator |
| Whirlpool | MFF2055YEM02 | Refrigerator |
| Whirlpool | MFF2055YEW00 | Refrigerator |
| Whirlpool | MFF2055YEW01 | Refrigerator |
| Whirlpool | MFF2055YEW02 | Refrigerator |
| Whirlpool | MFT2574DEE00 | Refrigerator |
| Whirlpool | MFT2574DEE01 | Refrigerator |
| Whirlpool | MFT2574DEE02 | Refrigerator |
| Whirlpool | MFT2574DEH00 | Refrigerator |
| Whirlpool | MFT2574DEH01 | Refrigerator |
| Whirlpool | MFT2574DEH02 | Refrigerator |
| Whirlpool | MFT2574DEM00 | Refrigerator |
| Whirlpool | MFT2574DEM01 | Refrigerator |
| Whirlpool | MFT2574DEM02 | Refrigerator |
| Whirlpool | MFT2672AEB10 | Refrigerator |
| Whirlpool | MFT2672AEB11 | Refrigerator |
| Whirlpool | MFT2672AEB12 | Refrigerator |
| Whirlpool | MFT2672AEM10 | Refrigerator |
| Whirlpool | MFT2672AEM11 | Refrigerator |
| Whirlpool | MFT2672AEM12 | Refrigerator |
| Whirlpool | MFT2672AEW10 | Refrigerator |
| Whirlpool | MFT2672AEW11 | Refrigerator |
| Whirlpool | MFT2672AEW12 | Refrigerator |
| Whirlpool | MFT2673BEB10 | Refrigerator |
| Whirlpool | MFT2673BEB11 | Refrigerator |
| Whirlpool | MFT2673BEB12 | Refrigerator |
| Whirlpool | MFT2673BEM10 | Refrigerator |
| Whirlpool | MFT2673BEM11 | Refrigerator |
| Whirlpool | MFT2673BEM12 | Refrigerator |
| Whirlpool | MFT2673BEW10 | Refrigerator |
| Whirlpool | MFT2673BEW11 | Refrigerator |
| Whirlpool | MFT2673BEW12 | Refrigerator |
| Whirlpool | MFT2772HEZ00 | Refrigerator |
| Whirlpool | MFT2772HEZ01 | Refrigerator |
| Whirlpool | MFT2772HEZ02 | Refrigerator |
| Whirlpool | MFT2776DEE00 | Refrigerator |
| Whirlpool | MFT2776DEE02 | Refrigerator |
| Whirlpool | MFT2776DEH00 | Refrigerator |
| Whirlpool | MFT2776DEH02 | Refrigerator |
| Whirlpool | MFT2776DEM00 | Refrigerator |
| Whirlpool | MFT2776DEM01 | Refrigerator |
| Whirlpool | MFT2776DEM02 | Refrigerator |
| Whirlpool | MFT2776FEZ00 | Refrigerator |
| Whirlpool | MFT2776FEZ01 | Refrigerator |
| Whirlpool | MFT2778EEZ00 | Refrigerator |
| Whirlpool | MFT2778EEZ01 | Refrigerator |
| Whirlpool | MFT2976AEB00 | Refrigerator |
| Whirlpool | MFT2976AEB01 | Refrigerator |
| Whirlpool | MFT2976AEB02 | Refrigerator |
| Whirlpool | MFT2976AEB03 | Refrigerator |
| Whirlpool | MFT2976AEM00 | Refrigerator |
| Whirlpool | MFT2976AEM01 | Refrigerator |
| Whirlpool | MFT2976AEM02 | Refrigerator |
| Whirlpool | MFT2976AEM03 | Refrigerator |
| Whirlpool | MFT2976AEW00 | Refrigerator |
| Whirlpool | MFT2976AEW01 | Refrigerator |
| Whirlpool | MFT2976AEW02 | Refrigerator |
| Whirlpool | MFT2976AEW03 | Refrigerator |
| Whirlpool | MFW2055DRE00 | Refrigerator |
| Whirlpool | MFW2055DRE01 | Refrigerator |
| Whirlpool | MFW2055DRH00 | Refrigerator |
| Whirlpool | MFW2055DRH01 | Refrigerator |
| Whirlpool | MFW2055DRM00 | Refrigerator |
| Whirlpool | MFW2055DRM01 | Refrigerator |
| Whirlpool | MFW2055FRH00 | Refrigerator |
| Whirlpool | MFW2055FRZ00 | Refrigerator |
| Whirlpool | MFW2055YEB00 | Refrigerator |
| Whirlpool | MFW2055YEB01 | Refrigerator |
| Whirlpool | MFW2055YEB02 | Refrigerator |
| Whirlpool | MFW2055YEM00 | Refrigerator |
| Whirlpool | MFW2055YEM01 | Refrigerator |
| Whirlpool | MFW2055YEM02 | Refrigerator |
| Whirlpool | MFW2055YEW00 | Refrigerator |
| Whirlpool | MFW2055YEW01 | Refrigerator |
| Whirlpool | MFW2055YEW02 | Refrigerator |
| Whirlpool | MFX2676FRZ00 | Refrigerator |
| Whirlpool | MFX2876DRE00 | Refrigerator |
| Whirlpool | MFX2876DRE01 | Refrigerator |
| Whirlpool | MFX2876DRE02 | Refrigerator |
| Whirlpool | MFX2876DRH00 | Refrigerator |
| Whirlpool | MFX2876DRH01 | Refrigerator |
| Whirlpool | MFX2876DRH02 | Refrigerator |
| Whirlpool | MFX2876DRM00 | Refrigerator |
| Whirlpool | MFX2876DRM01 | Refrigerator |
| Whirlpool | MFX2876DRM02 | Refrigerator |
| Whirlpool | MRT711BZDE00 | Refrigerator |
| Whirlpool | MRT711BZDH00 | Refrigerator |
| Whirlpool | MRT711BZDM00 | Refrigerator |
| Whirlpool | MRT711SMFB00 | Refrigerator |
| Whirlpool | MRT711SMFW00 | Refrigerator |
| Whirlpool | MRT711SMFZ00 | Refrigerator |
| Whirlpool | MSB26C4XYB00 | Refrigerator |
| Whirlpool | MSB26C4XYM00 | Refrigerator |
| Whirlpool | MSB26C4XYW00 | Refrigerator |
| Whirlpool | MSB27C2XAB00 | Refrigerator |
| Whirlpool | MSB27C2XAM00 | Refrigerator |
| Whirlpool | MSB27C2XAW00 | Refrigerator |
| Whirlpool | MSC21C6MFZ00 | Refrigerator |
| Whirlpool | MSS26C6MEZ00 | Refrigerator |
| Whirlpool | MSS26C6MFB01 | Refrigerator |
| Whirlpool | MSS26C6MFW01 | Refrigerator |
| Whirlpool | MSS26C6MFZ01 | Refrigerator |
| Whirlpool | W8CRNGMXD00 | Refrigerator |
| Whirlpool | W8CRNGMXQ00 | Refrigerator |
| Whirlpool | WRF560SEHB00 | Refrigerator |
| Whirlpool | WRF560SEHV00 | Refrigerator |
| Whirlpool | WRF560SEHW00 | Refrigerator |
| Whirlpool | WRF560SEHZ00 | Refrigerator |
| Whirlpool | WRF560SEYB00 | Refrigerator |
| Whirlpool | WRF560SEYB01 | Refrigerator |
| Whirlpool | WRF560SEYB02 | Refrigerator |
| Whirlpool | WRF560SEYB04 | Refrigerator |
| Whirlpool | WRF560SEYB05 | Refrigerator |
| Whirlpool | WRF560SEYM00 | Refrigerator |
| Whirlpool | WRF560SEYM01 | Refrigerator |
| Whirlpool | WRF560SEYM02 | Refrigerator |
| Whirlpool | WRF560SEYM04 | Refrigerator |
| Whirlpool | WRF560SEYM05 | Refrigerator |
| Whirlpool | WRF560SEYW00 | Refrigerator |
| Whirlpool | WRF560SEYW01 | Refrigerator |
| Whirlpool | WRF560SEYW02 | Refrigerator |
| Whirlpool | WRF560SEYW04 | Refrigerator |
| Whirlpool | WRF560SEYW05 | Refrigerator |
| Whirlpool | WRF560SFHB00 | Refrigerator |
| Whirlpool | WRF560SFHV00 | Refrigerator |
| Whirlpool | WRF560SFHW00 | Refrigerator |
| Whirlpool | WRF560SFHZ00 | Refrigerator |
| Whirlpool | WRF560SFYB00 | Refrigerator |
| Whirlpool | WRF560SFYB01 | Refrigerator |
| Whirlpool | WRF560SFYB02 | Refrigerator |
| Whirlpool | WRF560SFYB04 | Refrigerator |
| Whirlpool | WRF560SFYB05 | Refrigerator |
| Whirlpool | WRF560SFYE00 | Refrigerator |
| Whirlpool | WRF560SFYE02 | Refrigerator |
| Whirlpool | WRF560SFYE03 | Refrigerator |
| Whirlpool | WRF560SFYH01 | Refrigerator |
| Whirlpool | WRF560SFYH02 | Refrigerator |
| Whirlpool | WRF560SFYH03 | Refrigerator |
| Whirlpool | WRF560SFYH04 | Refrigerator |
| Whirlpool | WRF560SFYM00 | Refrigerator |
| Whirlpool | WRF560SFYM01 | Refrigerator |
| Whirlpool | WRF560SFYM02 | Refrigerator |
| Whirlpool | WRF560SFYM04 | Refrigerator |
| Whirlpool | WRF560SFYM05 | Refrigerator |
| Whirlpool | WRF560SFYW00 | Refrigerator |
| Whirlpool | WRF560SFYW01 | Refrigerator |
| Whirlpool | WRF560SFYW02 | Refrigerator |
| Whirlpool | WRF560SFYW04 | Refrigerator |
| Whirlpool | WRF560SFYW05 | Refrigerator |
| Whirlpool | WRF560SMHB00 | Refrigerator |
| Whirlpool | WRF560SMHM00 | Refrigerator |
| Whirlpool | WRF560SMHV00 | Refrigerator |
| Whirlpool | WRF560SMHW00 | Refrigerator |
| Whirlpool | WRF560SMHZ00 | Refrigerator |
| Whirlpool | WRF560SMYB00 | Refrigerator |
| Whirlpool | WRF560SMYB01 | Refrigerator |
| Whirlpool | WRF560SMYB02 | Refrigerator |
| Whirlpool | WRF560SMYB04 | Refrigerator |
| Whirlpool | WRF560SMYB05 | Refrigerator |
| Whirlpool | WRF560SMYE00 | Refrigerator |
| Whirlpool | WRF560SMYE01 | Refrigerator |
| Whirlpool | WRF560SMYE02 | Refrigerator |
| Whirlpool | WRF560SMYE03 | Refrigerator |
| Whirlpool | WRF560SMYE04 | Refrigerator |
| Whirlpool | WRF560SMYH00 | Refrigerator |
| Whirlpool | WRF560SMYH01 | Refrigerator |
| Whirlpool | WRF560SMYH02 | Refrigerator |
| Whirlpool | WRF560SMYH03 | Refrigerator |
| Whirlpool | WRF560SMYH04 | Refrigerator |
| Whirlpool | WRF560SMYM00 | Refrigerator |
| Whirlpool | WRF560SMYM01 | Refrigerator |
| Whirlpool | WRF560SMYM02 | Refrigerator |
| Whirlpool | WRF560SMYM04 | Refrigerator |
| Whirlpool | WRF560SMYM05 | Refrigerator |
| Whirlpool | WRF560SMYW00 | Refrigerator |
| Whirlpool | WRF560SMYW01 | Refrigerator |
| Whirlpool | WRF560SMYW02 | Refrigerator |
| Whirlpool | WRF560SMYW04 | Refrigerator |
| Whirlpool | WRF560SMYW05 | Refrigerator |
| Whirlpool | WRF736SDAB00 | Refrigerator |
| Whirlpool | WRF736SDAB10 | Refrigerator |
| Whirlpool | WRF736SDAB11 | Refrigerator |
| Whirlpool | WRF736SDAB12 | Refrigerator |
| Whirlpool | WRF736SDAB13 | Refrigerator |
| Whirlpool | WRF736SDAB14 | Refrigerator |
| Whirlpool | WRF736SDAF00 | Refrigerator |
| Whirlpool | WRF736SDAF10 | Refrigerator |
| Whirlpool | WRF736SDAF12 | Refrigerator |
| Whirlpool | WRF736SDAM00 | Refrigerator |
| Whirlpool | WRF736SDAM10 | Refrigerator |
| Whirlpool | WRF736SDAM11 | Refrigerator |
| Whirlpool | WRF736SDAM12 | Refrigerator |
| Whirlpool | WRF736SDAM13 | Refrigerator |
| Whirlpool | WRF736SDAM14 | Refrigerator |
| Whirlpool | WRF736SDAT00 | Refrigerator |
| Whirlpool | WRF736SDAT10 | Refrigerator |
| Whirlpool | WRF736SDAW00 | Refrigerator |
| Whirlpool | WRF736SDAW10 | Refrigerator |
| Whirlpool | WRF736SDAW11 | Refrigerator |
| Whirlpool | WRF736SDAW12 | Refrigerator |
| Whirlpool | WRF736SDAW13 | Refrigerator |
| Whirlpool | WRF736SDAW14 | Refrigerator |
| Whirlpool | WRF757SDEE00 | Refrigerator |
| Whirlpool | WRF757SDEE01 | Refrigerator |
| Whirlpool | WRF757SDEH00 | Refrigerator |
| Whirlpool | WRF757SDEH01 | Refrigerator |
| Whirlpool | WRF757SDEM00 | Refrigerator |
| Whirlpool | WRF757SDEM01 | Refrigerator |
| Whirlpool | WRF757SDHV00 | Refrigerator |
| Whirlpool | WRF757SDHV02 | Refrigerator |
| Whirlpool | WRF757SDHZ00 | Refrigerator |
| Whirlpool | WRF757SDHZ01 | Refrigerator |
| Whirlpool | WRF757SDHZ02 | Refrigerator |
| Whirlpool | WRF767SDEM00 | Refrigerator |
| Whirlpool | WRF767SDEM01 | Refrigerator |
| Whirlpool | WRF767SDHV00 | Refrigerator |
| Whirlpool | WRF767SDHV02 | Refrigerator |
| Whirlpool | WRF767SDHZ00 | Refrigerator |
| Whirlpool | WRF767SDHZ01 | Refrigerator |
| Whirlpool | WRF767SDHZ02 | Refrigerator |
| Whirlpool | WRF954CIHB00 | Refrigerator |
| Whirlpool | WRF954CIHB01 | Refrigerator |
| Whirlpool | WRF954CIHB02 | Refrigerator |
| Whirlpool | WRF954CIHM00 | Refrigerator |
| Whirlpool | WRF954CIHV00 | Refrigerator |
| Whirlpool | WRF954CIHV01 | Refrigerator |
| Whirlpool | WRF954CIHW00 | Refrigerator |
| Whirlpool | WRF954CIHW01 | Refrigerator |
| Whirlpool | WRF954CIHW02 | Refrigerator |
| Whirlpool | WRF954CIHZ00 | Refrigerator |
| Whirlpool | WRF954CIHZ01 | Refrigerator |
| Whirlpool | WRF954CIHZ02 | Refrigerator |
| Whirlpool | WRF954CIHZ03 | Refrigerator |
| Whirlpool | WRF964CIHM00 | Refrigerator |
| Whirlpool | WRF964CIHV00 | Refrigerator |
| Whirlpool | WRF974CIHV00 | Refrigerator |
| Whirlpool | WRF974CIHZ00 | Refrigerator |
| Whirlpool | WRF989SDAB00 | Refrigerator |
| Whirlpool | WRF989SDAB01 | Refrigerator |
| Whirlpool | WRF989SDAB02 | Refrigerator |
| Whirlpool | WRF989SDAB03 | Refrigerator |
| Whirlpool | WRF989SDAE00 | Refrigerator |
| Whirlpool | WRF989SDAE01 | Refrigerator |
| Whirlpool | WRF989SDAE02 | Refrigerator |
| Whirlpool | WRF989SDAE03 | Refrigerator |
| Whirlpool | WRF989SDAF00 | Refrigerator |
| Whirlpool | WRF989SDAF01 | Refrigerator |
| Whirlpool | WRF989SDAF02 | Refrigerator |
| Whirlpool | WRF989SDAF03 | Refrigerator |
| Whirlpool | WRF989SDAH00 | Refrigerator |
| Whirlpool | WRF989SDAH01 | Refrigerator |
| Whirlpool | WRF989SDAH02 | Refrigerator |
| Whirlpool | WRF989SDAH03 | Refrigerator |
| Whirlpool | WRF989SDAM00 | Refrigerator |
| Whirlpool | WRF989SDAM01 | Refrigerator |
| Whirlpool | WRF989SDAM02 | Refrigerator |
| Whirlpool | WRF989SDAM03 | Refrigerator |
| Whirlpool | WRF989SDAW00 | Refrigerator |
| Whirlpool | WRF989SDAW01 | Refrigerator |
| Whirlpool | WRF989SDAW02 | Refrigerator |
| Whirlpool | WRF989SDAW03 | Refrigerator |
| Whirlpool | WRF990SLAB00 | Refrigerator |
| Whirlpool | WRF990SLAM00 | Refrigerator |
| Whirlpool | WRF990SLAM01 | Refrigerator |
| Whirlpool | WRF990SLAM02 | Refrigerator |
| Whirlpool | WRF990SLAM03 | Refrigerator |
| Whirlpool | WRF990SLAW00 | Refrigerator |
| Whirlpool | WRF991BOOM00 | Refrigerator |
| Whirlpool | WRF991BOOM01 | Refrigerator |
| Whirlpool | WRF992FIFE00 | Refrigerator |
| Whirlpool | WRF992FIFH00 | Refrigerator |
| Whirlpool | WRF992FIFM00 | Refrigerator |
| Whirlpool | WRF993FIFM00 | Refrigerator |
| Whirlpool | WRF995FIFZ00 | Refrigerator |
| Whirlpool | WRF997SDDM00 | Refrigerator |
| Whirlpool | WRF997SDDM02 | Refrigerator |
| Whirlpool | WRFA60SFHN00 | Refrigerator |
| Whirlpool | WRFA60SFHZ00 | Refrigerator |
| Whirlpool | WRFA60SMHN00 | Refrigerator |
| Whirlpool | WRFA60SMHZ00 | Refrigerator |
| Whirlpool | WRL767SIAM00 | Refrigerator |
| Whirlpool | WRS321CDBM00 | Refrigerator |
| Whirlpool | WRS526SIAE00 | Refrigerator |
| Whirlpool | WRS526SIAH00 | Refrigerator |
| Whirlpool | WRS537SIAB00 | Refrigerator |
| Whirlpool | WRS537SIAF00 | Refrigerator |
| Whirlpool | WRS537SIAM00 | Refrigerator |
| Whirlpool | WRS537SIAM01 | Refrigerator |
| Whirlpool | WRS537SIAW00 | Refrigerator |
| Whirlpool | WRS950SIAB00 | Refrigerator |
| Whirlpool | WRS950SIAE00 | Refrigerator |
| Whirlpool | WRS950SIAH00 | Refrigerator |
| Whirlpool | WRS950SIAM00 | Refrigerator |
| Whirlpool | WRS950SIAM01 | Refrigerator |
| Whirlpool | WRS950SIAW00 | Refrigerator |
| Whirlpool | WRS965CIAE00 | Refrigerator |
| Whirlpool | WRS965CIAH00 | Refrigerator |
| Whirlpool | WRS965CIAM00 | Refrigerator |
| Whirlpool | WRS965CIAM01 | Refrigerator |
| Whirlpool | WRS970CIDE00 | Refrigerator |
| Whirlpool | WRS970CIDE01 | Refrigerator |
| Whirlpool | WRS970CIDH00 | Refrigerator |
| Whirlpool | WRS970CIDH01 | Refrigerator |
| Whirlpool | WRS970CIDM00 | Refrigerator |
| Whirlpool | WRS970CIDM01 | Refrigerator |
| Whirlpool | WRS970CIHZ00 | Refrigerator |
| Whirlpool | WRS970CIHZ01 | Refrigerator |
| Whirlpool | WRS973CIDM00 | Refrigerator |
| Whirlpool | WRS973CIHV00 | Refrigerator |
| Whirlpool | WRS973CIHV01 | Refrigerator |
| Whirlpool | WRS973CIHZ00 | Refrigerator |
| Whirlpool | WRS973CIHZ01 | Refrigerator |
| Whirlpool | WRS975SIDM00 | Refrigerator |
| Whirlpool | WRT571SMYB00 | Refrigerator |
| Whirlpool | WRT571SMYF00 | Refrigerator |
| Whirlpool | WRT571SMYM00 | Refrigerator |
| Whirlpool | WRT571SMYW00 | Refrigerator |
| Whirlpool | WRT579SMYB00 | Refrigerator |
| Whirlpool | WRT579SMYB01 | Refrigerator |
| Whirlpool | WRT579SMYF00 | Refrigerator |
| Whirlpool | WRT579SMYF01 | Refrigerator |
| Whirlpool | WRT579SMYM00 | Refrigerator |
| Whirlpool | WRT579SMYM01 | Refrigerator |
| Whirlpool | WRT579SMYW00 | Refrigerator |
| Whirlpool | WRT579SMYW01 | Refrigerator |
| Whirlpool | WRT5L1SMYB00 | Refrigerator |
| Whirlpool | WRT5L1SMYF00 | Refrigerator |
| Whirlpool | WRT5L1SMYW00 | Refrigerator |
| Whirlpool | WRT771REYB00 | Refrigerator |
| Whirlpool | WRT771REYM00 | Refrigerator |
| Whirlpool | WRT771REYW00 | Refrigerator |
| Whirlpool | WRT771RWYB00 | Refrigerator |
| Whirlpool | WRT771RWYB01 | Refrigerator |
| Whirlpool | WRT771RWYM00 | Refrigerator |
| Whirlpool | WRT771RWYM01 | Refrigerator |
| Whirlpool | WRT771RWYW00 | Refrigerator |
| Whirlpool | WRT771RWYW01 | Refrigerator |
| Whirlpool | WRT779REYB00 | Refrigerator |
| Whirlpool | WRT779REYB01 | Refrigerator |
| Whirlpool | WRT779REYM00 | Refrigerator |
| Whirlpool | WRT779REYM01 | Refrigerator |
| Whirlpool | WRT779REYW00 | Refrigerator |
| Whirlpool | WRT779REYW01 | Refrigerator |
| Whirlpool | WRT779RFYB00 | Refrigerator |
| Whirlpool | WRT779RFYB10 | Refrigerator |
| Whirlpool | WRT779RFYM00 | Refrigerator |
| Whirlpool | WRT779RFYM10 | Refrigerator |
| Whirlpool | WRT779RFYW00 | Refrigerator |
| Whirlpool | WRT779RFYW10 | Refrigerator |
| Whirlpool | WRT779RWYB00 | Refrigerator |
| Whirlpool | WRT779RWYM00 | Refrigerator |
| Whirlpool | WRT779RWYW00 | Refrigerator |
| Whirlpool | WRV976FDEM00 | Refrigerator |
| Whirlpool | WRV986FDEM00 | Refrigerator |
| Whirlpool | WRV986FDEM01 | Refrigerator |
| Whirlpool | WRV996FDEE00 | Refrigerator |
| Whirlpool | WRV996FDEE01 | Refrigerator |
| Whirlpool | WRV996FDEE02 | Refrigerator |
| Whirlpool | WRV996FDEH00 | Refrigerator |
| Whirlpool | WRV996FDEH01 | Refrigerator |
| Whirlpool | WRV996FDEM00 | Refrigerator |
| Whirlpool | WRV996FDEM01 | Refrigerator |
| Whirlpool | WRX986SIHV00 | Refrigerator |
| Whirlpool | WRX986SIHV02 | Refrigerator |
| Whirlpool | WRX986SIHZ00 | Refrigerator |
| Whirlpool | WRX986SIHZ01 | Refrigerator |
| Whirlpool | WRX986SIHZ02 | Refrigerator |
| Whirlpool | WRX988SIBB00 | Refrigerator |
| Whirlpool | WRX988SIBB01 | Refrigerator |
| Whirlpool | WRX988SIBE00 | Refrigerator |
| Whirlpool | WRX988SIBE01 | Refrigerator |
| Whirlpool | WRX988SIBE02 | Refrigerator |
| Whirlpool | WRX988SIBE03 | Refrigerator |
| Whirlpool | WRX988SIBH00 | Refrigerator |
| Whirlpool | WRX988SIBH01 | Refrigerator |
| Whirlpool | WRX988SIBH02 | Refrigerator |
| Whirlpool | WRX988SIBH03 | Refrigerator |
| Whirlpool | WRX988SIBM00 | Refrigerator |
| Whirlpool | WRX988SIBM01 | Refrigerator |
| Whirlpool | WRX988SIBM02 | Refrigerator |
| Whirlpool | WRX988SIBM03 | Refrigerator |
| Whirlpool | WRX988SIBW00 | Refrigerator |
| Whirlpool | WRX988SIBW01 | Refrigerator |
| Whirlpool | WSF26C2EXB01 | Refrigerator |
| Whirlpool | WSF26C2EXF01 | Refrigerator |
| Whirlpool | WSF26C2EXW01 | Refrigerator |
| Whirlpool | WSF26C2EXY01 | Refrigerator |
| Whirlpool | WSF26C2EXY02 | Refrigerator |
| Whirlpool | WSF26C3EXB01 | Refrigerator |
| Whirlpool | WSF26C3EXF01 | Refrigerator |
| Whirlpool | WSF26C3EXW01 | Refrigerator |
| Whirlpool | WSF26C3EXY01 | Refrigerator |
| Whirlpool | WSF26D2EXB01 | Refrigerator |
| Whirlpool | WSF26D2EXF01 | Refrigerator |
| Whirlpool | WSF26D2EXS02 | Refrigerator |
| Whirlpool | WSF26D2EXW01 | Refrigerator |
| Whirlpool | WSF26D2EXY01 | Refrigerator |
| Whirlpool | WSF26D2EXY02 | Refrigerator |
| Whirlpool | WSF26D3EXA00 | Refrigerator |
| Whirlpool | WSF26D3EXB00 | Refrigerator |
| Whirlpool | WSF26D3EXL00 | Refrigerator |
| Whirlpool | WSF26D3EXS00 | Refrigerator |
| Whirlpool | WSF26D3EXT00 | Refrigerator |
| Whirlpool | WSF26D3EXW00 | Refrigerator |
| Whirlpool | WSF26D3EXY00 | Refrigerator |
| Whirlpool | WSF26D4EXA00 | Refrigerator |
| Whirlpool | WSF26D4EXA02 | Refrigerator |
| Whirlpool | WSF26D4EXB00 | Refrigerator |
| Whirlpool | WSF26D4EXB02 | Refrigerator |
| Whirlpool | WSF26D4EXL00 | Refrigerator |
| Whirlpool | WSF26D4EXL02 | Refrigerator |
| Whirlpool | WSF26D4EXS00 | Refrigerator |
| Whirlpool | WSF26D4EXS02 | Refrigerator |
| Whirlpool | WSF26D4EXS03 | Refrigerator |
| Whirlpool | WSF26D4EXW00 | Refrigerator |
| Whirlpool | WSF26D4EXW02 | Refrigerator |
| Whirlpool | WSF26D4EXY00 | Refrigerator |
| Whirlpool | WSF26D4EXY02 | Refrigerator |
| Whirlpool | WSF26D5EXA00 | Refrigerator |
| Whirlpool | WSF26D5EXB00 | Refrigerator |
| Whirlpool | WSF26D5EXL00 | Refrigerator |
| Whirlpool | WSF26D5EXS00 | Refrigerator |
| Whirlpool | WSF26D5EXW00 | Refrigerator |
| Whirlpool | WSF26D5EXY00 | Refrigerator |
Replaces These Filters:
Other:
1876318
2319308
AH2580853
AP4538127
EA258053
PS258053
PartSelect:
PS2580853
Whirlpool:
2319308
AIR1
W10311524
W10315189
W10335147
W10335147A