American Metal RHF0519 | Our#: 172209
Aluminum Range Hood Filter - 5-7/8" X 7-7/8" X 3/32" Pull Tab, Center - Short Side

13 review(s)
American Metal RHF0519 | Our#: 172209
Free Shipping & Returns
100% Compatibility Guarantee
Aluminum Range Hood Filter - 5-7/8" X 7-7/8" X 3/32" Pull Tab, Center - Short Side
3 people in your area recently purchased this product!
$

8.55
(

2

Filters for $

17.09

)
In Stock
Est. to ship Monday, Aug. 17th
Free Shipping & Returns
100% Compatibility Guarantee
Frequently Purchased Together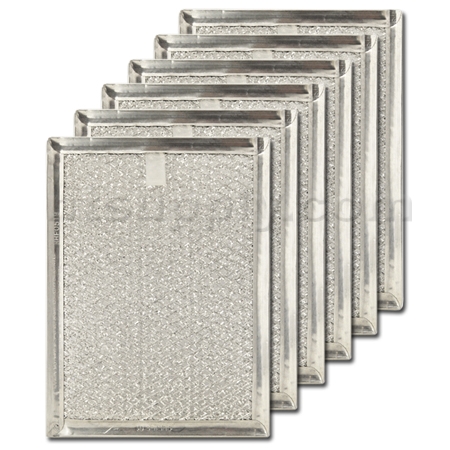 Product Details
Aluminum Range Hood Filter - 5-7/8" X 7-7/8" X 3/32" Pull Tab, Center - Short Side

PART CROSS REFERENCE:


SHARP PFIL-B002MREO

Attributes:
Contains an aluminum foil pad between two pieces of expanded aluminum.

Usage:
This washable aluminum filter is used in ducted and ductless range hoods and microwave ovens to remove grease from the air.

Maintenance:
We recommend that the filter be washed as often as required to prevent grease build up and a resultant decrease in air flow. Soak in a solution of hot water and degreaser for 10-20 minutes. Agitate gently to remove loosened grease. A residue of grease on the filter after washing is acceptable as this helps retain grease.
---
Filter is compatible with the following brand models & types:
Is your filter in the list? Search to find out.
| Brand Name | Model Number | Type |
| --- | --- | --- |
| ELECTROLUX | 5303319568 | FILTER |
| ELECTROLUX | 5304440336 | FILTER |
| ELECTROLUX | EI30BM55HBA | MICROWAVE OVEN |
| ELECTROLUX | EI30BM55HBB | MICROWAVE OVEN |
| ELECTROLUX | EI30BM55HBC | MICROWAVE OVEN |
| ELECTROLUX | EI30BM55HSA | MICROWAVE OVEN |
| ELECTROLUX | EI30BM55HSB | MICROWAVE OVEN |
| ELECTROLUX | EI30BM55HSC | MICROWAVE OVEN |
| ELECTROLUX | EI30BM55HWA | MICROWAVE OVEN |
| ELECTROLUX | EI30BM55HWB | MICROWAVE OVEN |
| ELECTROLUX | EI30BM55HWC | MICROWAVE OVEN |
| ELECTROLUX | EI30BM55HZA | MICROWAVE OVEN |
| ELECTROLUX | EI30BM55HZB | MICROWAVE OVEN |
| ELECTROLUX | EI30BM55HZC | MICROWAVE OVEN |
| ELECTROLUX | EI30BM5CHBB | MICROWAVE OVEN |
| ELECTROLUX | EI30BM5CHBC | MICROWAVE OVEN |
| ELECTROLUX | EI30BM5CHSB | MICROWAVE OVEN |
| ELECTROLUX | EI30BM5CHSC | MICROWAVE OVEN |
| ELECTROLUX | EI30BM5CHWB | MICROWAVE OVEN |
| ELECTROLUX | EI30BM5CHWC | MICROWAVE OVEN |
| ELECTROLUX | EI30BM5CHZB | MICROWAVE OVEN |
| ELECTROLUX | EI30BM5CHZC | MICROWAVE OVEN |
| ELECTROLUX | EI30SM55JBA | MICROWAVE OVEN |
| ELECTROLUX | EI30SM55JBC | MICROWAVE OVEN |
| ELECTROLUX | EI30SM55JSA | MICROWAVE OVEN |
| ELECTROLUX | EI30SM55JSC | MICROWAVE OVEN |
| ELECTROLUX | EI30SM55JWA | MICROWAVE OVEN |
| ELECTROLUX | EI30SM55JWC | MICROWAVE OVEN |
| FRIGIDAIRE | CFMV156DBC | MICROWAVE OVEN |
| FRIGIDAIRE | CFMV156DBD | MICROWAVE OVEN |
| FRIGIDAIRE | CFMV156DBE | MICROWAVE OVEN |
| FRIGIDAIRE | CFMV156DCB | MICROWAVE OVEN |
| FRIGIDAIRE | CFMV156DCD | MICROWAVE OVEN |
| FRIGIDAIRE | CFMV156DCE | MICROWAVE OVEN |
| FRIGIDAIRE | CFMV156DCF | MICROWAVE OVEN |
| FRIGIDAIRE | CFMV156DSC | MICROWAVE OVEN |
| FRIGIDAIRE | CFMV156DSD | MICROWAVE OVEN |
| FRIGIDAIRE | CFMV156DSE | MICROWAVE OVEN |
| FRIGIDAIRE | CFMV156FMA | MICROWAVE OVEN |
| FRIGIDAIRE | CFMV156FMB | MICROWAVE OVEN |
| FRIGIDAIRE | CFMV156FMC | MICROWAVE OVEN |
| FRIGIDAIRE | CGBM185KBA | MICROWAVE OVEN |
| FRIGIDAIRE | CGBM185KBB | MICROWAVE OVEN |
| FRIGIDAIRE | CGBM185KFA | MICROWAVE OVEN |
| FRIGIDAIRE | CGBM185KFB | MICROWAVE OVEN |
| FRIGIDAIRE | CGBM185KWA | MICROWAVE OVEN |
| FRIGIDAIRE | CGBM185KWB | MICROWAVE OVEN |
| FRIGIDAIRE | CGBM187KBA | MICROWAVE OVEN |
| FRIGIDAIRE | CGBM187KBB | MICROWAVE OVEN |
| FRIGIDAIRE | CGBM187KWA | MICROWAVE OVEN |
| FRIGIDAIRE | CGBM187KWB | MICROWAVE OVEN |
| FRIGIDAIRE | CGLMV169DBB | MICROWAVE OVEN |
| FRIGIDAIRE | CGLMV169DBC | MICROWAVE OVEN |
| FRIGIDAIRE | CGLMV169DQB | MICROWAVE OVEN |
| FRIGIDAIRE | CGLMV169DQC | MICROWAVE OVEN |
| FRIGIDAIRE | CGLMV169DSB | MICROWAVE OVEN |
| FRIGIDAIRE | CGLMV169DSC | MICROWAVE OVEN |
| FRIGIDAIRE | CGLMV169GBA | MICROWAVE OVEN |
| FRIGIDAIRE | CGLMV169GBB | MICROWAVE OVEN |
| FRIGIDAIRE | CGLMV169GSA | MICROWAVE OVEN |
| FRIGIDAIRE | CGLMV169GSB | MICROWAVE OVEN |
| FRIGIDAIRE | CGLMV169HBA | MICROWAVE OVEN |
| FRIGIDAIRE | CGLMV169HSA | MICROWAVE OVEN |
| FRIGIDAIRE | CGMV173KBA | MICROWAVE OVEN |
| FRIGIDAIRE | CGMV173KWA | MICROWAVE OVEN |
| FRIGIDAIRE | CPBM189KFA | MICROWAVE OVEN |
| FRIGIDAIRE | CPBM189KFB | MICROWAVE OVEN |
| FRIGIDAIRE | CPLMV169DCB | MICROWAVE OVEN |
| FRIGIDAIRE | CPLMV169DCC | MICROWAVE OVEN |
| FRIGIDAIRE | CPLMV169DCD | MICROWAVE OVEN |
| FRIGIDAIRE | CPLMV169DCG | MICROWAVE OVEN |
| FRIGIDAIRE | CPLMZ169GCA | MICROWAVE OVEN |
| FRIGIDAIRE | CPLMZ169GCB | MICROWAVE OVEN |
| FRIGIDAIRE | CPLMZ169GCC | MICROWAVE OVEN |
| FRIGIDAIRE | CPLMZ169HCA | MICROWAVE OVEN |
| FRIGIDAIRE | DGMV174KFA | MICROWAVE OVEN |
| FRIGIDAIRE | DGMV174KFB | MICROWAVE OVEN |
| FRIGIDAIRE | FGBM185KBA | MICROWAVE OVEN |
| FRIGIDAIRE | FGBM185KBB | MICROWAVE OVEN |
| FRIGIDAIRE | FGBM185KBC | MICROWAVE OVEN |
| FRIGIDAIRE | FGBM185KFA | MICROWAVE OVEN |
| FRIGIDAIRE | FGBM185KFB | MICROWAVE OVEN |
| FRIGIDAIRE | FGBM185KFC | MICROWAVE OVEN |
| FRIGIDAIRE | FGBM185KWA | MICROWAVE OVEN |
| FRIGIDAIRE | FGBM185KWB | MICROWAVE OVEN |
| FRIGIDAIRE | FGBM185KWC | MICROWAVE OVEN |
| FRIGIDAIRE | FGBM187KBA | MICROWAVE OVEN |
| FRIGIDAIRE | FGBM187KBB | MICROWAVE OVEN |
| FRIGIDAIRE | FGBM187KBC | MICROWAVE OVEN |
| FRIGIDAIRE | FGBM187KWA | MICROWAVE OVEN |
| FRIGIDAIRE | FGBM187KWB | MICROWAVE OVEN |
| FRIGIDAIRE | FGBM187KWC | MICROWAVE OVEN |
| FRIGIDAIRE | FGMV173KBA | MICROWAVE OVEN |
| FRIGIDAIRE | FGMV173KBB | MICROWAVE OVEN |
| FRIGIDAIRE | FGMV173KQA | MICROWAVE OVEN |
| FRIGIDAIRE | FGMV173KQB | MICROWAVE OVEN |
| FRIGIDAIRE | FGMV173KWA | MICROWAVE OVEN |
| FRIGIDAIRE | FGMV173KWB | MICROWAVE OVEN |
| FRIGIDAIRE | FGMV174KFA | MICROWAVE OVEN |
| FRIGIDAIRE | FGMV174KFB | MICROWAVE OVEN |
| FRIGIDAIRE | FGMV174KMA | MICROWAVE OVEN |
| FRIGIDAIRE | FGMV174KMB | MICROWAVE OVEN |
| FRIGIDAIRE | FGMV185KBA | MICROWAVE OVEN |
| FRIGIDAIRE | FGMV185KBB | MICROWAVE OVEN |
| FRIGIDAIRE | FGMV185KBC | MICROWAVE OVEN |
| FRIGIDAIRE | FGMV185KFA | MICROWAVE OVEN |
| FRIGIDAIRE | FGMV185KFB | MICROWAVE OVEN |
| FRIGIDAIRE | FGMV185KFC | MICROWAVE OVEN |
| FRIGIDAIRE | FGMV185KWA | MICROWAVE OVEN |
| FRIGIDAIRE | FGMV185KWB | MICROWAVE OVEN |
| FRIGIDAIRE | FGMV185KWC | MICROWAVE OVEN |
| FRIGIDAIRE | FMT116E1A0 | MICROWAVE OVEN |
| FRIGIDAIRE | FMT116E1B0 | MICROWAVE OVEN |
| FRIGIDAIRE | FMT116E1W0 | MICROWAVE OVEN |
| FRIGIDAIRE | FMT118E1A0 | MICROWAVE OVEN |
| FRIGIDAIRE | FMT118E1B0 | MICROWAVE OVEN |
| FRIGIDAIRE | FMT118E1P0 | MICROWAVE OVEN |
| FRIGIDAIRE | FMT118E1W0 | MICROWAVE OVEN |
| FRIGIDAIRE | FMV156DBA | MICROWAVE OVEN |
| FRIGIDAIRE | FMV156DBB | MICROWAVE OVEN |
| FRIGIDAIRE | FMV156DBC | MICROWAVE OVEN |
| FRIGIDAIRE | FMV156DBD | MICROWAVE OVEN |
| FRIGIDAIRE | FMV156DBE | MICROWAVE OVEN |
| FRIGIDAIRE | FMV156DBF | MICROWAVE OVEN |
| FRIGIDAIRE | FMV156DCA | MICROWAVE OVEN |
| FRIGIDAIRE | FMV156DCB | MICROWAVE OVEN |
| FRIGIDAIRE | FMV156DCC | MICROWAVE OVEN |
| FRIGIDAIRE | FMV156DCD | MICROWAVE OVEN |
| FRIGIDAIRE | FMV156DCE | MICROWAVE OVEN |
| FRIGIDAIRE | FMV156DCF | MICROWAVE OVEN |
| FRIGIDAIRE | FMV156DCG | MICROWAVE OVEN |
| FRIGIDAIRE | FMV156DQA | MICROWAVE OVEN |
| FRIGIDAIRE | FMV156DQB | MICROWAVE OVEN |
| FRIGIDAIRE | FMV156DQC | MICROWAVE OVEN |
| FRIGIDAIRE | FMV156DQD | MICROWAVE OVEN |
| FRIGIDAIRE | FMV156DQE | MICROWAVE OVEN |
| FRIGIDAIRE | FMV156DQF | MICROWAVE OVEN |
| FRIGIDAIRE | FMV156DSA | MICROWAVE OVEN |
| FRIGIDAIRE | FMV156DSB | MICROWAVE OVEN |
| FRIGIDAIRE | FMV156DSC | MICROWAVE OVEN |
| FRIGIDAIRE | FMV156DSD | MICROWAVE OVEN |
| FRIGIDAIRE | FMV156DSE | MICROWAVE OVEN |
| FRIGIDAIRE | FMV156DSF | MICROWAVE OVEN |
| FRIGIDAIRE | FMV156EMA | MICROWAVE OVEN |
| FRIGIDAIRE | FMV156EMC | MICROWAVE OVEN |
| FRIGIDAIRE | FPBM189KFA | MICROWAVE OVEN |
| FRIGIDAIRE | FPBM189KFB | MICROWAVE OVEN |
| FRIGIDAIRE | FPBM189KFC | MICROWAVE OVEN |
| FRIGIDAIRE | FPMV189KFA | MICROWAVE OVEN |
| FRIGIDAIRE | FPMV189KFB | MICROWAVE OVEN |
| FRIGIDAIRE | FPMV189KFC | MICROWAVE OVEN |
| FRIGIDAIRE | GLBM188HBA | MICROWAVE OVEN |
| FRIGIDAIRE | GLBM188HSA | MICROWAVE OVEN |
| FRIGIDAIRE | GLMV169DBA | MICROWAVE OVEN |
| FRIGIDAIRE | GLMV169DBB | MICROWAVE OVEN |
| FRIGIDAIRE | GLMV169DBC | MICROWAVE OVEN |
| FRIGIDAIRE | GLMV169DBD | MICROWAVE OVEN |
| FRIGIDAIRE | GLMV169DBF | MICROWAVE OVEN |
| FRIGIDAIRE | GLMV169DQA | MICROWAVE OVEN |
| FRIGIDAIRE | GLMV169DQB | MICROWAVE OVEN |
| FRIGIDAIRE | GLMV169DQC | MICROWAVE OVEN |
| FRIGIDAIRE | GLMV169DQD | MICROWAVE OVEN |
| FRIGIDAIRE | GLMV169DSA | MICROWAVE OVEN |
| FRIGIDAIRE | GLMV169DSB | MICROWAVE OVEN |
| FRIGIDAIRE | GLMV169DSC | MICROWAVE OVEN |
| FRIGIDAIRE | GLMV169DSD | MICROWAVE OVEN |
| FRIGIDAIRE | GLMV169FPBA | MICROWAVE OVEN |
| FRIGIDAIRE | GLMV169FPBB | MICROWAVE OVEN |
| FRIGIDAIRE | GLMV169FPBC | MICROWAVE OVEN |
| FRIGIDAIRE | GLMV169FPWA | MICROWAVE OVEN |
| FRIGIDAIRE | GLMV169FPWB | MICROWAVE OVEN |
| FRIGIDAIRE | GLMV169GBA | MICROWAVE OVEN |
| FRIGIDAIRE | GLMV169GBB | MICROWAVE OVEN |
| FRIGIDAIRE | GLMV169GQA | MICROWAVE OVEN |
| FRIGIDAIRE | GLMV169GQB | MICROWAVE OVEN |
| FRIGIDAIRE | GLMV169GSA | MICROWAVE OVEN |
| FRIGIDAIRE | GLMV169GSB | MICROWAVE OVEN |
| FRIGIDAIRE | GLMV169HBA | MICROWAVE OVEN |
| FRIGIDAIRE | GLMV169HQA | MICROWAVE OVEN |
| FRIGIDAIRE | GLMV169HSA | MICROWAVE OVEN |
| FRIGIDAIRE | PLBMV188HCA | MICROWAVE OVEN |
| FRIGIDAIRE | PLMV169DCA | MICROWAVE OVEN |
| FRIGIDAIRE | PLMV169DCB | MICROWAVE OVEN |
| FRIGIDAIRE | PLMV169DCC | MICROWAVE OVEN |
| FRIGIDAIRE | PLMV169DCD | MICROWAVE OVEN |
| FRIGIDAIRE | PLMV169DCE | MICROWAVE OVEN |
| FRIGIDAIRE | PLMV169DCG | MICROWAVE OVEN |
| FRIGIDAIRE | PLMVZ169GCA | MICROWAVE OVEN |
| FRIGIDAIRE | PLMVZ169GCB | MICROWAVE OVEN |
| FRIGIDAIRE | PLMVZ169GCC | MICROWAVE OVEN |
| FRIGIDAIRE | PLMVZ169HCA | MICROWAVE OVEN |
| FRIGIDAIRE | TMT116E1B0 | MICROWAVE OVEN |
| FRIGIDAIRE | TMT116E1W0 | MICROWAVE OVEN |
| GE | JVM2052DN1BB | MICROWAVE OVEN |
| GE | JVM2052DN1WW | MICROWAVE OVEN |
| GE | JVM2052DN2BB | MICROWAVE OVEN |
| GE | JVM2052DN2WW | MICROWAVE OVEN |
| GE | JVM2052SN1SS | MICROWAVE OVEN |
| GE | JVM2052SN2SS | MICROWAVE OVEN |
| GE | WB06X10802 | FILTER |
| SHARP | PFIL-B002MRE0 | FILTER |