American Metal RHF0519 | Our#: 172416
Aluminum Range Hood Filter - 5-7/8" X 7-7/8" X 3/32" Pull Tab, Center - Short Side - 6-Pack

13 review(s)
American Metal RHF0519 | Our#: 172416
Fast Shipping & Free Returns
100% Compatibility Guarantee
Aluminum Range Hood Filter -5-7/8" X 7-7/8" X 3/32"
Used in ducted and non-ducted range hoods, microwave ovens and other applications requiring air cleaning
Aluminum filters trap grease and dust particles before they reach the exhaust fan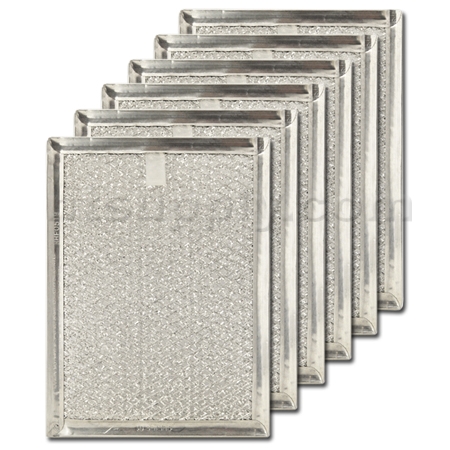 2 people in your area recently purchased this product!
$

5.44
(

6

Filters for $

32.63

)
In Stock
Ships in 24 hours
Fast Shipping & Free Returns
100% Compatibility Guarantee
Frequently Purchased Together
Product Details
Aluminum Range Hood Filter - 5-7/8" X 7-7/8" X 3/32" Pull Tab, Center - Short Side
Aluminum filters trap grease and dust particles before they reach the exhaust fan. The aluminum mesh media is made of multilayered, slit and expanded sheets of aluminum which are staggered to form thousands of effective grease holding baffles.
FEATURES:
Used in ducted and non-ducted range hoods, microwave ovens and other applications requiring air cleaning.
May be washed.
Constructed of layered expanded, bonded, aluminum mesh in an aluminum frame.
Average Air Resistance - 64%.
Clean Resistance - .06" w.c.
Dust Holding Capacity - 44 grams/square foot
Replace every 6-12 months
---
Compatible Part Numbers
Search by your filter part number or appliance model number to verify compatibility
| Model or Part Number | Type |
| --- | --- |
| Electrolux EI30BM55HBA | Microwave Oven |
| Electrolux EI30BM55HBB | Microwave Oven |
| Electrolux EI30BM55HBC | Microwave Oven |
| Electrolux EI30BM55HSA | Microwave Oven |
| Electrolux EI30BM55HSB | Microwave Oven |
| Electrolux EI30BM55HSC | Microwave Oven |
| Electrolux EI30BM55HWA | Microwave Oven |
| Electrolux EI30BM55HWB | Microwave Oven |
| Electrolux EI30BM55HWC | Microwave Oven |
| Electrolux EI30BM55HZA | Microwave Oven |
| Electrolux EI30BM55HZB | Microwave Oven |
| Electrolux EI30BM55HZC | Microwave Oven |
| Electrolux EI30BM5CHBB | Microwave Oven |
| Electrolux EI30BM5CHBC | Microwave Oven |
| Electrolux EI30BM5CHSB | Microwave Oven |
| Electrolux EI30BM5CHSC | Microwave Oven |
| Electrolux EI30BM5CHWB | Microwave Oven |
| Electrolux EI30BM5CHWC | Microwave Oven |
| Electrolux EI30BM5CHZB | Microwave Oven |
| Electrolux EI30BM5CHZC | Microwave Oven |
| Electrolux EI30SM55JBA | Microwave Oven |
| Electrolux EI30SM55JBC | Microwave Oven |
| Electrolux EI30SM55JSA | Microwave Oven |
| Electrolux EI30SM55JSC | Microwave Oven |
| Electrolux EI30SM55JWA | Microwave Oven |
| Electrolux EI30SM55JWC | Microwave Oven |
| FRIGIDAIRE CFMV156DBC | Microwave Oven |
| FRIGIDAIRE CFMV156DBD | Microwave Oven |
| FRIGIDAIRE CFMV156DBE | Microwave Oven |
| FRIGIDAIRE CFMV156DCB | Microwave Oven |
| FRIGIDAIRE CFMV156DCD | Microwave Oven |
| FRIGIDAIRE CFMV156DCE | Microwave Oven |
| FRIGIDAIRE CFMV156DCF | Microwave Oven |
| FRIGIDAIRE CFMV156DSC | Microwave Oven |
| FRIGIDAIRE CFMV156DSD | Microwave Oven |
| FRIGIDAIRE CFMV156DSE | Microwave Oven |
| FRIGIDAIRE CFMV156FMA | Microwave Oven |
| FRIGIDAIRE CFMV156FMB | Microwave Oven |
| FRIGIDAIRE CFMV156FMC | Microwave Oven |
| FRIGIDAIRE CGBM185KBA | Microwave Oven |
| FRIGIDAIRE CGBM185KBB | Microwave Oven |
| Frigidaire CGBM185KBC | Microwave Oven |
| FRIGIDAIRE CGBM185KFA | Microwave Oven |
| FRIGIDAIRE CGBM185KFB | Microwave Oven |
| Frigidaire CGBM185KFC | Microwave Oven |
| FRIGIDAIRE CGBM185KWA | Microwave Oven |
| FRIGIDAIRE CGBM185KWB | Microwave Oven |
| Frigidaire CGBM185KWC | Microwave Oven |
| FRIGIDAIRE CGBM187KBA | Microwave Oven |
| FRIGIDAIRE CGBM187KBB | Microwave Oven |
| Frigidaire CGBM187KBC | Microwave Oven |
| FRIGIDAIRE CGBM187KWA | Microwave Oven |
| FRIGIDAIRE CGBM187KWB | Microwave Oven |
| Frigidaire CGBM187KWC | Microwave Oven |
| FRIGIDAIRE CGLMV169DBB | Microwave Oven |
| FRIGIDAIRE CGLMV169DBC | Microwave Oven |
| FRIGIDAIRE CGLMV169DQB | Microwave Oven |
| FRIGIDAIRE CGLMV169DQC | Microwave Oven |
| FRIGIDAIRE CGLMV169DSB | Microwave Oven |
| FRIGIDAIRE CGLMV169DSC | Microwave Oven |
| FRIGIDAIRE CGLMV169GBA | Microwave Oven |
| FRIGIDAIRE CGLMV169GBB | Microwave Oven |
| FRIGIDAIRE CGLMV169GSA | Microwave Oven |
| FRIGIDAIRE CGLMV169GSB | Microwave Oven |
| FRIGIDAIRE CGLMV169HBA | Microwave Oven |
| FRIGIDAIRE CGLMV169HSA | Microwave Oven |
| FRIGIDAIRE CGMV173KBA | Microwave Oven |
| Frigidaire CGMV173KBB | Microwave Oven |
| Frigidaire CGMV173KBC | Microwave Oven |
| FRIGIDAIRE CGMV173KWA | Microwave Oven |
| Frigidaire CGMV173KWB | Microwave Oven |
| Frigidaire CGMV173KWC | Microwave Oven |
| Frigidaire CGMV174KFA | Microwave Oven |
| Frigidaire CGMV174KFB | Microwave Oven |
| Frigidaire CGMV174KFC | Microwave Oven |
| FRIGIDAIRE CPBM189KFA | Microwave Oven |
| FRIGIDAIRE CPBM189KFB | Microwave Oven |
| Frigidaire CPBM189KFC | Microwave Oven |
| FRIGIDAIRE CPLMV169DCB | Microwave Oven |
| FRIGIDAIRE CPLMV169DCC | Microwave Oven |
| FRIGIDAIRE CPLMV169DCD | Microwave Oven |
| FRIGIDAIRE CPLMV169DCG | Microwave Oven |
| FRIGIDAIRE CPLMZ169GCA | Microwave Oven |
| FRIGIDAIRE CPLMZ169GCB | Microwave Oven |
| FRIGIDAIRE CPLMZ169GCC | Microwave Oven |
| FRIGIDAIRE CPLMZ169HCA | Microwave Oven |
| FRIGIDAIRE DGMV174KFA | Microwave Oven |
| FRIGIDAIRE DGMV174KFB | Microwave Oven |
| Frigidaire DGMV174KFC | Microwave Oven |
| FRIGIDAIRE FGBM185KBA | Microwave Oven |
| FRIGIDAIRE FGBM185KBB | Microwave Oven |
| FRIGIDAIRE FGBM185KBC | Microwave Oven |
| FRIGIDAIRE FGBM185KFA | Microwave Oven |
| FRIGIDAIRE FGBM185KFB | Microwave Oven |
| FRIGIDAIRE FGBM185KFC | Microwave Oven |
| FRIGIDAIRE FGBM185KWA | Microwave Oven |
| FRIGIDAIRE FGBM185KWB | Microwave Oven |
| FRIGIDAIRE FGBM185KWC | Microwave Oven |
| FRIGIDAIRE FGBM187KBA | Microwave Oven |
| FRIGIDAIRE FGBM187KBB | Microwave Oven |
| FRIGIDAIRE FGBM187KBC | Microwave Oven |
| FRIGIDAIRE FGBM187KWA | Microwave Oven |
| FRIGIDAIRE FGBM187KWB | Microwave Oven |
| FRIGIDAIRE FGBM187KWC | Microwave Oven |
| Frigidaire FGBM205KBA | Microwave Oven |
| Frigidaire FGBM205KFA | Microwave Oven |
| Frigidaire FGBM205KWA | Microwave Oven |
| FRIGIDAIRE FGMV173KBA | Microwave Oven |
| FRIGIDAIRE FGMV173KBB | Microwave Oven |
| Frigidaire FGMV173KBC | Microwave Oven |
| FRIGIDAIRE FGMV173KQA | Microwave Oven |
| FRIGIDAIRE FGMV173KQB | Microwave Oven |
| Frigidaire FGMV173KQC | Microwave Oven |
| FRIGIDAIRE FGMV173KWA | Microwave Oven |
| FRIGIDAIRE FGMV173KWB | Microwave Oven |
| Frigidaire FGMV173KWC | Microwave Oven |
| FRIGIDAIRE FGMV174KFA | Microwave Oven |
| FRIGIDAIRE FGMV174KFB | Microwave Oven |
| Frigidaire FGMV174KFC | Microwave Oven |
| FRIGIDAIRE FGMV174KMA | Microwave Oven |
| FRIGIDAIRE FGMV174KMB | Microwave Oven |
| Frigidaire FGMV174KMC | Microwave Oven |
| FRIGIDAIRE FGMV185KBA | Microwave Oven |
| FRIGIDAIRE FGMV185KBB | Microwave Oven |
| FRIGIDAIRE FGMV185KBC | Microwave Oven |
| FRIGIDAIRE FGMV185KFA | Microwave Oven |
| FRIGIDAIRE FGMV185KFB | Microwave Oven |
| FRIGIDAIRE FGMV185KFC | Microwave Oven |
| FRIGIDAIRE FGMV185KWA | Microwave Oven |
| FRIGIDAIRE FGMV185KWB | Microwave Oven |
| FRIGIDAIRE FGMV185KWC | Microwave Oven |
| Frigidaire FGMV205KBA | Microwave Oven |
| Frigidaire FGMV205KFA | Microwave Oven |
| Frigidaire FGMV205KWA | Microwave Oven |
| FRIGIDAIRE FMT116E1A0 | Microwave Oven |
| FRIGIDAIRE FMT116E1B0 | Microwave Oven |
| FRIGIDAIRE FMT116E1W0 | Microwave Oven |
| FRIGIDAIRE FMT118E1A0 | Microwave Oven |
| FRIGIDAIRE FMT118E1B0 | Microwave Oven |
| FRIGIDAIRE FMT118E1P0 | Microwave Oven |
| FRIGIDAIRE FMT118E1W0 | Microwave Oven |
| FRIGIDAIRE FMV156DBA | Microwave Oven |
| FRIGIDAIRE FMV156DBB | Microwave Oven |
| FRIGIDAIRE FMV156DBC | Microwave Oven |
| FRIGIDAIRE FMV156DBD | Microwave Oven |
| FRIGIDAIRE FMV156DBE | Microwave Oven |
| FRIGIDAIRE FMV156DBF | Microwave Oven |
| FRIGIDAIRE FMV156DCA | Microwave Oven |
| FRIGIDAIRE FMV156DCB | Microwave Oven |
| FRIGIDAIRE FMV156DCC | Microwave Oven |
| FRIGIDAIRE FMV156DCD | Microwave Oven |
| FRIGIDAIRE FMV156DCE | Microwave Oven |
| FRIGIDAIRE FMV156DCF | Microwave Oven |
| FRIGIDAIRE FMV156DCG | Microwave Oven |
| FRIGIDAIRE FMV156DQA | Microwave Oven |
| FRIGIDAIRE FMV156DQB | Microwave Oven |
| FRIGIDAIRE FMV156DQC | Microwave Oven |
| FRIGIDAIRE FMV156DQD | Microwave Oven |
| FRIGIDAIRE FMV156DQE | Microwave Oven |
| FRIGIDAIRE FMV156DQF | Microwave Oven |
| FRIGIDAIRE FMV156DSA | Microwave Oven |
| FRIGIDAIRE FMV156DSB | Microwave Oven |
| FRIGIDAIRE FMV156DSC | Microwave Oven |
| FRIGIDAIRE FMV156DSD | Microwave Oven |
| FRIGIDAIRE FMV156DSE | Microwave Oven |
| FRIGIDAIRE FMV156DSF | Microwave Oven |
| FRIGIDAIRE FMV156EMA | Microwave Oven |
| FRIGIDAIRE FMV156EMC | Microwave Oven |
| FRIGIDAIRE FPBM189KFA | Microwave Oven |
| FRIGIDAIRE FPBM189KFB | Microwave Oven |
| FRIGIDAIRE FPBM189KFC | Microwave Oven |
| FRIGIDAIRE FPMV189KFA | Microwave Oven |
| FRIGIDAIRE FPMV189KFB | Microwave Oven |
| FRIGIDAIRE FPMV189KFC | Microwave Oven |
| FRIGIDAIRE GLBM188HBA | Microwave Oven |
| FRIGIDAIRE GLBM188HSA | Microwave Oven |
| FRIGIDAIRE GLMV169DBA | Microwave Oven |
| FRIGIDAIRE GLMV169DBB | Microwave Oven |
| FRIGIDAIRE GLMV169DBC | Microwave Oven |
| FRIGIDAIRE GLMV169DBD | Microwave Oven |
| FRIGIDAIRE GLMV169DBF | Microwave Oven |
| FRIGIDAIRE GLMV169DQA | Microwave Oven |
| FRIGIDAIRE GLMV169DQB | Microwave Oven |
| FRIGIDAIRE GLMV169DQC | Microwave Oven |
| FRIGIDAIRE GLMV169DQD | Microwave Oven |
| FRIGIDAIRE GLMV169DSA | Microwave Oven |
| FRIGIDAIRE GLMV169DSB | Microwave Oven |
| FRIGIDAIRE GLMV169DSC | Microwave Oven |
| FRIGIDAIRE GLMV169DSD | Microwave Oven |
| FRIGIDAIRE GLMV169FPBA | Microwave Oven |
| FRIGIDAIRE GLMV169FPBB | Microwave Oven |
| FRIGIDAIRE GLMV169FPBC | Microwave Oven |
| FRIGIDAIRE GLMV169FPWA | Microwave Oven |
| FRIGIDAIRE GLMV169FPWB | Microwave Oven |
| FRIGIDAIRE GLMV169GBA | Microwave Oven |
| FRIGIDAIRE GLMV169GBB | Microwave Oven |
| FRIGIDAIRE GLMV169GQA | Microwave Oven |
| FRIGIDAIRE GLMV169GQB | Microwave Oven |
| FRIGIDAIRE GLMV169GSA | Microwave Oven |
| FRIGIDAIRE GLMV169GSB | Microwave Oven |
| FRIGIDAIRE GLMV169HBA | Microwave Oven |
| FRIGIDAIRE GLMV169HQA | Microwave Oven |
| FRIGIDAIRE GLMV169HSA | Microwave Oven |
| FRIGIDAIRE PLBMV188HCA | Microwave Oven |
| FRIGIDAIRE PLMV169DCA | Microwave Oven |
| FRIGIDAIRE PLMV169DCB | Microwave Oven |
| FRIGIDAIRE PLMV169DCC | Microwave Oven |
| FRIGIDAIRE PLMV169DCD | Microwave Oven |
| FRIGIDAIRE PLMV169DCE | Microwave Oven |
| FRIGIDAIRE PLMV169DCG | Microwave Oven |
| FRIGIDAIRE PLMVZ169GCA | Microwave Oven |
| FRIGIDAIRE PLMVZ169GCB | Microwave Oven |
| FRIGIDAIRE PLMVZ169GCC | Microwave Oven |
| FRIGIDAIRE PLMVZ169HCA | Microwave Oven |
| FRIGIDAIRE TMT116E1B0 | Microwave Oven |
| FRIGIDAIRE TMT116E1W0 | Microwave Oven |
| GE JVM2052DN1BB | Microwave Oven |
| GE JVM2052DN1WW | Microwave Oven |
| GE JVM2052DN2BB | Microwave Oven |
| GE JVM2052DN2WW | Microwave Oven |
| GE JVM2052SN1SS | Microwave Oven |
| GE JVM2052SN2SS | Microwave Oven |
| All-Filters G-8103 | Range Hood Filter |
| AMERICAN METAL FILTER CO RHF0519 | Range Hood Filter |
| APPLIANCE PARTS AP2148491 | Range Hood Filter |
| APPLIANCE PARTS PS466987 | Range Hood Filter |
| Dacor 66225 | Range Hood Filter |
| Electrolux 5303319568 | Range Hood Filter |
| Electrolux 5304440336 | Range Hood Filter |
| FRIGIDAIRE 5303319568 | Range Hood Filter |
| FRIGIDAIRE 5304440336 | Range Hood Filter |
| SHARP B002MREO | Range Hood Filter |
| SHARP PFIL-B002MREO | Range Hood Filter |