Honeywell HC22E1003 | Our#: 112777
Honeywell HC22E 1003 Humidifier Pad, 2-Pack

25 review(s)
Honeywell HC22E1003 | Our#: 112777
Fast Shipping & Free Returns
100% Compatibility Guarantee
2-pack special Original Factory Replacement Water Panel Evaporator for Honeywell Humidifier Models: HE220A,HE220B,HE225A,HE225B. Size: 9 13/16" x 9 1/2" x 1 1/2" / Agion Antimicrobial Coated.
3 people in your area recently purchased this product!
$

24.14
(

2

Water Panels for $

48.27

)
Fast Shipping & Free Returns
100% Compatibility Guarantee
Frequently Purchased Together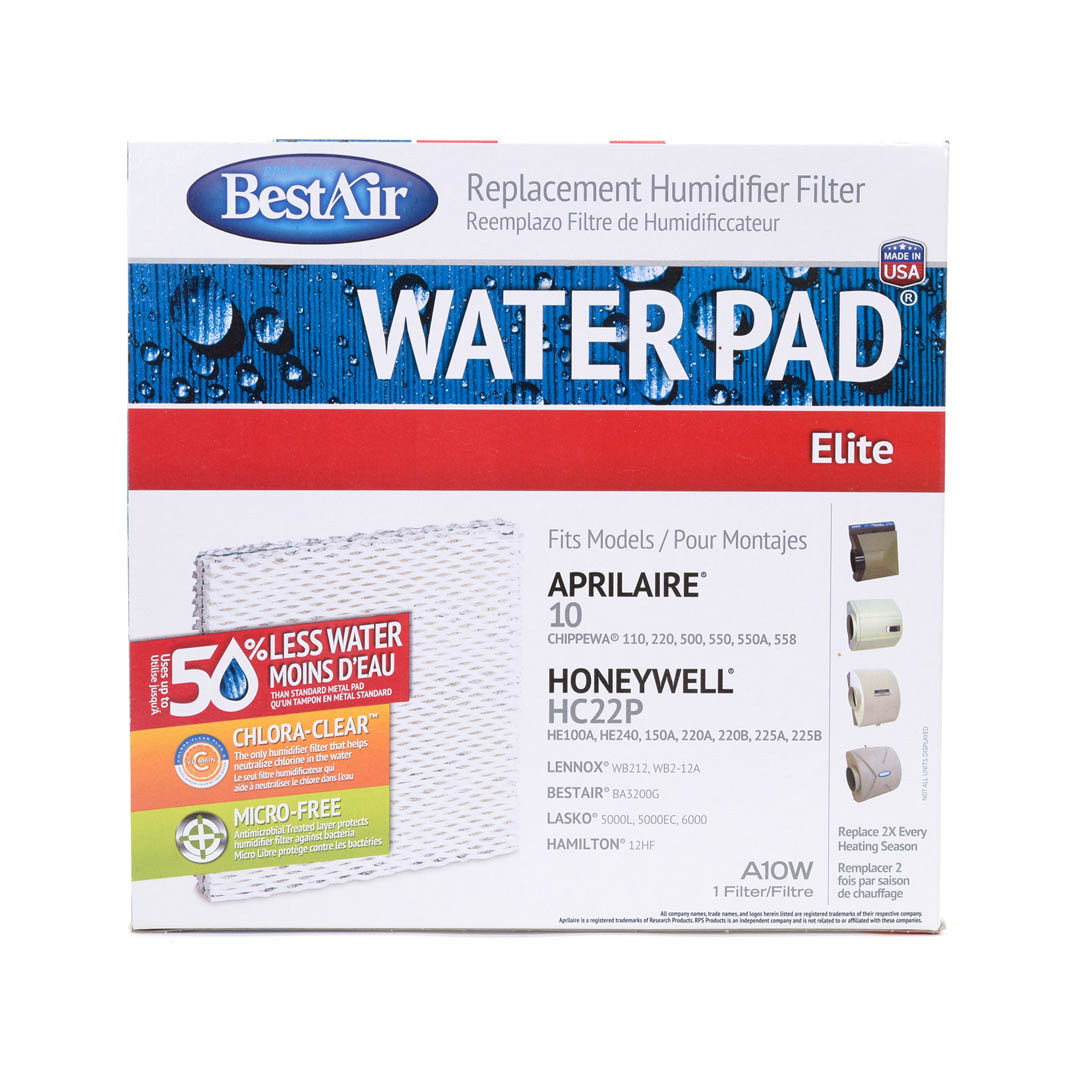 Product Details
Honeywell HC22E Whole House Humidifier Filter
Acting as the "heart" of your humidifier, the Honeywell whole house humidifier filter revitalizes your indoor spaces by bringing moisture back into the air. Dry air caused by low humidity can bring about a number of health concerns that can be detrimental to you and those residing in your residential or commercial spaces. Dry skin, bloody noses, itchy eyes, and many other health issues can all occur from residing in a dry indoor environment. The Honeywell whole house humidifier filter helps resolve this issue by raising the humidity levels in your home or office to a comfortable, maintainable level.
The Honeywell humidifier pad (AKA Honeywell humidifier filter, water pad, water panel) is constructed of an expanded aluminum honeycomb mesh. This aluminum mesh pad is coated with a clay-like substance that is superior at capturing and holding water. As water from the humidification valve enters and comes into contact with the Honeywell whole house humidifier filter, the clay coating absorbs the water and holds it there until hot, dry air from the furnace or fan coil is pushed through the water panel. The hot air from the furnace, combined with the water absorbed in the humidifier filter, produces a clear water vapor. This water vapor is then distributed throughout the indoor environment via the forced-air duct system. This entire process will bring moisture back into your indoor spaces, alleviating dry air issues and providing a comfortable living environment.
For the best performance of your Honeywell humidifier pad, it is recommended that the water panel be replaced once a year. This should either be prior to the start or at the end of the heating season. The longer a filter is in use, the more susceptible the filter is to growth and build-up on the filter mesh. This can cause a drop in efficiency and air quality and can cause problems to your HVAC system or raise health concerns. To ensure that these problems do not occur, routine filter changes are recommended. If you have especially hard water, the panel can be replaced 2 times per year.
Product Features:
Factory original OEM part
Dimensions approximately - 9 13/16" x 9 1/2" x 1 1/2"
Pad change instructions are printed on product carton
Agion Antimicrobial Coated
Fits the Following Humidifiers:
Honeywell HE220A
Honeywell HE220B
Honeywell HE225A
Honeywell HE225B
Honeywell HE100A
Honeywell HE150A
---
Replaces These Water Panels:
Honeywell:
hc22e1003
Toptech:
tt-pad2
Fits In These Systems:
Honeywell:
he100
he100a
he100a1000
he105a
he105a1000
he150
he150a1005
he150b
he200b
he220
he220a
he220a1001
he220a1019
he220a1043
he220a1234
he220b1009
he225
he225a
he225a1006
he225a1234
he225b
he225b1004
he225dg115
he225h8908
he225vpiaq