BestAirPro A10-PR | Our#: 137138
Replacement Water Panel for Whole House Humidifiers, 2-Pack

175 review(s)
BestAirPro A10-PR | Our#: 137138
Fast Shipping & Free Returns
100% Compatibility Guarantee
Whole house humidifier filter (AKA water panel, water pad, evaporator pad). Universal replacement for many brands and models. Approximately 9-1/2" W X 9-3/4" H X 1-1/2".
6 people in your area recently purchased this product!
$

10.61
(

2

Water Panels for $

21.21

)
In Stock
Ships in 24 hours
Fast Shipping & Free Returns
100% Compatibility Guarantee
Frequently Purchased Together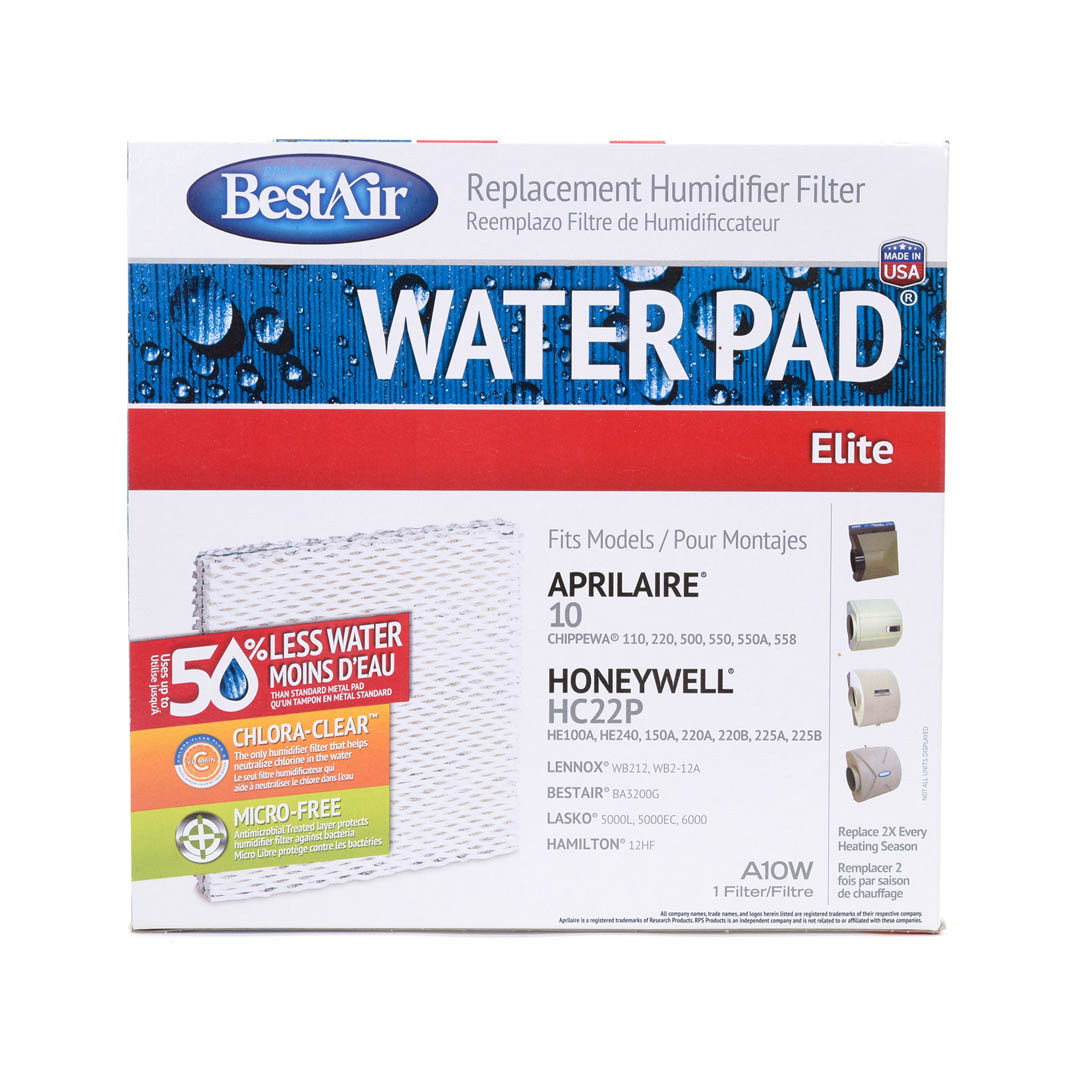 Product Details
This high-quality whole house humidifier replacement filter is a product made by a leading manufacturer to place the humidifier filter (AKA water panel, water pad, evaporator pad) in many makes and models of whole house humidifiers. This product can be found in the small bypass humidifiers manufactured by Aprilaire, Honeywell, Bryant, Carrier, Totaline, Lennox, Trane, AmericanStandard and many other name brand humidifier companies to act as a universal replacement humidifier filter.
This whole house humidifier replacement filter is constructed from an expanded aluminum mesh pad that is coated with a special clay-like covering. This coating absorbs water while also removing mineral deposits present in the water in the system. As water flows through the humidifier valve, it will soak the filter. Hot, dry air from the furnace or fan coil passes through the universal replacement humidifier filter and absorbs the water. The moist air is then distributed through the home via the forced-air duct system providing your household with increased moisture levels and alleviating dry air issues.
It is recommended you replace your whole house humidifier filter at least once per heating season. Humidifier filters in extended use can accumulate build-up over time. This can lead to reduced efficiency and may cause issues in your filtration system. To alleviate this issue, routine filter changes are recommended to ensure peace of mind and prevent future problems from occurring. Areas with hard water may require two changes per season to ensure peak performance.
Features:
High quality, low-cost alternative to factory original product.
Made in the USA with high-quality components.
Guaranteed to fit your whole house humidifier.
---
Replaces These Water Panels:
Bestairpro:
a10-pr
Clean Comfort:
HEP-GA10
Generalaire:
ga10
Lennox:
x2660
Nordyne:
rp0010
Ruud:
Tempstar:
1042rp
Toptech:
tt-pad2
Totaline:
p110-1045
Trane:
baypad01a1010a
Wait:
10
York:
Fits In These Systems:
American Standard:
ahumd200a
athumd200
athumd200aba00b
athumd200t
Aprilaire:
110
220
500
500a
500m
550
550a
558
Bryant:
humbasbp2312
humbasbp2414
humbbsbp2212
humbbsbp2312
humbbsbp2412
Carrier:
humcasbp2312
humcasbp2414
humccsbp2212
humccsbp2312
humccsbp2412
Coleman Spas:
si-bp5000mc
Honeywell:
he100
he100a
he100a1000
he150
he150a1005
he150b
he200b
he220
he220a
he220a1001
he220a1019
he220a1043
he220a1234
he220b1009
he225
he225a
he225a1006
he225a1234
he225b
he225b1004
he225dg115
he225h8908
he225vpiaq
Lennox:
hcwb2-12
hcwb2-12a
hcwb3-12
hcwb3-12a
hcwbk12a
hcwbk12nc
wb-12
wb-12a
wb212
Totaline:
p110-sbp2212
p110-sbp2312
p110-sbp2412
Trane:
humd200a
humd200t
thumd200
thumd200aba00b
Lennox® and Healthy Climate® are registered trademarks of Lennox International Inc.. National Trade Supply, Inc, DiscountFilters.com and AIRx are not affiliated with Lennox International Inc.