BestAirPro A35WPR | Our#: 172768
2pk Ruud hc26a1008 Filter Replacement by BestAirPro

21 review(s)
BestAirPro A35WPR | Our#: 172768
Fast Shipping & Free Returns
100% Compatibility Guarantee
Aftermarket Water Panel. Fits Aprilaire 350, 360, 560, 560A, 568, 600, 700, 700A, 700M, 760, 760A, 768. Fits Honeywell HE260A/B, HE265A/B, HE360A/B, ME360, HE365A/B.
3 people in your area recently purchased this product!
$

28.95
2

Water Panels for

$

14.48

each!
In Stock
Ships in 24 hours
Fast Shipping & Free Returns
100% Compatibility Guarantee
Frequently Purchased Together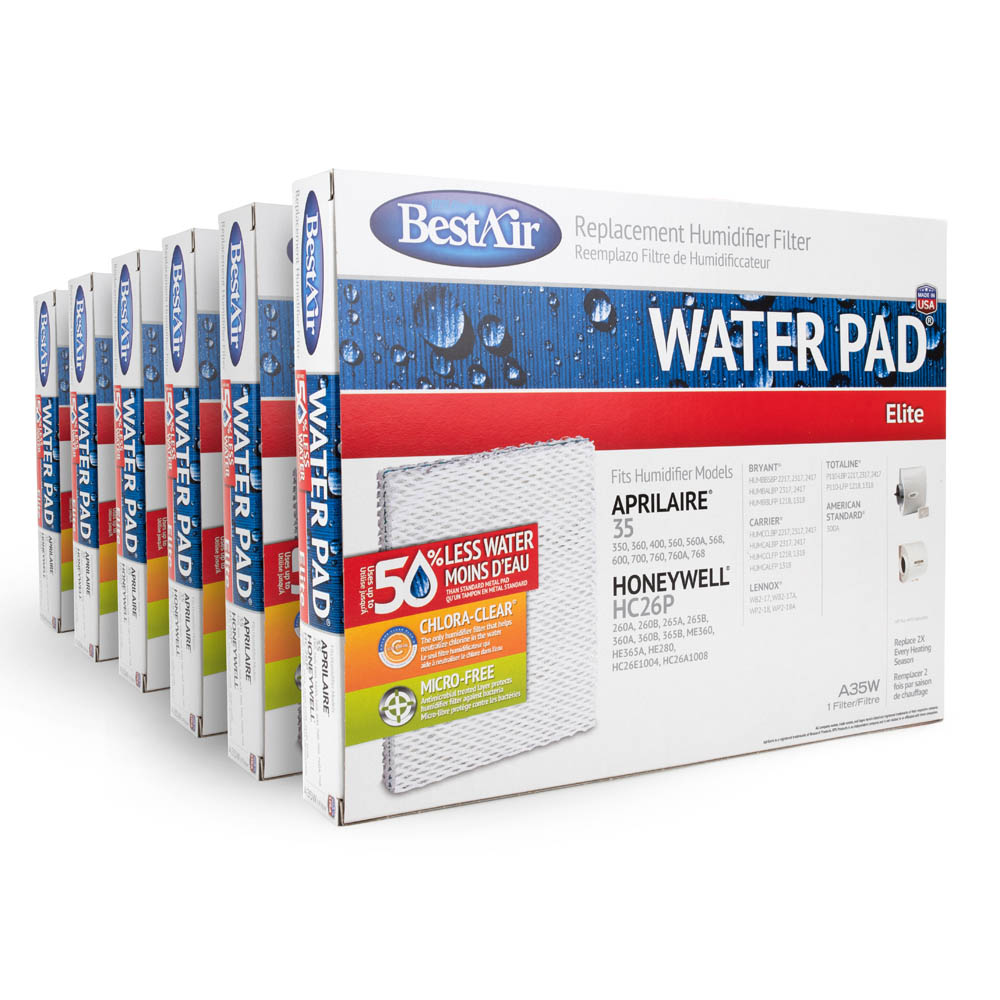 Product Details
White Water Panel for Aprilaire and Honeywell Humidifiers (#35)
Most water panels are made of a rigid expanded aluminum grid that is dipped in a clay solution. These pads are made of an expanded paper and as a result are able to hold more water than traditional pads. They have up to 50% higher moisture output than metal pads. Unlike metal pads, these should be changed twice during the humidification season.
Features:
Pad must be changed at least twice per season
50% higher output than rigid metal pads
Surface treated with MicroFree Anti-Microbial Coating
Specifications:
Size: 10" W X 13" H X 1 5/8" D
For use with these models:
Aprilaire:
350
360
560
560A
568
600
700
700M
700A
760
760A
768
Honeywell:
HE260A
HE260B
HE265A
HE265B
HE360A
HE360B
ME360
HE365A
HE365B
Note: This product is not manufactured or distributed by Research Products Corporation, owner of the registered trademark Aprilaire®.

Click here for instructions on changing out your water panel
---
Replaces These Water Panels:
Aprilaire:
35
Bestairpro:
a35-pr
Honeywell:
hc26e1004
Nordyne:
rp0035
Ruud:
Tempstar:
3242rp
York:
s1-hupad35
Fits In These Systems:
Aprilaire:
350
360
560
5608
560a
600
600a
600m
700
700a
700m
760
760a
768
Honeywell:
he200
he200a
he200a1000
he250
he250a
he250a1005
he260
he260a
he260a1002
he260a1010
he260a1044
he260a1234
he260b
he260b1000
he265
he265a1007
he265b1005
he265dg115
he265h8908
he265vpiaq
he300
he300a
he300a1005
he360
he360a1019
he360a1050
he360a1075
he360b
he360b1009
he365
he365a
he365a1006
he365b
he365b1004
he365dg115
he365h8908
Tempstar:
hmiclb17a
hmiclb17b
hmiclf18a
hmiclf18b