Humidifier Filters/Water
- Free Shipping & Returns
Many homeowners buy humidifiers to control the humidity in their homes and then forget to regularly change their water panels. We carry whole house humidifier water panels from a number of top brands including Aprilaire, Honeywell and Trane.Looking for Portable Humidifier Filters?
Search for your filter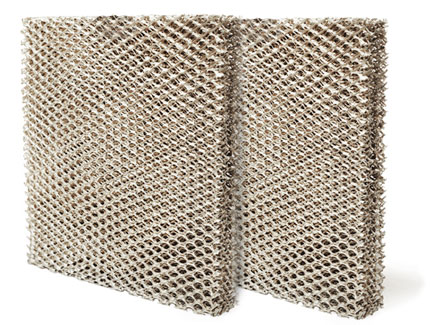 Select your brand
Other Humidifier Products
Humidifiers work to revitalize your home by making the dry air in your indoor spaces more comfortable. Humidifiers boost your indoor humidity level by adding moisture into the air in your indoor spaces. By doing so, humidifiers rejuvenate your household by bringing moisture back into a dry environment to allow for a more comfortable living situation. In colder weather, the air tends to be drier because humidity levels drop due to cold air not being able to hold as much moisture. Dry air can cause a number of health concerns as well. Itchy skin, dry eyes, bloody noses, and dry skin are just some of the problems cause by low levels of moisture in your indoor environment. Humidifier filters are a simple solution to resolve this issue.

Your humidifier contains a filter that is used to ensure that your indoor environment is brought clean, pathogen-free water vapor. Over time, this humidifier filter can begin to have blockages accumulate on it. To prevent this from occurring and causing damage to your humidifier and home, make sure that your humidifier filter is clean by washing away built up residue along with replacing old filters routinely. This can prevent future problems from occurring as well as ensuring maximum efficiency and comfort levels in your indoor spaces.
The recommended humidity level for an indoor space is between 30% and 50%. Humidity levels higher than 50% provide an environment that is an ideal breeding ground for mold to grow as well as dust mites, bacteria, and other pests. If the humidity level is below 30%, cold and flu viruses are more likely to spread along with other respiratory symptoms. Air that is too dry can also cause damage to your home's foundations as well as wood furnishings.