AIRx 16x20x4-ODOR | Our#: 176372
16x20x4 AIRx ODOR Air Filter - CARBON
AIRx 16x20x4-ODOR | Our#: 176372
Fast Shipping & Free Returns
100% Compatibility Guarantee
Love your pets, not their odors
Reduces indoor odors from pets
Odor blocking carbon
Removes additional odors from paint, new carpet, cigarette smoke, cooking
Only filter that reduces chemical vapors
Creates cleaner indoor air
Actual Dimensions: 15 ½" x 19 ½" x 3 ¾"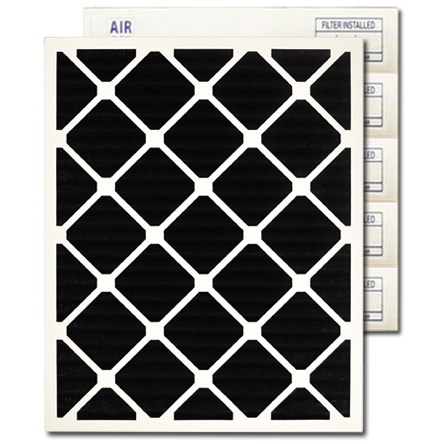 4 people in your area recently purchased this product!
$

24.27
(

6

Filters for $

145.61

)
Fast Shipping & Free Returns
100% Compatibility Guarantee
Frequently Purchased Together
Product Details
16x20x4 AIRx ODOR Air Filter - CARBON
(actual size 15-1/2" X 19-1/2" X 3-3/4")
These premium quality odor reduction carbon impregnated pleated filters are interchangeable with existing HVAC filters. Odorous gases and vapors are attracted to and held by the unique properties of the activated carbon material. Our media not only attracts and holds small particles, it removes formerly unfiltered gases and odors from the air. And it does it all in one filter!
Filter last approximately 3 months under normal use. Ideal applications include the control of odors from:
Cooking, food odors
New paint
New carpet
Bathroom smells
Cigarette, cigar smoke
Pets
Features:
Highly adsorbent fiber surfaces provide excellent molecular filtration
Electrostatic fibers for more complete small particle capture
Chemically inert, 100% polyolefin fibers
Open structured, low pressure drop
High initial and minimum filtration efficiency
Heavy duty beverage board frame
33 gauge media support metal grid
---
How to change your furnace/air-conditioner/HVAC air filter
Estimated time: 10 minutes or less
Steps
Determine the location of your filter

Your forced air system will be similar, whether or not it is a heating (furnace) or cooling (AC) system – or both. The furnace filter housing/slot is located right next to the heating/cooling system's air handler or blower. Your filter(s) may also be located in a return grille on the wall or ceiling of your home.

Determine the type/size of filter that you use

Typically, the dimensions or part number of the filter will be printed on the filter frame. Use this information to order a new filter.

Purchase a new air filter from DiscountFilters.com

Visit DiscountFilters.com and purchase a new filter. Use our filter finders to verify the correct match.

Remove the old filter

Turn off the power to the heating/cooling system and remove the old filter from its housing/slot and discard.

Insert the new filter

Pay attention to any airflow direction arrows printed on the frame of the new filter. Install the filter by sliding it into the filter housing/slot with the airflow arrow pointing towards the blower. If installing the filter in a wall or ceiling grille – the airflow arrow should point towards the wall or ceiling. Turn on the power to the forced air system.

Enjoy cleaner air!