1/2" X 25' Roll Filter Gasket Tape (JVCC SCF48-0)
Foam Tape Products JVCC SCF48-0 | Our#: 112227
1 Year Purchase Guarantee - Free returns for a year, up to $1000 of purchase protection.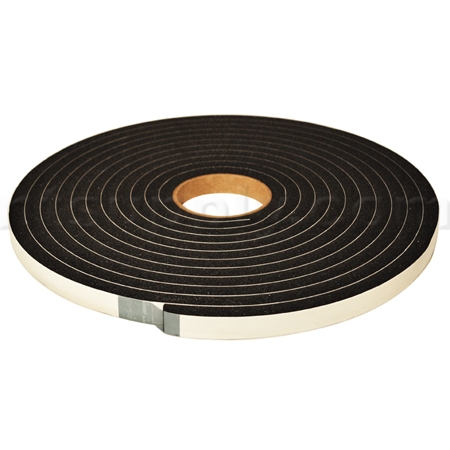 1/2" Thick X 25' Roll Filter Gasket Tape (JVCC SCF48-0) - approximately 3/4" wide (perfect for the edge of a 1" filter)
Description
---
Conserve energy with gasket tape. Its thickness adds 1" to the filter's diameter. When applied to the edges of your furnace or air cleaner filters, it prevents air from leaking around the filters' edges. In addition to preventing air leaks, the tape reduces noise caused by the blower doors. Single-sided, the thick PVC foam tape resists wear and damage caused by chemicals or moisture. Because the tape is disposable, you can only apply it once. With each replacement filter, reapply the tape. Filters reduce airborne allergens in the air, and they improve the system's energy efficiency. Gasket tape is one tool that helps you save money and energy, as well as healthier indoor air.
1/2" thick x 25' roll, approximately ¾" wide
single sided tape
thick and flexible PVC foam
resists chemicals, wear and moisture
ideal to edge 1" filters
prevents air from leaking around the filter edges
improves system efficiency
disposable, single use
Reviews
---
1/2" X 25' Roll Filter Gasket Tape (JVCC SCF48-0)
1/2" X 25' Roll Filter Gasket Tape (JVCC SCF48-0) Reviewed by 5
|
Displaying reviews 1-5:
Comments:
My ac is 16x25 my filter is 16x25 but each time I would place a filter it would always slip and I was constantly readjusting. When I found the gasket tape that resolved all my issues and my frustration went away
BOTTOM LINE: Yes, I recommend this product
Very pleased with product
Comments:
Used as a filter in air return. Easy to install for non-professional.
BOTTOM LINE: Yes, I recommend this product
Makes your filter *air* tight fit
Comments:
No more excuses of even the best filters won't work 100% of the time because of the gaps all around them. This gasket tape will make your air filter super tight fit so that it will catch more OMG stuff in the air. Your lungs won't have to work as a part of the air filter any longer. I breathe easy now.
BOTTOM LINE: Yes, I recommend this product
Comments:
Put on a/c filter; works fine.
Great product, just what was needed
Comments:
There was a large gap between the entry doors of my home. The weather stripping needed to fit into a grove in the stationary door and no product of this type was available for use as a weather seal replacement. I originally purchased the material to use around my A/C filters to make them fit more snugly in the air return. There was enough material to do that job and to apply to the door. It is working wonderfuly, I have probably saved more than the cost of the product just in the last three weeks.
BOTTOM LINE: Yes, I recommend this product