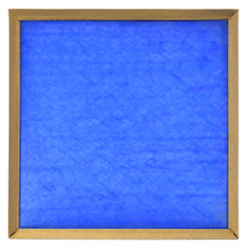 ---
Designed for general air filtration applications with light to medium dust loading conditions, these disposable panel filters are engineered for sturdy, economical performance and ease of use. Available in a wide range of sizes and two thickness configurations, these filters are used in all types of HVAC systems to protect the coils from dirt. They are also used as prefilters to extend the life of higher efficiency filters.
NOTE: Filter media may be a blue or white color - depending on size.
Performance Information
Rated Initial Resistance (inches in W.G.)
@300 FPM: .10 for 1", .13 for 2"
@500 FPM: .20 for 1", .28 for 2"
@625 FPM: .38 for 2"
Recommended final resistance is .50" w.g. for each thickness.
Average Arrestance @ 300 FPM: 70-75% for 1", 80-85% for 2"
Rated MERV 4
All performance data is based on the ASHRAE 52.1-1992 test method. Performance tolerances conform to Section 7.4 of ARI Standard 850-93.
Call 1-888-407-5688 for truckload or pallet pricing.
Disposable fiberglass discount filters offer general, low tech filtration. They are an affordable alternative for customers who do not have special requirements for air filtration and indoor air quality. For households where people don't suffer from chronic respiratory conditions, airborne allergies, or compromised immune systems, these discount filters are ideal. They keep gross particulate matter from exiting ventilation ducts, and keep the same from entering the inner mechanisms of the home furnace.
Fiberglass discount filters are rated MERV 4 on the scale used by the international organizations that govern the filtration industry. This means that they effectively remove 20 percent or less of atmospheric particles that measure 3 and 10 microns. MERV 4 filters are the most common choice for homeowners, functioning to protect the guts of the ventilation system rather than cleanse the breathable air within a home.
Fiberglass discount filters come in an array of sizes. They are manufactured in both blue and white depending on size. Color is not an indication of performance as all MERV 4 filters are rated to perform identically. Their construction is effective and economical. A sturdy cardboard frame encloses the fiberglass filter media, which is reinforced with wire. Made to accommodate almost any filter receptacle, these discount filters are available in a numerous dimensions, either 1 or 2 inches thick. They can be used as a main filter or as a pre-filter to extend the life of a more efficient discount filter.
As with any discount filter, fiberglass filters should be inspected regularly to ensure they are not clogged and that they are performing effectively. It is recommended that these filters are replaced monthly. This ensures that their capacity is unhampered by the large particles that tend to lodge between fibers.
There is no minimum order size requirement. Free shipping is routine. All discount filters should be returned in the same condition as received and with the original packaging, within one year of the date of purchase if needed.