16" X 20" X 1" Lifetime Permanent Washable Filter
Permatron 3856-1620LRG | Our#: 178049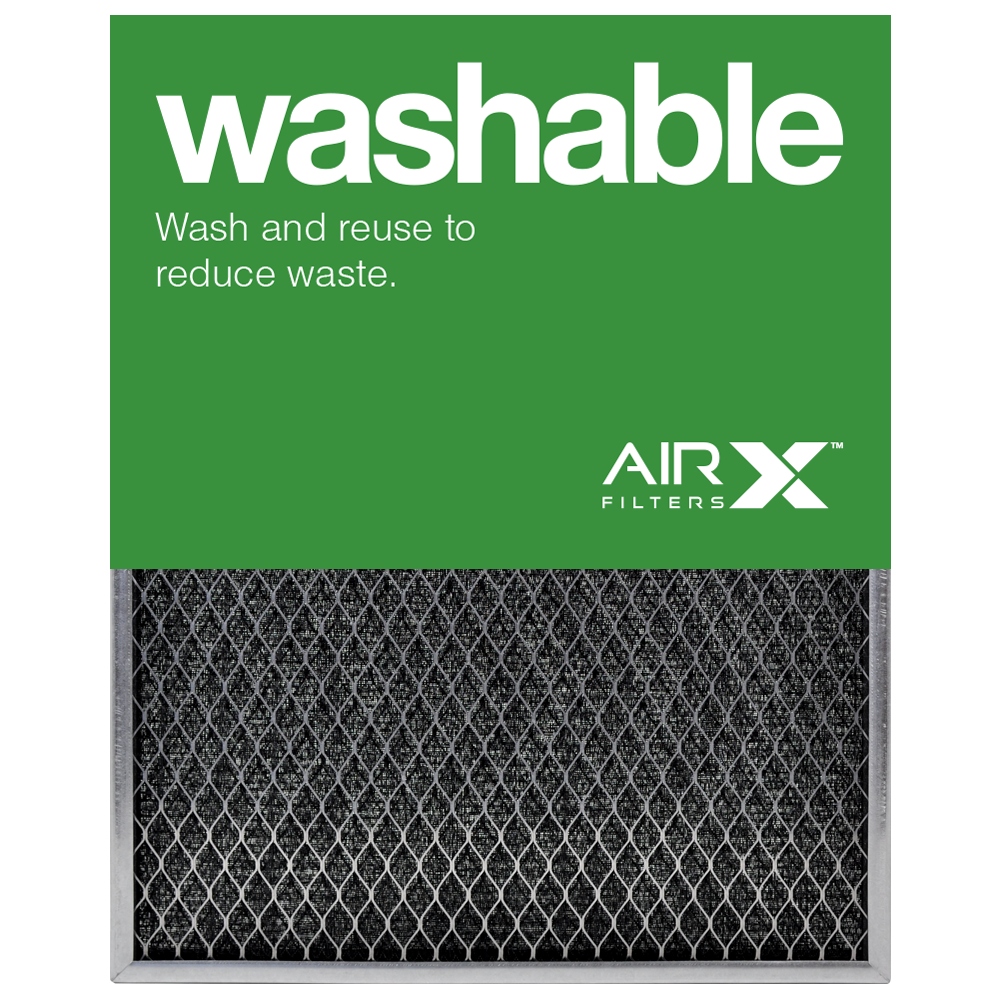 Description
---
Is this the right air filter for you?
If you want to protect your heating and cooling system from dust and dirt - and you are tired of buying disposable air filters, this is the air filter for you! This durable washable filter is designed to provide great value and last a lifetime. Don't drive around town looking for a washable air conditioner filter or furnace filter. Order online and will quickly ship to your front door!
Designed to minimize initial resistance to airflow

Reduces the number of pollutants and allergens in recirculated air and keeps your HVAC system clean

Uses natural static electricity to attract and capture airborne particles

Includes anti-microbial polymeric protection

Durable steel frame

Dirt won't get caught in the filter during washing - due to specially-designed drainage ports in the filter frame

Lifetime warranty

Wash every 30 days under normal use

Made with pride in the USA

100% free returns on all filters
What does this air filter remove?

Do you want to know about the technical specs?
| | |
| --- | --- |
| Nominal Dimensions | 16 x 20 x 1" |
| Actual Dimensions | 15.5 x 19.5 x 0.875" |
| Filter Media | Woven polypropylene media |
| Filter Support Grid | Heavy duty steel mesh |
| Frame | Rugged steel frame |
| Max Temperature | 180F (82C) continuous service, peak 225F (107C) |
| Max Humidity | Resistant to 100% R.H. |
Reviews
---
16" X 20" X 1" Lifetime Permanent Washable Filter
Mahlon S. 3 months ago
Works well bought a second to trade off with first one while cleaning
Othman (. S. 7 months ago
Everything I bought here has been A+.. Thanks DiscountFilters.com OMS ===============
Reviewer 9 months ago
great service...great quality...why use the paper disposable filters when you can get one you an wash
Reviewer 22 days ago
It is very good filter. Easy to clean for reuse. Keep coil very clean and let airflow go through
Reviewer 1 month ago
A high quality and well made permanent filter. It works like a charm. The wife says there is much less dust in the house.
Reviewer 6 months ago
The product was shipped and received in a timely manner. I had no trouble with the installation and it appears to be functioning well.
Reviewer 6 months ago
I really like this filter. All you have to do is take it out about every thirty days,wash it out and reinstall.
Reviewer 6 months ago
I ordered the 16" X 20" washable electrostatic air filter for our AC/Furnace unit. It works great and I am very happy with it. It has lower resistance than some of the air filters out there so we have better air flow from our vents. I like that it does not contain any polyester, only metal grill on the front and back and on the inside of the filter and filter is made of polypropylene. Great filter.
Reviewer 7 months ago
Good service and right product I like it. ð???
Reviewer 9 months ago
I ordered the wrong size of filters and had no problem with the return or the refund of my purchase .
Reviewer 9 months ago
Best investment I have made.no more paper filters,and I also purchased the little reminder when to clean filter.Love it!! shipping was fast.This is the place to get your filters.
Reviewer 9 months ago
I made a mistake and ordered a wrong size filter. Contacted customer service and got money refunded after shipping it back. No hassle. Great experience returning the product but no real experience in using the filter.
Reviewer 10 months ago
I love this filter. It's so easy to clean and I've saved lots of money. I've recommended you to everyone. Thank you!
Reviewer 10 months ago
I had to return my filter as it did not fit in my space here. I really appreciate the free return option. I will have to reorder soon. Thank you.
Reviewer 24 days ago
At first I questioned these filters because of the dust coming out of my registers but then realized that it was because of the increased air flow. Now the air is much cleaner and I'm surprised how little we have to dust.
Reviewer 1 month ago
looks good and fits should hold up for years.
Reviewer 3 months ago
I have had these before in a previous residence.
Reviewer 8 months ago
This is the best air handler filter I have ever used. I've used similar products from Home Depot, but this is the finest quality I've used . My air handler was freezing up every nite, but since I installed this filter, no more freeze-ups. Great product and great design, It seems like it will last forever. I've spent hundreds of dollars replacing purple or blue paper filters, NO more. Don't be fooled by the big store look a likes, I've tried them too, and they're not even close. This is the last filter you'll ever have to buy.
Reviewer 2 months ago
The filter is durable, efficient, and even looks nice! I will recommend this company to everyone!
Product Documentation
3 people in your area have bought this product in the last day!

Save Your Furnace Tip #11:
For better indoor air quality (IAQ) consider running your system fan continuously, or install a thermostat that has a "circulation" or programmable fan function.