14" X 30" X 1" Lifetime Permanent Washable Filter
Permatron 3856-1430LRG | Our#: 178077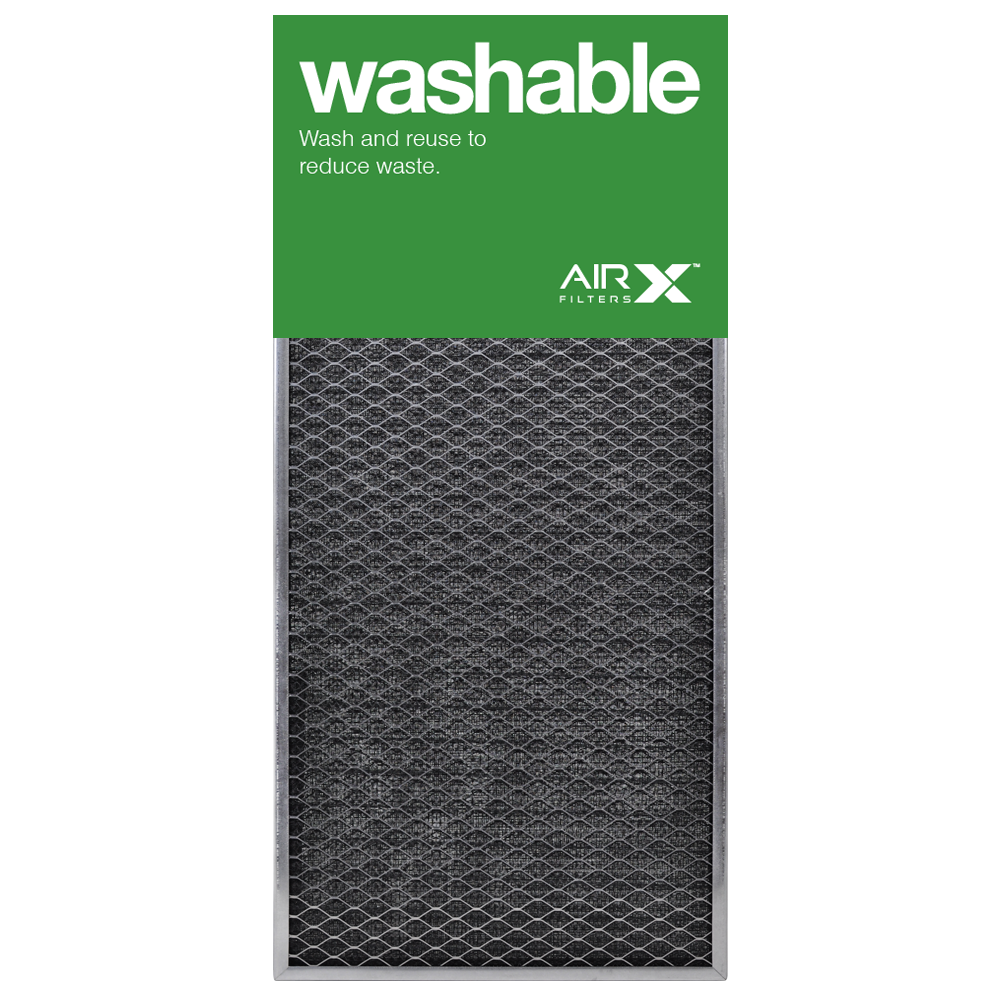 Description
---
Is this the right air filter for you?
If you want to protect your heating and cooling system from dust and dirt - and you are tired of buying disposable air filters, this is the air filter for you! This durable washable filter is designed to provide great value and last a lifetime. Don't drive around town looking for a washable air conditioner filter or furnace filter. Order online and will quickly ship to your front door!
Designed to minimize initial resistance to airflow

Reduces the number of pollutants and allergens in recirculated air and keeps your HVAC system clean

Uses natural static electricity to attract and capture airborne particles

Includes anti-microbial polymeric protection

Durable steel frame

Dirt won't get caught in the filter during washing - due to specially-designed drainage ports in the filter frame

Lifetime warranty

Wash every 30 days under normal use

Made with pride in the USA

100% free returns on all filters
What does this air filter remove?

Do you want to know about the technical specs?
| | |
| --- | --- |
| Nominal Dimensions | 14 x 30 x 1" |
| Actual Dimensions | 13.5 x 29.5 x 0.875" |
| Filter Media | Woven polypropylene media |
| Filter Support Grid | Heavy duty steel mesh |
| Frame | Rugged steel frame |
| Max Temperature | 180F (82C) continuous service, peak 225F (107C) |
| Max Humidity | Resistant to 100% R.H. |
Reviews
---
14" X 30" X 1" Lifetime Permanent Washable Filter
Joe M. 6 months ago
We love it, works great ......
Reviewer 1 month ago
I was impressed with this filter. Initial impression , this filter seems to be good.
Reviewer 4 months ago
I used to put in a new filter each month, now with this I use a garden hose and a little soap and I am good to go. My home has 2 zones so for decent filters it costs much more than the permanent one time pay out.
Reviewer 5 months ago
This is a really good filter I'm very pleased with this purchase
Reviewer 6 months ago
recieved like promised have not used yet but looks like they will be fine , can let you know later after i use them.
Reviewer 10 months ago
The filter works very well. My only suggestion would be to add foam around the edge for a tighter seal
Reviewer 11 months ago
At this price, these filters are a no brainer. My filter is an unusual size, and now I won't have to go searching for a filter in the size I need, which only lasts 3 months & costs a third of the price of this reusable one. I've only had it in for a couple of weeks & haven't tried cleaning it yet. If all goes well, I will be ordering another filter for another vent.
Reviewer 11 days ago
To early to tell. Installed it, fits perfect. Has not been cold enough to turn on furnace.
Reviewer 4 months ago
Not an easy size to find. I've had washable filter before and liked not having to store additional filters for future use.
Reviewer 4 months ago
I was looking forward to replacing the replaceable filters I normally use, which fit very snugly into the space provided. However, the permanent washable filter is smaller by about 1/4 of an inch on two sides, which means that I have to use duct tape to make sure it stays in place and the air passes through the filter and not through the gaps in the side. Since the weather has cooled off somewhat and we haven't used the central air conditioning, I haven't been able to find out how well it actually works. I would recommend the product if it fit better.
Reviewer 2 days ago
Have used it for a month, seems to work just fine.
Reviewer 9 days ago
Use this filter in our hot water Geothermal central heat/AC. Provides great air flow and the electrostatic elements collect more dirt then regular filters. In 2 years this filter will more then pay for itself.
Reviewer 1 month ago
I replaced a standard cloth/paper filter with this reuseable filter. Air flow is excellent, it is much quieter than the cloth/paper filters, and does not need to be replaced every 30 days like I had to with the standard cloth/paper filters. It performs exactly as advertised and is a great deal for the price. I did not know at the time, however, that there was another model of the same brand and type that filters more tightly. Had I known that at the time, I would have bought the other one that has a higher capture rate. But this filter is still better than the paper filters for economy. I don't spend $15 a month on paper/cloth filters anymore and that saves me a lot of money. Cleaning this is easy just spray it off in the shower and it's done. No chemicals or anything exotic. Easy to do and nice not to have to go shopping for filters every couple of months!
Reviewer 3 months ago
quick shipping, time arrived on time and excellent condition.
Reviewer 4 months ago
Excellent customer service...very knowledgeable about the product and very professional. Free shipping is always a plus and the return policy is above the rest. I got my filter in the time frame that was promised and the price was the selling point for me. Will continue to do business with this company and highly recommend that you use them.
Reviewer 5 months ago
SIMPLE INSTALLATION QUIET EFFICIENT ALMOST FREE FILTERING AFTER FLUSHING, IMMEDIATELY DRY USING WIPES AND AIR NOZZLE BLAST SO STEEL FRAME LASTS INDEFINITELY
Product Documentation
6 people in your area have bought this product in the last day!

Save Your Furnace Tip #6:
Foam gasket tape can be used to insure a tight filter fit and eliminate air filter bypass.