Aprilaire 401 | Our#: 113240
Original Aprilaire #401 Filter For 2400 Air Cleaner

159 review(s)
Aprilaire 401 | Our#: 113240
Fast Shipping & Free Returns
100% Compatibility Guarantee
2 people in your area recently purchased this product!
Fast Shipping & Free Returns
100% Compatibility Guarantee
Frequently Purchased Together
Product Details
Aprilaire / Space-Gard #401 High Efficiency Filtering Media (Single)
These are the
original, OEM
expandable "accordian" style, factory recommended replacement filters for the Aprilaire/Space-Gard Model 2400 Air Cleaner. MERV 10 rated. Also fits Generalaire AC-24 Air cleaner, replacing part # 13156.
The filters ship like a collapsed accordian and are expanded into a plastic frame within the air cleaner cabinet. The filter is snapped into the plastic frame and held in place with existing
pleat spacers
. Assembly instructions are printed on the product carton.
The air cleaner media in the Model 2400 can last from 6 months up to 2 years. If installed on a 5-ton system, in the presence of high concentration of particulate, or if the furnace fan is on continuously, it may be necessary to change the media more frequently. In any application, the life of the media is dependant upon the total volume of air being moved through it as well as the amount of particulate it is filtering.|
CLICK HERE FOR STEP-BY-STEP INSTRUCTIONS ON CHANGING YOUR FILTER
Filters are expanded into existing plastic frame and held in place with existing pleat spacers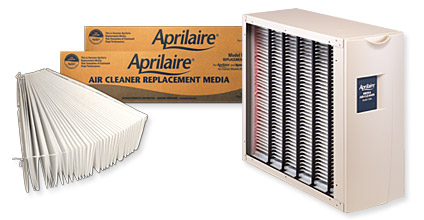 ---