Choose by filter dimensions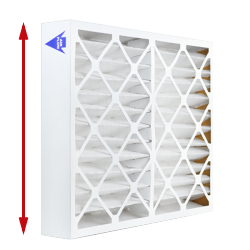 Choose by filter brand
Why finding the right thickness of filter is important.
Ensuring that your filter fits properly in your HVAC system means making sure that you have not only the right length and width, but also thickness of your filter. Most standard air filters are 1 - 2 inches in thickness. Whereas media filters are typically 3 to 5 inches in thickness. The best way to measure your air filter size is to get out the measuring tape and measure it directly.
The air in your home is up to five times more polluted than the outside air. Impurities such as dirt and dust, pollen and pet dander, mold and bacteria, and smoke and smog build up in your air conditioner and ventilation system, causing allergies, asthma triggers, and other respiratory problems. Remedy these problems by replacing your air conditioner filters and breathe easy.
A good AC filter uses special, densely woven, electrostatically charged material to capture pollutants in the air before they pass into your air conditioner or HVAC unit. The filter media is arranged in pleats to increase the surface area, providing more filtration per filter. Over time, as the AC air filter media gathers more pollutants, it becomes clogged, making it more difficult for the air conditioner to pull air through, making it work harder to cool your home. Because of this, the air conditioner filters should be changed at least every three months to avoid extra strain on your AC unit and reduce your energy to costs. If you live in an environment where you are doing remodeling, if it's allergy season, or if you have pets, you should consider changing the filter more often.
DiscountFilters.com carries the best selection of air conditioner filters at the best prices on the web. We have OEM AC filter models from the top manufacturers, including Aprilaire, Filtrete, Lennox, Trane, Honeywell, American Standard, Carrier, and Air Bear. We also carry a variety of aftermarket models with a broad selection of sizes and MERV ratings, including custom, hard-to-find AC air filter sizes. At DiscountFilters.com, we offer free shipping and returns on all orders, and a one-year satisfaction guarantee on all of our products.