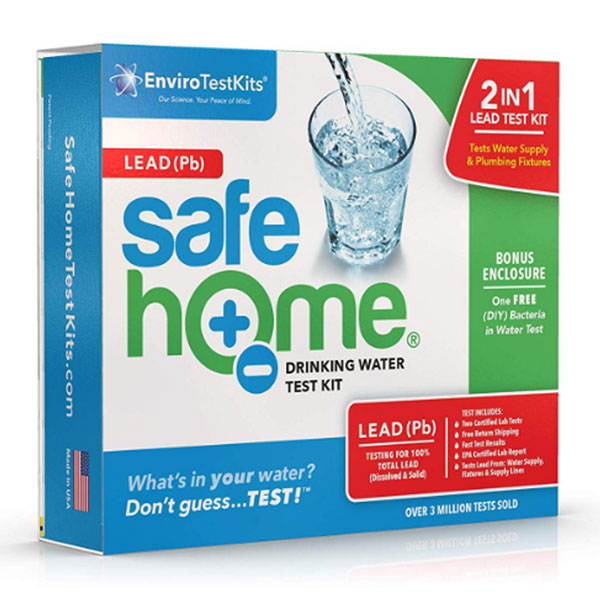 Safe Home SH-PBWT1 | Our#: 188325
Safe Home® Lead Water Test Kit
Safe Home SH-PBWT1 | Our#: 188325
Free Shipping & Returns
100% Compatibility Guarantee
Laboratory Certified Testing for Lead
2 lead tests per kit
Tests for Dissolved Lead + Solid Lead = 100% Total Lead
Includes free (DIY) Bacteria Test Kit
5 people in your area recently purchased this product!
In Stock
Ships in 24 hours
Free Shipping & Returns
100% Compatibility Guarantee
Frequently Purchased Together
Product Details
Safe Home® Lead Water Test Kit.

Laboratory Certified Testing for Lead. A set of Water Quality Test Vials to allow you to test for lead in two water samples, is inside of each package. We also provide you with a Return Mailer, FREE! We make testing for lead easy. Your Certified Lab Testing is paid for, with your price of purchase. Fill the vials with your water sample, fill-out the paper-work, place these items in the Free Return Mailer, drop it in your mailbox and receive your report by email. It's that simple! Includes free DIY Bacteria Test Vial.
Knowledge is power! By testing your drinking water, you can make informed decisions about water treatment and protecting your family from these potentially harmful contaminants. Don't be fooled by home test kits that only test for "dissolved lead" and only from one source. You get what you pay for! Our kit allows you to make informed decisions by testing for 100% of the Lead in your drinking water and we tell you where the Lead is coming from (your fixtures and plumbing vs. your actual water supply).

TESTING INCLUDES:
Includes 2 Lead tests per kit
Provides 2-in-1 testing for Lead in your Water Supply & from your Plumbing Fixtures
Tests for Dissolved Lead + Solid Lead = 100% Total Lead
Turnaround Time for Test - Approximately 2-3 working days
---