AIRx UV003 | Our#: 185705
AIRx replacement for Honeywell UC18W 1004 UVC bulb

11 review(s)
AIRx UV003 | Our#: 185705
Fast Shipping & Free Returns
100% Compatibility Guarantee
4-Pin twin Lamp fits and operates just as the OEM bulb
Ozone Free UV-C - 254 nm
18 watts - 8-1/2" overall length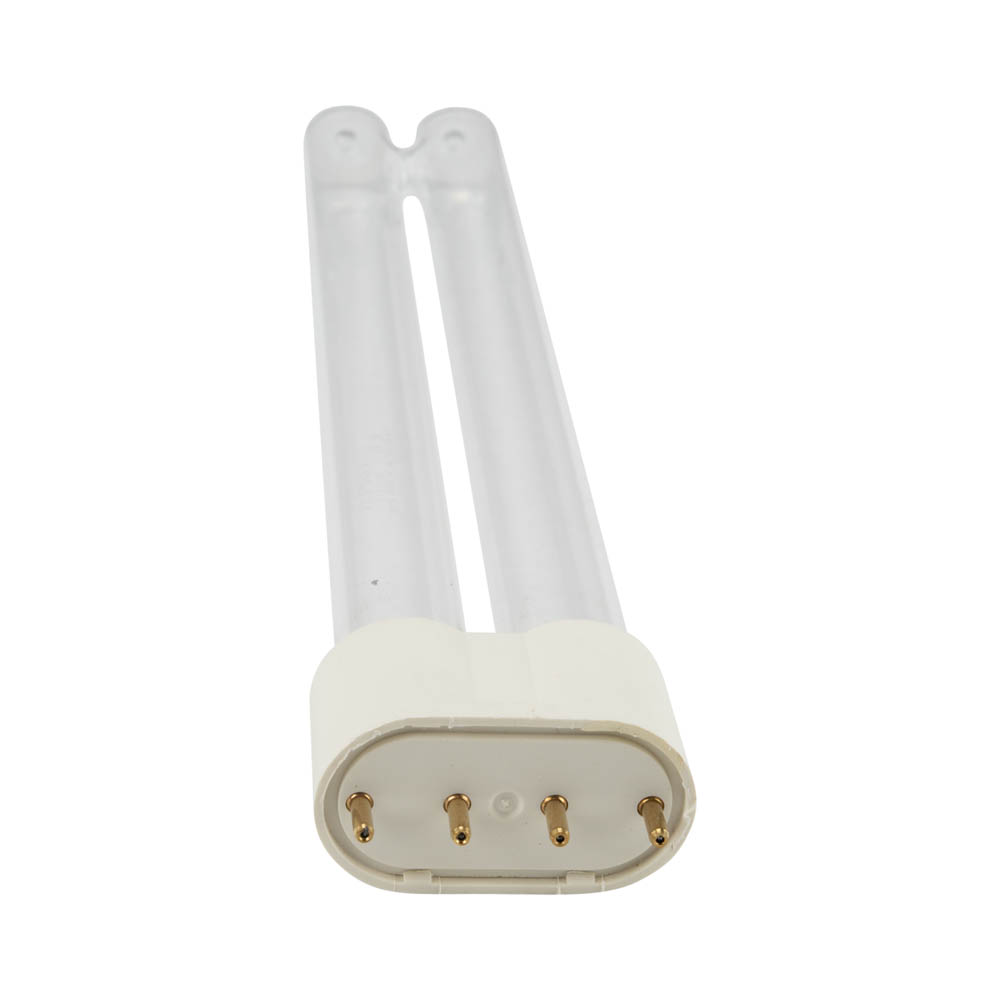 4 people in your area recently purchased this product!
Fast Shipping & Free Returns
100% Compatibility Guarantee
Frequently Purchased Together
Product Details
AIRx Replacement Bulb for Honeywell® UC18W1006 Ultraviolet Lamp
This replacement lamp fits multiple Honeywell® UV systems. This lamp does not include the handle/knob (bulb only). Overall bulb length is 8-1/2" inches, glass length measures 7-1/4" inches. The bulb has has two glass tubes fused together and two filaments, each tube is ¾" in diameter.

Features:
Replacement UV-C lamp for Honeywell UC18W1004
1 year effective life
Lamp length with prongs - 8-12"
Replace lamp annually
4 Pin - 2G11 base
Note: Bulb/Handle assemblies manufactured before 2005 do not have a detachable bulb. Bulb/Handle assemblies with the detachable bulb are labeled as such with sticker referencing bulb part number UC18W1004 (see image below)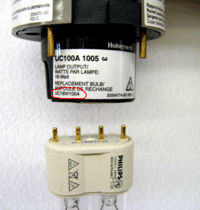 Honeywell® is a registered trademark of Honeywell International, Inc. Morris Plains, NJ. - National Trade Supply, Inc, DiscountFilters.com and AIRx are not affiliated with Honeywell International, Inc.This is not a Honeywell OEM product and is not covered under any Honeywell manufacturer's warranty. Any use of the Honeywell brand name or model designation for this product is made solely for purposes of demonstrating compatibility.
---
Specifications
Base:
2G11
Base Description:
4 Pin U Bend - Pins in One Line
Length:
8-1/2" with pins
Quartz Outer Diameter:
11/16"
Watts:
18
Replaces These Bulbs:
AC Wholesalers:
32735
Allied Air Enterprises:
Amilair Corp:
BE18
Aqueon Products:
UV18
Bulb America:
Cal Pump:
BF2000
Calutech Air Purifier:
9002 MB
Coralife:
77084
CureUV:
191878
E-Z AirCleaners:
BE18
GE:
GBX18/UVC/2G11
Honeywell:
UC18W1004 (Lamp only
no handle)
Interlight:
FT18DL-GERMICIDAL-8.25-VERSION
Light Exports:
LSE-UC18W1004UVC
LSE-UV18HW
Light Sources, Inc.:
LTC18W/2G11
LightTech Lamp Technology:
LTC18W/2G11
Lumalier:
CM-218
HW-218
PM-418
SAM
VM-818
NewEgg:
9SIA60Y21B4715
Oase Living Water:
86236
Osram:
GFT18DL
Philips:
TUV PL-L 18W/P4
PlusRite:
Purely UV Products:
PUVG1118
Sankyo Denki:
GPL18/K
SupplyHouse:
UC100
Sylvania:
HNS L 18W 2G11
Ultravation:
LPPP0001
PGL18K
UME-1000
UME-2000
UVE-1000
UVE-2000
UVS-1000
UVS-2000
Ushio:
3000324
UV Superstore:
12362-02319
ViaAqua:
UVS 18B
Fits In These Systems:
Honeywell:
UC100A1000
UC100A1005
UC100E1006
UC100E1043
Additional Information
---