AIRx UV003 | Our#: 188087
AIRx replacement for Honeywell UC18W 1004 UVC bulb, 3-Pack
AIRx UV003 | Our#: 188087
Free Shipping & Returns
100% Compatibility Guarantee
4-Pin twin Lamp fits and operates just as the OEM bulb
Ozone Free UV-C - 254 nm
18 watts - 18-1/2" overall length
3 people in your area recently purchased this product!
$

14.95
(

3

Bulbs for $

44.85

)
Free Shipping & Returns
100% Compatibility Guarantee
Frequently Purchased Together
Product Details
AIRx Replacement Honeywell UV Bulb (bulb only - no handle) Used With UC100A1005, UC100E1006, UV100A1000, UV100E1043, RUVLAMP1. Same as part # RUVBULB1.

Bulb Overall Length Approx. 8-1/2" (including base and pins). Bulb (glass) only length approximately 7-1/4".

Note: Bulb/Handle assemblies manufactured before 2005 do not have a detachable bulb. Bulb/Handle assemblies with the detachable bulb are labeled as such with sticker referencing bulb part number UC18W1004.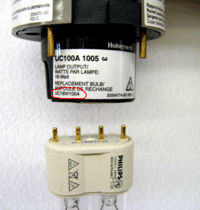 This product is not manufactured by Honeywell. Honeywell® is a registered trademark of Honeywell International Morris Plains, NJ- National Trade Supply, Inc, DiscountFilters.com and AirX are not affiliated with Honeywell International
---
Specifications
Base:
2G11
Base Description:
4 Pin U Bend - Pins in One Line
Length:
8-1/2" with pins
Quartz Outer Diameter:
11/16"
Watts:
18
Replaces These Filters:
AC Wholesalers:
32735
Allied Air Enterprises:
Amilair Corp:
BE18
Aqueon Products:
UV18
Bulb America:
Cal Pump:
BF2000
Calutech Air Purifier:
9002 MB
Coralife:
77084
CureUV:
191878
E-Z AirCleaners:
BE18
GE:
GBX18/UVC/2G11
Honeywell:
UC18W1004 (Lamp only
no handle)
Interlight:
FT18DL-GERMICIDAL-8.25-VERSION
Light Exports:
LSE-UC18W1004UVC
LSE-UV18HW
Light Sources, Inc.:
LTC18W/2G11
LightTech Lamp Technology:
LTC18W/2G11
Lumalier:
CM-218
HW-218
PM-418
SAM
VM-818
NewEgg:
9SIA60Y21B4715
Oase Living Water:
86236
Osram:
GFT18DL
Philips:
TUV PL-L 18W/P4
PlusRite:
Purely UV Products:
PUVG1118
Sankyo Denki:
GPL18/K
SupplyHouse:
UC100
Sylvania:
HNS L 18W 2G11
Ultravation:
LPPP0001
PGL18K
UME-1000
UME-2000
UVE-1000
UVE-2000
UVS-1000
UVS-2000
Ushio:
3000324
UV Superstore:
12362-02319
ViaAqua:
UVS 18B
Fits In These Systems:
Honeywell:
UC100A1000
UC100A1005
UC100E1006
UC100E1043
Additional Info
rmation
---