AIRx UV002 | Our#: 184658
AIRx Replacement UVC bulb for Honeywell UC36W 1006

21 review(s)
AIRx UV002 | Our#: 184658
Fast Shipping & Free Returns
100% Compatibility Guarantee
4-Pin twin Lamp fits and operates just as the OEM bulb
Ozone Free UV-C - 254 nm
36 watts - 15-7/16" bulb length
6 people in your area recently purchased this product!
Fast Shipping & Free Returns
100% Compatibility Guarantee
Frequently Purchased Together
Product Details
AIRx Replacement Bulb for Honeywell® UC36W1006 Ultraviolet Lamp
This replacement lamp fits multiple Honeywell® UV systems. This lamp does not include the handle/knob (bulb only). Overall bulb length is 15-7/16" inches, glass length measures approximately 14-3/16" inches. The bulb has has two glass tubes fused together and two filaments, each tube is ¾" in diameter.

Features:
Replacement UV-C lamp for Honeywell UC36W1006
1 year effective life
Lamp length with prongs - 15-7/16"
Replace lamp annually
4 Pin - 2G11 base
Note: Bulb/Handle assemblies manufactured before 2005 do not have a detachable bulb. Bulb/Handle assemblies with the detachable bulb are labeled as such with sticker referencing bulb part number UC36W1006 (see image below)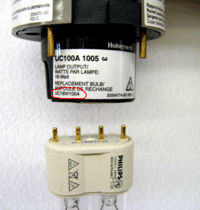 Honeywell® is a registered trademark of Honeywell International, Inc. Morris Plains, NJ. - National Trade Supply, Inc, DiscountFilters.com and AirX are not affiliated with Honeywell International, Inc.This is not a Honeywell OEM product and is not covered under any Honeywell manufacturer's warranty. Any use of the Honeywell brand name or model designation for this product is made solely for purposes of demonstrating compatibility.
---
Specifications
Base:
2G11
Base Descriptions:
4 Pin U Bend - Pin s in One Line 2G11 (B26)
Length:
16-1/3"
Quartz Outer Diameter:
11/16"
Watts:
36
Replaces These Bulbs:
1,000 Bulbs:
AU-LPLL36WTUV
Armstrong Air:
Atlanta Light Bulbs:
PL-L36W/TUV Philips
Bulb America:
265850
Bulb Connection:
BC4931
Bulb Works:
BW.PLL36TUV
Bulbs.com:
345116
Cure UV:
191881
Discount Filter Store:
Honeywell-UC36W1006
GE:
16538
F39BX/SPX30/RS
GBX/UVC/2G11
Grainger:
2EAL1
Honeywell:
UC100A1013
UC100A1054
UC100E1014
UC100E1030
UC36W1006
UV100A1018
UV100A1059
UV100A2008
UV100E2009
UV100E3007
Interlight:
Lamp Express:
910758-4351
Light Exports:
LSE-UV1006W
Light Tech Light Sources:
LTC36W/2G11
LightBulbs.com:
PL265850
LSE Lighting:
LSE-UV1006W
Osram:
GFT36DL/2G11/SE/OF
Puritec HNS L 36W 2G11
Philips:
TUV PL-L 36W/4P
Puritec:
0064533
Sankyo Denki:
GPL36/K
Superior Lighting:
23392-SYL
SupplyHouse:
UC36W1006
Sylvania:
Ushio:
Victory Lighting:
ZW36S17W-H411
Voss Lighting:
PL-L 36W/TUV
Fits In These Systems:
Honeywell:
UC100A1013
UC100A1054
UC100E1014
UC100E1030
UV100A1008
UV100A1018
UV100A1059
UV100E2009
UV100E3007