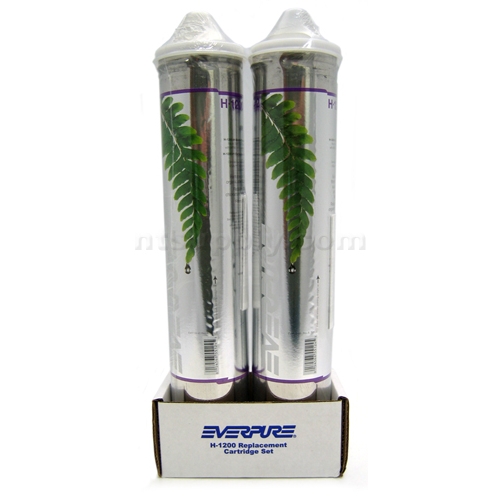 Everpure EV9282-01 | Our#: 112160
Everpure H-1200 Replacement Cartridge Set

3 review(s)
Everpure EV9282-01 | Our#: 112160
Free Shipping & Returns
100% Compatibility Guarantee
NSF/ANSI 42 and 53
EV9282-01 (EV9282-03, H1200, 9282-03) Replacement cartridge for the H-1200 system.
3 people in your area recently purchased this product!
Free Shipping & Returns
100% Compatibility Guarantee
NSF/ANSI 42 and 53
Frequently Purchased Together
Product Details
Replace both H-1200 #1 and #2 cartridges (EV9282-01) yearly to reduce the following contaminants:
Lead to below the Federal Action Level of 15 ppb
Cysts such as Giardia lamblia, Entamoeba histolytica and Cryptosporidium parvum
Volatile Organic Chemicals (VOCs), including THMs
MTBE
This cartridge also reduces:
Chlorine taste and odor
Chloramine
Dirt and cloudiness
Mold and algae
Oxidized iron
Oxidized manganese
Oxidized sulfides
Particles 1/2 micron and larger in size
Limescale build-up in appliances that use water
The H-1200 cartridge set features:
A bacteriostat agent to combat the growth and reproduction of bacteria within the cartridge.
A 1/2 gallon per minute flow rate
A 1000-gallon capacity
PLEASE NOTE: The H-1200 cartridge set may be used to replace older model THM and VOC cartridge sets. The upgraded H-1200 cartridges require an additional 2-1/2" mounting length. Please make sure that you are able to reposition your current filter head to accomodate the longer cartridges.
---
Specifications
Capacity:
1000 Gallons
Certifications:
NSF/ANSI 42 and 53
Dimensions:
17 1/4" x 3 1/4" Dia.
Flow Rate:
.5 Gallons Per Minute
Material:
Micro-Pure Filtration Media
Micron rating:
0.5
Reduction Claims:
Chlorine, chemicals, lead, taste, scale
Replaces These Pcs:
Everpure:
9282-01
EV3118-46
EV9282-01
EV9282-03
ID0892
Pentair:
9282-01
EV3118-46
EV9282-01
EV9282-03
ID0892
Fits In These Systems:
Additional Info
rmation
---